Costa Adeje is an area located on the south-west side of the Canary Islands. The Canary Islands, a part of Tenerife are well-served by excellent spa hotels.  As a result, Costa Adeje hotels are becoming known as the best choice for hotels within the Canary Islands. If you are looking for a luxurious spa hotel holiday, you have found the right place. This article takes a look at five of these luxury Tenerife hotels.
Tenerife is home to some of the most beautiful resorts on the Canary Islands. Chief among the various locations is the Costa Adeje area. If you're a traveler who demands luxury, you should make a beeline for the luxurious accommodations of Costa Adeje to revel at a sun-drenched resort. You won't find a shortage of 5-star hotels in this place.
Costa Adeje spas offer exclusive treatments based on marine extracts, volcanic lava, and aloe vera. All of which are raw materials indigenous to the Canary Islands. Tenerife waters are rich in natural minerals, and the pools here take full advantage of this fact, offering a fantastic range of thalassotherapy treatments. The beginning of what the spas in Costa Adeje offer. Most importantly, the vast array of face and body therapies make Costa Adeje hotels some of the best spa hotels in the Canary Islands.
This post may contain affiliate links. Please read our disclosure and privacy policy for more information.
Costa Adeje Gran Hotel
Costa Adeje Gran Hotel is the premier spa hotel in the area. Ideal for the discerning traveler who values luxury and superior customer service. This grand hotel boasts magnificent views of the Playa de Duque beach. Each room is spacious with its own balcony, en-suite bathroom, satellite TV, and mini bar. Guests can unwind in the world-class restaurant or enjoy an energizing swim in the rooftop pool overlooking the Atlantic Ocean. The world-renowned restaurant serves excellent Mediterranean cuisine and has a wide range of a la carte meals that are superb.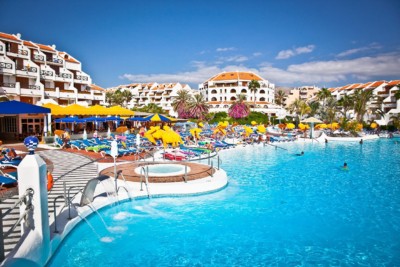 Sheraton La Caleta Resort and Spa
The Sheraton in La Caleta is home of The Caroli Health Club and is one of the best Costa Adeje hotels. A part of the Starwood brand of spas in Europe, here you will find a comprehensive range of sophisticated heat and water facilities. The facilities include crystal steam rooms, lifestyle experience showers, a vitality pool, rock sauna, ice igloo, and outdoor plunge pools. Outside areas include secluded terraced gardens and outdoor relaxation areas.
Let's talk about the amenities. Firstly, there is a fitness center with a wide range of state of the art exercise equipment and a private couples' suite. Secondly, the fitness center also has yoga classes and workshops. Thirdly, and most importantly, the water areas include two heated pools, a seawater pool, and an outdoor jacuzzi. The signature treatment at the Caroli Health Club is a unique hot stone therapy incorporating a holistic face, back and scalp massage. This hot stone massage will not fail to lift even the most jaded of spirits.
La Plantacion del Sur
This exclusive five-star hotel is situated in a prime location between the beaches of Playa del Duque and La Caleta. One of the most luxurious of all Costa Adeje hotels. The quality at the spa matches the high standards set by the luxury hotel. Moreover, the sea water therapy room alone covers some 2,500 square meters.
There are three different water treatment circuits and sixteen individual treatment cabins.  You can enjoy a staggering range of natural health and beauty treatments for the face and body, some of which I have never seen before. For example, you can also choose from a variety of specialist massages and pressure showers that are designed to leave you feeling supple and refreshed.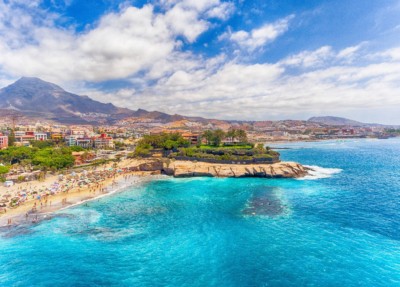 The Gran Hotel Bahia del Duque Resort
A fantastic five-star hotel, located just next to the beach at El Duque. The spa here is so beautiful that I could write all day about it, and it is difficult to summarise all of the delights in a short paragraph. Further, what makes this spa stand out from any other is its unique location within a natural palm-lined rock canyon. Created by the renowned interior designer Pascua Ortega in collaboration with the internationally acclaimed spa consultancy firm ESPA. The indoor and outdoor areas intertwine effortlessly and make for a beautiful escape from the outside world.
The Iberostar Grand Hotel Anthelia
The Iberostar Grand Hotel Anthelia is another five-star Costa Adeje hotel ideally located right on the seafront. It sits between two main beaches in the resort, the Playa de Duque and the Playa de Fanabe. With 391 supremely elegant rooms, this hotel offers free internet in all of the rooms. In addition, each room has a furnished balcony and terrace. All rooms have a min-bar, satellite-tv and a safe. Lastly, guests can enjoy heated freshwater pools in the garden and pamper themselves in the exclusive Spa with exotic oriental treatments. You can even get free shuttle service to the mini-golf courses around the area.
Bottom Line
Staying at a well-appointed and luxurious Costa Adeje spa hotel will make your Tenerife holiday more relaxing and exciting.  If money is not a factor, book the perfect hotel for an unforgettable time! Most importantly, have a wonderful holiday of a lifetime in the Canary Islands!
There is so much more to say and I have barely begun to scratch the surface. However, I hope you have enjoyed reading my short introduction to some of the superb Costa Adeje spa hotels. In conclusion, I hope you will use my advice to book a luxury spa hotel in Costa Adeje.
About The Author – Katarina Vancroft
Katarina Vancroft is a travel and destination blogger and content contributing editor. Her work has been featured in various online publications. As a contributor, she writes about anything and everything under the Canarian sun at https://www.canaryislandsinfo.co.uk. She wants to inspire others how we could see the world as a haven by traveling.
Looking for more posts on Europe? Start here:
We are a participant in the Amazon Services LLC Associates Program, an affiliate advertising program designed to provide a means for us to earn fees by linking to Amazon.com and affiliated sites