Oktoberfest is the world's largest beer festival and traveling funfair a "Volksfest." It occurs annually in Munich, Bavaria. It is held from mid-September through the first Sunday in October for a total of sixteen days.
The festival has been held since 1810 and attracts more than six million people annually. It is the world's largest celebration of Bavarian culture. The event centers on beer consumption and traditional German food in beer tents. Millions of liters of beer are consumed at the event. In addition to beer drinking, there are fairground activities, including amusement rides.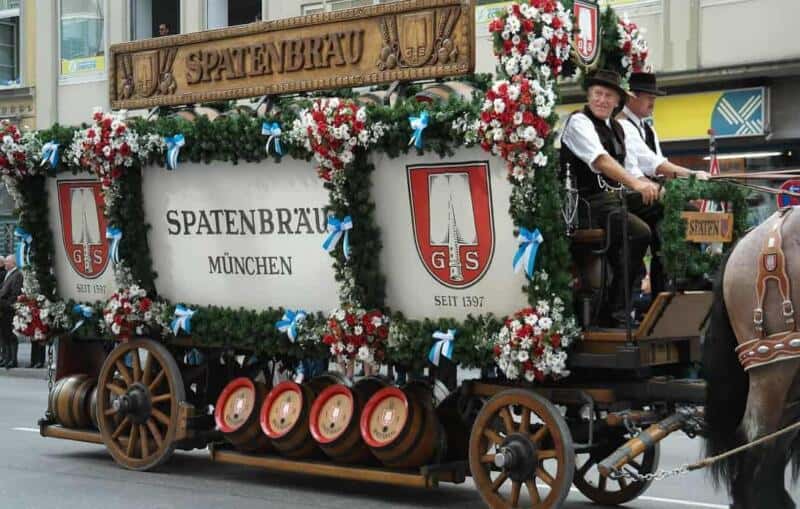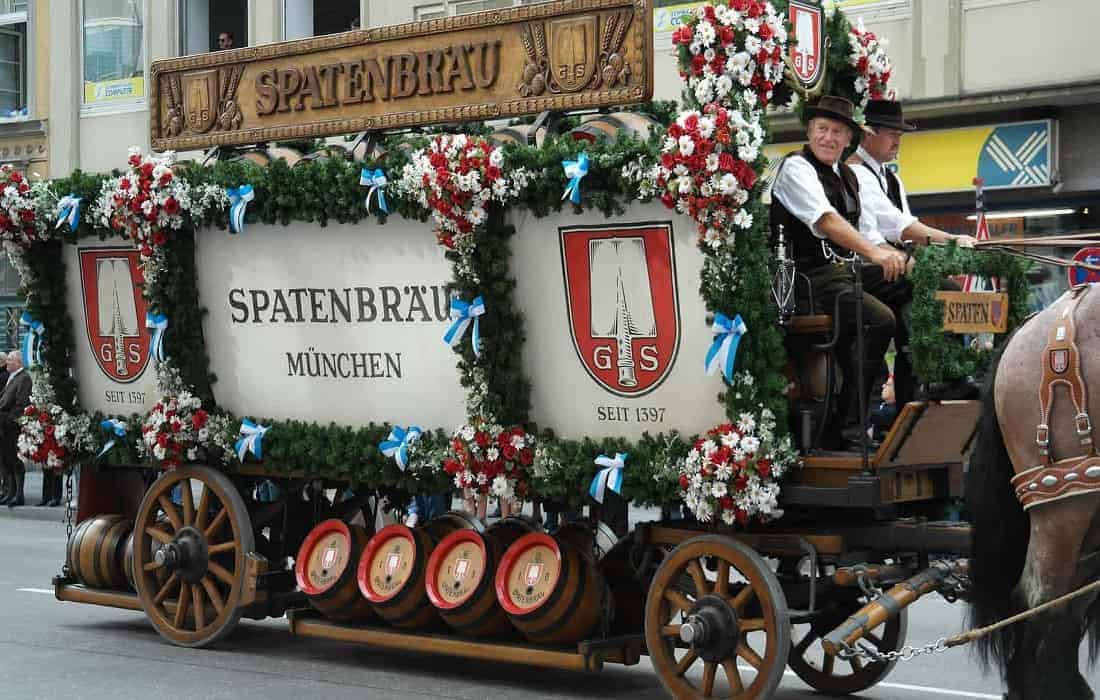 The original festival was a part of the celebration of the Bavarian crown prince Ludwig's wedding.
This post may contain affiliate links. Please read our disclosure and privacy policy for more information.
2023 Oktoberfest Germany Dates
Oktoberfest 2023 will begin on Saturday, September 16, 2023, and end on Tuesday, Oct 3, 2023.
Where is Oktoberfest Germany Located?
Oktoberfest is located at the Theresienwiese, the Oktoberfest fairgrounds.
Address: Theresienwiese, Bavariaring, 80336 München, Germany
Getting Tickets to Oktoberfest
The single biggest misconception on the internet is that you need a ticket to attend Oktoberfest.
You do not need a ticket. Entry is free to all, and there is no such thing as a ticket.
You may want to consider a tent reservation so you are guaranteed a seat at a table. However, it's not required.
Tours For Oktoberfest
Where to Stay During Oktoberfest
We stayed at the Holiday Inn Munich – Unterhaching, and we took the train to the festival, which is really easy to do. We loved this hotel! Most of the rooms have two stories, so you have a separate living space and an upstairs bedroom. We used points for the stay!
Hotels in Munich
Beer Tent Reservations for Oktoberfest Germany
The real challenge starts here for those looking for a guaranteed seat at a table. The reservation process is cumbersome and confusing, to say the least.
Any reservation is for inside the tent, not the beer gardens.
Reservations are typically for four-hour blocks.
You will need to reserve an entire table, which is 6-10 people, and it varies by the tent.
When you make a reservation, you pre-pay for at least two beers and food. It will cost you approximately 30 euros per person. So, unless you have a large group, you will need to split the reservation with others. It is possible, and I will explain.
Reservations can only be made directly through each tent.
You have to be on time for your Oktoberfest reservations. If you don't arrive 15 minutes before the reservation, you may lose the table.
If you are a first-time attendee getting a table reservation is close to impossible. Preference is given to prior attendees, and the tent will validate your attendance ask for your prior year's customer number.
The only tent that does not require a minimum consumption with a reservation is the Festzelt Tradition tent.
Reselling Is Prohibited!
It is prohibited to buy a table reservation and re-sell it. This being said, tons of people do it and some companies specialize in this. I have friends who purchased theirs through a third party and had no issues at all. Just know that's it's frowned upon and you run the risk of being scammed!
If you are a first-time attendee, ask for a reservation throughout the week and the day. This will enhance your chances of getting a beer tent reservation.
To make a reservation read on, you have to reserve with each tent individually below:
Beer Tents of Oktoberfest Germany
There are 14 big and 21 small tents in Oktoberfest, Germany.
Entrance to the festival and all tents is always FREE.
You do not have to purchase anything to enter.
Armbrustschützenzelt
Home of the crossbow competition since 1895, this is one of the most popular tents. This tent is also considered family-friendly, adding to its popularity. A tent many recognize from the bright green and white stripes that dress the roof. This tent is one of the most open to and even encourages new customers. In past years they have offered weekend and evening reservations at the last minute.
To request a reservation: Fax the reservation form to +49 89 237 037 05.
This tent is considered one of the most beautiful and cozy tents. It is also gay-friendly and hosts the popular "Gay Sunday" on the first Wiesn Sunday – aka the first Sunday of the festival.
In 2021, this tent will change hands, and a new building will replace what was. It's not clear yet who will take over and what the reservation process will be.
To request a reservation: Currently, you can not request a reservation.
One of the largest of all the tents is 5,000 inside and another 2,800 in the beer garden. In a family-friendly tent, sprogs under twelve can pour lemonade from a lemonade fountain in the beer garden. And, sprog size toilets are provided.
To request a reservation:
This tent sets itself apart by offering a fish dish as the primary offering. If you don't fancy pork or don't eat pork, this is a good choice!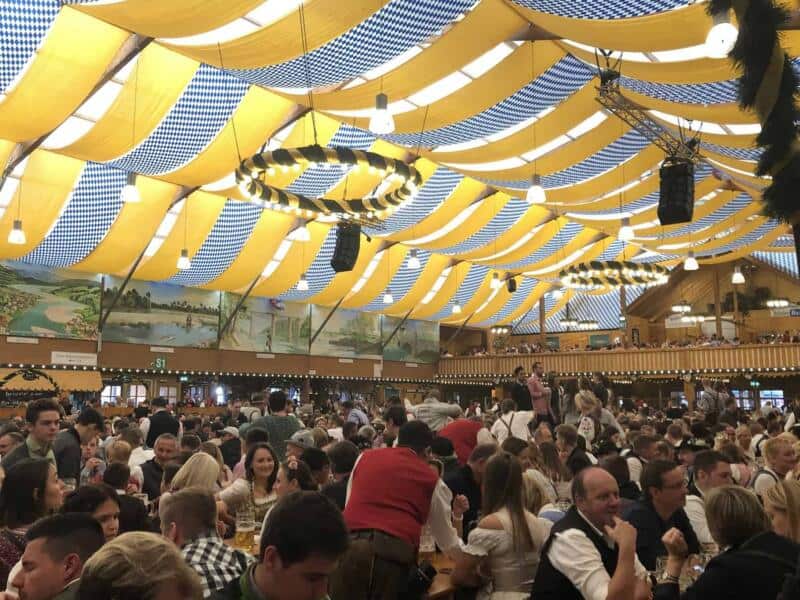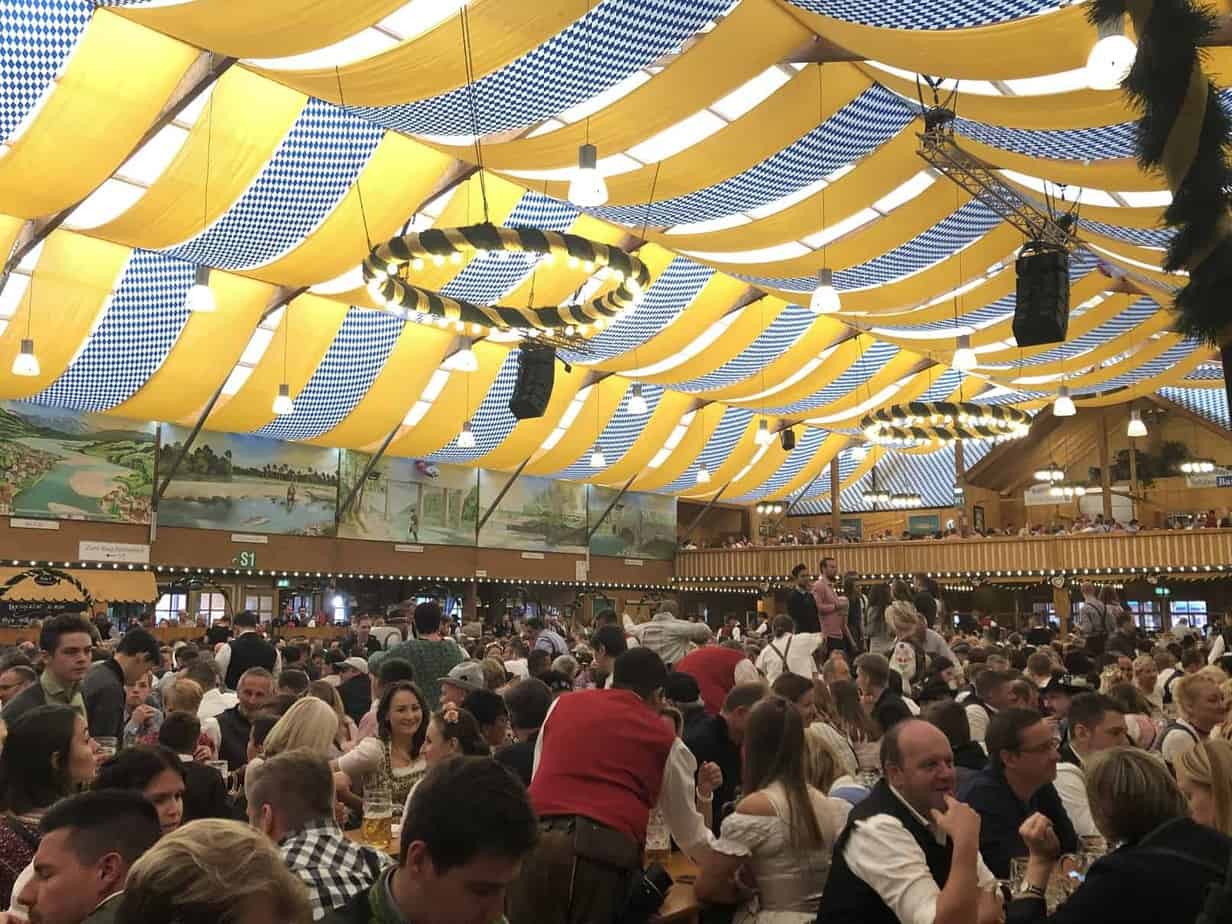 This is the tent we spent most of our time in! It is a comfortable tent to get into, and it has a standing section making this the ideal choice if you don't have a reservation.
To request a reservation:
Tel: +49 (0) 89 66 10 42
Fax: +49 (0) 89 65 25 34
A trendy tent. This tent is famous for the blue sky and white clouds, often used in promotional photos. Weather permitting, the tent ceiling can be opened. This tent holds open seats that are available on a first-come, first-serve basis.
Approximately 1700 seats open daily Monday-Friday and 4000 open on the weekend.
To request a reservation:
Tel: 08170/7303
Fax: 08170/7385
By far, the most popular tent for non-locals. Americans, in particular, tend to flock to this tent. This tent does have 2000 open first-come, first-serve seats each day.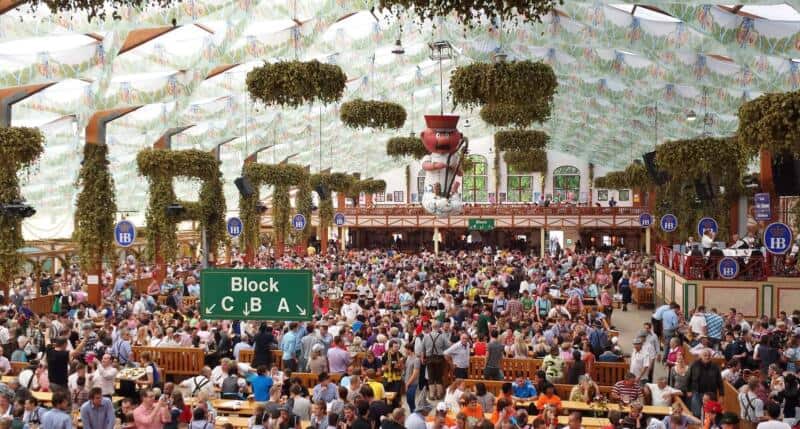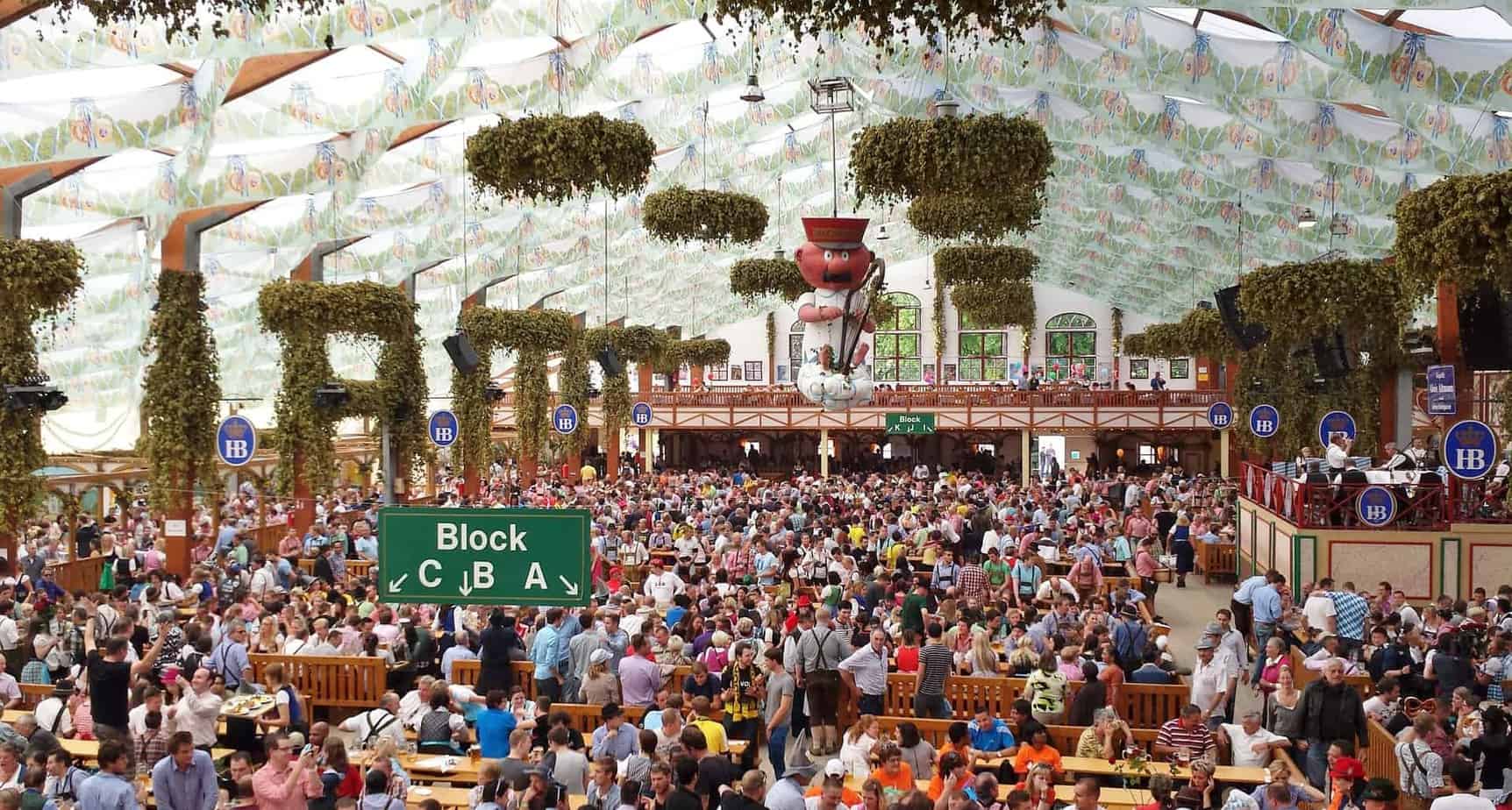 To request a reservation:
The highfalutin tent is where Munich's high society party. A favorite for locals and internationals alike is often the party place due to its late-night ending.
To request a reservation:
You may have seen pictures of this tent; it's the one with the giant lion at the entrance. Typically, this tent caters to a more mature crowd, known as the favorite of local football players.
To request a reservation:
One of the newest tents, this tent holds 3,000 people. Given its newness, it attracts a younger crowd. It's also a tad more modern than some of the other tents.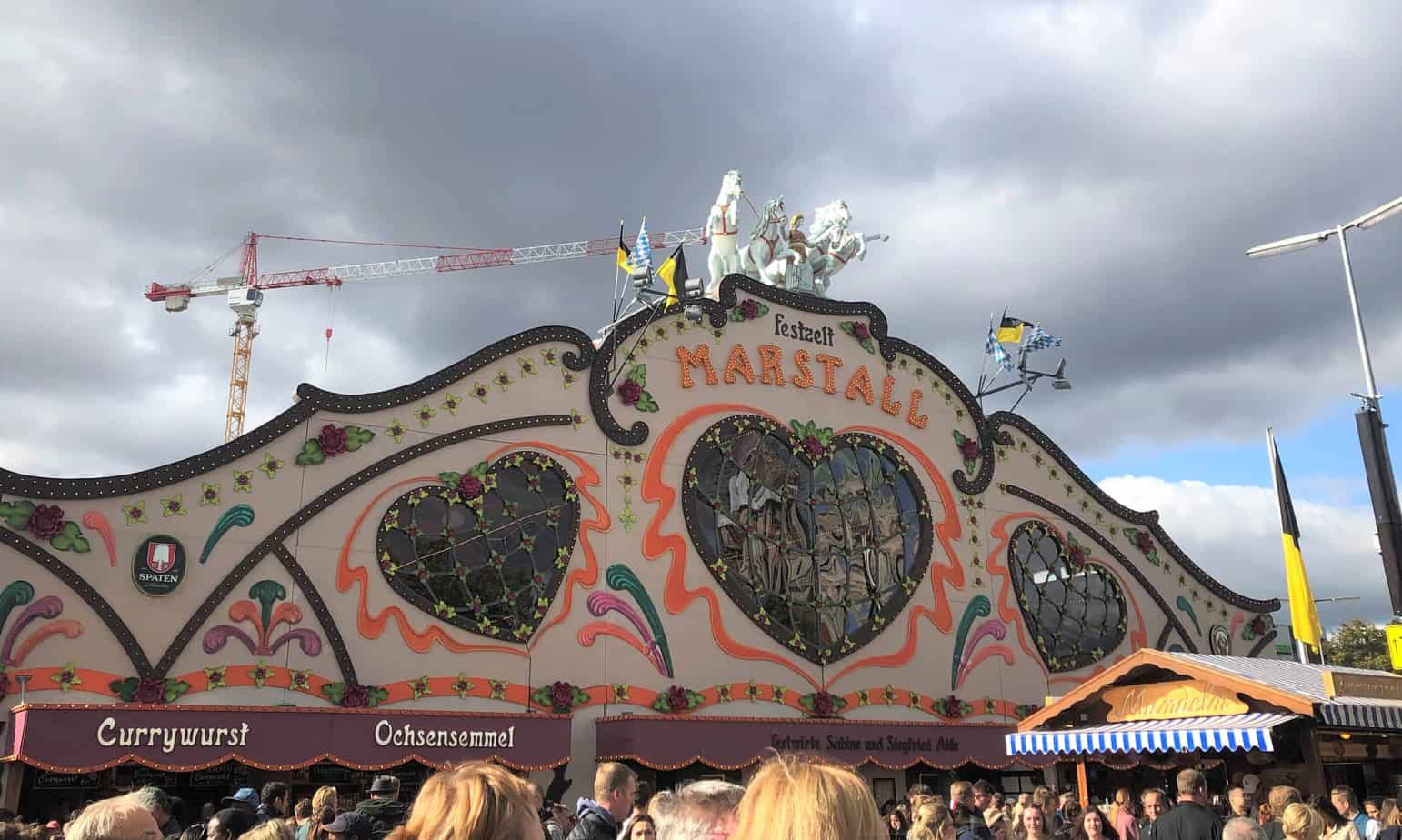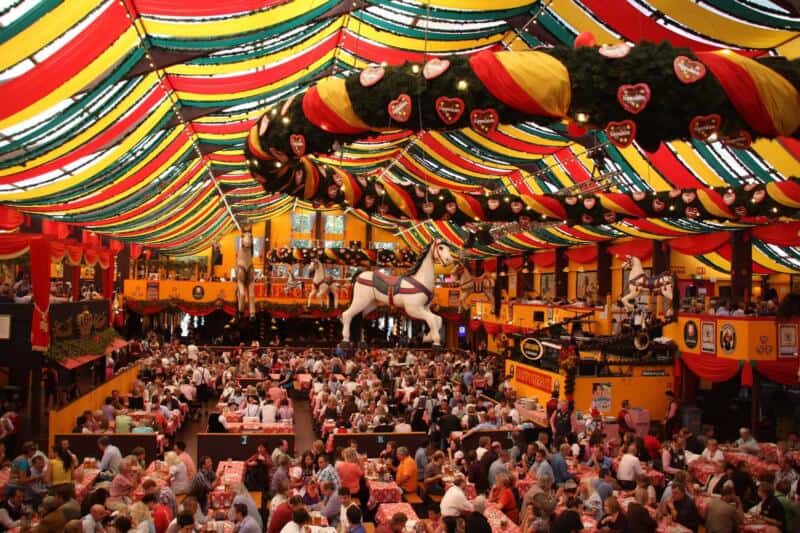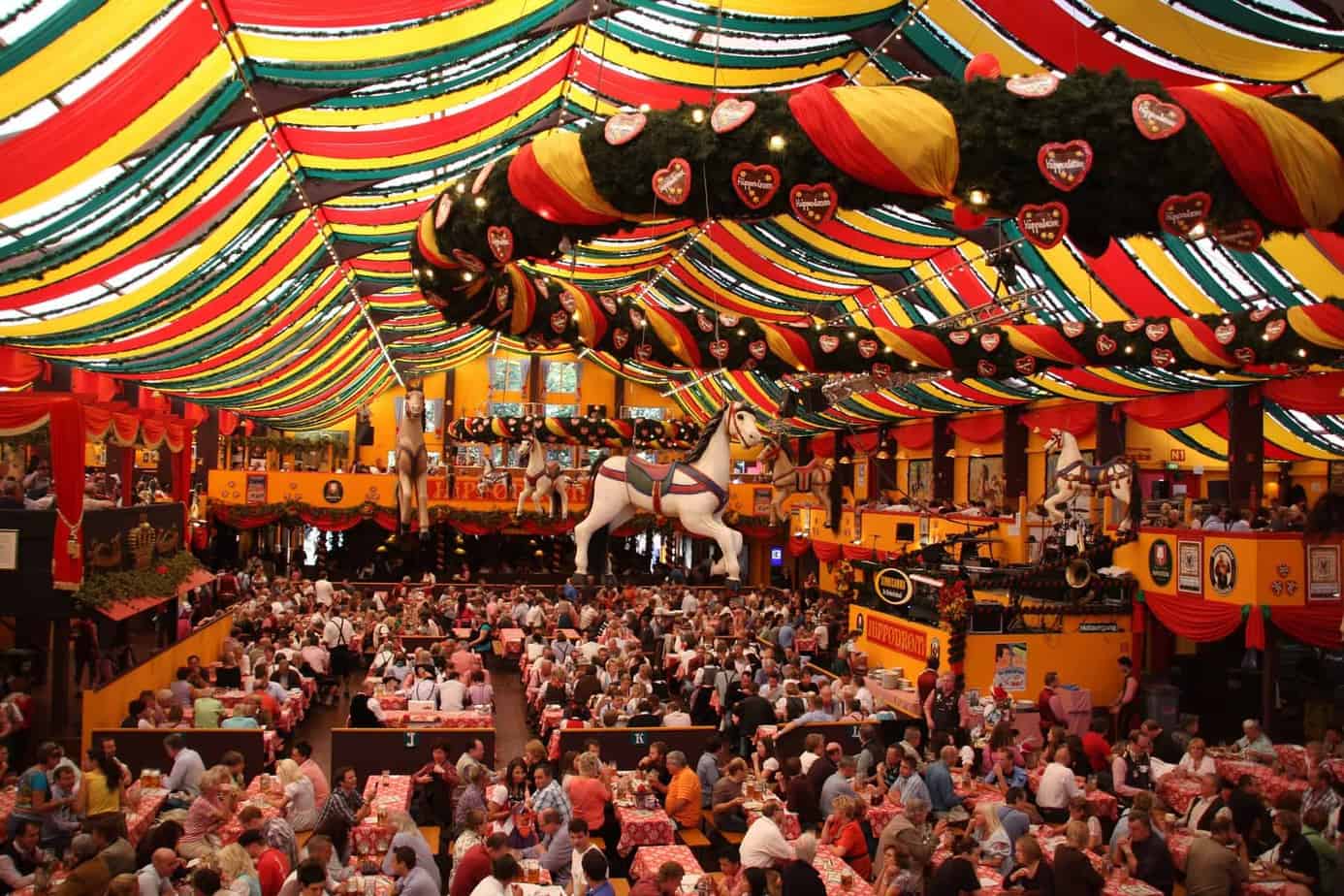 To request a reservation:
This tent has been around since 1881 and has a yodeler. It's famous for the ox dishes it prepares and its big brass band.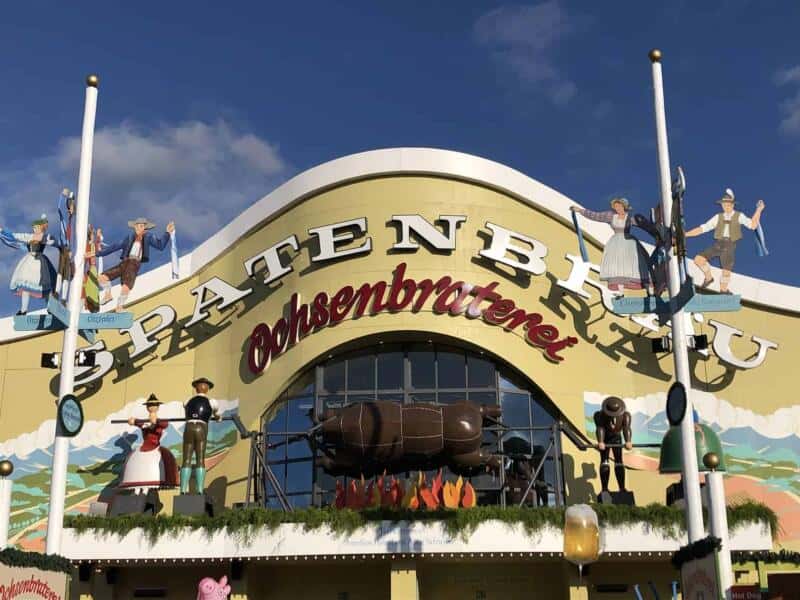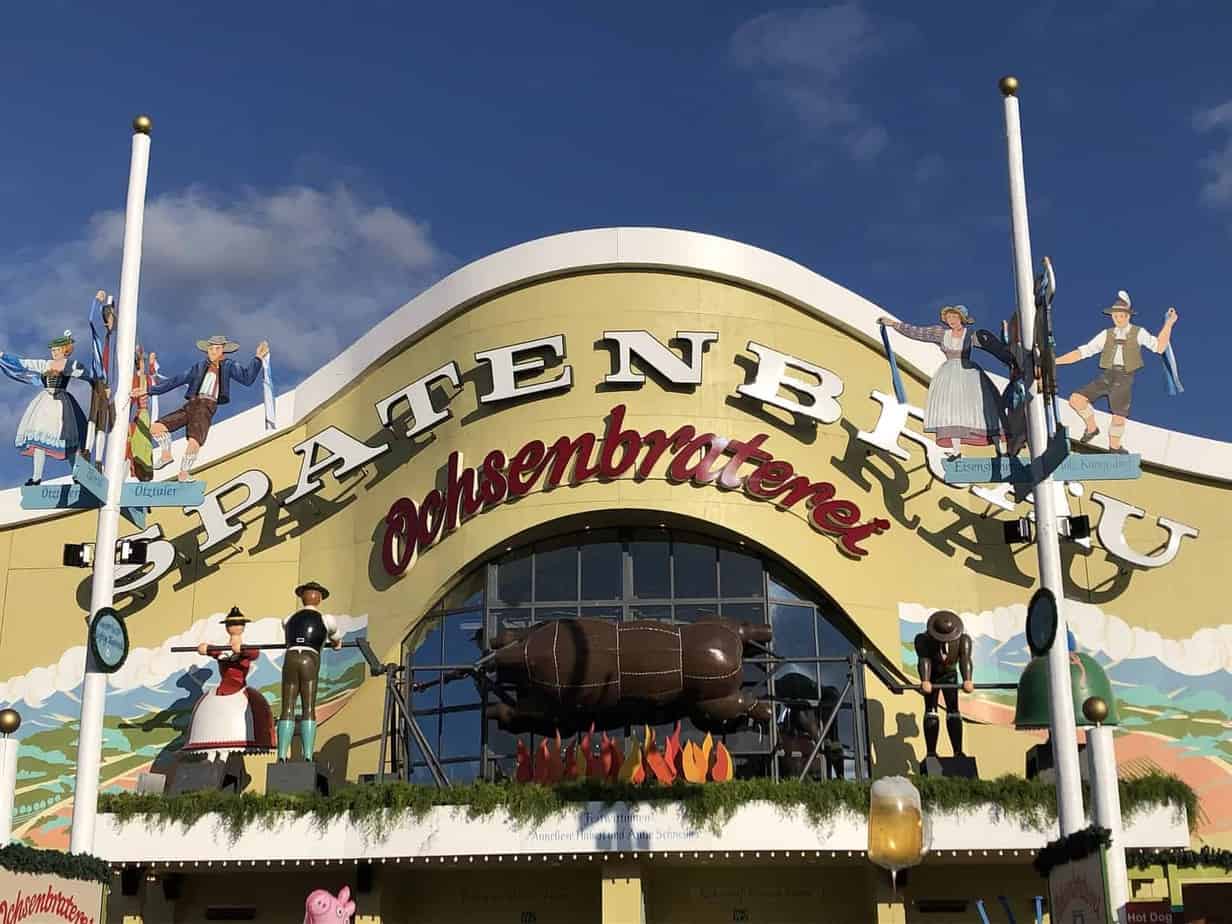 To request a reservation:
Formally "Winzerer Fähndl" is a huge tent! It's the largest and perhaps most recognizable. There is a gigantic rotating beer glass at the top of the tent – it can't be missed.
To request a reservation:
Note: This tent only accepts online reservations.
The oldest and largest, this is a classic tent that is very popular with the locals.
To request a reservation:
This tent is an excellent place to start; it is not located on the main drag, which means you can beat the crowds if you head here first.
To request a reservation:
A family-friendly choice, this is the least traditional of all the tents. Here you can order seafood and Thai food!
To request a reservation:
Beer Tent Reservation Alarm
There is a site dedicated to all things Oktoberfest. They can't secure your reservation for you, but they can email you when reservations open up. Sign up for Beer Tent Alarm here.
When Can I Reserve a Table for Oktoberfest 2023?
As mentioned above, all reservations are managed by each tent. All of the tents release their table reservations at different times. Here is a summary of when each tent is expected to release reservations for 2023.
Augustiner-Festhalle – Expected only for regulars
Armbrustschützenzelt – Expected March
Bräurosl – Not expected before June
Fischer-Vroni – Expected May
Hacker-Festzelt – Expected May
Hofbräu-Festzelt – Expected March
Käfer Wiesn-Schänke – April 1st
Löwenbräu-Festzelt – March 6th
Marstall – January
Ochsenbraterei – Expected May
Paulaner-Festzelt – Expected April
Schottenhamel-Festhalle – October
Schützenfestzelt – September 1st
Weinzelt – Expected January

Alternatives To Enjoy Beer Tents if You Don't Have A Reservation.
Don't panic if you don't score a table reservation! You have plenty of options to take advantage of all the fun!
Before we dive into ways to score a table without a reservation, here are some general tips that will increase your chances:
Stick to weekdays! All of the locals are off during the weekend. As you can imagine, Saturdays and Sundays are packed. Sunday, in particular, is a hectic day.
Go early! The earlier you arrive, the better your chances are. Many tables are reserved after 4 pm, so you can enjoy the seats until the reserved people arrive.
Walk up and enter!
Munich's city requires beer tent owners to keep one-third of the seats in the central aisle "unreserved" during weekdays and all of them on weekends. We walked into many tents; however, we were restricted to standing areas as most if not all seats were taken. If your strategy is the walk-in, you might want to consider getting there really early to ensure a table.
Lastly, if you use the walk-in strategy, you can always ask people at tables if there is a spare seat or two. You may have to ask a few tables, but this has worked for many tourists.
Connect up with others that have purchased a table reservation and split it with them.
So long as you do this individually and not through a ticket scalper, you will be fine.
Woo a local and ask them to get you in.
Many people at our hotel used this strategy and gained many beer gardens and tables in various tents.
Butter up and befriend a waitress.
If you are kind, most will assist you if there are seats available. And, if someone helps you, hook them up! Don't be cheap and tip them generously.
Indulge in the Beer Gardens & Small Tents.
Sure the atmosphere might be smaller in scale, but it's still an authentic experience.
What to Expect at Oktoberfest
Oktoberfest is probably the craziest event you'll ever attend. Approximately seven million people visit every year. And, it's estimated that 85% of attendees are Germans. People are falling all over by noon, there are hour-long lines for the restrooms, and it's often cold and/or raining. Piles of barf litter the street, and the smell of urine are unforgettable. However, these are common trades off's for any large festival.
People are ecstatic! If there wasn't a big band playing traditional music in almost all tents, you might think you have arrived at a rave. People climb the tables to sing and dance along. It's a once-in-a-lifetime experience.
Oktoberfest Germany Hours
Day one starts at noon after the Lord Mayor of Munich taps the first keg.
Day one runs from 12:00pm to 10:30pm
Beer Tent Opening Hours
Monday through Friday: 10:00am to 10:30pm
Saturday, Sunday & Public Holidays: 09:00am to 10:30pm
Closing Hour: 11:30 pm – daily.
The "Käfer Wiesn-Schänke" and the "Weinzelt" are open until 1:00am. Last call is at 12:15am.
Food & Drink at Oktoberfest
If you had told me that I'd fallen in love with German food a year ago, I would have said, "you are crazy." The reality is it's hard not to fall in love with the local dishes.
While each tent has its own dishes, the typical fare is Bavarian cuisine. Some typical examples are:
Hendl – roasted half chickens
Schweinshaxe – pork knuckles
A variety of oxen dishes
Bratwursts – sausages
Traditional sides like sauerkraut, red cabbage, potato dumplings, and potato salad
Bavarian soft pretzels
Nutella crepes
The choices are endless, and outside of Bavarian dishes, there are plenty of other cuisines available.
Women's Attire for Oktoberfest Germany
Men's Attire
Men traditionally wear Lederhosen, which are essentially leather breeches. Lederhosen's can be shorts or knee-length and are attached to suspenders that connect across the chest. Lederhosen are worn over a plaid shirt and accompanied by long socks and loafers.
There are many authentic Lederhosen online, and many come with the loafers!
Men's Attire for Oktoberfest Germany
Rent Dirndl and Lederhosen for Oktoberfest
While you can rent a dirndl or lederhosen for Oktoberfest, I DO NOT recommend it. Oktoberfest Germany is packed and messy! Even if you don't drink, don't barf, or wet yourself (yes, that happens here), you will likely get dirty. If you rent and anything happens to the outfits you rent, you'll end up owning them, which in the long run is way more expensive than simply buying your own outfits.
Typical rentals cost €40-€50 per day.
If you insist on renting, a popular company is Bavarian Outfitters.
Should you tip at Oktoberfest in Munich?
Yes! It's not technically required, but it's customary. And, if you are planning more than one drink in a tent, it's a must, or you will be waiting a long time for your second beer.
How Much Should you tip?
One euro per liter is a good starting point, so have any change on hand. Or, round up to the next euro.
Having change is a must. The servers may or may not have change on hand to give you.
Note: Beers start at 11 euro's. If you do not have change you might end up paying 20 euros for one beer.
Closing Thoughts
I never set out to attend Oktoberfest Germany, and it was on Brian's bucket list. I'm not a beer drinker, I am not a fan of lines and queues, and while I'm not claustrophobic, I am not a fan of large crowds. Regardless, I am glad that we did it. It was a crazy experience that leads to many other wonderful experiences in Germany that I would not trade for anything.
I firmly believe that everyone should experience Oktoberfest Germany at least once in their life and for some once will not be enough!
Looking for more posts on things to do while in Munich, start here:
We are a participant in the Amazon Services LLC Associates Program, an affiliate advertising program designed to provide a means for us to earn fees by linking to Amazon.com and affiliated sites.
Brit On The Move™ Travel Resources
Ready to book your next trip? Use these resources that work:
Need more help planning your trip? Check out our Resources Page, highlighting the great companies we trust when traveling.