Despite increasing costs, a large number of travelers are still managing to visit Thailand on a budget.  Thailand was once a very affordable and super cheap place to travel to. Due to the rise of popularity and increase of travelers, it's not as budget-friendly as it once was.
As a result, lots of fabulous resorts and luxurious restaurants have been created in the main cities to accommodate demand.  This now invites wealthy travelers who spend their money and enjoy the modern luxuries of Thailand.
Even though it seems like an extravagant tourism scene is taking Thailand by storm, it only makes up for a fraction of the tourism possibilities in Thailand. Thailand is a relatively large country, and it has a lot of amazing destinations apart from mainstream cities like Bangkok and Phuket. If you do some planning and employ the proper tactics, you can still visit Thailand on a budget and still have a lot of fun.
This post may contain affiliate links. Please read our disclosure and privacy policy for more information.
Here are six creative and easy ways you can travel to Thailand on a budget.
Plan your vacation at the end of the monsoon season:
Planning is a crucial part of the budget for any traveling, regardless of your destination. A good plan allows you to find and estimate the price of all the activities you want to do. Likewise, you can also figure out the cost per day of staying at your destination. Planning can help even more when you are trying to create a low budget plan, especially if you want to see Thailand on a budget.
When you are traveling to Thailand, you need to choose the right time of the year. In the summers, when the tourism season is at its height, the flights and other expenses in Thailand can be a little pricey. But in the offseason, which is the monsoon season, tickets to Thailand are very cheap from almost anywhere.
The rainy season in Thailand is uusally July to October.
Now, of course, I wouldn't suggest that you visit Thailand during the rainy season. However, if you buy your tickets to arrive at the end of the rainy season, you can get cheap tickets and the weather will good.
You will need to hurry because there is a tiny window at the end of the monsoon season where travel prices rise again. So, be ready and buy cheap tickets to save a significant amount of money while traveling to Thailand.
Save money on food and snacks:
Food is a significant expense when you are traveling to another country. And, the delicious and mouthwatering traditional Thai meals are very inviting. However, you don't need to visit the expensive restaurants in the main cities of Thailand to get an authentic experience of Thai cuisine. In my opinion, the best way to get an authentic experience of traditional Thai food is to check out the street food. Usually, street food is as delicious as the food at expensive restaurants, if not more, and it is, of course, also significantly cheaper as well.
You can save a significant amount of money by avoiding expensive restaurants. You can also prepare meals for yourself while you are traveling to save money. Almost every travel hostel has a small kitchen, and you can easily make some very affordable meals instead of wasting money.
Find the cheapest accommodation:
Of course, you will need to have a place to sleep and rest while you are traveling in Thailand. There are many different ways in which you can get cheap or even free accommodation in Thailand.
You should check out CouchSurfing. This website brings travelers together to find free accommodations. You can search the available CouchSurfing hosts in a specific area and send a request. If your request is accepted, you have got a free place to stay while you travel. Using CouchSurfing is one of my favorite ways to travel to Thailand on a budget. Another option is Airbnb but it's not a free option like CouchSurfing.
Thailand also has a lot of Buddhist monasteries. You don't have to be a Buddhist or a monk to stay in a Buddhist monastery. Accommodation and food are usually free in these monasteries if you abide by their rules. It is a great way to get free accommodation and learn about Buddhist culture and a great opportunity for you to immerse yourself into the religion.
Travel Essentials – Don't Leave Home Without These!
First Aid Kit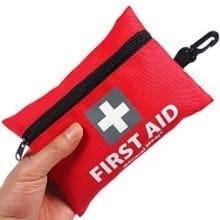 Everyone needs a first aid kit when they travel. We also have one on our boat. This particular one is perfect for travel because it's small, light and can be clipped onto a belt or luggage. This small set contains a whopping 92 items, and it's only 0.35 pounds!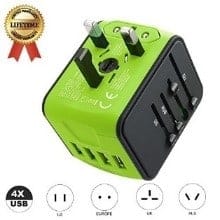 It goes without saying that if you are off overseas, you need a travel adapter. I've owned several over the years, and I recently bought this one. Above all, I decided I needed an all in one to save on space and one that can handle power conversion for standard items. The color of this was lovely as well. Due to the color, it's unlikely going to be forgotten because it stands out.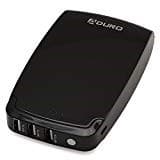 Charge while on the go is essential. I swear by the Aduro power banks. They charge your devices are lighting fast and you can charge three items at once.

This little charger is a must-have for any trip. As a result, this has also been the most popular gift we have given. We got our entire family these chargers; everyone is now an Aduro fan!
Teach English for traveling:
Another way to travel to Thailand on a budget (or any destination) is to find a way to finance your trip. If you are traveling to Thailand, one of the best ways to finance your travels is to teach English to foreign students.
There are many foreign teaching jobs in Thailand and many other Asian countries that you can apply for. These jobs will pay for your flights, accommodation and sometimes food as well. You will also get a decent monthly salary. But the catch is that you need to have a certification to get most of these jobs.
TEFL is the most common certification for teaching English abroad. You may be wondering, is TEFL worth it? Well, yes, it is. Even after you are done with teaching abroad, having a TEFL certification on your resume will allow you to get better opportunities.
Most importantly TELF courses aren't expensive so this is a good investment.
Use local transport instead of taxis:
In many countries – especially in Thailand, taxis are quite expensive for travelers. Taxi drivers try to charge extra money, and they are know for scams aimed at taking money from unsuspecting travelers. Of course, not all taxi drivers are like this, but still, I prefer to stick to public transport to save money and stick to my budget.
Public transport busses very cheap in Thailand. You can save a significant amount of money by commuting on busses.
Think like a local when shopping if you want to do Thailand on a budget:
Whether you are traveling to Thailand or any other country, you need to think like a local if you are going to save some money. There are two prices for everything in Thailand. One is the actual price and the second price has some "travelers tax" added to it.
So even if an item seems cheap according to your currency, haggle a little bit to get the right price. You should also shop at budget markets to save money while traveling.
Overall, Thailand is a fantastic and super fun destination. You can maximize your time in Thailand even if you have a limited budget. Just follow the tips mentioned above, and you won't have to worry about blowing your budget.
About the Author:
Marcel Schreyer is a French national, a student of English Languages, in his final year at Stanford University. Marcel is exceptionally passionate about writing his thoughts in words and takes up writing projects in his leisure time to accompany his studies. He is multi-lingual and enjoys every bit of learning and teaching languages. He regularly writes his blogs at https://jimmyesl.com/blog/.
Looking for more posts to inspire you? Start here:
We are a participant in the Amazon Services LLC Associates Program, an affiliate advertising program designed to provide a means for us to earn fees by linking to Amazon.com and affiliated sites.