Many people opt to spend a weekend in Dubai, given that Dubai is the central hub to the Middle East. It's not uncommon to spend a long weekend during a layover, and it's becoming even more common for people to spend a day while en route to other locations. Many Emirate airlines offer free layovers that enable you to check out the Emirates. Dubai is extremely popular for a layover and long weekend. Dubai is one of the most popular cities, not only in the UAE but also in the Middle East. An ultra-modern city, what makes Dubai extra-special is that it has preserved its traditions and heritage beautifully. Hence, a holiday in Dubai offers a range of exciting experiences. If you are connecting via Dubai, here is how to spend your weekend in Dubai.
This post may contain affiliate links. Please read our disclosure and privacy policy for more information.
Visit "At the Top" at Burj Khalifa
The Burj Khalifa needs no introduction. Measuring 828 meters, the Burj Khalifa holds the record of being the tallest building in the world. The building comprises of residential buildings, high-end restaurants, and a luxury hotel as well. The best way to check out the interior of the Burj Khalifa is to go up to the observation deck. At the top is the observation deck on the 124th floor of the building that offers a gorgeous view of the entire city. The highlight of the tour is a ride on the fastest elevators on earth.
Do More than Shopping at Dubai Mall
With more than 1200 stores, Dubai Mall is a shopper's paradise. Right from fashion to technology, there is nothing that you cannot buy here. However, the Dubai Mall is not just for shopping. Dubai Mall offers entertainment and adventure activities. One of the things that you should check out here is the Dubai Mall Aquarium and Underwater Zoo. Then there is VR Park, Dubai Ice Rink, KidZania, and a multiplex theatre to keep you entertained. Do not forget to check out the Dubai Fountain Show that happens right outside the Dubai Mall every evening.
Enjoy a Dubai Desert Safari
No Dubai holiday is complete without a visit to the desert. A desert safari is undoubtedly the best way to enjoy the beauty of the vast desert and, at the same time, have a fun experience. The evening desert safari combines adventurous activities, entertainment programs, and great food to ensure that you have a memorable experience. Alternatively, you can opt for a morning desert safari that offers all kinds of desert adventures. Or, there is an overnight desert safari that is for those who want to spend the night. However, if you are not interested in any of the cultural programs or adventures, book dinner in the desert, where you will be able to enjoy a delicious meal amidst the beauty and peace of the desert.
Explore Old Dubai
Dubai is not only about shining malls and glittering structures. There is another part of the city that will remind you about its humble beginnings. The area surrounding the Dubai Creek is considered as Old Dubai. And it is one of the best places to visit in Dubai. A trip to Old Dubai should include a visit to the Dubai Museum, which gives you a glimpse of Dubai's past.
Moreover, a walk around the Bastakiya Quarter (the oldest neighborhood in Dubai) will tell you all about the time when Dubai was a fishing village. For detailed knowledge, join the free tours arranged by the Sheikh Mohammed Centre for Cultural Understanding (SMCCU). Also, check out the souks of Dubai as well as the Jumeirah Mosque during your visit to Old Dubai.
Visit the Beaches
Being a coastline city, it is not surprising that Dubai is home to some of the best beaches in the world. While some of the beaches are known for the adventures they offer, others are perfect for relaxation. Some of the best beaches for water sports include Kite Beach, JBR Beach, La Mer Beach, and Ghantoot Beach. Kite Beach is one of the best places for trying kite surfing. On the other hand, if you are looking forward to a fun and relaxing day with family and friends, Sunset Beach and Al Mamzar Beach Park are the best. However, if you want to be surrounded by peace and quietude, there is no better place than Mercato Beach.
Indulge in Adventures
Apart from the numerous water sports, Dubai also offers some of the most extreme and challenging adventurous activities to those interested. It is one of the top places for skydiving. Along with outdoor skydiving, the city also offers the chance for indoor skydiving with iFlyDubai. Other than this, Dubai offers hot air balloon riding, skiing, and snowboarding (at Ski Dubai), bungee jumping, hiking, mountain biking, paragliding, dune bashing, and sandboarding, etc. In short, if you are itching for an adventurous holiday, Dubai will fulfill your wishes.
Have a Fun Time at the Theme Parks
One of the best things in Dubai is its amusement parks, and there are so many of them that it's difficult to pick one. The theme parks are perfect places to visit when traveling to Dubai with your family, especially if you have kids. When it comes to theme parks, you can choose from Motiongate Dubai, Bollywood Parks Dubai, and IMG Worlds of Adventure. These theme parks have something for both adventure lovers and fun-loving kids.
On the other hand, Legoland Dubai is ideal for kids between the ages of 2 and 12 years. Some other unique theme parks in the city include Ski Dubai, Dubai Garden Glow, etc. Apart from this, there are also water parks like Legoland Waterpark, Atlantis Aquavanture, Laguna Waterpark, and Wild Wadi Waterpark to keep you engaged.
Go on a Dhow Cruise
Although there are unlimited unique and exciting restaurants in Dubai, most people want to try a dhow cruise. The dhow cruise takes place on a traditional dhow that is refurbished as a restaurant. The dhow sails along the Dubai Creek, Dubai Marina, or Dubai Canal for 2-3 hours while you enjoy a delicious dinner as well as the beautiful views of the city's skyline. Along with the dinner buffet, entertainment programs like Tanoura dance, live music show, etc. are also a part of the dhow cruise dinner. Perfect for a quiet dinner after a hectic sightseeing or shopping spree in Dubai, the dhow cruise is an experience that you will treasure.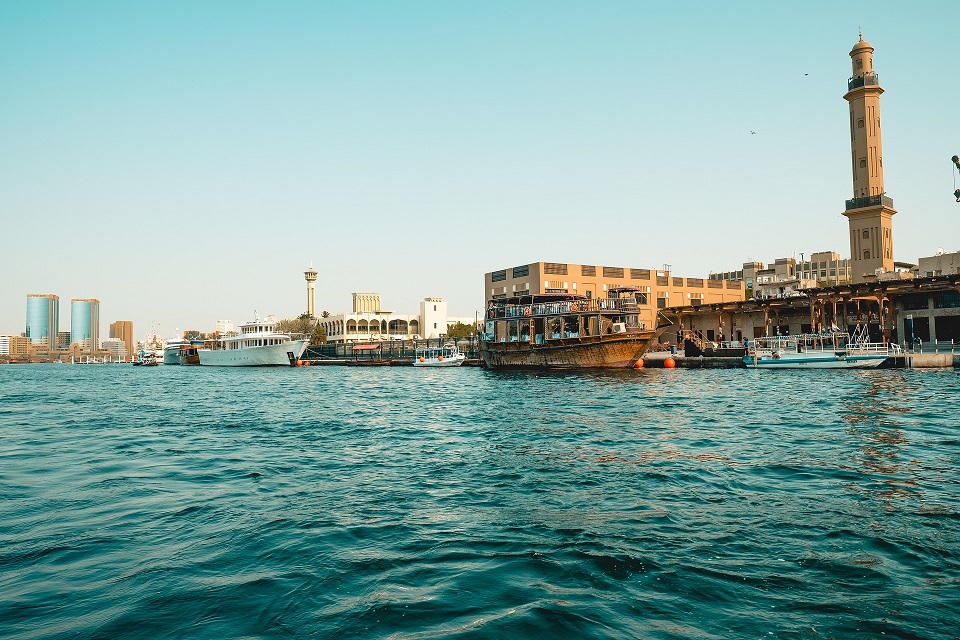 Looking for more posts to inspire you? Start here:
We are a participant in the Amazon Services LLC Associates Program, an affiliate advertising program designed to provide a means for us to earn fees by linking to Amazon.com and affiliated sites.