A common challenge ladies face on the road and in different climates is the best makeup setting spray is?
If you are not familiar with makeup setting sprays, think of them as the hairspray of makeup. You would not curl your hair without using some hairspray to set your curls.
Makeup setting sprays are like a topcoat on fresh nail polish.
They seal your foundation, eye makeup, and lipstick in place so they do not fade or smudge. They eliminate runs, some eliminate and ward off sweat, and some make your face almost waterproof.
Over the years, I have tried at least thirty makeup-setting spray brands ranging from the cheapest drug store to the Highstreet crème de la crème.
In general, one trumps all. As you can imagine, as with most things, you get what you pay for. So, it is no surprise that the most expensive one is my favorite.
However, there are a couple of alternatives that I turn to when I am not flush. I am not brand loyal – for me, it is about which one does the job.
This post may contain affiliate links. Please read our disclosure and privacy policy for more information.
Why I Use A Makeup Setting Spray When Traveling:
I do not stick to a climate; our trips run the gamut of snow trips to Asia's hot and sweaty regions. While not as necessary in colder climates, I have personally found that it is a must for hot or humid places. I have oily skin, to begin with, and makeup can and does melt off my face – literally.
If I use a makeup setting spray, I can avoid all of this and maintain my look.
And, yes, the obvious solution to all of this is not to wear makeup. Each to their own😊
Last year, in Cambodia, I was able to keep a fresh face throughout an entire day of visiting floating villages. And, hot is not a word that even comes close to describing the heat. I would describe the weather as blistering.
Despite the extreme heat, no sweat for me, and no makeup run! Many of you asked me if these photos were touched up, and the answer is no! The lack of sweaty dewy face is down to using a makeup setting spray – period!
I liken makeup setting spray to the makeup hack of the travel world!
Photo Perfect Makeup in Cambodia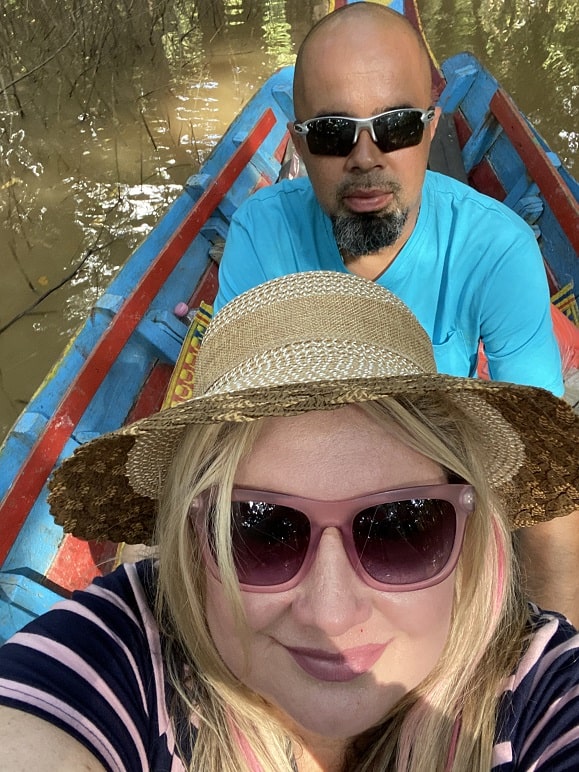 My Choice of the Three Best Makeup Setting Sprays
The best way for me to describe this one is it sticks like glue – literally. For some, this will be negative, but this one is 100% bulletproof.
The product claims to hold your makeup in place for sixteen hours. It does this and then some. I have been swimming in this, been out for twelve plus hours, and had no movement. I have also slept overnight in this one and woken up with a full face of un-touched, unmoved pristine makeup.
If you read other reviews, this is often the one that brides turn to because of its staying power.
Urban Decay All Nighter contains patented temperature control technology. I used it in Cambodia. And it is my go-to for beating the heat.
Size 4.0 oz
Pro's
Controls temperature
Works and outlasts all others
Oil-free
Vegan and cruelty-free
Does not crease or create lines
Matt finish
Con's
Most expensive
It takes a few minutes to dry and set
You can feel that your face is "set."
It makes makeup removal difficult, especially mascara
Looking for the best toner, check out this collection here!
I stumbled across this one on Amazon as it had rave reviews. The first product from FLOWER Beauty® By Drew Barrymore that I have tried.
It is only a third of the cost of Urban Decay. Seal the Deal is becoming my new favorite, particularly for day-to-day wear or situations where I am not trying to combat heat or sweating.
This does the job; it is effective, but it will not hold for sixteen plus hours. It lasts about six to eight hours.
Size 3.4 oz
Pro's
Inexpensive
Lightweight, your skin can breathe through this one
Dries and sets instantly
Cruelty-free
Easy to remove
Matt finish
Con's
Does not control heat
It only lasts up to about eight hours
The spray nozzle gets clogged, and you must rinse it out.
NYX Cosmetics Long-Lasting Makeup Setting Spray Matte Finish was the #1 makeup setting spray in America of 2019!
I am guessing for two reasons. One, it works. And two the price point. It is by far the least expensive of the ones that work.
I must point out, while the least expensive, it is also the smallest bottle – 2.0 fluid ounces. If we compare the cost per ounce, it is not the least costly.
I have used NYX many times. I carry this in my makeup bag due to its small size. It does work for approximately six hours, and it is readily available in any drug store.
Size 2.0 oz
Pro's
Inexpensive
Small bottle
Cruelty-free
Easy to remove
Available almost anywhere
Matt finish
Con's
Does not control heat
It takes about five minutes to dry and set. *This one goes on wet and can mess up your mascara if it is not 100% dry before application.
It only lasts up to about six hours.
Closing Thoughts
The market for makeup setting sprays is flooded. Every brand has one; however, many do not live up to their claims.
Many makeup setting sprays clog your pores, make your skin oily, or give you an additional run, defeating the purpose.
By the way, you can use the variety of sprays and other kinds of skincare products that
Innisfree
provides.
Which brand do you think is the best makeup setting spray, and why?
Which brand do you rely on when you travel?
What's your favorite eyebrow pencil?
Looking for more Travel Hacks? Start here:
Brit On The Move™ Travel Resources
Ready to book your next trip? Use these resources that work:
Need more help planning your trip? Check out our Resources Page, highlighting the great companies we trust when traveling.