Everyone heads to Cambodia to see the temples, and most opt to see a floating village of Siem Reap. Visiting a floating village is recommended by all tuk-tuk drivers, hotels, and travel agents. It's marketed as an opportunity to experience the cultural life of those living off the lake. The reality is outside companies run all Tonle Sap tours. Most do not employ the locals or donate any of the profit back to the community, and while people live here, it's become a tourist trap well known for scams.
Tonle Sap Lake is a UNESCO World Heritage site, but it is endangered due to overfishing and pollution.
Map of Tonle Sap Lake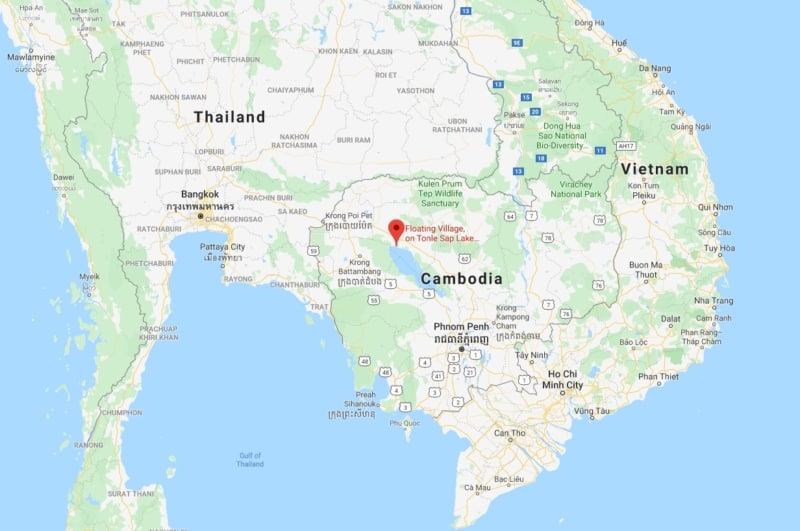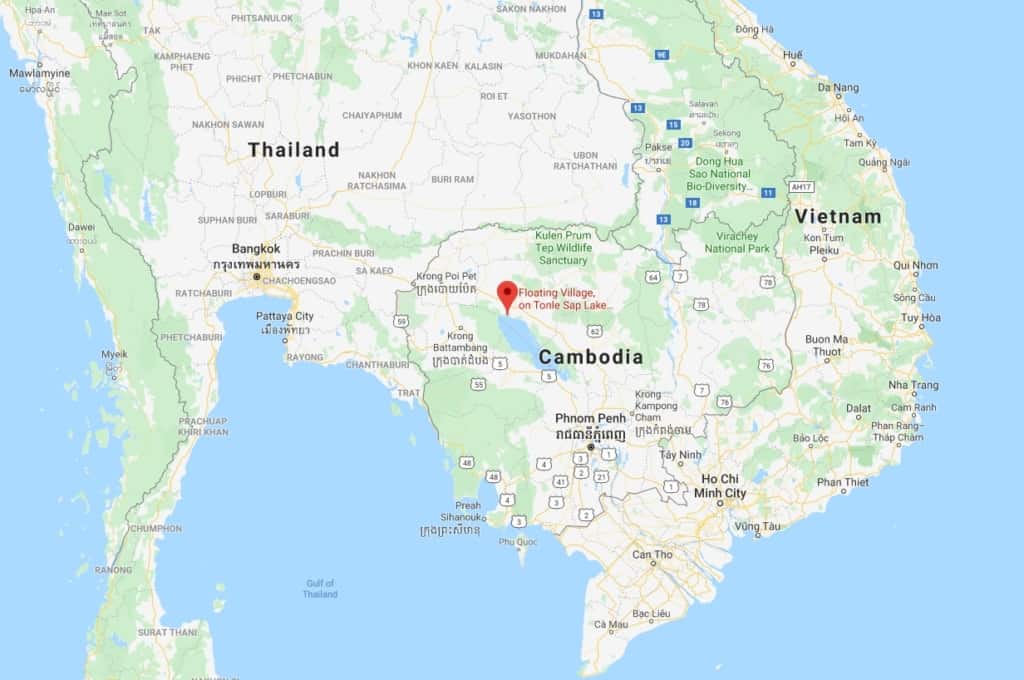 This post may contain affiliate links. Please read our disclosure and privacy policy for more information.
It is located ten and a half miles outside of Siem Reap. Tonle Sap Lake, fed by the Mekong River, is the largest freshwater lake in Southeast Asia that supplies half of Cambodia. Once a local way of life, Tonle Sap Lake is best known for slits 32 feet high houses.
During the wet season, the Tonle Sap Lake swells to 192,62 square miles. The largest freshwater floodplain globally, and over three million people live on and around the Tonle Sap Lake.
Floating Villages of Siem Reap
There are four main floating villages near Siem Reap:
Chong Kneas
Kampong Khleang
Kampong Phluk
Mechrey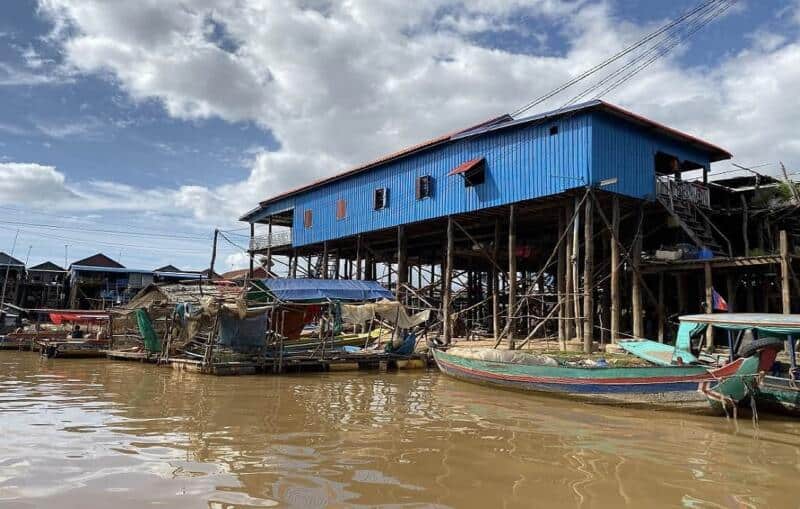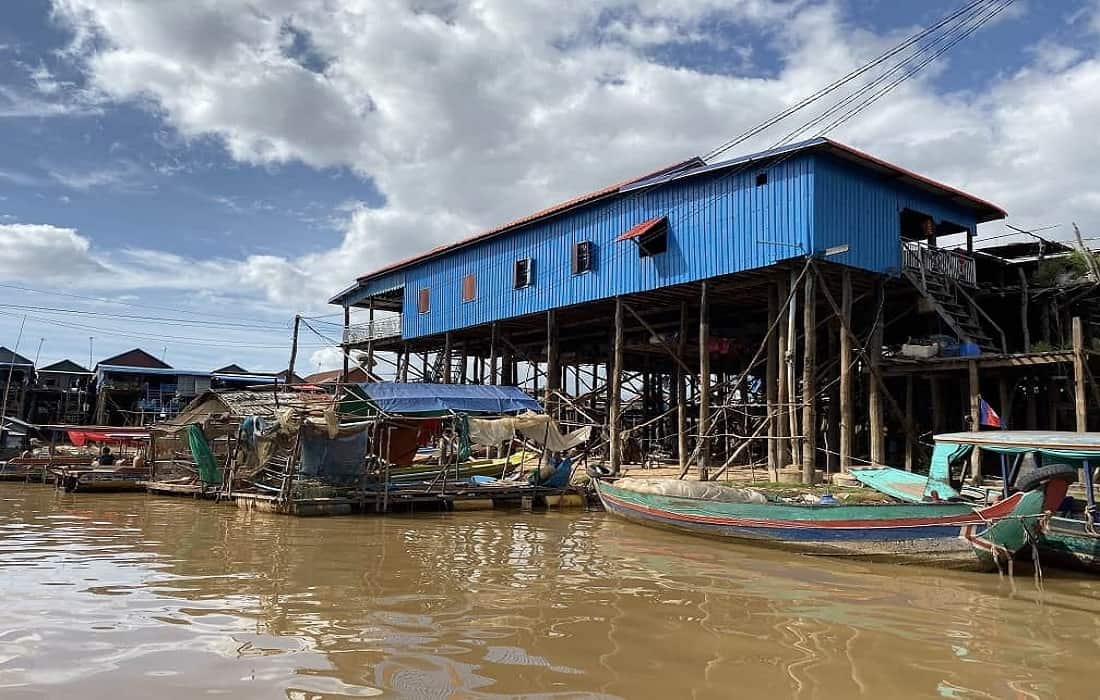 Kampong Khleang
One of the most remote, this floating village is a two-hour boat ride from Phnom Krom boat dock. Home to the largest population of all the villages on Tonle Sap Lake is the least visited by tourists.
Kampong Phluk
Kampong Phluk, which translates to "harbor of the tusks," is a combination of 3 villages. Less touristy than Chong Kneas and closer to Kampong Khleang, this floating village is considered a good compromise if you are short on time.
Mechrey
This floating village is the entry point into the Prek Toal Core Bird Reserve. The community here survives on fishing and eco-tours. This is the newest of the floating villages to take on tourism. Some say it is authentic, and many reports state that it is also following the suit of others with scams.
Chong Kneas
Chong Khneas floating village is by far the most popular, and it's the one that almost all hotels will recommend. It's the closest to Siem Reap, and I suspect that everyone is getting a cut from taking tourists here. We tried to get our hotel to arrange for us to go to Kompong Khleang because it's the least touristy, and we were met with, "we have never heard of it." Upon promoting some research, we were told its way too far to visit. It's not, and it's about two hours away. Regardless, we got the sense that our best bet was to try Chong Kneas.
It costs $20 to enter Tonle Sap Lake and tour Chong Kneas by boat.
Best Time to Visit the Floating Villages of Siem Reap
The rainy season is June through October. The time of year when entire communities are "floating," so many consider this the best time to visit.
During the dry season, the home's stilts are exposed, and you can see the houses' sheer height.
Getting to the Floating Villages of Siem Reap
You can arrange to tour yourself by arranging transportation and then the entry fee to the lake or a package. You can take a taxi or private car to the boat docks Tonle Sap Lake. Most people opt for the local form of transportation and take a tuk-tuk. We took our hotel's tuk-tuk then paid for the entry at the lake.
Tuk-tuk ride to Tonle Sap Floating Village
Riding in the tuk-tuk to the floating villages of Siem Reap is an experience of its own. You travel through a couple of local communities, a market and get a real sense of life outside of Siem Reap.
You will be offered a medical face mask to protect you from all the dust. However, I have to wonder if it is the smell that tour companies want you to avoid. I'll tell you more about this later.
Once you arrive at the main entry point, you'll get your ticket, and then you will ride another five minutes to the boat dock. Here you will show your tickets then board one of the thousands of Tara riverboats.
Tara Boat Tour of the Floating Villages of Siem Reap
I don't even know where to start with this. I'm torn between encouraging you to see this for yourself and telling you to avoid it like the plague. Unfortunately for Cambodia, I've promised my readers my truth, so here goes.
Tara Boats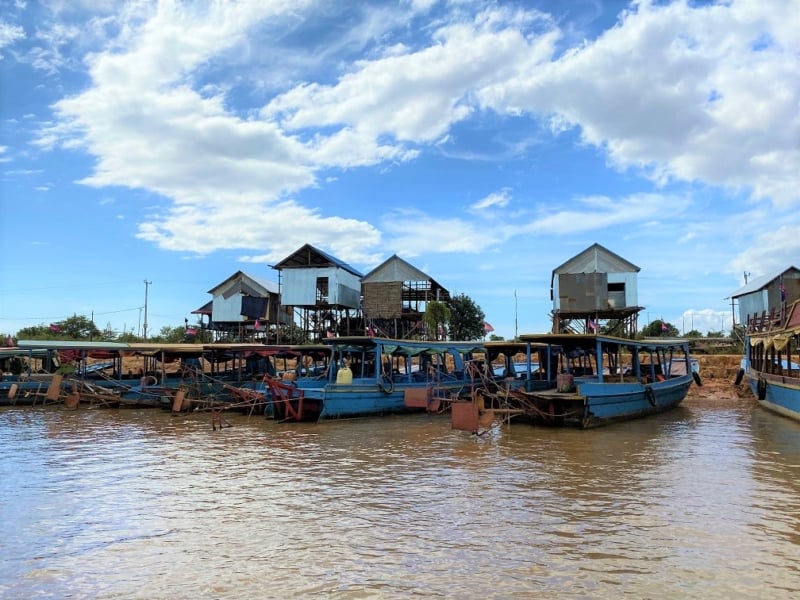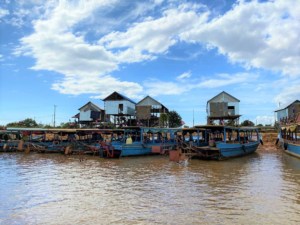 Avoid the floating villages of Siem Reap like the plague. If you get to the boat dock and the smell has not dissuaded you, the first five minutes on the boat will make you question your sanity.
It's one of the most disgusting, filthy places I've ever had the misfortune to visit. The smell is a combination of human and animal waste combined with a stale, dead fish. It's so strong it almost chocks you. As you take off, the smell is amplified by the tara boat's rudder churning the water.
Then there is the trash. It's so sad to see a place that could be stunning covered by piles and piles of garbage.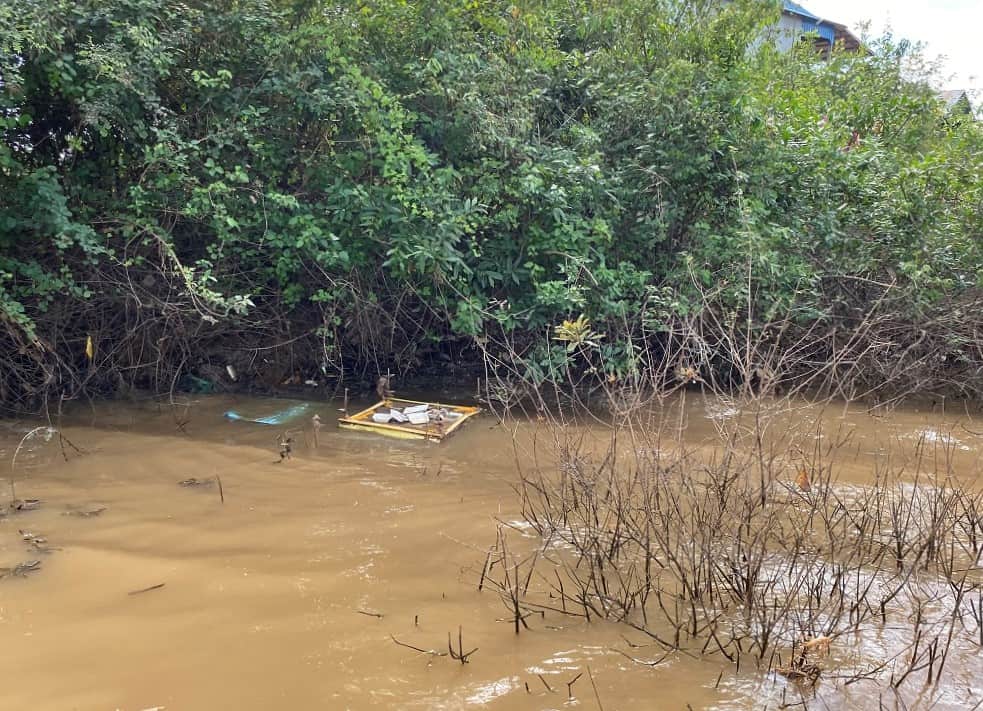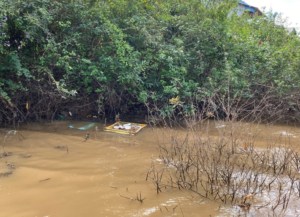 Canoe Tour of the Floating Villages of Siem Reap
Halfway through the trip, you'll stop at a floating restaurant where you can pay an additional five dollars to take a canoe tour through the mangroves or flooded forest, as it is sometimes called.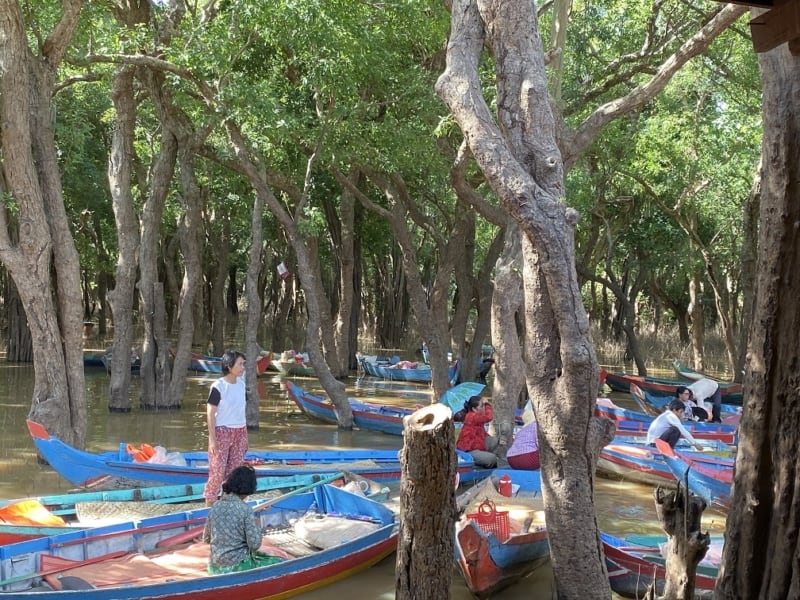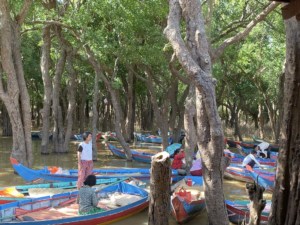 Another fail, more churned-up filthy water to take in. Then, the stop at floating canoe shops where you are firmly pushed into buying food and drinks for yourself and the lady paddling your canoe. We purchased her rice and a drink to speed up the process, as it was apparent that we were not moving anytime soon unless we made a purchase.
TIP: Make sure you have cash; once you are out on the lake, you need local currency.
Lastly, you end at a different restaurant and gift shop than where you started. This freaked me out, we could not see our driver, and I thought we were being set up. He was waiting but out of sight. Here we go again with the buy this and that. I signaled to our driver, and we resumed the tour.
Scams of Tonle Sap Floating Villages
Let's start with the one I mentioned earlier.
Buying rice or goods for your driver or canoe paddler. It's not a must, but it's uncomfortably pushed, which is annoying.
Now for the others
Double and triple entry costs. Ensure that you know the costs and have your driver go in with you when you get your tickets. If you've flagged a tuk-tuk off the street, they will not help you as they stand to get a kickback if you get a scammer.
TIP: Either book a tour through a reputable company that will buy your tickets for you or arrange your transport through your hotel. If you arrange transport through the hotel your driver will help you.
Visit a school or orphanage. Refuse to visit a school – we did. I had read about this scam in advance. This is where locals ask you to buy bags of rice for the children then pocket the money.
What You Need to Know:
Do not consider this tour If you have a weak stomach or are sensitive to smells.
Prepare yourself for extreme poverty.
If you have allergies, you will need a medical mask.
Make sure you are up to date on your shots; this is a bacterium breeding hovel.
No one speaks a lick of English, so don't expect your driver to tell you anything. All communication is via sign language.
Be firm and say no to stops at schools, gift shops, and so on.
Closing Thoughts:
I've visited floating markets in other countries and enjoyed them. Chong Khneas was my first floating village, and I did not enjoy it at all. Easy for me to say, having been here. But I'll give you an analogy that will resonate. You don't need to taste waste to know you won't enjoy the taste of it – the same concept. Or, as Brian said, the experience was six hours of his life, he will never get back.
Consequently, I can't recommend this to you at all. Stick to the temples and Bar Street, and you'll be fine.
If I have not convinced you this is one to miss, take a read of the dismal two-star rating reviews on TripAdvisor.
If you must visit Tonle Sap's Floating Villages, choose Kampong Khleang.
Looking for more posts on things to do in Asia? Start here:
We are a participant in the Amazon Services LLC Associates Program, an affiliate advertising program designed to provide a means for us to earn fees by linking to Amazon.com and affiliated sites.
Brit On The Move™ Travel Resources
Ready to book your next trip? Use these resources that work:
Need more help planning your trip? Check out our Resources Page, highlighting the great companies we trust when traveling.