How many times have you been on a trip and needed WiFi? This often happens when I am in remote areas or on the other side of the world. Then, you find yourself either off the grid or scrambling to find a place offering free WiFi.
Sure, you can avoid some of this with an International plan. However, even with international plans covering many locations, the accessibility is still dependent on your service provider's network and integration with the overseas carriers.
We have all experienced being without WiFi at some point, which can be frustrating. Whether you are trying to connect to work, figure out logistics, or text someone. A lack of WiFi can temporarily ruin an otherwise perfect day.
This post may contain affiliate links. Please read our disclosure and privacy policy for more information.
Not anymore, enter the Keepgo Hotspot!
I recently got a Keepgo Lifetime 4G LTE Mobile WiFi Hotspot and tested it out in the Poconos in Pennsylvania, where service is spotty at best. And, to my surprise, this tiny little gadget got me up and running in less than five minutes with a strong signal. Which, in turn, allowed me to complete some tasks that I could not wait for.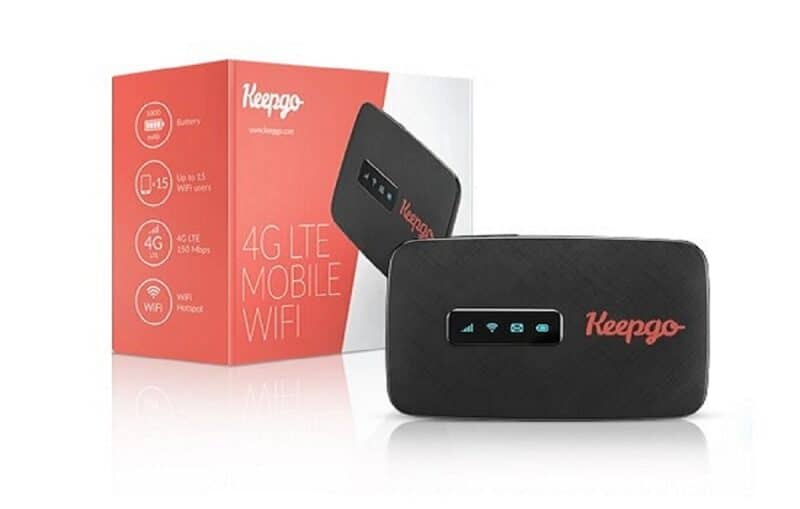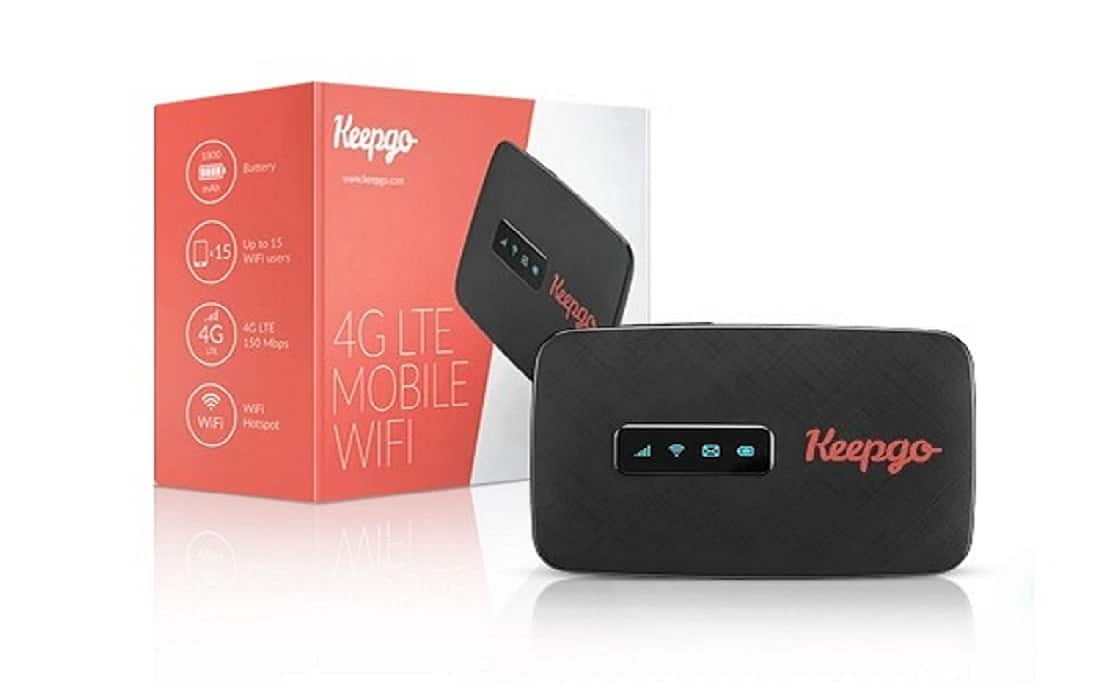 The Keepgo Lifetime 4G LTE Mobile WiFi Hotspot costs $99.
However, I have an exclusive 10% discount code for you. If you use the code BRITONTHEMOVE, you will receive 10% off and free shipping!
This is inexpensive. You can rent a mobile hotspot from your carrier for $20-$30 per month to put this in context. You will own your Keepgo Mobile hotspot, and it will have paid for itself within three months.
What Is A Mobile WIFI Hotspot?
A Mobile WIFI Hotspot is a battery-powered portable internet access point that enables you to connect to a WiFi network. It works the same as connecting to a home or office network. Only it is mobile and travels with you. Mobile hotspots typically use mobile broadband service from cellular providers for 3G or 4G LTE internet access.
Why Use A Portable WiFi Hotspot?
A WiFi hotspot is often less expensive than international plans, eliminating the possibility of roaming charges. It is also wickedly convenient!
One of the best things about a portable WiFi hotspot is that you do not have to change your SIM card. Once you have set it up, all you have to do is turn on your Keepgo, and off you go.
Then there are secured or unsecured networks. Recall I tested my device in the Poconos? Well, the resort we were staying at had free WiFi, but it was un-secure. Keepgo offers a password-protected encryption connection and a secure network.
How to Set Up the Keego Portable WiFi Hotspot
Charge the Keego Portable WiFi Hotspot
Go to the Keepgo website and activate your SIM card, and set up your account.
You will see the 1GB already in your account.
Locate the SSID (network name) and WiFi Key (password).
Open the cover of the portable hotspot and look inside the cover to locate your SSID and WiFi Key. *Note, there is an art to taking off the cover until you get used to it. The device is so small and thin; you can barely see where the open notch is. It's in the top corner. Use a credit card or a knife to open it the first time. And, to read the SSID and WiFi Key, you will need a magnifying glass – they are tiny!
Please turn on the hotspot, press the power button for three seconds until it lights.
You connect to Mobile Hotspot the same way you would connect to any WiFi network:
Open your WiFi settings and scan for available networks. Your Mobile Hotspot name (SSID) will appear on the list.
In the list of available WiFi networks, select the name of the Mobile Hotspot.
If prompted, enter the Mobile Hotspot WiFi Key.
Tap "join" or "connect".
Congratulations! You've successfully connected a device to your mobile hotspot.
Keepgo Buttons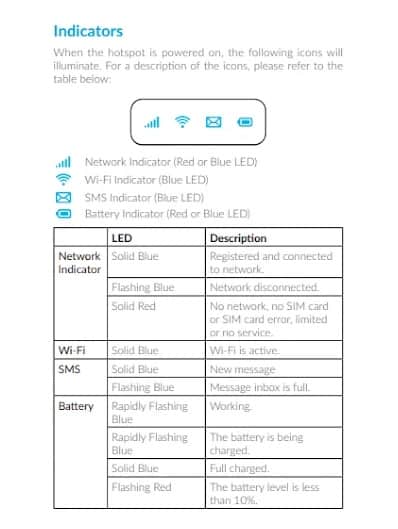 Keepgo Data Plans
When you purchase your device, you get 1GB of data with it and its lifetime data.
Now, 1GB is not exactly hours of YouTube videos, but it is not too shabby! 1GB will get you roughly 150,000 text-only emails or 1,000 online page visits.
Once you have used the free data that comes with the device, you refill the prepaid data or set up an auto-refill. You will receive a reminder email once your balance gets low.
Keepgo Data Costs

Now, you can come around the "if filled once a year" by resetting the clock on your device! Resetting the watch will give you another year to use it.
Keepgo Features
Prepaid Data Plan
With curated data plans, you will always pay for what you use, starting from just 8$ per 1 GB.
WiFi Sharing
Why pay for an unlimited international day pass if you are useless? Share your travel WiFi hotspot with up to 15 devices. You can connect laptops, iPads, Android phones, iPhones, and tablets. One simple Keepgo Hotspot is all you need for an entire household or a group traveling together.
Note: You will be sharing the data plan and signal strength across all devices you connect.
Best Cell Coverage Domestic and International
Keepgo Pocket WiFi Hotspot runs not on one but several of the largest cellular networks in many countries. Get the best cell coverage on the top nationwide systems in the USA and Europe. You can check the range here.
24/7 Human Support
Need assistance? Keepgo is available 24/7 via chat, messenger, or email.
Compact and Light Weight
With a weight of a mere 3.17 oz (90gr) and size 3.44 in (8.76cm) x 2.34 in (5.96cm), Keepgo portable WiFi hotspot is compact and innovative and is smaller than the smartphone you connect to.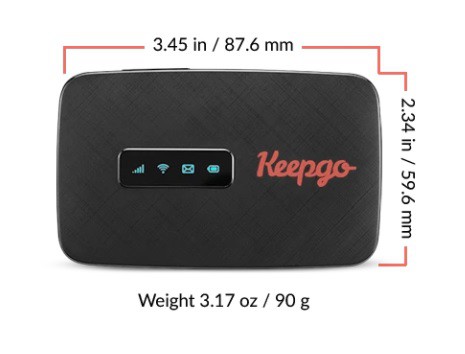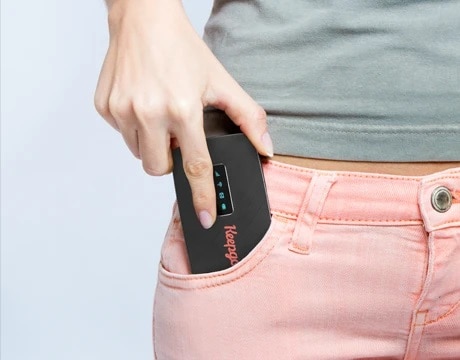 Limit Charges
Bill Protection sets a limit on how much is charged to your account per month. Reached 100% of your limit? No charges are applied! Your lines get deactivated.
High Speeds
Keepgo never filters or throttle down your connection.
Long-Lasting Connectivity
Welcome to the new reality: your Travel WiFi hotspot connects you for up to 11 hours on a single charge.
Free Worldwide Shipping
Enjoy free delivery to 38 countries.
Closing Thoughts
According to the Keepgo Lifetime 4G LTE Mobile WiFi, "…the smallest WiFi international hotspot on the market. It allows you to travel lightly and easily, always be connected, and never get lost." I have to agree!
Not only is it minimal, but it's also straightforward to use. From here on out, I will never have to worry about being without WiFI wherever I go.
Use my exclusive 10% discount code for you. If you use the code BRITONTHEMOVE, you will receive 10% off and free shipping!
I look forward to hearing how the Keepgo Lifetime 4G LTE Mobile WiFi Hotspot changes your life the same way it did mine!
Looking for more travel hacks, start here?
We are a participant in the Amazon Services LLC Associates Program, an affiliate advertising program designed to provide a means for us to earn fees by linking to Amazon.com and affiliated sites.
Brit On The Move™ Travel Resources
Ready to book your next trip? Use these resources that work:
Need more help planning your trip? Check out our Resources Page, highlighting the great companies we trust when traveling.