The easiest way to save thousands on a Disney World vacation is to use Davids DVC points for your stays at Disney Deluxe resorts. All Disney enthusiasts dream of staying on-site at a Deluxe Disney Resort. It's a dream for most because Disney World Resorts are pricey. While Disney World offers resorts in all budget categories, they are still out of reach for some. Yet, you can stay at a Deluxe resort for less than a budget Disney resort.
Sounds ridiculous, right? It's not, and I will show you exactly how I did this for our stay at Disney's Animal Kingdom Villas.
Total Cost: $644 for a studio with a Savannah view for three nights.
If you're not familiar with this resort or the Savannah views, this is one of the Deluxe Disney World resorts at the Animal Kingdom. If you opt for the Savanah view, your balcony will overlook a variety of exotic wildlife. For many of us, this is bucket list stuff.
I used Davids Vacation Club Rentals (DVC) to rent Disney Vacation Club Points from someone who would not use them for that year. You DO NOT need to be an owner of the Disney Vacation Club or a Davids Vacation Club Rentals member to take advantage of this strategy!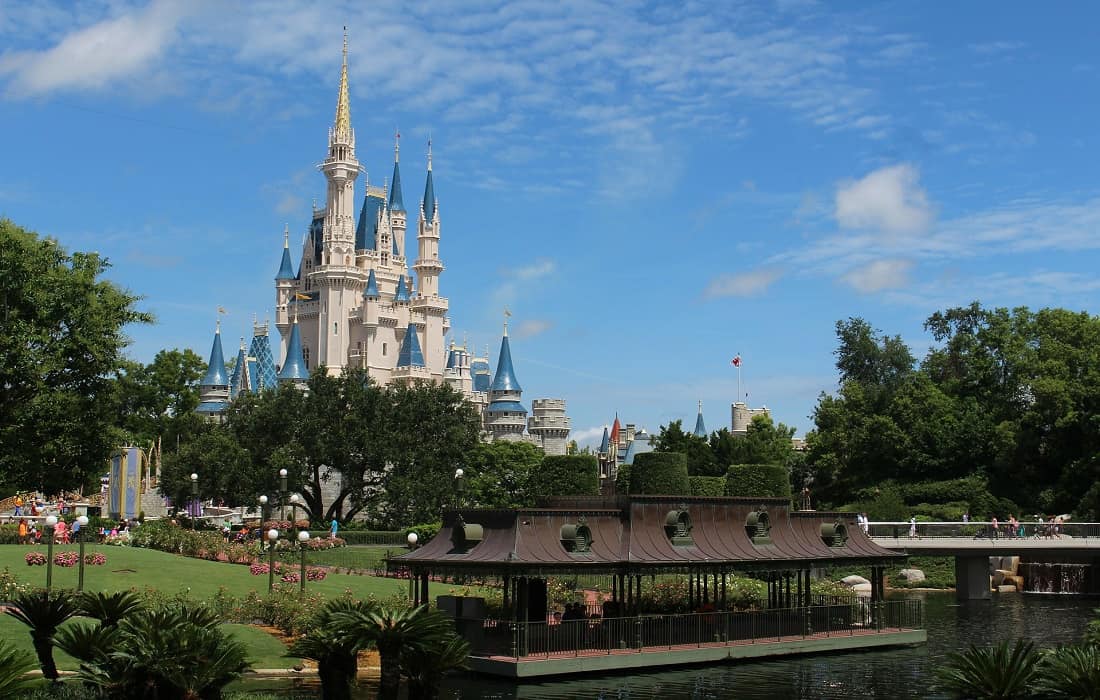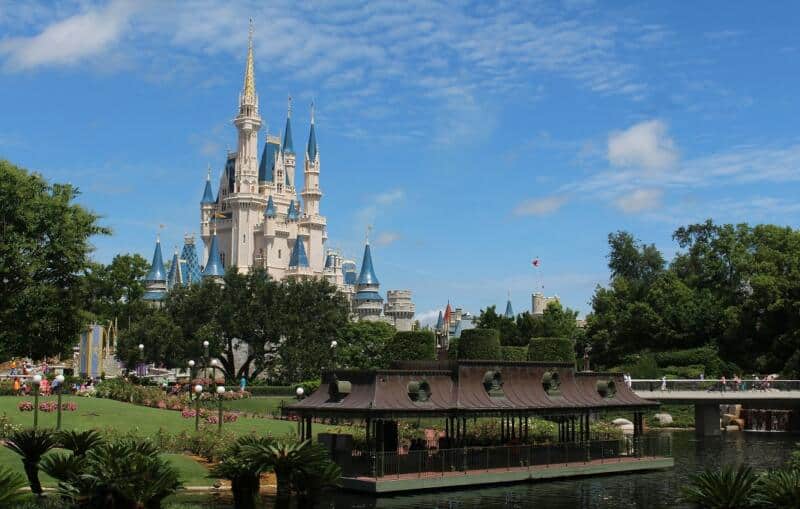 This post may contain affiliate links. Please read our disclosure and privacy policy for more information.
Post-COVID Closure Update
Disney is open again! Currently, a reservation is required to visit Walt Disney World – you can't just show up.
Our experience was enhanced by the lack of crowds and uncomfortable times, given the need to wear masks in the heat. Virtually everything is open, even most restaurants, however, at limited capacity. This was not an issue because the parks are so empty:
There is temperature screening and getting in is smooth, with short lines due to the reservation system.
Some events, like parades and fireworks, have not returned to avoid creating crowds. You have to check the park by park what's open. Use the mobile app for up-to-date info.
Character meet and greets are suspended for now.
No eating and walking allowed.
Park hopping is currently off-limits – one park a day.
People are keeping their distance and are wearing masks. This said, given mask requirements in Florida, it's uncomfortable. You need to test out a cover that is light enough for you to wear all day. And one you can get breath comfortably in. I strongly recommend trying and wearing a few types before you take on Disney. This could make or break the experience for you.
The parks are empty; not only does this make it enjoyable, but the photography options are limitless.
Hand sanitizer is on point everywhere but brings your own for post rides.
Hollywood Studios Rise of the Resistance does have a longer, more full line. Overall, Galaxy's Edge is not as busy as you might expect. Perfect time to visit!
Exit time is a challenge for keeping a distance as most people stay for the shows and then leave simultaneously. This created more of a crowd. My advice here is to leave earlier than closing time.
Not very many children – a massive pro considering they are all off school!
What Are Davids's DVC Points?
DVC stands for Disney Vacation Club and is Disney's Vacation Ownership Program. When an owner purchases a DVC membership, they buy a deeded share to a Disney resort like a timeshare. Similar to timeshares, they pay annual maintenance fees to help maintain the resort.
But unlike a timeshare, DVC members buy a set amount of "points" added to their account each year. These points can be used to stay at any Disney Vacation Club resort at any time of the year.
DVC is also an acronym for Davids Vacation Club. Davids Vacation Club is a broker that assists owners who can not use their timeshare and rent them out.
They assist the owners with DVC rentals matching guest dates and resort requests with the owner's available time.
Davids Vacation Club has rooms on Disney property at the Walt Disney World Resort Florida, Disneyland Resort California, Aulani Hawaii, South Carolina, and the Florida Atlantic coast.
Our Room At Disney's Animal Kingdom Villas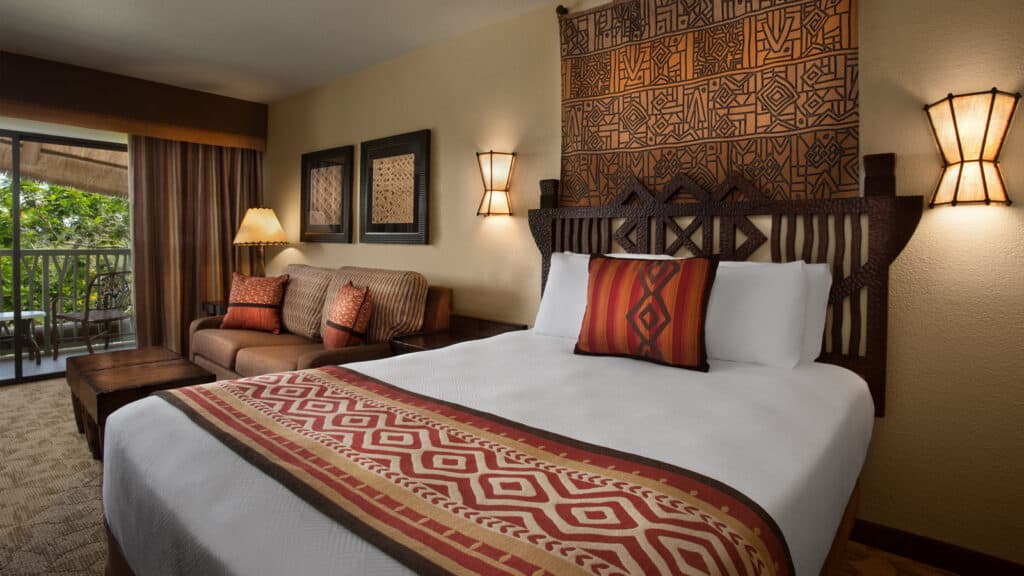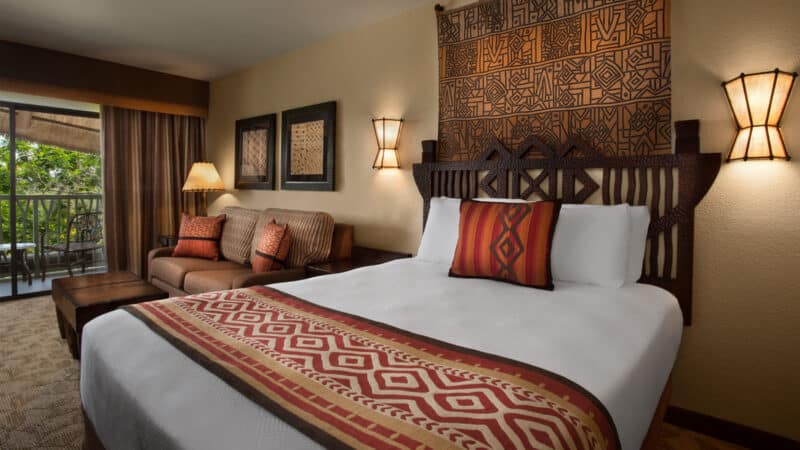 The Sprogs Posing On the Balcony
Is It Cheaper to Rent Davids DVC Points?
Yes, it is always cheaper to rent Davids's DVC points! I will show you a comparison below, but you can easily compare the Davids Vacation Club site vs. Disneys cost and see the savings! You will save at least 50% off the listed prices, and up to 80% off is possible.
Do I Still Get Disney Resort Benefits If I Rent Davids DVC Points?
I get asked this question all of the time. The simple answer is YES! The benefits you get are identical to what you would get booking directly through the resort.
Some of the benefits make staying on-site at a Disney resort worth it alone.
Once you have a confirmed stay using Davids's DVC Points, you will get a Disney confirmation number to connect to your My Disney Experience account. This is where the real fun starts! You'll receive a personalized package that explains how to connect to your My Disney Experience account and how to order your bands.
Here are the FREE benefits:
Early Access to FastPass+ Planning. Get access to reserve select shows and attractions up to 60 days before arrival.
Extra Magic Hours! Spend extra time at one of the theme parks each day—valid theme park admission and Resort ID required.
Complimentary MagicBands for everyone traveling in your group. This is a neat perk as you get to customize the bands and add your names to them. A generic MagicBand purchased on-site costs $14.99 per person.
Leave the Park, Not the Magic. Staying at a Walt Disney World Resort hotel puts you in the middle of the magic, close to the theme parks, water parks, and shopping at Disney Springs.
Complimentary Transportation

Disney's Magical Express Service transports you and your party between Orlando International Airport and your Disney Resort hotel via motorcoach, including luggage delivery service.
Use motor coach, ferryboat, and monorail services to navigate through Walt Disney World Resorts or parks.

Complimentary Parking at the resort and the parks. Parking at parks costs $25 a day.
Lastly, once you've completed the reservation process and have your bands, you don't even need to check-in. Your MagicBands will act as your room key. There is nothing more flash than pulling into the resort, parking up, and going up to your room seamlessly.
If you book via Davids DVC, your room or villa will have amenities like a kitchenette, living room. All amenities vary based on the type of accommodation you select, but they come with more than standard rooms.
Is There A Downside To Renting Davids DVC Points?
I don't think there is a downside, but there is a couple of trade off's:
Housekeeping is limited. If you stay less than eight days, you get trash and towel service on night four. If you stay more than eight nights, full-service housekeeping is included. And, if you prefer daily housekeeping, it can be added for an additional fee.
You have to pay a deposit of $126 to start the reservation process. It's 100% refundable to you if your reservation is not confirmed, usually within 24 hours.
Once confirmed, you have to pay the entire amount of the booking.
How much do Davids's DVC Points Cost?
As of 2020, they cost $18 per point, and reservations booked from 7 to 11 months in advance may be subject to an additional premium rate of $1.00.
Can You Add the Disney Dining Plan If You Rent Davids DVC Points?
Yes, you most certainly can.
When staying as a guest of a DVC Owner at a Disney Vacation Club Resort in Walt Disney World, you can choose from any of the three free dining plans that Disney offers to its owners and guests. Of course, you will need theme park tickets if the restaurant you wish to dine at is inside a theme park.
If a dining plan is selected, it must be applied to all persons on the reservation for the total number of nights. There are no exceptions to this rule.
Can I Make Advance Dining Reservations?
You do not need to be staying at Disney Resort to make advanced dining reservations. Advanced Dining Reservations (ADRs) can be made 180 days before your reservation date by calling (407) WDW-DINE. Guests staying at a Disney Resort can book reservations for each night of their stay, starting 180 days before their arrival. Park tickets are required if the restaurant you wish to eat at is located inside a theme park.
Does Davids DVC Offer Free Dining Plans?
Disney Vacation Club does not offer free dining to its owners or renters. If a free dining promotion is offered, you will have to book your room directly with the Disney Travel Company at www.disneyworld.com at their current room rates.
Disney World Resorts and Davids DVC Points Price Comparison
Start with the cost calculator
Enter in the dates you want to stay at a Disney World Resort
For this example, I am going to use 2/15/2019 through 2/18/2019 – three nights. I will use Animal Kingdom as an example. *Note that this is a holiday weekend; Monday is Presidents Day.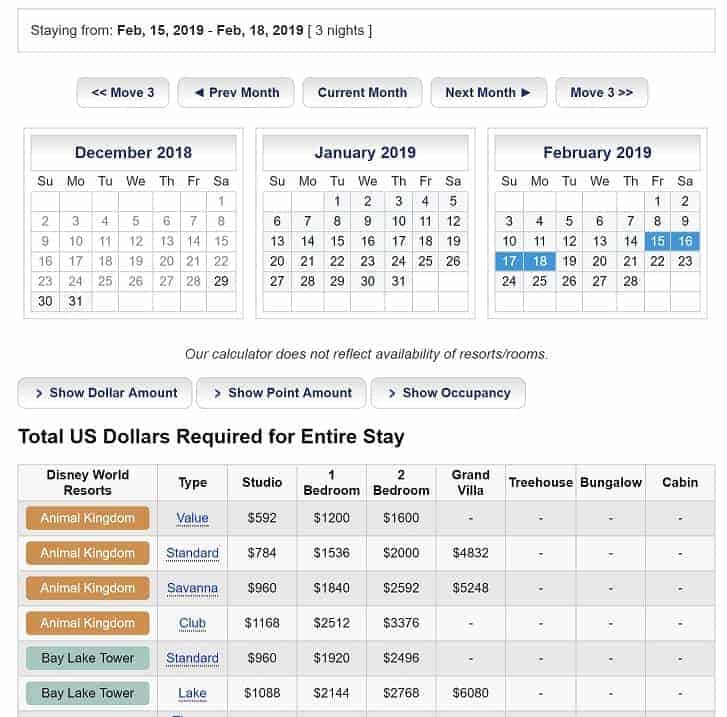 This cost is calculated based on $16.00 US per point, which was the booking comparison rate. Reservations booked from 7 to 11 months in advance may be subject to an additional premium rate of $1.00 US per point. *Davids DVC Points are now $18 per point.
You can change the view of the number of points required:

Let's see what the Animal Kingdom costs via Disney. *Note that these prices are per night!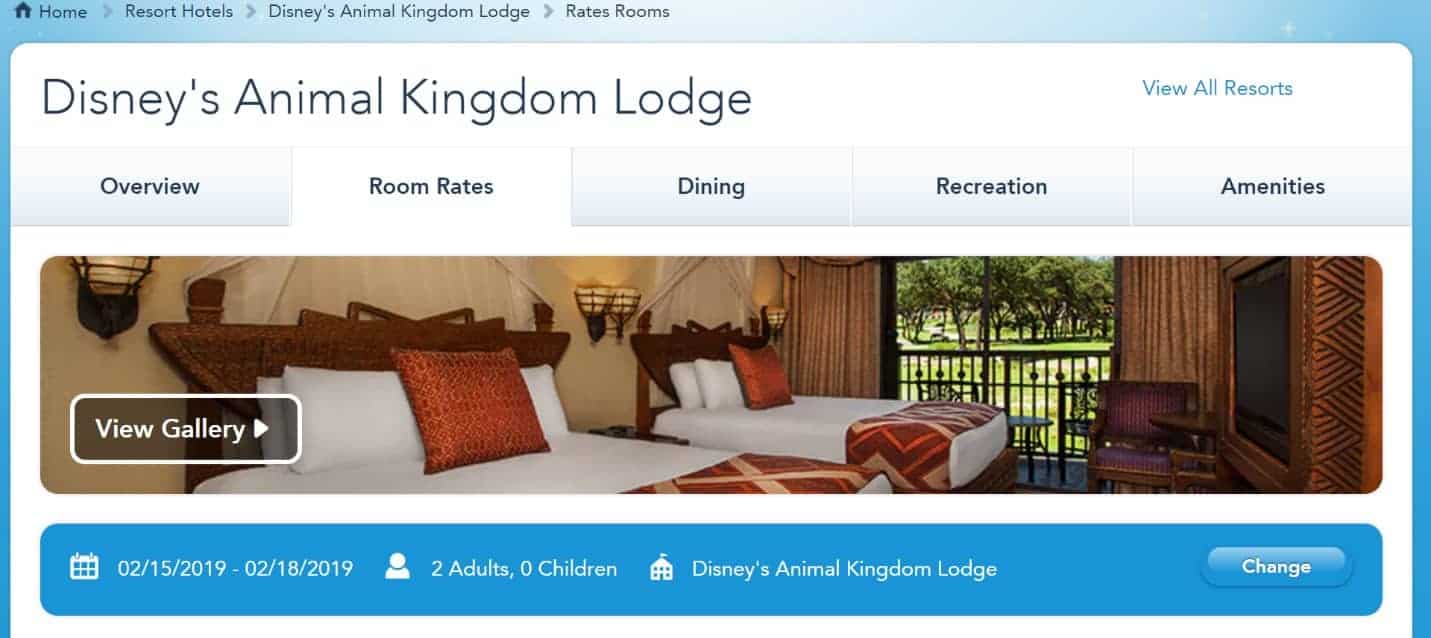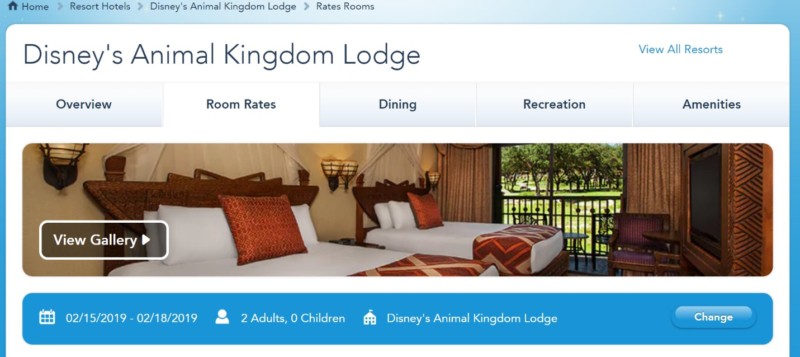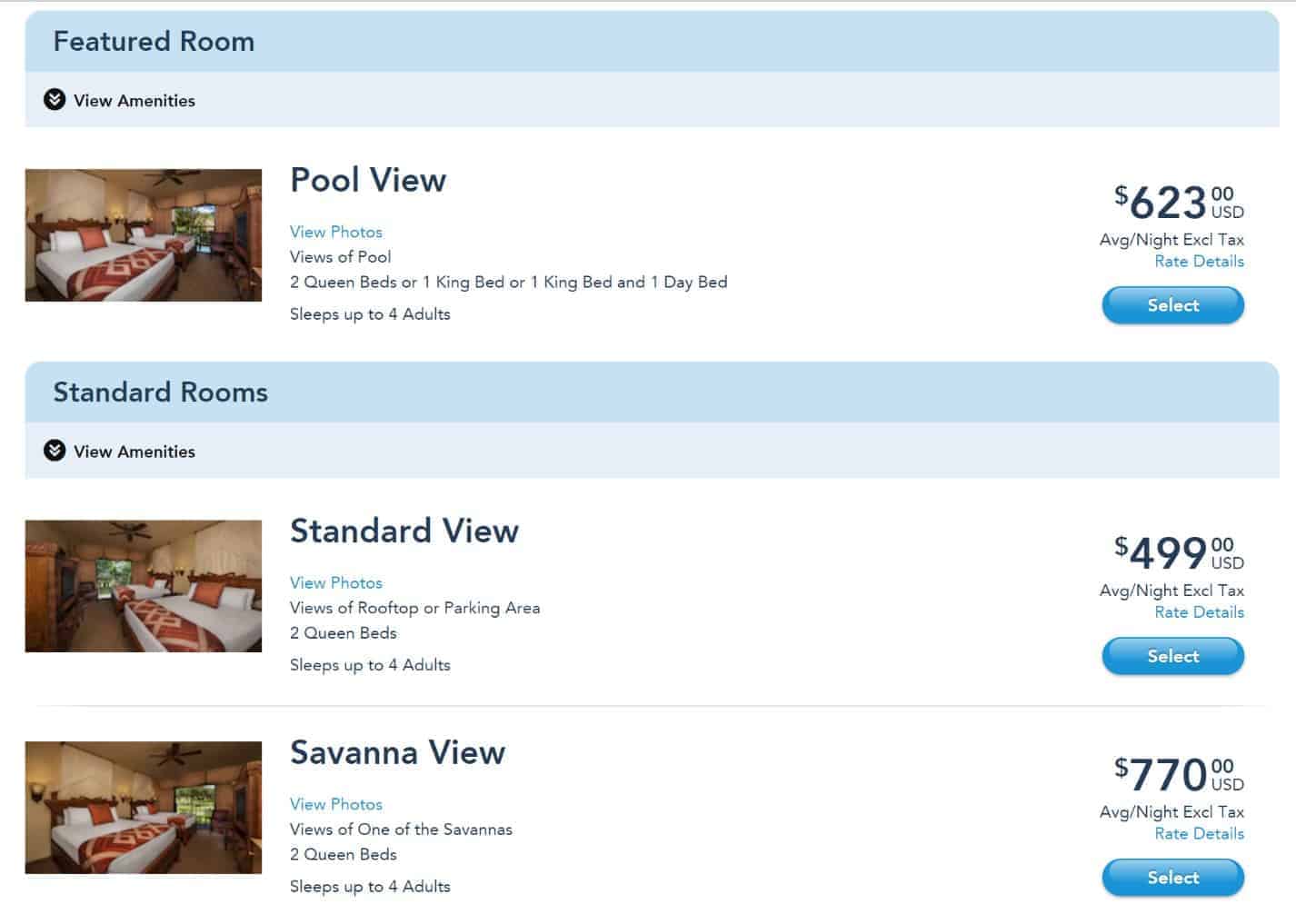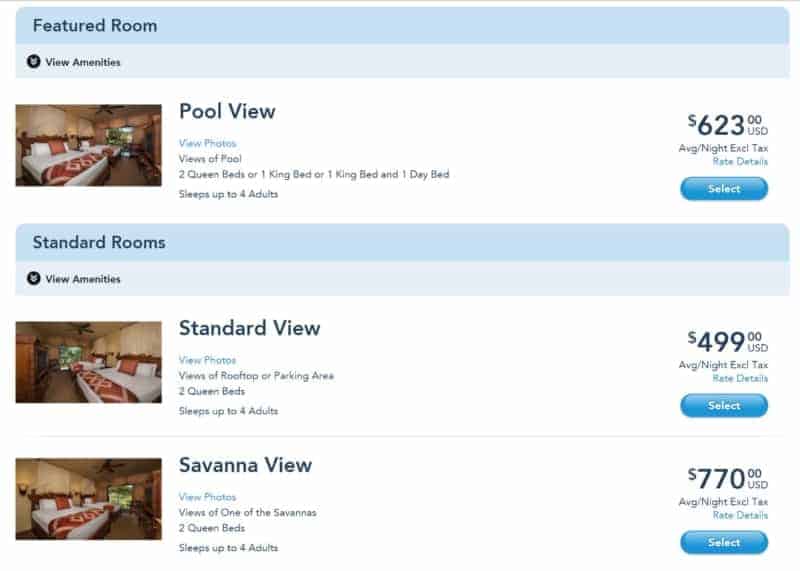 Davids DVC Pricing Comparisons – How Much Can You Save?
If you're wondering how much you can save, here is the comparison:
Example 2/15/2019 through 2/18/2019 – 3 Nights Animal Kingdom Lodge – Per Point Cost $16 at the time. Points are now $18 per point.
| Disney | Cost | David's Disney Vacation Club | Cost | Savings |
| --- | --- | --- | --- | --- |
| Standard Room | $1,684.14 | Standard | $784 | $900 |
| Savanah View Room | $2,598.75 | Savanah View Room | $960 | $1,638 |
Davids DVC Booking Process
Decide where and when you want to stay.
Determine the cost using the points calculator.
Complete the reservation form.
If you want to add any other resorts, you can. Use this if your first choice is not available. I don't recommend this unless you want to stay at "any" Disney World Resort. Therefore, I would (and did) stick to the specific one I wanted.
Enter personal information.
Type in the guest info. *Note, you must give the exact names of the people staying, including children.
Pay the deposit, a partial payment of $126.00 (not a fee) via Visa, MasterCard, or PayPal. It's 100% refundable to you if your reservation is not confirmed, usually within 24 hours (weekends and holidays sometimes excluded).
If your reservation is confirmed, you will receive a confirmation via email: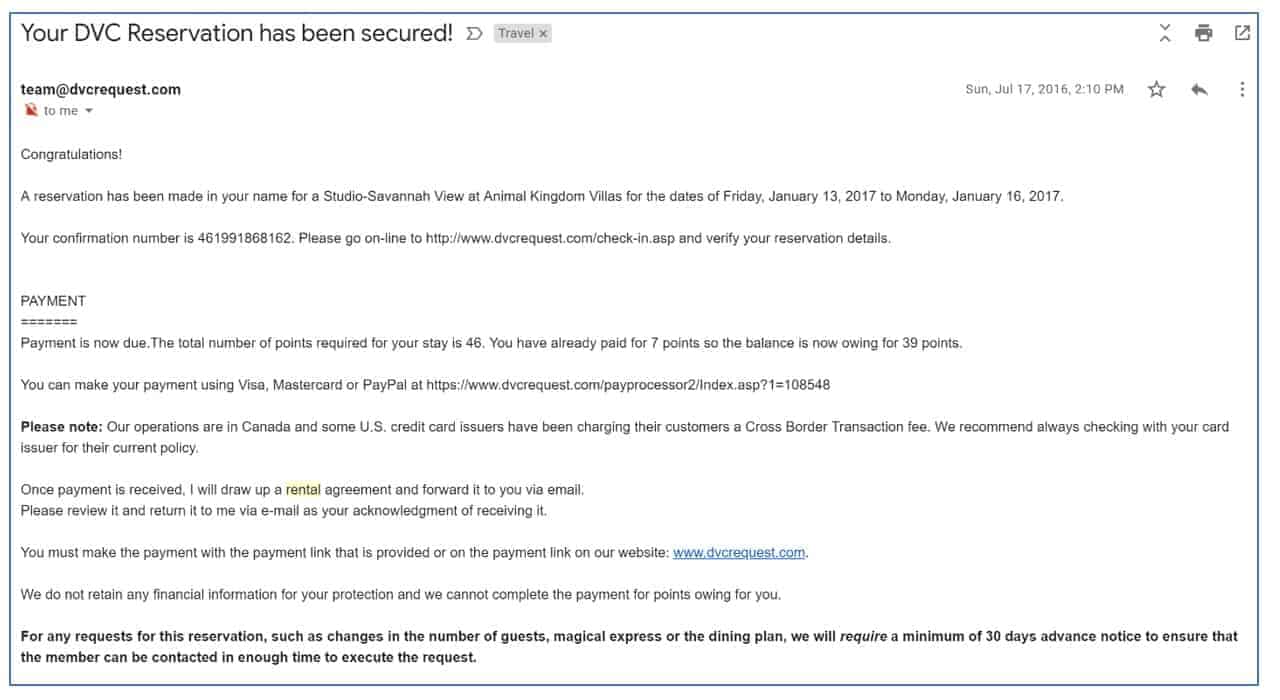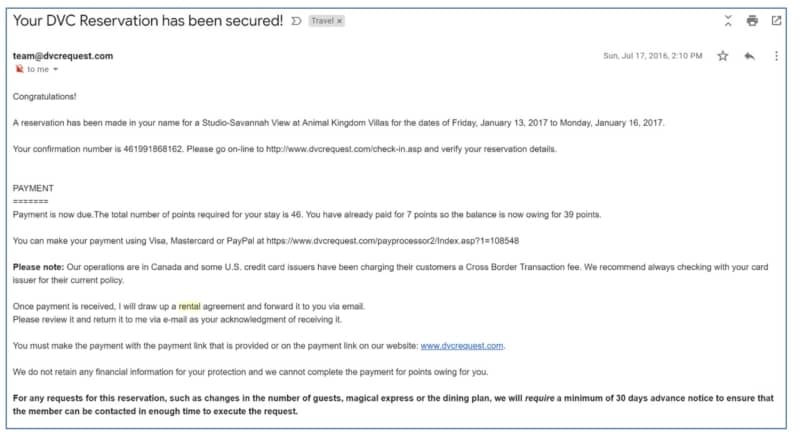 Subsequently, you will receive the rental agreement and instructions to pay your balance.
Lastly, Walt Disney World sends you the custom welcome package, including your luggage tags, reservation confirmation, complimentary bands, and coupons. Typically, 45 days before your arrival date, but the timing can vary.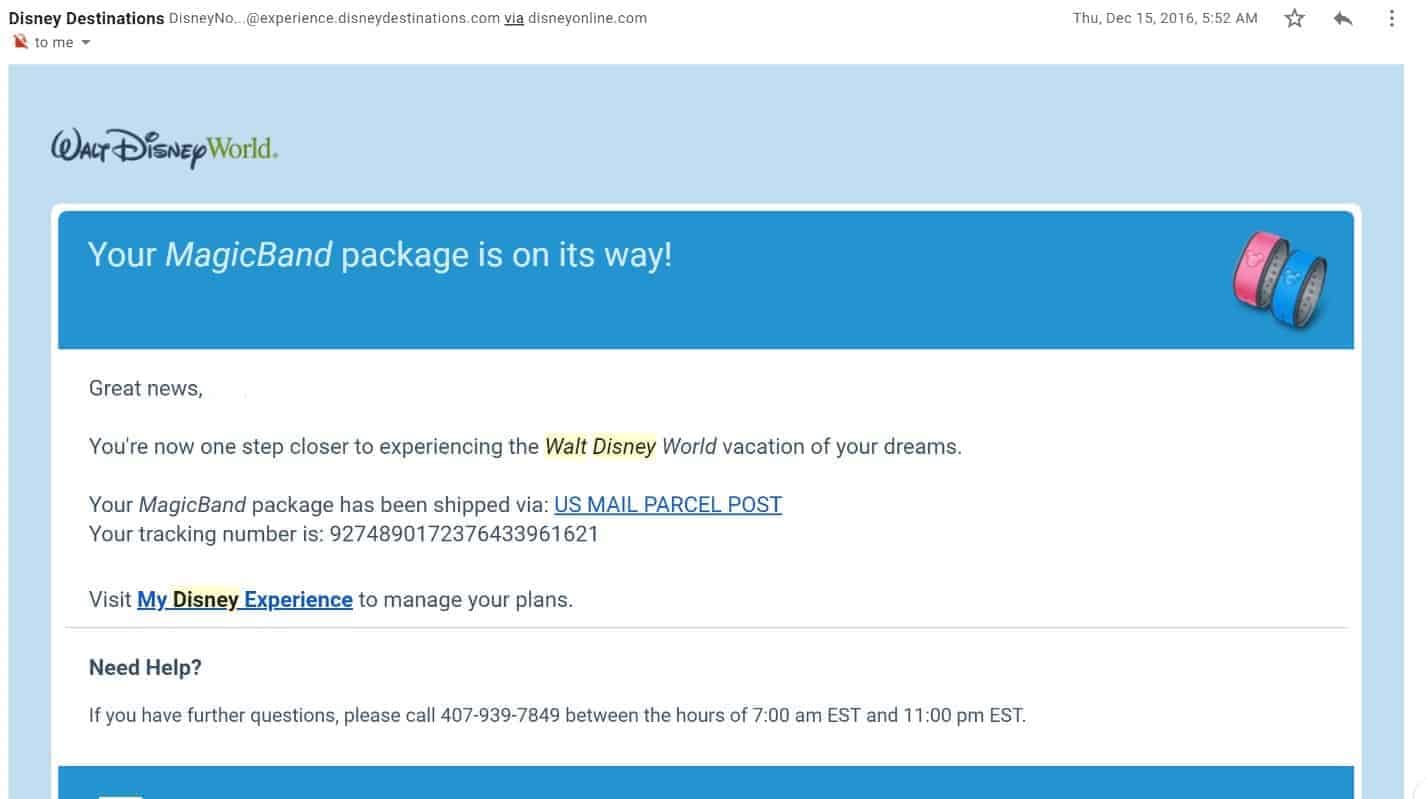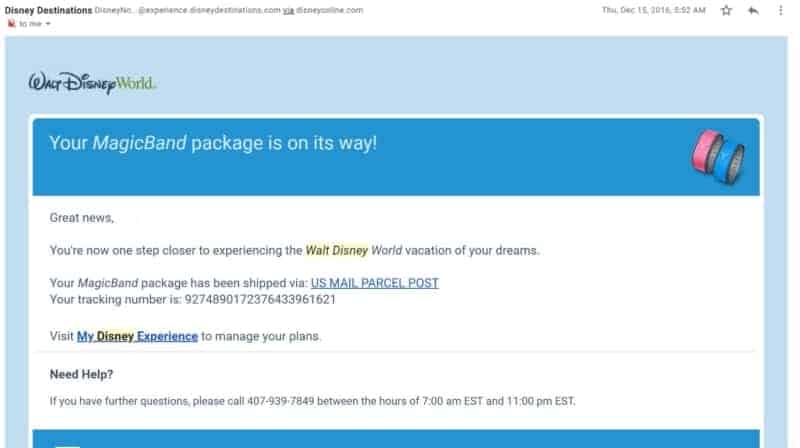 Is it Difficult To Find Availability For My Travel Dates?
Not really. It's a straightforward process, but the early bird catches the bird as with all good things. Try to book at least seven months out to get the dates you want.
When is the Cheapest Time Go To Disney World?
Historically, September is considered the slowest month, which by default implies it should be the cheapest time. Unfortunately, all reservations are based on supply and demand.
When Is the Best Time To Go To The Disney Parks?
A tricky question to answer definitively because Disney World parks draw large crowds. Consequently, here is my advice based on my experience.
Go when children are globally in school. Due to this, we let our kids take a day off school to capitalize on our trip.
Visit through the week vs. the weekend. For example, try a long weekend that starts on Thursday.
Do not go in the summer unless you have to. First of all, it's scorching hot. Secondly, all the kids are off school. As a result, the parks will be at capacity, and no way to come around this.
Stay away from mega holidays like Christmas and New Year's Eve or New Year's Day.
We will only go when it's cooler, so our choices are January through March. Historically, September is considered the slowest month.
Will I Get Discount Disney Tickets?
Not as a result of reserving to the say on-site at a Disney Resort. Discounts are exclusive to Disney Vacation Owners, and it's usually for annual passes. If you are going to stay at a Disney World Resort, you will have to buy tickets or annual passes. There are some discounts like AAA and the Military. The discount we used typically comes out in January. In 2017, this is what we paid:
Disney Tickets Florida Residents: 3-Day Ticket:
$189.00 plus tax (ages 10+) = $63 per day
$176.00 plus tax (ages 3-9) = $58.66 per day
Above all, the best thing to do for tickets is to check the specials on Disney's website.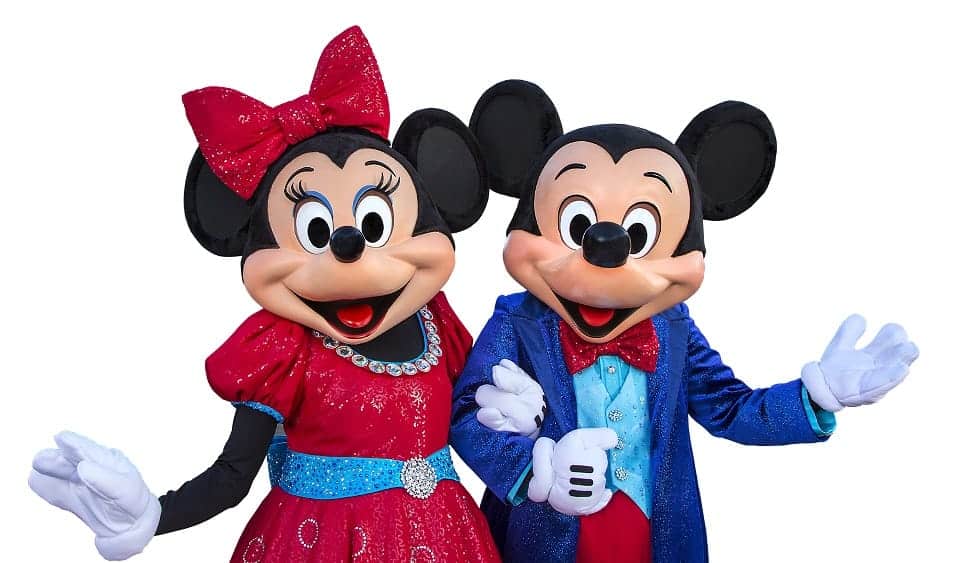 Disney World Resorts by Price Category
Use this section to explore the different types of Disney World Resorts so you can make a concrete decision on where you want to stay. Likewise, you can see the pictures of all of the resorts:
Value:
All-Star – Movies Resort, Music Resort, and All-Star Sports Resort
Art of Animation Resort
Pop Century Resort
The Campsites at Disney's Fort Wilderness Resort
Moderate:
Caribbean Beach Resort
Coronado Springs Resort
Port Orleans Resort – French Quarter
Port Orleans Resort – Riverside
The Cabins at Disney's Fort Wilderness Resort
Deluxe:
Animal Kingdom Lodge
Beach Club Resort
BoardWalk Inn
Contemporary Resort
Grand Floridian Resort & Spa
Polynesian Village Resort
Wilderness Lodge
Yacht Club Resort
Deluxe Villas:
Bay Lake Tower at Disney's Contemporary Resort
Boulder Ridge Villas at Disney's Wilderness Lodge
Copper Creek Villas & Cabins at Disney's Wilderness Lodge
Animal Kingdom Villas – Jambo House
Animal Kingdom Villas – Kidani Village
Beach Club Villas
BoardWalk Villas
Old Key West Resort
Polynesian Villas & Bungalows
Saratoga Springs Resort & Spa
The Villas at Disney's Grand Floridian Resort & Spa
Frequently Asked Questions About Davids's DVC Rentals
Does a DVC Rental Include Park Tickets?
No, but you can take advantage of all benefits that guests staying at a Disney Resort receive. For example, free transportation to and from the parks, early theme park entry, free parking, etc.
How Long Does It Take To Hear Back from Davids DVC Vacation Club Rentals?
Typically a few days, usually within 24-48 hours.
Can You Use Magical Express If You Rent DVC Points?
Yes, as long as you are staying at a Walt Disney World Resort.
Closing Thoughts
In summary, I hope this will inspire the Disney fan in you to stay on-site at a Disney World Resort for a fraction of the cost. I used Davids Vacation Club Rentals (DVC), and the experience was above and beyond what I expected. As a result, I will use this service again!
Finally, let me know if you use this strategy and how the experience was!
Looking for more posts on Disney? Start here:
We are a participant in the Amazon Services LLC Associates Program, an affiliate advertising program designed to provide a means for us to earn fees by linking to Amazon.com and affiliated sites.