If you have not heard about or seen the champagne tower suites of Cove Haven Resorts, you are in for a treat! These resorts are the only place in the world where you can soak in a seven-foot champagne glass whirlpool bath for two with a celestial ceiling. Cove Haven resorts are in the Poconos region of Pennsylvania, a place once famous for romance.
This is not a sponsored post. We paid to stay at Paradise Stream Resort, and all the opinions are those of Brit on the Move™. And, you know the deal – sponsored or not. I will tell you the good, the bad, and the ugly.
This post may contain affiliate links. Please read our disclosure and privacy policy for more information.
History Behind The Poconos
Once upon a time, back into the 1960's the Poconos in Pennsylvania was the place to go for romance. Many couples chose this region as their honeymoon spot, and others chose it simply for romance. Pocono Mountains were referred to as the "Honeymoon Capital of the World and The Land of Love."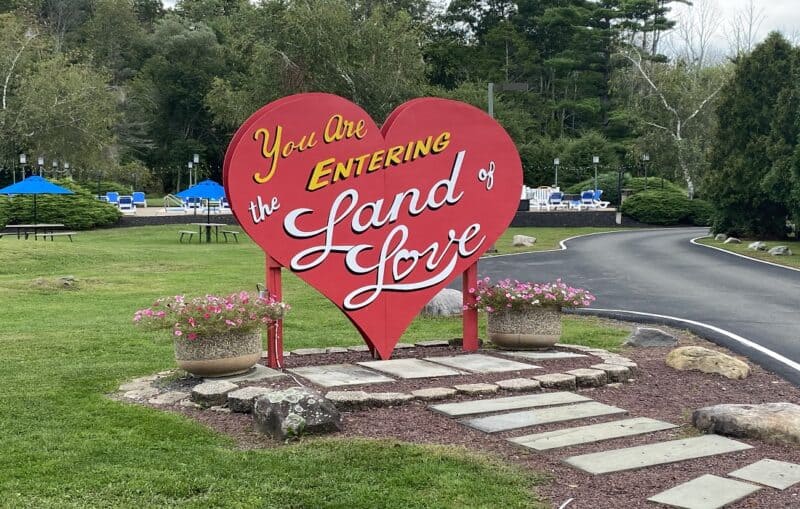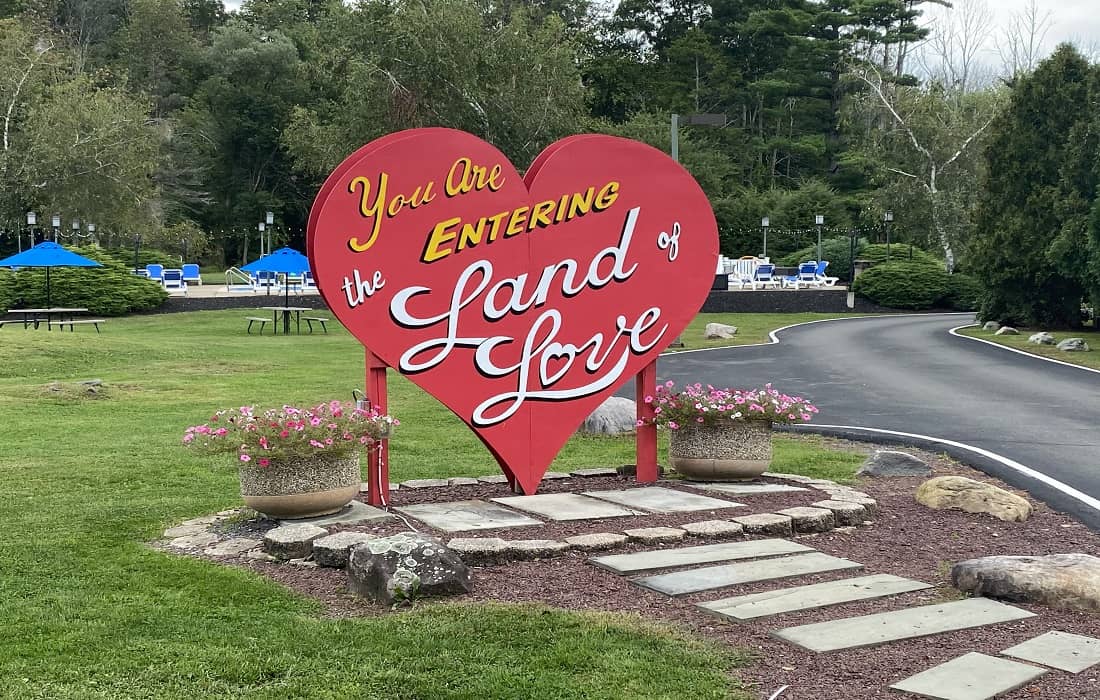 International travel was not popular in the 1960s, and the Poconos mountains offer four seasons of endless fun. Summer brings boating, camping, sun-bathing, and golf. The winter offering up sled rides, snowshoeing, skiing, and a host of other winter experiences.
The Poconos were so popular that even John F. Kennedy made a trip to the Poconos in the early 1960s.
Why Did The Poconos Lose Its Popularity?
By all accounts, the rise of other locations like Vegas and the affordability of international travel and cheap cruises essentially rendered the Poconos no longer "hip." This resulted in many resorts closing or being abandoned during the 1990s.
The Poconos are still popular but reinvented as a family destination vs. a lover's nirvana. That is, except for Cove Haven that still dominates the region with love.
Cove Haven Resorts
There are three resorts that Cove Heavens:
Cove Haven – Address: Cove Haven Resort, 194 Lakeview Dr, Lakeville, PA 18438
Paradise Steam – Address: Paradise Stream Resort, 6208 Paradise Valley Rd, Cresco, PA 18326
Pocono Palace – Address: Pocono Palace Resort, 206 Fantasy Road, East Stroudsburg, PA 18302
All three locations offer romance-themed rooms and suites in an adult-only setting. These resorts are couples only! Yes! A sprog-free vacation. A comical side note. My nephew, the Monkey was sat with me, looking at the photos as I wrote this. He's totally bummed that he can't go! He asked me if he could use a fake ID and get in (insert belly laugh). In his defense, he learned this trick from me. I snuck him into a spa under the guise of him being fifteen when he was nine so that we could bask in mud and hot pools. I told them he was short and had him stand on his tiptoes! The kid, like me, has a thing for spas and tubs:) Unfortunately, he will need to wait until he's a little older for this one.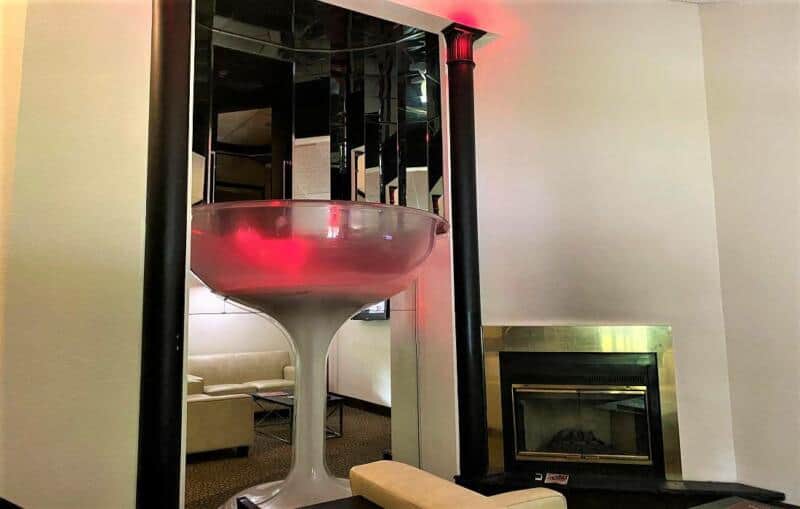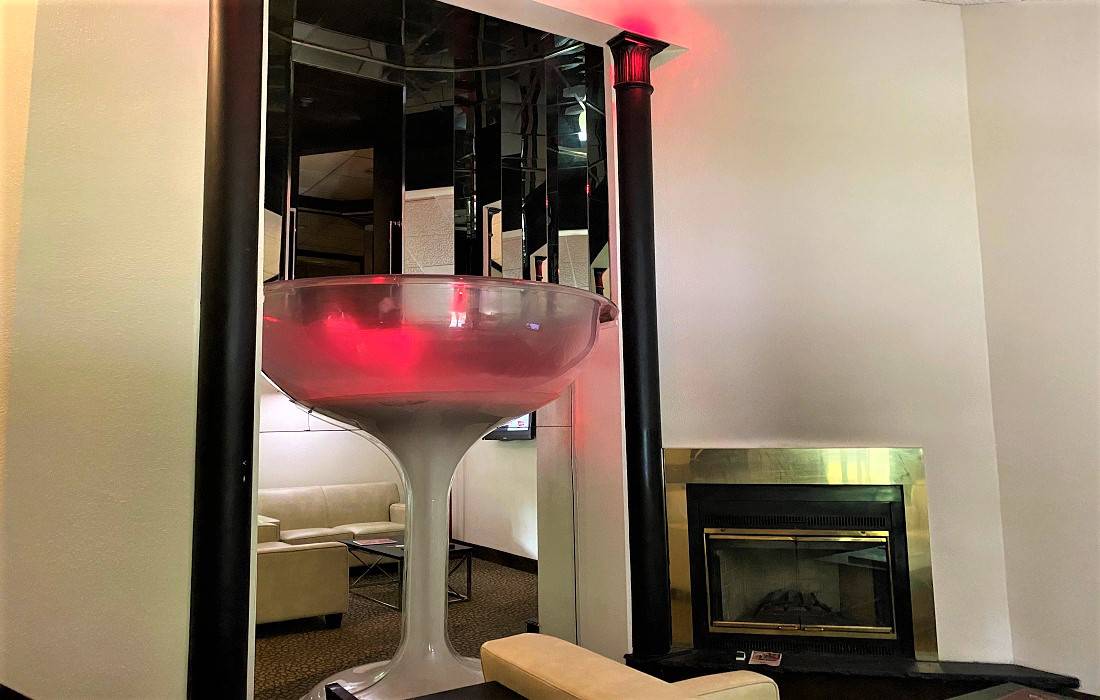 So Why Chose Cove Haven Resorts?
Let start with the obvious, or at least the obvious for me – the champagne glass jacuzzi hot tub. I am a long-time fanatic of baths, saunas, and jacuzzies. And I have a taste for some of the things some people might consider kitschy, gimmicky, or even silly. Ever since seeing the photos of this place, it has been on my radar.
We stayed at Paradise Stream, so this review is about the property at Paradise Stream.
Arrival And Check-In to Cove Haven
Check-in was completely painless. We arrived earlier than four. Unfortunately, our suite was not ready, but this allowed us to eat a late lunch and meet other people.
The Champagne Tower Suite
When you first pull up to the building that houses the champagne towers, it really looks like a bunker, and it is hard to believe that behind those doors, if something quite so special when we went to the room, it is exactly as you see in the pictures and videos online.
The first thing you see is the 7-foot champagne tower, and then to the left, you can see the heart-shaped swimming pool.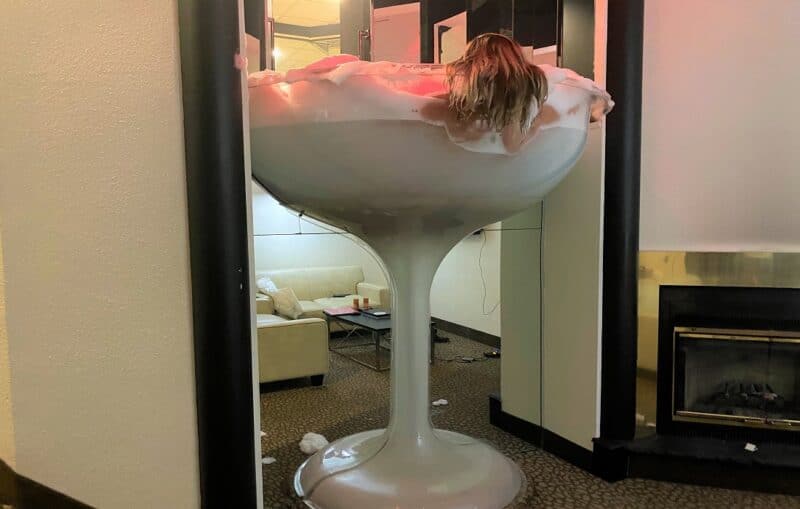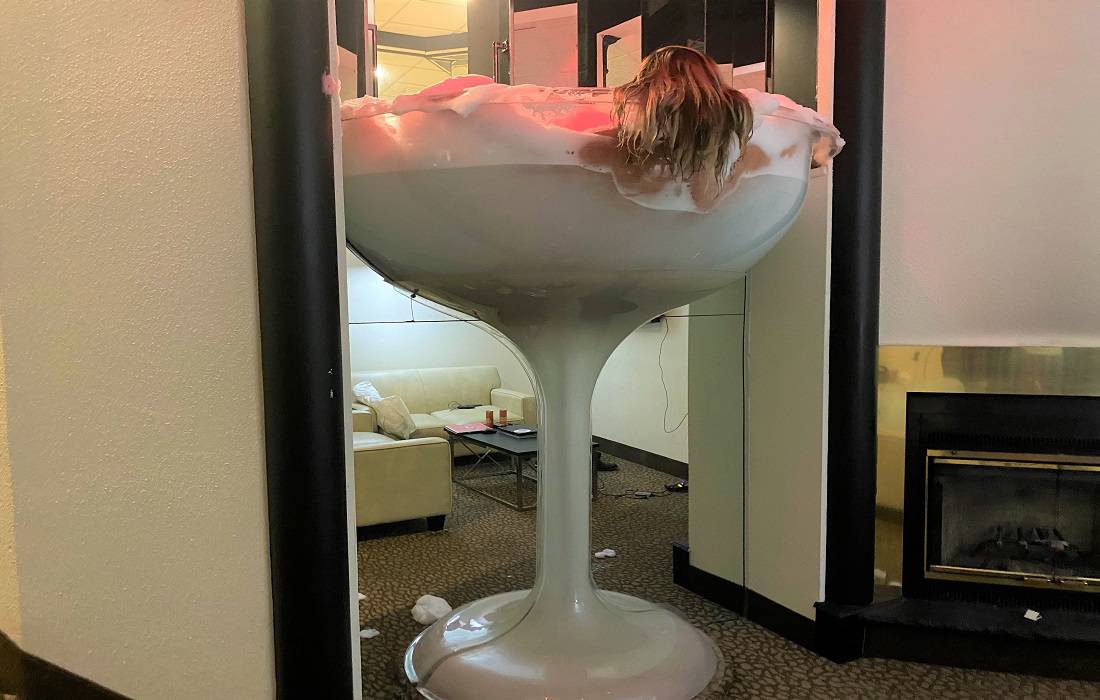 Champagne Tower Suite Amenities
Let us break down the amenities in the suite that brought us on this journey!
Cozy log-burning fireplace
Glass-enclosed, heated heart-shaped pool
Dry sauna
Massage table with heat lamp
Round king-size bed with celestial ceiling
Steam Shower
What Did I think About the Suite?
I "loved" it; pun intended. I was sold on the champagne jacuzzi hot tub, the other amenities were bonuses, and I am no stranger to private pools. Here is me giving it my best shot at an Instagram-worthy "influence pose." And if you do not know me or my writing style. I am totally sarcastic!
People have asked me if the rooms were clean. And, for context, everyone's concern seems to be about the anticipated body fluid exchange that would be common.
First, yes! They are spotless – stress spotless. Secondly, don't all couples get it on in ANY hotel room? I don't understand how this is any different or why these resorts conjure up images of left-behind body fluid.
Besides, I am also a straight-up pyromaniac. I do not burn houses or anything like that, but I will book a place specifically for a wood-burning fire and often go camping (well, glamping) for this reason alone.
So, I thought this suite was the shizzle. Bow chicka, bow wow!
Lastly, even though it says couples only. When I shared my photos with my friends, every single one of them said, "I want to go." So perhaps we will all present ourselves as girlfriends and make a girl's trip.
Video Tour Of The Champagne Tower Suite
Cost of Champagne Tower Suite
We used a AAA Membership Rate, and here is the breakdown:
Room Rate: $552.96
Taxes on Room: Sales Tax: $33.18
County Tax: $16.59
Service Charge: $120.56
Resort Fee: $54.50
Total: $777.79 for two nights.
Not cheap by anyone's standards. However, this rate was all-inclusive except for drinks. All meals were included. For context, we spent Sunday through Tuesday here when the rates were lower and took advantage of a AAA member discount.
Do I think it was worth it? I am torn on this. I think it is reasonable but potentially a little high. Comparatively speaking, I have stayed at some expensive luxury resorts.
For example:

None of these resorts included food but are in similar price zones. However, in terms of quality Cove Haven Resorts pale in comparison.
Book Your Suite Here:
Additional Suites
In addition to the Champagne Suites, Cove Haven Resorts offer the Garden Of Even Apple Suite. This suite is temptation without the risk of guilt- a playground of love and romance and one of the original suites made at Cove Heaven Resorts. With its heart-shaped red whirlpool whose outside is newly bedazzled with glittering stones, a fresh magenta-wood-wallpaper adorning the walls, laminate flooring, and this suite is anything but traditional. Relax in your private heated pool or throw on a fire log and sit back in a cozy new couch, lights dimmed, love, running high.
World-famous heart-shaped whirlpool bath-for-two
Private indoor heated pool surrounded with imported Italian tile
Dry sauna
Cozy log-burning fireplace
Round king-size bed with mirrored headboard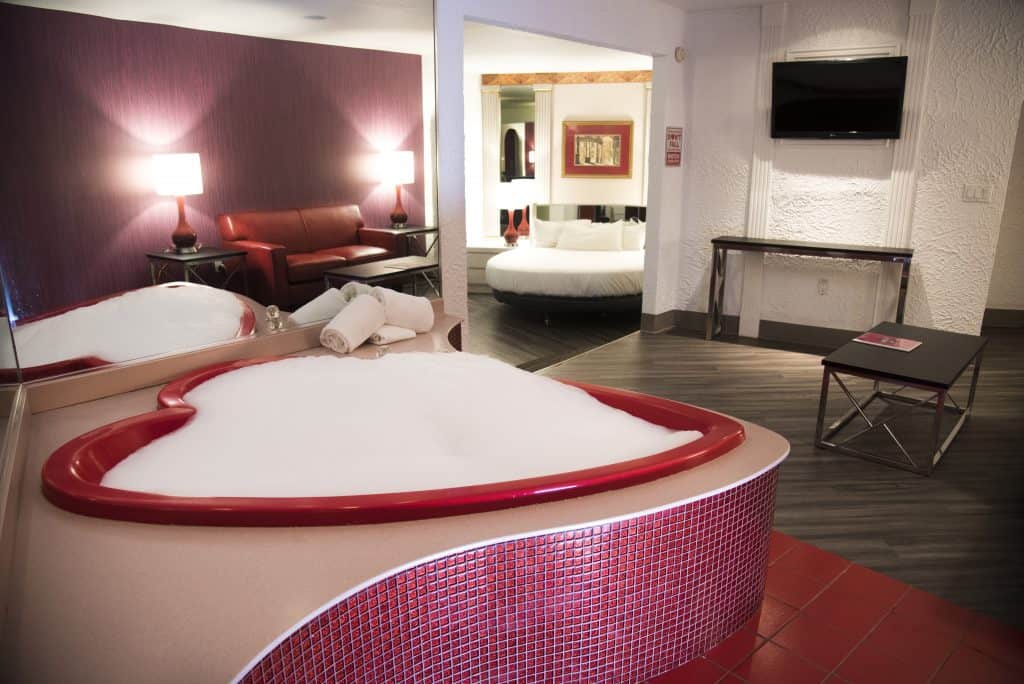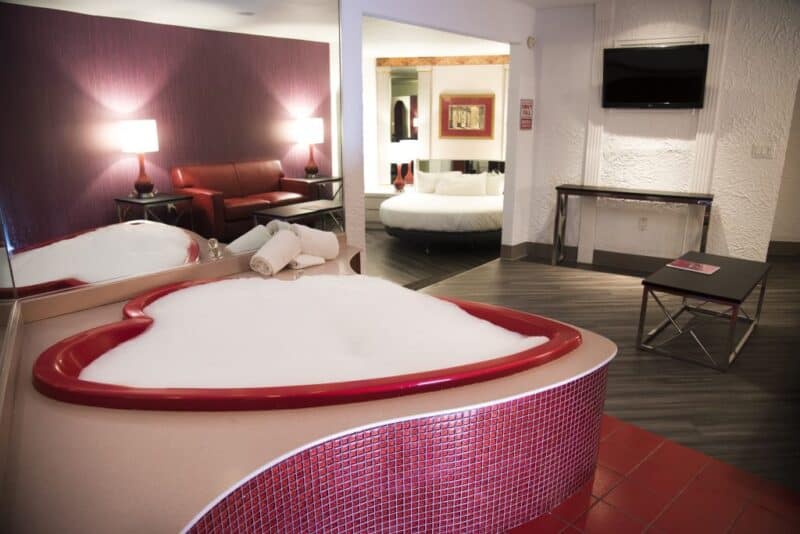 Image Courtesy of Cove Haven Resorts
Another bow chicka wow wow suite. Many couples prefer the Gardens Of Even Apple Suite to the Champagne Tower Suite because it is not split across four levels. Or, in laments terms, "you can avoid the stairs."
I want to experience the Gardens Of Even Apple Suite purely for comparison and experience. However, my imagination tells it to me won't be or can't be as sexy as the champagne tower suite.
Cove Haven Resorts Resort Restaurants
Cove Haven two restaurants, two bars, and the Red Apple Nightclub, a hot spot for live entertainment every night. The two restaurants consist of the main dining room and the tiki hut bar.
The main dining room reminded me of cruise ship dining, just not as busy.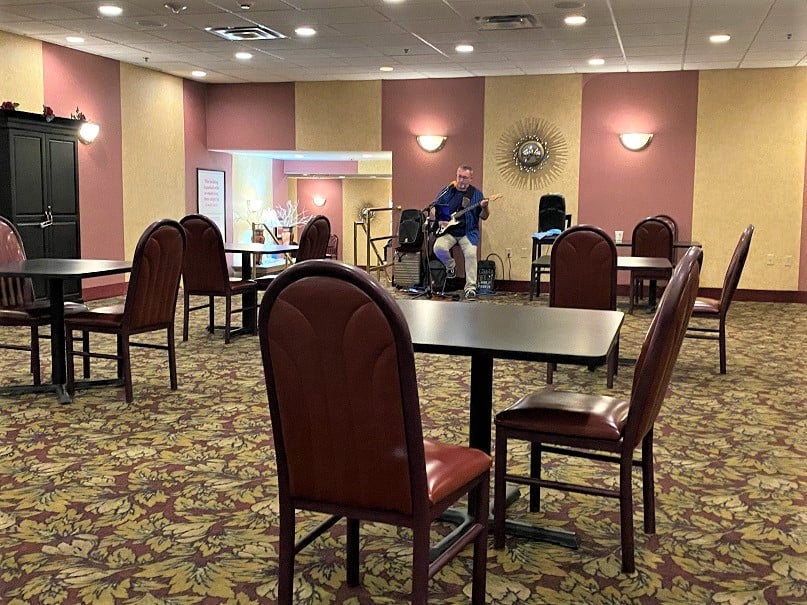 The food was decent, better than I expected. Nothing that will blow your mind but reasonable and plenty of choices.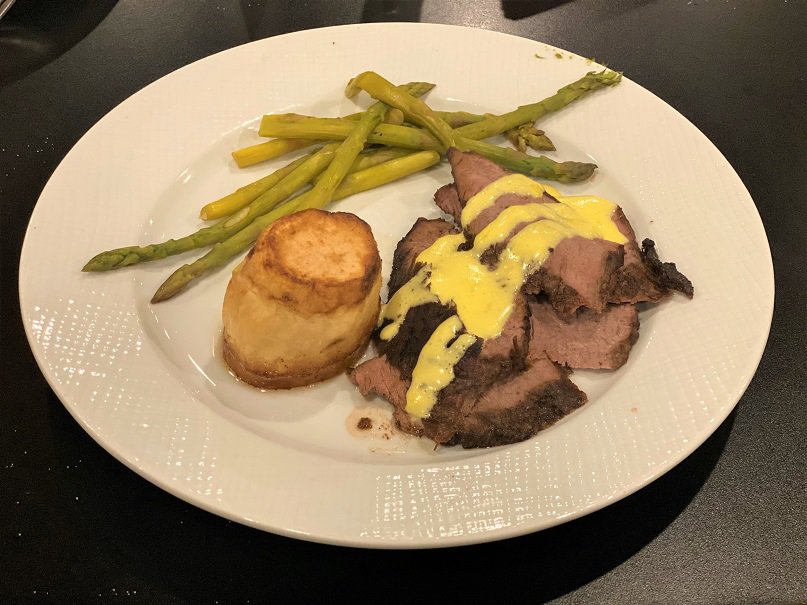 Breakfast was a buffet which was adequate but not my cup of tea. I would rather order what I want, so bear this in mind.
We have an all-inclusive package, so our food was included. If you do not choose an all-inclusive deal, here are food costs:
Breakfast without the package is $15.00 per person (plus tax).
Dinner without the package is $25 per person plus tax (Sunday through Friday), $75 per person plus tax (Saturday)
The tiki bar is the same as any resort. It serves up cocktails, subs, and an array of bar food. Nothing special, but it is the evening's central hub around the giant fire pit.
Paradise Stream Resort Shopping
The resort has a massive gift shop packed with everything from regional novelty chachkies, locally sourced bathroom products, and t-shirts. Perhaps most importantly, it vaunts a wide variety of adult toys and all the paraphernalia you need to go along with it.
This cracked me up. Perhaps my 10-year-old boy humor kicked in, or I was just amused at how casual it was. Either way, it tickles my funny bone. I mean, it is not like it is an "adult store" or anything. It is just all mixed in with an otherwise quite normal gift shop attire.
One thing that is not available at Paradise Stream is the Vibrator Claw Machine. Admittedly, I was disappointed as I was hoping to have a good giggle trying my luck. If you have your heart set on catching a vibrator from a claw machine, you need to head to Cove Haven – Lakeville, PA.
I must admit, were I to do this again, I would choose Cove Haven – Lakeville, PA for this reason alone.
Things To Buy Before You Get To Coven Haven Resorts
Sure, you can buy most of this onsite, but naturally, the prices will be higher. I personally use L'Occitane Relaxing & Foaming Lavender Bubble Bath. It's expensive, and I get it twice a year as a gift. Once at Christmas and once for my birthday. If you've never tried it, now is the time – it's heavenly.
Resort Spa
We did not visit the spa. Why would we? Our suite was a spa.
The Spa offers a wide variety of massages, aromatherapy wraps, and other services, but I do not think you need this, given the amenities in your suite.
Room Service
We did not order or try the room service, so I cannot tell you if it was good or bad 😊.
Resort Activities at Paradise Stream
There are a plethora of activities to take part in:
Billiards
Tanning Beds (ugh, do people still tan??)
Bicycling
Volleyball
Tennis
Racquet Bal
Movie Theater
Cornhole
Basketball
Roller Skating
Archery
Spike Ball
Ladder Jam
Miniature Golf
Horseshoes
Indoor Ice Skating
There are also tons of water activities to participate in at the other two resorts. When you check in, you automatically become a member of Cove Haven Entertainment Resorts' Key Around Club for the duration of your stay! You can enjoy our endless recreational activities at all three Pocono resorts, including the golf driving range at Cove Haven Resort, pedal boats at Paradise Stream Resort, or the Outdoor Adventure Zone at Pocono Palace Resort.
Activities In The Pocono
We did not leave the resort. Our sole purpose for our visit was to experience the Champagne Tower Suite.
If you are staying longer, here are activities to consider:
Opportunities For Improvement
The suites have all been remodeled, however, on a budget. Here are some examples:
Some of the ceiling panels were painted, some were stained and not painted.
The paint job is sloppy. There are over spills everywhere.
There are broken tiles that really should be replaced. The tiles are old and worn out.
The steam shower did not work, and the showerhead had mold on it.
The vanities are beyond outdated.
All of the outlet covers need replacing.
Given the suites' price point, I do not think the remodel's "touch-up approach" was the right thing to do. These suites could be the modern eighties, and they have the potential to be phenomenal. The amenities are brilliant, and this does command a certain price point. However, when you get up past the $200 range for a hotel, you can't cut corners like this.
Still, this beautiful pink tub was worth it for me!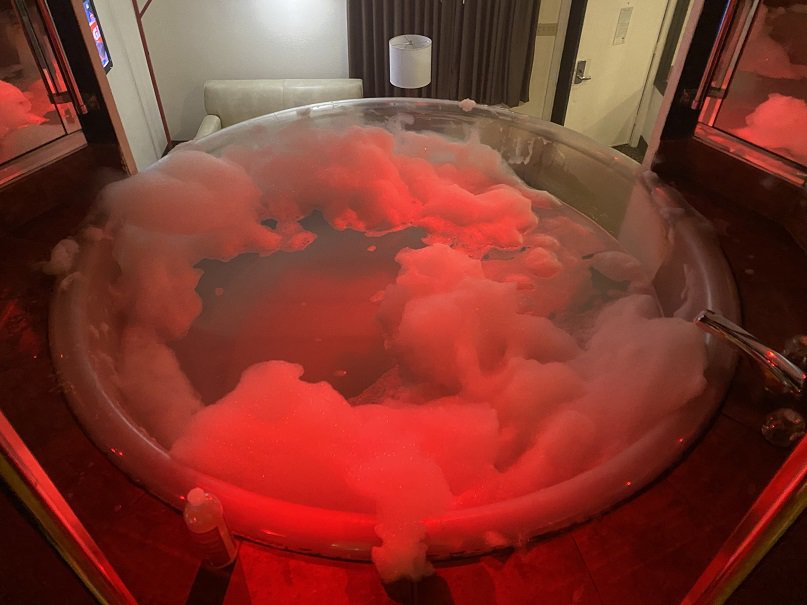 Getting To The Poconos
There isn't an airport in this region, but it's straightforward to get to. We flew in from New Jersey, and it was about an hour and a half drive. You can also fly to Philadelphia or Pittsburg, even New York. Just check the pricing on various routes, then drive:)
What You Need to Know
After dinner, each night, there is entertainment. Essentially, it is a singer. Everyone congregates around the firepit.
Most of the guests we met have been to many Cove Haven Resorts, and we love them. The guests rave about the resorts. And the guests are all extremely social, sparking up conversations.
Many wanted to show us their suite given it was our first time there. We never took anyone up on this offer. I will be honest; we could not work out if it were a genuine offer to see the other suites or if it were a discrete way of initiating some swinging.
We have had many a laugh sharing this story with others as for some, their mere thought that this could be going on will send them running.
Do not fret. It is not sinister, and no matter what the intent is, you do not have to participate or socialize unless you choose to.
Closing Thoughts
I really enjoyed our stay here, and I do think I will return. It is an expensive getaway, but it is exceptionally unusual. The Champagne Tower Suites are something that anyone who enjoys pampering should consider. I was quite happy to spend two days going from the sauna to the champagne jacuzzi hot tub and back.
I was also thrilled to sleep in a circular bed with a star-gazing roof above us. FYI, the star gazing roof also doubles as a mirror. So, if that is your thing, you are in luck.
Do I think it is worth the money? Yes, I think it is, but the rooms suites need a little TLC to command the price point.
Looking for more posts on America? Start here:
We are a participant in the Amazon Services LLC Associates Program, an affiliate advertising program designed to provide a means for us to earn fees by linking to Amazon.com and affiliated sites.
Travel Planning Resources
Looking to book your next trip? Use these resources that work:
Are you interested in Volunteer Vacations and Working Holidays? Check out the complete guide to how here!
Need more help planning your trip? Make sure to check out our Resources Page, where we highlight all the great companies that we trust when we are traveling.