Is Fussen Germany worth visiting? Beyond. This medieval town called "Füssen" is at the end of the Romantic Road (Romantische Strasse), which runs 217 miles north along the west border of Germany to Wurzburg.
This little town in Bavaria is often skipped over, yet it's only a six-minute drive away or two miles from the world-famous Neuschwanstein and Hohenschwangau castles.
Fussen is Hohes Schloss's (High Castle) site, the former summer residence of the prince-bishops of Augsburg. The castle walls still encase the town; oddly, this place is not packed with tourists. I suspect this is for a couple of reasons:
Everyone is more concerned with getting to Neuschwanstein and Hohenschwangau.
No one realizes that the town center is behind this wall, and it's packed with experiences for you.
Our visit to Fussen, Germany, was deliberate. We had the fortune of advice from friends that had experienced it.
We visited specifically to participate in schnapps tasting. However, there's much more to see and do behind the castle walls of Fussen.
We enjoyed it so much we spent two afternoons here!
This post may contain affiliate links. Please read our disclosure and privacy policy for more information.
Schnapps Tasting in Fussen Germany
I bet you did not know that schnapps is a thing across Bavaria.
Schnapps or "schnaps" are an alcoholic beverage often referred to as a flavored liqueur. The drink is made from fruit and grain, then infused with an endless array of flavors. Many stores in Bavaria distill their own and sell their brands. All offer free tasting, and some are rather generous with their samples.
Once you know what you are looking for, you'll notice schnapps in almost all delicatessens, plant shops, houseware shops, and gift shops.
The old-fashioned bottles look like they came straight from a screen out of Harry Potter. And this is what enticed us to venture into Fussen.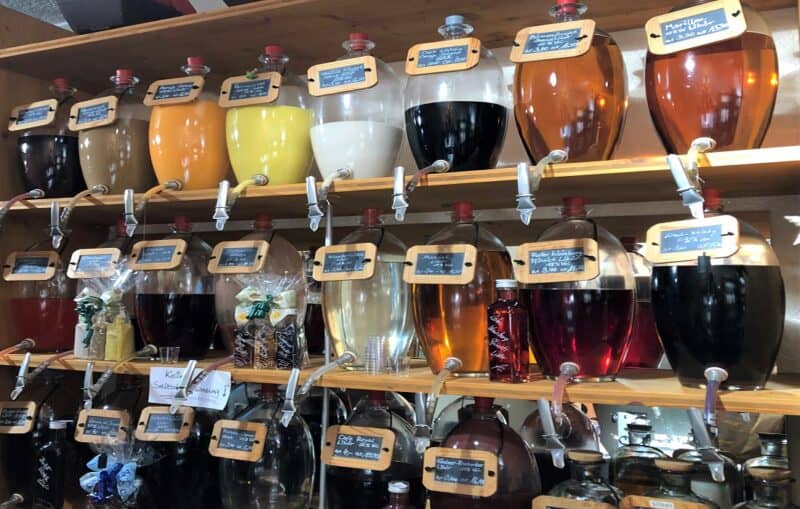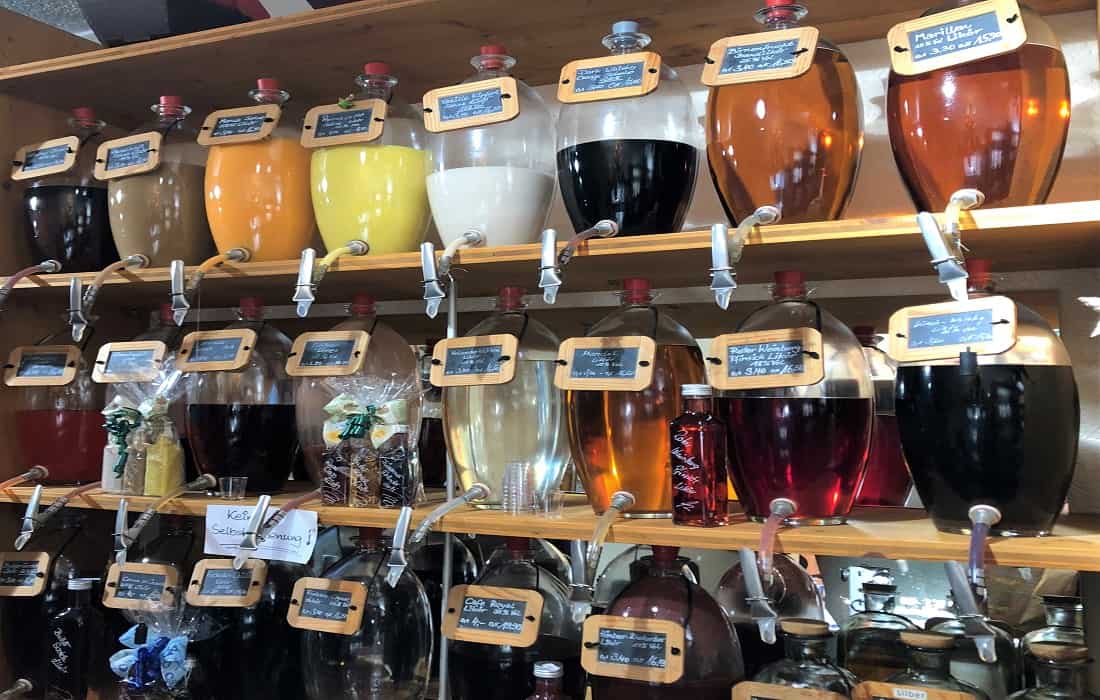 Places for Schnapps Tasting in Fussen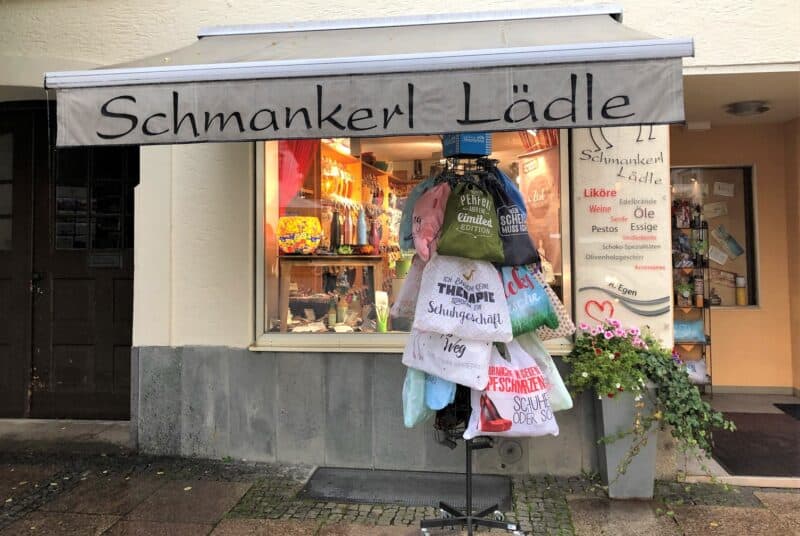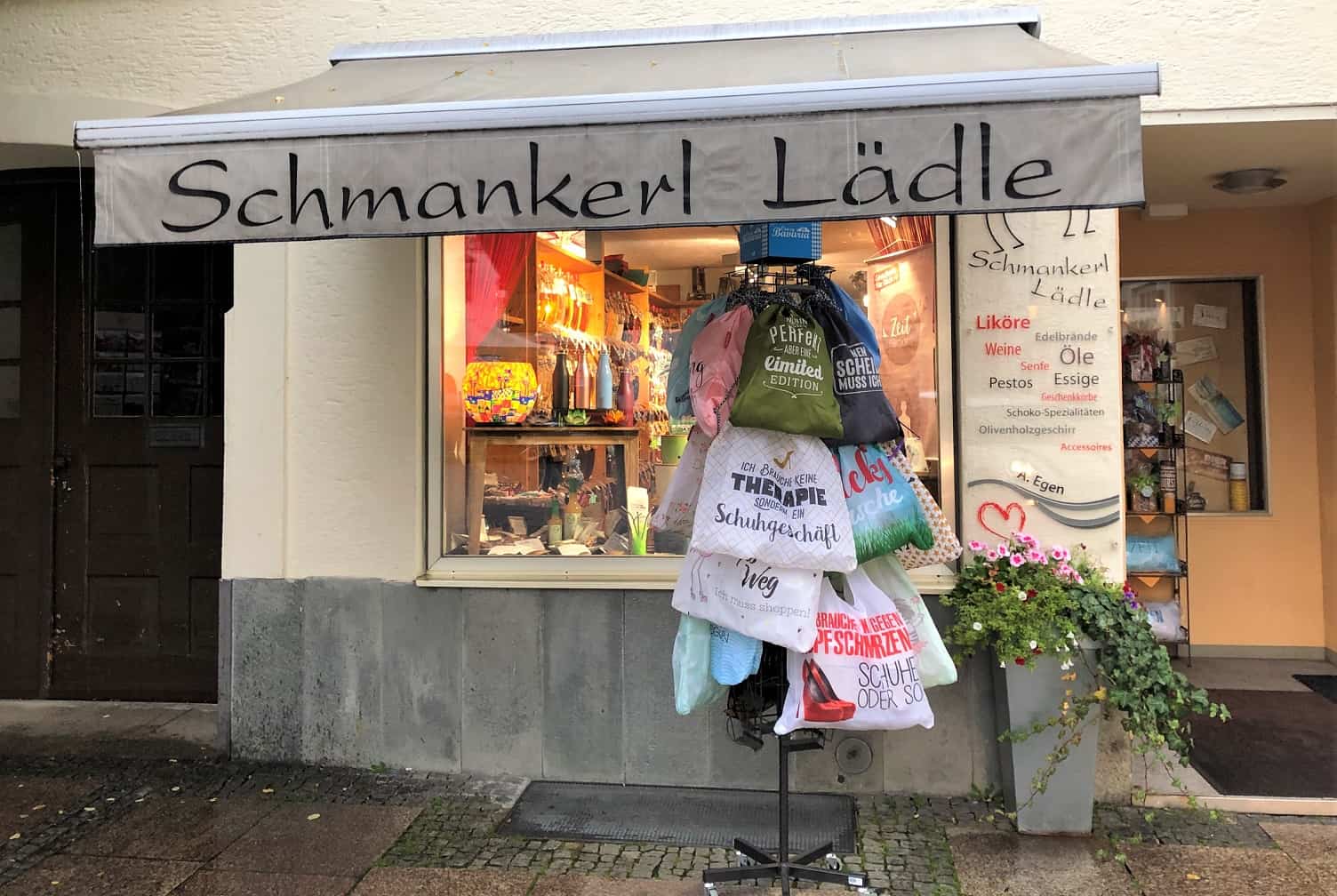 What a find this little store was. This charming place is where we tasted the most schnapps, and this is where we ended up buying.
The owner here made us welcome and encouraged us to sample many different flavors until we found the ones we liked. The flavors range from the wonderful to the odd!
I ended up buying Rhubarb, Coffee, and Baileys flavors.
Here, we learned that it's not just schnapps that adorned the beautiful pharmacy like bottles; in some cases, it's a salad dressing.
Address: Schrannengasse 13, 87629 Füssen, Germany
Even if you are not on the hunt for schnapps, you should search for this store in Fussen. It sells all kinds of household goods that are trendy and different.
We tasted some schnapps here, but we had language challenges explaining the flavors we would like. Our fault as we don't speak German.
Address: Sebastianstraße 4, 87629 Füssen, Germany
Even if you don't drink alcohol, consider bringing someone a traditional gift from the region.
Shopping in Fussen
You will be spoilt for choices in Fussen. And, even though Europe, it was surprisingly inexpensive.
Mensels – Geschenke & Souvenirs
Don't miss this place. You can buy everything from a pair of socks to a sheepskin rug, and it's affordable. My friend purchased a sheep's skin run for about 20 Euros, which is beyond a good deal.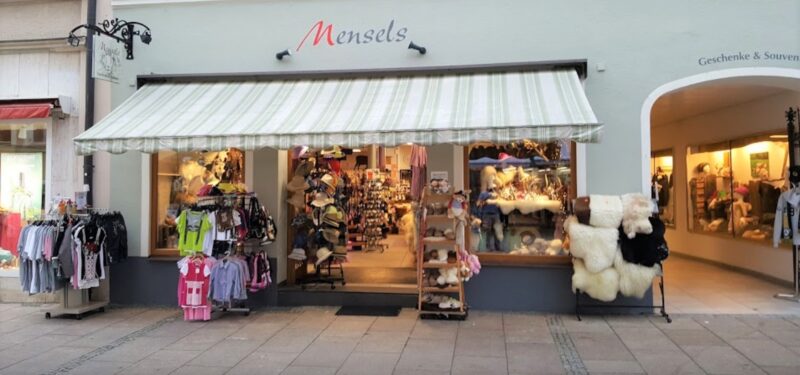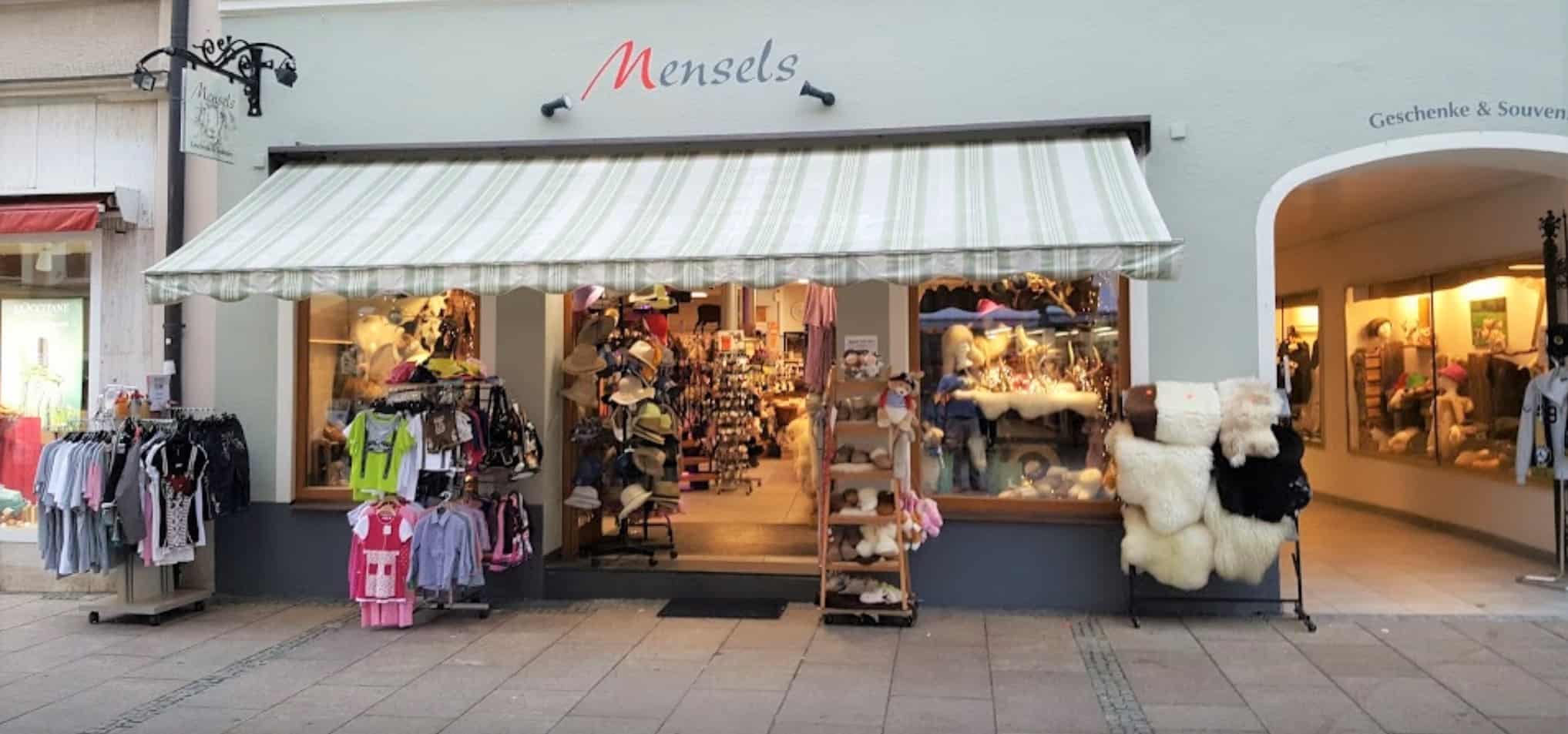 Address: Reichenstraße, 87629 Füssen, Germany
Marrakesh
How unusual is it to find a Moroccan shop in a medieval town in southern Bavaria? We did not find this by chance. Another tip from a friend we sought this place out hunting for handmade leather purses. And score!
If you make your way to this store, be aware that the owner comes and goes on a whim. It was fascinating to locate the shop with all the merchandise out on display, only to find no one there.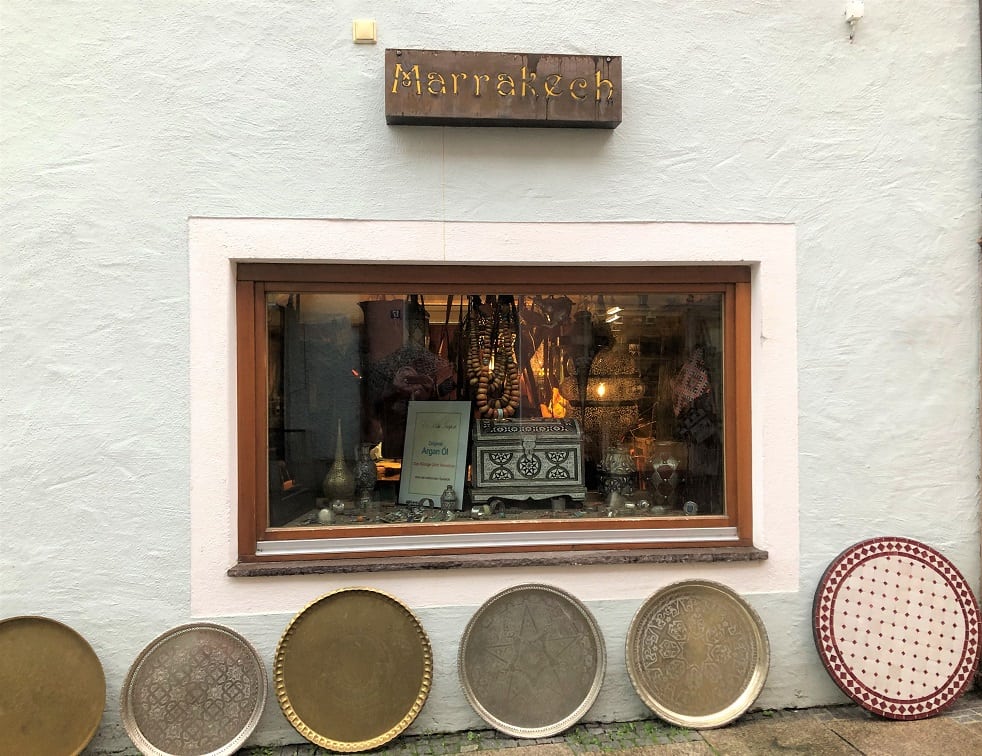 Hang around a bit, he will return, and the wait will be worth it.
This beautiful shop does not have a website to link to, and the store owner only accepts cash. Lastly, be prepared to negotiate – it's expected.
Address: Brunnengasse 16, 87629 Füssen, Germany
Canvero Accessories
Finding this store online has proved fruitless; I don't know if it is still open or not as nothing comes up, which is odd, we were just there.
Of course, I did not take any photographs. Another lesson learned. Canvero Accessories is a franchise, so perhaps the title of the shop is different?
We loved this shop! It sells bags, purses, hats, and scarves. It also sells the most unusual accessories I've ever seen that I wish we stocked up with. We purchased magnetic blinged-out badges that you can add to a scarf, hat, or boots. You can add them to anything!
We also bought key ring/purse accents that have a coin built in them for Aldi carts! Aldi might not be your thing, but they are huge in Europe, so these come in handy.
Address: Reichenstraße 32 87629 Füssen
Where To Eat In Fussen
There are endless choices; the main street has an abundance of restaurants. Many of which offer traditional German food. Here are the places we ate at and drank at.
Technically a grocery store/deli/market hall. This charming place has a bar and a small café with seating. This building has a serious history.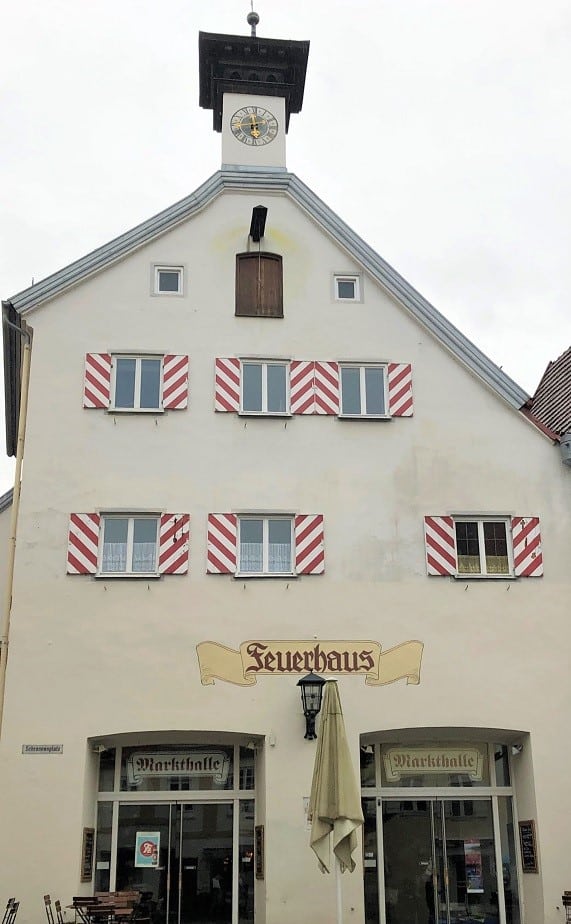 It was initially built in 1483 as a granary. Then in 1570, a small tower and clock were added. The building is listed in the German Monument Registers.
Address: Schrannengasse 12, 87629 Füssen, Germany
Restaurant Ludwig Gaststätte
This place will have a special place in all of our hearts from here to eternity.
It's here that we fell in love with German food, something I never thought possible.
We all opted to try a traditional dish – Schweinshaxe (Roasted Pork Knuckle), with red cabbage. Not only did we thoroughly enjoy this dish, but we've also since recreated it at home, and we are planning an event around this delicacy.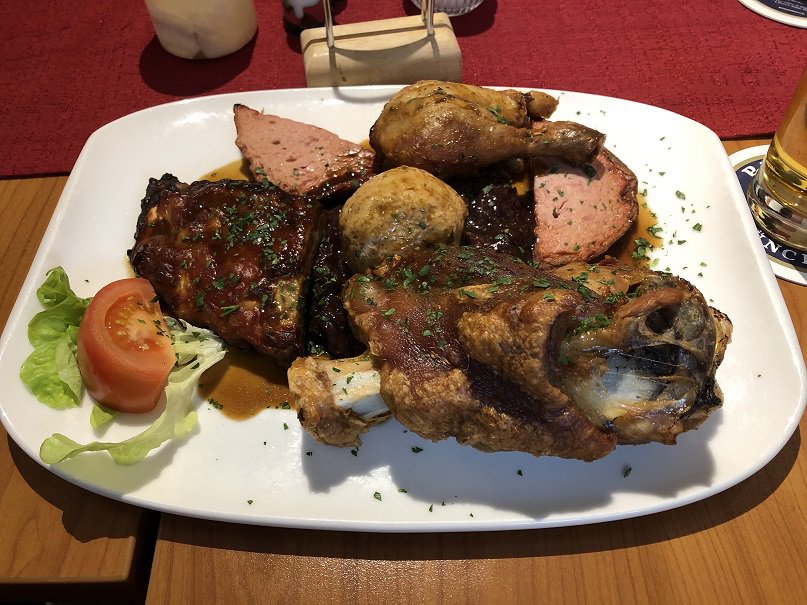 Note, they only take cash. Something we ran into all over Bavaria.
Address: Reichenstraße 19, 87629 Füssen, Germany
We ran in here due to rain and to warm up. We did not eat dinner, and we just had splendid drinks.
Hidden inside, there is an even better reason to visit. The decorations! Selfie fans, take note!
My friend Lisa loves to create iconic Hallmark-worthy shots whenever we come across places like this in Europe. Specifically restaurants with dressed windows. We have a few of these fantastic photos. One day, we will have enough for a "Hallmark Instagram" post of the collection.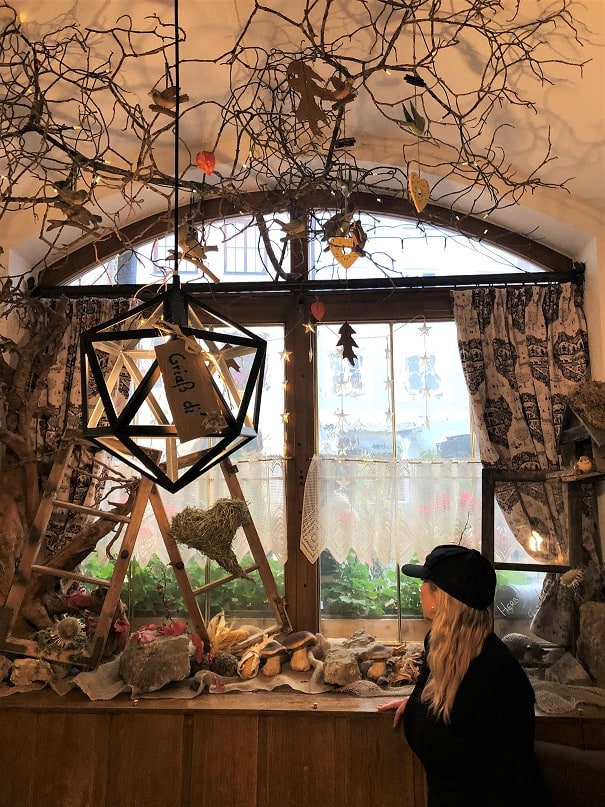 Address: Schrannengasse 10, 87629 Füssen, Germany
Buildings Of Fussen
While our purpose of visiting was schnapps tasting, I would be doing you a disservice not to share the beauty that lies behind the castle walls. There is no end to the charm. Fussen is what you dream of when romanticizing European towns!
You could spend an entire afternoon just wandering around town. I'll give you fair warning, though, as small a town as it is, we got lost inside the walls.
Where To Stay In Fussen
We did not stay in Fussen because we had our timeshare for a week at Ferienpark Oberallgäu in Missen-Wilhams. A quick thirty-minute drive and we were in Fussen.
In hindsight, I wish that we had spent a night or two inside the castle walls.
Here are the highest-rated hotels in Fussen Germany:
Best Western Plus Hotel Füssen
Schlosskrone Hotel
Sonne Hotel
Hotel in Old Town, Füssen
Fantasia Hotel
Central City Hotel
Luitpoldpark-Hotel
Ludwigs Hotel
Hirsch Hotel
Villa Toscana
Parkhotel Bad Faulenbach
You Can Book Hotels in Fussen Germany Here:
Travel Planning Resources
Looking to book your next trip? Use these resources that work:
Are you interested in Volunteer Vacation and Working Holidays? Check out the complete guide to how here!
Need more help planning your trip? Check out our Resources Page, where we highlight all the great companies that we trust when we travel.