Shadowed by the fame of Neuschwanstein Castle, many tourists skip a visit inside Hohenschwangau Castle. For the life of me, I can't understand why. If you like castles, why would you not go inside both? Fortunately, people have stated that Hohenschwangau Castle is more beautiful than the famous neighbor in recent years.
Here are a few reasons why you should not skip Hohenschwangau Castle and why it rivals its neighbor in beauty. First, Hohenschwangau Castle is where King Ludwig II grew up – aka "The Mad King"; second, it is complete; third, it is packed with historical artifacts; fourth, the inside design is beautiful; lastly, it has lovely gardens.
Visually from the outside, the yellow walls and traditional design pale compared to Neuschwanstein Castle, but the inside outshines Neuschwanstein by far.
This post may contain affiliate links. Please read our disclosure and privacy policy for more information.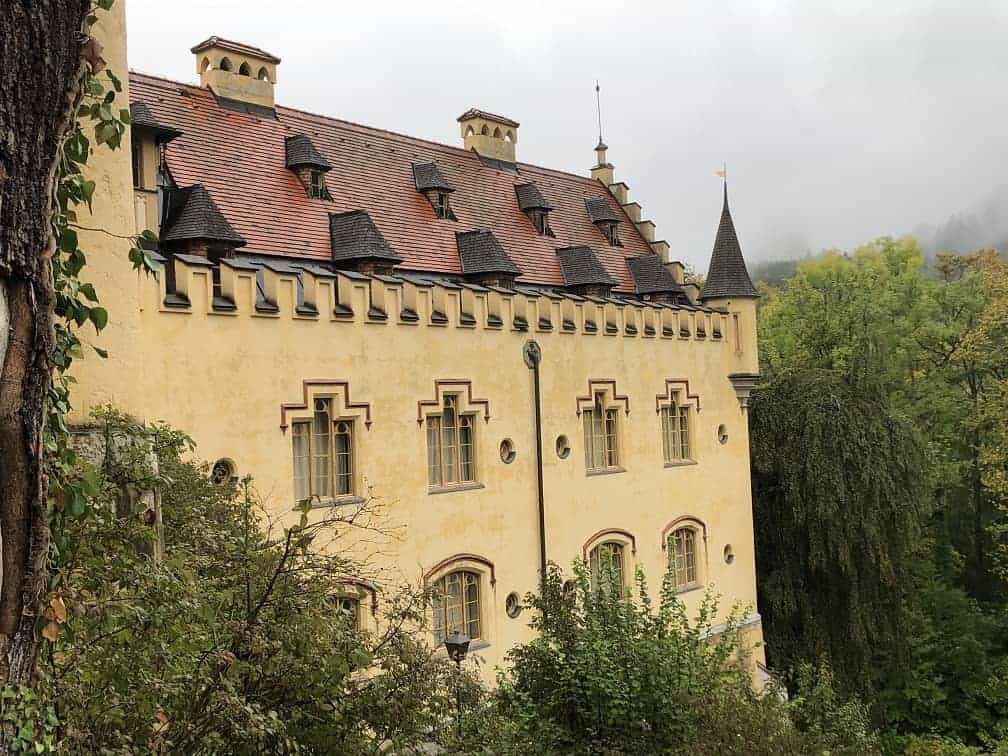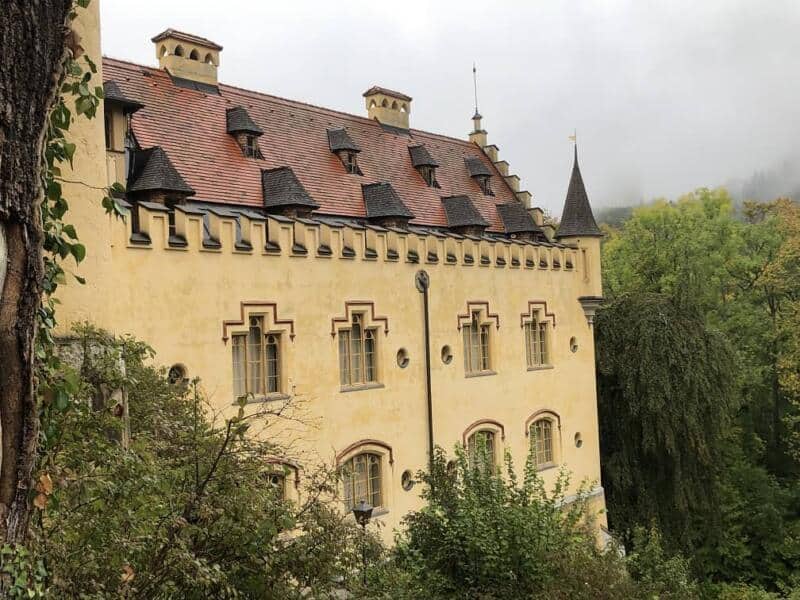 King Maximilian II of Bavaria
Maximilian II reigned as King of Bavaria between 1848 and 1864. He was a popular king, mainly due to his political commitment rather than overspending, opulence, and excess. Traits that many rulers of this era adopted as norms.
He is beloved for his effort to restore stability to the Bavarian region and his commitment to maintaining Bavarian independence during Germany's wars.
The king battled constant health issues, one of the main reasons he spent so much time in the countryside.
He was married to Marie Friederike Franziska Hedwig and had one daughter and two sons. One of those sons, King Ludwig II of Bavaria (The Mad King), succeeded him following his death in 1864.
The History of Hohenschwangau Castle
The young King Maximillian II, when still a prince, discovered a castle ruin atop the hill that Hohenschwangau Castle sits on. The ruin dating back to the 12th century was known as Fortress Schwanstein. The ruin and location captured his attention.
Construction of the Hohenschwangau Castle began in 1832 and took approximately ten years to complete.
Maximilian set about to embrace the new architectural style of the times – Gothic Revival, which he combined with modern building technology. Additionally, incorporating the square building trend for castles of the time.
Inside Hohenschwangau Castle
Like Neuschwanstein Castle, you must take a guided tour. You can't wander the inside at your leisure. And tours are timed. The tours are busy, you overlap with other guests as you move from one room to another, but it is not rushed. Our guide did a thorough job explaining the architectural significance of features, furniture, and paintings.
The walls of this castle are a story of their own. Many of the walls were painted by Domenico Quaglio, an Italian painter and architect. Some notable rooms are the Drinking Hall of the castle, turned into a chapel.
Almost all the interior walls and ceilings are painted with scenes depicting German folklore or medieval legends. Many pay homage to swans, the heraldic animal featured on the king's coat of arms. There is even a room titled "Hall of the Swan Knight."
The castle is 10 763 square feet. All the rooms are finished, and the family spent many summers here. The largest room is the Hall of Heroes and Knights, which takes up the castle's width.
The tour only takes approximately thirty-five minutes, and you will only see a few rooms on display to the public.
Note: You cannot take any photographs inside Hohenschwangau Castle
The Gardens of Hohenschwangau Castle
Not sprawling due to sitting on top of a hill, the gardens of Hohenschwangau are impressive. Also created by Domenico Quaglio, they have the same charm and style. Perhaps even a little more stunning.
The garden's highlight is the swan fountain encased in the multi-layered circular bush.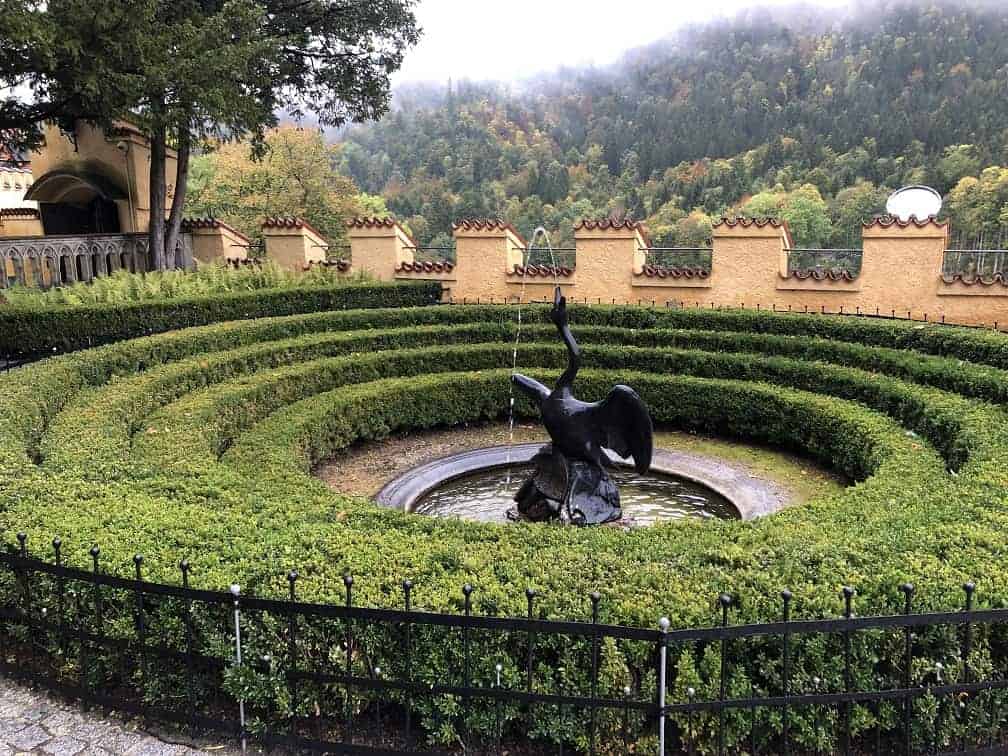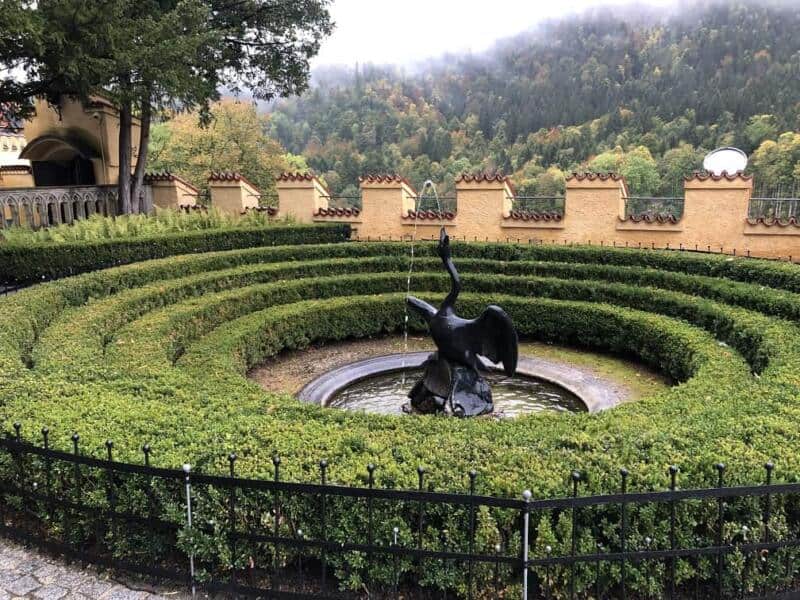 You will get to see the most divine inside-outside sunken marble jacuzzi man ever created in the gardens. It is an incredible piece of marble decadence art with function. I can imagine how relaxing a bath here would have been. You can't enter it, but you can view it outside.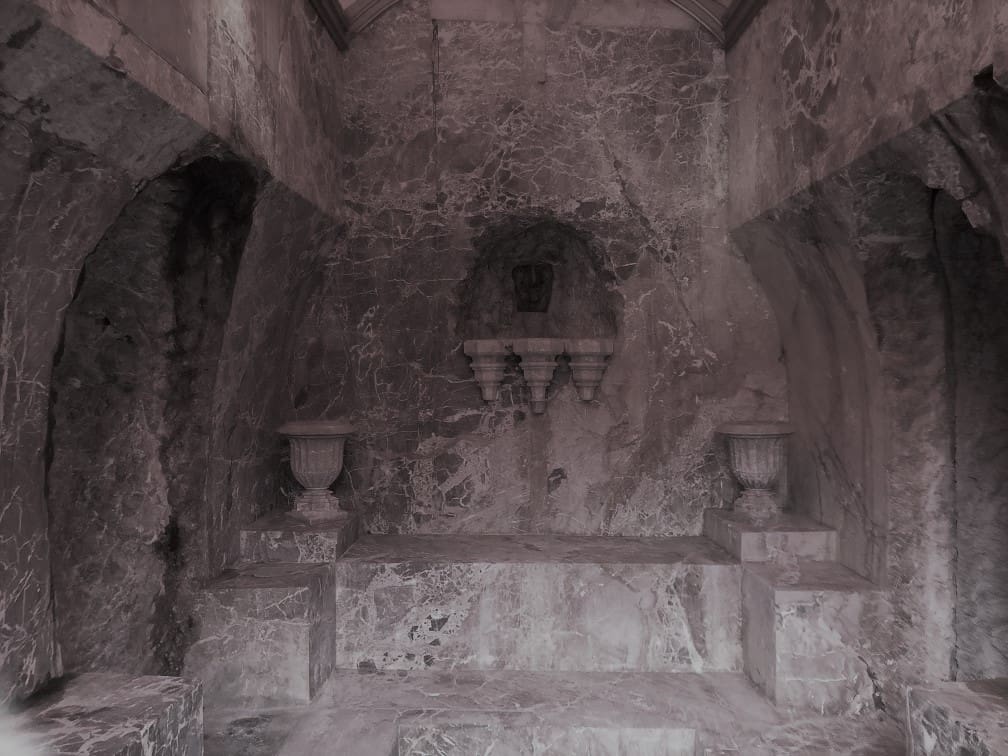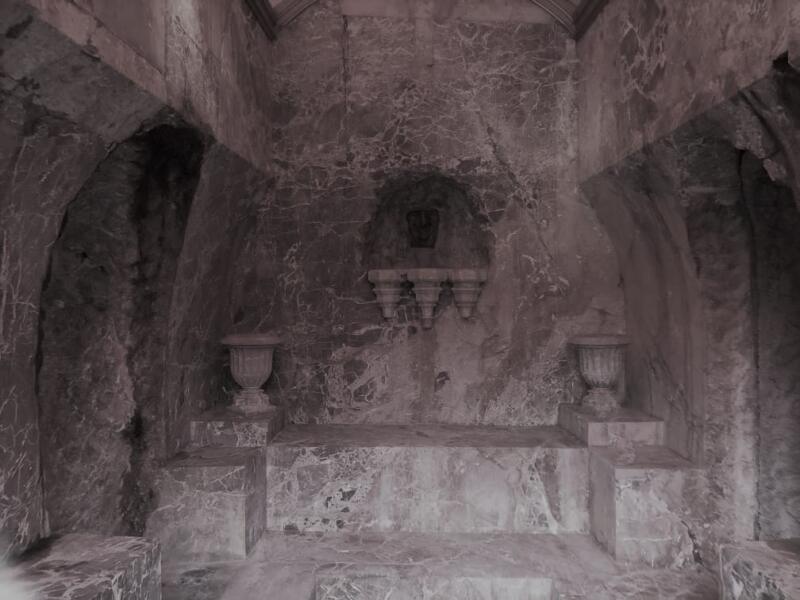 You also can visit the chapel via the gardens, which is a short walk down the side of the castle walls.
Then there are the views of Lake Alpsee, which is worth the visit alone.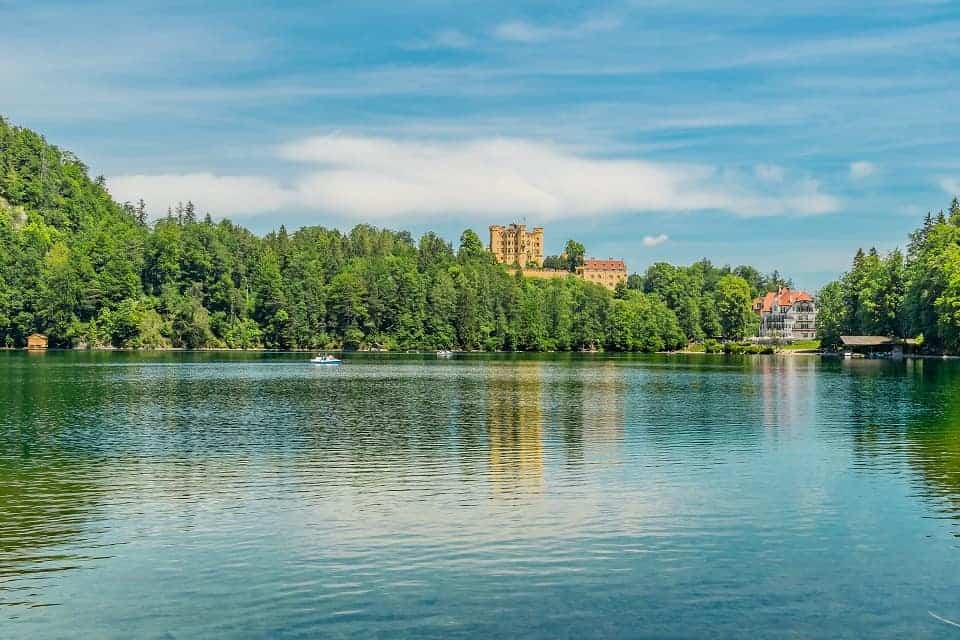 Map of Hohenschwangau Castle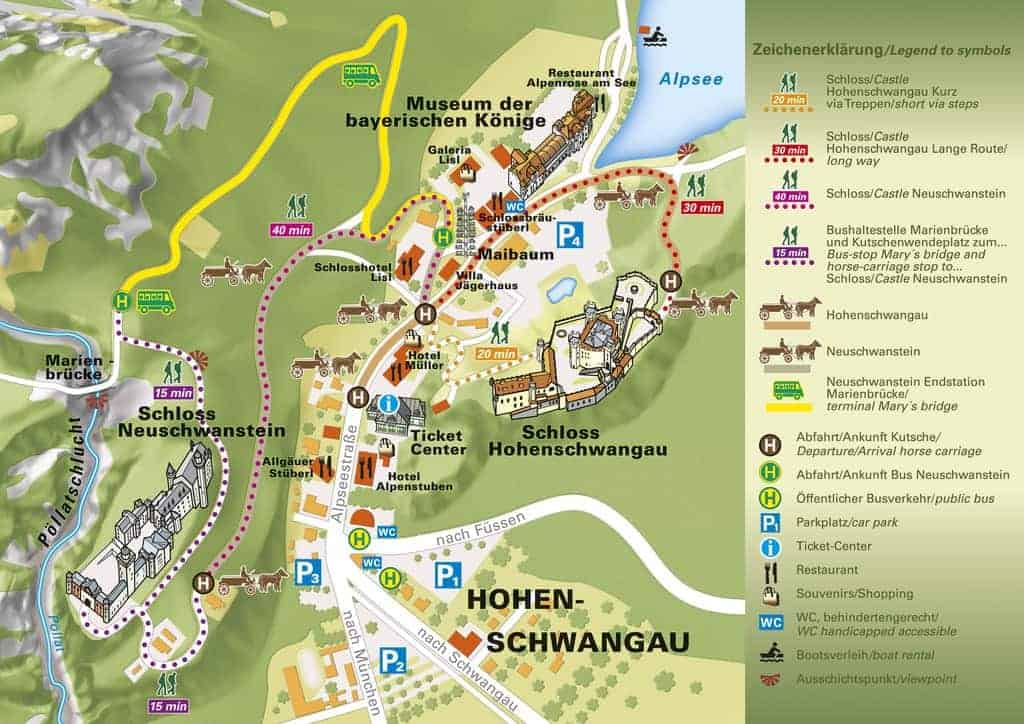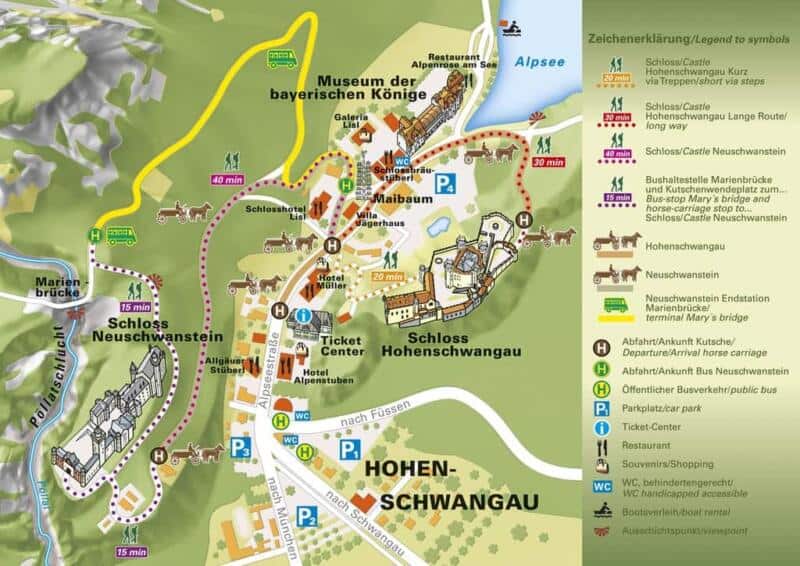 How to Get Up to Hohenschwangau Castle
Getting up Hohenschwangau Castle is an easy twenty-minute walk from the ticket center. We walked both up and down to Hohenschwangau. If you do not want to walk, you can take the carriage up.
Getting Tickets to go inside Hohenschwangau Castle
As of 2020, both castles receive more than 1.4 million visitors a year. Most are heading inside Neuschwanstein. Approximately 300,000 visitors get tickets to go inside Hohenschwangau.
You can buy a ticket on the same day. However, I strongly recommend that you purchase tickets in advance. There are a few reasons for this:
You must take a guided tour.
All tours run at specific times, and you will get a time slot based on availability.
Tours often sell out way in advance.
The lines to buy tickets are ridiculously long, even on a rainy day.
If you are late for your time, there is a high chance you will not get in.
You can only buy tickets for up to two days in advance.
The ticket counter is located at:
Neuschwanstein-Hohenschwangau
Alpseestraße 12, D-87645 Hohenschwangau
Telephone +49 8362 93083-0
Ticket Prices
Hohenschwangau Castle costs € 13,00 for adults plus a €2,50 service fee. Children under 18 are free.
The following combination tickets are available:
Kings-Ticket (Hohenschwangau castle / Neuschwanstein castle)
Wittelsbach-Ticket (Hohenschwangau castle / Museum of the Bavarian Kings)
Swan-Ticket (Hohenschwangau and Neuschwanstein castle/ Museum of the Bavarian Kings)
Remember that all tours follow a strict schedule. When you book tickets, allow yourself enough time to get from one castle to another.
Essentials You Will Need To Enjoy Hohenschwangau Castle
Where To Stay Near Hohenschwangau Castle
What You Need to Know
Prepare for rain; it's common.
There are plenty of places to eat and drink in the village of Hohenschwangau.
There is parking on-site. You must pay a nominal fee to the park, and you should expect heavy traffic.
You can not take photographs or videos inside.
Closing Thoughts
If you are in Southern Germany and visiting Neuschwanstein Castle, make a point to include Hohenschwangau Castle. If you must choose to go inside only one castle, I recommend Hohenschwangau Castle vs. Neuschwanstein.
We did both, and Hohenschwangau was the best.
The tour felt longer even though it took about the same time as Neuschwanstein. More rooms are on display, and the house is tastefully decorated yet reflective of the period.
Many people skip going inside Hohenschwangau Castle, and this is a mistake.
Lastly, a fairytale-like town called Fussen is only a six-minute drive away or two miles away. You will enter into a circle maze of cobbled streets that hold an endless array of things to do behind this town's castle walls.
Looking for more posts on Castles and Mansions? Start here:
We are a participant in the Amazon Services LLC Associates Program, an affiliate advertising program designed to provide a means for us to earn fees by linking to Amazon.com and affiliated sites.