Castle Howard – Yorkshires Brideshead Revisited
Located in York, northern England is Castle Howard. Despite its name, it is not a traditional castle. Castles are fortified structures to defend against attacks, but the term "castle" is often part of an English estate home's name. Likewise, when a building sits on a prior castle site, the term castle is common. Castle Howard is a stately home. Furthermore, the term stately home is an English phrase for a large and fine house occupied or formerly occupied by an aristocratic family.
There are approximately 3,000 stately homes in England. Of the 3,000, most are privately owned. Three hundred are maintained by the National Trust, an organization founded in 1895 to promote public access to historic or architectural interest buildings and the land of natural beauty.
The Howard Family privately owns Castle Howard. Castle Howard is one of England's largest private stately homes, Brideshead Revisited's film location, and is open to the public.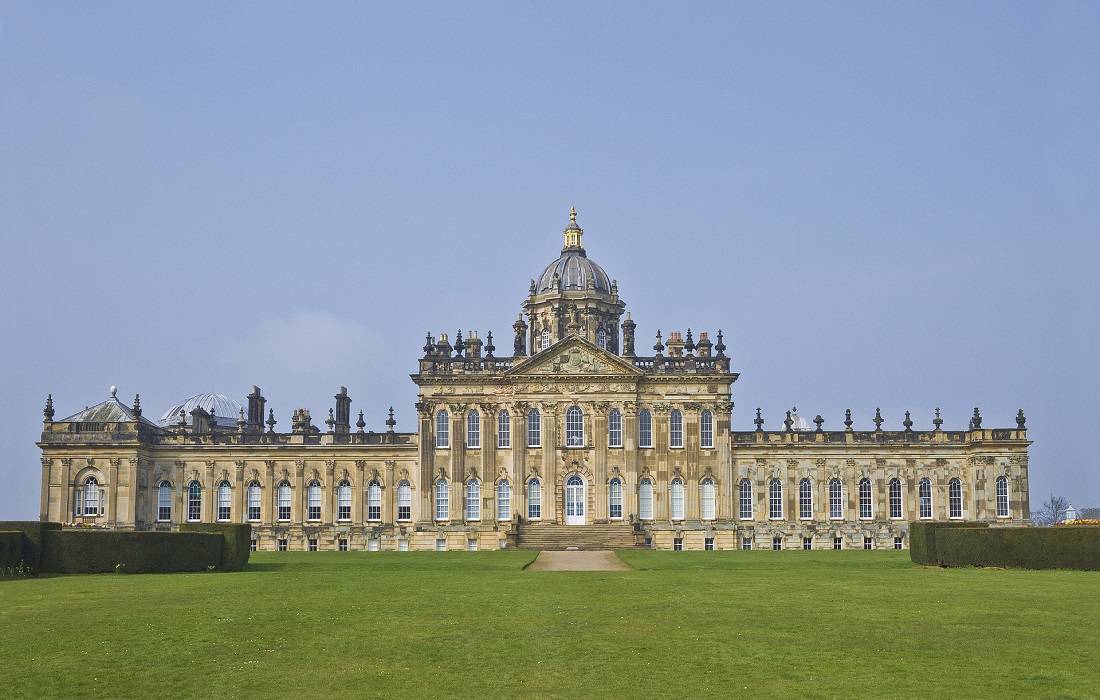 This post may contain affiliate links. Please read our disclosure and privacy policy for more information.
The Family History Of Castle Howard
The Howard family is a famous English family with a long linage.
William Howard is the founding member. Howard's family acquired the duchy (the territory of a duke or duchess; a dukedom) of Norfolk through Robert Howard's marriage with Margaret, daughter of Thomas Mowbray, 1st duke of Norfolk.
Robert and Margaret's son, John, was appointed The Duke of Norfolk in 1483 but killed in 1845 at the Battle of Bosworth Field, fighting for Richard III.
Thomas Howard, 2nd duke of Norfolk, served in King Henry VII's court as councilor and military commander. His son, Thomas Howard, the 3rd duke, continued as his father did under Henry VIII. King Henry, infamous for multiple wives, married Anne Boleyn and Catherine Howard, both Thomas's nieces.
The execution of Catherine leads to accusations of treason for both Norfolk and his son Henry Howard. Consequently, a series of tragedies and deaths ensued. As a result, it was not until 1660 that the Howards regained the duke of Norfolk's title.
Castle Howard sits on the former location of the ruined Henderskelfe Castle. Construction started in 1699; however, it took almost a hundred years to build under three Howard Earls.
The House
Charles Howard, The 3rd Earl of Carlisle, commissioned John Vanbrugh to design Castle Howard. The 3rd Earl of Carlisle was the great-grandson of Lord William Howard – the youngest son of Thomas Howard. Duke of Norfolk. Charles Howard, the 1st Earl of Carlisle, took possession as part of his wife, Elizabeth Dacre's inheritance. Both Charles Howard and John Vanbrugh died before the completion. Carlisle's son-in-law, Sir Thomas Robinson, continued the project, and Charles Heathcote Tatham completed it in 1811.
The design set out to be Baroque, a theme common with the times. However, when Sir Thomas Robinson took over the build, he toned down many of the original plans and added new elements.
The house has two symmetrical wings that protrude on both sides. The iconic gold dome is a late addition. The gold dome took shape in the final stages while the central block was built. While a late addition, the gold dome is a focal point internally and externally.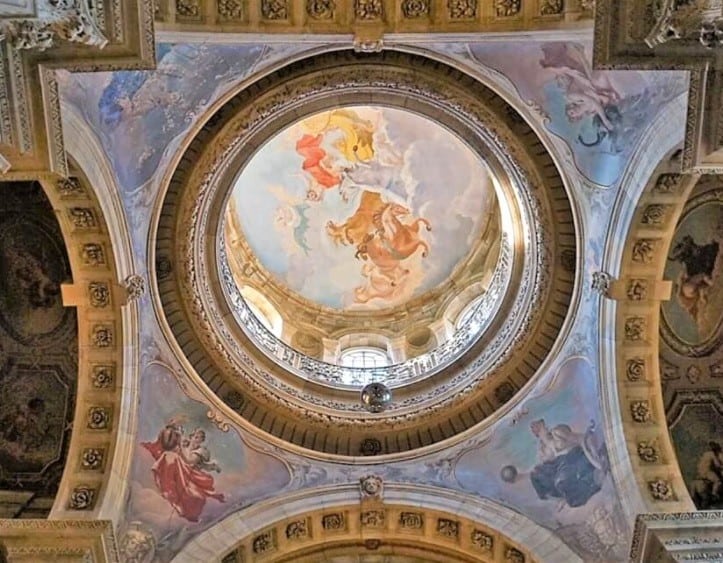 The enormous house and estate boast approximately 8,800 acres and a staggering 145 rooms. Giovanni Antonio Pellegrini decorated many of the rooms inside Castle Howard.
Note: While open to the public, not all rooms are on display and the Howards still live in Castle Howard.
Touring Castle Howard
When you visit Castle Howard, you can either take a self-guided tour and explore at your own leisure. Likewise, you can take one of many guided tours.
Self Guided Tours
There are two self-guided tickets:
House & Gardens Ticket
Gardens Ticket Only
If you visit Castle Howard for the first time, you must do both the house and the gardens to appreciate the entire estate. The garden option is great for those that have seen the house and want to bask in the expansive manicured gardens.
Guided Tours
Choose from any of the following or enquire about a particular area of interest; additional charges apply:
What You Need For The Perfect Day Out
Exhibitions & Displays
Some past exhibitions include Duty Calls, Magnificence and Convenience, and Mat Collishaw Exhibition.
Current Exhibitions
Coronation Exhibition
From 1st April, 2023
The Long Gallery will play host to an exhibition celebrating the King's Coronation, featuring luxurious peers' robes worn to coronations gone by.
People We Love
19th May – 15th October, 2023
A community based international artwork on high definition screens in our Chapel.
The Gardens And Monuments
Castle Howard has vast gardens that span miles. There are formal gardens, lakes, walled gardens, and various temples and monuments enriched with wildlife. For example, it's not uncommon to see peacocks on the estate. The gardens are ceremoniously listed as Grade I on the National Register of Historic Parks and Gardens. The diverse landscape at Castle Howard is so unique that it needs protection. The estate is home to several kinds of wildlife, ranging from badgers to bats to rare flora and fungi species.
The Main Garden
As with most estates on this scale, a formal garden in the front can be viewed from the main house. Symmetrically placed with the Atlas Fountain as the masterpiece.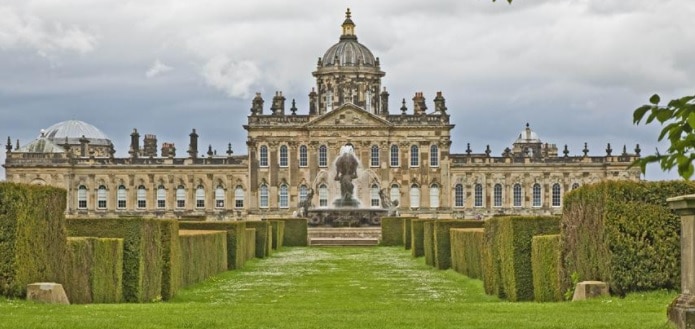 The Atlas Fountain
William Andrews Nesfield is the Atlas Fountain and pond designer, and the sculpted figures are John Thomas's work.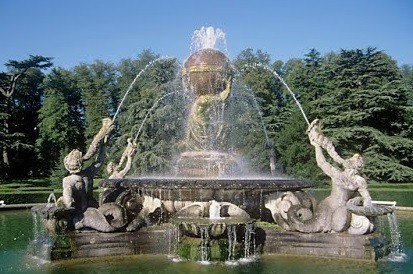 Four Winds Temple
Beautiful as this structure is, it does not have a formal purpose; it simply adds to the view.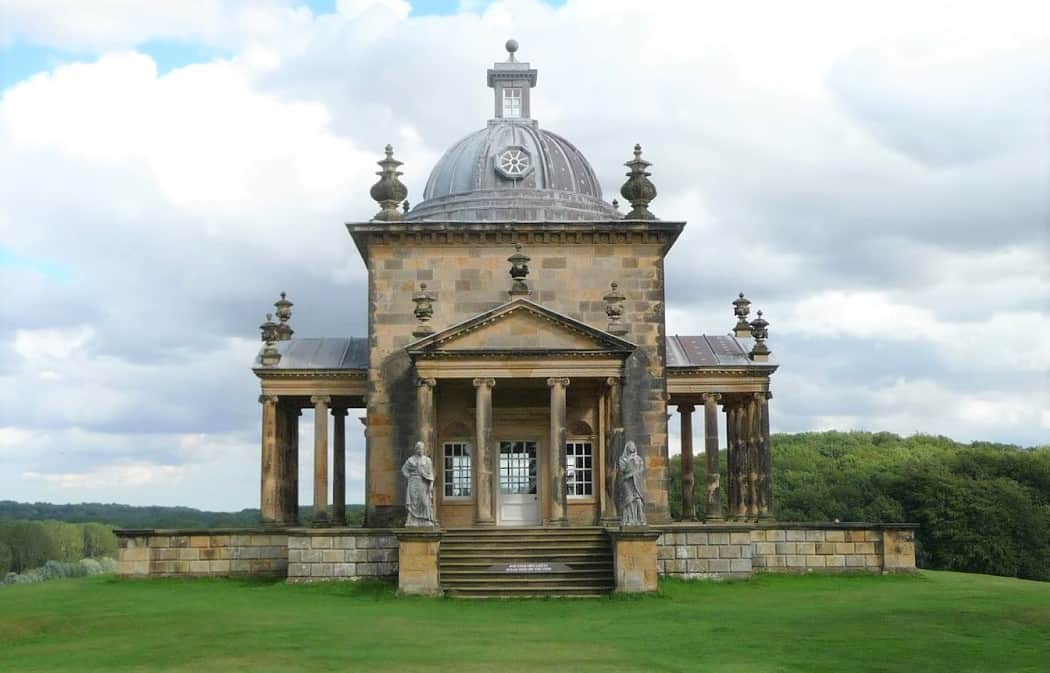 The Mausoleum
One of the most famous monuments is the mausoleum. The mausoleum is the private burial place of the Howard family. Located almost a mile away from the main house, it is not accessible to the public. You can see the mausoleum from the waterfall at Temple Basin.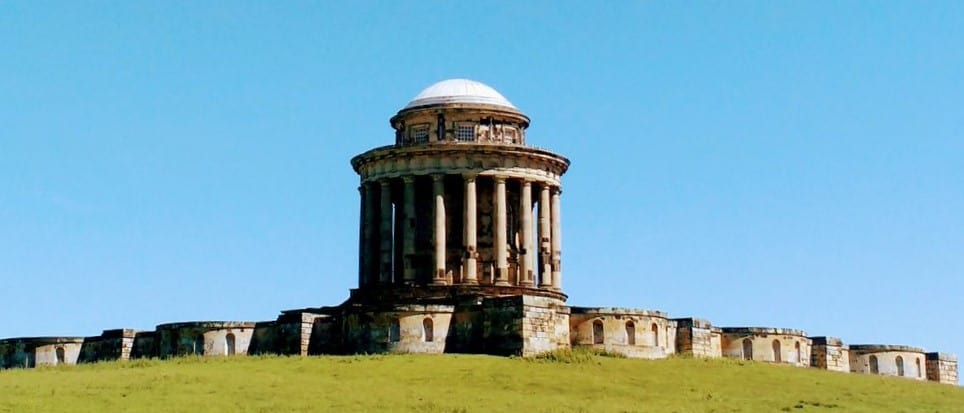 Walled Garden
The Walled Garden includes a rose garden, manicured borders, ornamental vegetable patch, and pretty summer blooms are the perfect place to relax and discover a stunning collection.
Woodland Garden
This garden houses a collection of plants worldwide with over 800 species of rhododendron, magnolias, maples, and rowans.
Additional Things To Do
Skelf Island
Skelf Island is a new adventure playground in Castle Howard. Perfect for children, Skelf Island offers children the opportunity to explore the treetop adventure across the Great Lake's dormant water.
Staying At Castle Howard
One day is not enough at Castle Howard. Therefore, the estate has various options for you to stay on site:
Holiday Cottages
Lakeside Holiday Park
Camping & Caravan Park
Note: You cannot stay inside Castle Howard, rather on the grounds.
FAQs
Closing Thoughts
I have visited Castle Howard many times. As a child, we used to visit frequently. As an adult, I spent time here with my mother as she battled cancer. When you arrive at Castle Howard, you immediately feel like you have transcended into a world long gone. A world that is excessive, overt, and opulent. Yet, it is oozing romance. You can feel it in the air as you walk around.
When you are inside the house and look at the formal gardens and the Atlas Fountain, you can't help but wish you grew up here or could move in! Finally, as you walk the gardens, you will be left with a new appreciation for the formal gardens famous for the 1870s.
Looking For More Castles and Estates To Visit? Start Here:
We are a participant in the Amazon Services LLC Associates Program, an affiliate advertising program designed to provide a means for us to earn fees by linking to Amazon.com and affiliated sites.
Subscribe to our newsletter and get the best travel tips and inspirational stories delivered monthly. No spam, no sales pitches – TRAVEL!
Brit On The Move™ Travel Resources
Ready to book your next trip? Use these resources that work:
Need more help planning your trip? Check out our Resources Page, highlighting the great companies we trust when traveling.