The Paisley Park Tour – Prince's Former Home
Dearly beloved, we are gathered here today to get through a tour of Paisley Park. And to pay homage to one of music's most talented, complex, and unusual artists ever – Prince.
Sadly, Prince died on April 21, 2016. A day many cried purple tears.
As Prince said about life, "It means forever, and that is a mighty long time. But I am here to tell you; there is something else, The afterworld."
And, while Prince may be in the afterworld, he left us forever with Paisley Park – his home and recording studio entertainment park.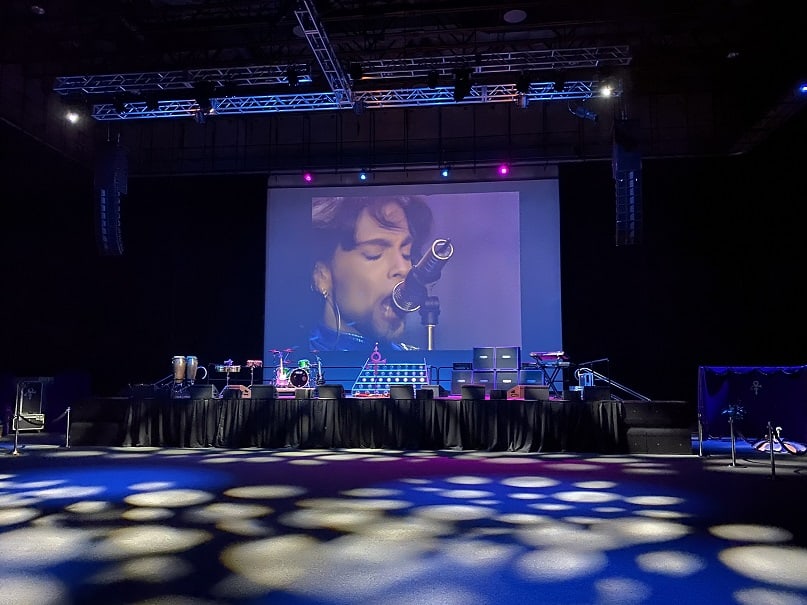 This post may contain affiliate links. Please read our disclosure and privacy policy for more information.
History Of Paisley Park
Construction began in 1986 and finished in 1987. Prince was the designer. You will feel this as you tour the place. Many eccentric elements dominate the interior, precisely what you'd expect from Prince. Paisley Park got its name because paisley means colorful, and park means to play or entertain. In other words, Prince's colorful playground. Located in Chanhassen, Prince recorded here for nearly 30 years.
Approximately 50 people were employed at Paisley Park, including security staff, wardrobes, assistants, and other employees, before his death.
Prince Fact File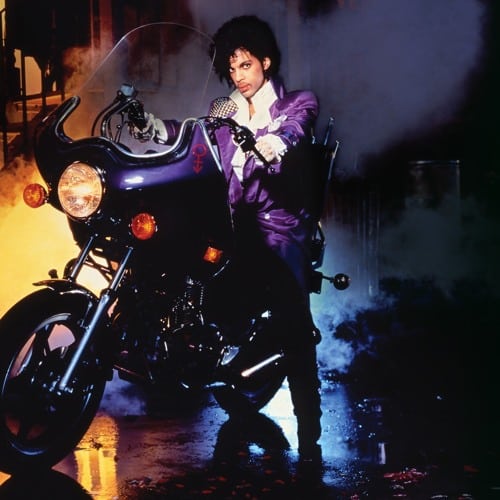 Full Name: Prince Rogers Nelson
Born: June 7, 1958
Died: April 21, 2016 – Age 57
Cause of Death: Accidental fentanyl overdose
Marriages: Mayte Garcia 1996 – 2000 and Manuela Testolini 2001 – 2006
Height: 5ft 2ins
Children: One – Amiir (Prince in Arabic), born in 1996. With his first Mayte wife, He was diagnosed at birth with Pfeiffer syndrome type 2 and died six days later.
Paisley Park Museum
Unbeknownst to most, Prince's former home and recording studio, "Paisley Park," is now a museum, and you can take a tour. Open to the public six months after his death. Knowing that I would visit, I did not read any reviews before I visited. I wanted to experience it for myself and form my own opinions.
I want to set everyone's expectations here.
We all know that Prince lived at Paisley Park for the last three years of his life. Most people don't know that it is more of an entertainment complex and recording studio than a home. And sadly, you can only view areas on the first floor that are 100% commercial or considered public areas by Prince.
This took me aback; I've seen many photos of Paisley Park, and I knew it was an entertainment complex. I just assumed that a tour would include personal space as well.
So now that's clear – Let's Go!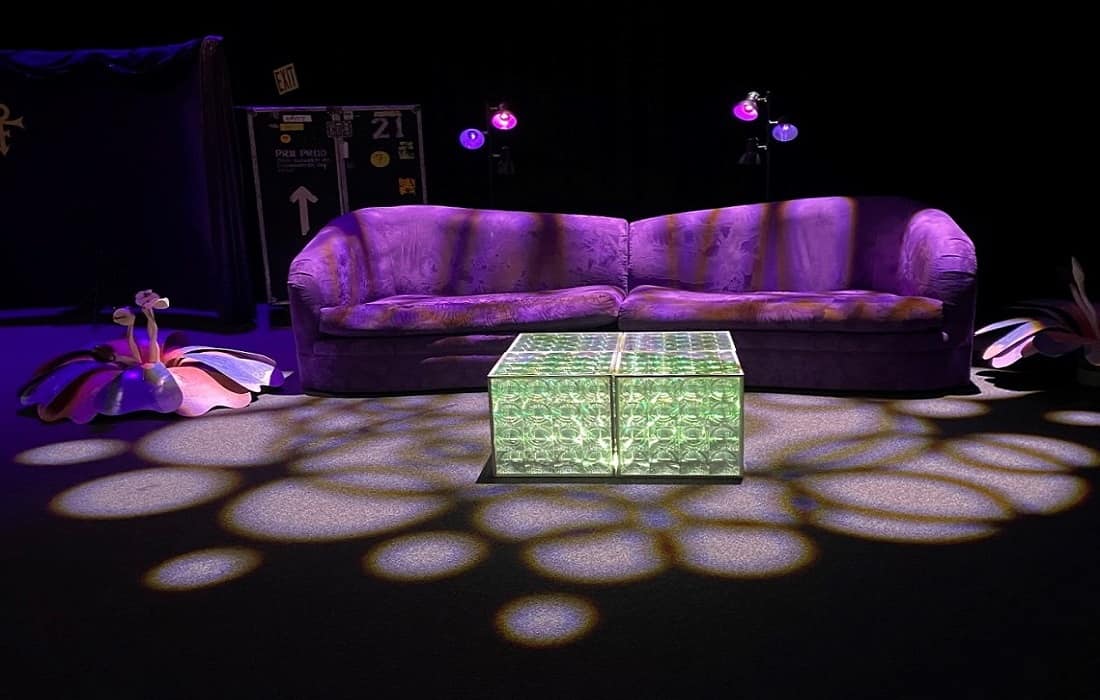 Ticket And Tour Options For Paisley Park Museum
The Paisley Experience
The Paisley Experience includes guided tours of the following:
The main floor of Paisley Park, including studios where Prince recorded, produced and mixed some of his biggest hits
Massive soundstage and concert hall where Prince rehearsed for tours and held exclusive, private events and concerts
N.P.G. Music Club, where Prince had countless late-night performances
Average Tour Time: 70 minutes
The V.I.P. Experience
The V.I.P. Experience includes the Paisley Experience, PLUS:
A 30-minute longer tour experience
Access to additional content, rooms, and studio areas
A showcase of other artifacts from the Archives
A unique and exclusive photo opportunity
Average Tour Time: 100 minutes
The Ultimate Experience
The Ultimate Experience includes the V.I.P. Experience plus exclusive access to additional spaces and exhibits. As a more immersive way for fans to tour, the Ultimate Experience is available on select days only and often sells out. This wide-ranging tour offers an expanded 3-hour guided tour including:
Studios A, B, and C access
A private screening of exclusive video footage in Paisley Park's Editing Suite.
A special audio playback session in the control room of Studio B.
Visitors on the Ultimate Experience will also have access to view archive items not displayed on the G.A. and V.I.P. tours, providing a more in-depth museum experience.
A Light beverage comes after the tour.
Ultimate Experience Average Tour Time: 3 hours
I took the Ultimate Experience Tour so I will cover all angles of what to expect. And, I paid for my ticket so you know the deal. I will tell you the good, the bad and ugly.
Entering Paisley Park
If you have never seen the outside of Paisley Park, brace yourself. It is a concrete complex; you probably know it's right off a highway. However, seeing it in person makes it a stranger. Not as an entertainment park but as a home. I can't even comprehend it; it's so commercial in appearance.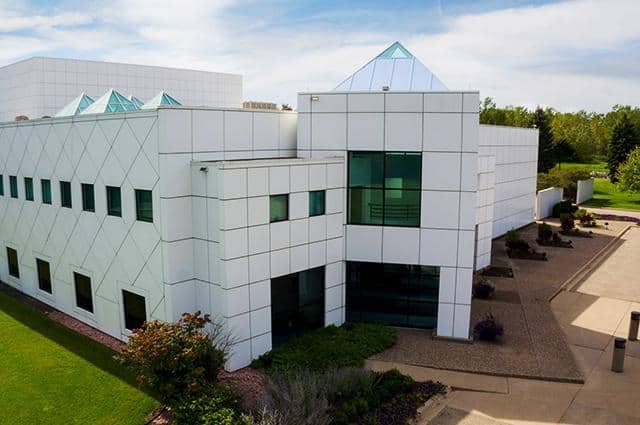 (Photo credit: Paisley Park)
Then, upon entry, you met with all the rules and regulations – another shock for me.
Strictly No Photography
This is the first time in my life that I've had to turn my cell phone off and place it in a sealed bag. And by sealed, I mean locked with an anti-theft device similar to those used in stores. The concept here is that Prince did not allow anyone to take photographs inside Paisley Park. The museum is respecting his wishes. I get it, but it was not what I was expecting.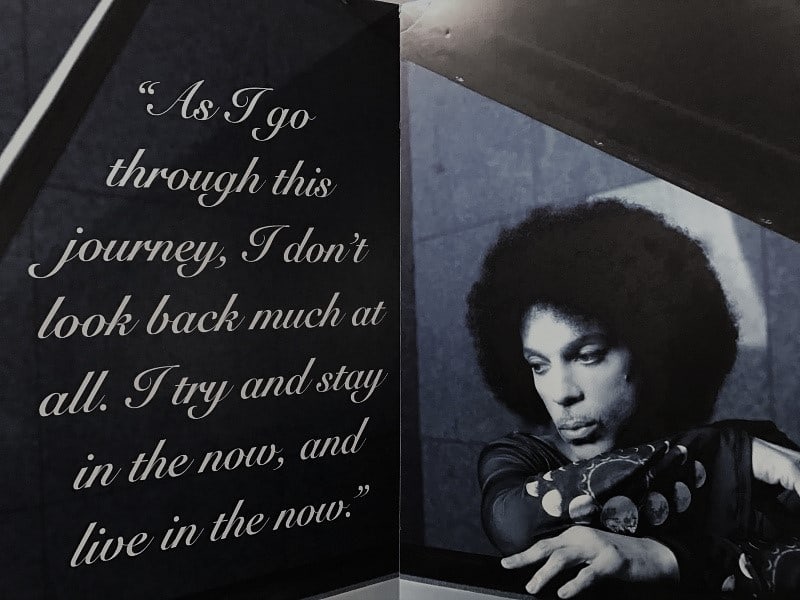 Prince focused on living life in the present moment and did not own a cell phone (Photo credit: Colleen Lanin, poster at Paisley Park)
On the bright side, you can take photographs at the end of the tour in the concert venue and the nightclub.
Paisley Park Address
7801 Audubon Rd, Chanhassen, MN 55317
Things Every Real Prince Fan Needs
Paisley Park Recording Studios
There are several recording studios inside Paisley Park. All of them progressively modernized with the times.
Studio A
The studio at its time was a state-of-the-art recording studio with parquet wood floors and granite-walled isolation rooms explicitly designed for sound.
Studio A has hosted everyone from James Brown, Aretha Franklin, Celine Dion, Madonna, and R.E.M.
In Studio A, you hear unreleased music recorded by Prince before his passing. While this was fascinating, I found it to be a double standard of privacy. Prince, who did not allow photography in Paisley Park. I doubt he would be comfortable with the sharing of this music. And, rightly so. If it was perfect and up to his standards, he would have released it himself.
Studio B
Studio B is where all most die-hard fans want to be. If you've chosen The Ultimate Experience, you will get to experience it, And this is where you may cry.
Trust me when I tell you this, I was the only one on the tour that did not cry in Studio B. And this is purely because as much as I loved Prince and appreciated his music – he did not affect me like this. By effect, I mean that he did not profoundly shape who I am, and I was never physically attracted to him either. Don't interpret this as disrespectful to the man; I am a fan but not a teary-eyed fan. Most importantly, you can love and appreciate an artist and not have an emotional connection, so there is no judging here!
It is also in Studio B, where you will get a chance to have your photograph taken. Not on your own device, but instead taken by an employee and given to you on a USB card.
Assuming it's available (post-COVID), you will get the chance to record a thirty-second clip in here as well.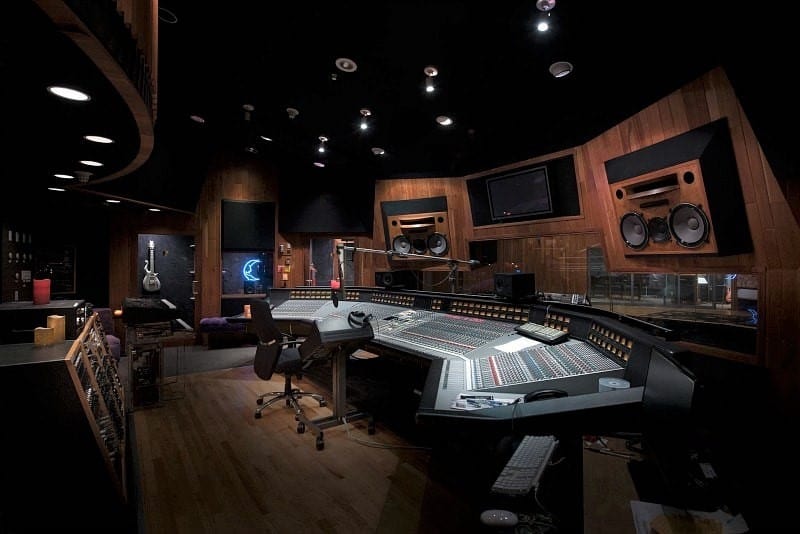 (Photo credit: Paisley Park)
What impressed me in Studio B is that you hear how Prince layered and produced his own music. He would write a melody, record it, then sing over it. All phases were done independently. And Prince could operate all of the technology on hand. Most impressively, he used more old-fashioned techniques like recording to tape and physically cutting and piecing the tape together.
On the other side of Studio B's motherboard is a large room home to a purple baby grand piano. And it used to house a ping-pong table. Prince loved ping pong players, and he was exceptionally good at it.
Here is the only photography you will get in Studio B: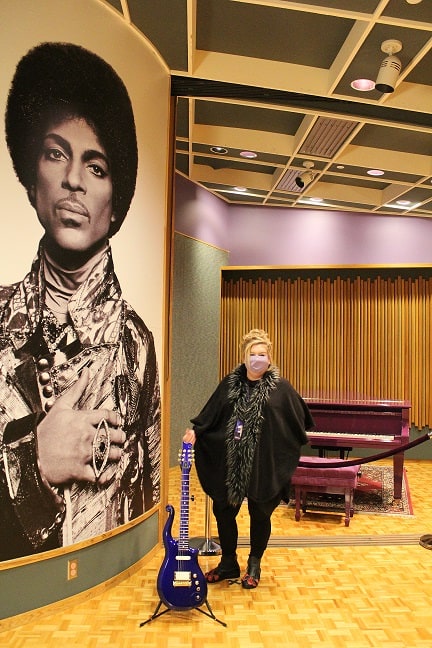 Other Properties Prince Owned
This is bonus material! Prince owned several properties in Chanhassen, Minnesota.
Homes Before Paisley Park
Prince's home before living in Paisley Park was bulldozed at his request. However, it still has the original gates. The current owners built a new house on it but kept the gates. It is worth a look. Just be respectful, as it's someone's home:
[envira-gallery id="23176″]
Address: 9401 Kiowa Trail, Chanhassen
This location served as Prince's primary artistic headquarters for a critical period in the 1980s.
The Park
Prince used to own a 188-acre parcel along Galpin Boulevard that his estate sold to Lennar. Lennar is developing 169 homes on the property. Prince once lived in a yellow three-story house on the property at 7141 Galpin Blvd. The house has since been demolished, but a security gatehouse remains. Prince's heirs requested that the development not be associated with the late megastar when selling the property. Yet, it's called "The Park" – did everyone catch that? Then there are the street names… Paisley Path and Rogers Court, to name two. Clearly, there is some association going on.
[envira-gallery id="23182″]
Address: Galpin Blvd, Chanhassen
A visit here is tricky, and I need to warn you! There are some miserable, angry residents. One lady threatened us for taking photographs and made a big to-do of it. Which, much like other famous places like Walt's house from Breaking Bad -if you are going to live somewhere this famous, expect the tourists.
I'll also add this – how silly is it that "The Park" is not a gated community?
Brit On The Move's Favorite Prince Songs
Before we even get started here, let me warn you that my first choice and all-time favorite Prince song is explicit.
So if you are easily offended – scroll down. There is a couple of naughty ones on this list so consider skipping them all unless you are up for some sexual expression.
Darling Nikki
How could this not be my first choice? It is "Darling Nikki." My name is Nikki, and Prince spelled it the same way as my name! I will not confess my soul here and own all the behavior mentioned. Let's say I grew up in England in the '80s and lived a single life before life in America! And for the record (pun intended), I have never done any of this in a hotel lobby!
I knew a girl named Nikki
I guess you could say she was a sex fiend
I met her in a hotel lobby
Masturbating with a magazine
She said how'd you like to waste some time
And I could not resist when I saw little Nikki grind

She took me to her castle
And I just couldn't believe my eyes
She had so many devices
Everything that money could buy
She said sign your name on the dotted line
The lights went out
And Nikki started to grind
To solidify this as my first choice, Darling Nikki is responsible for creating the infamous Parental Advisory sticker. Yes, this song sparked the creation of the Parents Music Resource Center (PMRC) in 1985. The PMRC is now a well-known Parental Advisory sticker on album covers.
In short, Prince is responsible for the Parental Advisory stickers – long before rap. And Darling Nikki is the song that started it all!
Another reason for this to be my first choice! I love controversy. And the irony of how sexuality is riddled with double standards in America. We cannot have nudity on T.V., but we can have porn all over the internet.
Moving on……
Purple Rain
I do not know very many people who do not know the lyrics to Purple Rain. It is probably one of Prince's most iconic songs ever. One of the biggest 80's ballads of all time. For me, this reminds me of the '80s movie Purple Rain.
Prince's interpretation of 'Purple Rain' was "When there's blood in the sky – red and blue = purple… purple rain pertains to the end of the world and being with the one you love and letting your faith/god guide you through the purple rain." Simply stated, it is raining blood—what a fantastic poetic metaphor.
Never meant to cause you any sorrow
Never meant to cause you any pain
I only wanted to one time to see you laughing
I only wanted to see you in the purple rain

Purple rain
Purple rain
Fact: Purple Rain was originally written as a country duet with Stevie Nicks! Yep, but she turned it down because she said it was too much for her.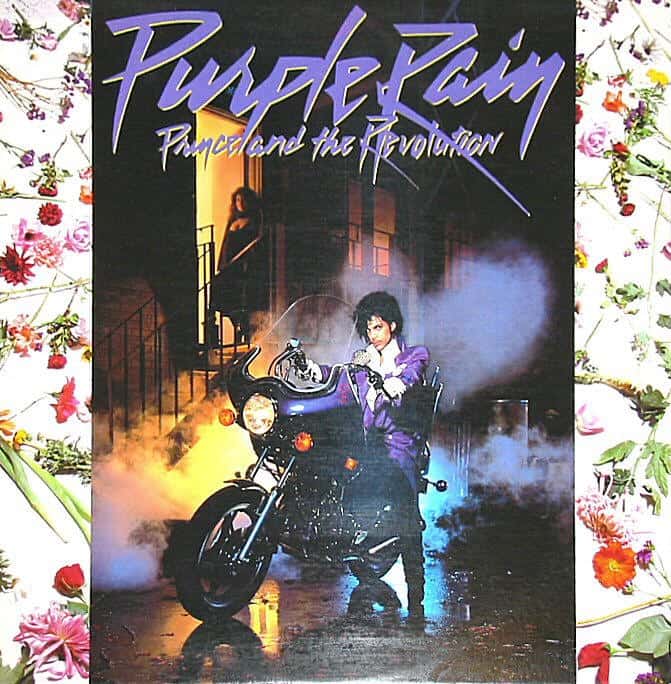 Nothing Compares 2 U
It might have been Sinéad O'Connor who made this a household tune in the '90s, but Prince wrote it. Prince first released the song in 1985 with the band The Family on their 1985 self-titled album.
Now, I love Sinéad's version, I really do, but it is commercial in comparison to Prince's raw version.
It's been seven hours and fifteen days
Since u took your love away
I go out every night and sleep all day
Since u took your love away

Since u been gone I can do whatever I want
I can see whomever I choose
I can eat my dinner in a fancy restaurant
But nothing
I said nothing can take away these blues
If you've ever experienced a gut-wrenching breakup, you know these lyrics!
Kiss
Written by Prince, Kiss was first released by Prince and The Revolution on the album Parade on February 5, 1986. In 1988, Art of Noise released a cover of the song featuring Welsh singer Tom Jones on vocals.
I must confess that I like both versions! The beat screams dance, and while the lyrics are racy, you cannot help but dance.
You don't have to be beautiful to turn me on
I just need your body, baby, from dusk 'til dawn
You don't need experience to turn me out
You just leave it all up to me
I'm gonna show you what it's all about

You don't have to be rich to be my girl
You don't have to be cool to rule my world
Ain't no particular sign I'm more compatible with
I just want your extra time and your kiss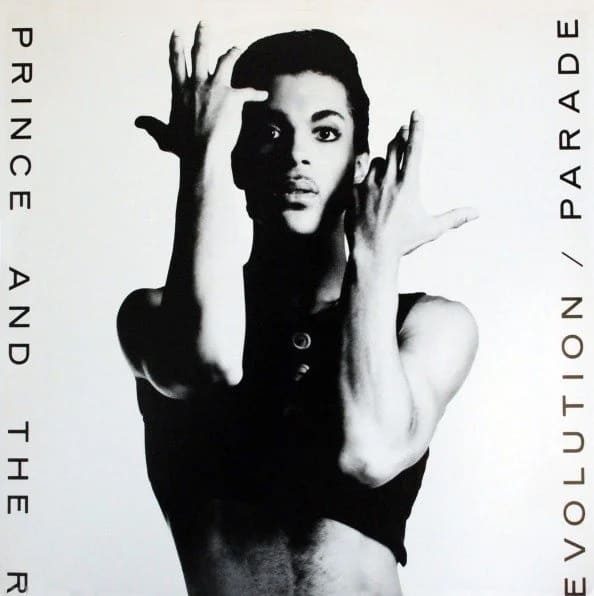 When Doves Cry
Another classic that most of us know! Who does not recognize the epic guitar solo morphs with the catchy beat? This one is not a dance one for me, but it is a sign-along one, giving me goosebumps!
A crying dove means things are in bad shape or have gone wrong. This song is about relationships gone wrong. And it's thought this was about his turbulent relationship with his parents or one of his many lovers.
Dig if you will the picture
Of you and I engaged in a kiss
The sweat of your body covers me
Can you my darling
Can you picture this?

Dream, if you can, a courtyard
An ocean of violets in bloom
Animals strike curious poses
They feel the heat
The heat between me and you
7
For me, I like the melody of this one. It's a good old-fashioned sing-along, feel-good tune. There are three theories on what 7 means. One is the setting for the movie Three Chains of Gold, The Seven Deadly Sins, and thirdly the evilness of the music industry for artists. There were seven major record labels, and Prince's reference here is that will all fall.
All seven, and we'll watch them fall
They stand in the way of love
And we will smoke them all
With an intellect and a savoir-faire
No one in the whole universe
Will ever compare
I am yours now, and you are mine
And together, we'll love through
All space and time, so don't cry
One day all seven will die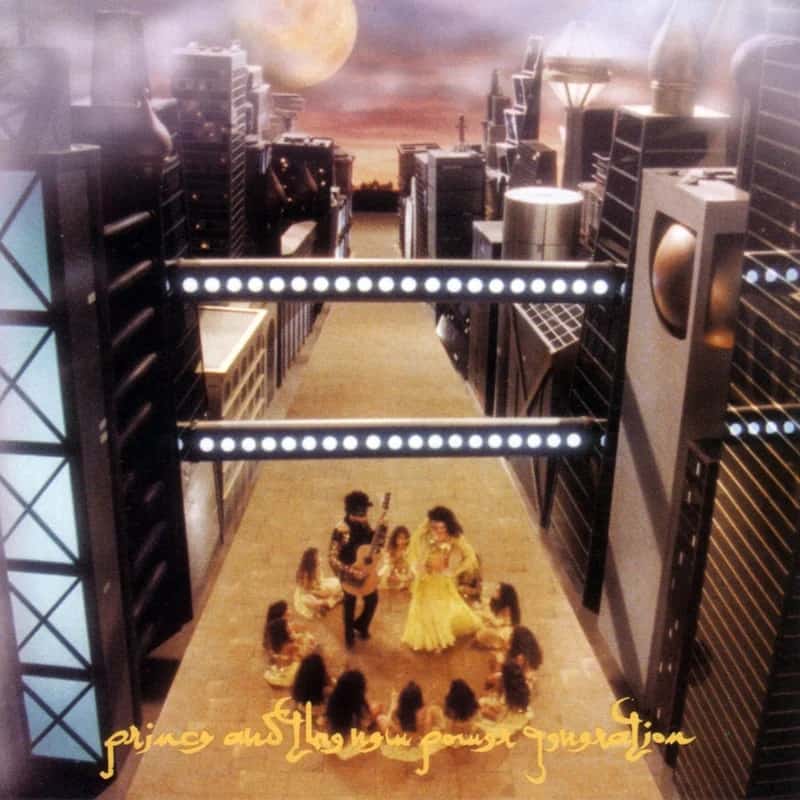 Go Crazy
I think we all have some crazy in us, even if it is deep down inside. And I firmly believe that we all want to just let loose at some point. So, let's go crazy is very fitting for the era. Like, the next liberation following the '70s.
I said, let's go (crazy)

Dr. Everything'll-Be-Alright
Make everything go wrong
Pills and thrills and daffodils will kill
Hang tough children

He's coming
He's coming
Coming

Take me away
FAQs About Paisley Park and The Paisley Park Tour
Closing Thoughts
So what did I think of the tour?
First of all, it's been on my bucket list to visit Paisley Park since it became a museum, so regardless, it was worth it for me. However, recall I said I chose the Ultimate Experience Tour and the tune of $160? It is not worth it unless you are a die-hard fan, and even then, you are not sure what the recording element is worth it or the one photo you can take in Studio B. I visited while COVID guidelines were in place, so we could not record. Had I known this, I would not have opted for this tour.
Be sure to validate what you get before you buy tickets!
Then there is the complimentary beverage. This one's sinful, and it even breaks my heart to say it. It's a complimentary drink – one. The complimentary drink is your choice of a soda can or a bottle of water to help yourself from a commercial fridge. And, while Prince never allowed alcohol at Paisley Park, there's a coffee bar on hand. I don't think this token drink is up to Prince's standards, and I think he'd be horrified. Can we get fresh juice, some kombucha, el fresco – something?
And, while the estate is loaded with fantastic memorability, I was ultimately disappointed that I did not get to see any of Prince's personal space. I was equally disappointed by the double standards. Particularly, no photography, but let's raid his vault!
I do not regret taking the tour. I am happy that I got to experience Paisley Park, but it was not what I expected.
Feel free to refer to me as Darling Nikki going forward, and please let me know what your favorite songs are or how Prince impacted you!
Looking For More Travel Inspiration? Start Here.
We participate in the Amazon Services L.L.C. Associates Program, an affiliate advertising program designed to provide a means for us to earn fees by linking to Amazon.com and affiliated sites.
Subscribe to our newsletter and get the best travel tips and inspirational stories delivered monthly. No spam, no sales pitches – TRAVEL!
Brit On The Move™ Travel Resources
Ready to book your next trip? Use these resources that work:
Need more help planning your trip? Check out our Resources Page, highlighting the great companies we trust when traveling.