Basque Country is a Spanish autonomous community located in the North of Spain. It borders France to the east and the community of Santander to the west. It is divided into three provinces, Álava, Bizkaia, and Gipuzkoa. Located in the Bay of Biscay, it is connected to the ocean and mountains in the Atlantic Ocean, providing some of Spain's best outdoor activities. And exploring the outdoors is a local hobby. The lucky people who inhabit the Basque Country love going out trekking and discovering their beautiful region.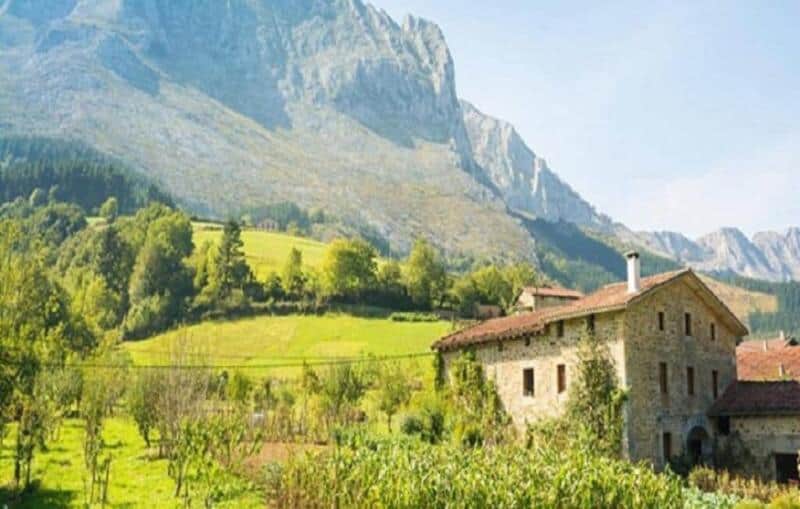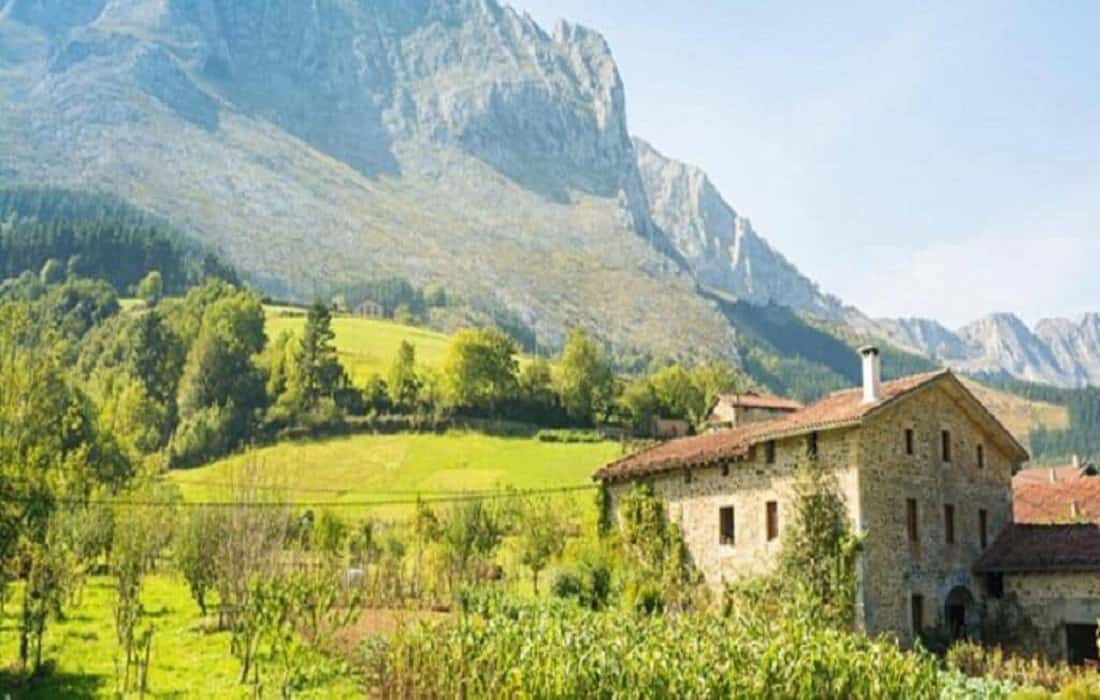 This post may contain affiliate links. Please read our disclosure and privacy policy for more information.
An autonomous state or community has the right or power of self-government in an autonomous territory. The landscape of the Basque Country is breathtaking. You can expect stunning views of the rolling landscape and majestic sights of the marvelous blue sea. There are lots of different routes that you can take to explore the Basque Country. However, most chose to follow the Basque Route, which takes about eight days. If you follow the Basque Route, you will see the most famous villages, towns, and countryside in Basque Country.
Map of Basque Country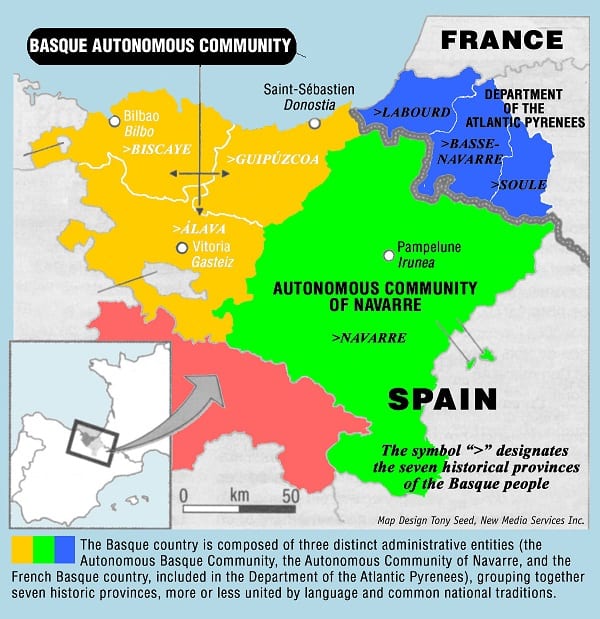 Map Courtesy of Tony Seed, News Media Services Inc.
Gastronomy Of Basque Country
Food
If you love food and enjoy trying new dishes, this area of ​​northern Spain is the perfect place to visit. Internationally known for its culinary talent and great cooking traditions. Visitors to Basque Country will taste the famous "pintxos." You will see small portions of food displayed in many bars, cafeterias, and restaurants. You can get a pintxo when you go for a drink, and there are many to choose from. Chefs have made an art form called pintxos. Some of the most popular ones include "tortillas" and small pieces of bread with different tops, such as fish or "jamón."
Basque Country has received more Michelin stars than any other community in Spain. The restaurants Arzak, Berasategi, and Subijana (Akelarre) have been awarded the highest possible recognition from this guide. All three have received a rank of 3 Michelin stars! This is only possible due to the outstanding schools dedicated to hospitality in Basque Country. Schools such as Gamarra, Leioa, or Aiala are some of the centers where the best chefs train. Most importantly, some of their students already have Michelin stars.
There is an abundance of restaurants featuring renowned chefs of Spanish cuisine.
Wine
Let's not forget the wine! To sample the best, you need to travel to the area known as Rioja Alavesa.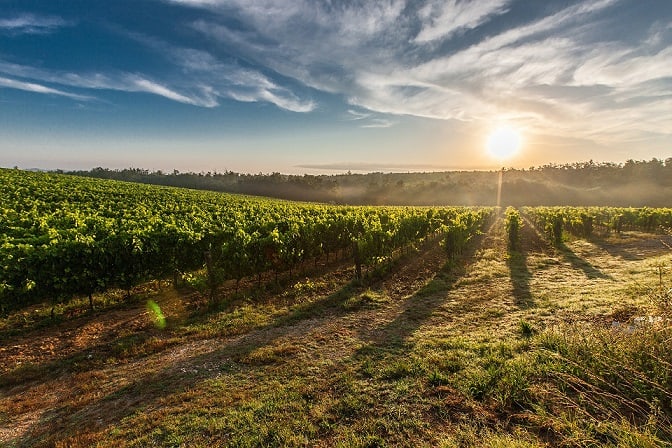 Rioja Alavesa is known for its many vineyards. You will find a special wine from Gipuzkoa, called Txacolín, only sold in Basque Country. The Spanish dictionary defines this white wine as a "slightly sour light" wine made in Basque Country. Simultaneously, the Basque language dictionary defines it as a "light and quite acidic" wine made, especially on Basque Country's coast. Txacolín can be defined as a new type of wine or a new concept of wine. However, txacolín is not the only distinct drink in this area. You can taste Pacharán and Kalimotxo, which originate from the Basque territory. Lastly, try the popular Basque cider; this is a trendy winter drink.
Cheese
Another delicacy that Basque Country offers is cheese. Basque cheese is typically made with sheep's milk. As with any region in France, there is a wide range of cheeses. One that stands out among all the others is Idiazábal cheese. Idiazábal cheese is one of the best cheeses in the world. Make sure that you make a point about Idiazábal cheese.
Desserts
Basque Country is famous for the cake "Pastel Vasco." A dessert that originates from the Basque-French region of Lapurdi. Pastel Vasco appeared in the nineteenth century. Each family has a traditional recipe for it, which is passed down from generation to generation. It is made of dough, flour, butter, and eggs and filled with pastry cream, although some are filled with apricots or other fruits from the area.
Cities To Visit In Basque Country
Now that we've covered the food and wine of Basque Country let's dive into all of the places you need to visit.
Bilbao
A city located in the north of Spain and the capital of Vizcaya's province and historical territory. Bilbao is the capital and the only town in the municipality. The population is 346,843 inhabitants, according to the 2019 census. This makes it the most populated city in Basque Country. At the head of Bilbao's metropolitan area is a conurbation of more than 1,000,000 located at the estuary of the river Nervión. Two mountain ranges surround the urban nucleus with an average altitude that does not exceed 400 meters. These ranges form some of the natural limits of the municipality.
Guggenheim Museum
Bilbao has a highly modern architectural marvel- the new Guggenheim Museum that has achieved international fame. It was designed by the American architect Frank O'Ghery. It was built in 1984 and symbolized the architectural development in Bilbao.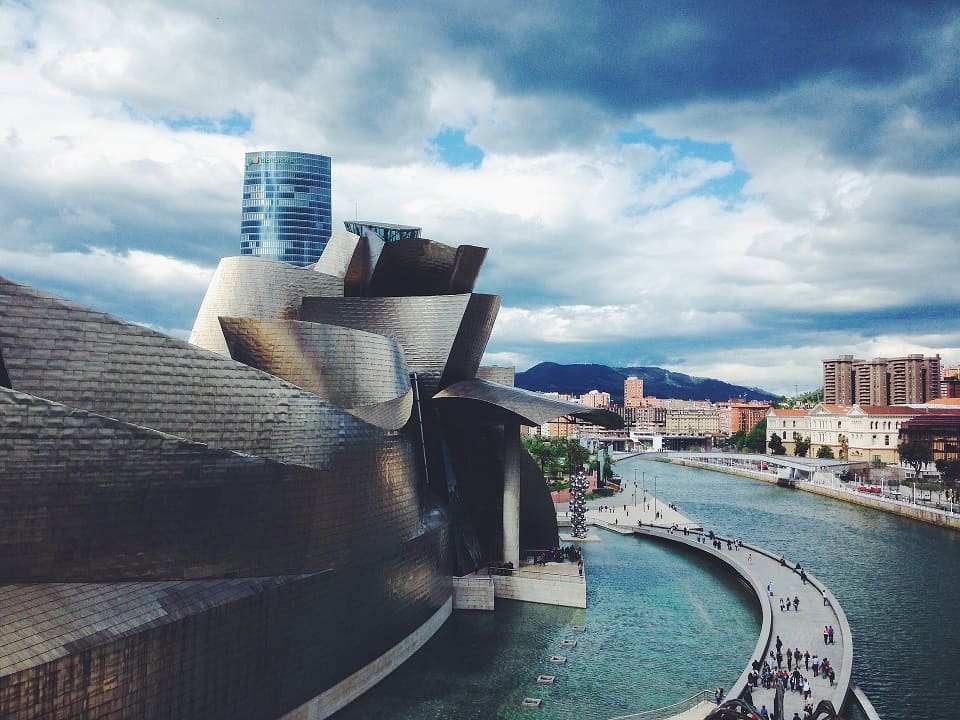 Vizcaya Suspension Bridge
UNESCO declared the spectacular Vizcaya Suspension Bridge a World Heritage Site. This bridge is a jewel of the city's industrial, architectural new movement. Bilbao has a lot of bridges since the Ría of Bilbao divides the city into two parts. Touring the estuary and its bridges is like traveling the city's history.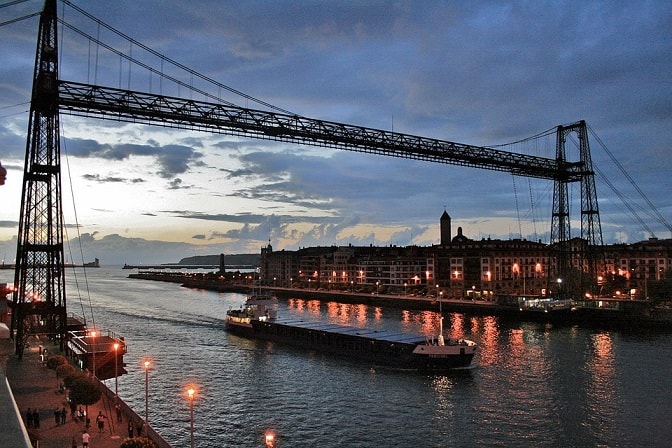 The city is entirely walkable and easy to move around. There is an underground called "Bilbao Metro." The British architect Norman Foster designed the metro and connects most parts of the city. You can also navigate the city using the tramway. Nearing the mountains, you can access the Artantxa Funicular ( cable car) that will take you to the top, where you can enjoy magnificent city views.
Bilbao is becoming more popular among tourists, both national and international. Many were attracted due to the new museum Guggenheim. The coast of Bizkaia is also with checking out. There are many small villages and towns by the sea. The dreamy type that is postcard-worthy!
Tours To Take In Bilbao
San Sebastián
The capital of Gipuzkoa, San Sebastián, is a magical city located by La Concha Bay. By anyone's account, this is one of the most beautiful cities in Spain. Surrounded by two mountains and the sea, it provides romantic views. The lush green hilly landscape is one of the signs that you are in North Spain!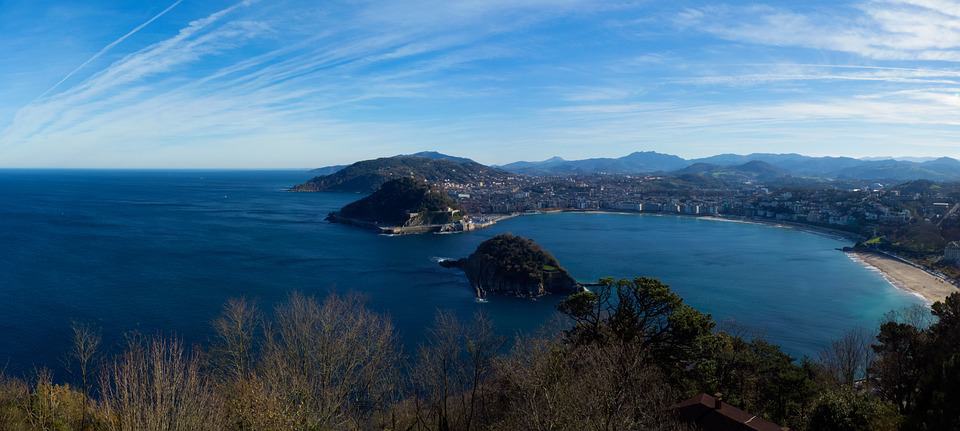 San Sebastián Film Festival
San Sebastián is full of history and culture. Every year the city celebrates several cultural events. One of the most popular is the San Sebastián Film Festival. It is hosted annually in the Kursaal Theatre. A theatre was built by Rafael Moneo in 1999 and is now one of the city's icons.
Donostia-San Sebastian
Donostia-San Sebastian is next to a circular bay with crystal clear waters and white sand beaches. Beaches that attract wealthy people searching for sun and sophistication throughout history. Donostia-San Sebastian is a city that breathes glamour. This is what made the city famous during the Belle Époque period. And this is why The Queen Regent María Cristina established her royal residence here during the summertime. Evidence of the glamorous past is still visible today in San Sebastián despite the city's development.
The Belle Époque or La Belle Époque is the term often given to a period of French history, usually dated to between 1880 and the outbreak of World War I in 1914.
San Sebastián has three beaches, but the promenade along La Concha is the most famous of the city, and it has become the city's image. Also, two other beaches in San Sebastián are more relaxed: Ondarreta and Zurriola. Zurriola is a popular beach with suffers and is famous for its waves. Ondarreta is not as well known as the others. The beach in the city attracts families. At Onderrate beach, water sports such as windsurfing are popular.
If you go to San Sebastián, you should visit the Parte Vieja or Old Town, famous for having the largest concentration of bars in the world, made up of narrow streets at the foot of Mount Urgull.
Tours To Take In San Sebastian
Where To Stay In San Sebastián
Sometimes it's best to have an apartment. We recommend San Sebastián apartments for your Basque country stay. You can use this as the start of all your excursions and discover the fantastic city of San Sebastián and its surroundings. It is essential to feel at home while traveling. San Sebastián is a very open and social city, and you can tour the city on foot.
Alternatively, you can book other options here:
Victoria
Victoria is the capital of the province of Álava. Vitoria (in Basque, Gasteiz, and officially Vitoria-Gasteiz) holds the seat of the common institutions of the autonomous community of Basque Country. Victoria's city has 249,176 residents as of 2018. It is a medium-sized city in Spain, located at a crossroads. Throughout history, it has been an important strategic point for the military, commercial, and cultural fields since Roman times. There is a route that connects Astorga and Bordeaux. This route passes through the city of Victoria. These lands are still a connection point between the North of Spain and Europe.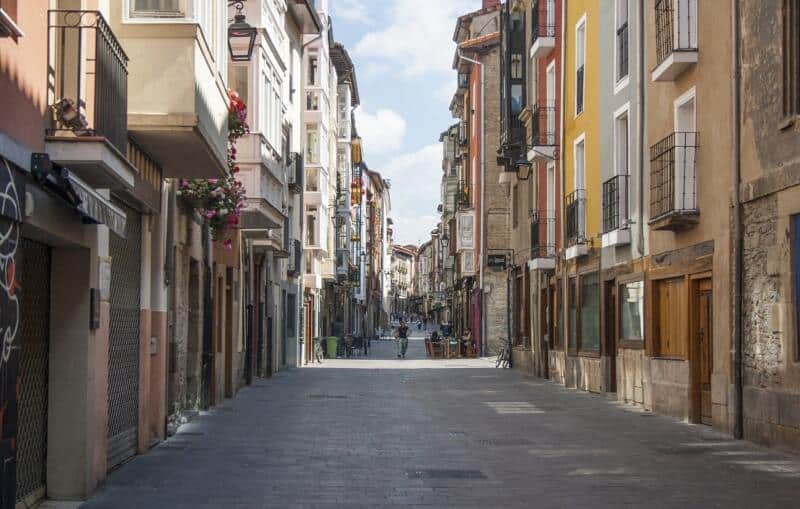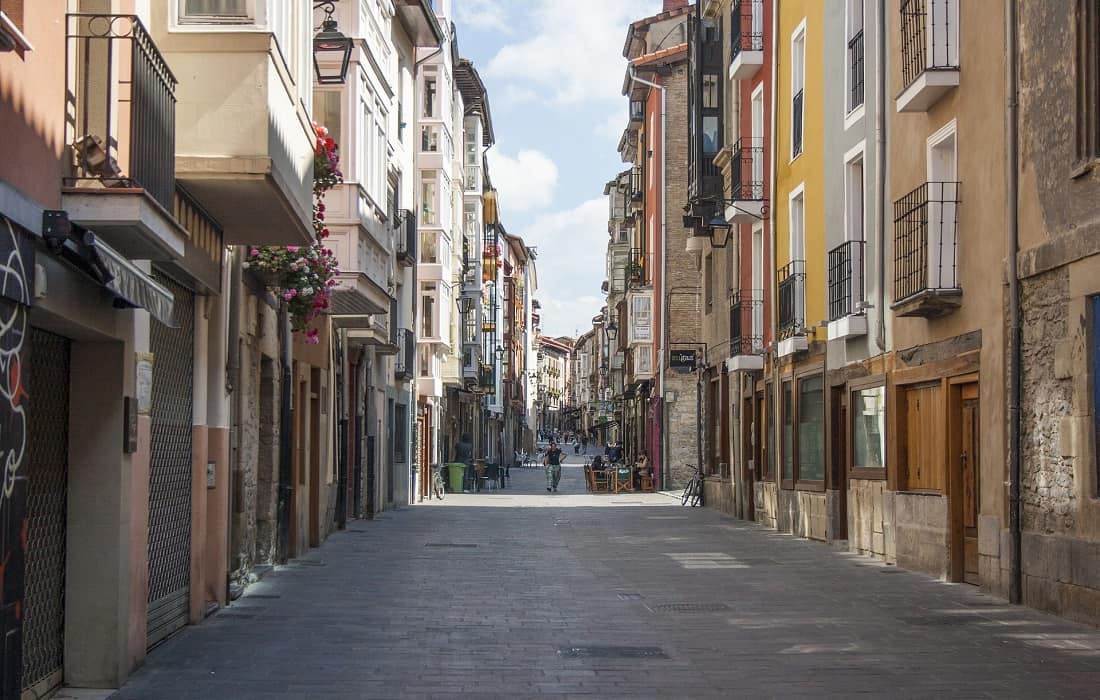 The city of Victoria has an intense history enhanced with monumental heritage. It is a "very noble and very loyal city." King Sancho VI of Navarra, the city's founder, gave the name "Nueva Victoria" in 1181. At that time, it was a walled town representing a defensive place in Navarre's kingdom. The surname "Gasteiz" comes from the village on the hill.
The city is a destination on the rise, and it attracts thousands of tourists throughout the year. Not surprisingly, it is a tourist destination on the rise. A perfect space for people of all types of tourist profiles to enjoy an unforgettable vacation. Here are some of the most important and symbolic areas in Vitoria Gasteiz.
Frequently Asked Questions About Basque Country, Spain
Is Basque Country safe?
Yes, very safe. Basque Country is one of the safest regions in all of Europe.
Is Basque a separate country?
No, it's an autonomous state of Spain.
What countries are Basque?
Basque is a Spanish country; however, people from Spain and France inhabit the area.
Is Basque French or Spanish?
Both! But it's a part of Spain! People living in Spain and France bordering the Bay of Biscay are "Basques." Both sides of the mountains come from the same culture regardless of country.
What language is spoken in Basque Country?
Basque Country has its own language, called "Basque." Basque is one of the most ancient languages in Europe. The origins are still unknown to linguists. This language was in Spain before the Romans and pre-Roman tribes arrived at the Iberian Peninsula.
Closing Thoughts
Basque Country is home to Hondarribia, Zarautz, or Getxo. Add to all this a spectacular nature! Basque Country has both Natural Parks and Biosphere Reserves. Both are perfect for practicing sports and an incentive to travel the famous Camino de Santiago, which passes through this area of ​​Spain Iparralde. Basque Country offers countless adventure options for mountain and nature lovers. Basque people love going out, enjoying nature, and doing different sports and exercises. They are also very friendly and like going out for some pintxos and a nice glass of wine. You will always want to come back when you visit this part of Spain. We invite you to discover this great land!
Looking for more posts on things to do in Europe, start here:
We participate in the Amazon Services LLC Associates Program, an affiliate advertising program designed to provide a means for us to earn fees by linking to Amazon.com and affiliated sites.
Brit On The Move™ Travel Resources
Ready to book your next trip? Use these resources that work:
Need more help planning your trip? Check out our Resources Page, highlighting the great companies we trust when traveling.