Sun Studio is considered the birthplace of rock 'n' roll and the career backbone for renowned artists likeF Elvis, Roy Orbison, B.B. King, Jerry Lee Lewis, and Johnny Cash. Located in Memphis, Tennessee, Sun Records is a must-see location for music lovers. And, you can tour the actual studio where many of these artists recorded hits.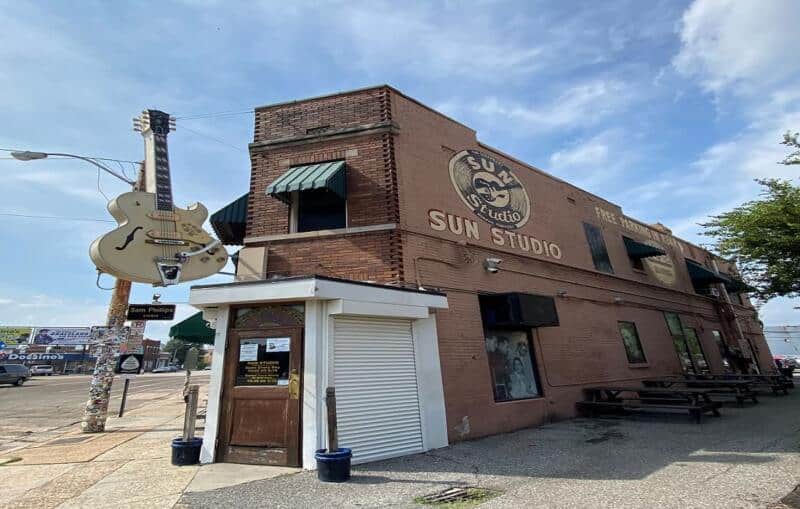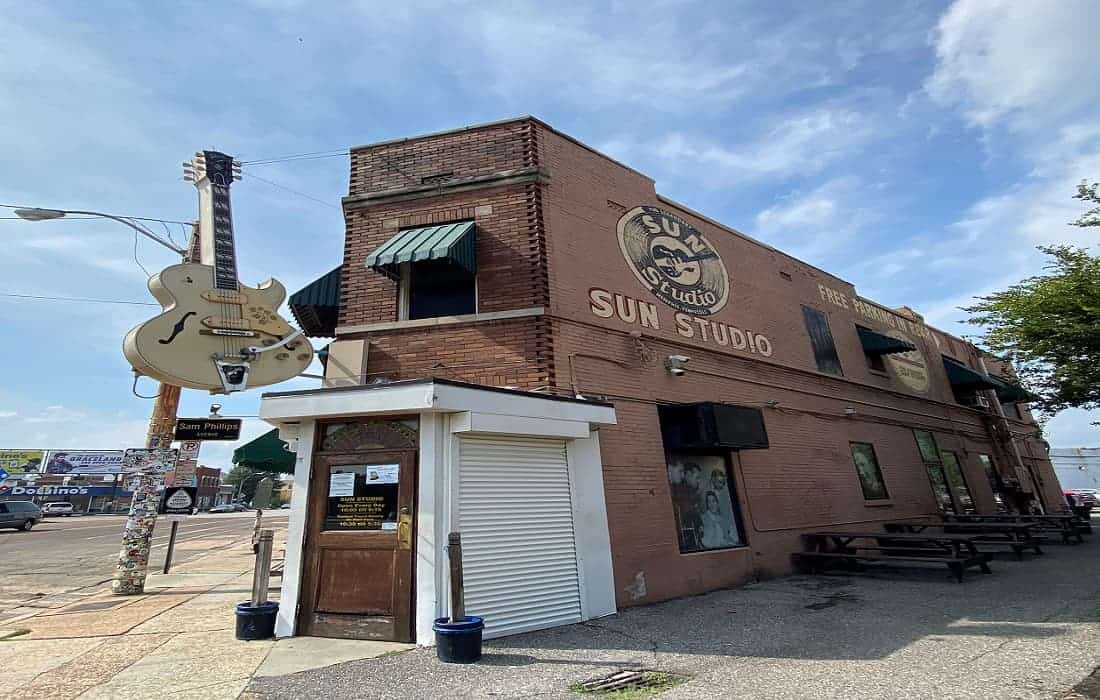 This post may contain affiliate links. Please read our disclosure and privacy policy for more information.
History of Sun Studio and Sun Records
Sam Phillips, founded in 1952, founded the Sun Records label. The label shared its home with Sun Studio.
Sun Studio, also opened by Sam Phillips, is a recording studio that was a 1950's rock and roll mecca. Sun Studio. The single Rocket 88 was recorded here by Jackie Brenton and his Delta Cats, with composer Ike Turner playing the keyboards. The single lead to Sun Studio's claim to the birthplace of rock & roll.
Many 1950's artists recorded at Sun Studio, creating a mix of blues and R&B hits. Sun Studio is now a national historic landmark, mainly due to the talent that started their careers. And the unique sound produced.
The Elvis Presley Story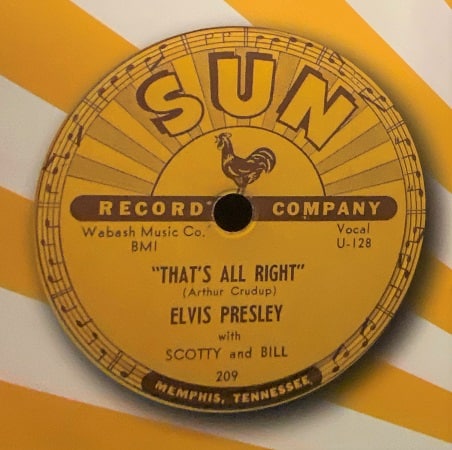 At 18-years old, Elvis walked into the Sun Records office and met Marion Keisker (Pillips assistant), who was the first person to record Elvis.
Elvis intended to pay for a couple of minutes of studio time to record. There are varying accounts of his ultimate goal, but it's been said that he intended the recording to be a gift for his mother. Other reports claim he just wanted to know what he sounded like. Some historians claim his real intent was being discovered.
While Keisker recorded, Phillips was unimpressed and did ask Keisker to note Presley's name, and nothing came of his first recording session at Sun Studio.
At the same time, Phillips searched for new talent that had some of the black recording artists' blues and soul. Randomly, Phillips asked Keisker to invite Elvis back to record with two local musicians, guitarist Winfield "Scotty" Moore and upright bass player Bill Black. Phillips was still unimpressed.
That is until Presley took his guitar and launched into a 1949 blues number, Arthur Crudup's "That's All Right."
A Star Is Born
As Elvis played "That's All Right," Scotty and Black started playing along. This caught the attention of Philips, who instantly started tapping his feet. At this point, Phillips realized that this was the sound that he had been trying to find.
Three days after the session, a famous DJ started playing the song on his show. It created such a buzz that listeners would call to ask who the singer was. The listeners' interest reached a stage where the song keeps playing repeatedly for hours on the show.
According to popular belief, listeners assumed Elvis was black. No one believed that a white recording artist created the new sound. During interviews on the radio, Philips would have to ask Presley various questions to confirm to the audience that he was indeed white and not black.
Phillips had found what he was searching for.
The End of Elvis Presley and Sun Records
Within months, Sun Records grew significantly, primarily due to the number of records Presley sold. As Presley's fame grew month by month, Phillips realized that Sun Records was not big enough to handle it. In February 1955, Phillips met with Colonel Tom Parker, an expert in performer management. Parker made Phillips realize that to handle Presley's fame, they needed an international label.
Eventually, Phillips finally sold Presley's contract. In exchange for a $5,000 down-payment and a $35,000 buy-out fee. A recording-breaking amount for someone who still had to prove themselves internationally. Elvis did not want to leave Sun records. However, Phillips needed the money to pay debts from a copyright infringement suit.
The Decline Of Sun Studio
Even after Presley left Sun Records, the studio continued to nurtured young talent. 1959, Phillips decided to move Sun Records to a larger location. However, he later lost interest in the recording studio and went on to open several radio stations. Sun Studio then lost its reputation of being innovative.
After releasing their last single in 1968, label producer Shelby Singleton purchased Sun Records from Sam Phillips. He then merged his operations into Sun International Corporation. The corporation would re-release and package compilations of the Sun artists. After Singleton moved to Nashville, he sold the larger studio to a plumbing company, which then turned into an auto parts store.
Sun Studio Is Back
Ten years after Presleys' death, the original Sun Studio at 706 Union Avenue was re-opened as a recording studio and tourist attraction. Several artists like Def Leppard, John Mellencamp, the Bogus Bros., Chris Isaak, and Silvertone recorded at the Sun. Finally, in 2003, the studio was recognized as a National Historic Landmark tourist attraction.
The Sun Studio Tour
The original Sun Studio and Sun Records Office are open to tourists.
You start in the store where you can buy your tickets and gifts. The tour kicks off upstairs, where you can view an exhibition full of memorabilia and a reconstructed recording studio. Pass through the narrow staircase to enter a room filled with everything music—beginning from vintage recording equipment to original pressings of the earliest times.
From here, you head downstairs to the entrance of Sun Records and enter the room where Marion Keisker greeted Elvis.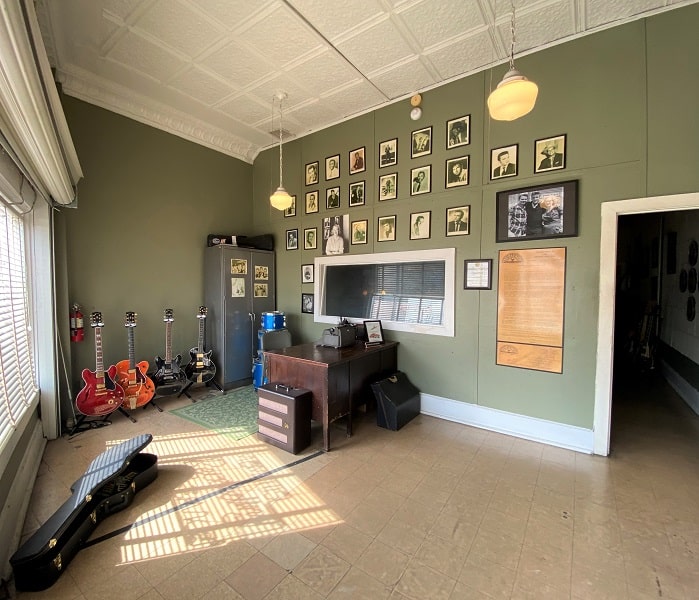 Then you go back to Sun Studio! The tour guide will give you a historical rundown of how Elvis got his start, the recording escapades in the studio, and the historical significance.
Hold the microphone that Presley once held, glance through the gigantic pictures of Perkins, Lewis, Presley, and Cash from the impromptu Million Dollar Quartet while standing at the same place that they all once did.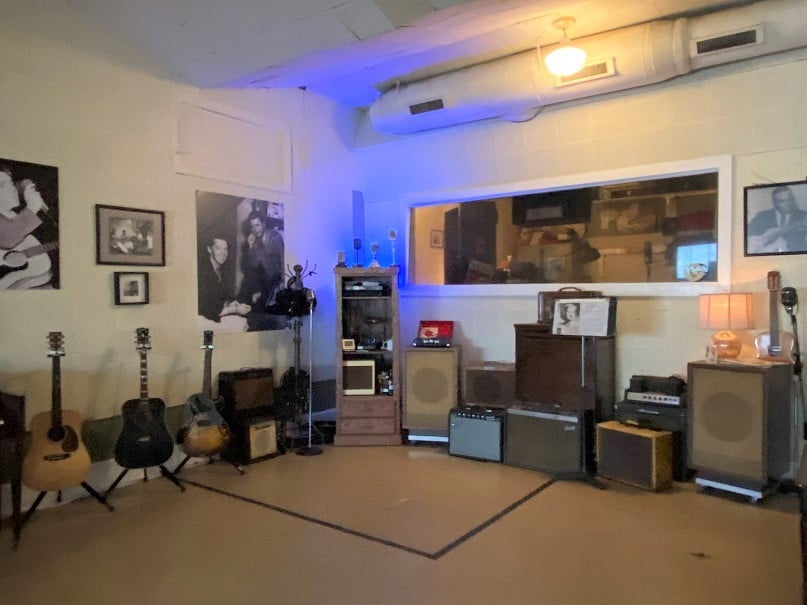 What You Need To Know About The Sun Studio Tour
Sun Studio lies in the Edge District, Memphis, Tennessee. It is a ten-minute drive away from Graceland and close to downtown Memphis.
The tour lasts approximately forty-five minutes to an hour.
Sun Studio Address
706 Union Avenue Memphis, Tennessee, at the corner of Union and Marshal.
Sun Studio Tickets
Tickets cost $15 and are purchased on-site and on a first-come, first-served basis.
There is a $2 discount for students, military, and AAA.
Children 5-11 are free. However, children under the age of 5 are not permitted on the guided tour.
Free parking is located behind the building. No entrance from Union – access from Monroe Avenue only.
Sun Studio Opening Times
Sun Studio is open seven days a week. Tours begin at the bottom half of every hour from 10:30 – 4:30 and 10:30 – 5:30 on Friday and Saturday.
Sunday – Thursday 10 am – 5:15pm
Friday & Saturday 10am – 6:15pm
Closing Thoughts
It would be a huge mistake to visit Memphis and not take the Sun Studio tour. You will hear the inside stories, experience what it feels like to be in a 50's recording studio, see and touch some of the equipment. Most importantly, you will experience where legendary music was made.
If you are a musician, you can record at the studio. While they no longer offer karaoke recording sessions – they still operate the studio at night as a professional recording studio. If you want to record where Elvis recorded, you will need to contact the studio engineer.
Looking For More Travel Inspiration, Start Here?
We are a participant in the Amazon Services LLC Associates Program, an affiliate advertising program designed to provide a means for us to earn fees by linking to Amazon.com and affiliated sites.
Brit On The Move™ Travel Resources
Ready to book your next trip? Use these resources that work:
Need more help planning your trip? Check out our Resources Page, highlighting the great companies we trust when traveling.