Elvis Presley passed away on August 16, 1977, when I was three years old. Obviously, at three, I had no clue that this even happened, and I did not know the significance of his passing, nor the impact of his contributions to music. It was much later in life when I came to appreciate a legend that has already left the world I lived in.
I vividly remember his influence in my childhood. Elvis's music blared at every event, from weddings to funerals and beyond. Later in my teen years, Elvis became a more prominent staple as my paternal father re-entered the picture. My father, a devoted fan, would play Elvis to the point that I could jump onto a stage and sing almost any hit without a teleprompter. And, for context, I am equally qualified to do a cover of anything Queen!
So, I have a somewhat historical connection. I am sure similar to lots of other people of my era. Our parent's hero's eventually become ours. This hand down of musical appreciation is something we all hold near and dear. It is symbolic of our childhoods, and it's a comfort that we all associate with and grow to love.
If you add my upbringing to my obsession with mansions, history, and travel – visiting Graceland should be no surprise to anyone. Visting Graceland has been on my bucket list for years. And the only reason I have not been before being logistics. Graceland is located in Memphis Tennessee. And, while I've been to Tennesse many times this was my first visit to Memphis.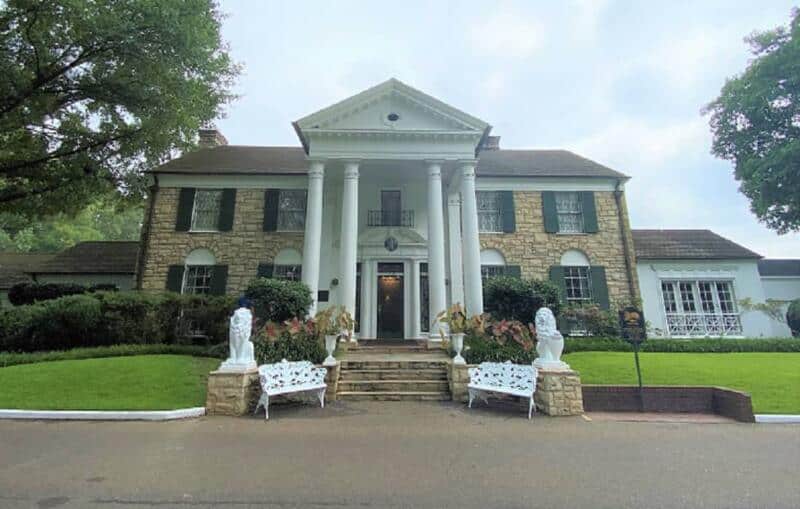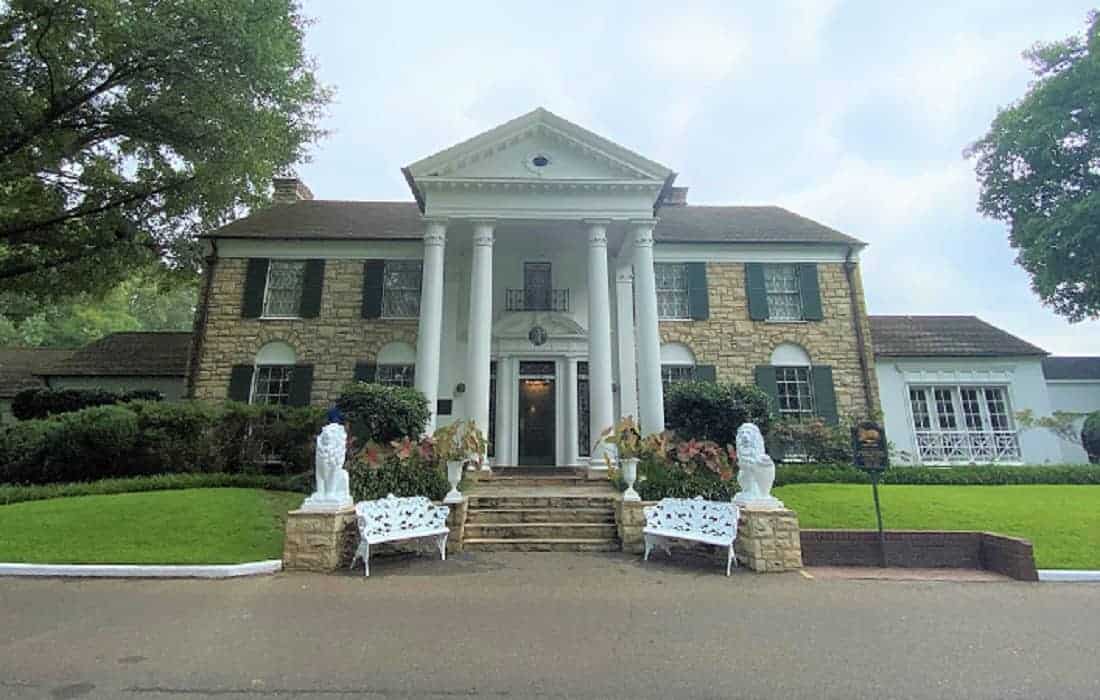 This post may contain affiliate links. Please read our disclosure and privacy policy for more information.
Visit Graceland – Elvis's Home
Everyone has either "read or heard" that Graceland is not in the best area and that the actual mansion is small – I'm going to call bullshit on both.
The area where Graceland is situated is not precisely in the countryside, but it's not in the ghetto or wrong side of town. Many districts within Memphis are improvised, the same as any city. What's fascinating is that Graceland sits on 14 acres precisely as it did when the King lived there. It was never in the countryside – he rode his gocarts down Elvis Presley Blvd back then. Not to mention, the home video you see inside Graceland shows you that the smaller homes that sit aside Graceland were there then and now. I chalk this all up to optics. In everyone's imagination is a mansion in the middle of nowhere. It never was in the middle of nowhere, it's not downtown, but it's within the city limits.
Mansion means "large dwelling house," and "large" is subjective. Graceland is not sprawling like the Biltmore, and it's not a French Chateau. However, it is large – quite large.

Seventeen thousand five hundred fifty-two square feet, to be exact. It has 23 rooms, including eight bedrooms and bathrooms. I think where people get caught up is that it's not large or opulent as he could have afforded. It may lack in perceived size; it makes up for in technology and entertainment way beyond its time.
The Graceland Mansion
Elvis purchased Graceland in 1957 for $102,500 – a steal. He was only twenty-two when he made the purchase and chose the estate because he wanted a great place that offered privacy. Graceland is owned by his only daughter Lisa Marie Presley; however, in 2005, she sold 85% of Graceland Holdings LLC to CKX, Inc., an entertainment company.
Lisa Marie kept the Graceland Mansion and owns 100% of it. She also owns most of Elvis's personal possessions, but she makes them available for tours of Graceland.
Elvis's Fact File
Before we get to the inside of Graceland, here are some facts to acquaint you with the King of Rock and Roll: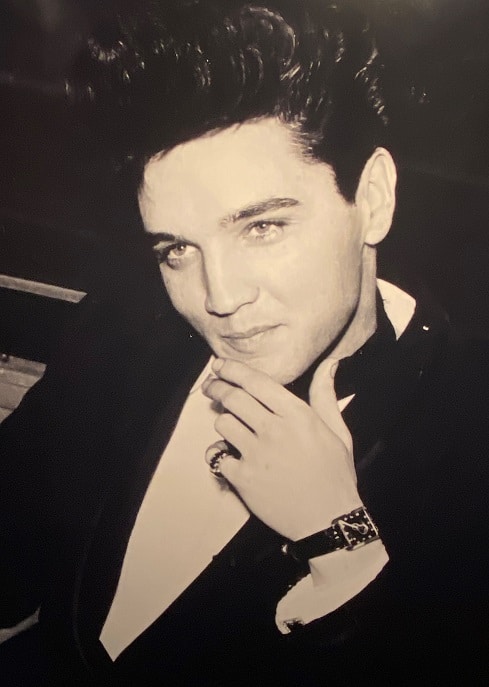 Elvis received his first guitar at eleven; it was a gift from his mother.
In 1953 he made this first demo record at Sun Studios.
"That's All Right" was Presley's first single in 1954.
Elvis Presley had 149 songs to appear on Billboard's, and 18 went to number one.
In 1958, Presley was drafted into the U.S. Army. He served for two years and was discharged on March 5, 1960.
He received 14 Grammy nominations from the National Academy of Recording Arts and Sciences (NARAS) and won three.
To this day, Presley remains the best-selling solo artist ahead of Michael Jackson and Madonna! Sales estimates range from 600 million to 1 billion in sales.
TCB is Elvis's logo. TCB means "taking care of business," and the logo is displayed in a flash."  Elvis had TCB medallions and bracelets custom made for himself and his crew.
The King only played five concerts outside the U.S. All five were in Canada in 1957.
Elvis was only married once to Priscilla Beaulieu; they had one child Lisa Marie Presley.
His last concert was June 1977, in Indianapolis, Indiana.
On August 16, 1977, Elvis died at Graceland. He was only 42 years old.
What It Is Like To Visit Graceland
Once I got off the shuttle and landed in front of the main doors, I felt queasy, hot, and clammy. Then I felt emotional. I know this is ridiculous, and few will get this. I thought it was a bit much. And I am glad there was a group of us. Otherwise, I might have cried.
For me, there was something exceptionally overwhelming about even being at the front door. Maybe the years spent imagining that I would visit, the romantic connection to my youth. Who knows? All I can tell you is it was a bit more than I bargained for. Fortunately, I had good cause to keep my composure!
So we enter and boom. I am looking at and standing inside of Elvis Presley's home.
Can I tell you, speechless!
Pause……………. Breath
When you enter, you face the iconic staircase that any historian could peg, and instantly you can see the dining room to the left and the living room to the right. Where to look first?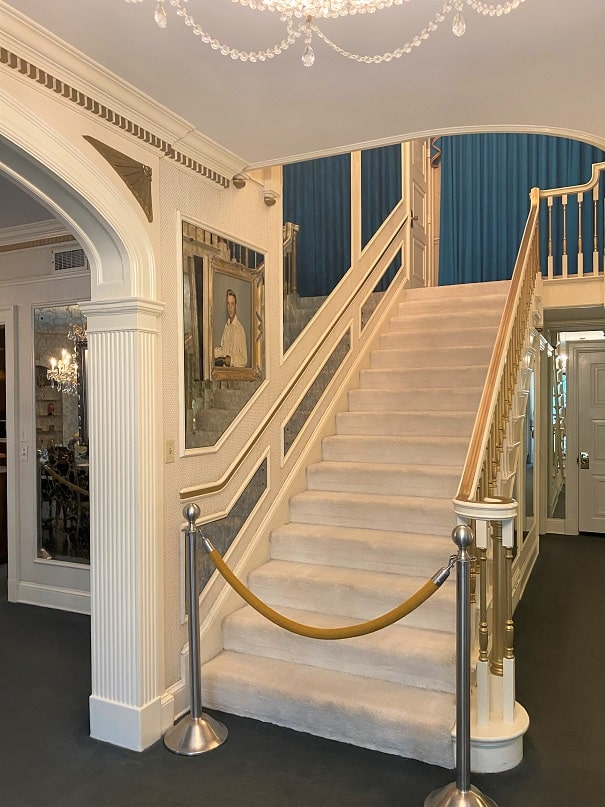 Graceland's Living Room
I decide to gawp at the living room first. As I take in the details, one thing that immediately struck me is how low the ceilings are. If I had to guess, they are ten feet high at best.  The ceiling height diminishes the size of the actual rooms.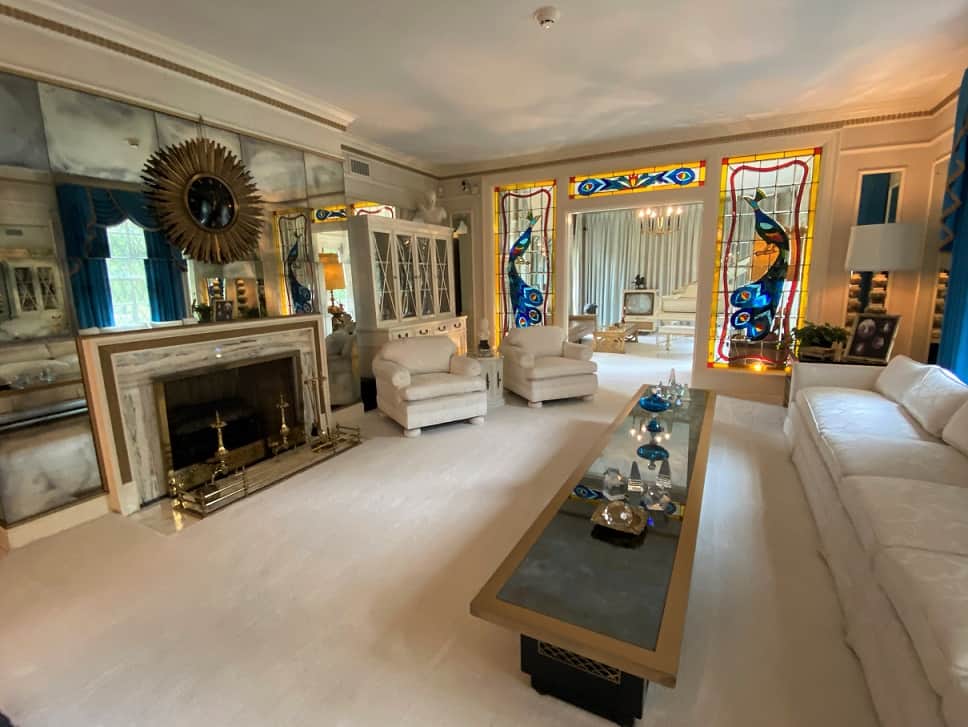 The next thing I notice is the number of photographs of Elvis and his parents, a theme that continues throughout the entire tour.
Graceland's Dining Room
Now I take in the dining room. Apparently, to this day, Pracilla and Liza-Marie dine here when in town.  I start to fantasize about what would it be like to have dinner with them at their historic home? I also giggled a tad because as sentimental as the dining room is, it's not precisely appealing by today's standards.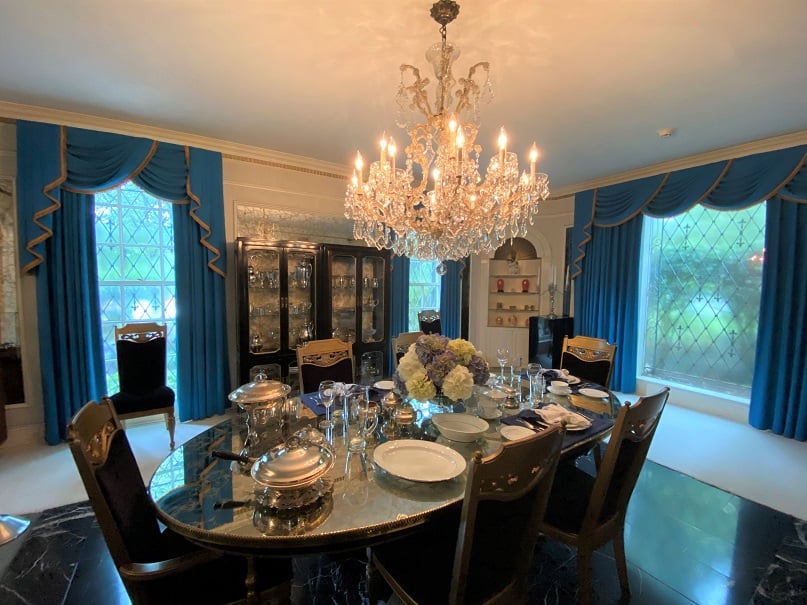 Having taken in the two receiving rooms, I wander down the hallway to Elvis's parent's suite. It's on the first level, directly past the grand staircase. Oddly, this room is decorated timelessly. The style does not resemble anything even close to the seventies – it's regal. I am still scratching my head around how his parent's quarters escaped the overall style of the house.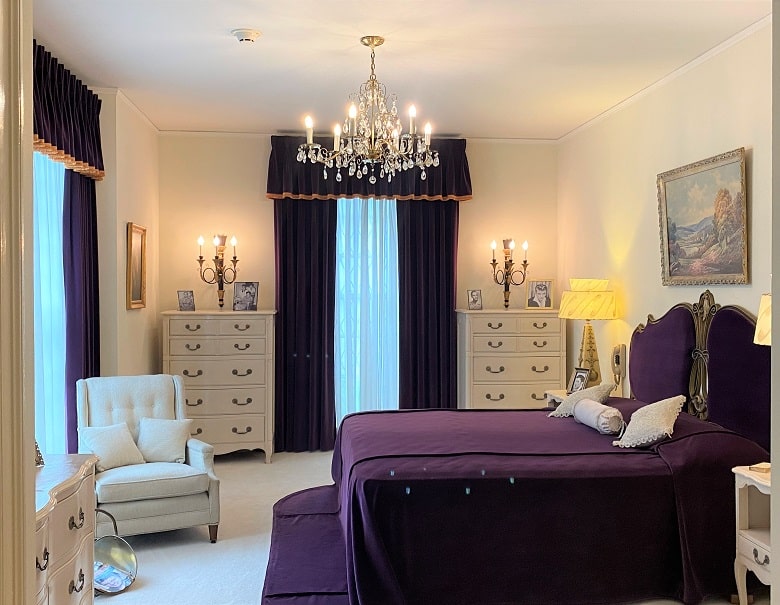 You can not explore or tour the upper level. Elvis's bedroom is on the upper level, and this is where he passed away. Out of respect, the family keeps this section of the home closed. I understand this sentiment, yet selfishly I wish I could have gone upstairs even if the bedroom of rest is off-limits.
Returning from the parents living quarters, it's time to explore the kitchen that is direct to the right of the dining room.
Graceland's Kitchen 
Holly seventies! If you ever confused the era's, the kitchen will solidify that you are in a place of the seventies! The harvest gold refrigerator sets the stage and confirms your thinking.
Much bigger than you would expect, darker than the room can hold, and home to an eerie staircase up to the Kings' quarters. I found some humor in the stairs from the upper level to the kitchen. Comedy in the sense that the main entrance stairs are a mere ten feet away, and the side staircase is not needed. It's as if there needed to be a secret slip to the kitchen, a hidden staircase that's reserved for one.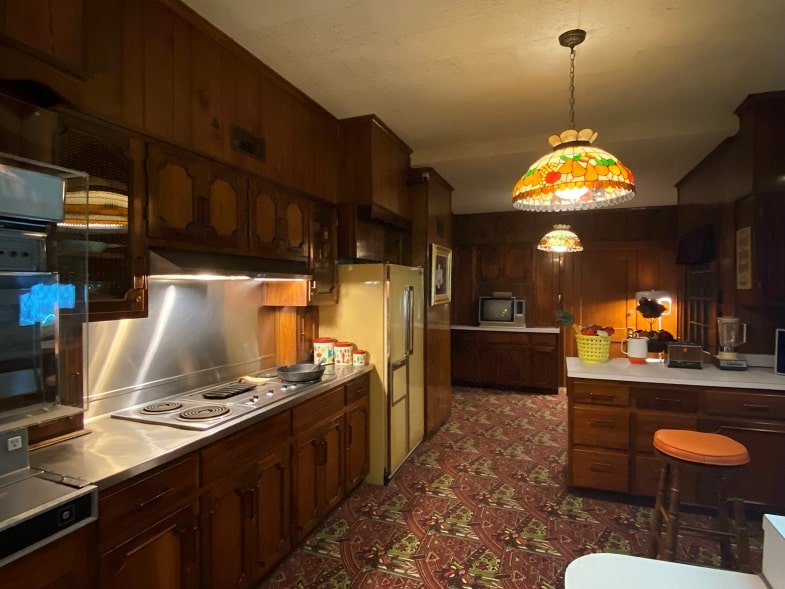 Directly after the kitchen and before you explore the Jungle Room, you head downstairs. Let me start by saying I had no clue there was a level below the main level. And, it's the same size as the upper level. So, to dispel some of the myths or opinions on size, bear this in mind!
When you enter the lower level, you immerse into the holly seventies! I thought the first level was an overdose of time relevant decor, but the journey was only taking off. Downstairs you have two rooms left to right, the same as the receiving rooms upstairs, only you enter downwards. To the left if the most over the top media room you will ever see.
Graceland's Media Room
If you can plant yourself in the seventies and appreciate how forward-thinking this room is, you'll understand it's significance today: three televisions, an oversized sectional couch, and a jukebox containing Elvis's collection. Undeniable airline Esque decor is accompanied by a corner bar. And, to top it off, a mirrored ceiling! I found this room about as relaxing as diving with sharks. And, the decor made me quince.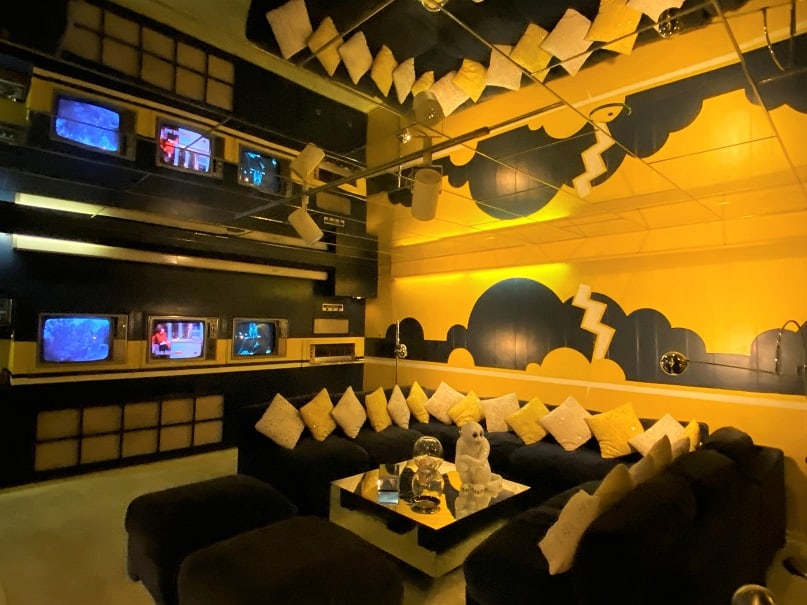 This photo is unfiltered and unedited. The room is as yellow and tacky as you see, and there are no windows.
So why three televisions?  Elvis came up with the idea after hearing that President Lyndon Johnson had three sets to keep up with all the foremost network newscasts at the same time. A sports fan, the three side by side televisions enabled Elvis to watch a variety of football games at the same time.
Gracelands Pool Room
Directly across from the media room is a pool room (billiard room) reminiscent of a bad trip gone wrong.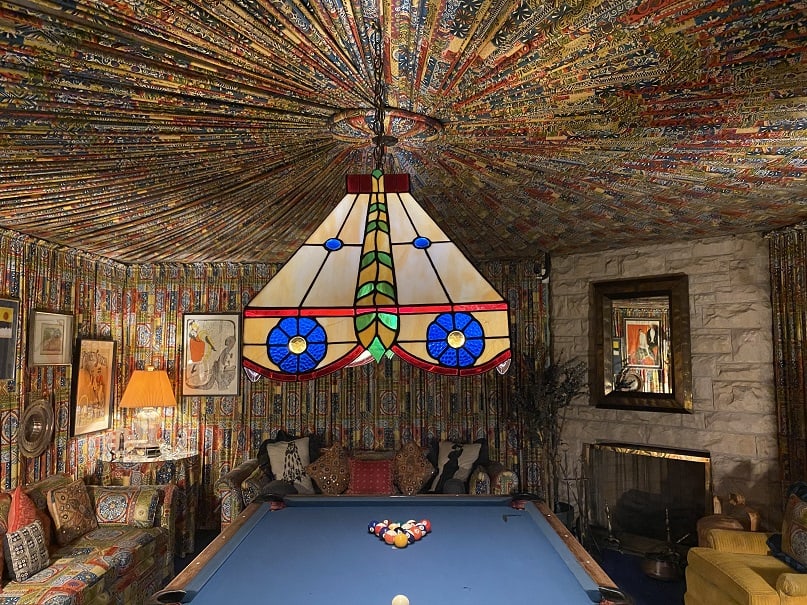 I spent a good ten minutes trying to take in this room, the thought behind it, and how in the world it fits into the rest of the home. Recall there was a bar in the media room that's opposite? Bars are a feature in many rooms.
As I gazed at this room, I imagined my wildest nights out ever. You know, the ones you do in your 20's with no holds barred?  I all but vomited. It's a known fact that Elvis partied and took all kinds of prescription drugs that he believed to be harmless. I get it –  but this pool room. Detailed as it is, it's the most unfitting and distasteful room of the entire estate. And, that's saying something considering I thought the media room was awful. I am still at a loss as I add the photo to this room.
It's as if someone was high as a kite on acid, commissioned a lousy dose of artistry, and wakes up to this unexplainable mess. The only thing is Elvis did not do hallucination drugs. Elvis either picked this decoration out, or someone else did. If someone else, I have to imagine they were "touched."
I can't find one element of this room that I can appreciate artistically.  Functionally I can't imagine playing in here sober or otherwise. I can, however, imagine having a drink in this room and immediately needing to excuse myself.
Let's leave the lower level and head to the infamous Jungle Room—perhaps the single most well-known room within Graceland. For the life of me, I don't know why and I'm not going to research this one for yah – it just is.
Graceland's Jungle Room
You come up the stairs from the lower level. To the right, you view the Jungle Room through a corridor that ultimately leads to the outside. The Jungle Room. Another head-scratcher for me but more in theme than the lower level. It's the seventies and true to form. Shag rugs, stand up ashtrays, dark greens, and burnt oranges galore. This room is not only what you expect, but it's as overdone as the photo's display. Perhaps this is why this room is so famous?
Fortunately, this room is at the back of the house. Meaning, if you were a guest, you could only make it to the Jungle Room if you passed through the kitchen.
So what's in the Jungle Room, or what's the big deal? Well, it's massive. It takes up 3/4 of the backside of the house. You step down into it, right to the seventies style. It's got a bar and a whole wall of the waterfall. Then there are the ornate wood carved chairs that you can't miss. The entire room is obscurely overdone and to excess. Most importantly, this room is a dramatic transformation from the front to the back. I can't imagine Elvis's parents chilling out in here or in the lower level.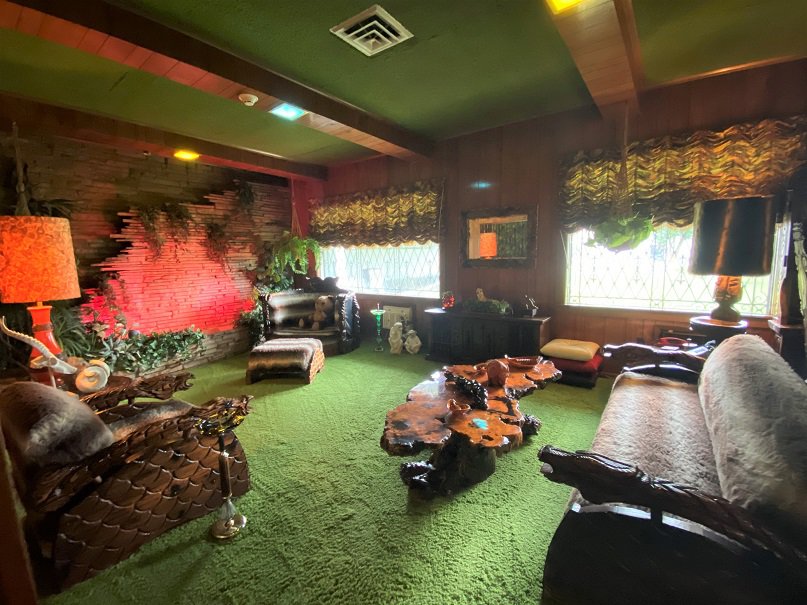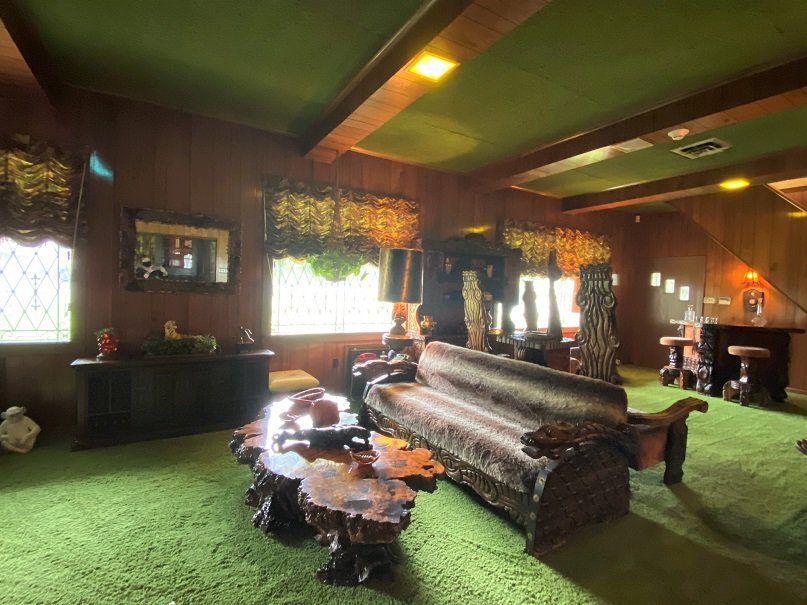 Leaving the Jungle Room, it's time to head outside and explore pastures the other buildings on the estate.
Outside Grounds of Graceland
As you leave the inside of the Graceland mansion, you will go outside. The first thing you will see is pastures that still have horses! You'll then enter racquetball court followed by a tour through The Trophy Building that tells the story of the Presley family.
The Iconic Graceland Pool
Elvis installed the kidney-shaped pool in 1957. It cost $8,400 and measures approximately 18 by 36 feet. People often say the pool is underwhelming. I disagree. Its size and location are fitting for the mansion. I also think the shape and style are in line with the rest of the estate.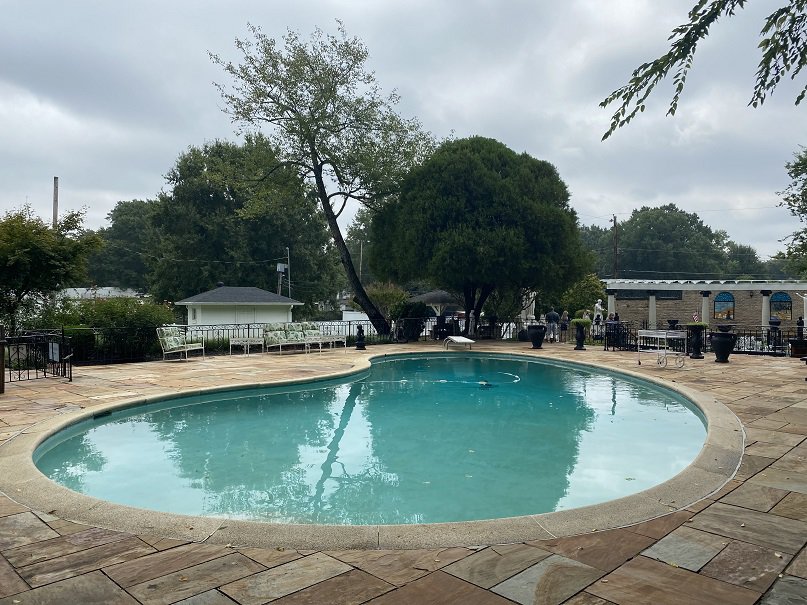 The Meditation Garden and Final Resting Place
Elvis was initially buried
in Forest Hill Cemetery, next to his mother. Due to a graverobbing attempt, both Elvis and his mom were moved to Graceland.
I don't know how to describe what it feels like to be at the King's final resting place. While it's a peaceful and relaxing garden, a sobering sadness hits you.  I did not know before I visited Graceland that he was laid to rest here and that you could view his grave. I am not sure how I feel about this. On the one side, I can see that people want to pay their respects; on the other side, it must be difficult for the family.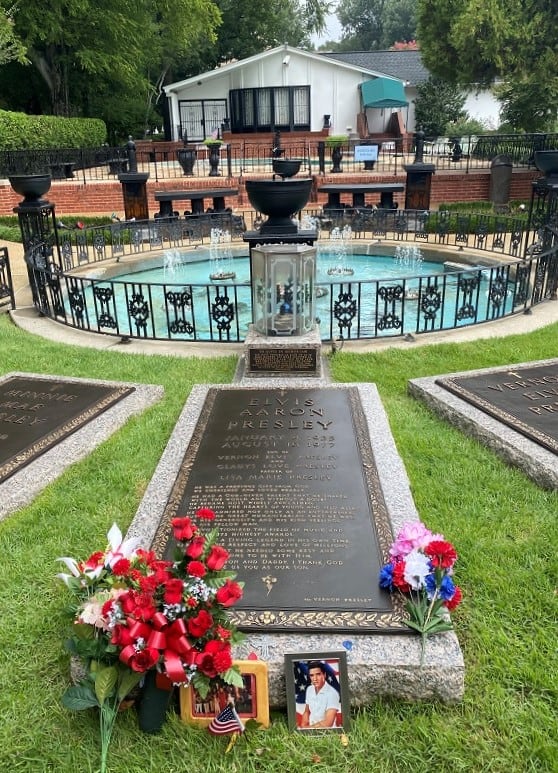 In addition to Elvis, the following family members also rest here:
Benjamin Keough – Grandson
Gladys Presley – Mother

Vernon Presley – Farther

Minnie Mae Presley – Grandmother
The Elvis Planes You Will See When You Visit Graceland
Elvis was a huge fan of toys.  In addition to his elaborate collection of cars and guns. Elvis Presley also owned five planes, two of which are on display at Graceland.
In 1975, Elvis purchased a Convair 880 jet for $250,000 and named it Lisa Marie after his daughter. The exterior of the plane has the famous TCB  – "taking care of business in a flash" – logo on the tail. He then spent $800,000 customizing the plane. Not an ordinary remodel by anyone's standards! The Liza Marie jet is complete with two half-baths, a lounge area, a conference room, a sitting room, and a master bedroom. Today, the decoration is questionable, but for the 70's it is a fit – more greens and gold.
The Lisa Marie went on display at Graceland in 1984.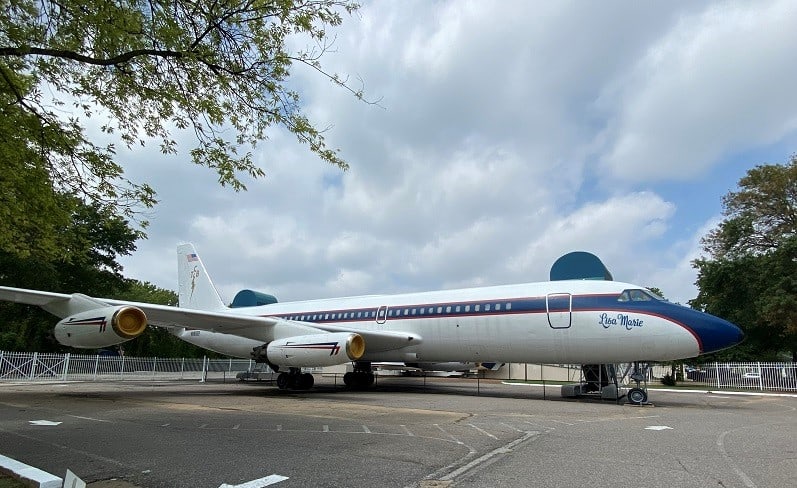 And, as with all things Elivs, there needs to be some bling! There are gold-plated belt buckles, 24-karat gold-flecked sinks, leather-topped tables, a state of the art  8-track stereo system, and a phone system.
In addition to the Lisa Marie Jet, there is a 1960 Lockheed Jetstar, which Elvis named the Hound Dog II. This smaller aircraft was also customized by Elvis with a yellow and green interior and displayed at Graceland.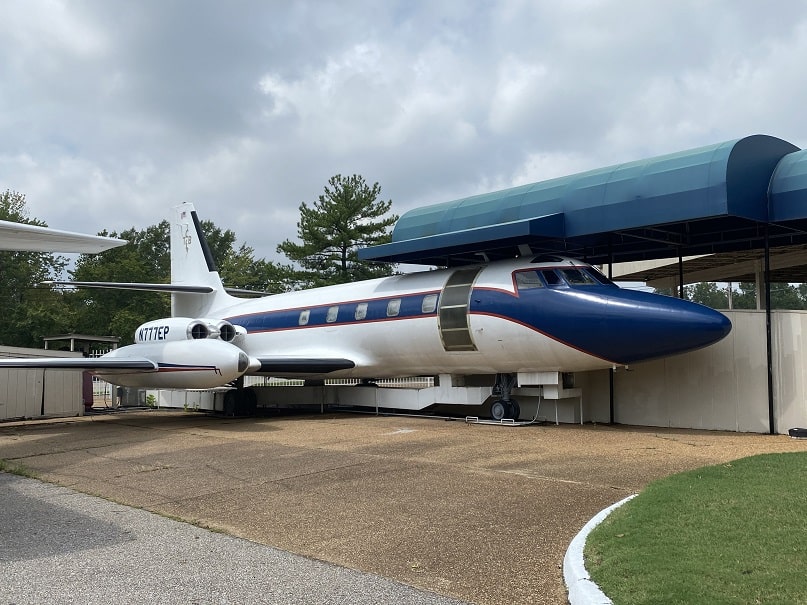 Elvis Presley Complex
Once you have finished touring Graceland, you will take the shuttle bus back to the main complex with several exhibits. There is the Presley Motors Automobile Museum, which includes a car museum called "Presley Motors." It is here that you understand just how much Elvis enjoyed toys.  The motor collection includes everything from Cadillacs, golf carts, boats, and tractors! I enjoyed this part of the tour. I never knew his collection was this extensive. And, I still wondering where in the world did he store or all these vehicles?
Then the Elvis The Entertainer Career Museum. In this exhibit, you will follow his fantastic career. Most importantly, this where you can view his collection of gold and platinum records, his stunning jumpsuits, and other clothing.
Note: You will need at least a couple of hours to view of of the memorabilia on display.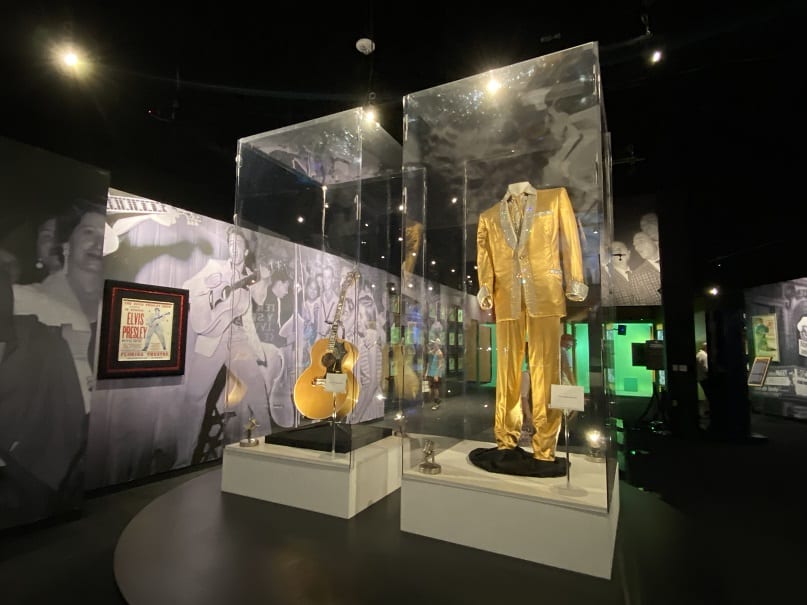 My Favorite Elvis Songs
Perhaps not relevant to touring Graceland, as a fan, I figured I would share my favorite songs. The songs that, in part, lead to my fascination with this legend – in order!
One Night With You
To this day, I still get goosebumps when I hear this! The hairs on my arms raise, I get an overwhelming desire to dance. It's an electric force that just can't be denied, and all of this occurs before you even take in the lyrics. For me, the controversial nature of the lyrics relative to the timeframe makes this hit even more exciting. Significantly if you know the sinful origin of this song and how it was re-written even to become a hit, if you don't see the background, relax – I got you! Close your eyes, forget the year, listen to the rhythm and then allow the words to hit you. If you don't have a slight jig or tap or the sudden urge to bust a move – well – perhaps you need a hearing test!
Suspicious Minds
You know you know this one!
We're caught in a trap, I can't walkout.
A classic that everyone knows!
Return To Sender
For me, this is a happy song even though the lyrics are about a letter being sent back undelivered.
Devil in Disguise
You look like an angel. Walk like an angel. Talk like an angel
And, them boom the song takes launches into the Devil.
In the Ghetto
This song is so fitting for today and where we are.  If you are not familiar with this song, listen to it – listen to the words. Outside of this being a brilliant song, there is a lesson for us all in this one.
People, don't you understand
The child needs a helping hand
Or he'll grow to be an angry young man some day?
Take a look at you and me
Are we too blind to see
Do we simply turn our heads, and look the other way?
Viva Las Vegas
Perhaps the best known by the younger generations, this is a song that everyone knows! And, if you are hitting Vegas, no doubt you will be singing this one out loud.
The Wonder Of You
When no one else can understand me when everything I do is wrong, you give me love and consolation; you give me hope to carry on.
Always On My Mind
I'm not going to share the words for this one. The title is enough. What I will say is that this song is a love song that stands the test of time.
Buring Love
Oh, oh-oh, I feel my temperature rising
If you are not familiar with Elvis, this is an excellent place to start. The beat alone will make you want to shake your hips, or in Elvis style, thrust them and groove. Please don't hold back; to this day, his music commands dance.
You light my morning sun like a burning sun.
Hunka Hunka burning love…………………………. Yes, we'll all take a hunka burning love:)
Don't
Don't, don't, that's what you say
Each time that I hold you this way
When I feel like this and I want to kiss you
Baby, don't say don't
There are so many symbolic elements to Elvis's music. As I listen, I still ponder if my interpretation is remotely close to what he meant. Or, sometimes, I wonder if the song is simply a writer's emotion shared by Elvis? Imaginatively speaking, I have to believe that Elvis had a connection and meaning to his music; I think that's why his music is timeless, heartfelt, and still gives millions the chills.
Closing Thoughts
We spent almost a whole day at Graceland. There is so much to take in. It is overwhelming; however, it is well worth your time. Despite the decorative tastes of the times, Graceland is magical and then some. I left feeling that I understood Elvis as a human rather than a famous performer. And I learned more about his fantastic journey than I expected.
Even if you are not an Elvis fan, Graceland was named to the American National Register of Historic Places in 1991. Drawing in over 600,000 visitors a year, Graceland is for anyone that appreciates history or music.
Lastly, one visit to Graceland is not enough for me, and I know I will return.
Looking For More Travel Inspiration, Start Here?
We are a participant in the Amazon Services LLC Associates Program, an affiliate advertising program designed to provide a means for us to earn fees by linking to Amazon.com and affiliated sites.