All Bartowans are familiar with The Wonder House. After all, it was once the town's main tourist attraction from 1934 to 1963. Sadly, like many mansions before it, The Wonder House has been through its share of owners and long stints of abandonment. In 2015, the new owners purchased it to pursue their dream of preserving an era.
The Wonder House might be one of the most exciting mansions to visit in Florida. Not only is it a work in progress, allowing you to see the stages of transformation, but it's also full of hidden technology way before its time. Further, it's home to many oddities that you don't find in the era's traditional mansions. How about a moat that enters the main house through a basement if this does not intrigue you?
If you enjoy history, architecture, restoration, urban exploration, or looking for something to do that's off the beaten path, you need to add The Wonder House to your must-see list!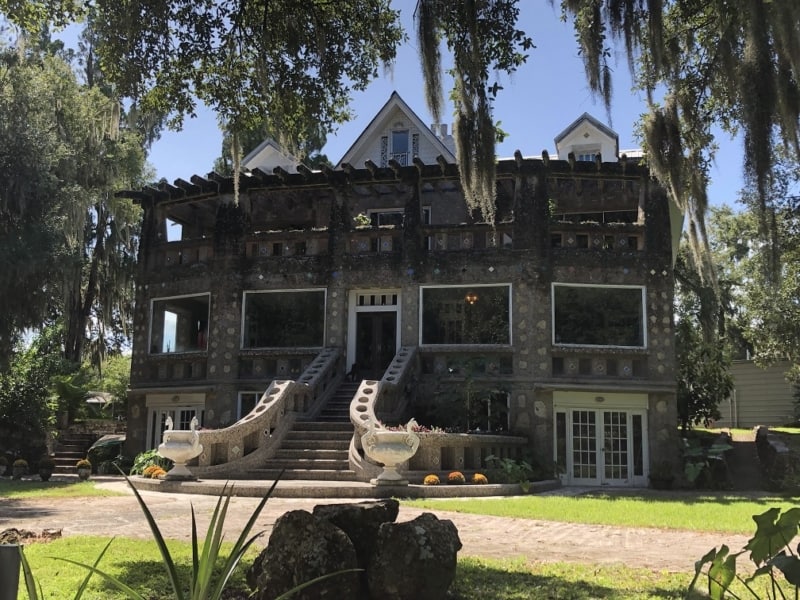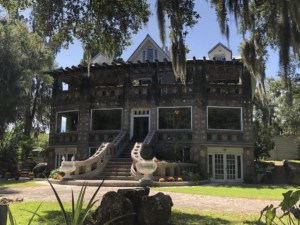 This post may contain affiliate links. Please read our disclosure and privacy policy for more information.
The History of The Wonder House
The Wonder House was Conrad Schuck's dream home. Originally from Pittsburg, Conrad was told that he was dying due to a weak heart. Expecting to live another year, he moved south to Florida with his wife and nine children. Despite his diagnosis, Conrad embarked on building his dream home in 1926. Fortunately for him, he did get to see the project because he lived to the ripe age of 94 and passed in 1971.
It's believed that the Wonder House's completion date was 1941, although the historical archive has not been able to confirm this as exact. Once completed, Conrad opened his home to the public in 1934 and became a popular local tourist attraction for about 30 years. Visitors paid a dime to see the ponds and 25 cents to wander around the interior. The Wonderhouse was kept open for tours from 1934 to 1963.
Photos from Post Cards, this is what the home looked like in all its glory:
If you take the current tour, which I highly recommend, you'll learn more about what people came to see. The current owners have re-created some of the prior attractions. I'm not going to give it all away; you'll need to visit if you want to witness all the attractions.
Once Conrad passed the house, they transitioned hands many times:
The DuCharme family purchased the home in 1964. The DuCharms added central air and heat. The DuCharmes also enclosed the porch and updated some of the bathrooms.
Lucy DuCharme lived in The Wonder House until she died in 1999. Lucy DuCharme offered Christmas tours of The Wonder House from 1963 to 1972.
In 1999 Chuck Heiden and his wife, Helen, bought The Wonder House and began restoring it. Chuck and Helen occupied the house from 2002 to 2011. Their dream fell apart when they divorced in 2011.
The house fell into foreclosure after Chuck and Helen Heiden abandoned it sometime around 2012.
From 2012 through 2015, the house was purchased and abandoned by two purchasers.
Davis and Kreis bought the house in October 2015 and moved in in January 2016.
They acquired The Wonder House at auction for only $162,750.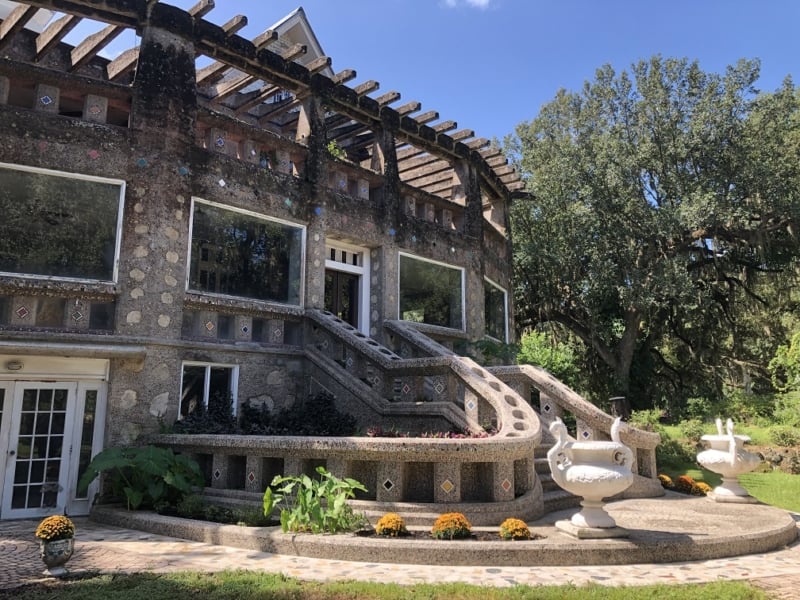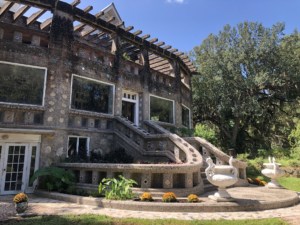 About Conrad Schuck
Conrad Schuck was an inventor with an insatiable imagination. A visionary who solved problems for our generation and holds numerous patents. You could spend hours researching all these inventions because there are so many. Some of the most significant ones are tilt-wall construction and the automatic operation of fuel burners.
Conrad was of German heritage, and several stories about him being a spy. At one point, he was arrested and jailed for three days during World War II, then released. Conrad was not a spy; ultimately, the FBI issued a press release declaring that Conrad Schuck was not a German spy.
Construction of The Wonder House
When you see the house today or view pictures of it, it's hard to imagine the original brilliance. The house is built in the shape of a cross, and Conrad made concrete channels to gather rainwater. This served to cool the house and water the plants that grew across the exterior. The plants don't exist today, but Davis and Kreis are trying to restore this feature. The concrete without the plant-like vines is interesting; it's adorned in gemstones, but it's not as stunning as the original version.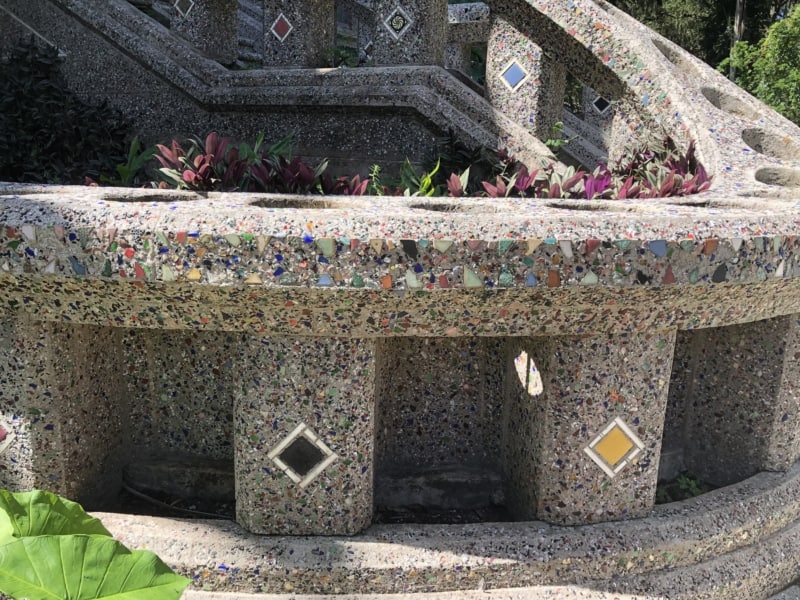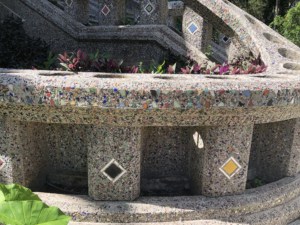 Innovation was a thing for Conrad. He built the house with concrete reinforced steel rails bought from a railroad company and designed the house to view every indoor and outdoor room.
Notice the two white doors that open up to the patio; they were entry doors to a garage. Sort of a drive-through garage, built for cars driving through!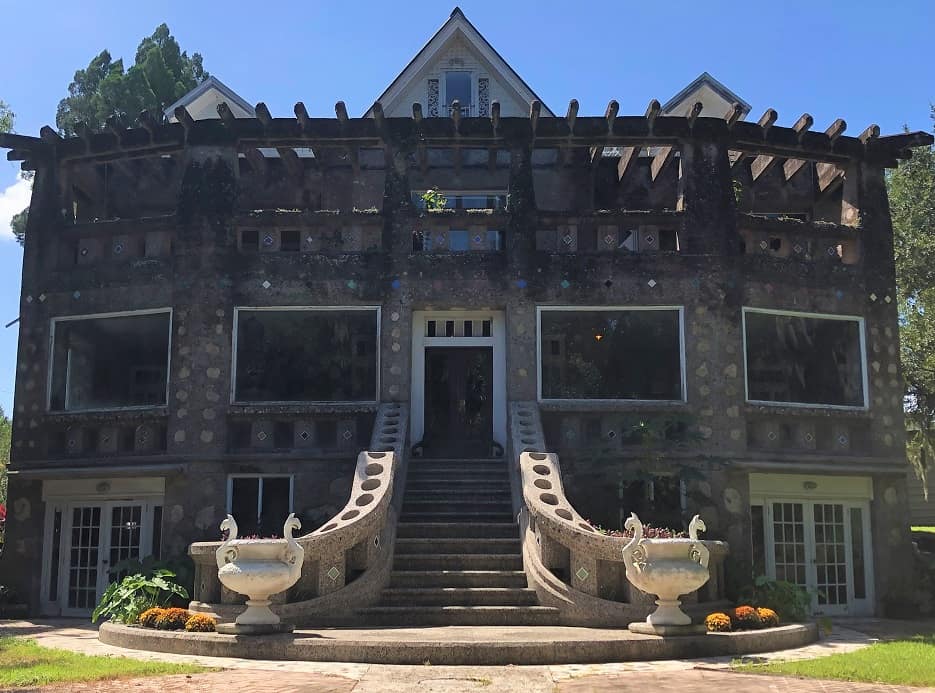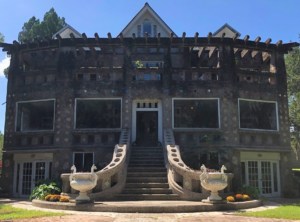 The Current Owners of The Wonder House
Meet Drew Davis and Krislin Kreis. Drew is a former MMA fighter and now an assistant state attorney. And Krislin, a photographer who teaches photography at Union Academy. Drew is originally from Chester, Virginia, and Krislin is originally from Estonia.
Meeting this duo was as impressive and exciting as touring the house. They are kind of famous! Not only locally in Bartow, but they have been featured on Netflix's 'Amazing Interiors,' which features Bartow's historic Wonder House. The episode can be seen anytime with a Netflix online account. I suggest you watch this first to get a feel for what's ahead of you. Or, if you prefer – watch it after like I did.
From the second you enter The Wonder House, you can feel Drew and Kristin's love for this house. They both beam when they talk about the history and the restoration process they have been through. It's beyond evident that this is something they both enjoy. Fortunately for all of us, they are saving a marvel for generations to come.
In addition to resorting to the home. This dynamic duo has made painstaking efforts to research the home's history down to blueprints on display in the house. They are also restoring the home faithful to style, honoring Conrad's original dream.
Both are passionate about historic preservation and want The Wonder House to be preserved for future generations to come.
Restoration of The Wonder House
When Drew and Krislin moved in, the house was bare. Stripped of all the former furniture and décor, there wasn't even electricity. Then, the duo was met with severe water leaks resulting from vandals and termite infestation.
Not discouraged by this, they have continued to restore this house to its former glory room by room, project by project. And they have filled the house with furniture and relics that mirror Conrad's style.
One of the things I enjoyed on tour was seeing the various phases of restoration. For example, upstairs has a sunken bathtub on a patio that's getting some tender loving care. Or the bathroom inside also has a sunken bathtub previously covered with flooring. This bathtub is unique; it has a mirror system that lets you see what's going on on the lower level!
The renovation is incomplete; many rooms are undergoing construction, and some are untouched. This alone makes it worth checking out now. I am particularly looking forward to when the moat is redone.
Where To Stay In Bartow Florida
Wonder House Facts
The house is four stories tall. It has a basement and a sub-basement.
There are twenty rooms, and the home sits on two acres.
All four sides of the home have porches, and every bedroom has a balcony.
The Wonder House has also been referred to as The Crazy House and The House of a Thousand Gadgets.
What You Need to Know
The address of The Wonder House is 1075 E. Mann Road, Bartow, Florida 33830
The Wonder House is a private residence! The owners live here, so please respect this.
Tours are available on a weekend if you make a reservation in advance online.
All tours cost $25 per person, and all proceeds go towards restoration efforts.
You need at least two hours to take the tour. The current owners are incredibly passionate about the home's history and restoration. As a result, you may go over two hours, especially if you tour the gardens.
No photographs can be taken inside, but you get the opportunity to roam the gardens following your tour.
This is a historic home, and it does not include elevators or ramps. This said, don't be dissuaded. A tour around the garden is ample to satisfy curiosity, and there is Facetime! Get creative if you have restrictions, the owners will work with you as best they can.
FAQ's
Closing Thoughts
I had never heard of The Wonder House until Bartow's local community told me about it. Ironically, this is right up my alley. I've always been passionate about exploring mansions, castles, and palaces. The Wonder House is different, though. It's not your traditional mansion hence the name. I would describe it as a mysterious time capsule that was once home to a vast collection of one man's eccentric collections. A collection the current owners are replacing piece by piece.
The house's design and layout are eclectic; the colors are vivid, and the detail is stunning. Every room has a theme; every room hides technology we now take for granted, and every room has a story.
The garden is home to the moat that is connected to the sub-basement. It now sits full of plants rather than water. Regardless, the two beautiful stone bridges are still intact and just as majestic to cross without the water. Some people say that the moat is a pool or vice versa. Indeed, the moat was used as a swimming pool, but it is connected to the main house!
Don't believe me? Then you will need to take the tour to see for yourself.
Looking for more posts on Central Florida? Start here:
We participate in the Amazon Services LLC Associates Program, an affiliate advertising program designed to provide a means for us to earn fees by linking to Amazon.com and affiliated sites.
Brit On The Move™ Travel Resources
Ready to book your next trip? Use these resources that work:
Need more help planning your trip? Check out our Resources Page, highlighting the great companies we trust when traveling.