Gasparilla Tampa is one of the largest pirate parades in the United States. And, it's more than just a parade. It's now a festival with several events leading up to the Parade of Pirates' main event. An average of 300,000 people attend this event every year, and many people attend it every year.
We attended for the first time in 2020, and I have to say it's an impressive event with tons to see and do. The city of Tampa, Florida, does an exceptional job ensuring that this event is coordinated, well policed, and civil.
Even if pirates are not your thing – if you enjoy dressing up, enjoy festivals of any kind or parades, then Gasparilla Tampa should be high on your bucket list. If you are into pirates, this event will be the repatriation of sorts for you!
This post may contain affiliate links. Please read our disclosure and privacy policy for more information.
2022 Gasparilla Dates
Gasparilla will take place on Saturday, January 29th, 2022.
Outward Bound sail will happen on February 26, 2022.
History Of Gasparilla Tampa
The festival is born out of Florida folklore and the mythical pirate Jose Gaspar (also known as Gasparilla). Legend states that Jose Gaspar and his band of pirates terrorized Western Florida coasts during the 18th and early 19th centuries.
Here's How The Story Goes:
Poised to distribute their richness amongst themselves and resort to living a luxurious life, they decided to rob one last ship before handing in their pink slip. Surprisingly, it was a US navy ship in disguise. This lead to a bloody battle in which a full stop was put on the long terrorizing career of Jose Gaspar.
Jose Gaspar's legend became folklore for the Tampa area residents, largely due to a 1900 advertising brochure for the Boca Grande Hotel on Gasparilla Island. The brochure gave new blood to the folklore, and Gasparilla, the event was born in 1904.
Note: As cool as this story is, there is no evidence that Jose Gaspar "Gasparilla" actually existed or that there were any real battles.
What Is The Gasparilla Parade of Pirates?
It is a friendly mock invasion by mythical pirate Jose Gaspar and his band of pirates, played by members of YMKG (Ye Mystic Krewe of Gasparilla). On D-day, the members of YMKG, accompanied by hundreds of private boats, sail from Tampa Bay to downtown Tampa on a long flat-bottomed, specially built boat. The pirate boat moors beside the Gasparilla Tampa Convention Center around noon.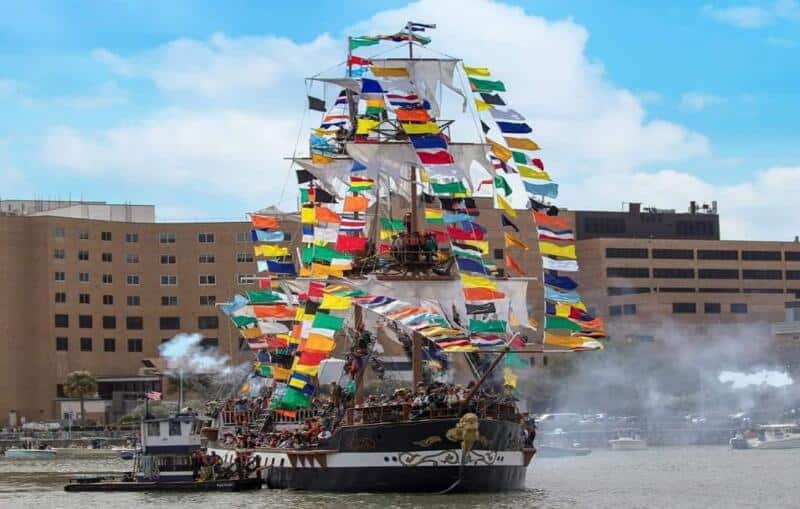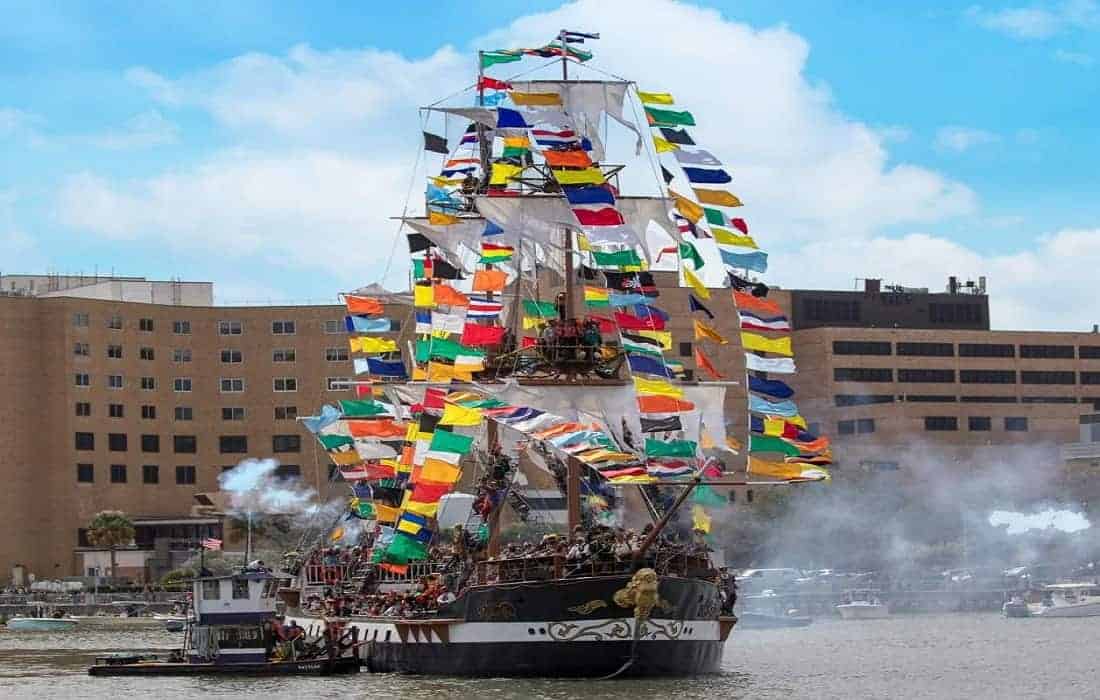 After a cannon fire extravaganza, the pirate captain and his band of pirate crew disembark from the boat and demand Tampa's mayor hand over the key to the city in a joyful ceremony. The pirates then hold a victory parade irrespective of whether the mayor has handed over the key or not.
The Victory Parade
During the victory parade, the members of YMKG throw coins, beads, and several other souvenirs to the crowd. Before the 1990s, beads weren't thrown at Gasparilla Tampa. Instead, YMKG members would fire handguns and six-shooters loaded with blanks into the sky and then throw the empty shells to the crowd.
This tradition was restricted in the year 1992 and eventually ended entirely, replaced by throwing beads. Many local businesses build their own elaborate floats and throw trinkets, especially beads, to the crowd. Universities and high schools provide majorettes, marching bands, and drill teams.
When is Gasparilla Tampa 2021
As of today, it is expected to be in April – however, it is pending COVID!
What To Expect at Gasparilla Tampa
Let's start with the obvious thing about all festivals. There are thousands of people – thousands! Long lines for food and drinks, no parking, porta-potties, and lots of drinking. The event is not designed as a drinking festival, but that's exactly what people do.
The night before the Gasparilla Parade of Pirates, the crowds are in full swing, and many overdo it long before the main event. On the morning of, some people outdo themselves long before the actual events start. We had a chuckle at some folks brought back to the hotel at around noon, almost unconscious and carried in. Hey, it's a festival – no judgment!
Then there are the costumes – pirates, here we come. And, who knew that there are so many different genres of pirate outfits. People go all out, and I mean all out. No detail is missed. I saw people in victorian pirate outfits, steampunk pirate outfits, goths, traditional ones, and some clearly Halloween-style ones. Even the pooches show up in pirate attire!
What you should expect is to be entertained pirate style and have a blast. Enjoy this festival with like-minded people, dress up, and have a drink or twenty. You'll get to watch a parade of pirate boats, you'll see a simulated pirate battle, and you'll see on the most over-the-top parades the south has to offer.
Events of

Gasparilla Tampa
Over the years, Gasparilla has become more than just a one-day parade. Tampa now promotes the events as "Gasparilla Season." The main events of Gasparilla Tampa are listed below, and there are tons of other traditions and non-official events that take place.
Gasparilla Parade of Pirates
Gasparilla's focal point is the mock cannon fire extravaganza invasion of Jose Gaspar, played by Ye Mystic Krewe of Gasparilla (YMKG).
The Victory Parade
This is the parade that follows the mock cannon fire extravaganza invasion.
Sant'Yago Knight Parade
Better known as the Gasparilla Night Parade, this event takes place two Saturdays after the Parade of Pirates. The same concept applies. There's a parade, but the floats are illuminated because it's an evening event.
Where to Stay During Gasparilla Tampa
While you can attend any of the events and not spend the night, it's not advisable unless you plan to stay sober. And, long before you consider a day out, make sure you plan out parking.
There are three main hotels at the Tampa Convention Center that you can watch the Parade of Pirates from your room or the hotel public areas:
Embassy Suites by Hilton Tampa Downtown Convention Center
Tampa Marriott Water Street
The Westin Tampa Waterside
We stayed at the Embassy Suites for Gasparilla because we are saving and collecting points for The Maldives. However, I wish we chose the Marriot. I've stayed at the Marriot before, and it's a lot fancier than the Embassy Suites. Also, the Marriot has Romeo and Juliet balconies. At the Embassy suites, the windows don't even open.
If you want to view the Victory Parade, you will want to choose Sheraton Tampa Riverwalk Hotel.
Now for the tough part. Be prepared to splurge! We paid $307 per night this year.
I just checked the rates for 2021 for the three hotels above, and you are looking at $480 – $700 per night. Why?
Here's why. If all goes according to plan and nothing changes, The Superball is happening in Tampa the following weekend. Most of the rooms have been booked for The Superbowl. And, unless it gets canceled, these rates will not drop.
What to Wear At Gasparilla Tampa
My favorite part of the event the attire! Never one to shy away from dress up, and a huge fan of Halloween; this is right up my alley. And I really love that you can shop for any genre or style. You are anything but limited to traditional costumes. The choices are endless.
Here is what we wore: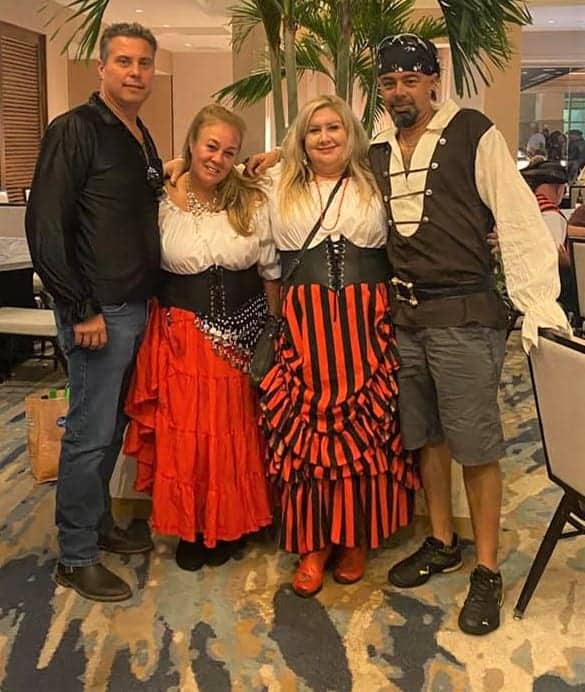 Side note: Danny took his outfit off early on because he was too hot!
Before we move on to the men's attire, let me tell you about my red boots! You will either love them or hate them. I have had mixed reviews, but I adore them! They are handmade by a company called Mordenmiss. A company I own tons of items from. Ninety percent of the time, what you see me in is from Mordenmiss.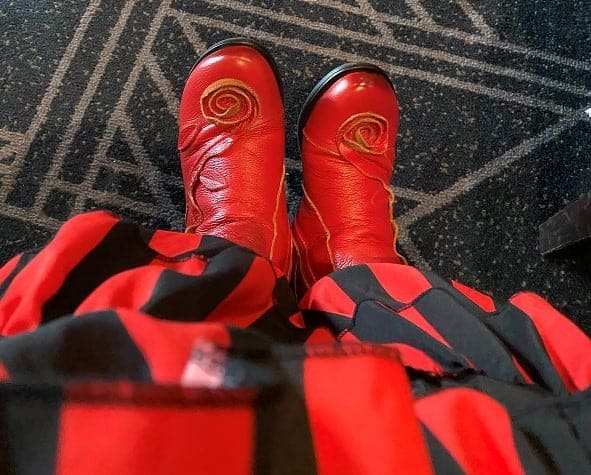 These red boots are the comfiest boots ever! Your feet can breathe in them, and it's like walking on air. Perfect for an event when you will be on your feet all day. So, not only did they match my outfit, they are now a staple part of my wardrobe. So much so that I ordered a pair in black with a red rose. And, at under $50, they are a steal.
Or, if you don't want to dress like a pirate check out The Latest Celebrity Outfits!
Frequently Asked Questions About Gasparilla Tampa:
Is Gasparilla Family-Friendly?
I will tell you no, but we saw tons of kids with their parents. It boils down to what you are willing to let them see based on their age. I would not take my twelve-year-old nephew, but that's me. Why? Well, outside of the drunkenness, there's plenty of T&A, vomit, and an undeniable smell of sensimilla.
Fortunately, there is a children's Gasparilla Fest that is a 'family-friendly' event. Unlike other Parades of Pirates, alcoholic beverages are not allowed along the parade route.
How Long Does Gasparilla Last?
The Parade of Pirates is a day event, leading up to and after the event.
Do You Need Tickets For Gasparilla Tampa?
All of the parades at Gasparilla are free.
What Does Gasparilla Mean?
Gasparilla is the name of an island in Florida. However, here are some other meanings and events that use Gasparilla in the title of their events.
José Gaspar, also known as Gasparilla, was a mythical Spanish pirate
The Gasparilla Bowl, a college football bowl game played in Tampa, Florida.
Florida's Gasparilla Island, an island near the mouth of Charlotte Harbor in southwest Florida
Gasparilla Pirate Festival, a large annual parade, and other events held in Tampa, Florida
Can You Bring Your Own Alcohol To Gasparilla?
This is a no – you cannot b
ring your own beer and booze, and alcohol is not sold on the streets.
Can I Dock My Boat at Gasparilla?
You can, but there are specific rules for parking your boat at a slip or marina for Gasparilla 2020. Space is minimal, and you will need to reserve in advance.
Closing Thoughts
Gasparilla Tampa is like no other event. It's unique. Even though drinking is a theme, it's not the same as attending a beer festival like Oktoberfest.
The best way to describe this to you is it's like attending Mardi Gras only way classier – way classier. For example, you don't have to flash to get beads at Gasparilla.
The anticipation and build-up the night before are electrifying. You could be blind yet feel and understand that something special is going on. The people who attend are all good fun, all social, and all admire each other's attire.
I went into this not knowing what to expect. I left with a new appreciation for Floridan folklore, pirates, and Tampa Bay.
Looking for more posts on things to do in Florida? Start here:
We are a participant in the Amazon Services LLC Associates Program, an affiliate advertising program designed to provide a means for us to earn fees by linking to Amazon.com and affiliated sites.
ravel Planning Resources
Looking to book your next trip? Use these resources that work:
Are you interested in Volunteer Vacation and Working Holidays? Check out the complete guide to how here!
Need more help planning your trip? Check out our Resources Page, where we highlight all the great companies that we trust when we travel.