Adonis Baths Waterfall in Cyprus
Are you visiting Cyprus and want to plunge into Adonis's Baths Waterfall? Want to explore the legend of Adonis and Aphrodite? Itching to take a plunge into a natural waterfall? Or, want to marvel at the enormous penises that honor Adonis? Look no further; Adonis Baths Waterfall in Cyprus has it all and more!
Today, visitors can swim in the natural pool at the waterfall's base, fed by a hot spring. The water is said to have healing properties, and the site has become a popular tourist destination.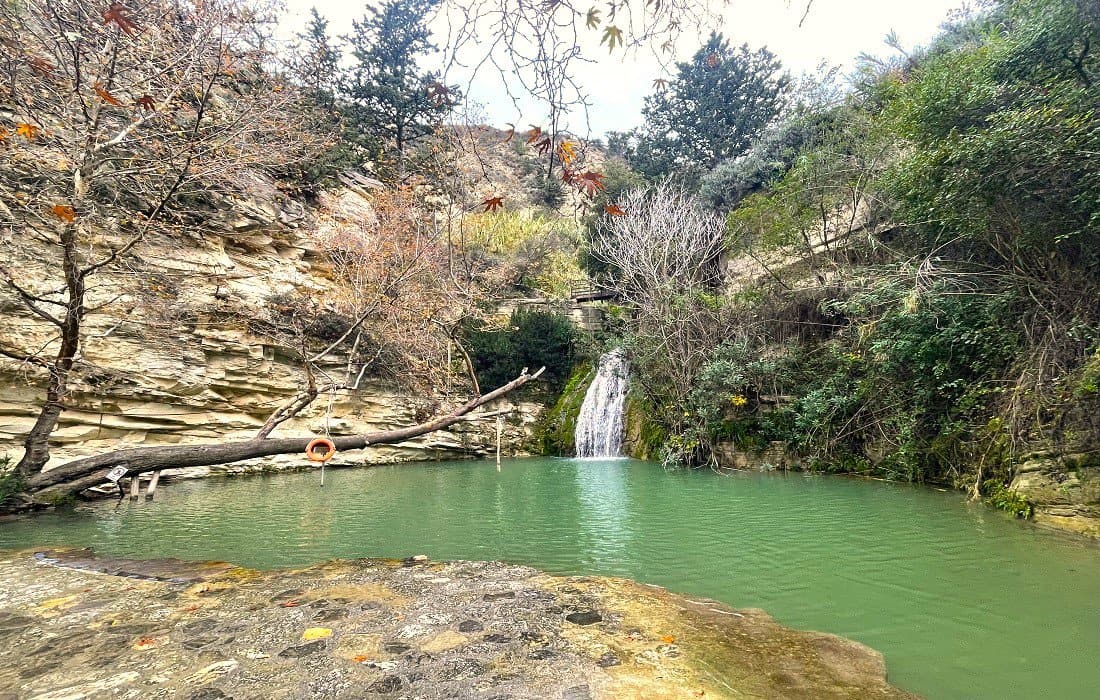 This post may contain affiliate links. Please read our disclosure and privacy policy for more information.
Why Visit Adonis Baths Waterfall
First and foremost, this mythical pool that captures an epic story of love is beautiful and loaded (pun intended) with all kinds of phalluses! If you are anything like me, you have childish humor and appreciate inappropriateness. You'll love it here. Many visitors were in stitches as they were leaving. All willing to share, "Wait till you get to the third floor."
If that's not enough for you, how about swimming in the deep green water under a natural waterfall? Let's be honest: who does not want to swim in a pool fed by a waterfall?
In addition to its mythological significance, the Adonis Baths Waterfall has a rich history. The site was believed to be used as a place of worship by the ancient Greeks, and the Romans later occupied it. The remains of an ancient temple and a bathhouse have been discovered at the site, and artifacts from the Hellenistic and Roman periods have also been found.
The Adonis Baths Waterfall has been restored and developed over the years, with amenities such as changing rooms, showers, and a café added for the convenience of visitors.
History of Adonis Baths Waterfall in Cyprus
The Adonis Baths Waterfall is a natural attraction located near the village of Kili in the Paphos district of Cyprus. According to legend, the waterfall is where Adonis, the Greek god of beauty and desire, used to bathe with his lover, Aphrodite, the goddess of love and beauty.
The story goes that Adonis was hunting in the area when he was attacked by a wild boar and mortally wounded. Aphrodite rushed to his side and, in her grief, turned his blood into the red anemone flowers that bloom in the spring in Cyprus. She then carried Adonis to the Adonis Baths Waterfall, where she bathed him and tried to heal his wounds.
Who Was Adonis?
Adonis was a figure from Greek mythology known for his exceptional beauty. According to the myth, he was born from the union of Aphrodite and the god Ares, or the Myrrha tree. Adonis was said to be a skilled hunter, and he was beloved by both Aphrodite and Persephone, the queen of the underworld.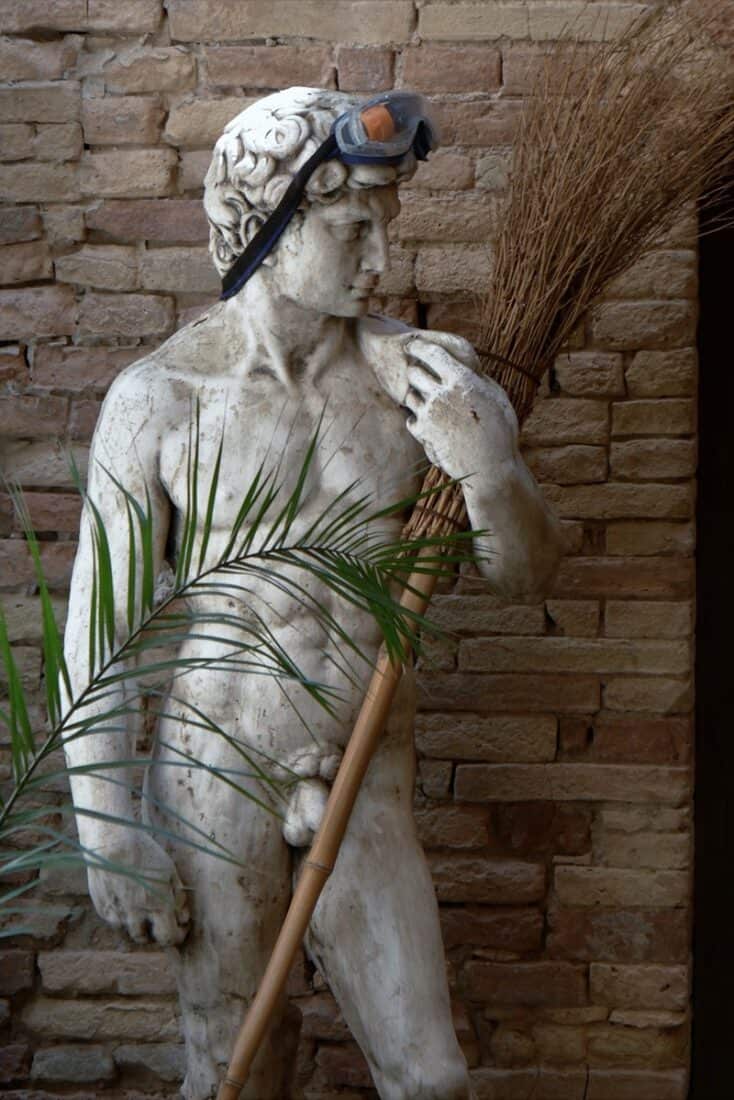 The story goes that Adonis was killed by a wild boar while hunting in the woods. In some versions of the myth, the boar was sent by Ares out of jealousy for Adonis' relationship with Aphrodite. In other versions, Adonis was killed by the god of death, Hades, who was also in love with Persephone and saw Adonis as a rival.
After Adonis' death, Aphrodite was said to be inconsolable and wept over his body. According to legend, the tears of Aphrodite mixed with Adonis' blood and gave birth to the anemone flower, which became a symbol of his beauty and tragic death. The myth of Adonis has been a popular subject in art and literature for centuries, and the name "Adonis" is still used today to describe a person of exceptional physical beauty.
The Anemone Flower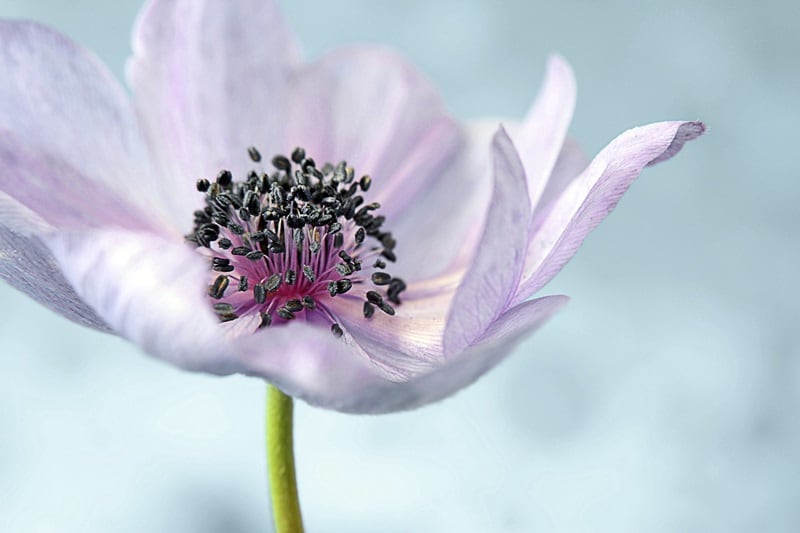 Who Was Aphrodite?
Aphrodite was the Greek goddess of love, beauty, pleasure, and procreation. She was one of the twelve Olympian gods and goddesses and was associated with the planet Venus. According to Greek mythology, Aphrodite was born from the foam of the sea after the god Cronus castrated his father Uranus, and threw his genitals into the sea.
Aphrodite was known for her exceptional beauty and seductive powers. She had many mortal and divine lovers and was married to the god Hephaestus. Her most famous lover was the god of war, Ares, with whom she had several children.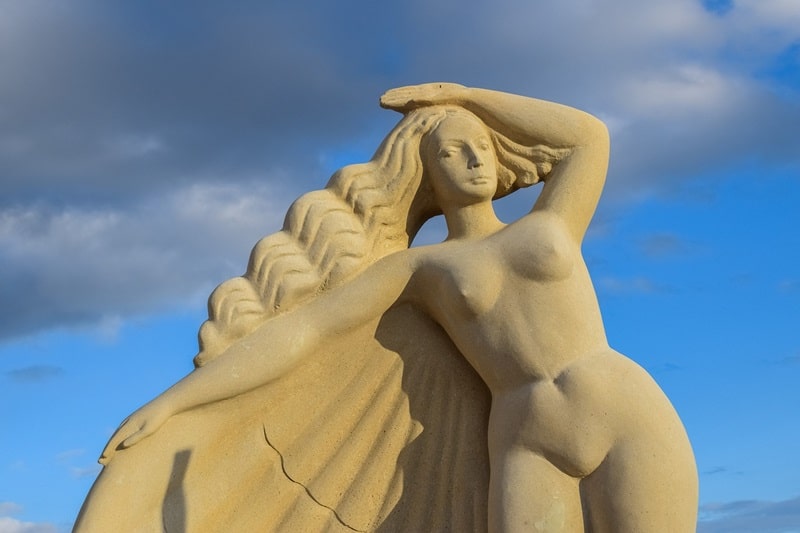 Aphrodite was worshipped throughout ancient Greece and was believed to have the power to bring love and happiness to those who worshipped her. She was often depicted in art and literature as a beautiful, sensual woman with long flowing hair and often accompanied by her son Eros, the god of love, and her attendants, the Graces.
In addition to her role as the goddess of love and beauty, Aphrodite was also associated with fertility, marriage, and the protection of sailors. Her cult was widespread throughout the ancient world and was particularly prominent in Paphos in Cyprus, where she was believed to have been born from the sea foam.
Location Of Adonis Baths Waterfall in Cyprus
Adonis Baths Waterfall is located in the village of Kili, near Paphos in Cyprus. It is approximately 13 kilometers northeast of Paphos and can be reached by car or public transportation. The address of Adonis Baths Waterfall is Adonis Baths, Kili, Paphos, Cyprus.
Getting to Adonis Baths Waterfalls Koili Cyprus
Getting to Adonis Baths is no joke! Even if you take a tour vs. self-drive, the mountains you'll navigate will make anyone's heart pulse! Aside from riding on the edge of dirt road tracks that overlook steep mountains, there's the condition of the roads. You can judge for yourself from these pictures how rough this terrain is: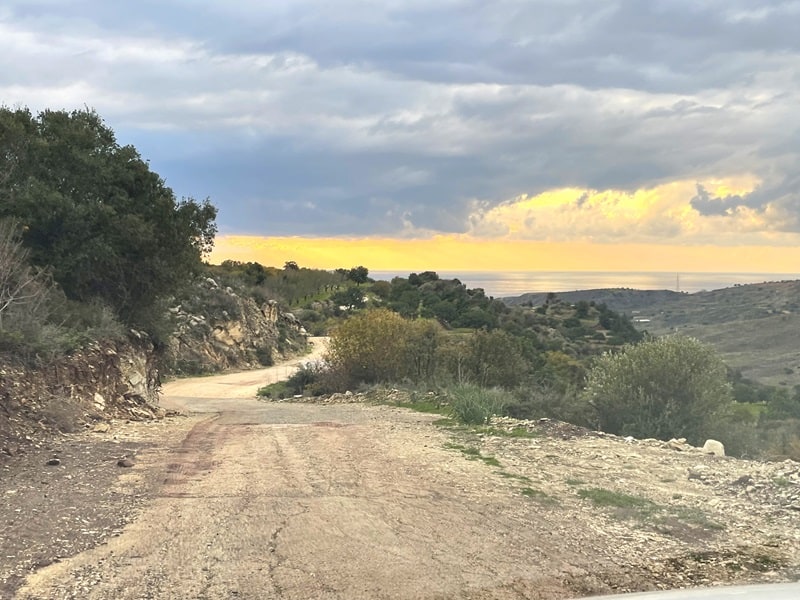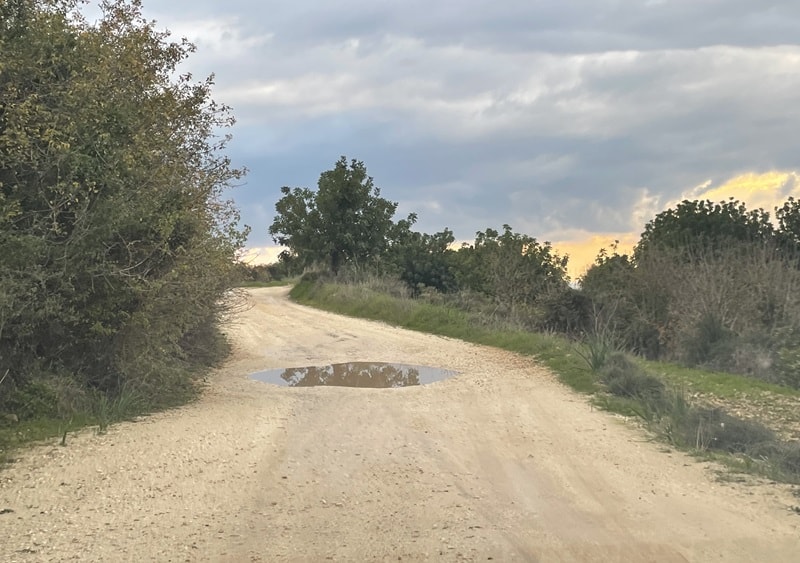 By Car
The easiest way to get to Adonis Baths Waterfalls Koili, Cyprus, is by car. Visitors can rent a car from Paphos International Airport or any car rental company in Paphos. From Paphos, visitors should take the B7 road towards Polis Chrysochous. After approximately 10 kilometers, turn right towards Koili village. Follow the signs to Adonis Baths Waterfalls.
There is a parking area near Adonis Baths Waterfalls, and visitors can park their cars there for a small fee. The parking area can get crowded during peak season, so visitors should arrive early to secure a spot.
By Bus
Visitors can also take a bus from Paphos to Koili village. The bus departs from the Karavella Bus Station in Paphos and stops in Koili village. From there, it's a short walk to Adonis Baths Waterfalls.
By Tour
Several tour companies in Paphos offer guided tours to Adonis Baths Waterfalls Koili, Cyprus. These tours usually include transportation, a guide, and a visit to other attractions.
Tours To Adonis Baths Waterfalls
Things To Do At Adonis Baths Waterfall in Cyprus?
While Adonis Baths is not massive, there is a fair amount to see and do:
Swim In The Waterfall
The main attraction of Adonis Baths is the beautiful waterfall, surrounded by lush greenery and natural pools. Visitors can take a swim in the natural pool. A super cool tree stretches over the pool – a perfect spot for a selfie or two. Or, if you are feeling adventurous, jump into the water from the tree. Lastly, you can swing into the pool Tarzan style from the swing rope attached to the tree!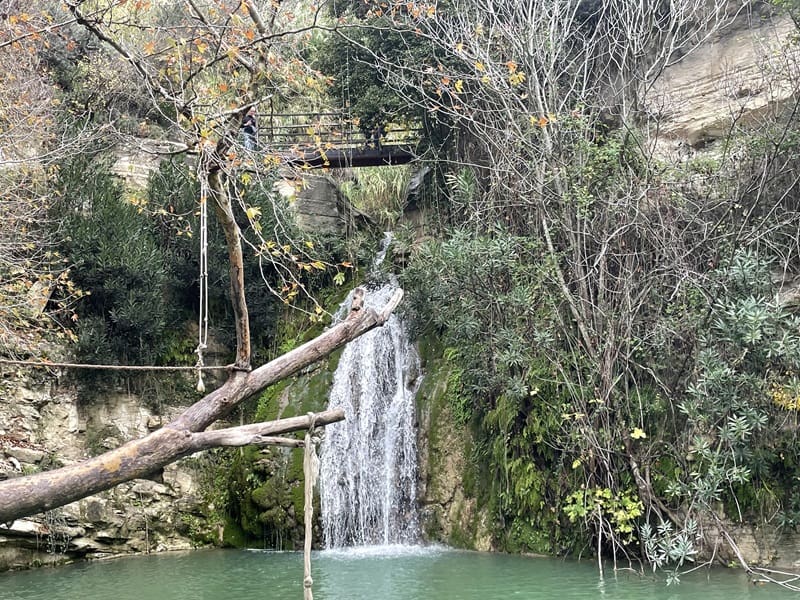 Climb To The Top Of The Waterfall
As you climb up the side via steps, you can admire the waterfall from above. A bridge at the top allows you to get a full view of the waterfall. In addition, you can explore the area and follow the water – there are no restrictions on exploring. It's dodgy once you leave the patched areas, and I don't recommend it.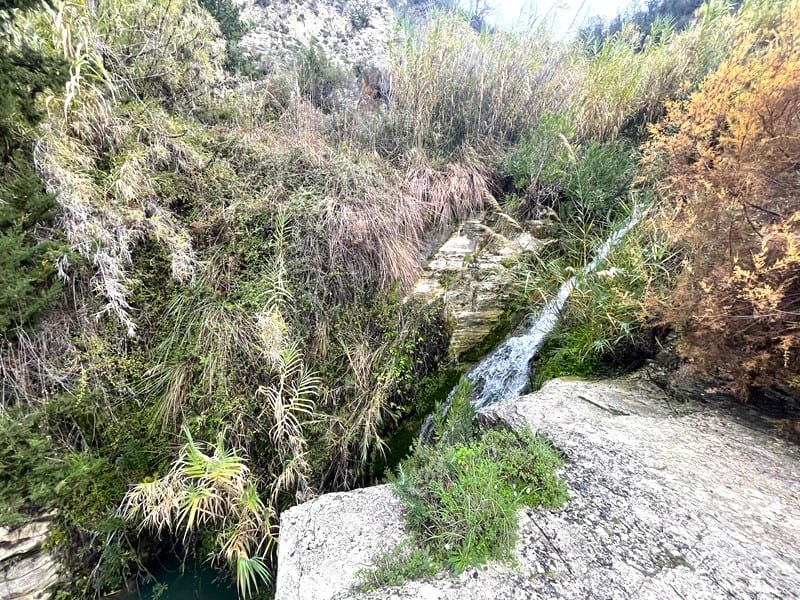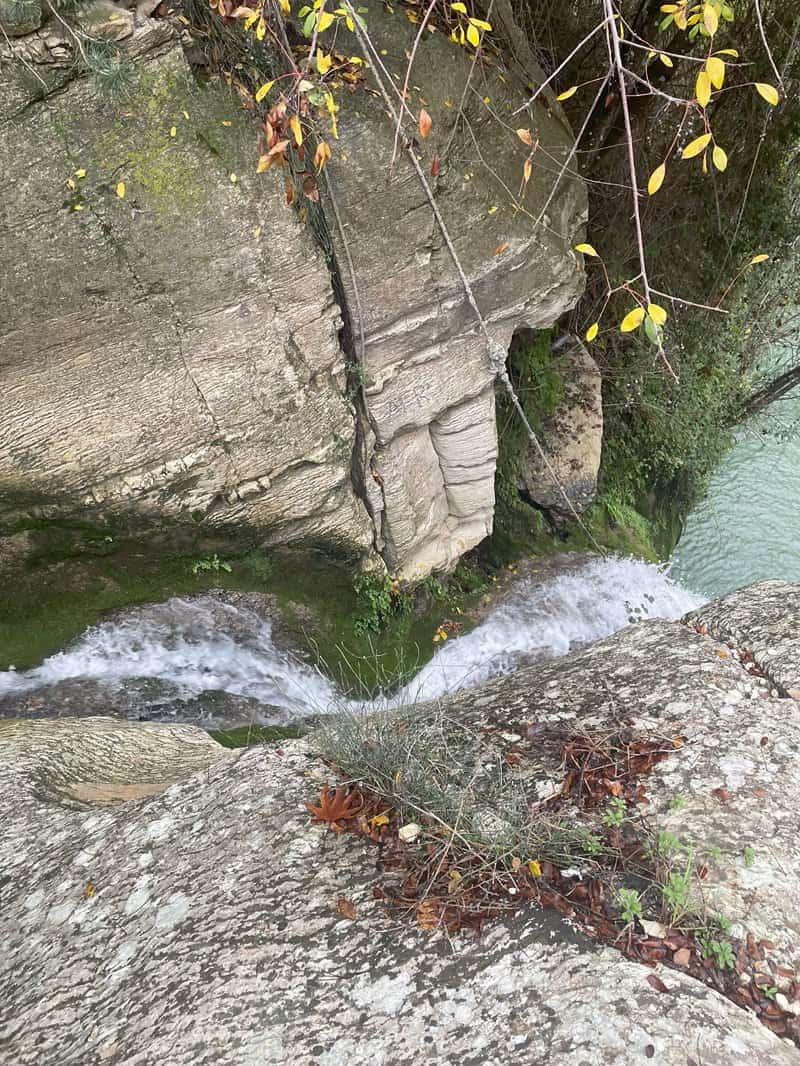 Explore the Gardens
The site also features beautiful gardens with various flowers, plants, and trees. Visitors can walk around the gardens, relax, and enjoy the peaceful atmosphere.
Increase Your Fertility
Legend says that if infertile women touch Adonis' appendage, they will be blessed with children. True or not, it's comical. And you have nothing to lose – give it a try!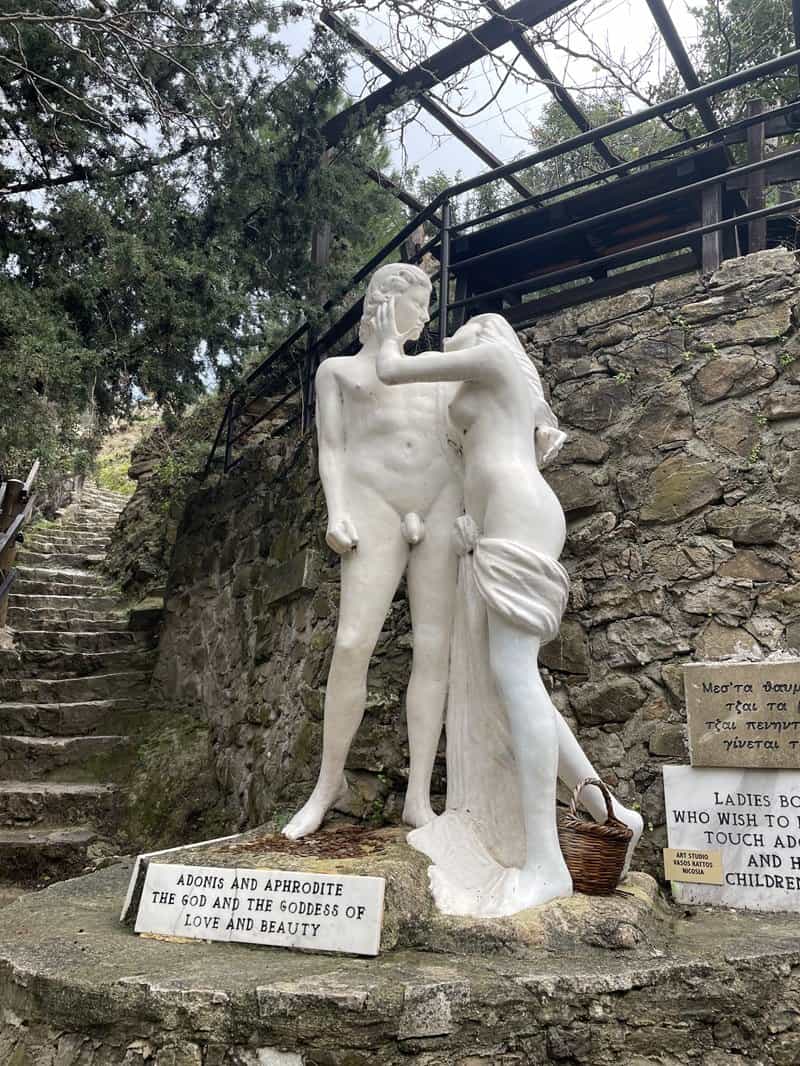 Marvel At Enormous Phalluses
This, my friends, is what everyone on the way out is giggling about! Dicks – enormous ones! Notice how exaggerated this one is! Never mind a mouth; you can't even get a hand around this. Naturally, this tickled me pink. Being a kid at heart, I got plenty of "dick picks" here!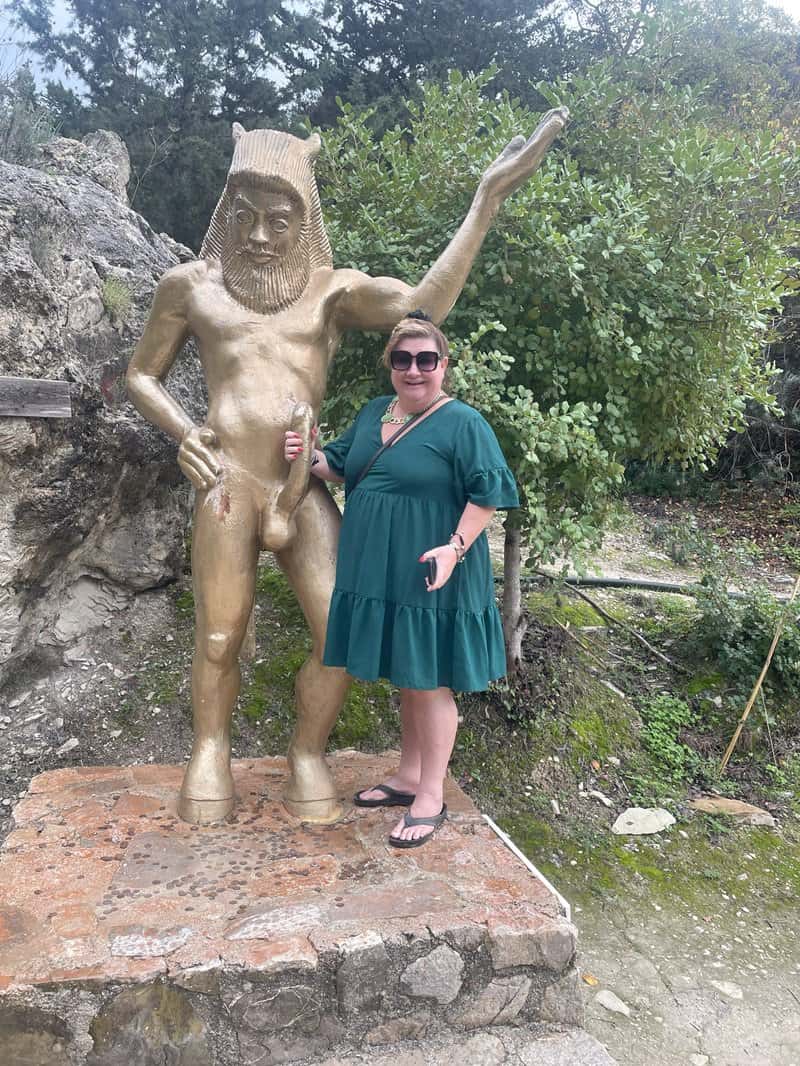 Don't despair; there are plenty more phalluses throughout the park and outside before you enter. I am not going to post all the photos! If you want to see the rest, you must visit for yourself.
Explore The Traditional Watermill
As you enter Adonis Baths Waterfalls, you will pass through an old watermill. The watermill is jam-packed with original artifacts.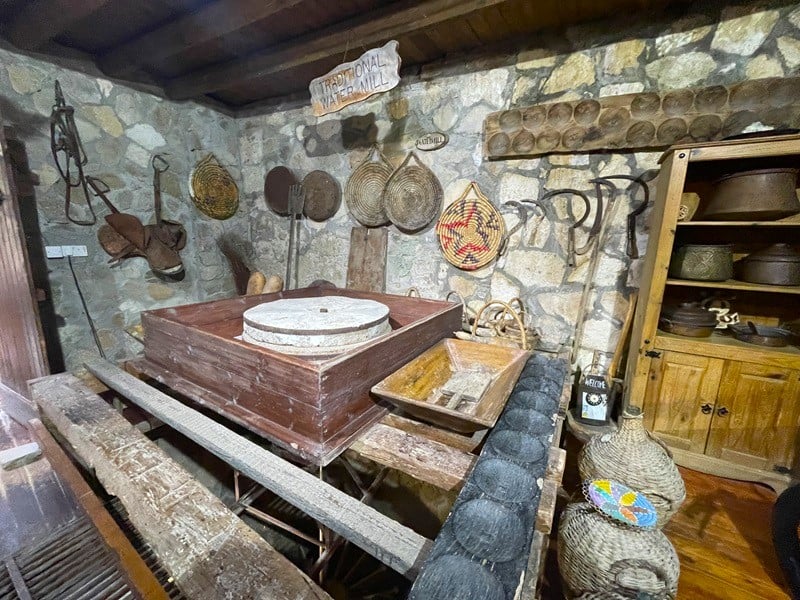 The machine's original purpose was to move milestones and grind small amounts of grain. People could grind grain in the past, but it was a long and arduous process that didn't yield much. Using a watermill, people could mass grind the seeds into flour, making it a more straightforward process that produced the grain more valuable. Consequently, grain became an even more critical staple food. The watermill generated power before man or animals caused it.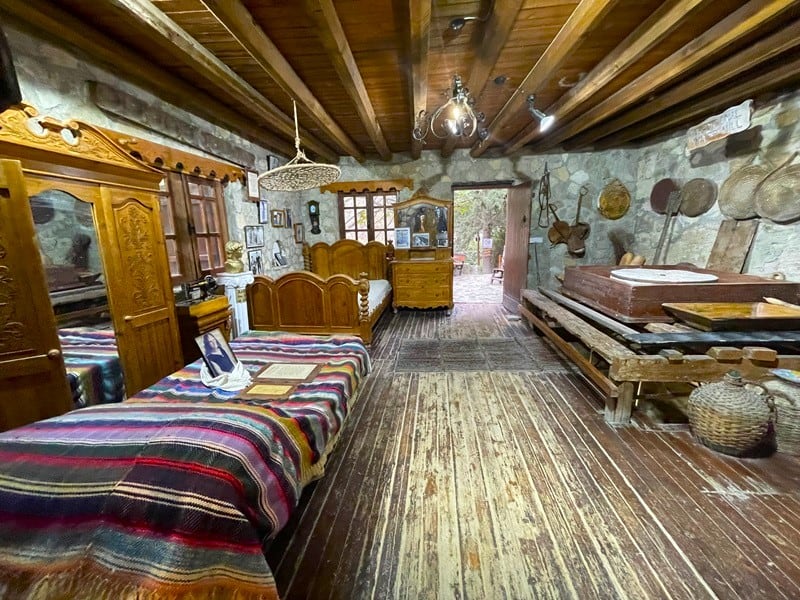 It made an even more significant impact on the individuals in the business of such things that the Watermill made easier than on societies globally. The mill owner could get more done quickly and earn more money by using fewer people to complete the work.
View The Amphitheatre
Many years ago, the theater was constructed from stones near the Kili and Kissonerga villages. Recently, archaeologists discovered that it is more than 1500 years old.

Aristophanes, Aeschylos, and Kiniras wrote many of the tragedies played here.
The amphitheater sometimes hosts festivals for palouze and shoushoukos, two well-known traditional Cypriot sweets. Palouzes are usually made with white grapes in Cyprus, and shoushoukkos are also made with palouze. It will be prepared in a variety of versions. Villages and regions have different recipes.
Make A Wish
Some people will say this is a gimmick – it might be. However, it's a bit like Santa Claus. If you want to reap the rewards, you need to believe!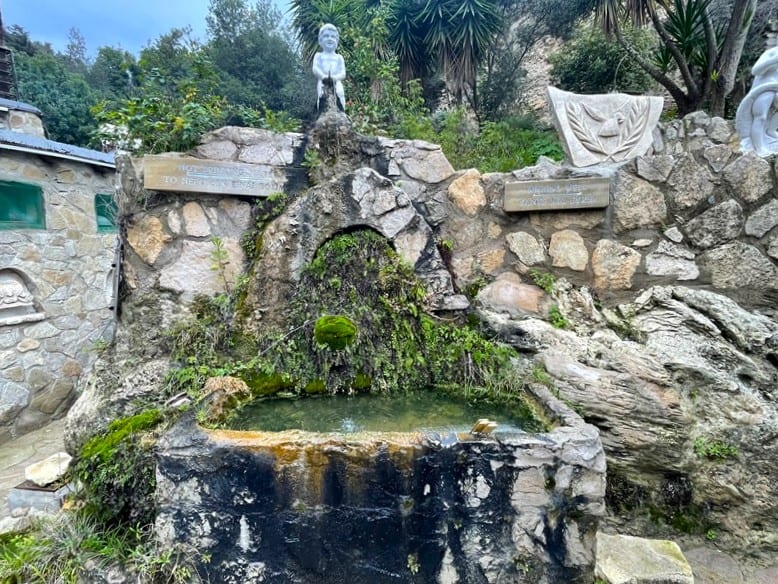 Dine at the Restaurant
The site has a restaurant where visitors can enjoy a meal or a snack, with views of the waterfall and gardens.
Shop at the Gift Shop
Visitors can browse a selection of souvenirs, local crafts, and gifts at the on-site gift shop.
Take a Guided Tour
Adonis Baths also offers guided tours for those who want to learn more about the history and significance of the site.
Stay At Adonis Palace Hotel
Adonis Palace Hotel is located in Kili, 1.3 km from the Adonis Baths Waterfalls. Air conditioning is provided in every room, as well as a mini-bar and a refrigerator.
Follow the signs from Tala Village or Coral Bay, and you will easily reach the hotel.
FAQs
Can you swim in Adonis waterfall?
On a hot day, Adonis Falls, also known as Adonis Baths, is the perfect place to cool off. Swimming is allowed at Adonis Falls! After a bumpy drive on the dirt road or a mountain hike, the water is cold but crystal clear and makes for an excellent way to cool off.
Who Owns Adonis Baths Waterfall in Cyprus?
Adonis Baths Waterfall in Cyprus is privately owned. It is owned by the Adonis Baths Company Ltd, which operates the site as a tourist attraction. The company has developed the site with facilities, including a restaurant, gift shop, and changing rooms. Visitors can swim in the natural pools at the waterfall and explore the surrounding gardens and trails.
Closing Thoughts
The legend of Adonis Baths has been passed down through generations and continues to attract visitors worldwide. Whether you believe in the myth or not, there is no denying the natural beauty and tranquility of this stunning location in Cyprus.
Konry – yes! Entertaining – yes! Something you should visit in Cyprus – absolutely!
Looking for more on Cyprus? Start Here:
We participate in the Amazon Services LLC Associates Program, an affiliate advertising program designed to provide a means for us to earn fees by linking to Amazon.com and affiliated sites.
Subscribe to our newsletter and get the best travel tips and inspirational stories delivered monthly. No spam, no sales pitches – TRAVEL!
Brit On The Move™ Travel Resources
Ready to book your next trip? Use these resources that work:
Need more help planning your trip? Check out our Resources Page, highlighting the great companies we trust when traveling.