Iguazu Falls – Brazil vs. Argentina – Which Side Is Better?
Iguazu Falls are to waterfall enthusiasts what Versailles is to the palace enthusiast. It's the mecca of all waterfalls covering 1.7 miles across three counties: Brazil, Argentina, and Paraguay. Even if waterfalls are not your thing, visiting is a bucket list experience for anyone.
There is something heavenly about walking under or over such a breathtaking wonder of the world – one of the New Seven Wonders of Nature. A site so divine, it is also designated a UNESCO World Heritage Site.
If you are wondering how Iguazu Falls stack up in terms of size? Well, that depends on how you define size – tallest, widest, deepest? You can Google this one because the size of waterfalls is relative to what you are measuring. But, they are twice as tall and three times wider than Niagara Falls.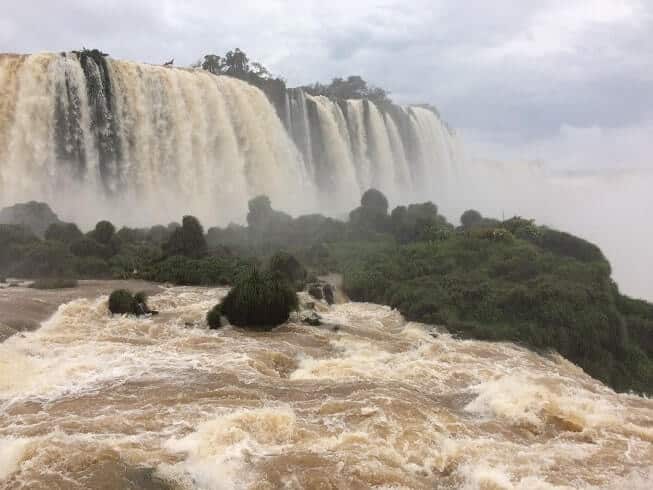 This post may contain affiliate links. Please read our disclosure and privacy policy for more information.
Getting to Iguazu Falls
There are two airports. One in Brazil, one in Argentina. Make sure you understand which side you are flying into:
Aeropuerto Internacional Cataratas Del Iguazú – Argentina
Foz do Iguaçu International Airport – Brazil
While Iguazu Falls do occupy Paraguay, you cannot view the falls from the Paraguayan side.
Our trip to Iguazu Falls was a part of our combined trip to Brazil and Argentina. Here is the route we took. All prices are for both of us, including taxes and baggage fees, if applicable. We made this trip over the Christmas Holidays and New Year, and we had specific dates. I also booked this trip a year out due to the particular dates. To make a long story short, you can get to Brazil any given Sunday for about $800 round trip if you are not married to specific dates:
Orlando – Rio de Janeiro- $2,078 – Azul Airlines *Roundtrip
Rio de Janeiro- Foz do Iguaçu -$203 – GOL Airlines
Foz do Iguaçu – Buenos Aires – $276 – Aerolineas Argentina's Airlines
Buenos Aires – Rio de Janeiro- $1,260 – GOL Airlines
Rio de Janeiro– Orlando – Azul Airlines – *Included above
Getting to Your Hotel
We took a cab from our hotel in Brazil to Rio Airport and flew a quick flight to Foz do Iguaçu, on the falls' Brazilian side. The airport is remote but well equipped. It was so easy to get to the hotel. It's as easy as getting in a cab, and off you go. It's also cheap; it cost us approximately $20.
Where to Stay at Iguazu Falls
We stayed at Viale Tower Hotel on the Brazilian side. It cost us $102 for two nights. Viale Tower Hotel is in the city center of Foz Do Iguacu.
There are two hotels inside the Iguazu Falls National Park. Naturally, one on each side. Gran Meliá Iguazú on the Argentina side and Belmond Hotel das Cataratas on the Brazilian side. Both are $350 plus per night. Having seen them, I am glad we did not stay inside the park. It's remote, and there is not a lot to see or do. This is one time I am glad we did not spend the money to have a front seat view!
Foz Do Iguacu Brazil
Foz Do Iguacu boasts many cool restaurants and bars. You can walk the main street to various options. It's safe here; you have nothing to worry about. Almost everyone here is a tourist here to see the falls. The food in Foz Do Iguacu is the best I've had in the world, and that's a big statement coming from me! Brazilian is not my favorite cuisine; it's Indian. But picanha, cooked fresh on a sizzling plate of greens served with plantains, can't be matched. One place I recommend is ParkFoz Steakhouse.
Visiting Iguazu Falls
It's beyond easy to navigate to both sides of the falls. You do not need to book a tour or a tour guide. You can take a cab to both sides. It does not cost much. We paid about $50 round trip from our hotel in Brazil to the Argentinian side and about $25 roundtrip on the Brazilian side. You can also take a bus for pennies if you want to use public transportation. Naturally, you will cross the border to see both sides. And I strongly recommend you do both sides.
The Debate: Which Side Is Better – Argentina or Brazil?
This is an easy one for me to set straight. There is no better side. Both are stunning, and both are uniquely different. The difference is simple.
On the Brazilian side, you view the falls from across the Iguazu river, and you can walk into the Devil's Throat, the largest of the falls.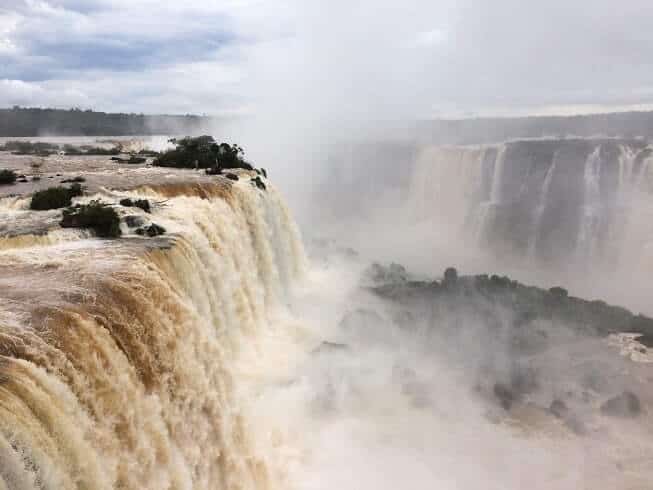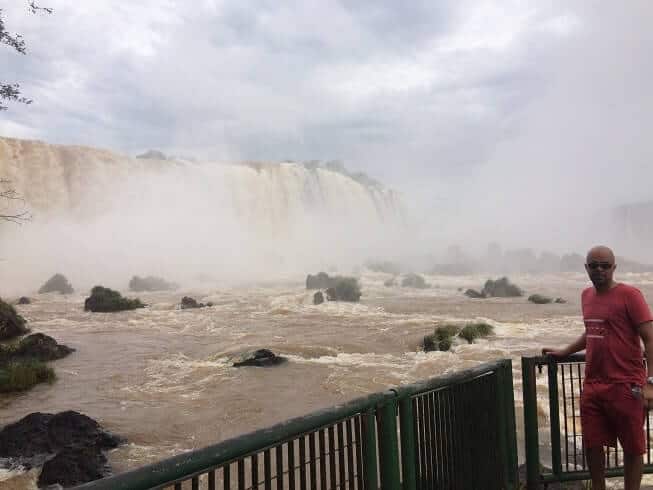 On the Argentinian side, you walk over the falls and can walk to the actual drop of the Devil's Throat.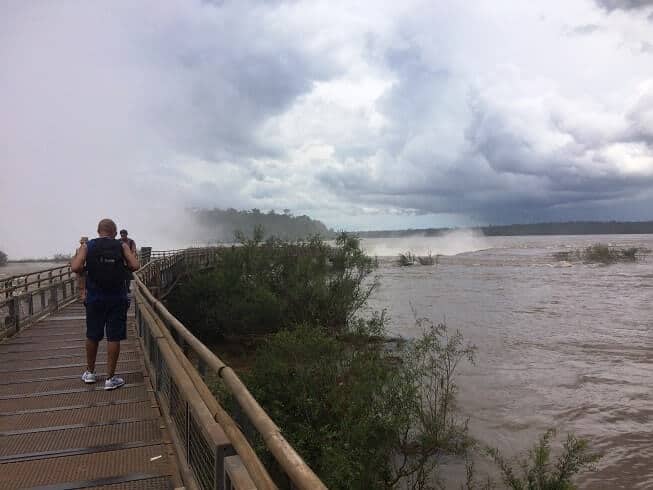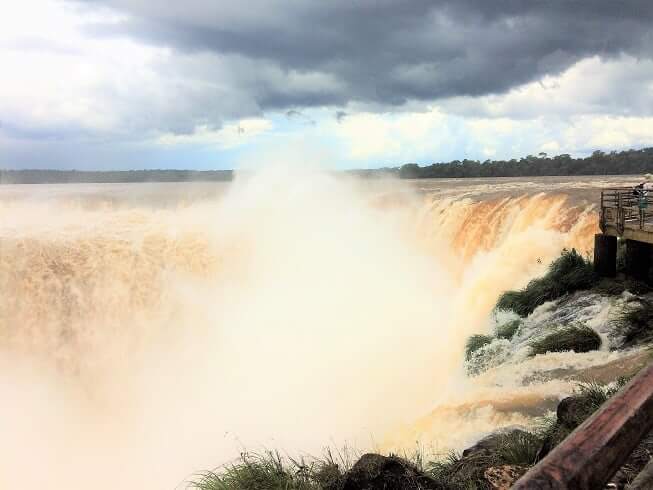 Most people seem to favor the Argentinian side because there are more trails to cover. Some also say it's more scenic. I would say it's more unusual in that as you walk over the falls, you feel transcended into an outer world place. It's hard to describe it, but it feels a bit like floating. Then, when you get to the Devil's Throat, it's as if you have arrived at the end of the world.
Is the Argentinian side more beautiful? No, but beauty is all in the eye of the beholder. See both sides, and you will not regret it.
What You Need to Know:
Closing Thoughts
There aren't many places in the world where you get there. It supersedes any expectations you had. Iguazu Falls over delivered on anything I imagined. No matter how many of us try to describe this place and paint the visual picture for you – it must be seen in person to appreciate the majestic roar of these falls.
Looking for more posts in South America? Start here:
We are a participant in the Amazon Services LLC Associates Program, an affiliate advertising program designed to provide a means for us to earn fees by linking to Amazon.com and affiliated sites.
Subscribe to our newsletter and get the best travel tips and inspirational stories delivered monthly. No spam, no sales pitches – TRAVEL!
Brit On The Move™ Travel Resources
Ready to book your next trip? Use these resources that work:
Need more help planning your trip? Check out our Resources Page, highlighting the great companies we trust when traveling.