12 Best Places To Get Married in Florida – USA
Getting married in Florida is a smart option for many couples looking to tie the knot. The tropical beaches, pristine landscape, and summer weather make it the perfect destination for a tropical destination wedding. This article is dedicated to the best wedding venues in Florida for the most significant event of a couple's life.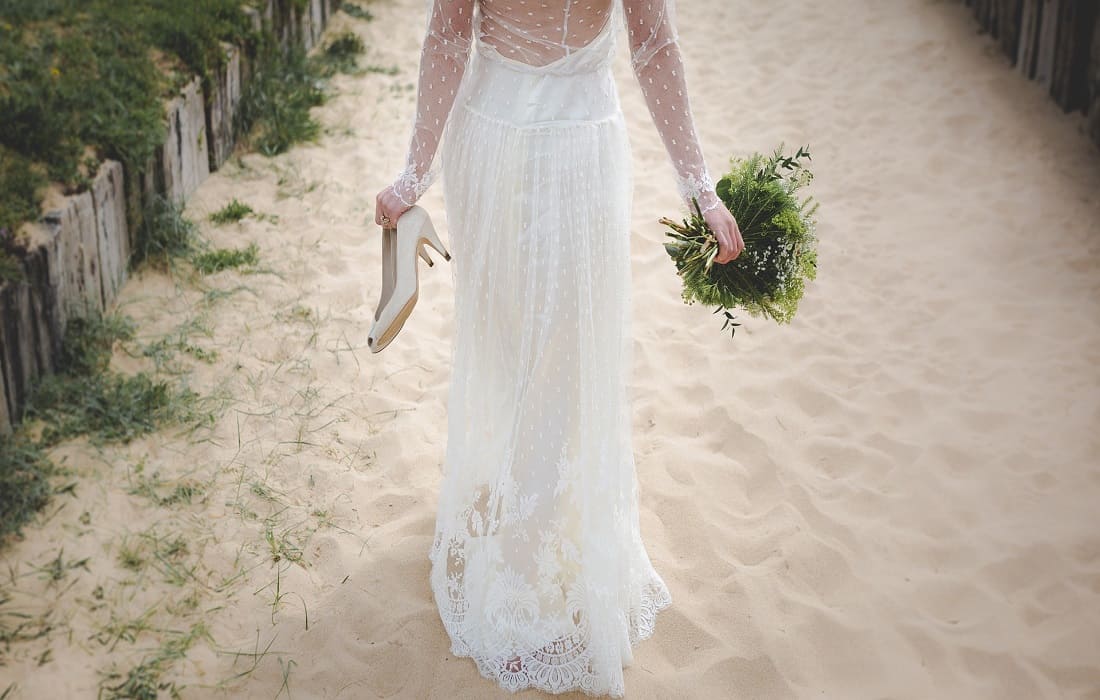 This post may contain affiliate links. Please read our disclosure and privacy policy for more information.
The Start Of A New Life Begins With New Magical Places
People say that the circumstances under which an event occurs will determine the mood. The same concept applies to the location you pick for the most magical day of your life. Before I begin my story of how I decided where to hold the main event of my life, I would like to share and describe the story of a relationship that inspired me to make both crazy and wise decisions.
Two years ago, I met the love of my life. I couldn't even imagine that this was going to be my reality. Being my second wedding, I didn't think I would want to make wedding decisions again. Much less, devote months to choosing a venue for the event. But that is what does love does to us. After falling in love, I decided that Florida, USA, would be the best place to have a wedding for us.
How My Love Story Led Me To Get Married in Florida
The first time I talked to my current husband, I realized he was the one. I fell head over heels in love. This inspired me to have our wedding in an unusual place. What is unique about our relationship is that we met each other like most today – online. We met each other through online gaming. There was a considerable distance between where we lived. Casting doubt aside, I chose a place in Florida for our first date and asked him out.
We both had to travel hundreds of miles to meet in Florida. We spent three days in beautiful Florida. Our first trip and the first meeting will always hold special memories for us both. This is what led us to get married in Florida.
Exploring Wedding Venues To Get Married in Florida
The location of our first meeting gave me the inspiration to suggest that we get married in Florida. My husband agreed, and we began our search. We explored many wedding destinations in Florida. We also thought through the seasons. Florida has year-round tourism, and despite popular belief, it is not always 90 degrees. Ultimately, we chose something to give us the unforgettable experience we wanted. Here are some weather tips to consider as you start planning.
Florida Weather
Winter December 1 to February 28
Winter is one of the busiest times in Florida. The snowbirds flock down from the North and West, and many have second homes in Florida. It's also peak season for those that. Consider the summer months if you want to host your event without competing with others for venues. However, summer has its challenges, and rain is a sure thing.
Spring March 1 to May 31
Spring is a great time to choose a Florida beach wedding. This season marks the end of the snowbird season, and there is little rain, and the temperature is bearable. However, spring brings its challenges. It is Spring Break season from March through April. While not as popular as the Caribbean for Americans, it's still a destination many families or college students choose for Spring Break.
Summer June 1 to August 31
The summer is an excellent choice if you love the heat and are willing to take your chance with the rain. Summer in Florida is the "rainy season" If your bride dreams of wearing a swimsuit shortly after she says "I do," then summer is the best choice. However, know this about the summer.
The average temperature is anywhere from 70 degrees to 80 degrees. Add in an extra 10 degrees for humidity.
It rains daily, without fail. Typically it does not rain until the late afternoon, around about 4 pm, but it can be earlier.
If you have your heart set on summer, you need to consider an inside venue and be flexible with the actual time you exchange vows. The weather is not an issue if you do not plan on being on the beach. However, if you want beach shots or, say I do on the beach, you must consider it.
Autumn September 1 to November 30
Autumn is one of the best seasons in terms of temperature and weather. This is a cross-over season. All the kids and college students return to school, the weather is tolerable, and there is less competition for venues. The challenge for Autumn is there is still hurricane activity.
Hurricane Season In Florida
Florida has a long and unpredictable hurricane season. The season runs from June 1 to November 30. Sadly, there's no way to predict what lies ahead. If you plan to get married in Florida between June 1 and November 30, you need a backup plan. Here are some tips:
Make sure that you are comfortable accepting the risk of changing dates
Ensure the venue and other vendors have flexible cancellation policies
Take out insurance for everything and make sure it covers the weather
The 10 Best Destinations to Get Married in Florida
In our experience, any individual can find a place in Florida, whether you want to limit your budget to a small or have a big fancy wedding. There are thousands of options to consider when getting married in Florida. Here is our list of the top ten!
1. Siesta Key Sarasota
The Number One Most Beautiful Beach In The Country
Every bride has dreamed of fabulous photos against white sand and turquoise sea backdrop. Located in Sarasota, Siesta Key is the number one most talked-about beach in Florida. Although it may seem trivial to many, couples choose this place because of its indescribable beauty. The quartz sand of this beach gives a striking contrast in color where the water meets the sea. Because of this sand, you see the unreal color of the water around the coast. By mutual agreement, locals call this beach the main attraction of Sarasota.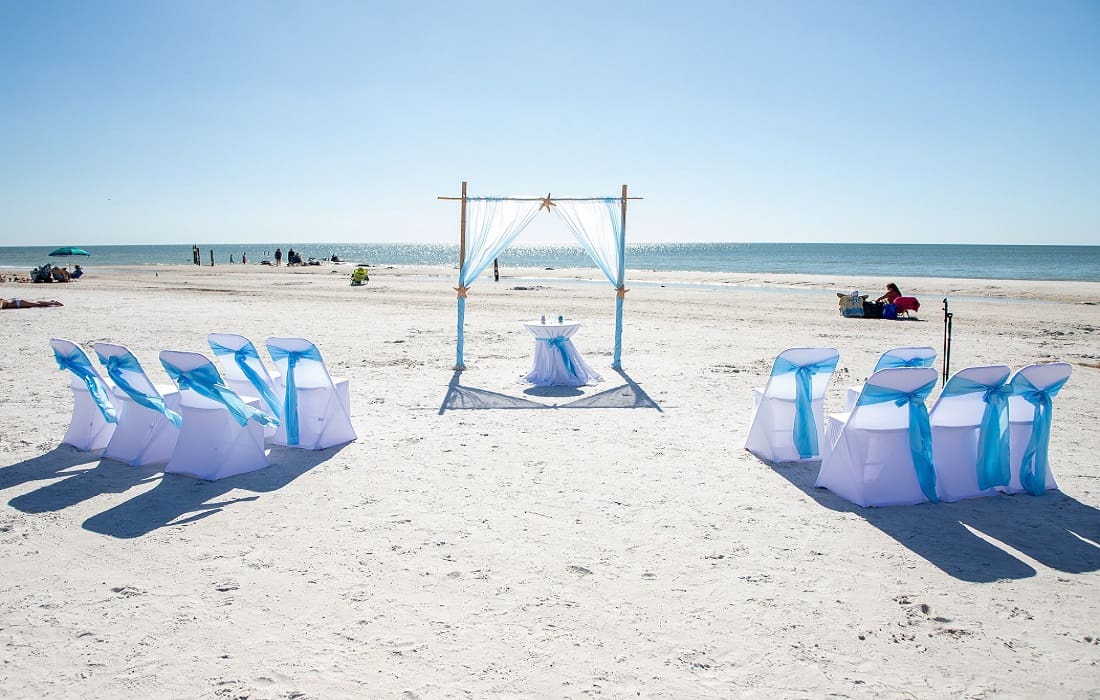 The prices of hotels here are not cheap. If you are staying on the beach, you can expect to spend a minimum of $250 a night. If your budget is small, you can say in town.
Why choose Siesta Key Beach over any other beach? It is straightforward, priceless beach scenery. Not only will you be able to spend your special day on the beach, but you will also have the opportunity to walk through the famous house of circus king John Ringling and visit the museum.
2. Marco Island
JW Marriott Beach Resort A Comfortable Paradise
Do you want impeccable photos that look like you used photoshop to create them? One of the best hotels for weddings is JW Marriott Marco Island Beach Resort. If you love unique, luxurious accommodations, this is the place to choose. This famous resort is first-class. A beachfront paradise, this place will more than meet your expectations. The white sand and the pristine, beautiful blue waters are perfect for getting married in Florida. Add an abundance of fresh flowers and unique services, and your heart will melt.
This location is on the beautiful Marco Island, accessible by car. We can safely say that it is one of Florida's best all-inclusive wedding venues.
3. Palm Island – Palm Island Resort
Get A Unique Experience On Little
Don Pedro or Palm Island – two names, same island. What is unique about holding a wedding on this island is that few people realize it exists.
Palm Island is only accessible by boat or a short car ferry ride (about 3 minutes) from the mainland. This alone makes the destination unusual. This island is seven miles of natural beach. It boasts some of the best shelling anywhere in Florida and beautiful aqua blue Gulf waters similar to those found in the Caribbean. It is truly a unique and undiscovered part of Florida.
Palm Island Resort is a private laid back island, perfect for getting married in Florida. The resort offers accommodations, ceremonies, and reception, all on one beach.
4. Key West
Wedding Venues Recognized As The Most Picturesque
Perhaps the most popular destination to get married in Florida is Key West. Key West has a relaxed, laid-back island theme- think Jimmy Buffet. It's the perfect place to host a wedding. And, everyone wants to visit Key West.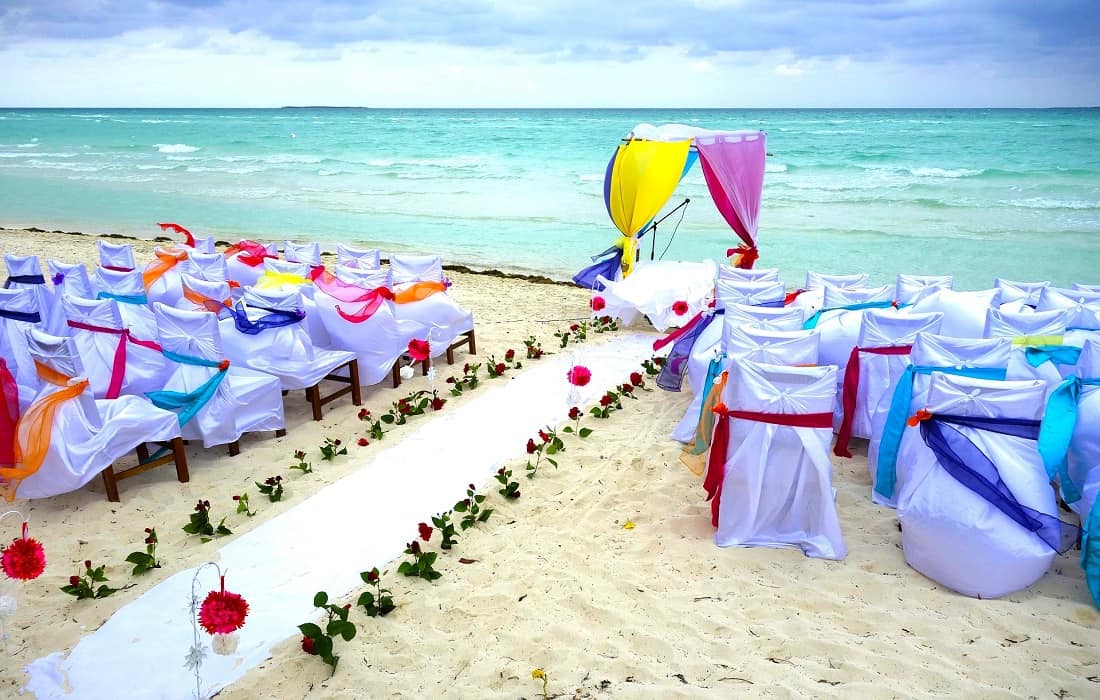 Key West is has a lineup of museums that can be great locations for photos. There is tons of street art and various romantic locations perfect for photoshoots. Most important is the Key West sunset that many want to say their vows under.
A good place for a wedding in Key West is the Opal Key Resort & Marina. This is the perfect location for ocean views and capturing the sunset.
Another great option is The Reach Key West, Curio Collection by Hilton. This is a beautiful choice for a venue. If you've never stayed in a Curio Hotel by Hilton, you should take a look. These hotels are spectacular. All boutique, all unique and very trendy.
5. Davie Florida
The Bamboo Gallery – Most Unique Venue In Southern Florida
We could go on and on about the mesmerizing Florida wedding venues. However, there are more than just dreamy beach destinations. Florida is a greenery haven and home to some of the most unusual venues.
Nestled in 2.5 acres of lush tropical landscape with Tiki Huts and Waterfalls. Said to be South Florida's" ost Unique Venue" by many, this 2.5 acre of paradise is perfect for your next special occasion
The Bamboo Gallery will for sure leave a bright imprint on you when it comes to choosing a unique venue. The staff can create an indescribably magical atmosphere in the middle of a verdant patch of nature. This is where you and your guests will have the most unforgettable wedding ever.
The Bamboo Gallery has hundreds of rave reviews that vividly describe the positive experience of getting married in Florida. Once you see this place, you won't want to choose another if you truly love nature. This is especially true if you are going to low-key or a homely feel.
6. Miami Beach North
Ancient Spanish Monastery
If you are looking for other alternatives to traditional chapels, check out the Ancient Spanish Monastery in North Miami Beach. This monastery is the epitome of Spanish history and culture in Florida. Built-in 1141, it has a deep history steeped in mystery and mystery. This place is often the talk of the town. If you ask the locals, they will tell you that dozens of couples choose the monastery as the location for their wedding every year.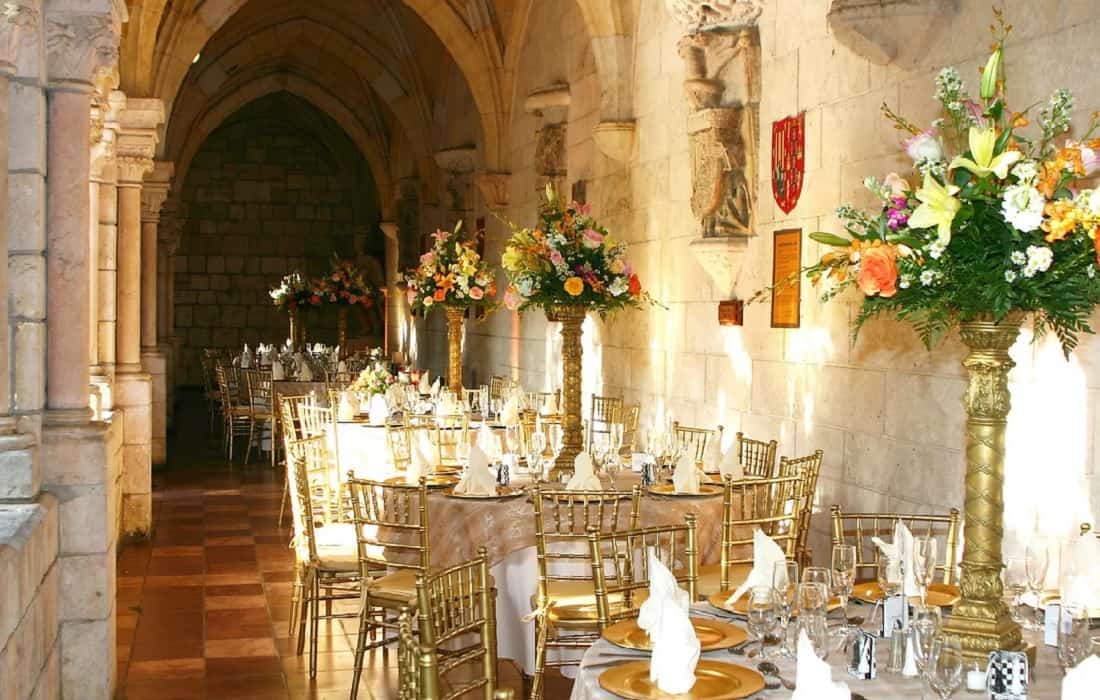 Photo Credit: Ancient Spanish Monastery
This monastery was restored and is open to the public. You can visit it without an appointment to view the setting. If you are enthusiastic about the idea of having photos against the walls of a 12th-century Gothic building, consider having your wedding here. The old Spanish oaks and moss on the gray stone walls will give an unforgettable atmosphere, which will make you feel part of history.
7. St. Augustine
Immerse Yourself In The Enchanting World At Casa Monica Resort & Spa
If you want to choose a hotel with a great history behind it, check out Casa Monica Resort & Spa. This hotel is located in St. Augustine, Florida, and is historic. It was built in 1888 and has since been renovated. The hotel impresses guests with its combination of vintage beauty and comfortable modern rooms. Here you can spend the central part of your wedding in the restaurant's comfort. A valuable bonus is the beauty of the beach next to the hotel, where you can take perfect sunset pictures.
The tropical surroundings combined with the fountains on the hotel's territory will bring unforgettable memories. The sophistication of the architecture will help you get pictures that are worthy of becoming the artwork. The romantic mood is by the beauty of the location and the special lighting, which emphasizes the peculiarities of the architecture of the building, created in the XIX century.
The cost of rooms in the hotel is steep. However, it is justified by the staff's high level of comfort and willingness to accompany you at every stage of planning the celebration.
Amore Wedding Chapel
What if the number of guests is small enough, but you want a proper ceremony? One of the best st Augustine wedding venues to have an unforgettable experience in a small Wedding Chapel is a chapel near the ocean. If yyou'veseen classic movie scenes of newlyweds celebrating their special day in a chapel with white pews, a priest, and stained-glass windows, this place is just that. Couples of all ages come to this place to celebrate in a tight circle of family and friends. Enjoy the vast array of greenery and flowers at the exit of the chapel and start taking atmospheric photos already on the grounds of this place.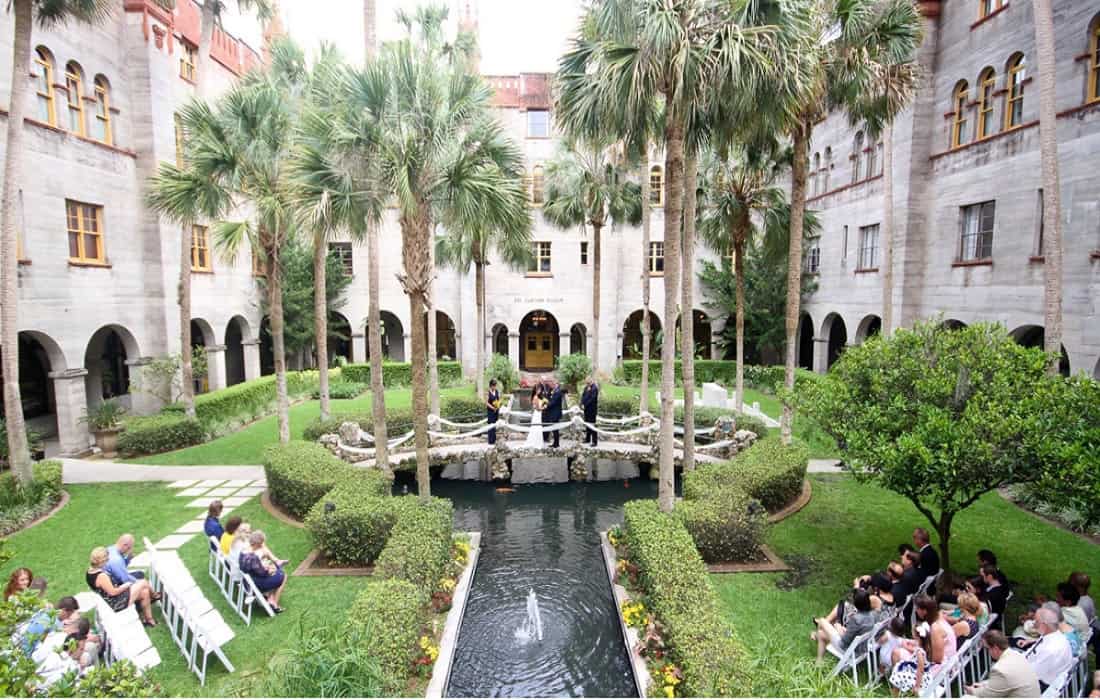 Photo Credit: Amore Wedding Chapel
Aside from offering fantastic inside and outside facilities, the Amore Wedding Chapel offers many customizable packages. Picking a wedding package will minimize a ton of the planning work that weddings require.
8. River Ranch Florida
Westgate River Ranch Resort and Rodeo
People are choosing backyard or barn-themed weddings. What is be better than getting married on a working river ranch?
Westgate River Ranch Resort and Rodeo offers all kinds of different options for a wedding. And they have the most unusual accommodations. You can either rent rooms or opt to glamp! They even have old train cabooses that have been converted into tiny homes!
Wedding Gazebo
Nestled behind the Lodge at Westgate River Ranch Resort & Rodeo, the gazebo is surrounded by lush landscaping and trees – offering a natural setting for outside wedding ceremonies.
River Ranch Chapel
The picturesque River Ranch Chapel at Westgate River Ranch Resort & Rodeo, which can accommodate 200 wedding guests, offers brides and grooms a beautiful and intimate wedding ceremony site. In addition, Westgate River Ranch can provide a pastor, or you can make arrangements for your official to conduct the wedding ceremony.
Saddleback Pavillion
Centrally located, the Saddleback Pavilion is the perfect spot for an outdoor wedding. Your event will benefit from the fresh Florida air yet still be shaded by the sun.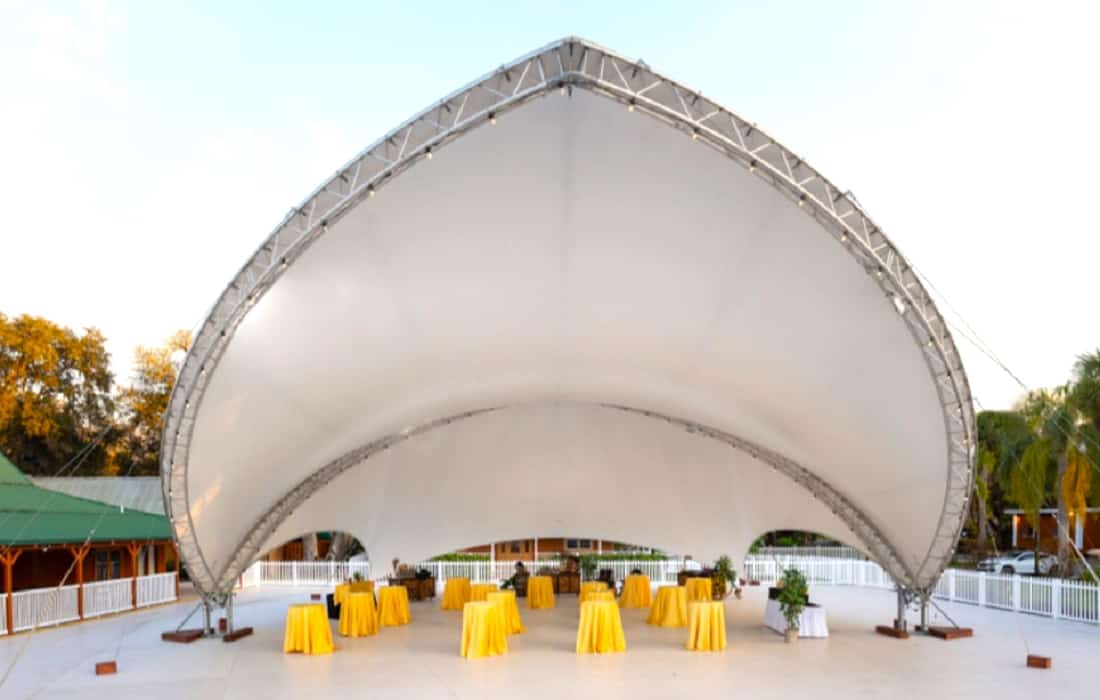 Grand Hall
Make a dramatic entrance to your reception in the Grand Hall at Westgate River Ranch Resort & Rodeo. The nearly 2,500 square foot room boasts 200 guests, plus a dance floor just off the main lobby. With a large fireplace and dual staircase, the Grand Hall is picture-perfect.
Longhorn Center
The Longhorn Center meeting space is a terrific location and an intimate setting where your guests can mingle and enjoy each other's company during an unforgettable event at Westgate River Ranch Resort & Rodeo.
9. Lake Wales
Bok Tower Gardens
Bok Tower Gardens never gets the credit it deserves. The singing tower is "America's Taj Mahal," These lush gardens are the perfect backdrop for getting married in Florida.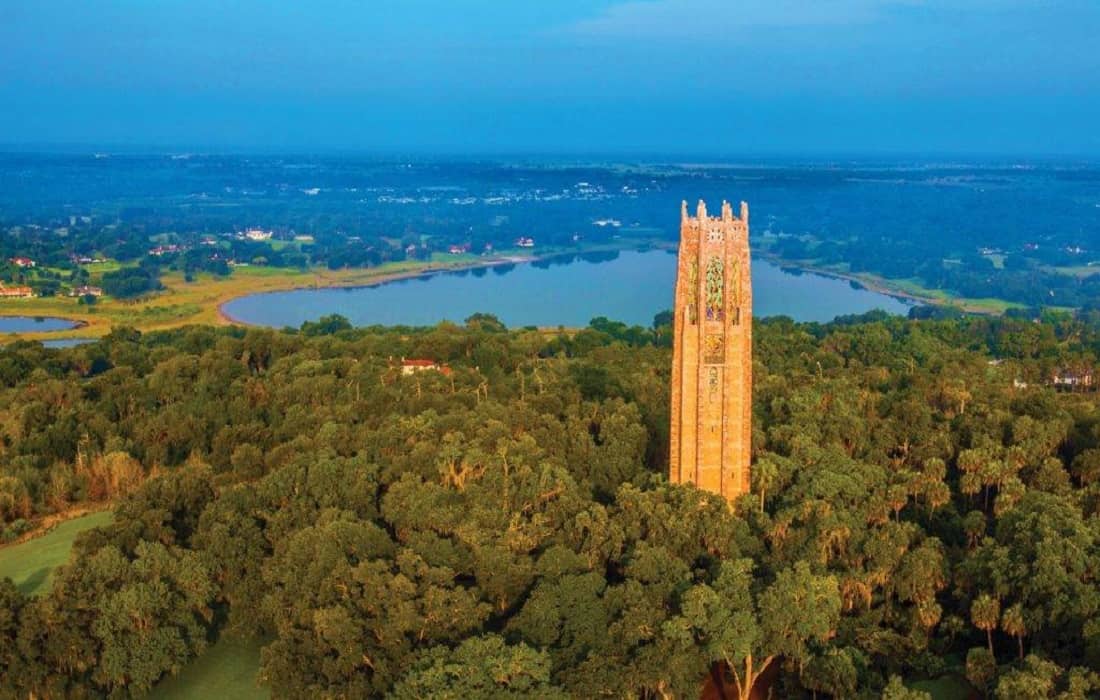 There are several spaces to choose from:
Outdoor Kitchen – Maximum of 60 attendees seated and 100 attendees cocktail style
Visitor Center Lobby & Exhibits Hall and Fountain Courtyard – Maximum of 120 attendees
Corporate Meeting Rooms and Conference Rooms
Olmsted House – Maximum of 150 attendees cocktail or theater-style and 72 attendees banquet style
Magnolia Room – Maximum of 120 attendees theater-style and 80 attendees banquet style
Bok Tower Gardens is a non-profit 501(c)3 organization. The fees benefit the Gardens by providing revenue to fund non-profit education, conservation, and garden programs if you host an event here. The rates are insanely affordable.
10. Vero Beach
Vero Beach Hotel & Spa
On the east coast of Florida, this quaint little beach town is as tropical as FFlorida'sbeaches get. Few people know about Vero Beach, and as such, there are few crowds at this beach. Vero Beach is the perfect place to get married in Florida. And it is one of the most affordable tropical locations. Add to this that Vero beach is close to Orlando, making it easy to access all the major attractions.
At the Vero Beach & Spa, you can host an oceanfront gathering or go all out; the reception area holds up to 150 guests. Secluded yet romantic, this destination will not disappoint.
If you like Vero Beach but don't fancy a beach wedding consider Magnolia Manor. Magnolia Manor is a beautiful 10-acre wedding and event venue. The manor is rustic, sophisticated yet full of old-fashioned Florida charm. One of the unique features here is the ceremony island that you reach through a wooden walkway and arbor. There is also an open-air barn.
11. Danville Florida
Danville BnB is the perfect place to host a romantic garden ceremony. This little town within a town offers an elegant gazebo or a backdrop of old oak trees and vibrant greenery for your wedding ceremony. There is a bridal dressing room, and the venue provides countless photo opportunities. While here, you and your guests can visit Downtown Danville, drink at the cozy, functional Irish pub O'Shaw's, and dance in the town square.
Several packages are available at the Inn for the bride and groom and several options for where you hold the reception. You can select your wedding planner, caterer, florist, chair rental company, and other vendors at Danville Bed and Breakfast without extra fees. And, you can set up a buffet outside in the marquee tent.
12. The White Barn – Brooksville
In historic Brooksville, Florida, The White Barn is located 45 minutes north of Tampa. Enjoy the completely paved ceremony site surrounded by trees and centered in front of either the hand-built Oak Cross backdrop or the arched Barn Door backdrop. An initial monogram is displayed on the fence welcoming guests to a wedding. Appetizers and cocktails are served on pavers in front of The White Barn. Custom-tailored draping and warm white led lighting to adorn The White Barn for receptions.
This site offers endless photo opportunities, from the majestic wooded areas to the 100-year-old brick chimney from the original farmhouse. Due to our wedding venue's limited number of weddings per day. The best part is they offer lots of different packages!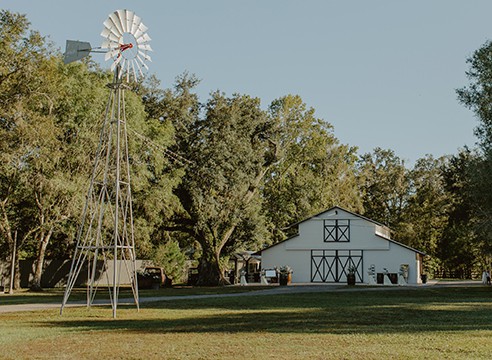 Image Credit: The White Barn
FAQs About Getting Married in Florida
Closing Thoughts
Every couple has their own beliefs about what the perfect wedding should look like. Each of us deserves to have a personal fairy tale wedding with memories that will last for years.
Looking For Other Places In Florida? Start Here:
We are a participant in the Amazon Services LLC Associates Program, an affiliate advertising program designed to provide a means for us to earn fees by linking to Amazon.com and affiliated sites.
About the Author
Aston Rhodes is an experienced content creator and marketing expert from the JatApp application development company. She has been helping authors improve their blogs for the past five years and has turned this hobby into a business. She keenly researches tech-related topics and enjoys sharing her experiences with a like-minded audience. Aston regularly writes about software development, digital marketing, business, career, and much more.
Subscribe to our newsletter and get the best travel tips and inspirational stories delivered monthly. No spam, no sales pitches – TRAVEL!
Brit On The Move™ Travel Resources
Ready to book your next trip? Use these resources that work:
Need more help planning your trip? Check out our Resources Page, highlighting the great companies we trust when traveling.