Every visitor to Cyprus should experience crossing the border in Cyprus. Cyprus is much more than just a beach destination. For many island visitors, visiting the capital and crossing the border is not at the top of their list. However, Northern Cyprus has some of the island's most historic attractions. For example, Northern Cyrus is home to Salamis, an ancient Greek city, and several castles, including Girne Castle.
However, Border Crossing between North and South Cyprus is not as straightforward as some would think. So, if you are heading to Cyprus and plan to explore the north, here is everything you need to know about Cyprus border crossing, along with the location and map of all the eight border crossing locations.
Before we jump into the details, here's some information you need.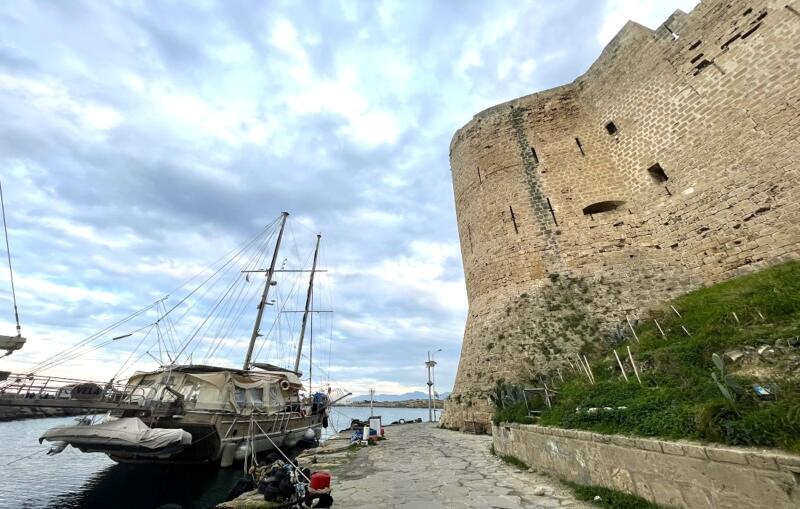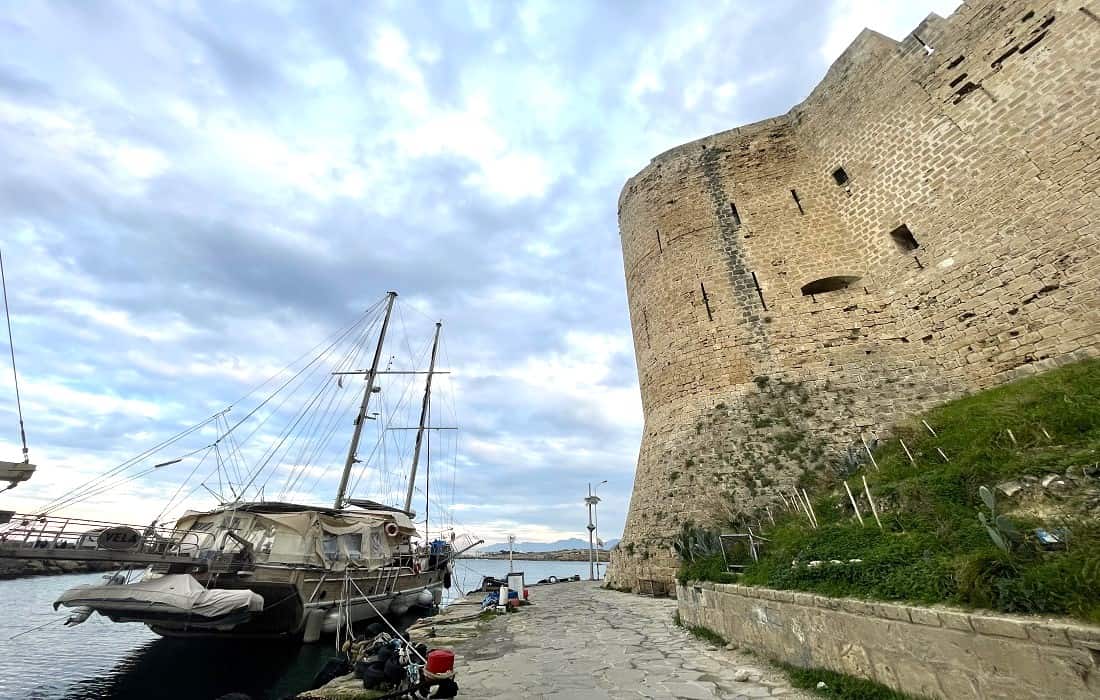 This post may contain affiliate links. Please read our disclosure and privacy policy for more information.
Is Cyprus Greece or Turkey?
The Island of Cyprus is part Greek and part Turkish.
Cyprus has been de facto divided since 1974, with the Republic of Cyprus controlling two-thirds of the Island in the south and the Turkish Cypriots controlling one-third in the north, separated by a buffer zone maintained by UN peacekeeping forces.
For the most part, tourists visit the Republic of Cyprus, the Greek part of the Island.
Where Is Cyprus Located?
Cyprus is an island country located in the eastern Mediterranean Sea. It is situated south of Turkey, west of Syria and Lebanon, northwest of Israel, north of Egypt, and east of Greece.
Why is Cyprus Divided?
Cyprus is divided because of a long-standing conflict between the Greek Cypriot and Turkish Cypriot communities on the Island. The division dates back to the 1950s and 1960s when tensions between the two communities flared up over constitutional reform issues and Turkish Cypriots' rights. In 1974, a Greek-backed coup on the Island led to the intervention of Turkey, which resulted in the de facto partition of the Island into a Greek Cypriot-controlled south and a Turkish Cypriot-controlled north. Despite numerous attempts to resolve the conflict and reunite the Island, it remains divided today, with the two sides governed by separate governments and the United Nations maintaining a peacekeeping force on the Island.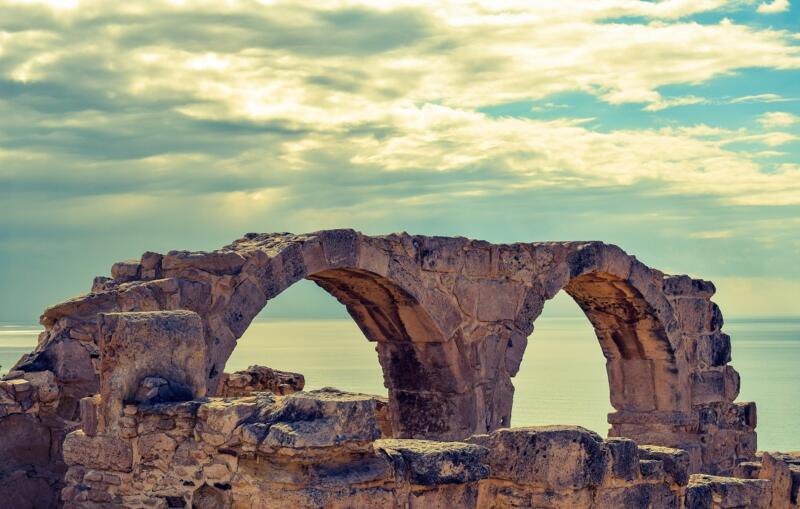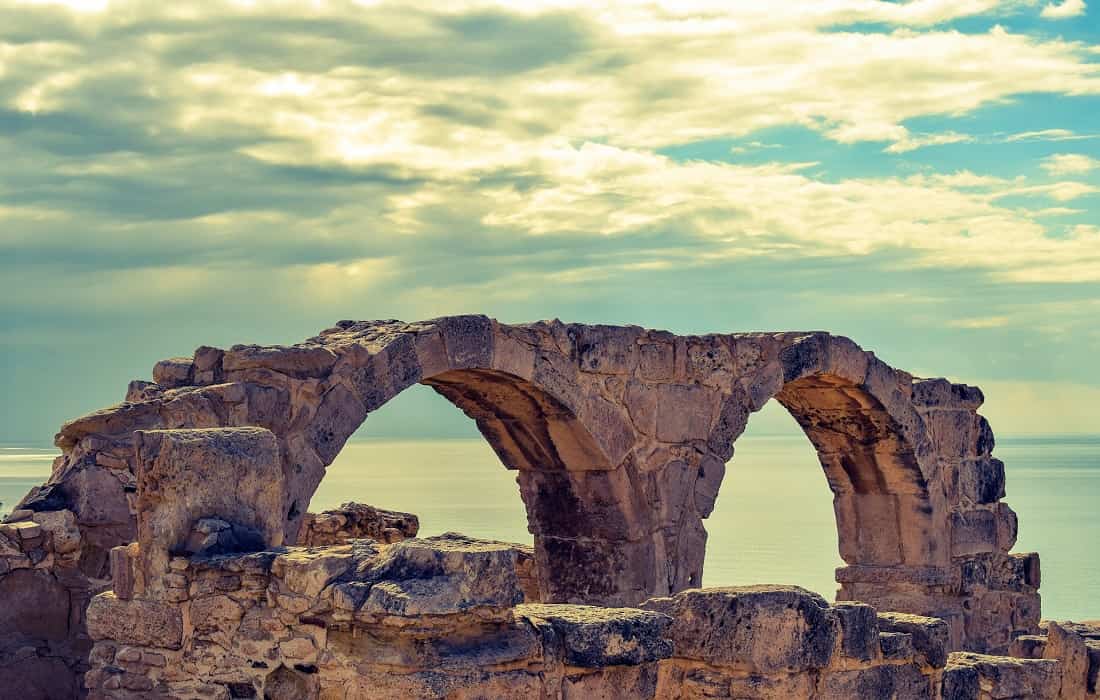 Since this period, the self-proclaimed, partially recognized Turkish Republic of Northern Cyprus has occupied approximately 40% of Cyprus' land area. There are two separate states in Cyprus because of its territorial division.
UN peacekeepers control the buffer zone known as the Green Line between them. A British military base and a Turkish military base are located in Cyprus.
The southern Cypriots descend from ancient Achaean Greeks. Cyprus belongs to the Hellenic Republic due to its traditions, language, cuisine, and architectural heritage.
The Island of Cyprus is a separate state despite having a shared history and culture, close economic and trade ties with Greece, and political support from that country. It is the southernmost point of the European Union and has been a member since 2004.
Tourists are most attracted to the island's southern (Greek) part. This region has several large resort cities, including Larnaca, Ayia Napa, Paphos, Limassol, and Protaras. There is a state border between the north and south of Cyprus within Nicosia, the capital of Cyprus.
What Is The United Nations Buffer Zone
The Cyprus UN buffer zone boundaries are defined as the cease-fire lines following the Turkish invasion of Cyprus.
The United Nations Buffer Zone in Cyprus is a demilitarized zone patrolled by the United Nations Peacekeeping Force in Cyprus (UNFICYP).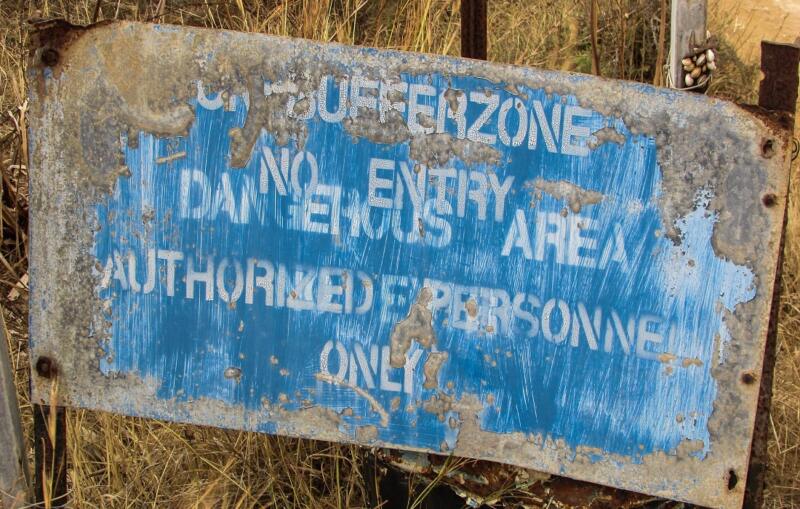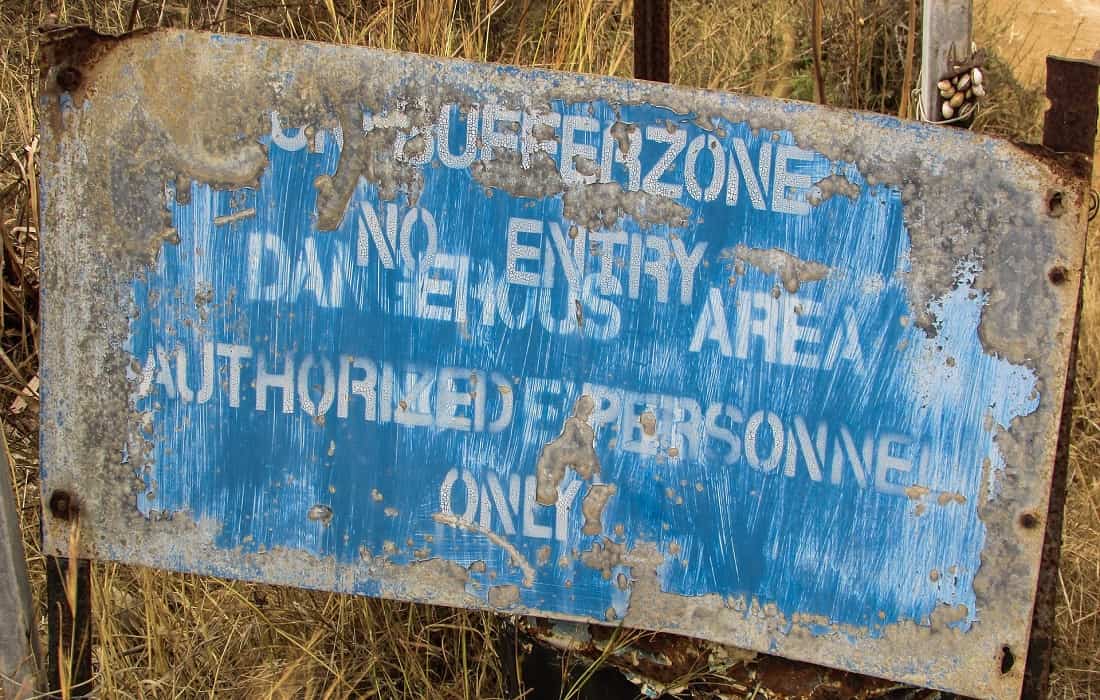 In the north of the Island, the Turkish Republic of Northern Cyprus is unrecognized mainly, and the Republic of Cyprus is controlled by the Republic of Cyprus (excluding the British Sovereign Base Areas).
What is the Green Line in Cyprus?
The Green Line, also known as the United Nations Buffer Zone in Cyprus, is a demilitarized zone that separates the northern part of the Island, which Turkish Cypriots control, from the southern region, which Greek Cypriots control.
What are the six Green Line crossings between the Republic of Cyprus and Northern Cyprus?
| | | |
| --- | --- | --- |
| Republic of Cyprus Name | Turkish Northern Cyprus Name | Access |
| Astromeritis | Zodeia | By car only |
| Ayios Dhometios | Metehan | By foot and car |
| Ledra Palace | Ledra Palace | By foot only |
| Ledra Street | Ledra Street | By foot only |
| Pyla | Pergamos | By foot and car |
| Agios Nikolaos | Strovilia | By foot and car |
| Limnitis | Limnitis | By foot and car |
The Eight Border Crossings In Cyprus
There are often multiple names for these checkpoints because they also include English, Greek, and Turkish names, along with the names of the region or neighboring villages.
They are open 24 hours a day, and you can cross as many times as you like.
1. Agios Dometios
The Sovereign Base Areas Police (SBA) conducts crossing point controls on one side and the police of the de facto Turkish Republic of Northern Cyprus on the other.
Also known as
Agios
Agios Dometios
Agios Nikolaos
Akinci
Ayios Dhometios
Ayios Nikolaos
Kermia
Lefkosa
Metehan
Hermes Street
Inside Nicosia and there are two crossings:
Ledra Palace – Pedestrians and diplomatic vehicles only
Ledra Street – Pedestrians only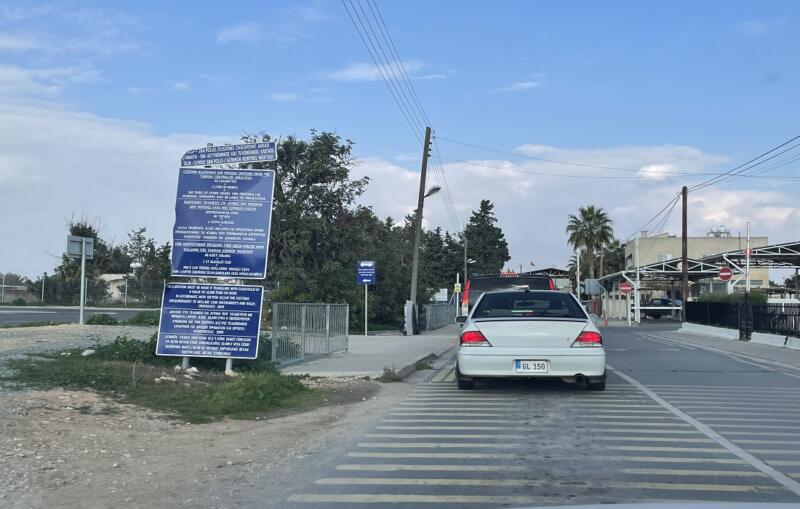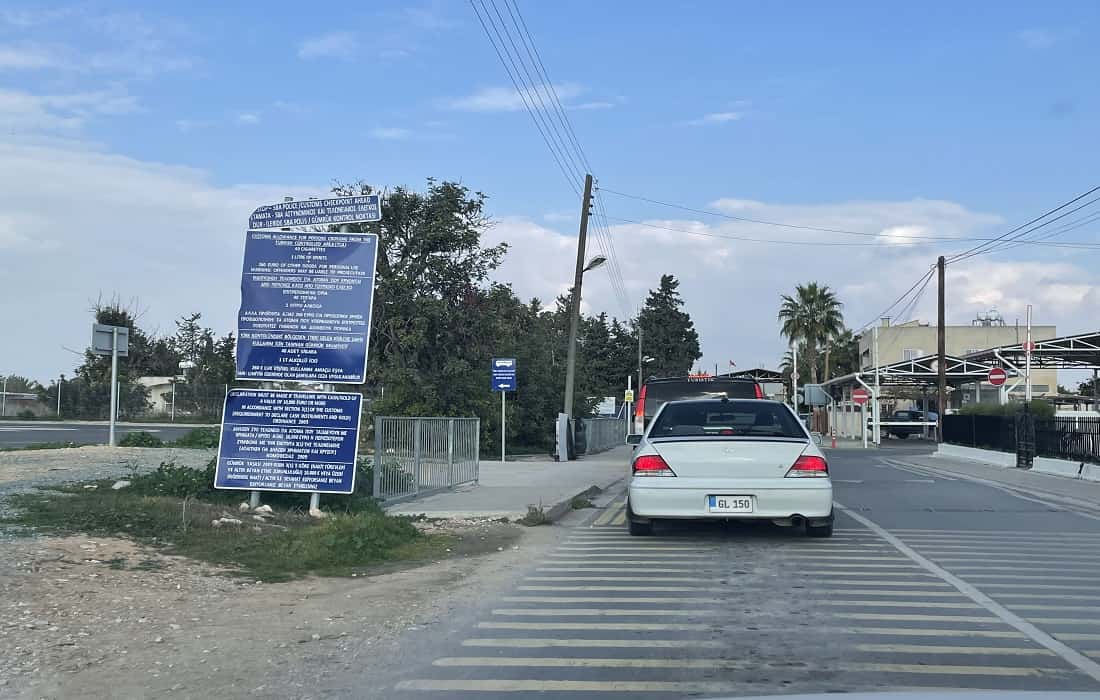 2. Astromeritis: Also known as Bostanci, Guzelyurt, Zodhia, Zohdia Morpho, Morfu, Güzelyurt, Omorfo, or Morfou.
3. Dherynia: Also known as Famagusta and Gazimagusa.
4. Kato Pyrgos: Also known as Yesilirmak.
5. Lefka: Also known as Lefke.
6. Limnitis: Als, known as Kato Zodeia and Kato Pyrgos.
7. Pergamos: Also known as Pyla, Beyarmudu, and Dhekylia.
8. Strovilia: Also known as Akyar.
Critical Information Before You Cross The Cyprus Border
As exciting as it is and as many are, there are monumental sites to see; there is a risk if you cross from Southern Cypress to Northern Cyprus.
The UK Foreign Office has recently shared, "The authorities in north Cyprus do not share information regarding British nationals in distress with the British High Commission or the families affected."
In short, were something terrible happens to you in North Cyprus, your local Embassy will probably not be able to help you.
This information is from the UK, but it's safe to assume that North Cyprus's stance on information sharing is the same as other nations.
Requirements for Cyprus Border Crossings
You cannot cross without your passport.
If you are driving a car, you need proof of insurance for Northern Cyprus. Or, you will need to buy insurance at the border.
Insurance in 2023 costs 20 Euros.
Once you have bought insurance or proved you have it, there is a separate immigration booth you go to process your passport paperwork.
It takes about five minutes to fill in the passport paperwork and about five minutes for the passport agent to enter your information into the system.
Your passport will not be stamped.
When you return, you must show your passport and the white paper again to update the computer records.
Note: If you rented a car in south Cyprus and plan to cross the border to the north, you are supposed to let the rental company know in advance. Now, this said, most companies will not permit you to cross. A bit of a catch-22, and it's your call on if you let the rental company know.
North Cyprus Border Crossing Insurance
If you are driving a car, you need proof of insurance for Northern Cyprus. Or, you will need to buy insurance at the border: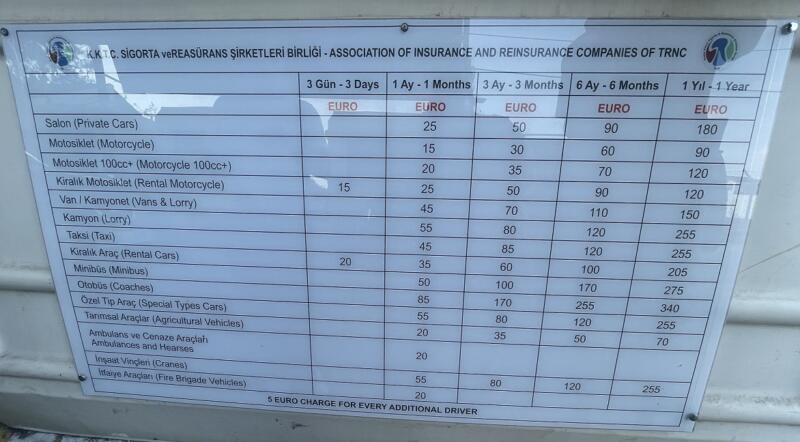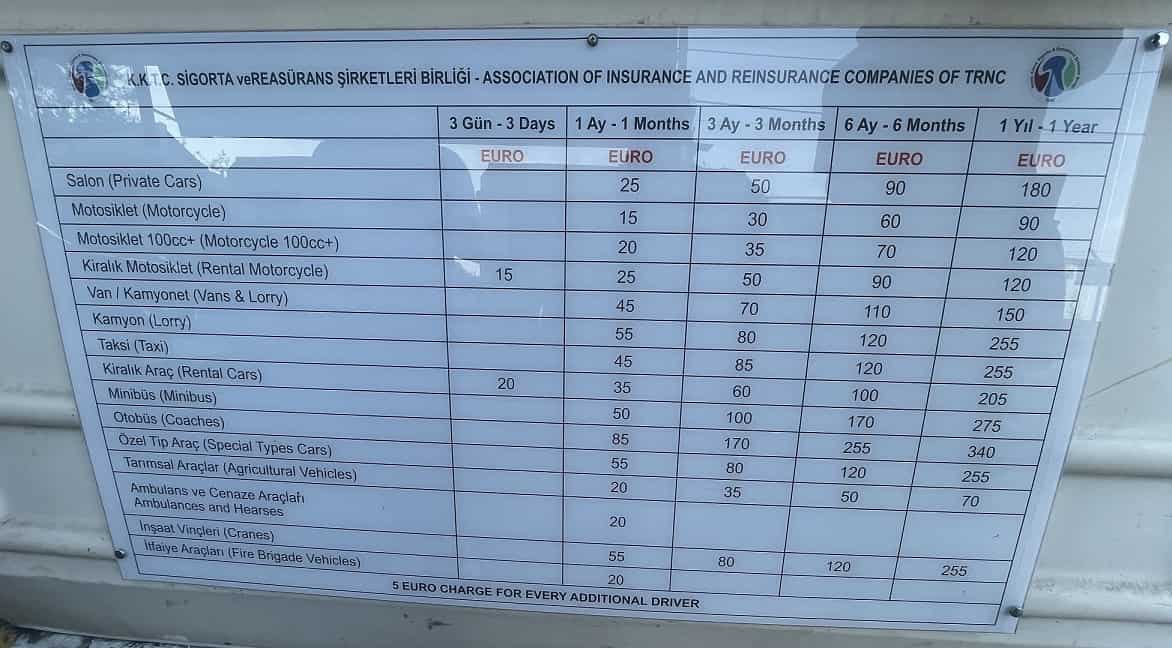 Here is the insurance paperwork: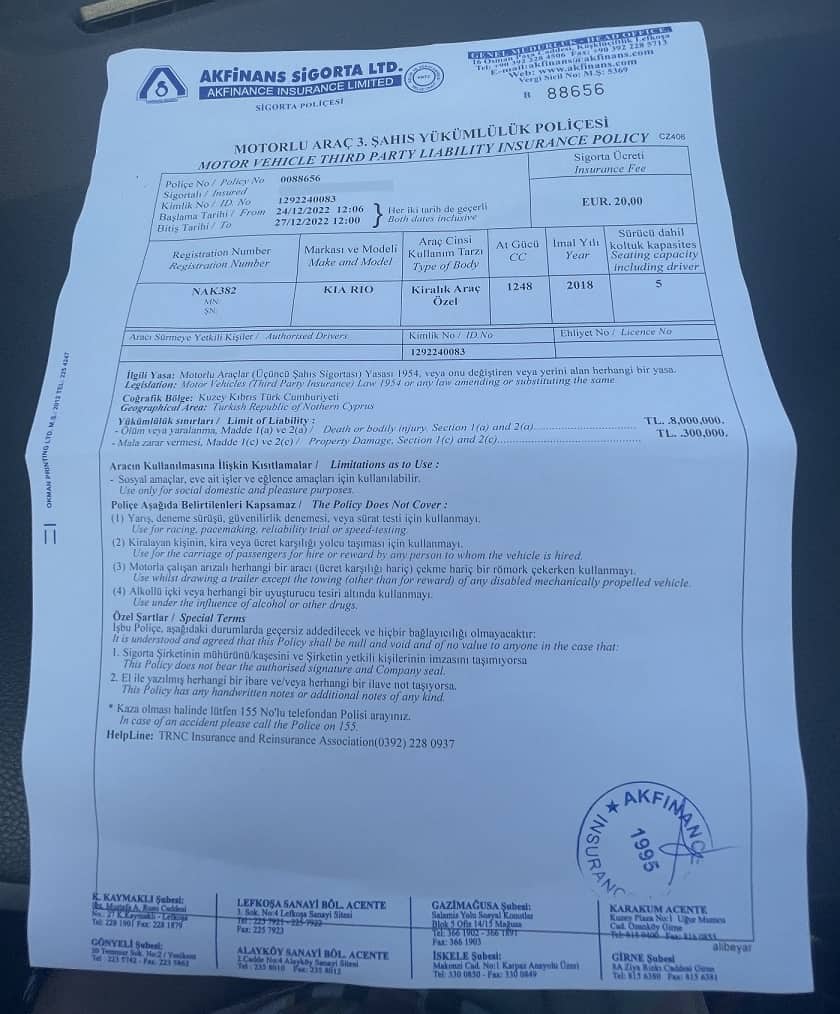 What To Expect Once You've Crossed The Border
First and foremost, the second you pass through the border control and the first town, you will notice that the landscape changes. The sparse and remote fields look like a war zone. There are army stations scattered all over and an abundance of derelict buildings. Lots of land is secured with barbed wire, and its sign posted that areas are restricted. The roads are well maintained, but the further north you go, there more you will encounter mountains. The terrain changes, you climb elevation, and you will likely see mountain goats en route.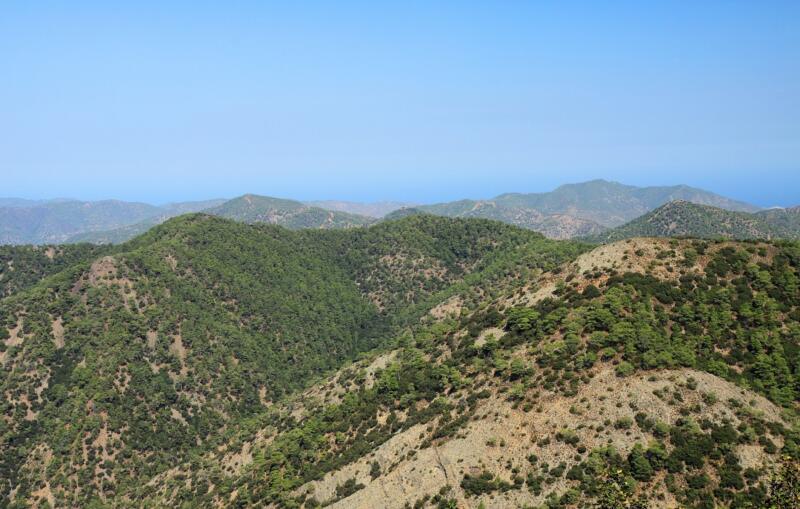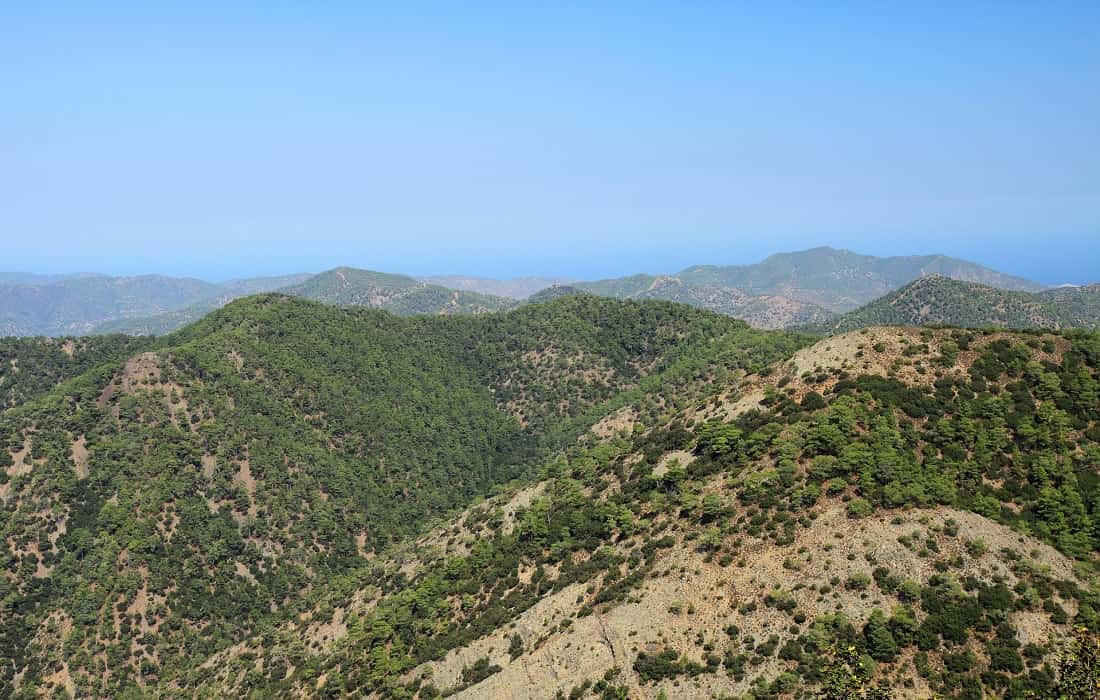 FAQ's
What Country Does Cyprus Belong To
The Republic of Cyprus is recognized as the official government of the Island by the international community, while the Turkish Republic of Northern Cyprus is recognized only by Turkey.
Which documents will I need to be able to cross between the south and North Cyprus borders?
You will need your car documents and your passport or ID card. If you are taking a car, you will need your North Cyprus car insurance and driving license.
Do You Need A Visa for North Cyprus?
British and US passport holders do not need advance visas for North Cyprus (TRNC), and a 90-day stay is permitted for all visitors.
For all other counties, see here: When Do You Need A Travel Visa: The Complete Guide To Visa
Also, remember if you enter from the south to the north by car, you will need to have enough insurance for the time you plan to stay. You can purchase up to a year of car insurance at any of the border crossings.
Will You Get A Passport Stamp If You Cross From South to North Cyprus?
No – you will not get a stamp when crossing from South or North Cyprus.
Which Islands Are A Part Of Cyprus?
Cyprus also includes nearby islands:
Agios Georgios
Cordilia
Geronissos
Glukiotissa
Kiedes
Kila
Mazaki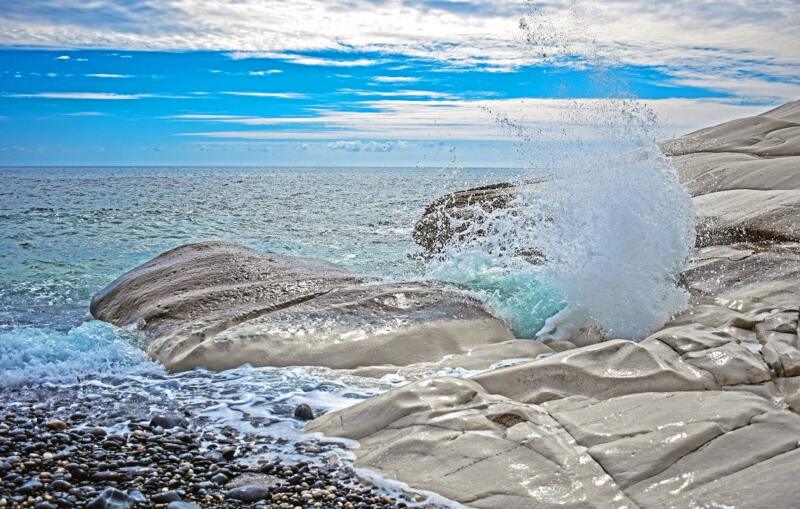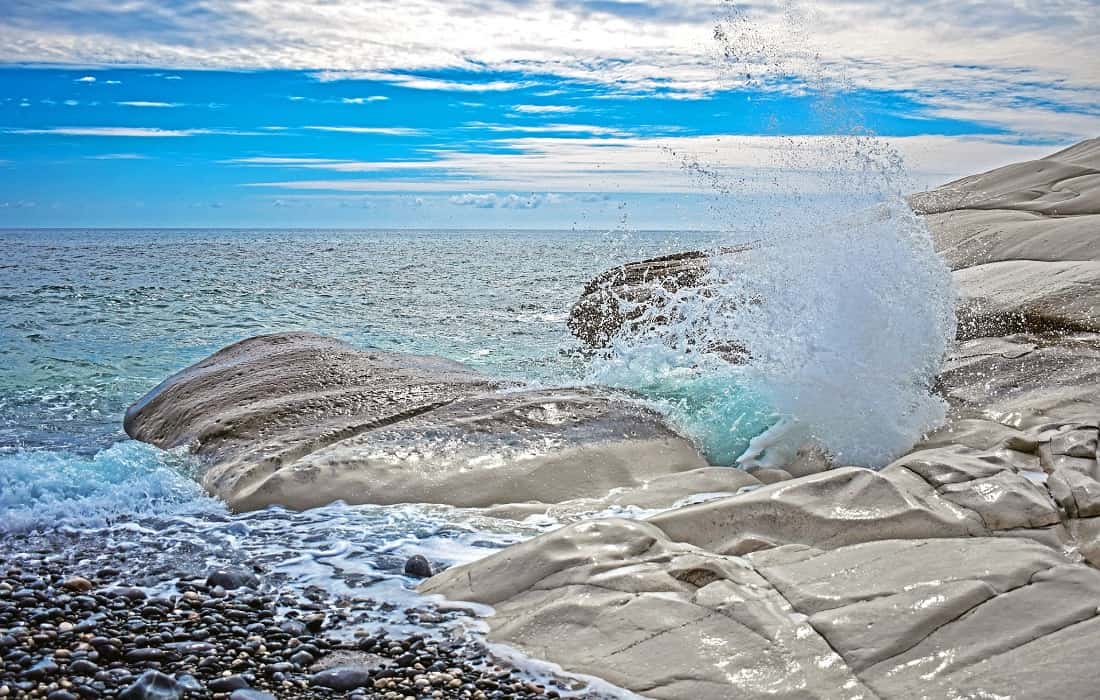 Are the Cyprus border crossings well-signed?
The border crossings going south to the north of Cyprus are well marked, but they are poorly marked from the north of Cyprus to the south.
It's also worth mentioning that while your GPS and Satellite will work in the north, they cut off near the border when you head back south. Well, they don't cut off – instead, they route you to random non-border crossing spots.
Can I use Google Maps to find the border crossings?
Yes, you can; however, from south to north is easy. North to the south is not as easy.
You must program your return route before you exit the north.
Are the Cyprus border crossings for pedestrians or car passengers?
The Cyprus crossing points are mainly designed for passengers with cars, but there are also pedestrian crossing points.
Are the Cyprus border crossings open 24 hours per day?
Yes, they all are open 24 hours.
However, if you do not already have the required insurance, you won't be able to buy it unless it's during office hours.
Is it safe to travel to Northern Cyprus?
This is probably the most crucial question, and it's subjective.
Relationships between Tukey and Greece are volatile and tense.
Before you travel to Northern Cyprus, you should check your government's guidelines to assess the current state.
Closing Thoughts
While a tad off the beaten path and with some potential risk, I would cross between North and South Cyprus again.
It was an adventure! A very exciting one, and I got to see both sides of the Island.
I got to see Salamis, which was high on my list of "must sees" I would do it again tomorrow.
Looking for more posts on Cyprus? Start here:
We participate in the Amazon Services LLC Associates Program, an affiliate advertising program designed to provide a means for us to earn fees by linking to Amazon.com and affiliated sites.
Brit On The Move™ Travel Resources
Ready to book your next trip? Use these resources that work:
Need more help planning your trip? Check out our Resources Page, highlighting the great companies we trust when traveling.