Nestled in the heart of the Annapurna Mountain range, the Annapurna Base Camp trek is a mesmerizing adventure that awaits both seasoned trekkers and first-time adventurers. The Annapurna region is renowned for its awe-inspiring landscapes, ancient cultures, and spiritual significance. Reflect on the transformative power of this trek and how it leaves an indelible mark on the hearts of those who dare to venture into its magnificent landscape.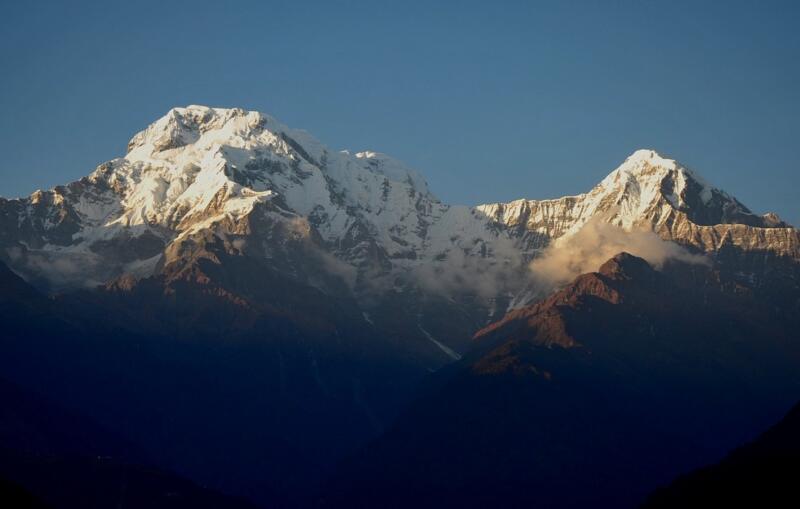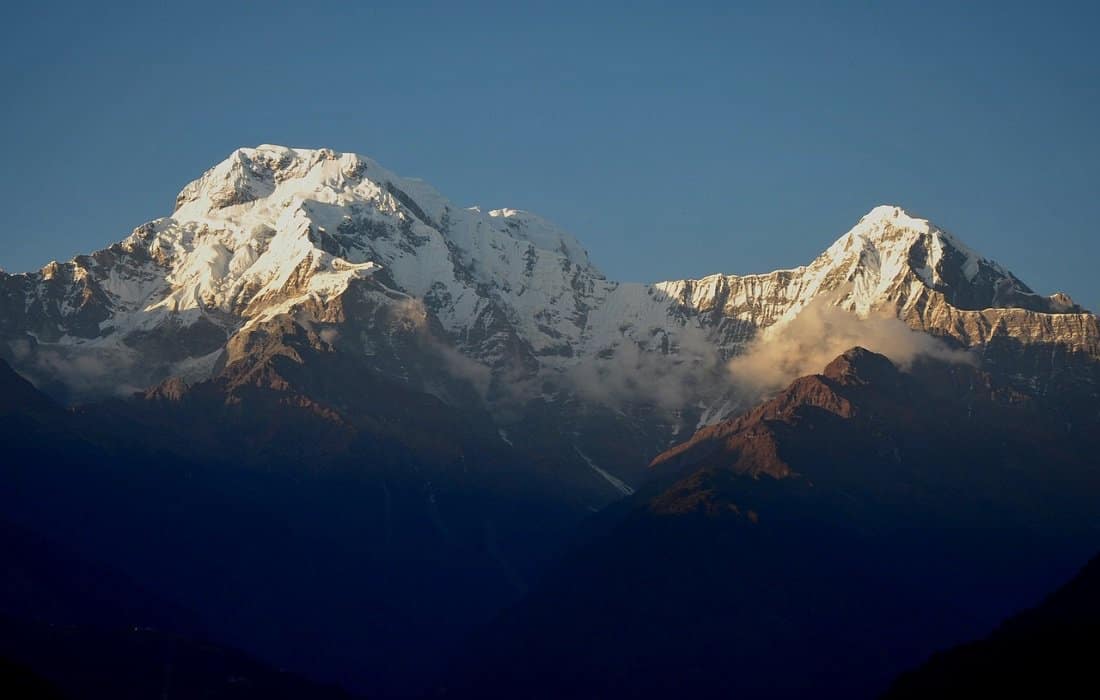 With this ultimate guide, immerse yourself in the beauty and splendor of the Annapurna Mountains, creating memories that will last a lifetime. Trekking Annapurna Base Camp in 2023 promises to be an extraordinary and unforgettable experience, a lifetime journey!
This post may contain affiliate links. Please read our disclosure and privacy policy for more information.
Annapurna Mountains: A Himalayan Wonder
Are you ready for an adventure that will leave you breathless from the stunning scenery and the excitement? The Annapurna Base Camp Trek is a once-in-a-lifetime opportunity to immerse yourself in the majestic beauty of the Annapurna mountain range.
You might think, "Isn't this trek too challenging for me?" Well, let me tell you, the Annapurna Base Camp Trek is a must-do for any trekking enthusiast, and the rewards are beyond imagination. The trek offers a sanctuary of natural wonders and a delightful gorge that will leave you in awe.
The Annapurna Base Camp Trek is an unparalleled gem in the Himalayan region, a gift to all who seek beauty and wonder. Don't miss this chance to witness one of the world's most beautiful mountain ranges up close and personal.
Where is Annapurna Base Camp?
Annapurna Base Camp – Located at approximately 4,130 meters (13,549 feet) above sea level, it is a gateway to some of the world's most awe-inspiring landscapes. Situated amidst the Annapurna Conservation Area, the base camp offers trekkers an unforgettable journey through lush forests, terraced fields, and charming local villages.
More specifically, it sits in the Annapurna Sanctuary glacial basin just south of the massif, about 40 kilometers (25 miles) north of Pokhara and 170 kilometers (105 miles) northwest of Kathmandu.
How Long is the Annapurna Base Camp Trek?
The Annapurna Base Camp trek is a mesmerizing journey that typically spans around 7 to 12 days, depending on the route and pace trekkers choose. By covering a distance of approximately 110 to 115 kilometers (about 70 miles) round trip, this adventure is an ideal blend of awe-inspiring landscapes, cultural encounters, and physical challenges.
Trekkers can expect to hike for about 4 to 8 hours daily, encountering picturesque terraced fields, quaint villages, and stunning mountain vistas. The duration may vary based on individual fitness levels, acclimatization needs, and opportunities to soak in the breathtaking beauty of the Annapurna region.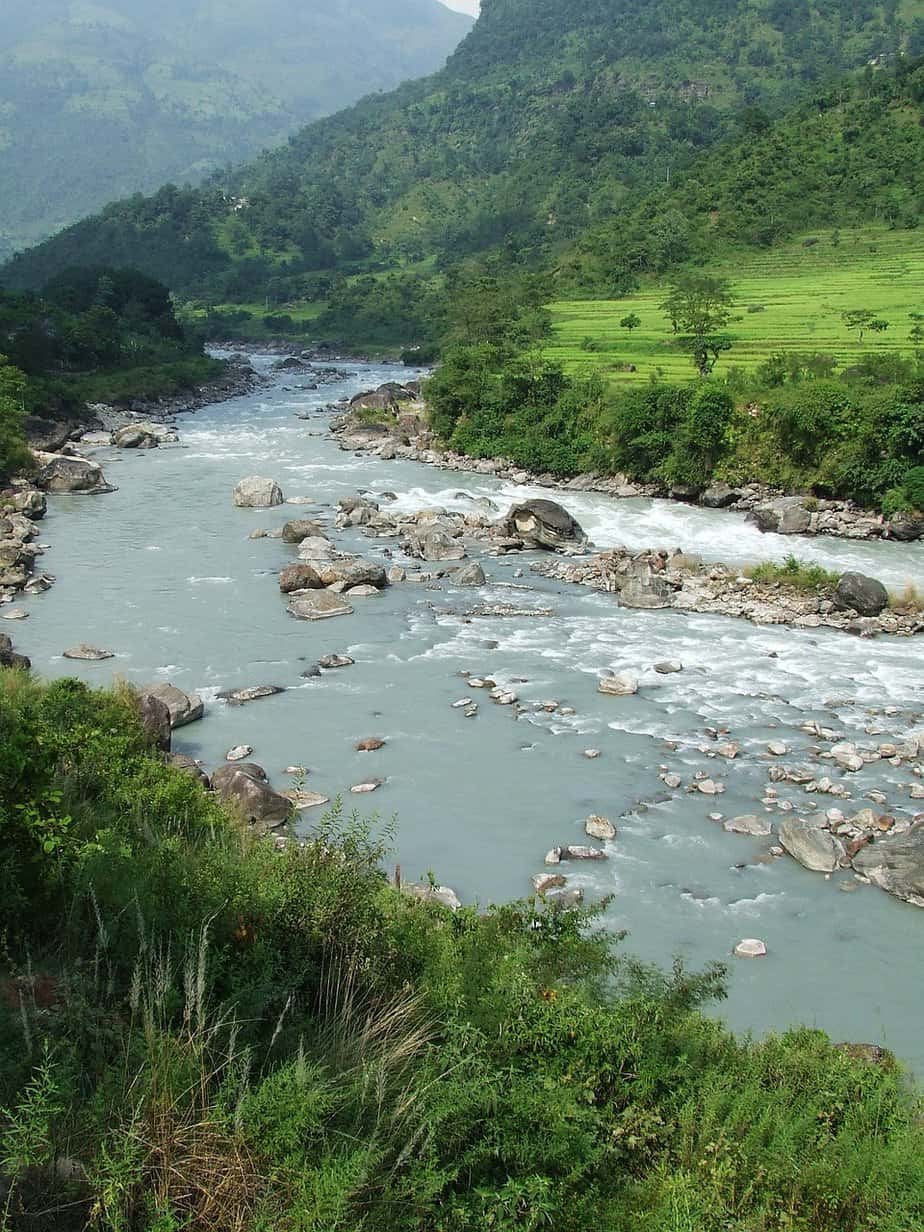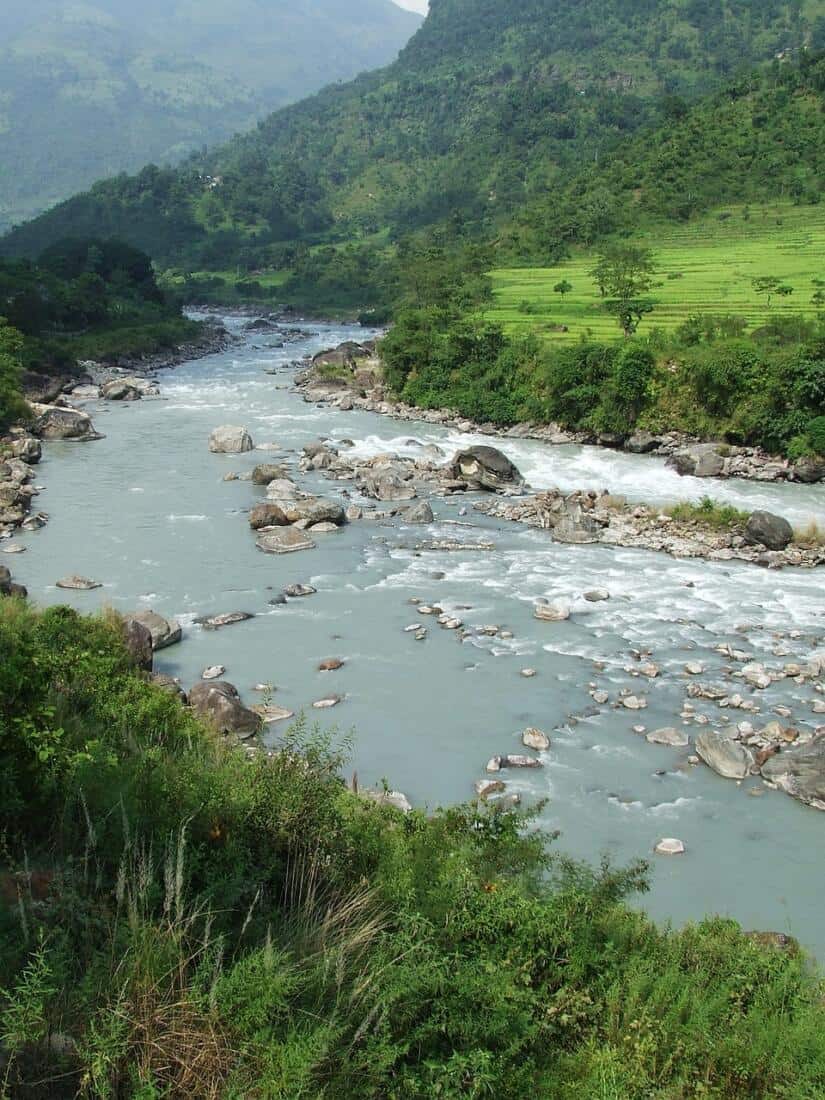 Trekking Permits for Annapurna Base Camp
Trekking Permits for Annapurna Base Camp are crucial to planning your Himalayan adventure. To explore this unique region, you will need two permits:
ACAP (Annapurna Conservation Area Project Permit), Which costs 3000 NPR;
TIMS Card (Trekkers Information Management System) costs 2000 NPR if you trek independently and 1000 NPR if you have a local guide.
Annapurna Base Camp trek permits can be obtained at the Nepal Tourism Board in Kathmandu, within walking distance from Thamel. Four passport photos will be required for the documents, so bring them along. The office opening hours are from 10 am to 5 pm, but there is a one-hour lunch break from 1 pm.
Annapurna permits can also be obtained from the Nepal Tourism Board in Pokhara, Damside, not far from Lakeside. And if you don't have time, you can get them through most travel agencies in Nepal for a small fee. You must contact the travel agency beforehand and send the required documents and your trekking plan.
How Difficult is the Annapurna Base Camp Trek?
The Annapurna Base Camp trek presents moderate difficulty, making it accessible to seasoned trekkers and those with some hiking experience. The trail involves challenging uphill and downhill sections, requiring a reasonable level of physical fitness. Altitude is a factor to consider, as the trek reaches heights of around 4,130 meters (13,550 feet) at the base camp.
Proper acclimatization and pace are essential to minimize the risk of altitude sickness. However, with the appropriate preparation and a positive mindset, trekkers can conquer this adventure and be rewarded with awe-inspiring landscapes and a sense of accomplishment that lasts a lifetime.
When To Trek Annapurna Mountains?
Deciding when to trek on the Annapurna Base Camp Trek is crucial in planning your ultimate adventure. The trek's timing will influence the weather, trail conditions, and overall experience. You are making it essential to choose wisely.
Let's look at the seasonal highlights to help you pick the perfect time for your journey.
Spring (March to May)
Spring is undoubtedly one of the best times to trek in the Annapurna region. The mountains come alive with vibrant rhododendron blooms, creating a breathtaking tapestry of colors. The weather is mild and lovely, with temperatures gradually warming up as the season progresses.
Autumn (September to November)
Autumn is another fantastic window to trek in the Annapurna Mountains. After the monsoon season, the air is crisp and fresh, making the trekking conditions comfortable. The skies are clear, and excellent visibility, showcasing the snow-capped mountains in all their glory.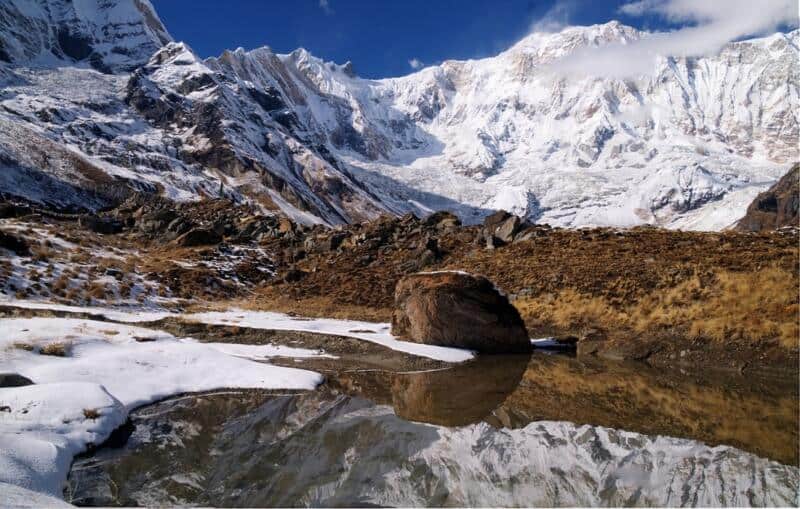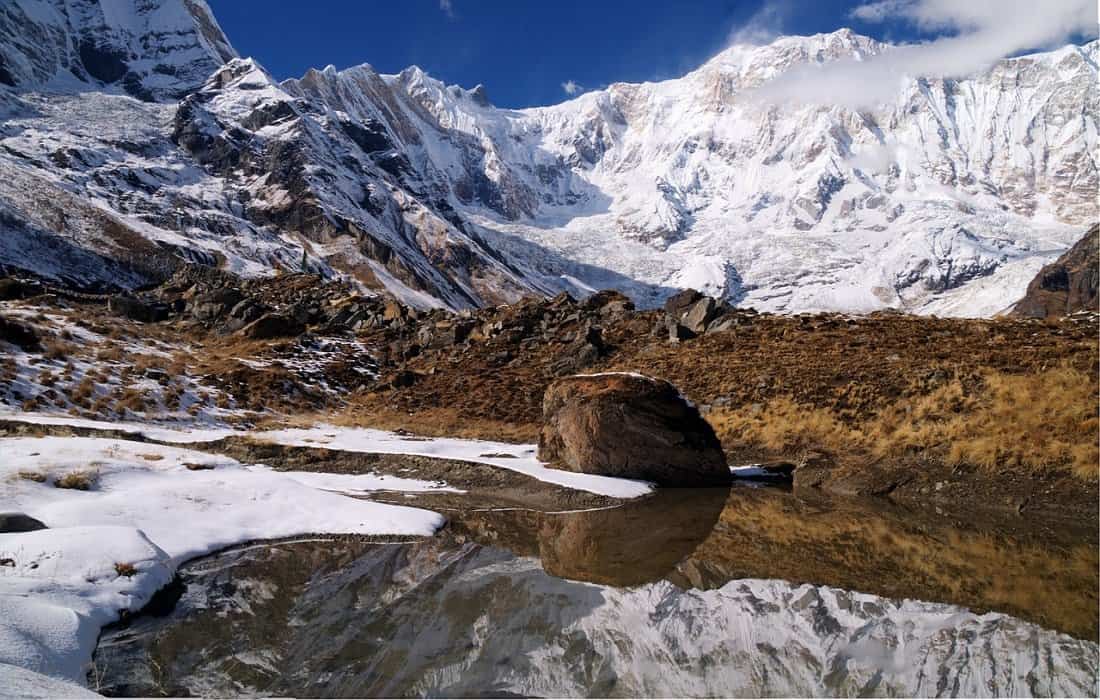 Winter (December to February)
Winter offers a unique experience for adventurous trekkers seeking a quieter journey. The temperatures can drop significantly, especially at higher altitudes, and some parts of the trail might be covered in snow. Be prepared for colder nights, and pack the appropriate gear to stay warm and cozy.
Monsoon (June to August)
Trekking during the monsoon season can be challenging due to heavy rainfall and the risk of landslides along the trail. The mountains may be veiled in clouds, obscuring the majestic views. Moreover, some course sections can become slippery and difficult to navigate. It's generally not recommended to trek in the Annapurna region during these months, but if you do, be prepared for the wet conditions.
Is It Worth Hiring A Guide At Annapurna Base Camp?
As you gear up for the adventure of a lifetime in the breathtaking Annapurna region, you might ponder a crucial question – "Is it worth hiring a guide at Annapurna Base Camp?" The answer to this question is not as simple as a straight yes or no, as it depends on various factors and personal preferences.
Update: On 9 March 2023, the Nepal Tourism Board (NTB) announced that solo or group foreigners will no longer be allowed to trek in Nepal without a guide. From April 1, all hikers must be accompanied by a licensed guide.
As explained, the decision was made for two reasons. First of all, due to increasing safety concerns to prevent altitude sickness and getting lost, which are the main risks when trekking in Nepal. In addition, mandatory trekking guides would create more jobs in the tourism sector and, thus, more income for the country.
Read here for the official Press Release from the official NTB website.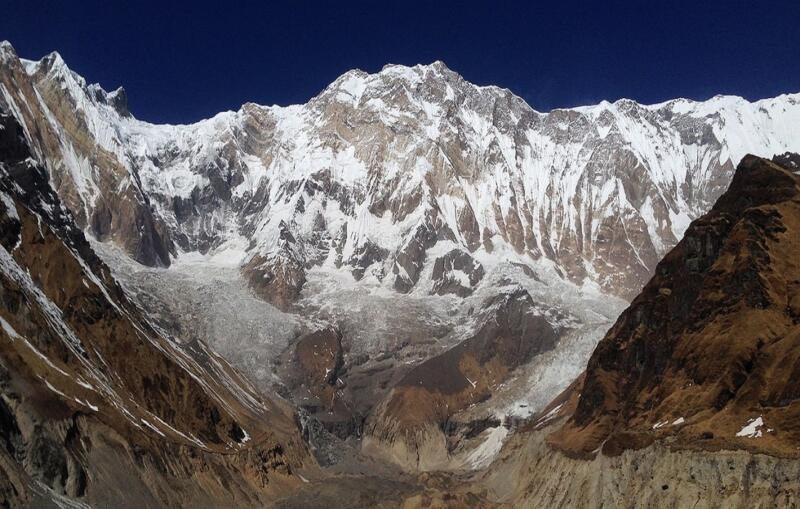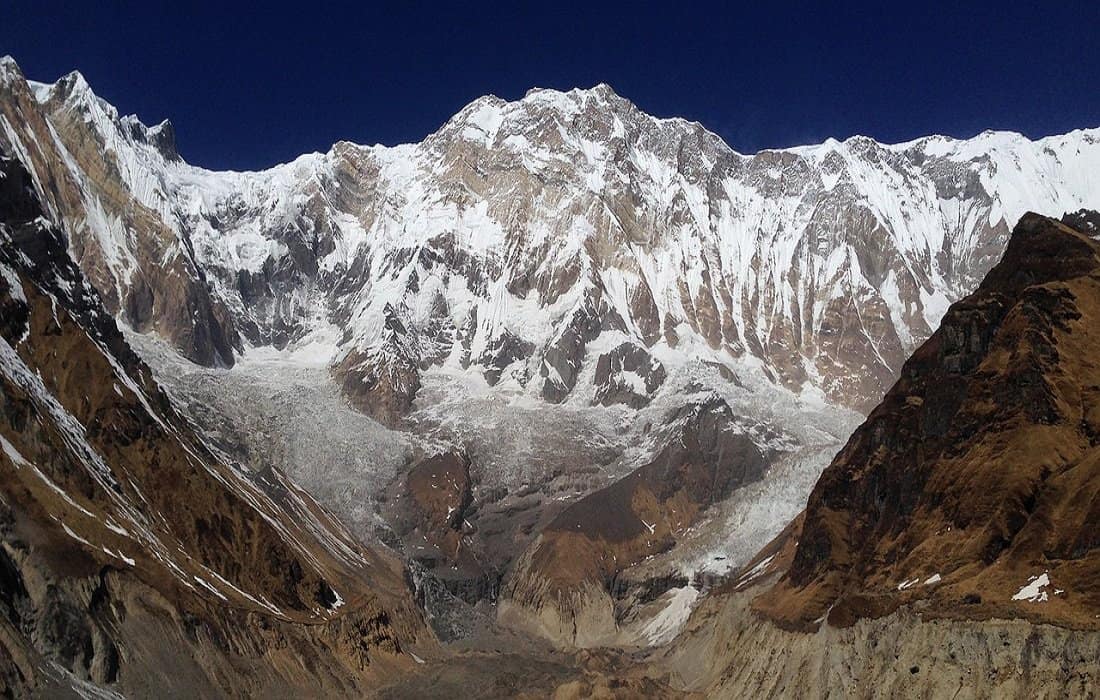 Has the ban on trekking in Nepal without a guide come into force?
The new travel ban in Nepal without a manual has not been implemented. Moreover, there is no indication that this will happen shortly. So far, the new rule has only caused quite a stir.
According to various trekking reports, hikers who entered the Annapurna region without a guide after April 1 were neither questioned nor stopped for this reason. The guesthouse owners continued to welcome solo trekkers with a smile. What's more, some of them plan to start a petition to change this rule.
Routes and Itinerary for the Annapurna Base Camp Trek
The Annapurna Base Camp Trek is an exhilarating journey that takes trekkers through some of the most breathtaking landscapes in the world. With various routes to choose from, each offering its unique charm, it's essential to pick the one that suits your preferences and time constraints.
Routes for Annapurna Base Camp Trek
Ghorepani-Poon Hill Route
This is the classic and most widely chosen Annapurna Base Camp Trek route. The trail leads through lush rhododendron forests and charming Gurung villages.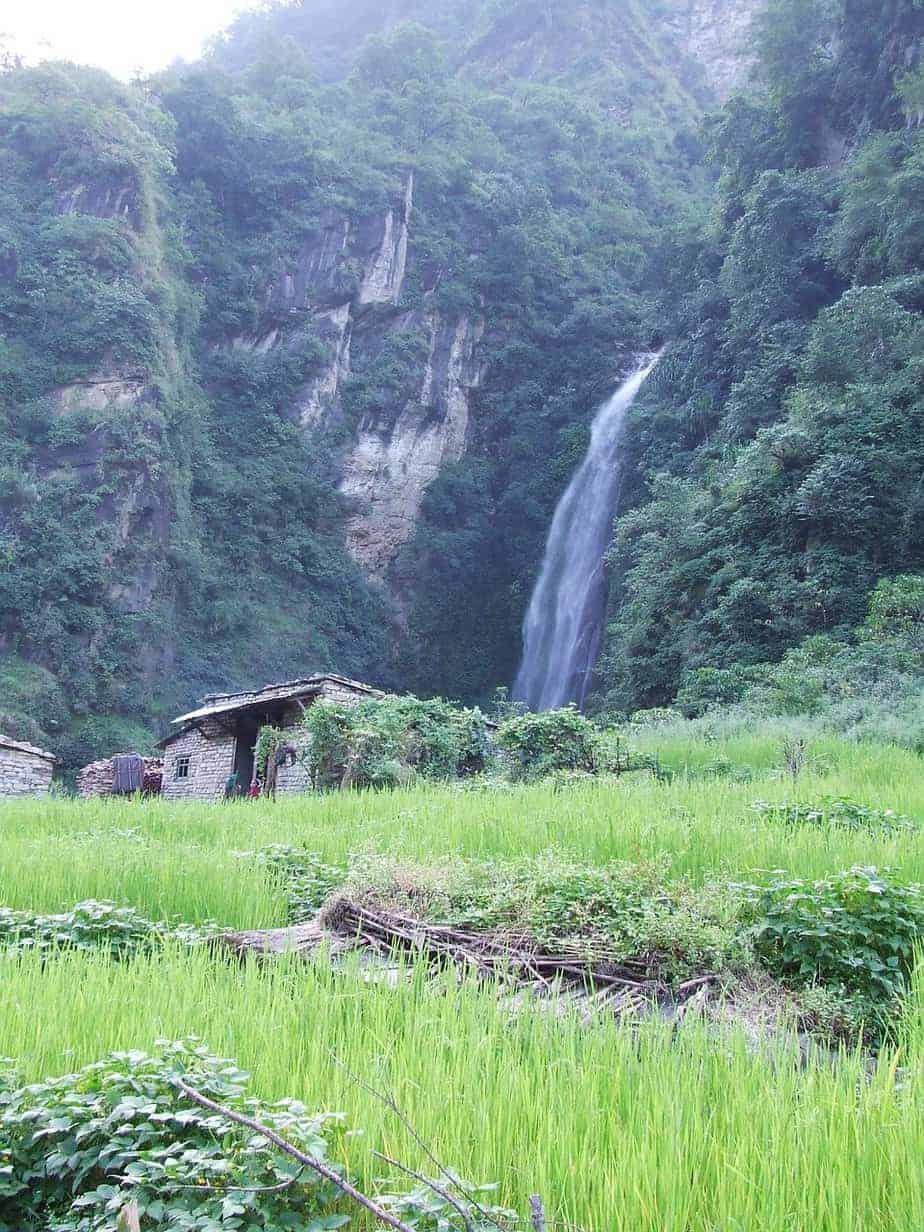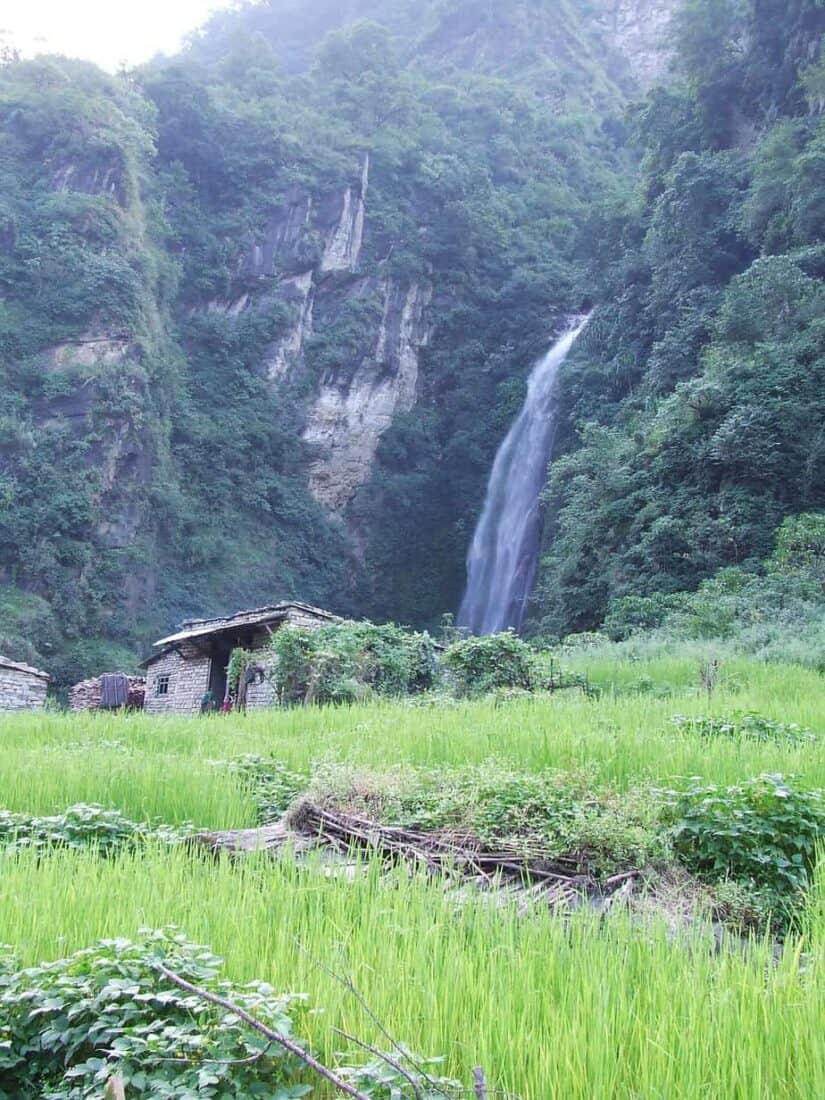 Jhinu Danda Route
This way is less crowded and allows you to unwind in the natural hot springs at Jhinu Danda, which is just what your tired muscles need.
Mardi Himal Route
For those seeking an off-the-beaten-path experience, the Mardi Himal route is a great choice. It presents stunning views of the Mardi Himal and the Machhapuchhre (Fishtail) peak.
Ghandruk Loop Route
A shorter yet equally captivating option, the Ghandruk Loop is ideal for trekkers with limited time. It passes through the charming village of Ghandruk, known for its unique Gurung culture.
Itinerary for Annapurna Base Camp Trek
First Day: Kathmandu to Pokhara
Arrive in Kathmandu, the vibrant capital of Nepal.
Take a scenic flight or a drive to the serene city of Pokhara, the gateway to the Annapurna region.
Rest and prepare for the adventure ahead.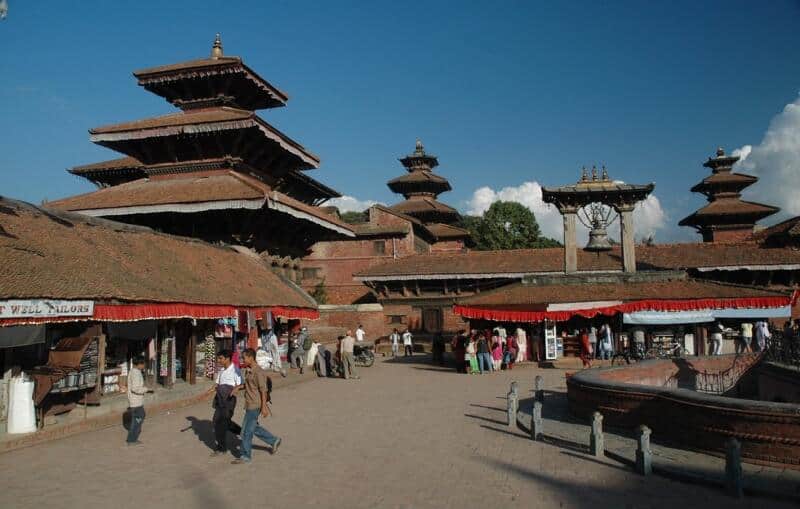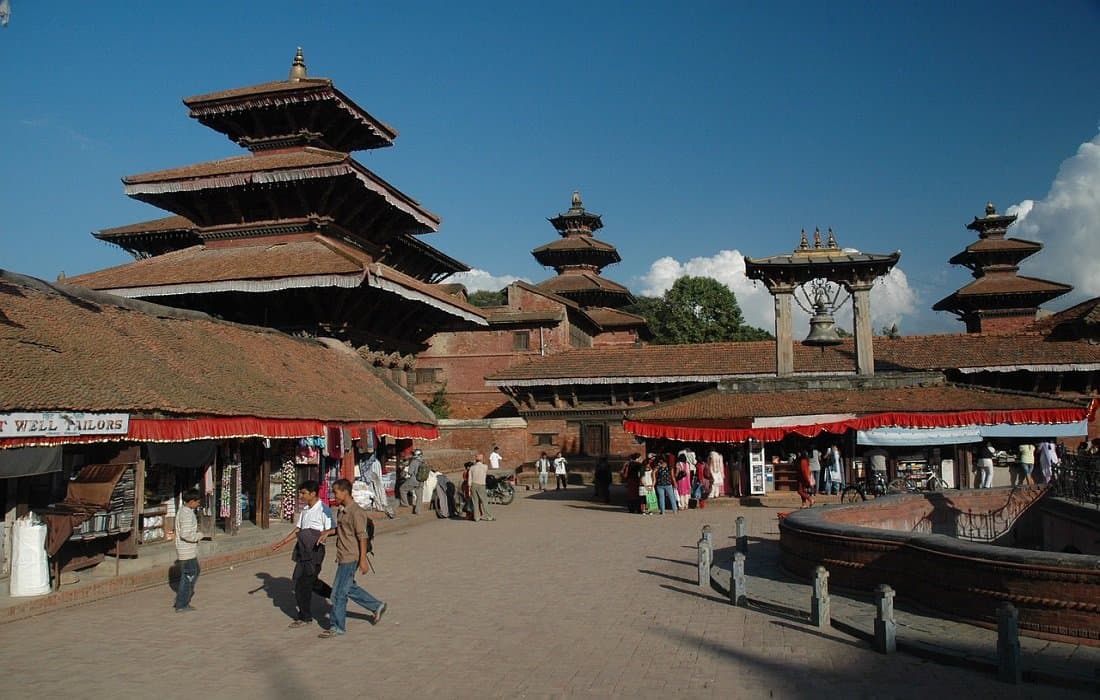 Second Day: Pokhara to Tikhedhunga
Drive to Nayapul and start the trek to Tikhedhunga.
Pass through charming villages and terraced fields, with the Bhurungdi River as a constant companion.
Overnight in Tikhedhunga.
Third-Day: Tikhedhunga to Ghorepani
Begin the day with an ascent to Ulleri, a village with stone-paved steps.
Continue the trek through lush rhododendron forests and arrive at Ghorepani.
Prepare for an early morning hike to Poon Hill for sunrise views.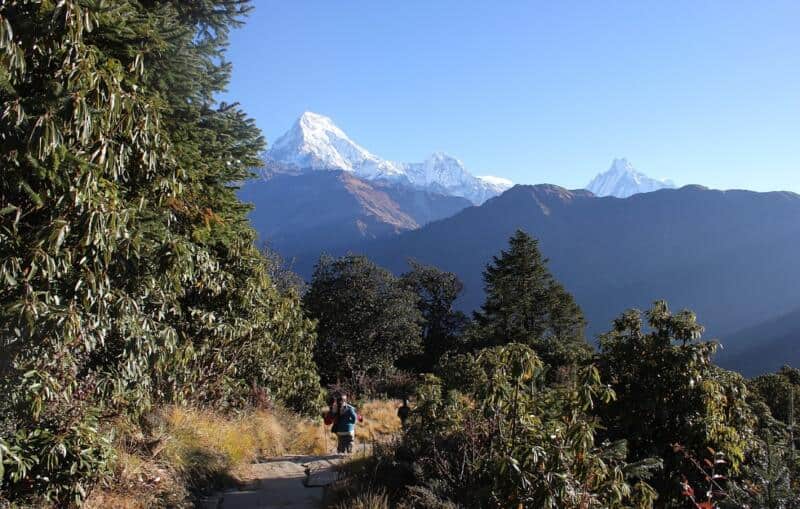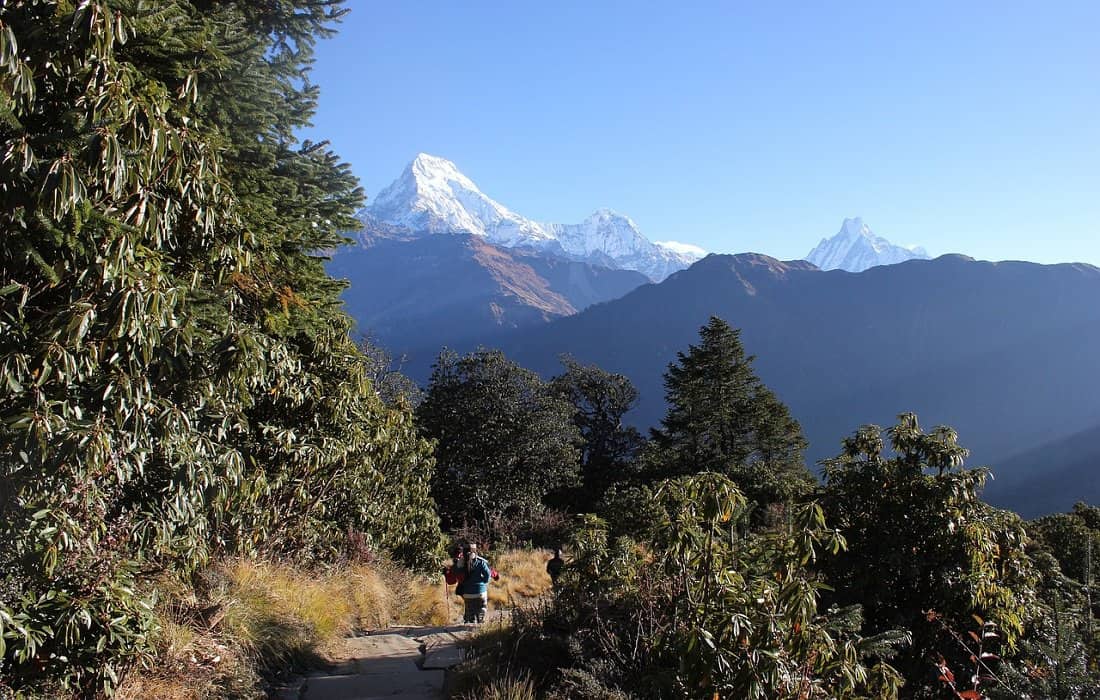 Fourth Day: Ghorepani to Tadapani
Wake up before dawn and trek to Poon Hill for a breathtaking sunrise over the Annapurna and Dhaulagiri ranges.
Return to Ghorepani for breakfast, then proceed to Tadapani through enchanting forests.
Enjoy stunning mountain vistas along the way.
Fifth Day: Tadapani to Chhomrong
Descend through dense forests and cross a suspension bridge.
Ascend to Chhomrong, a picturesque village at the base of the Modi Khola valley.
Sixth Day: Chhomrong to Bamboo
Descend to the Chhomrong Khola and cross a suspension bridge.
Climb uphill to Sinuwa and descend to Bamboo, a tranquil spot surrounded by bamboo forests.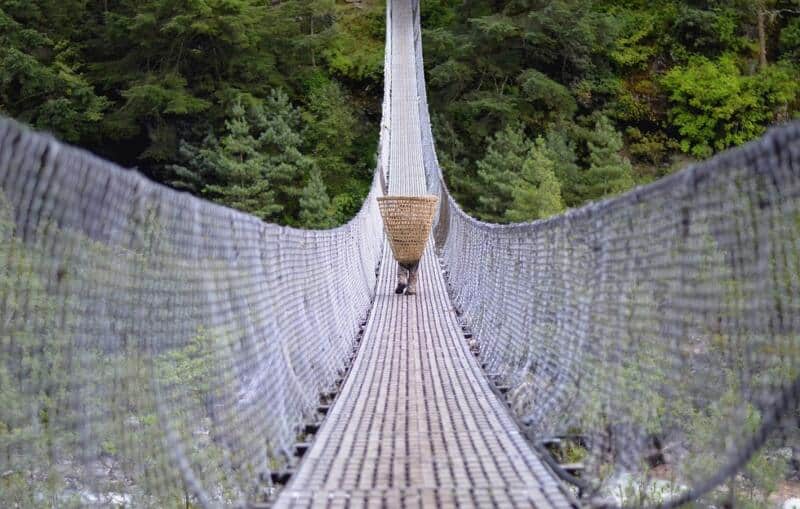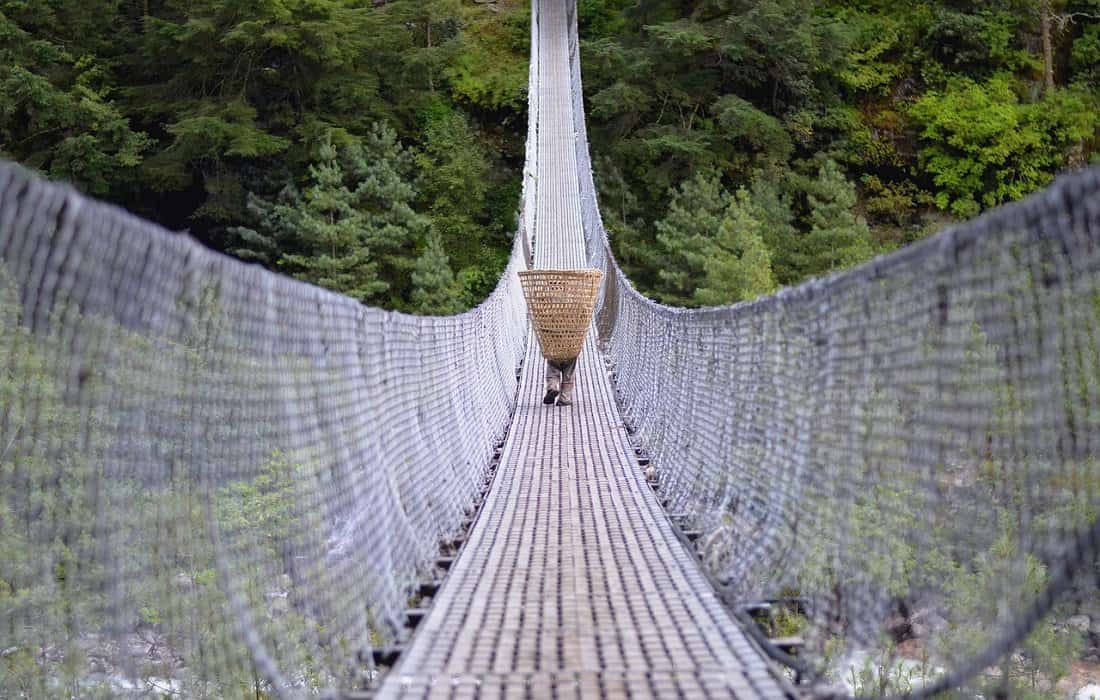 Seventh Day: Bamboo to Deurali
Ascend through dense bamboo and rhododendron forests.
Reach Deurali, where snow-capped peaks surround you.
Eighth Day: Deurali to Annapurna Base Camp
Trek through the rugged Modi Khola valley.
Arrive at the Annapurna Base Camp, a breathtaking amphitheater surrounded by towering peaks.
Rejoice in the accomplishment and immerse yourself in the beauty of the sanctuary.
Ninth Day: Annapurna Base Camp to Bamboo
Bid farewell to the base camp and begin the descent.
Overnight in Bamboo, savoring the last moments in the heart of the mountains.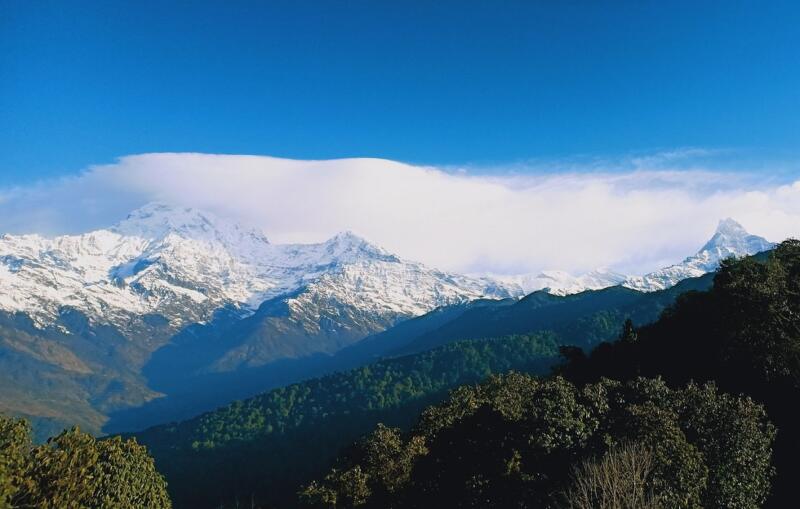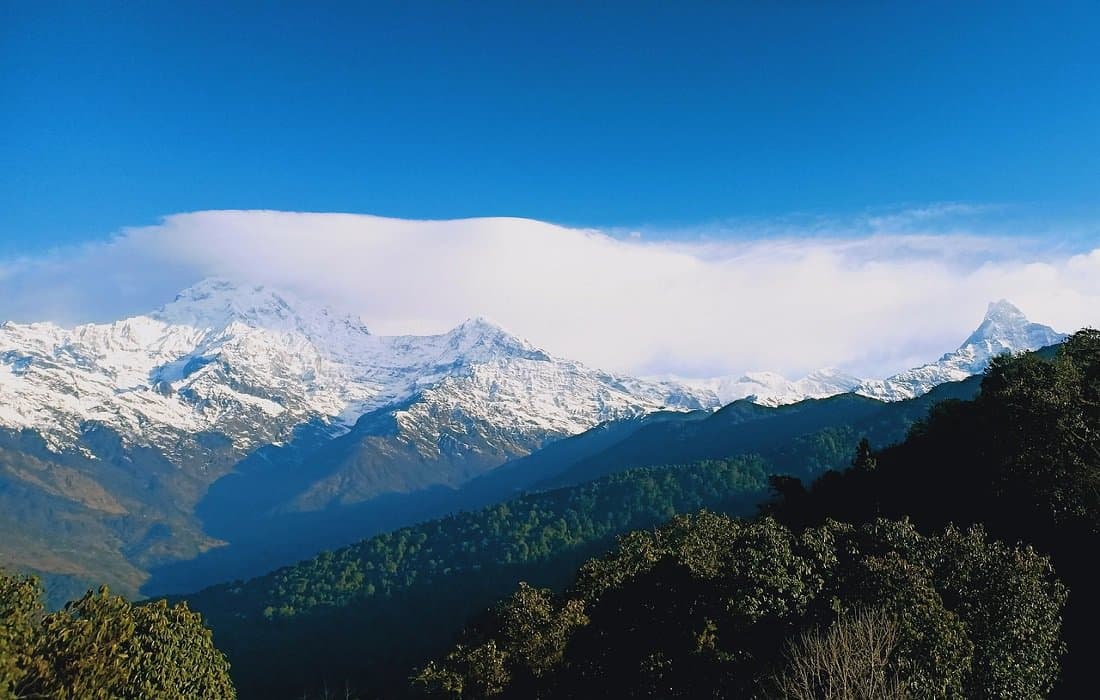 Tenth Day: Bamboo to Jhinu Danda
Descend through forests and terraced fields.
Rejuvenate in the natural hot springs of Jhinu Danda, soothing your muscles after the trek.
Elevent Day: Jhinu Danda to Nayapul, then Pokhara
Descend to Nayapul and bid farewell to the Annapurna region.
Drive back to Pokhara and celebrate the completion of an incredible journey.
Twelveth Day: Pokhara to Kathmandu
Return to Kathmandu, reflecting on the unforgettable experiences of the Annapurna Base Camp Trek.
Enjoy a farewell dinner in the vibrant capital.
Closing Thoughts
The Trekking Annapurna Base Camp will surely be an extraordinary experience, full of incredible scenery, interesting people, and unforgettable adventure. Compare price trips and read verified reviews on ExpedReview for free. Planning your next Annapurna Base Camp trekking adventure is never too early!
Looking For More Travel Inspiration? Start Here?
We participate in the Amazon Services LLC Associates Program, an affiliate advertising program designed to provide a means for us to earn fees by linking to Amazon.com and affiliated sites.
Subscribe to our newsletter and get the best travel tips and inspirational stories delivered monthly. No spam, no sales pitches – TRAVEL!
Brit On The Move™ Travel Resources
Ready to book your next trip? Use these resources that work:
Need more help planning your trip? Check out our Resources Page, highlighting the great companies we trust when traveling.