Chadar Trek, known as Zanskar Gorge or The Frozen River, is the most thrilling hike in the Himalayas, and there is no other like it. Chadar means "white sheet," hence the name.
The Chadar Trek is one of India's most unique and challenging treks. The multiday Chadar hike across the frozen Zanskar River in Ladakh occurs from late January to late February or sometime in March, depending on the weather. Walking on the thick glass of an icy river with great mountains on either side is a once-in-a-lifetime experience.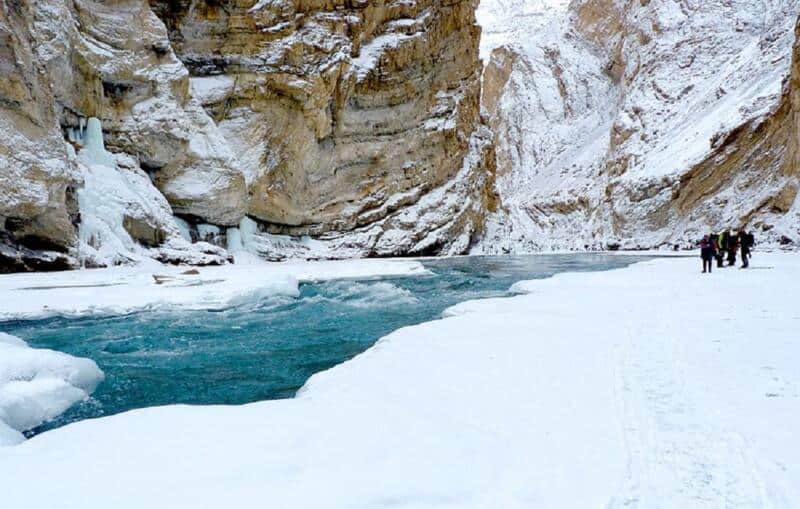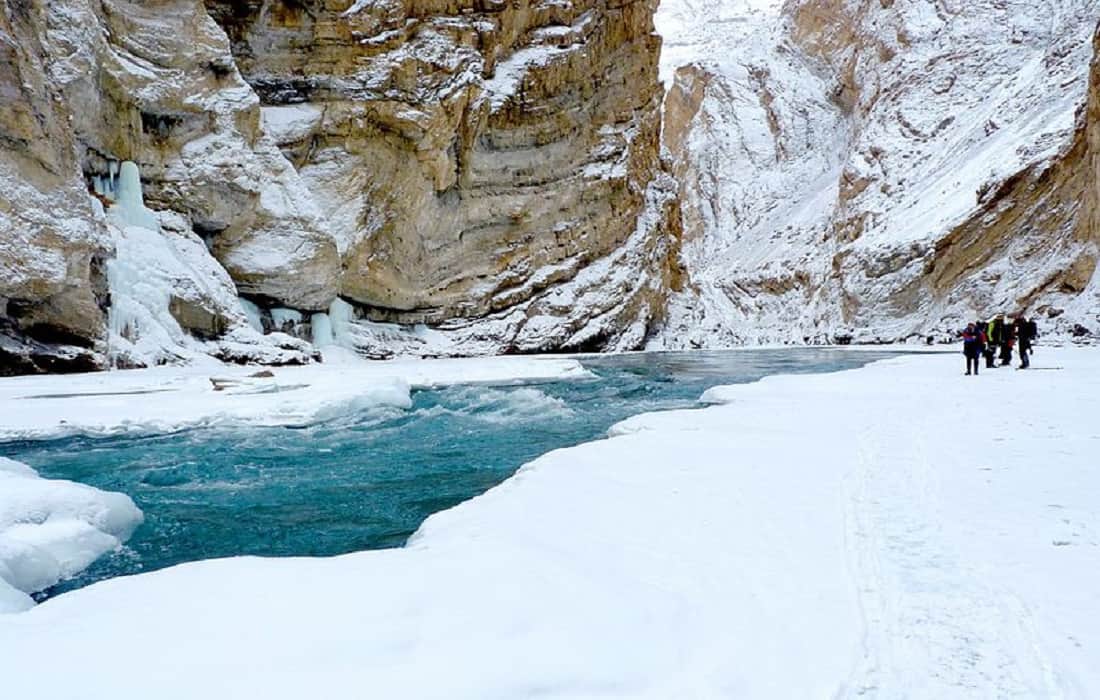 Photo Credit: Sumita Roy Dutta Wikimedia Commons
Coming in at 11,150 feet, the Chadar Trek almost feels like an expedition to the North Pole. Temperatures drop to 30 degrees at night, all food and drink are transported on sleds, and you must find refuge in caves. By all accounts, taking on The Chadar Trek is on many people's bucket lists – especially thrill-seekers that enjoy challenging hikes. The area's local people are known as Zanskari, whose main occupation is cattle-rearing and farming.
This post may contain affiliate links. Please read our disclosure and privacy policy for more information.
Reasons To Take On The Chadar Trek
The Chadar Trek is one of the unique treks in the world. You are hiking the surface of a frozen river. Other hikes in India are through hills and mountains that pass through passes and caves, ancient forts, and valleys. This one meanders along the Zanskar route, where the ice is thick enough to walk on.
A Whole New World Visiting The Chadar Trek
The Chadar Trek will force you out of your comfort zone. Far from civilization, you will be cold most of the time. Try butter tea (which not everyone likes), and be at the mercy of nature, but only for a few days. You will get a new understanding of life far away from the cities and be one with nature.
You will learn a lot about Ladakhen and its challenges. It is a humbling experience, and you will develop a deeper appreciation for the comforts and privileges of your daily life.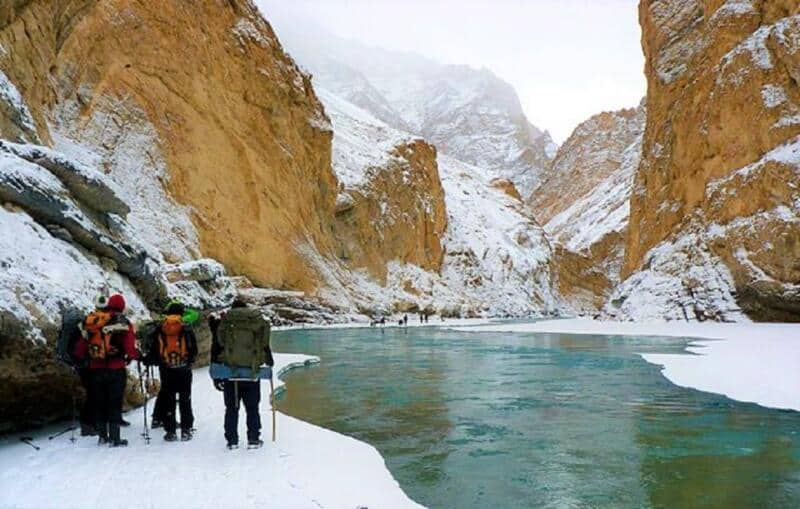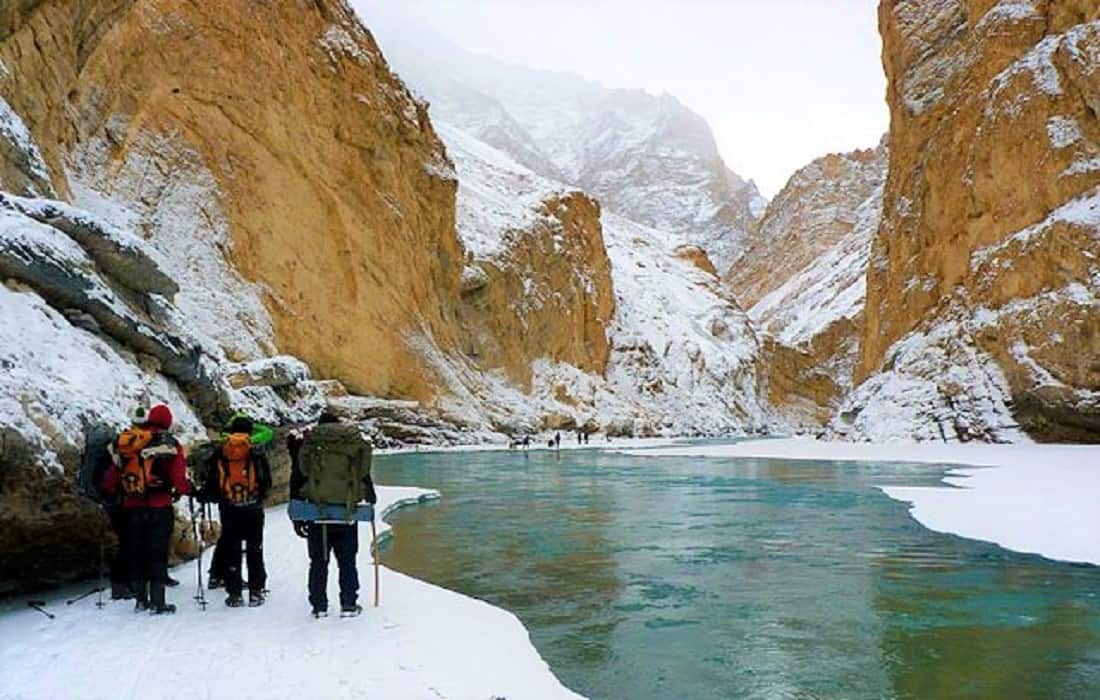 Photo Credit: Sumita Roy Dutta Wikimedia Commons
See Places You Have Never Seen Before During The Chadar Trek
Winter brings dramatic changes to the Ladakh landscape. This high-altitude desert offers the most spectacular views thanks to the Zanskar River, especially in the valley.
Experience waterfalls that have frozen over and form icicle walls that tower over your head. You will see air bubbles from the river frozen under the ice. On some trek sections, you hike on a thick layer of ice under which the river swirls. Around them, the Chadar changes daily.
If the temperature rises by just a few degrees, the ice melts, breaks, and freezes. You can see mountain goats navigating the steep slopes if you are lucky. The surrounding trees are leafless, and their branches, blackened by the weather, stand out in stark contrast to the surrounding white landscape.
There Is No Other Trek In India Like The Chadar Trek
The Chadar Trek is unique because it takes place on the surface of a frozen river. Other treks in India go through hills and mountains, passes and caves, and ancient forts and valleys. This trek meanders along the Zanskar River. Where the ice is thick enough, you will walk on it. Where the guides think the ice is too thin, you will hike on the frozen banks of the river. You will stop to camp and enjoy the calm river and the starry sky above.
You can see the bonfires of other trekking groups downstream. Enjoy singing lessons and devour hot meals that will make the chilly night less daunting.
One of the Chadar Trek highlights is Tibb Cave, an ancient cave that is becoming popular for all hikers.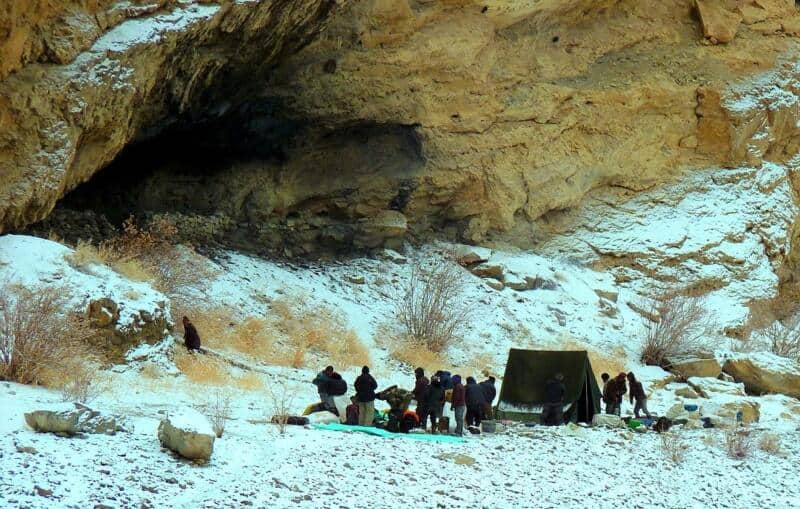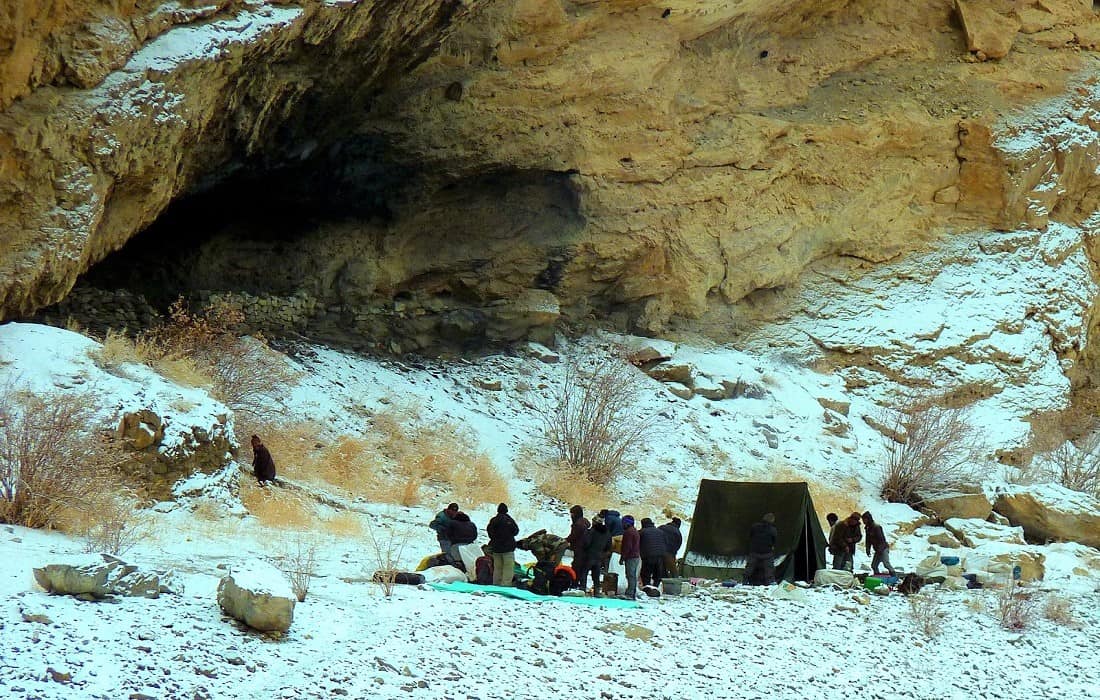 Photo Credit: Sumita Roy Dutta Wikimedia Commons
The soot from decades of campfires has blackened the cave walls. Someone is constantly stirring a large container of hot and cold soup at any time of the day. Here, you will be offered more tea. The feeling of camaraderie is calming, and you will feel like a true adventurer sharing your experience with fellow hikers.
Tibb Cave Temperature
The temperature is twenty degrees below the freezing point and sometimes even colder!
Bragging Rights
The Chadar Trek hike is not challenging – assuming you are physically fit enough. There are no steep slopes, and no technical training is required. However, it should not be taken lightly. The weather and altitude make this trek challenging. The harsh conditions can put your life at risk if you don't listen to your guide.
Remember: There is a fast, icy river swirling beneath your feet at all times. But that's what makes it so special, not everyone daretake up the challenge of the Chadar.
When you return, you will feel stronger and more confident than ever.
Something about an adventure like this makes you feel better about yourself – more accomplished! And when the Chadar hike is over, you will join an elite community of trekkers from Tschadar who have faced everything. Be prepared for shocking looks and many questions as you become the hero of your circle.
Chadar Trek Facts
Chadar Trek duration: Typically 9 Days and 8 Nights (but it can vary)
Start and End Point: Guest House in Leh
Maximum Altitude: 11,123 feet
Chadar Trek Distance: 62 km
Level of difficulty: Difficult Chadar Trek
Temperature: 5 to 15 degrees (daytime) and 15-25 degrees (overnight )
Last ATM: Leh Market and Airport.
Permits & Rules for the Chadar Trek
To ensure that trekkers are safe and abide by the rules, the Leh Government instituted regulations and permits that you will need to follow & get upon arrival in Leh.
All trekkers must:
Acclimated in Leh for two days post-arrival & before departing for the trek
Go through a medical check-up and get a medical certificate from a local medical board in Leh that states that you have acclimated to the altitude and are physically fit to take the trek.
Mandatorily have trek & personal accident insurance for the trek
Get a permit from ALTOA post submission of NOC & medical certificate
Nerak Waterfall
One of the Zanskar river hikes highlights a grand waterfall that is completely frozen over from top to bottom – The Nerak Waterfall.
The thick ice sheets forming the Zanskar River resemble a white sheet called "Chadar." The Zanskar River is best known as the Chadar Trek. While it may seem like a challenging hike, it is not the most difficult. It is a flat hike along the Chadar with minimal inclines. You are in good hands if you can hike for a couple of hours without much stress.
Regarding trekking in India, Chadar is the most glamorous and arduous trek.
In 2019, the local administration required all Chadar Trek participants to undergo a medical examination at the SNM Hospital, Leh post, to receive a fitness certificate.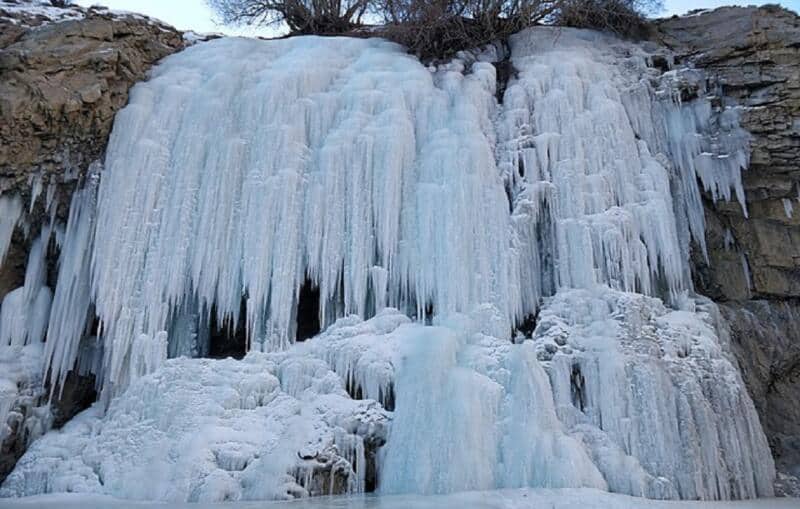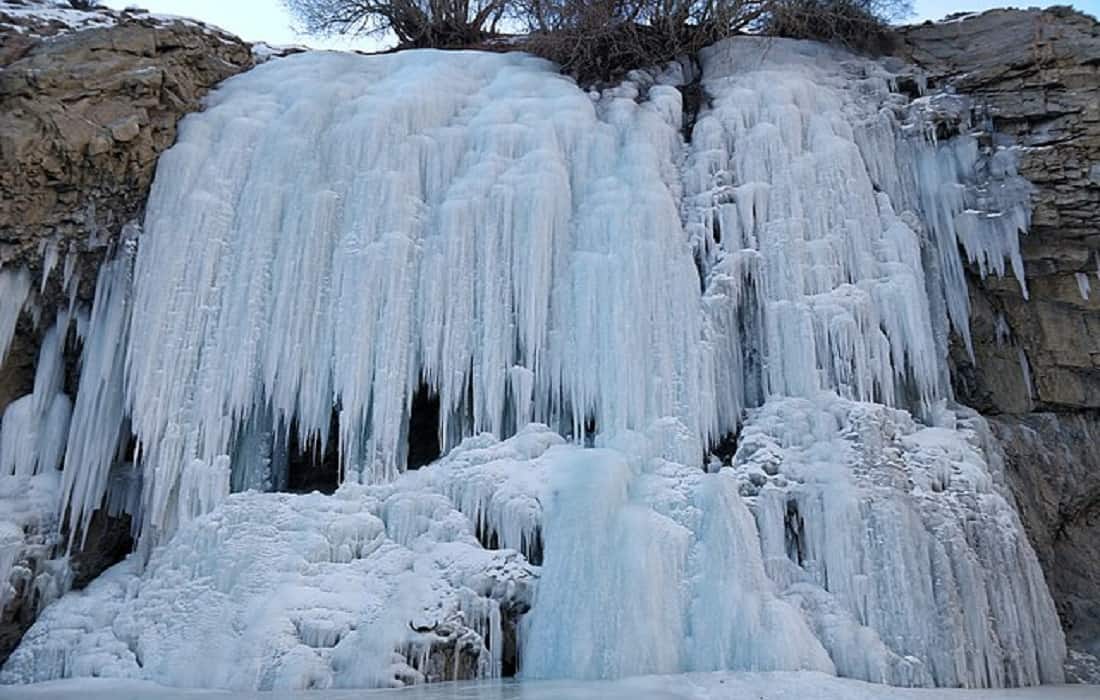 Photo Credit: SukeerthaKrishna Wikimedia Commons
How To Reach The Chadar Trek
Air: The nearest airport to Chadar Trek is Kushok Bakula Rimpochee Airport (IXL), located in Leh. This airport is connected to major international airports in India like Delhi, Mumbai, Chennai, etc.
By Train: Take the New Delhi Jammu Tawi Rajdhani Express, which leaves Delhi at 8:40 pm. and arrives in Jammu at 5:45 am. You can take a bus from Jammu to Srinagar; from Srinagar, there are regular buses to Leh. It is recommended to fly from Delhi to Leh and rent a taxi to Chilling the next day after acclimatization.
By Road: Delhi to Leh is 1,266 km via the NH1. It is 64 km from Leh to Chilling. To get to the Chadar Trek, one has to go to Leh. From Leh, the journey begins and leads to the freezing Zanskar River.
From Leh, it takes about 65 to 70 km to reach the trek base camp via Tiled.
Book Your Excursion
Things You Need To Do The Chadar Trek:
Woolen cap, socks, mittens & scarf
Head torch
Rain cover
Warm clothes
Caps
Toilet paper & wipes
Walking stick
Day pack (20-30l)
Water bottle
Extra pair of socks
Backpack with waterproof linings
Fleece jackets and thermals
Led torch (with extra batteries)
Lightweight quilt or blanket
Mosquito & insect repellent
Waterproof windcheater
Best Time To Visit The Chadar Trek:
The Zanskar River freezes completely at the beginning of January and remains frozen for two months. The best time to do Chadar Trek is from mid-January to early February.
Difficulty Level Of The Chadar Trek:
The Chadar Trek is a unique experience, but the adverse conditions and an astonishing height of 11,123 meters make it a difficult journey. In such a situation, physical fitness becomes critical. A physically healthy person can complete the trek; however, many precautions must be taken.
Places To Visit Near The Chadar Trek
Tilat Sumdo is a campsite for the Chadar trek where you can view the Himalayas.
Shinra Koma is 10 km from Tilat sumdo, which has scenic beauty and spellbound tourists.
Tibb- Tibb offers a beautiful waterfall and cave.
Nerak- Nerak is the base camp for the trek and is a spot for sunset, which is fantastic.
Gyalpo – Gyalpo is a campsite located at a bend in the Zanskar River and is imposed by peaks and walls of rock faces that look artificial.
Diploma – Dibyokma is again a campsite that offers breathtaking views of the Himalayas.
Lingshed – It is one of Ladakh's oldest villages and boasts awe-inspiring natural exquisiteness. This region is famous for the Lingshed Monastery, one of Ladakh's oldest monasteries.
FAQs About The Chadar Trek
Is Chadar Trek for beginners?
As a newbie to trekking, you might wonder whether you can do the Chadar trek as a beginner. As long as you prepare correctly, you can do it. Formerly, the Chadar Trek was considered a challenging hike reserved only for experienced hikers.
Is the Chadar Trek difficult?
India's most challenging trek is this one. You will cover approximately 105 kilometers on foot during the trek. Daytime temperatures range from -15 to -20 degrees, while nighttime temperatures dip to -25 degrees. Almost all of the trek must be completed on foot.
Is Chadar Trek Canceled in 2022?
As a result of the rising threat and fear around the new Covid-19 Omicron variant, the Ladakh administration has decided to suspend the famous Chadar Trek in 2022. Leh district authorities have also agreed to suspend snow leopard sighting expeditions and other winter tourism activities.
How long is Chadar Trek?
It is 65 miles long.
Closing Thoughts
Most people will not think of India when trekking a frozen river. Most will think of Iceland or Patagonia – maybe even Antarctica. And, as stunning and elite as these other locations are, don't rule out what India has to offer in terms of challenging and unique treks.
Have you done the Chadar Trek? Please share your experience with us here.
Looking For More Travel Inspiration? Start Here?
We participate in the Amazon Services LLC Associates Program, an affiliate advertising program designed to provide a means for us to earn fees by linking to Amazon.com and affiliated sites.
Brit On The Move™ Travel Resources
Ready to book your next trip? Use these resources that work:
Need more help planning your trip? Check out our Resources Page, highlighting the great companies we trust when traveling.