Villa de Leyva's Casa Terracota is an architectural marvel that took the artist and environmental activist Octavio Mendoza 20 years to complete. The locals call it "Casa de Flintstones" an unusual house made entirely of clay. Coming in at a whopping 5,400 square feet, Villa de Leyva's Casa Terracota is the world's biggest piece of pottery.
Chances are, if your visiting Bogota or Villa de Leyva, you will have run across images of the strange-looking orange house. If like us, you may wonder if it's worth driving 95 miles north of Bogota, Colombia, to see it. The answer is yes – absolutely! If you travel to Colombia, you should be on the lookout for weird and wonderful experiences that you can't find anywhere else. Villa de Leyva's Casa Terracota fits this bill. Another Atlas Obscura pick, a resource known to travel enthusiasts for highlighting unique things to do all over the world.
This post may contain affiliate links. Please read our disclosure and privacy policy for more information.
The History of Villa de Leyva's Casa Terracota
Mendoza, the Colombian artist, spent most of his career designing homes, commercial buildings, and churches. Mendoza is famous for his natural and sloping approach to architecture. The clay was baked by building an oven that covered a part of the house. With special coal, the fire burnt for entire weeks until the clay was cooked and turned into hard, resistant ceramic.
Not an ounce of additional material was used for the structure. No reinforcement, no cement, and no steel – all clay. Add to this; the build was done by hand. Additionally, this is an environmentally friendly building powered by solar panels.
Mendoza said "That by using only natural resources for the project, he wanted to create a harmonious coexistence with the environment".

He sought to question traditional 'architectural' practices and create stronger bonds between structures, people and nature. His goal – demonstrate how soil transforms into habitable architecture by simply using the natural resources at hand.

Mendoza also said: "Think of it this way. In desert places (which exist across the planet), soil is perfect for this type of architecture. This means that for all those regions, a system like this could bring housing to millions of families.

Sources: Everywhere Please and Oddity Central
Outside Villa de Leyva's Casa Terracota
From the outside, Casa Terracotta looks like something from the Flintstones set, hence the local name. Its uneven edge and almost tilted appearance give it even more of a clumsy appearance. The gardens surrounding Villa de Leyva's Casa Terracota are just as impressive, with no detail spared. Lush green gardens, a small pond, and a fire pit are all enhanced by the burnt orange clay. From the upstairs balcony, you can get a great view of the entire property. You can also explore the barbecue area on the roof that is also carved out of clay into the roof. If you tour the garden, you will run into many random sculptures.
Inside Villa de Leyva's Casa Terracota
The house is deceiving from the outside. For example, it does not appear as large as it is, nor as grand. Once you are in, it is hard to decide left, right, or up. You will immediately be in awe of the reception hall that houses the staircase to the second level. The actual size is overwhelming, and the detail is meticulous. While not even remotely related, this place reminded me of Alice in Wonderland. A world where one hole leads to another. Or Hansel and Gretel's candy house only revisited in clay. Either way, it's fairytale-like.
Downstairs there are several rooms, a full working kitchen, and a dining room. Several bedrooms and bathrooms, one of which is hidden and holds a raised bed perfect for kids. Upstairs there is a master suite and additional lounging areas, along with access to the upstairs patio. All the furniture is made out of clay, with no exceptions.
Where To Stay In Bogota
What You Need to Know
Many of the photographs you will see online cast the illusion you'll have the place to yourself. That's not going to happen. You will be lucky to capture any shots without a photo bomber or two. And, there is an endless, relentless crowd of people more determined than you to get their Instagram shot. The only way around this is to get there early – super early. Here is what it looks like when full: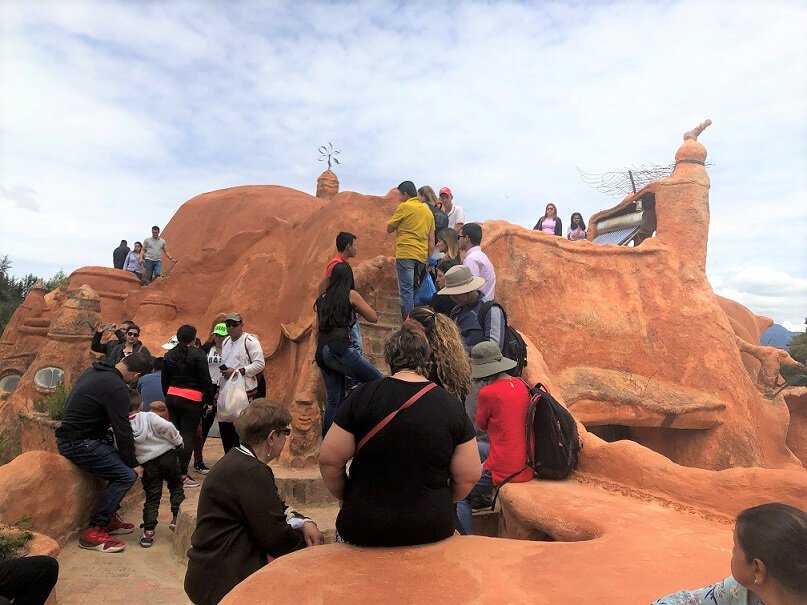 Terracotta is the correct spelling in Spanish; this is not a typo.
Casa Terracota is 10 minutes by car or 30 minutes on foot from the Plaza Central in Villa de Leyva.
If you are visiting from Bogota, you can hire a driver to take you. Your hotel can arrange a private driver for you. It will only cost about $100 roundtrip for four people, and you will also get to see Villa de Leyva.
While it's only 95 miles away from Bogota, it takes about two and a half hours each way because you travel zigzag through the stunning Colombian countryside.
When you arrive, there is no formal ticket booth. Young men will ask you to pay, and you do not get a ticket. It's legit, and your driver will communicate with you if you don't speak Spanish.
Entrance into Villa de Leyva's Casa Terracota is about $5, and it's Colombian Pesos only.
Plan to spend at least an hour touring the house.
There is a café on-site that sells light snacks and drinks.
There is no gift shop. A real shame as I would have liked to purchase a historical book detailing the build.
Closing Thoughts
I've read tons of reviews and articles about Villa de Leyva's Casa Terracota. All positive with the reviewer encouraging you to visit as I would. What seems lost in most of what I have read is what it feels like to be in the house. It triggered my imagination, challenging me to think about structures in a non-symmetrical way (something I am obsessed with). In the home, I could imagine living it in or entertaining in it. It would need mattresses, more cushions, and some drapery to be practical, but it's incredibly livable, which surprised me. I don't know if Mendoza intended this or not, but the result is the most amazing house you'll ever visit. Art meets architecture is a given; the fairytale story you will create for yourself is a bonus.
Looking for more posts on Colombia? Start here:
We are a participant in the Amazon Services LLC Associates Program, an affiliate advertising program designed to provide a means for us to earn fees by linking to Amazon.com and affiliated sites.
Brit On The Move™ Travel Resources
Ready to book your next trip? Use these resources that work:
Need more help planning your trip? Check out our Resources Page, highlighting the great companies we trust when traveling.