Everyone is always looking for the best places to eat and drink; here are the best Bogota restaurants and bars you will find in the Chapinero district. These are not in any order; all were amazing!
This post may contain affiliate links. Please read our disclosure and privacy policy for more information.
Harry's Bar – Officially Closed as of 2021
Don't be fooled by the exterior appearance of Harry's Bar. On the outside, it looks like any old bar or Bogota restaurant, but it's not. Once you enter, you will walk over floating concrete through the outside-inside area enhanced with a fire trough. The décor of this place is so trendy you will think you have been transported to the latest hip place in New York.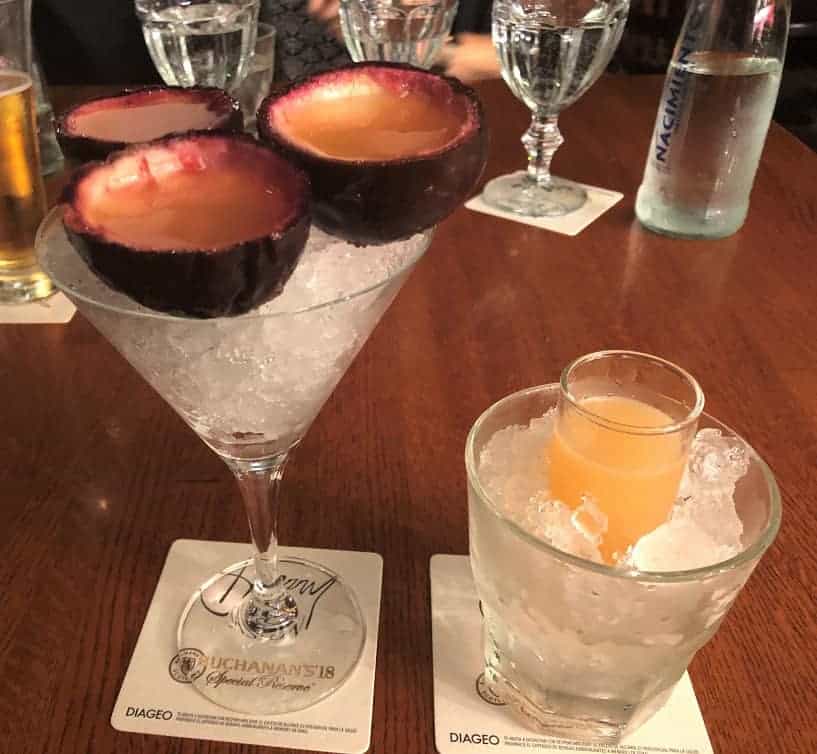 What to try?
I had the grilled octopus, and it was divine! The drinks are more impressive. I ordered the martini above. Unfortunately, I did not write down the name. When I ordered this one, I was two martinis' in and pointed to order it because it looked cool. Yes, lousy reporting here, but you'll know what to pick from the menu as you can see the three fruit cups on top of it. If you order this drink, the shot that comes with it is to re-fill the three fruit cups on the ice. Of course, I did not know this. I drank the three fruit cups, then poured the shot into the ice. Don't do this! You'll get mocked, but it was all in good fun!
Harry's bar does have an English menu.
Entre Cuates
We stumbled across Entre Cuates while walking around Chapinero. Again, this place does not look like anything special outside, and it's not a fancy place. It might not be fancy, but it has the best margarita I've ever had – the cilantro margarita. It has the right combination of sweet and sour combined with a refreshing pop from the cilantro. I'm always impressed when I run into a new twist on a drink. Sometimes, the modification of a drink ruins it. But in this case, it's an enhancement and then some.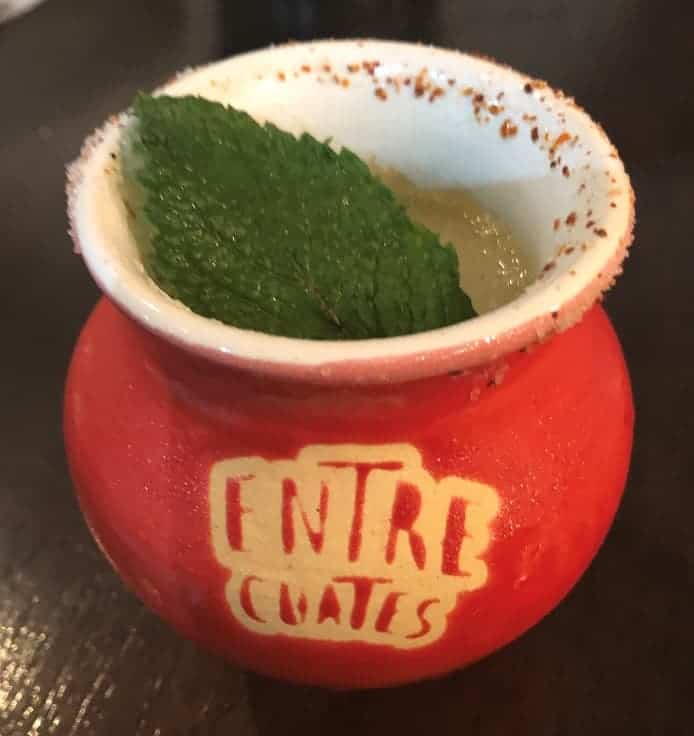 Here is my recipe for this classic cilantro margarita. Try it and let me know what you think!
What to try?
Naturally, the cilantro margarita needs to be on your list. Food-wise, we tried guacamole. Be warned; the portions are massive; it's hardly a side order. Four of us could not down it! Then, we had various tacos which were beyond fresh. You get to pick your tortilla shells, and they are made to order. This place is casual but also spectacular.
Entre Cuates does not have an English menu.
Red Room
The Red Room is my favorite place, where we had drinks. We did not eat here purely because we had just left the El Inglés Gastro Pub and were stuffed. This aside, I fell in love with the décor of the Red Room and the unusual drinks. By far, this was my favorite Bogota restaurant and bar. You can read all about what makes this one so unique here. And know this. When we return to Colombia, this is a place high on the list of must revisit. This place delivers a fantastic mixology experience.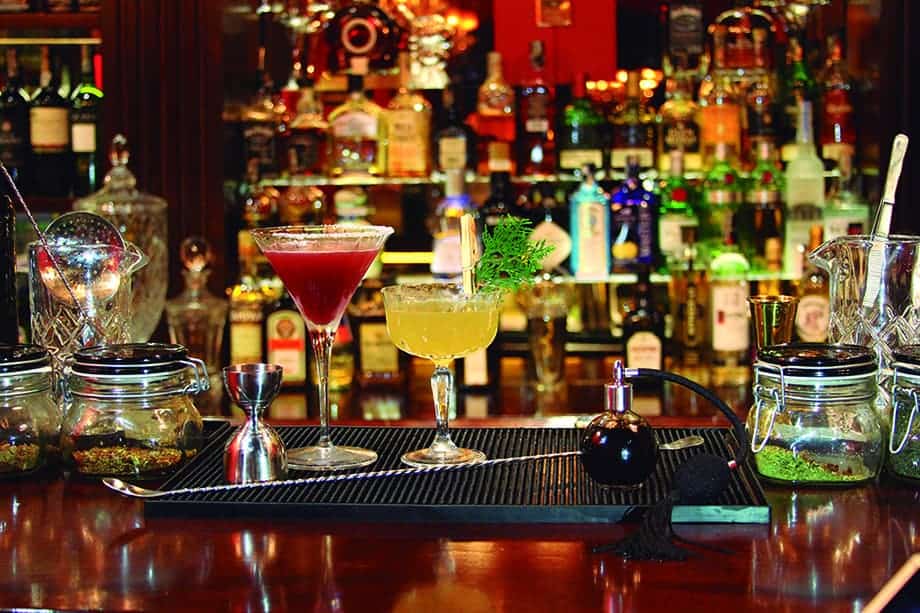 Red Room does not have an English menu. But they do have super fancy menus that light up!
What to Try?
Where to begin here, the list of options is so long, and all are unusual. Try one of the smoked drinks like the Gentleman Jack, whiskey smoked with pineapple and ginger sawdust. Or, order a martini! Even the traditional drinks are prepared in a grandiose manner, strainers and all.
El Inglés Gastro Pub
El Inglés Gastro Pub, otherwise known as "The British Pub," is precise as it reads – a British Pub. Now, this might seem odd to you, given we are talking about the best Bogota restaurants, but I'm British! And, my hubby is a long-time fan of a good old-fashioned roast dinner. Naturally, we had to try it out. Authentic British food people – the owner is British.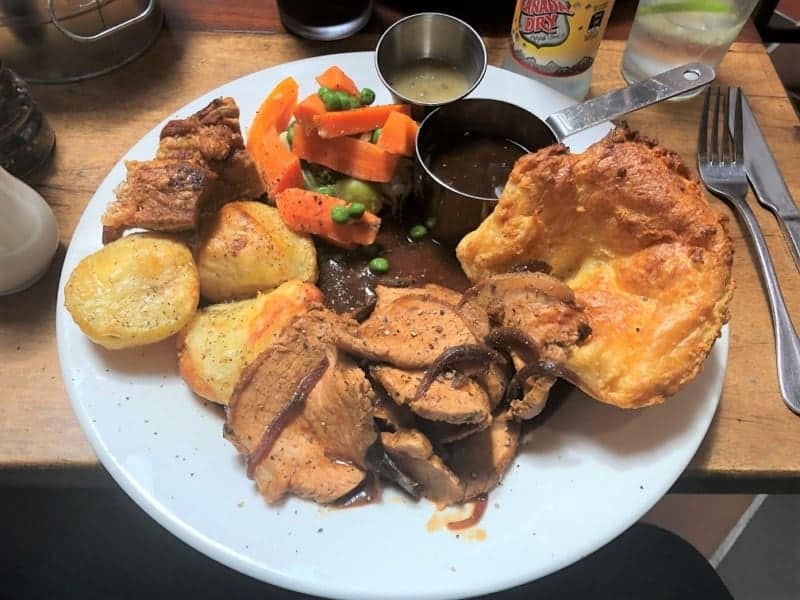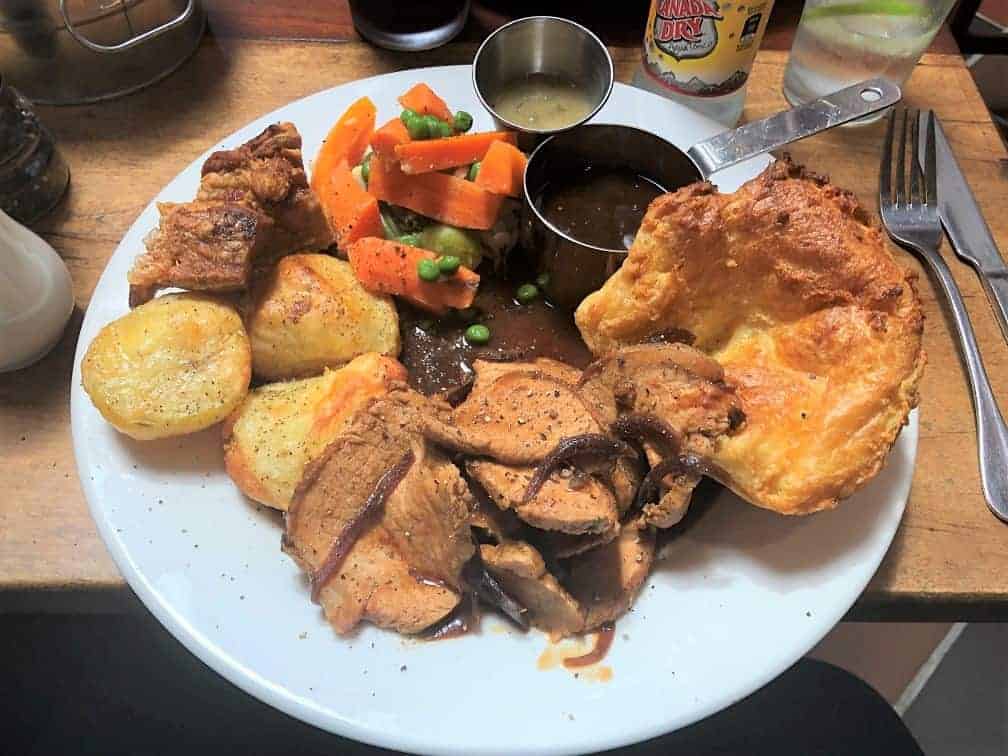 What to try?
It's got to be the traditional roast dinner that comes with roasted potatoes and Yorkshire puddings. And, if you are British, you will appreciate it. The Yorkshires are homemade – no frozen stuff here. If you choose the roast, you can pick your meat type. If you go for pork, they have crackling! Seriously, if you have never tried real British food, try this. Or, if you are a Brit and craving some home comfort, this is your jam.
El Inglés Gastro Pub does have an English menu.
Devachan Café Mágico
We stumbled across Devachan Café Mágico on our way home. We figured we would stop in for a nightcap, which turned into let's try everything on the menu. Well, not everything, but we had a good go at it.
This place is so unusual it's hard to describe the visuals. It's a modern play on traditional religious monuments meet the café slash reggaeton bar. A wood-fed fire adorned with Jesus lit up in conventional Christmas lights with a collection of candles on each side. A tarot reading booth, an oversized projection screen with the latest music blaring. And then there is the menu!
The menu plays off the Catholic Religion, with all drinks named accordingly. About as creative as you can get.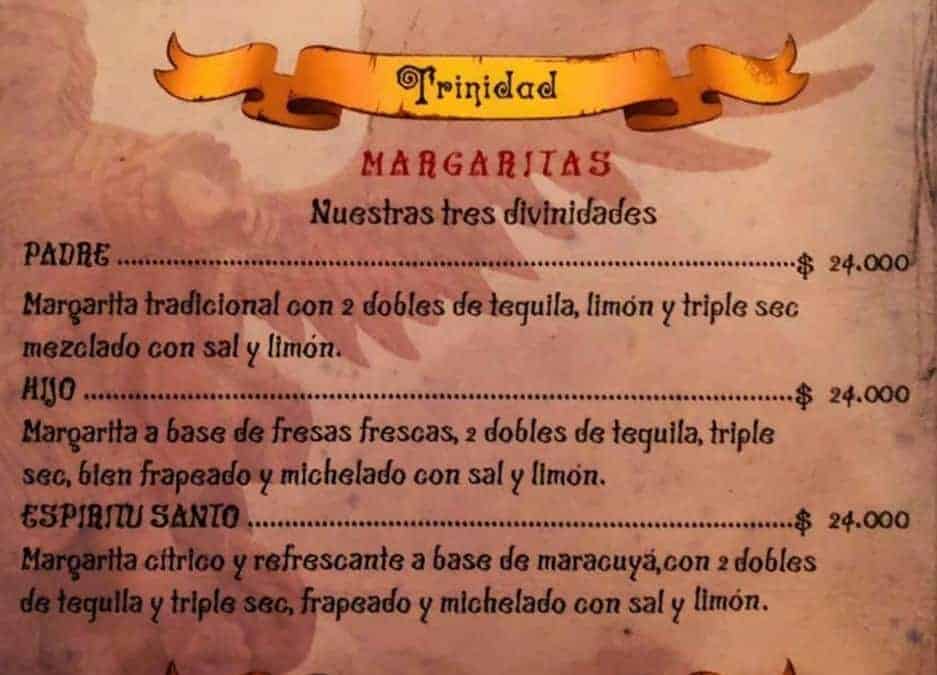 What to try?
You must try the Padre (Father), Hijo (Son) and, Espirito Santo (Holy Spirit) margaritas.
Devachan Café Mágico does not have an English menu.
Closing Thoughts
Google any one of these Bogota restaurants and read the reviews. Time and time again, these all come up as four-star plus on TripAdvisor. Some have won awards, and there are good reasons why.
Looking for more posts in South America? Start here:
We are a participant in the Amazon Services LLC Associates Program, an affiliate advertising program designed to provide a means for us to earn fees by linking to Amazon.com and affiliated sites.
Brit On The Move™ Travel Resources
Ready to book your next trip? Use these resources that work:
Need more help planning your trip? Check out our Resources Page, highlighting the great companies we trust when traveling.