Hotel Del Salto at Tequendama Falls – Colombia
Since I saw the photos of Hotel Del Salto at Tequendama Falls, I have wanted to visit this allegedly haunted hotel. Colombia was already on the list for 2019, and I chose Bogota explicitly to see this once a hotel, now a museum. Besides the obvious reasons, like being directly opposite a huge waterfall, the hotel has a long and somewhat morbid history heightening the urge to visit.
Hotel Del Salto at Tequendama Falls is a significant tourist attraction for Colombians and international travelers. The hotel is 18 miles southwest of Bogota and easily accessible by car or bus. It invites a crowd of tourists longing to take in the view of Tequendama Falls. To explore the stories of suicide that created such notoriety and to find out if it is haunted.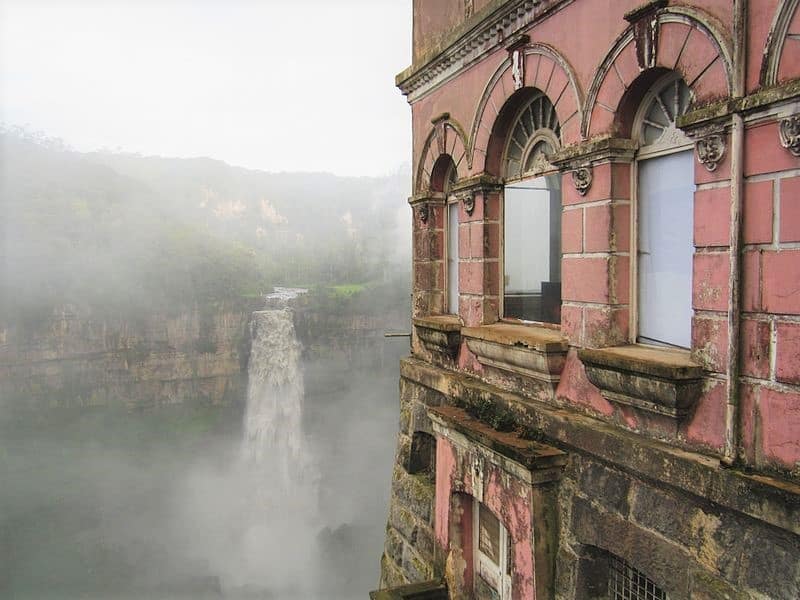 Felipe Restrepo Acosta On Wikipedia (Creative Commons)
This post may contain affiliate links. Please read our disclosure and privacy policy for more information.
What is the history of Hotel Del Salto?
It was built in 1923 as a luxury hotel to host elite travelers visiting the Tequendama Falls area. Ordered and built by the President of Colombia and designed by the architect Carlos Arturo Tapias, the hotel was a place for the richest to gather and indulge in the most exceptional experiences of the '20s. Imagine a room viewing the stunning waterfalls and dining on the patio that offers impressive views. Once a hotel that delivered architectural marvels, epic views, and art. You can imagine why it was so popular.
The hotel's notoriety comes from two primary sources — the Musica people jumping from the falls long before the hotel existed. And once the hotel was built, several Colombians chose to take their lives at the falls. Supposedly, hotel guests would hear cries from the inside, which leads to the claim that the hotel is haunted.
In the 1970s, sewage started affecting the river. The hotel closed in the early 1990s as a result of the overwhelming pollution of the river. Sadly, you can see the pollution as you drive up to visit. There are masses of white foam covering the river. The water is polluted.
Tequendama Falls (Salto del Tequendama)
Circling Colombia's capital Bogota, the Bogota River is home to Tequendama Falls. The falls are 433 feet tall, impressive, to say the least, given that Niagara Falls are 160 feet high. We were not lucky enough to see them for ourselves due to fog, but you can hear them roam.
The Tequendama area was home to the Muisca people (also called Chibcha). Legend says that Bochica (a chief with God-like status) created the falls. Many also believe that the Muisca people would jump to death from the falls to avoid a life of slavery following the Spanish conquest. People say falling from Tequendama Falls transformed them into eagles, ultimately freeing their souls.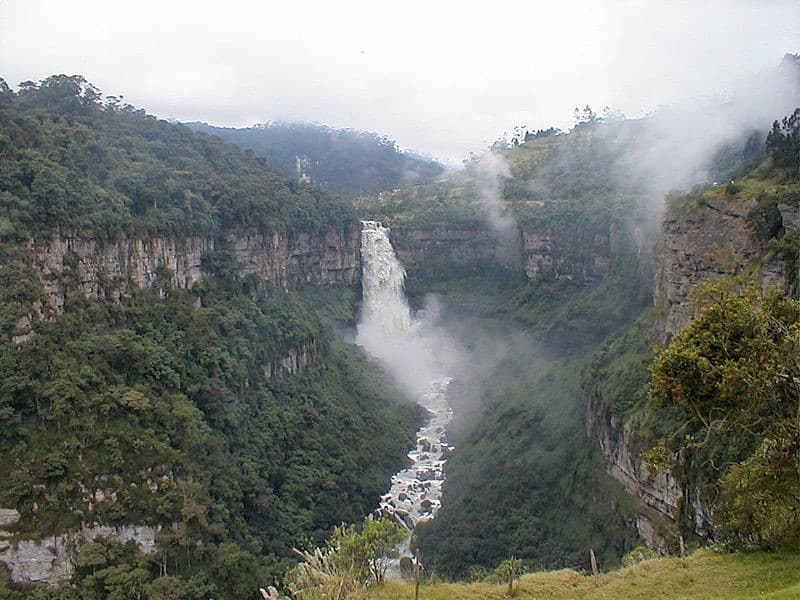 Zeafra On Wikipedia (Creative Commons)
Here is our unfortunate view, or lack thereof, due to the fog:
It's commonly known that the Bogota River is now contaminated. Some reports state that it's the second most polluted river worldwide. The river is full of feces, waste, chemicals, and many other toxic nemeses that do not belong, by all accounts.
Map of Hotel Del Salto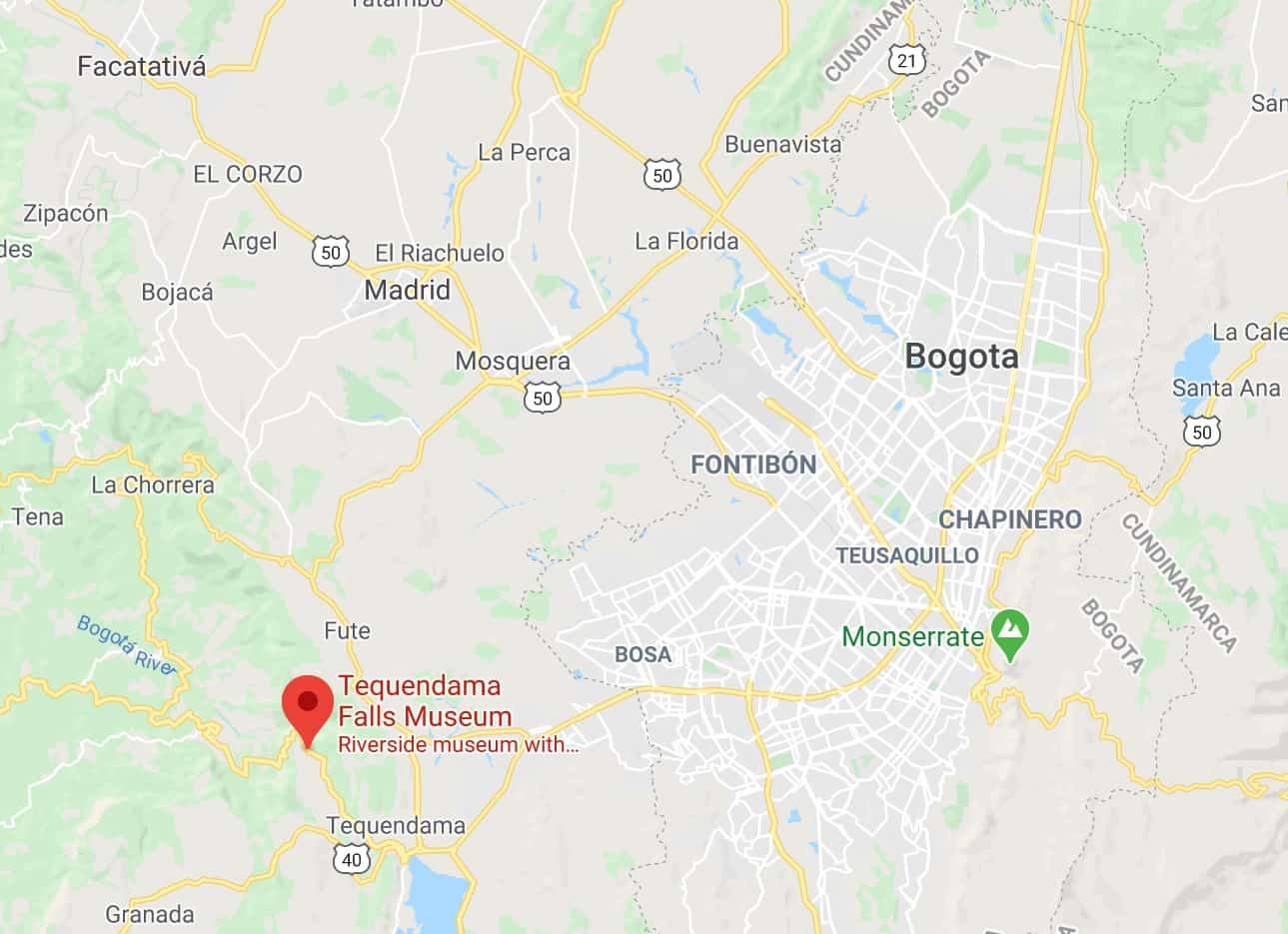 Tequendama Falls Museum
In 2011, the eerie abandoned hotel was converted into the Tequendama Falls Museum. Dressed up in white paint, the building, while restored, has lost its original luster. The white color modernizes it and minimizes the creepy old building look: no more moss and brick. I am sure this was done to protect the building from decay. I wish they had chosen to keep the original style, which I thought was more impressive.

ArturoAparicio On Wikipedia (Creative Commons)
As it looks today with heavy fog: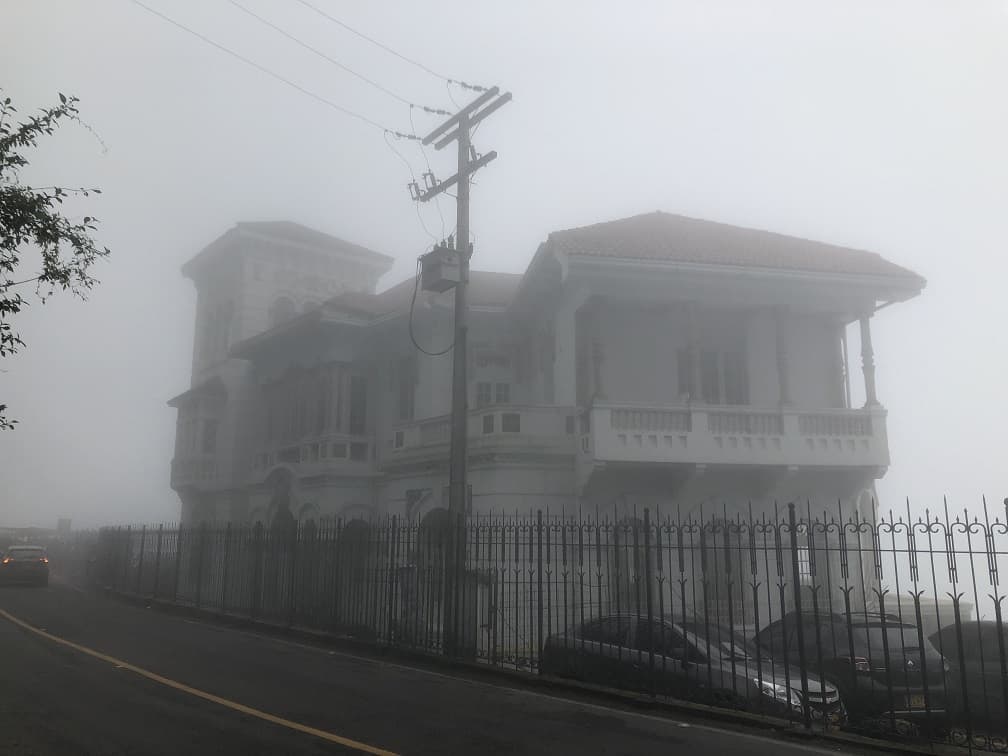 Inside Hotel Del Salto, the museum is not exactly fascinating; it's a tad bland, almost clinical. The restoration is impressive, but it's not complete. And by no means is it decadent. There are few rooms to tour, minimal remaining furniture, and wide-open spaces. The museum is still undergoing restoration, so I anticipate it will flourish.
Don't let this put you off visiting; you should, even if only for the views.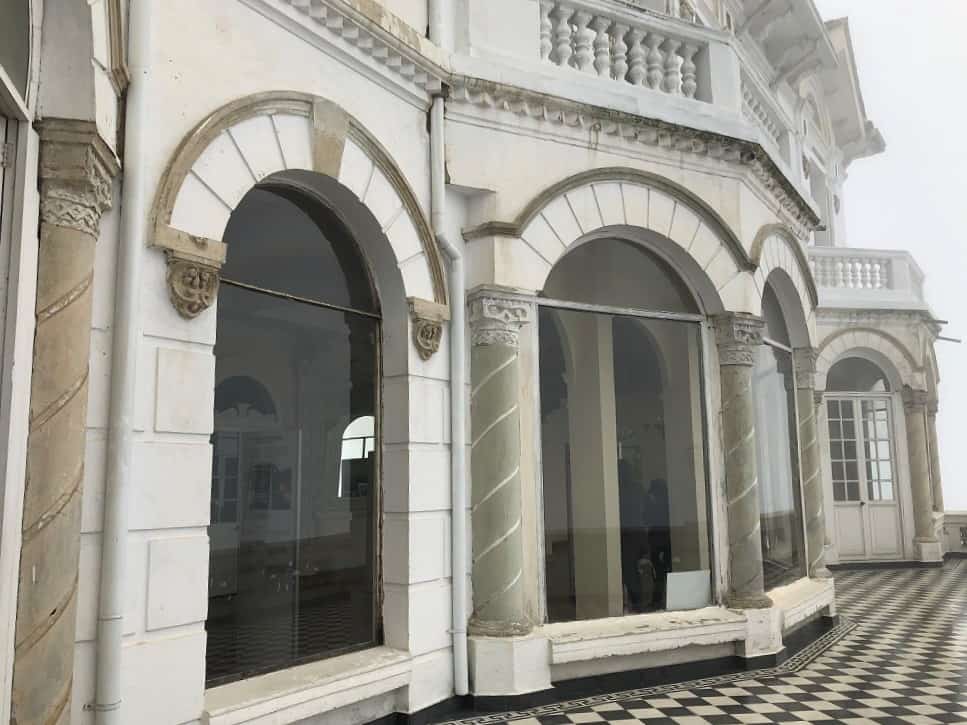 What You Need to Know About Visiting Hotel Del Salto
You can reach Hotel Del Salto from Bogota via car or bus. We arranged a private driver through our hotel. I don't know about you, but I would not be bussing it through the Colombian countryside to an abandoned hotel or museum.
You must take a tour to view the hotel.
A ticket costs 9.000 pesos per person – approximately $3.
The tour is Spanish, and the guides do not speak English even though bi-lingual tours are advertised. I suspect you need to call and reserve a non-Spanish tour.
Mother nature will dictate your view. The area is plagued with fog, which is so thick that you cannot even see the falls if out.
Reviews online will tell you this place stinks (literally). We did not experience this, so I can't tell you whether this is accurate.
The tour was quick; there was not much to see inside the hotel.
There are a tiny café and gift shop inside the museum.
FAQs
Closing Thoughts
You need to watch the weather and pick a day when the weather is fog-free. Plan your itinerary around the potential fog. Had we known that fog would dictate the views, we would have planned our trip around the weather. Unfortunately for us, we did not get to witness the falls with our own eyes. I think we were all a little disappointed; after all, you want to see it all. Regardless, it was a great experience, and we could imagine it just from the sounds alone. Even when we walked down to view the famous balcony offering the best views, you could close your eyes and see it. Last and not least, this gives me a great reason to revisit Bogota – even if passing by en route to Cartagena.
Is it haunted? You'll have to go check it out yourself and find out!
Looking for more posts on Colombia? Start here:
We participate in the Amazon Services LLC Associates Program, an affiliate advertising program designed to provide a means for us to earn fees by linking to Amazon.com and affiliated sites.
Subscribe to our newsletter and get the best travel tips and inspirational stories delivered monthly. No spam, no sales pitches – TRAVEL!
Brit On The Move™ Travel Resources
Ready to book your next trip? Use these resources that work:
Need more help planning your trip? Check out our Resources Page, highlighting the great companies we trust when traveling.