What Is Expedia Bargain Fare?
Before going into the details about "What is Expedia Bargain Fare," it is essential to understand what Expedia actually is. It is a part of Expedia Group that offers online travel and shopping services to consumers. It was founded back in 1996, which makes it the pioneer among the top traveling websites.
The group owns several other websites that target a similar market. Their other companies include Vrbo, Hotels.com, Hotwire.com, Orbitz, Travelocity, Trivago, and CarRentals.com. Since the same group owns them, you will find some similarities among their services as well.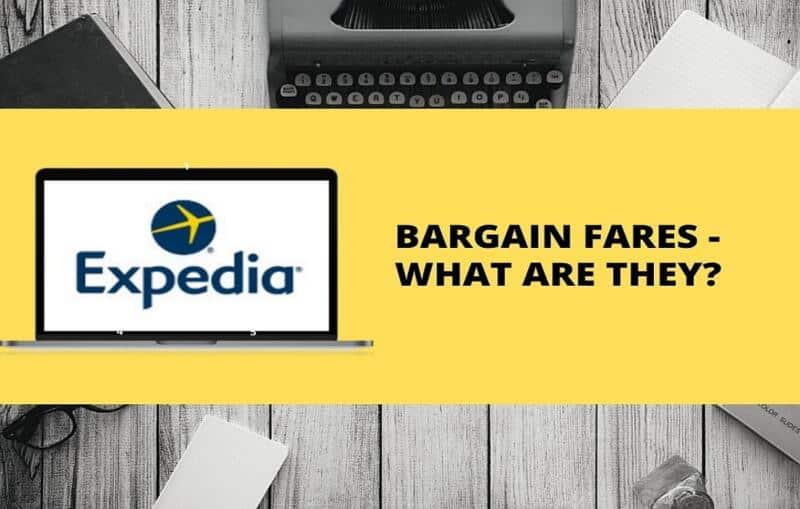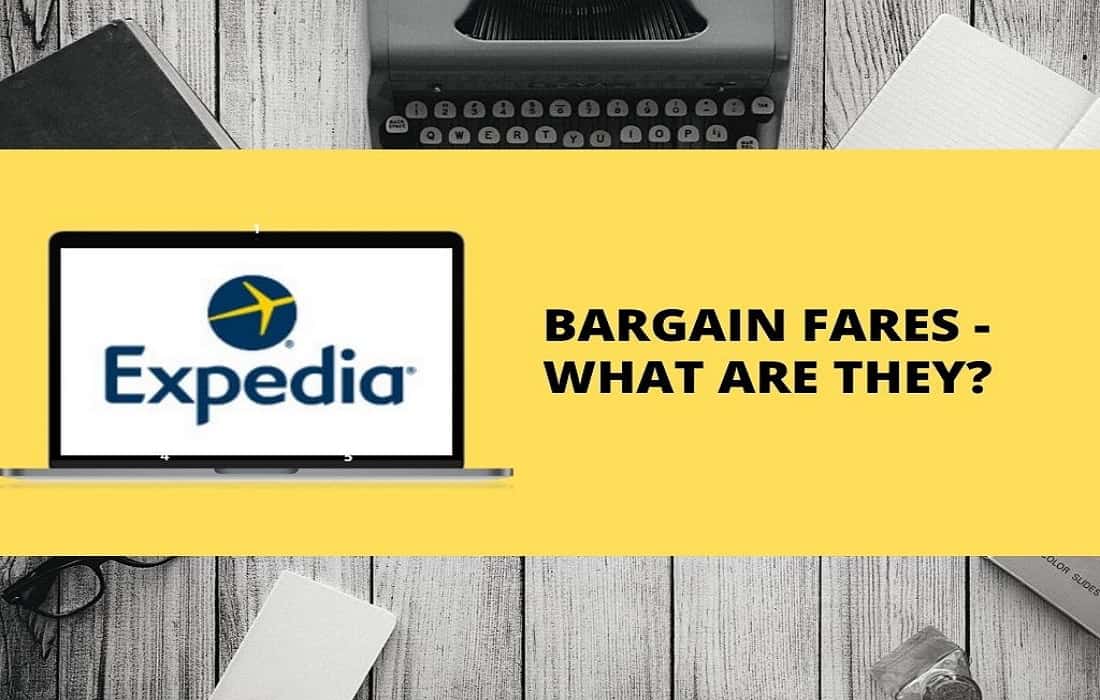 This post may contain affiliate links. Please read our disclosure and privacy policy for more information.
Expedia Bargain Fare Explained
The Expedia Bargain Fare is a special feature offered by Expedia. You usually notice it at the top of the page where your search results are displayed. It is basically a deal that is displayed to the customer while shopping. Kind of a "mystery deal" because, while discounted, you won't be given all of the information before purchasing.
For example, if you want to travel from one city to another and plan to buy a plane ticket using the Expedia Bargain Fare. You'd only have vague information about timing. The details like the airline, specific times, seat number, onboard refreshments, etc., would be kept hidden from you. The only way to discover all of the details is actually to buy that ticket.
However, it might not be an ideal way to travel because a lot of information is not provided. If you are flexible, Expedia Bargain Fare may work for you. Sometimes, this fare is a great deal—though it often comes with extra restrictions.
How Does Expedia Bargain Fare Work?
Expedia will only share general information about the flight, like departure and arrival windows – in other words, a "range." You'll get a general overview of when the flight will depart and arrive. And, you will also get a range of stopovers rather than a set amount.
Once you purchase the deal, the details are shared. This Expedia Bargain Fare is specifically designed to attract a special kind of customer – the flexible ones.
The most important thing to know is that there will be stopovers. However, if you are a last-minute traveler and need to get somewhere urgently, you could benefit from these deals – especially the cost savings. At a minimum, you will reach the destination for the lowest possible price.
Expedia Bargain Fare Pros & Cons
Pros:
Expedia Bargain Fares Are Cheaper
The cost of travel is often everyone's number one concern. Airline tickets are expensive, and sometimes people can't afford to travel. That is exactly what the Expedia Bargain Fare is designed to assist with! It offers you a considerably lower price than the standard price, which makes it an ideal choice for people that are budget conscious. So, if you are running low on cash and need to get somewhere fast, it is a great option.
Expedia Bargain Fares Can Save You Time
We all know travel consumes time. Getting from one place to another can be exhausting. Unless you use a travel agent, you typically spend a lot of time online comparing ticket prices looking for the "best deal." You can avoid this with Expedia Bargain Fares. These deals eliminate all the irrelevant details, such as selection of seat and class, meal selection, baggage limitations, etc. Browsing through multiple pages and reading unnecessary detail eats up a lot of time. This service skips everything and has a fixed price, and once you pay, the details are disclosed.
Expedia Bargain Fares Are Ideal For Last-Minute Itineraries
You may not always have the time or skills to plan a last-minute trip. Situations vary. For example, you may need to book a flight for an emergency vs. a last-minute pleasure trip.
The biggest problem with emergencies is that options are limited, making it even more expensive to travel. Typically, airline tickets are sold out. With Expedia Bargain Fare, you don't need to worry. It is ideal for last-minute flights. You check Expedia's website for availability. Don't expect luxury, though, because these deals do not cover luxury.
The Element Of Surprise
All of Expedia Bargain Fare's are a surprise. Remember we explained that the actual details of the airline and times are not shared until after the purchase? This will appeal to some but not all.
Look at the positive – you can find a destination faster and for less. Enjoy the surprise – you may actually like it. However, you have to be alright with things like not getting the window seat. Similarly, it's almost guaranteed that you won't be getting extra legroom.


Cons:
Unknown Details
The biggest problem with Expedia's Bargain Fare is that you don't know all the details before buying the ticket. Getting a cheaper ticket is one thing, but it might be less than ideal if the route includes lots of layovers, terrible seats, or is with an airline you dislike. Not knowing may add stress, which alone is a strong reason for avoiding these deals.
The Higher Number Of Stopovers
Frequent travelers know that stopovers add valuable time to a journey and present issues if any one leg of the flight is late or canceled.
Since Expedia's Bargain Fare usually has stopovers, it may not be right for you. Just imagine what would happen if you had to change the airplane every hour before reaching the final destination. It is stressful, exhausting and by the time you reach your destination, you will be exhausted.
Different Airlines
Another problem with Expedia's Bargain Fare is the combination of different airlines. Each leg of the flight may be on a different carrier.
If you have no airline preference, this may not matter to you at all. If saving money is the main goal, it probably won't matter. However, which airline does matter to a lot of travelers.
Risk of Availability
One of the riskiest factors of Expedia's Bargain Fare is availability – it is not available or offered for every flight route you search. While it can be a great option for the flexible budget-conscious traveler, it's not sure.
These special offers are created when the flights have empty seats and want to fill them up. So real availability is probably the biggest negative.
Closing Thoughts
Despite all the cons, Expedia Bargain Fares are still a great way to save money. Many people consider them ideal for cheap travel.
When you look at the pros and cons, focus on the pros and forget the cons. All you need is to click the button at the top of the page and skip all the unnecessary details and complex processing. When paid, Expedia will provide you the flight details. From here, you can print the boarding passes. With the help of Expedia Bargain Fares, you are all set to travel.
Critics will always point out the negatives. Overall, if you look at the service alone, it is a wonderful opportunity for people that need to fly for an emergency and for people who want to travel cheaply. So, click the Expedia Bargain Fare and discover what it has for you before everything is sold out.
Author's Bio:
James Ronald began his career as a plumber and later started his business journey as a water heater supplier. He has traveled across the USA to work in the heating industry for 2 decades. In the light of his experience, he felt a dire need for a resourceful and reliable platform providing information on water heating systems for homes and RVs; hence waterheaterpicks.com is the platform he launched.
Looking for more Travel Hacks? Start here:
ravel Planning Resources
Looking to book your next trip? Use these resources that work:
Book your Hotel: Find the best prices on hotels; use Booking.com for the best deals.
Book your Flights: Find the best deals and prices on flights; Expedia.com for the best deals.
Find Apartment Rentals: You will find the lowest prices on apartment rentals with Booking.com's Apartment Finder.
Travel Insurance: DoDon't'eave home without it. Review our Travel Insurance Guide on how to pick and decide which travel insurance is right for you.
Are you interested in Volunteer Vacation and Working Holidays? Check out the complete guide to how here!
Need more help planning your trip? Check out our Resources Page, where we highlight all the great companies that we trust when we travel.