What is a Multi-City Flight?
A multi-city flight combines flights between several cities into one reservation, saving you the time of booking several one-way tickets between each location. Often, it's a lot cheaper than booking a series of one-way tickets. If you use this feature directly on an Airline website, you can often score free stays in the airlines connecting hubs.
This technique is by far my all-time favorite because it enables you to maximize your spending on flights. I am going to show you a couple of examples using Iceland Air and Emirates Air. You can also use this technique on most third-party sites; however, you will not have the same guarantees that you would if you book directly via the airline if you do.
This post may contain affiliate links. Please read our disclosure and privacy policy for more information.
Multi-City Flights and Airline Hubs
To take full advantage of this strategy knowing an airline hub is a must as it enables you to see connection points. Airline hubs or hub airports are used by one or more airlines to concentrate passenger traffic and flight operations at a given airport. They serve as transfer (or stop-over) points to get passengers to their destination.
Here is a list of all airline hubs: https://en.wikipedia.org/wiki/List_of_hub_airports. They are categorized by continent, country, then airline.
How Do I Book A Multi-City Flight?
Here are two examples:
Iceland Air: Example: Orlando to Zurich, Switzerland via Reykjavik Iceland.
Go to Iceland Air
Select Flights, then enter in the starting point
Then change the search to Multi-City then Add Flights:
Previously on Iceland Air, you could add more flights, but it now seems limited to three.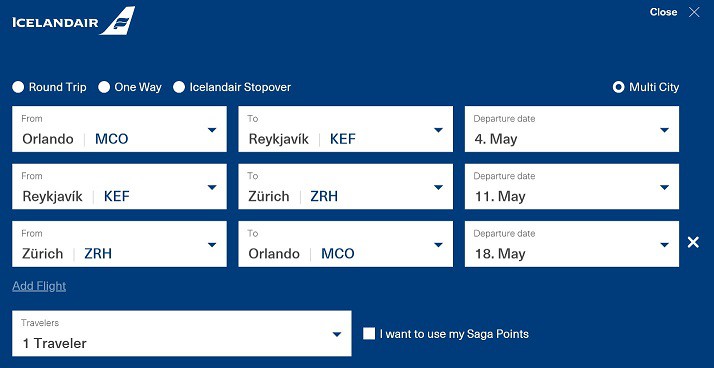 Select the fare for the first flight. *For all flights, I'll select the lowest economy fare: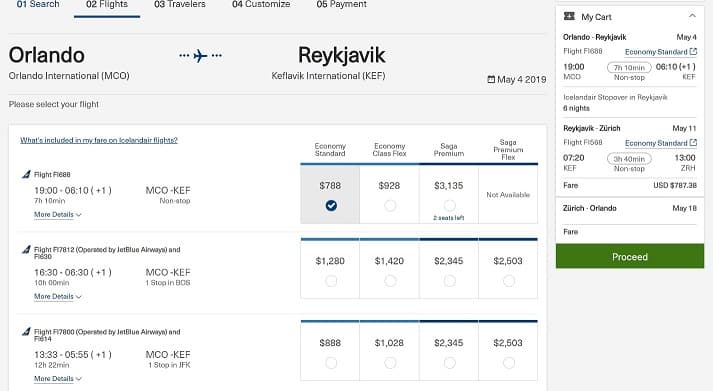 Notice that your connection via Reykjavik Iceland is included – aka 'free":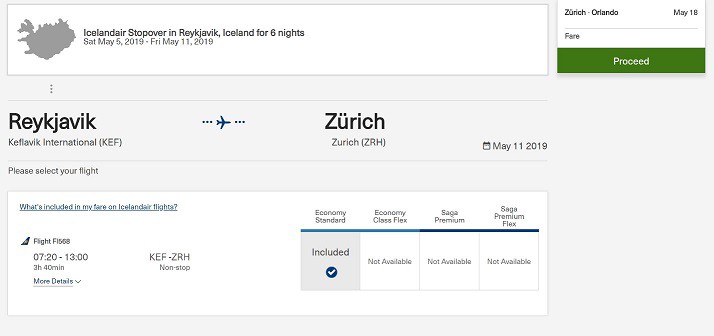 Select your return fare:
Total Cost is $1,424,67.
Now the dates I picked are random and getting into the summer season when trips to Europe get more expensive. Regardless, this is the total cost roundtrip, and it's not too shabby.
Tip: You can score the same deal via Expedia, Skyscanner, etc… I don't advise this unless it's the same carrier throughout the entire trip. If multiple airlines are involved, something goes wrong with all three parties (the broker and the two airlines) will pass the buck. I know this from firsthand experience.
Emirates Air: Example Orlando to Cape Town, South Africa via Dubai
*This is the actual route we took when we traveled to Dubai and South Africa.
Go to Emirates Air
Select Flights enter in the starting point
Then change the search to Advanced Search. The"Add another city" option opens: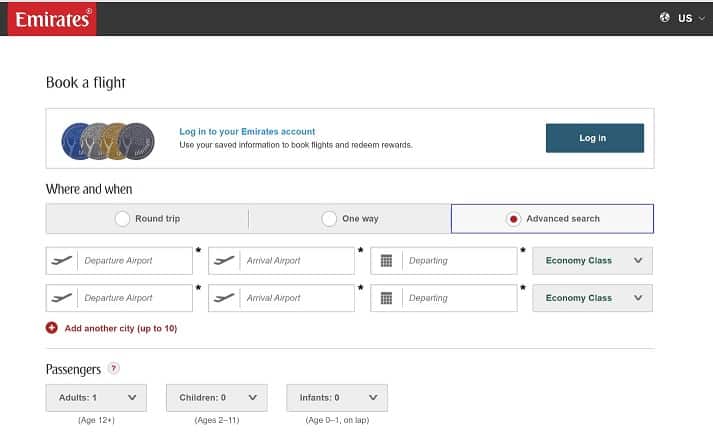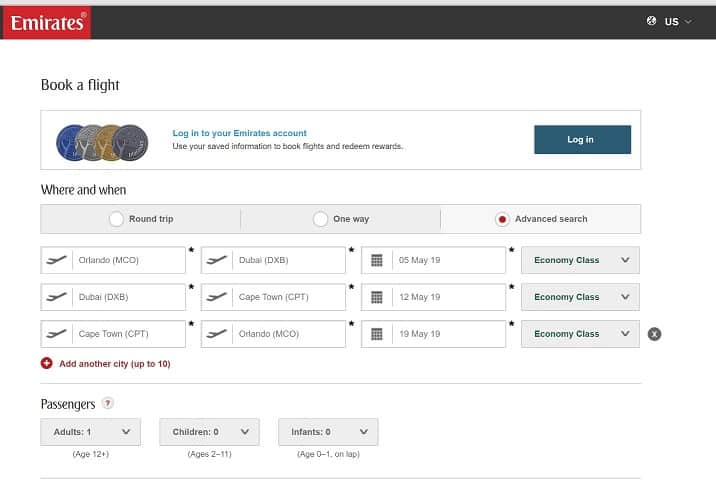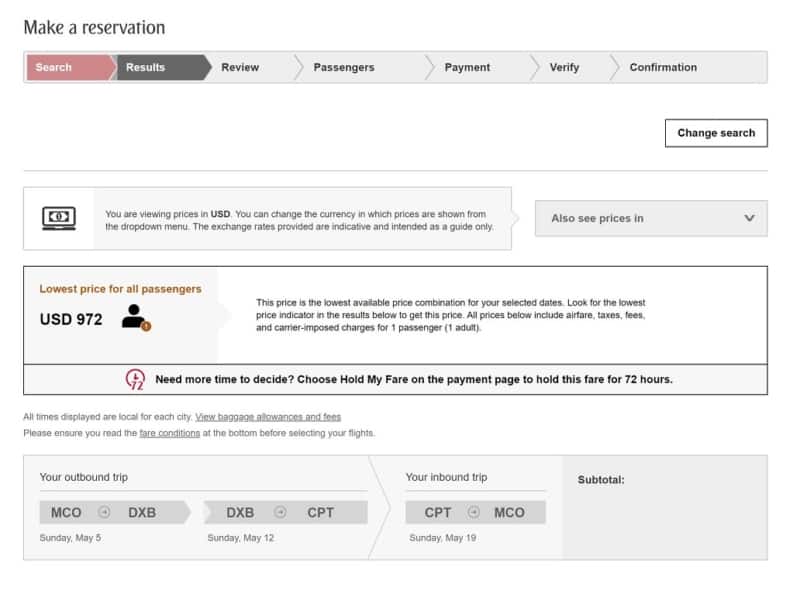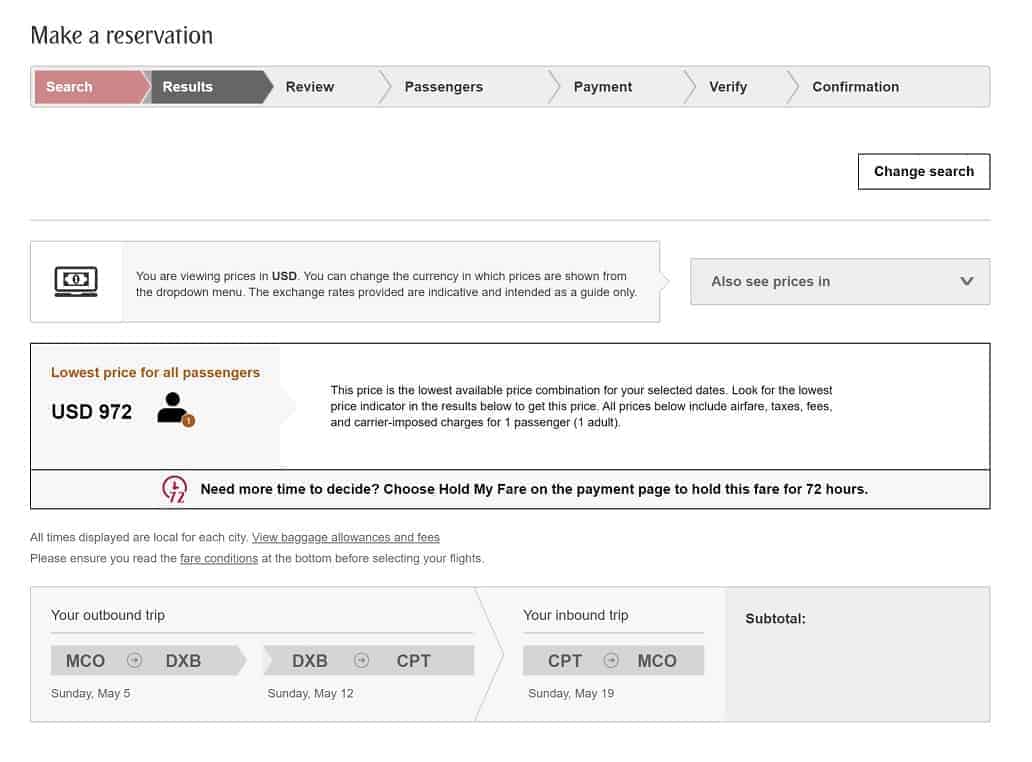 Then select flights the same way I did in the Iceland Air example. Again, I will pick the lowest economy flights for all legs:

Next, choose the options for the next Leg. Notice that your connection from Dubai to Cape town is at no extra charge – aka 'free":
Select an option for the connection: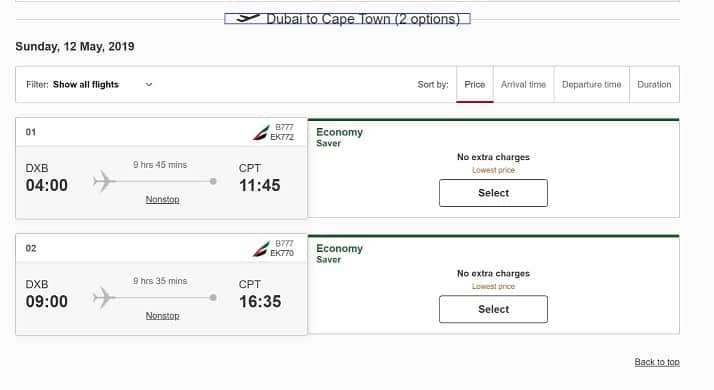 Then select the return flight: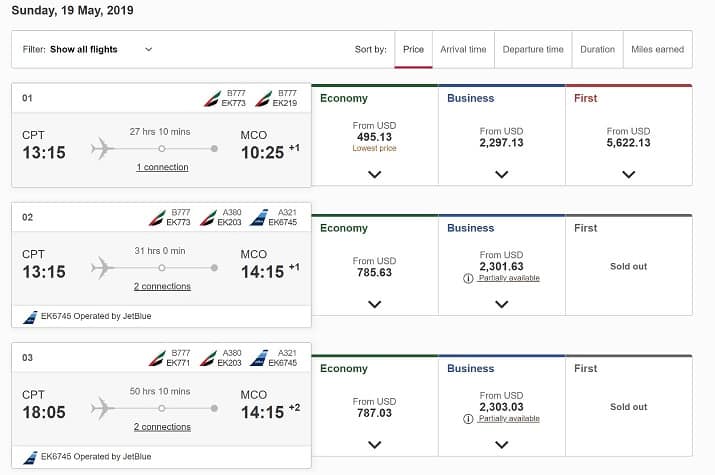 The Total Cost is $971.63
Let me tell you why we chose this route and how it came to be to put this pricing into context. Brian always wanted to cage dive with the great white sharks. You can do this here in the states, a couple of hours east of San Francisco. The Cost was approximately $1,000 per person the last time I checked. We decided that if we were going to spend that type of money on the experience, it might also be to go to the significant white shark capital of the world – Cape Town, South Africa. Our flights alone combined cost us less than what the dive would have been in the states. A no-brainer for us. Further, the great white shark dive in Cape Town costs about $100 per person, and it's not a several-hour boat ride to meet them!
Multi-City Flights & Third Party Sites
You can use the same strategy on sites like Expedia, Skyscanner, and Kayak. You may even get identical results. What you need to watch for are different carriers. If you find a multi-city route that includes multiple carriers, I will pass. If you are booking directly via an Airline and use other carriers, it's a different ball game. What it boils down to is who is ultimately responsible for your travel. If you have three parties involved, you run the chance of problems should you miss a connection. I haven't written about this in detail yet, but I will at some point. But let me stress, if you are using a third-party site (not an airline) and more than one airline involved – pass.
Multi-City Flights & Frequent Flyer Programs
Most airlines allow you to use this technique when redeeming frequent flier miles. Each airline has its own rules. For example, some are not hub-based but are zone-based. Some are directional, aka clockwise, or vice versa.
Closing Thoughts
You can achieve similar results by booking a string on one-way tickets. I have done this in the past, but it can be tedious and complicated. I've found that capitalizing on connections via a hub is the most cost-effective way to zip from one country to another. Using airline websites is also very straightforward. Even a beginner could use this technique to visit several locations.
Fingers crossed, you will all try this and benefit from seeing some new countries without additional airfare. Let me know how it goes!
Looking for more Travel Hacks? Start here:
We are a participant in the Amazon Services LLC Associates Program, an affiliate advertising program designed to provide a means for us to earn fees by linking to Amazon.com and affiliated sites.
Brit On The Move™ Travel Resources
Ready to book your next trip? Use these resources that work:
Need more help planning your trip? Check out our Resources Page, highlighting the great companies we trust when traveling.