Multi-City Flights – A Travel Hack You Need to Know!
What is a Multi-City Flight?
A multi-city flight combines flights between several cities into one reservation, saving you the time of booking several one-way tickets between each location. Often, it's cheaper than booking a series of one-way tickets. Using this feature directly on an Airline website can often score free stays in the airline connecting hubs.
This technique is by far my all-time favorite because it enables you to maximize your spending on flights. I will show you some examples using Iceland Air and Emirates Air. You can also use this technique on most third-party sites; however, you will not have the same guarantees if you booked directly via the airline if you do.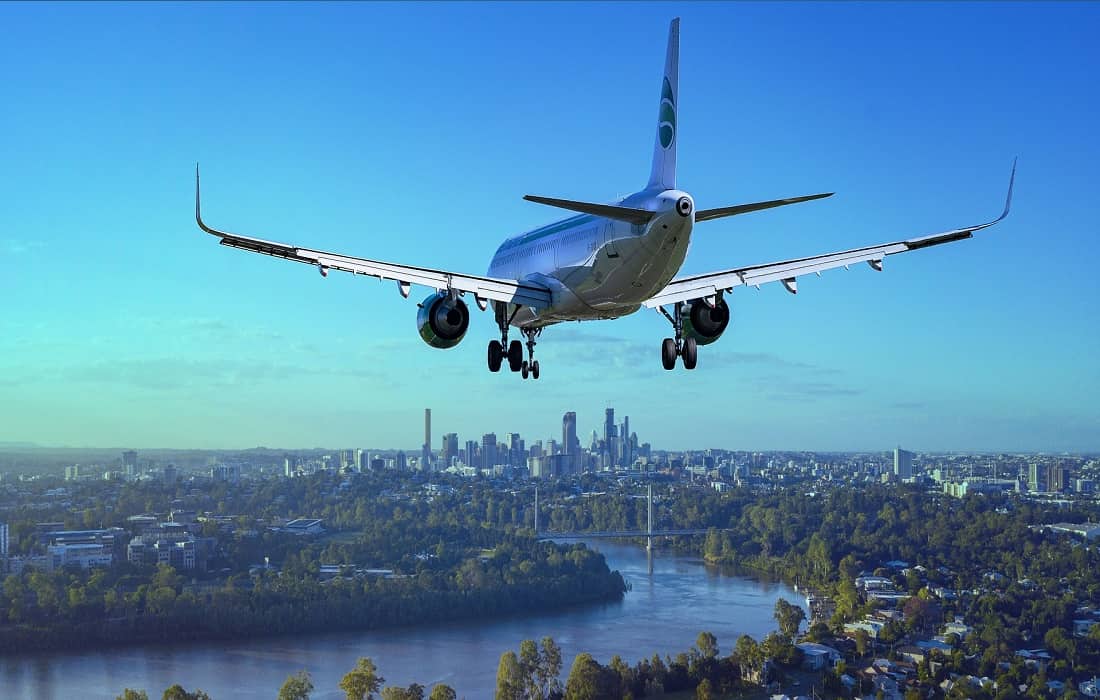 This post may contain affiliate links. Please read our disclosure and privacy policy for more information.
Terminology
Part of what makes finding the right multi-city flight for you a challenge, or should I say confusing, is there are different ways to accomplish it. Add to these, other providers and airlines use additional terms for the same concept.
So, let's review the terminology.
Open-Jaw Flight
An open-jaw flight, also known as an open-jaw ticket, is a type of airline ticket that allows travelers to fly into one city and out of another without having to return to their original departure city.
For example, if you want to travel from New York to Paris and then from Rome to New York, you can book an Open-Jaw Flight to fly into Paris and out of Rome without having to return to Paris to catch your return flight.
Layover
A flight layover is a scheduled stopover on a flight itinerary where passengers must wait at a connecting airport for a certain period before boarding their next flight. It differs from a direct or non-stop flight, where the plane flies directly from the origin to the destination without any intermediate stops.
A layover can be planned or unplanned, and it can vary in duration depending on the airline, the route, and the availability of flights. A layover can last anywhere from a few minutes to several hours or overnight.
During a layover, passengers must stay in the airport terminal and wait for their connecting flight. However, in some cases, they may be allowed to leave the airport and explore the city if they have a long layover and a valid visa or travel documents.
Multi-City Flight
A multi-city flight, or a Multi-Destination or Open-Jaw Flight, is an airline ticket allowing travelers to visit multiple cities on a single itinerary.
A flight stopover is a planned layover on a multi-leg flight where a traveler stops at a destination for a certain period before continuing to their final destination. A stopover is usually longer than a layover, typically lasting for a day or more, and allows travelers to explore and experience a new place.
For example, if you're flying from New York to Tokyo and your flight has a stopover in Singapore for two days, you can use this time to explore the city and its attractions before continuing to Tokyo. Some airlines offer free stopovers to promote tourism in their hub cities, while others charge a fee for this service.
Iceland Air Pioneered The Stopover
In the 1960s, Icelandair began promoting tourism using the Stopover. Low fares began to attract passengers in 1955 after the company was founded in 1944.

Due to Iceland's location halfway between North America and Europe, Iceland Air can offer short and convenient flights to many destinations. Icelandair attracts customers with lower airfares and no additional charge for stopover days.
Not surprisingly, many carriers followed suit with this strategy.
Stopovers vs. Multi-City Flights
In laments terms, the Stopover and the multi-city flights work the same way. Each airline may use different terminology to promote them, but the concepts are the same.
Third-party booking sites always call them "Multi-city" flights.
Multi-City Flights and Airline Hubs
Knowing an airline hub is a must, as it lets you see connection points to take full advantage of this strategy. One or more airlines use airline hubs or hub airports to concentrate passenger traffic and flight operations at a given airport. They serve as transfer (or Stopover) points to get passengers to their destinations.
Here is a list of all airline hubs: https://en.wikipedia.org/wiki/List_of_hub_airports. They are categorized by continent, country, then airline.
How Do I Book A Multi-City Flight?
Here are two examples:
Iceland Air: Example: Orlando to Zurich, Switzerland via Reykjavik, Iceland.
Go to Iceland Air
Select Flights, then enter the starting point
Then change the search to Multi-City then Add Flights:
Previously, you could add more flights on Iceland Air, but it now seems limited to three.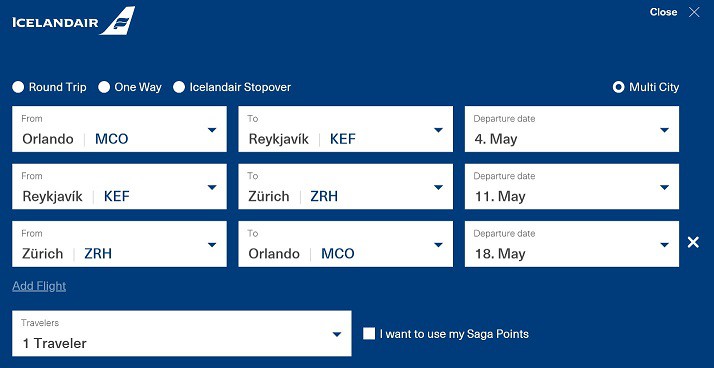 Select the fare for the first flight. *For all flights, I'll select the lowest economy fare: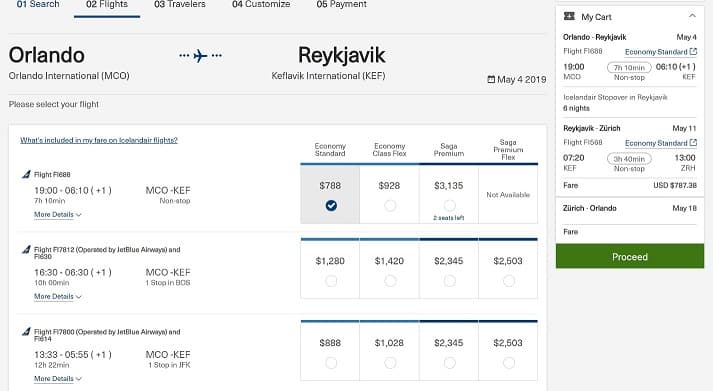 Notice that your connection via Reykjavik Iceland is included – aka 'free":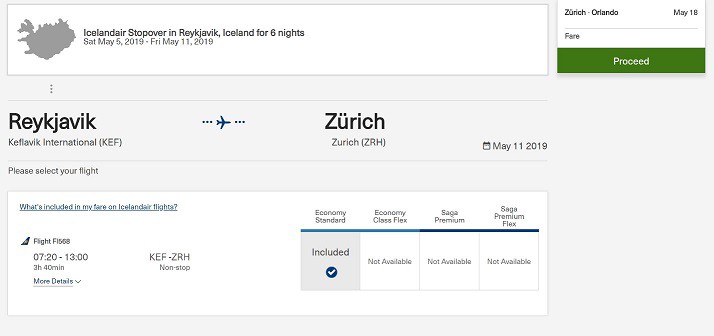 Select your return fare:
The total Cost is $1,424,67.
Now the dates I picked are random and getting into the summer season when trips to Europe get more expensive. Regardless, this is the total cost roundtrip, and it's not too shabby.
Tip: You can score the same deal via Expedia, Skyscanner, WayAway, etc… I don't advise this unless it's the same carrier throughout the trip. If multiple airlines are involved, if something goes wrong with all three parties (the broker and the two airlines) will pass the buck. I know this from firsthand experience.
Traveling a lot? Get your cashback from every trip 🤑
💲 With the WayAway membership plan, you will receive cashback on flights, hotels, car rentals, and more. Their travel concierge will handle all travel-related queries and share hidden gems in every city with you!
Grab your WayAway membership plan now and get 10% off
Emirates Air: Example Orlando to Cape Town, South Africa, via Dubai
*This is the actual route we took to Dubai and South Africa.
Go to Emirates Air
Select Flights and enter the starting point
Then change the search to Advanced Search. The "Add another city" option opens: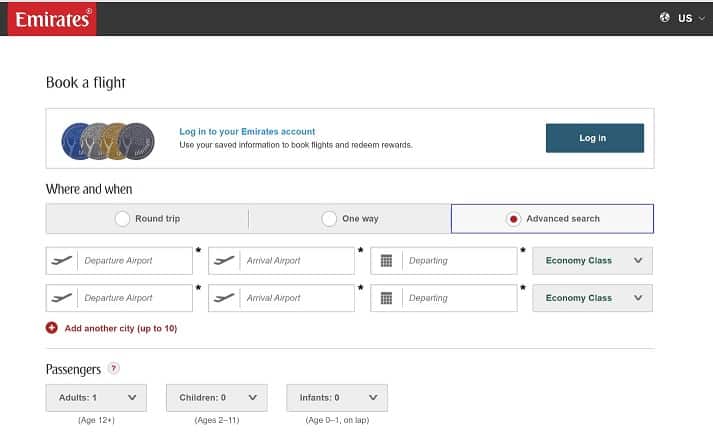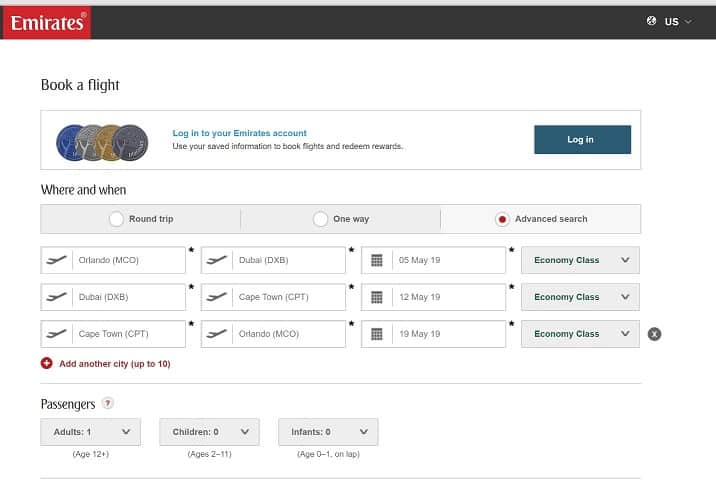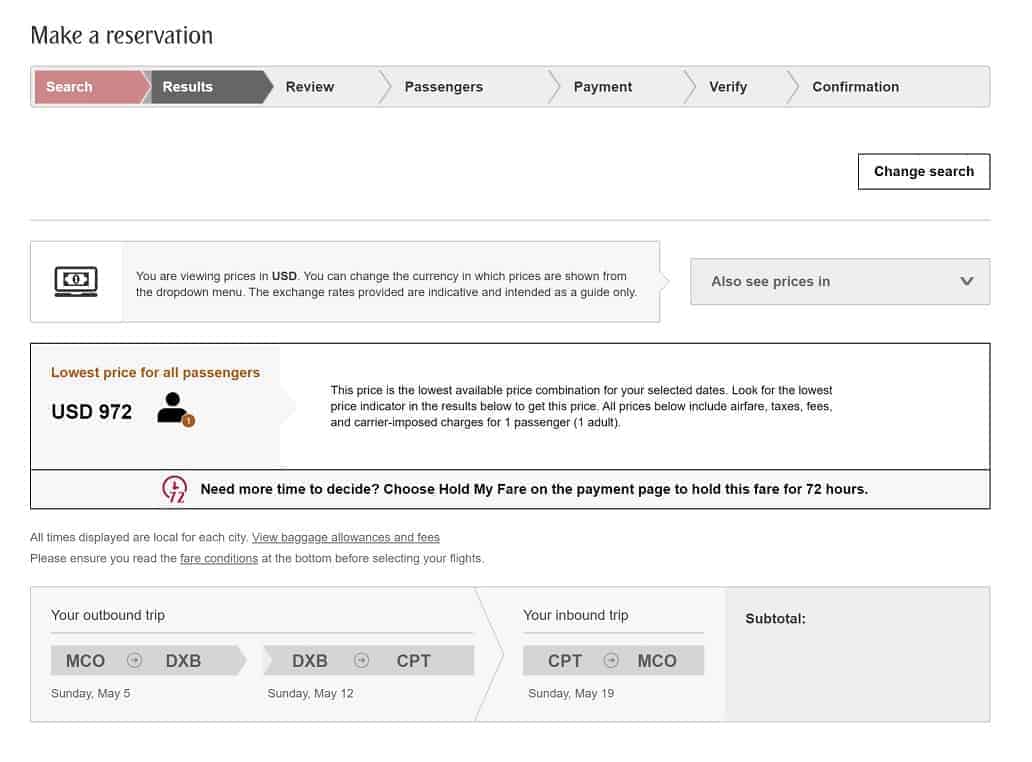 Then select flights the same way I did in the Iceland Air example. Again, I will pick the lowest economy flights for all legs:

Next, choose the options for the next Leg. Notice that your connection from Dubai to Cape town is at no extra charge – aka 'free":
Select an option for the connection: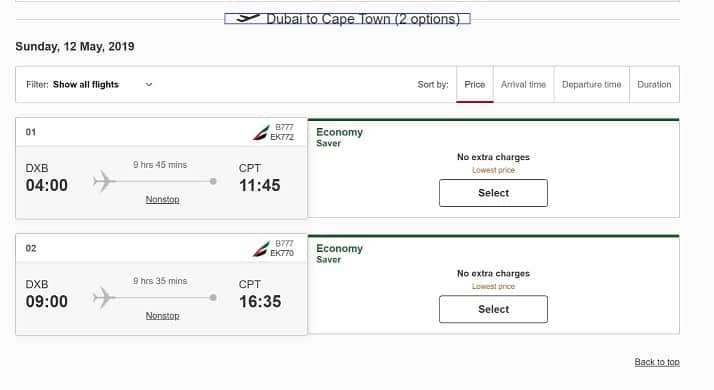 Then select the return flight: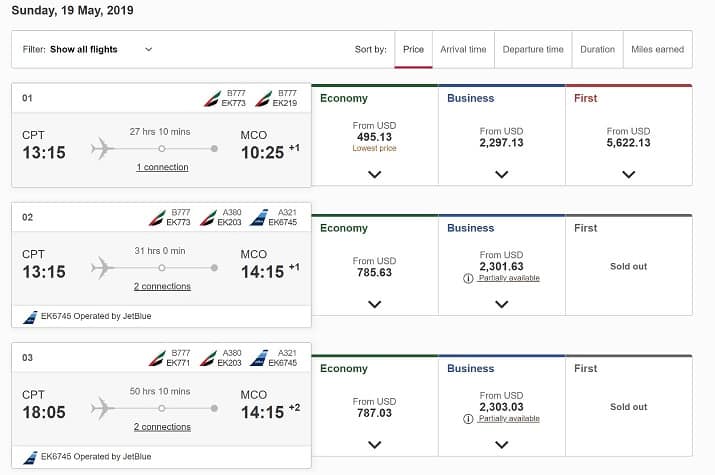 The Total Cost is $971.63
Let me tell you why we chose this route and how it came to be to put this pricing into context. Brian always wanted to cage dive with the great white sharks. You can do this here in the states, a few hours east of San Francisco. The Cost was approximately $1,000 per person the last time I checked. We decided that if we were going to spend that type of money on the experience, it might also be to go to the significant white shark capital of the world – Cape Town, South Africa. Our combined flights cost us less than the dive would have been in the states—a no-brainer. Further, the great white shark dive in Cape Town costs about $100 per person, and it's not a several-hour boat ride to meet them!
Multi-City Flights & Third-Party Sites
You can use the same strategy on sites like Expedia, Skyscanner, and Kayak. You may even get identical results. What you need to watch for are different carriers. I will pass if you find a multi-city route that includes multiple carriers. If you are booking directly via an Airline and use other carriers, it's a different ball game. What it boils down to is who is ultimately responsible for your travel. If you have three parties involved, you run the chance of problems should you miss a connection. I haven't written about this in detail yet, but I will eventually. But let me stress if you are using a third-party site (not an airline) and more than one airline is involved – pass.
Multi-City Flights & Frequent Flyer Programs
Most airlines allow you to use this technique when redeeming frequent flier miles. Each airline has its own rules. For example, some are not hub-based but are zone-based. Some are directional, aka clockwise, or vice versa.
FAQs
Closing Thoughts
You can achieve similar results by booking a string of one-way tickets. I have done this in the past, but it can be tedious and complicated. I've found that capitalizing on connections via a hub is the most cost-effective way to zip from one country to another. Using airline websites is also very straightforward. Even a beginner could use this technique to visit several locations.
Fingers crossed, you will all try this and benefit from seeing some new countries without additional airfare. Let me know how it goes!
Looking for more Travel Hacks? Start here:
We participate in the Amazon Services LLC Associates Program, an affiliate advertising program designed to provide a means for us to earn fees by linking to Amazon.com and affiliated sites.
Subscribe to our newsletter and get the best travel tips and inspirational stories delivered monthly. No spam, no sales pitches – TRAVEL!
Brit On The Move™ Travel Resources
Ready to book your next trip? Use these resources that work:
Need more help planning your trip? Check out our Resources Page, highlighting the great companies we trust when traveling.