Hernando Beach – The Complete Guide To The Gulf Of Mexico
Hernando Beach, Florida, is likely a beach town that you've never heard of. Off the beaten path, hidden out of sight – yet this oasis holds some of Florida's best-kept secrets. Located on the west coast of Florida and right next door to Weeki Wachee River and Springs, this shrimping town offers much more than direct access to the Gulf of Mexico. It is home to the Hernando Flats, Gilligan's Island, and canal living at its finest. So wonderful that we took the plunge this year and bought a second home in Hernando Beach, Florida. Yep, we love it here so much that it was time to put roots down here. Let me share with you why we fell in love with the real Gulf Of Mexico's Venice!
The most popular tours in Gulf Of Mexico
This post may contain affiliate links. Please read our disclosure and privacy policy for more information.
Hernando Beach History
Despite the name, Hernando Beach is a misnomer – there isn't an actual beach. Instead, it is a waterfront canal community that has access to the Gulf of Mexico. Before the 1950's Hernando Beach was wetlands. Charlie Sasser, a developer, purchased the area somewhere between 1959 and 1965 and then developed the area up until 1970.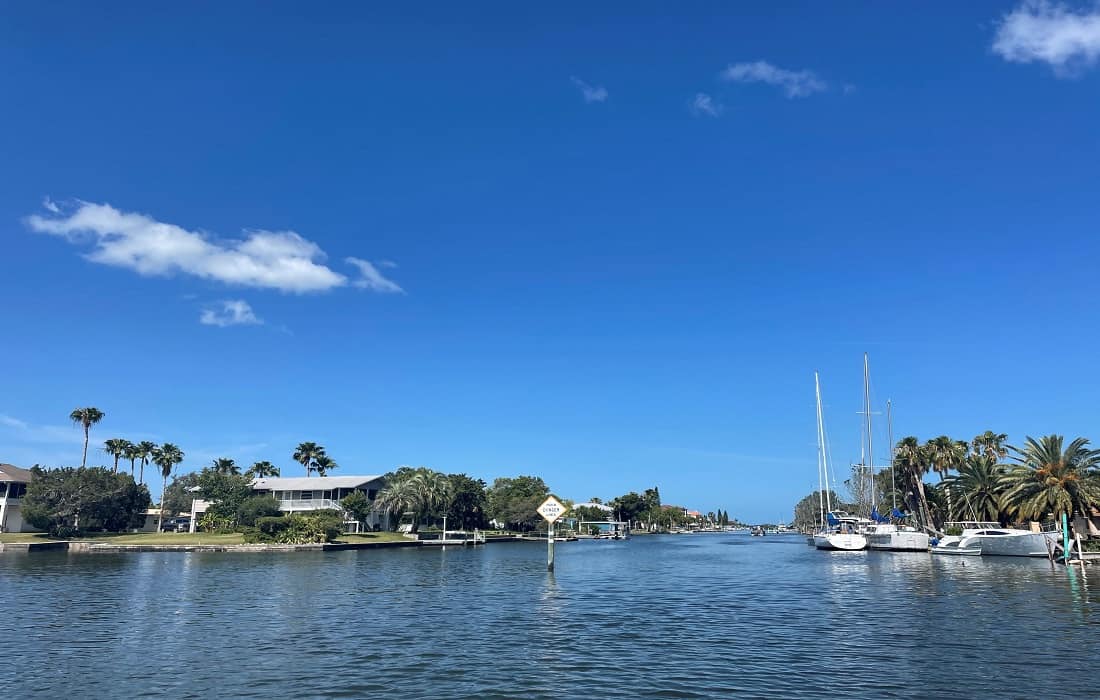 Sasser developed 500 acres of marshy wetlands into waterfront lots. The lots were created using the earth dug out of mining operations along the coast and dredging.
Fast forward to 1971, when restrictions on wetland development stopped any future growth. The state claimed ownership of the wetlands Sasser was digging in, and the Army Corps of Engineers claimed Sasser didn't have the proper permits.
Long story short, a legal battle ensued between Sasser, the state, and the Hernando County Commission. This resulted in Sasser building a dike around 144 acres he had begun developing 10 years earlier to separate it from the gulf. He was also ordered to restore the land to its natural state. In other words, while the development was initially legal, it was deemed illegal in 1971.
Many say this is the last community of its kind; some say it should not exist. I say thank goodness it does!
Why Hernando Beach, Florida?
I'll be frank, like most of you, I have never even heard of this town. I stumbled upon it when searching for a boat. The boat search brought me to Hernando Beach, and we did our boat training out here. I've been addicted to boating for a while now but seeing the clear turquoise waters of Hernando Beach caught my attention – as did the proximity to the scallop patches that consume our summers.
In one picture, here is why: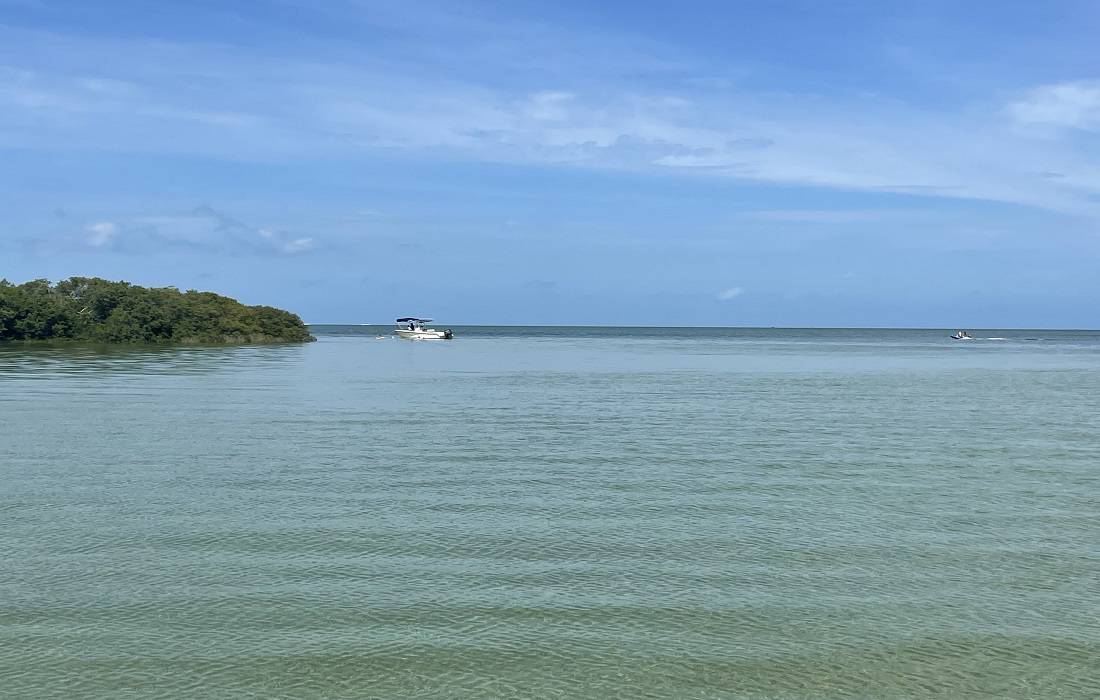 The Three Sections of Hernando Beach
If you consider renting or moving to Hernando Beach, you need to understand how the community is set up. It's divided into three sections, and while all can access the Gulf of Mexico, only one section- the North has direct access.
There are two separate canal systems. The northern canals are saltwater and have direct access to the Gulf of Mexico. The southern canals, which include the middle section, are mostly fresh water and do not have direct access to the Gulf of Mexico.
The North: The northern section starts at Eagles Nest Drive to Companero Entra.
The Middle: The middle section is all of the streets off Hermosa Blvd.
The South: This south starts on Amberjack Drive and ends on Palameto Drive but is accessed from Bluefish Drive or Jew Fish Drive. This is the most underdeveloped section and stages some of the biggest homes in the area. The south is a deed-restricted comminute and has a mandatory homeowners association called Hernando Beach South Property Owners Association. Home and lot prices are lower in the south because of the lack of direct gulf access.
Boatlift of Hernando Beach
Residents of the middle and south sections access the Gulf of Mexico using the Hernando Beach boat lift. This is all the streets off Hermosa Blvd and in Hernando Beach South. The boatlift is a concrete plug – part of the berm that provides access to the saltwater canals and the Gulf of Mexico. Once you've passed over the boatlift, you then must go under the Companero Entra bridge. If you follow any of the groups on Facebook dedicated to Hernando Beach, you will have seen the questions around the boat ramp and accessibility.
Here's an illustration of the three areas: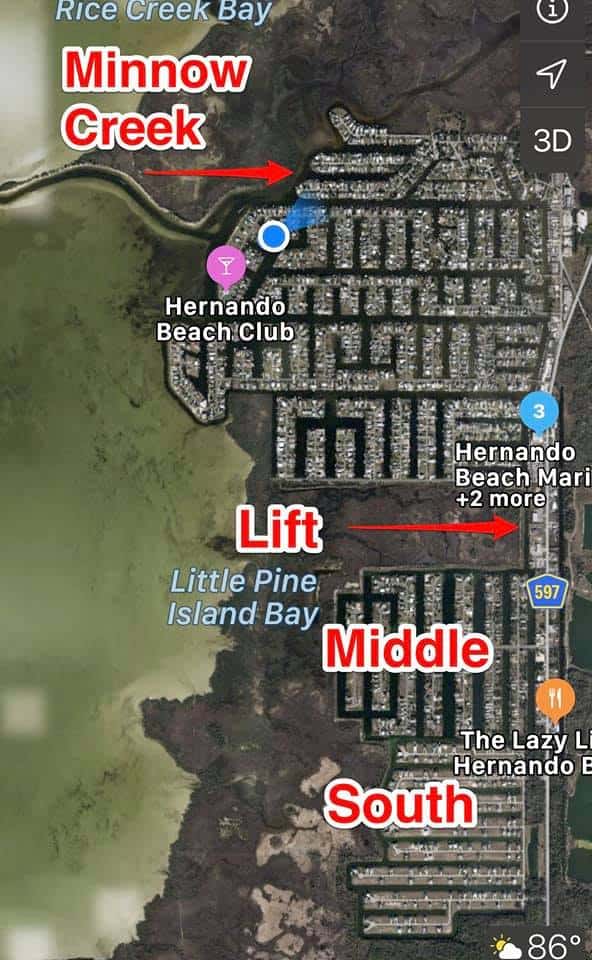 Photo Credit: Jami Lyn Costanzo
I live in the North, so I personally don't have to deal with the boatlift, but here are the typical things people want to know:
FAQs About Hernando's Boatlift
Hernando Beach Flats
I think some would argue that this is one of the star attractions of Hernando Beach. Shallow sand bars glistening from the turquoise water make for a perfect boating day. And there's no shortage of boats enjoying this oasis! I don't think you can fully appreciate this coastal community until you've hit the flats. I consider the flats the crown jewel. If you were dropped off here blindfolded, you would swear you're in the Caribbean or the Bahamas once revealed.
Most people stick to the main section where the barrier islands are directly next to the channel. We tend to cross the flats to the right and hang out at what locals call Gilligan's Island. FYI, not sure if this is the real name or not.
Lastly, you've not experienced true Florida until you've ended your day with shrimp boats in the backdrop of a sunset.
Water Floats & Mats You Need To Enjoy The Flats

Springs & State Parks
Hernando County is home to some of the most stunning state parks and springs. If hitting the flats is not your thing, don't worry. There's plenty more to see and do!
Roger's Park
Three acres along the Weeki Wachee River, with a boat launch, swimming beach & manatee sightings. This is only a few miles away from Hernando Beach. Kayaking or floating down this river is a treat; it's reminiscent of days gone by. It's so untouched by modern amenities it almost feels like Disney created this place to reflect the past. It's no recreation – it's Florida untouched.
This is the main park area; keep scrolling because the real beauty lies in the river:
Weeki Wachee Springs (Weeki Wachee Springs State Park)
This is the only place in America where you can see real live mermaids! It's a personal favorite of mine! And it's the home of Buccaneer Bay Waterpark, a real old-fashioned watering hole with slides.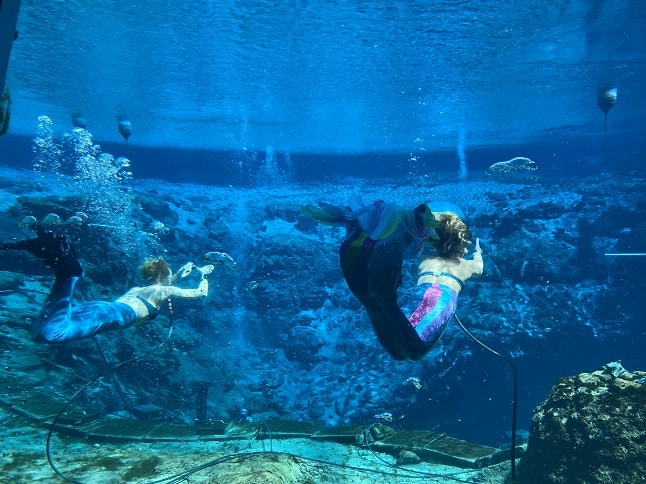 Read all about it here: The Mermaid Show In Florida
Linda Pedersen Park
This is a sandy recreational area that allows swimming in places. The Park also offers fishing, an observation tower, picnicking, and amenities such as showers, playground, grills, a community building, and restrooms. It's very common to see manatees in Jenkins Creek.
Hernando County Beaches
As mentioned in the beginning, Hernando Beach is not a traditional beach community – it's a canal community with access to the Gulf of Mexico.
Alfred A McKethan Pine Island Park
This is the only public beach in Hernando County. Cross barrier islands and salt marshes to reach this little beach island. Or drive your boat up here if you are adventurous, kayak your way up here. This park includes a beach and swimming area, picnic tables, shelters, barbecue grills, observation point, volleyball court, playground, and concession stand. Pavilions are available on a first-come, first-served basis.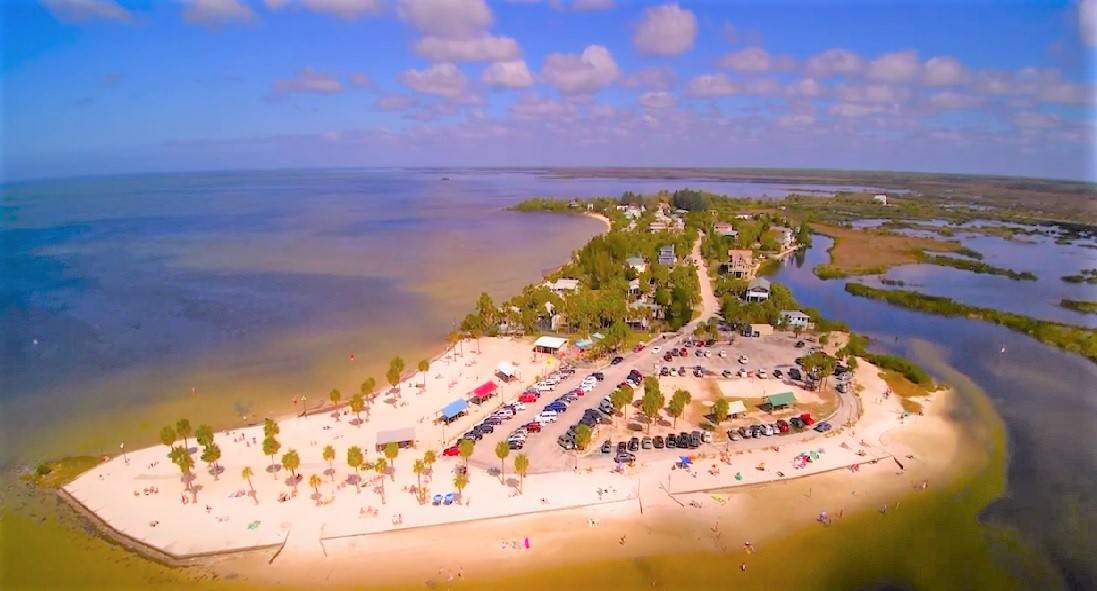 Address: 10840 Pine Island Drive Spring Hill, FL 34607 and distance from is Hernando Beach – 17.5 mi.
Where To Stay In Hernando Beach
Brit On The Move House
You can now rent the Brit On The Move House! Enjoy the most decked-out home in the area.
There is one motel in Hernando Beach.
Phone: (352) 596-2527
Address: 4291 Shoal Line Blvd, Hernando Beach FL 34607
The Captain's House
Owned and operated by Hernando Beach Motel, this is a one-of-a-kind rental. The home is available for weddings, anniversaries, birthday parties or just rent a room with its own private bathroom. The uniqueness of the Captain's House places it in a category all its own yet very affordable. And, check out the pool that is shaped like a boat!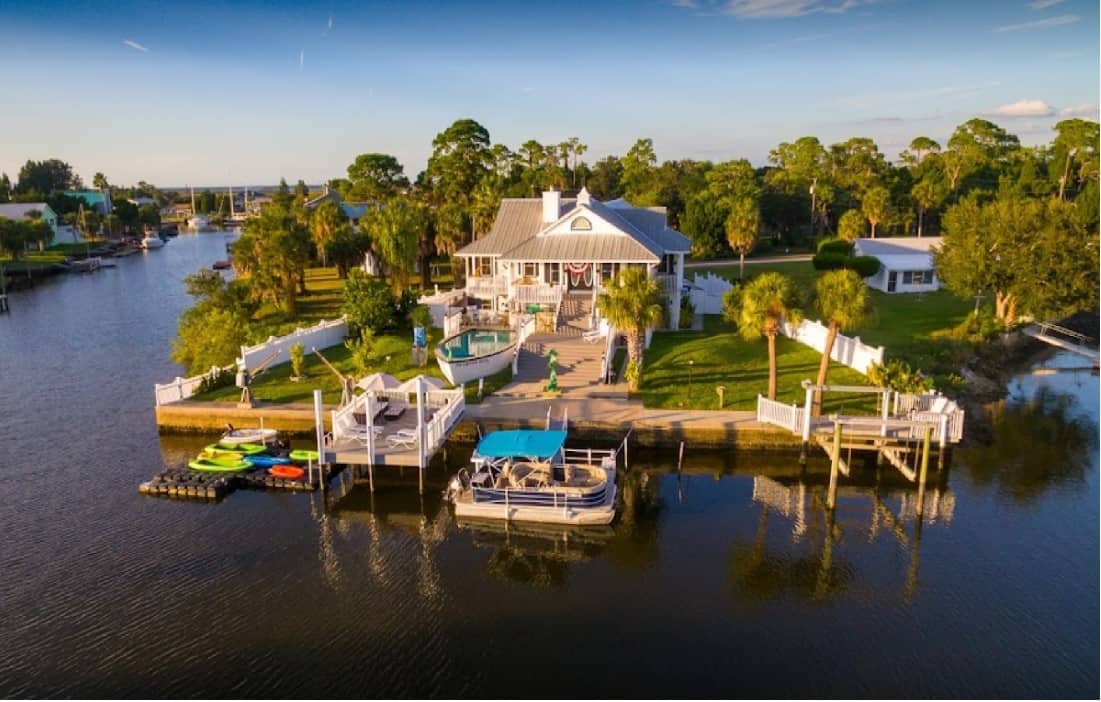 You can book directly here.
Other Accommodation Options
Die-hard must-have for Hernando'ites
Hernando Beach Marinas
Three main marinas service the area.
The only facility on the Main Channel. Boaters at our facility enjoy the quickest and easiest access to the Gulf of Mexico.
Phone: (352) 610 9999
Address: 5000 Calienta Street, Hernando Beach, FL 34607
Sterling Marina
Phone: (352) 596-4010
Address: 4211 Shoal Line Blvd, Hernando Beach, FL 34607
Hernando Beach Marina
Home of the Restaurant Tropical Grille!
Phone: (352) 596-2952
Address: 4139 Shoal Line Blvd, Hernando Beach, FL 34607
Hernando Beach Fishing
Many people chose to take their own boats out and fish the flats, and some go deep fishing on their own boats.
Charter Fishing
There are tons of fishing charters in Hernando Beach – too many to list. My recommendation is to use FishingBooker. This site will bring up every available charter in the area.
Public Fishing
If you want to join a large group, consider THUNDER Party Boat Daily trips are 8:00 am-4:00 pm $75.00 cash $80.00 credit or debit card only.
Scalloping Out Of Hernando Beach
We've been scalloping for seven years now, and we discovered the Hernando patches a few years ago. Our journey scalloping out of Hernando Beach started by renting a home out here. Not only is there little to no traffic compared to the northern spots, but it's also an amazing place to scallop out of. As you can see, we do quite well:
Just south of Homosassa and lesser-known, Hernando Beach brings real advantages! No crowds, a quick ride out to the reefs, and stunning turquoise water. Here's the map of how to access the scallop patches of Hernando Beach: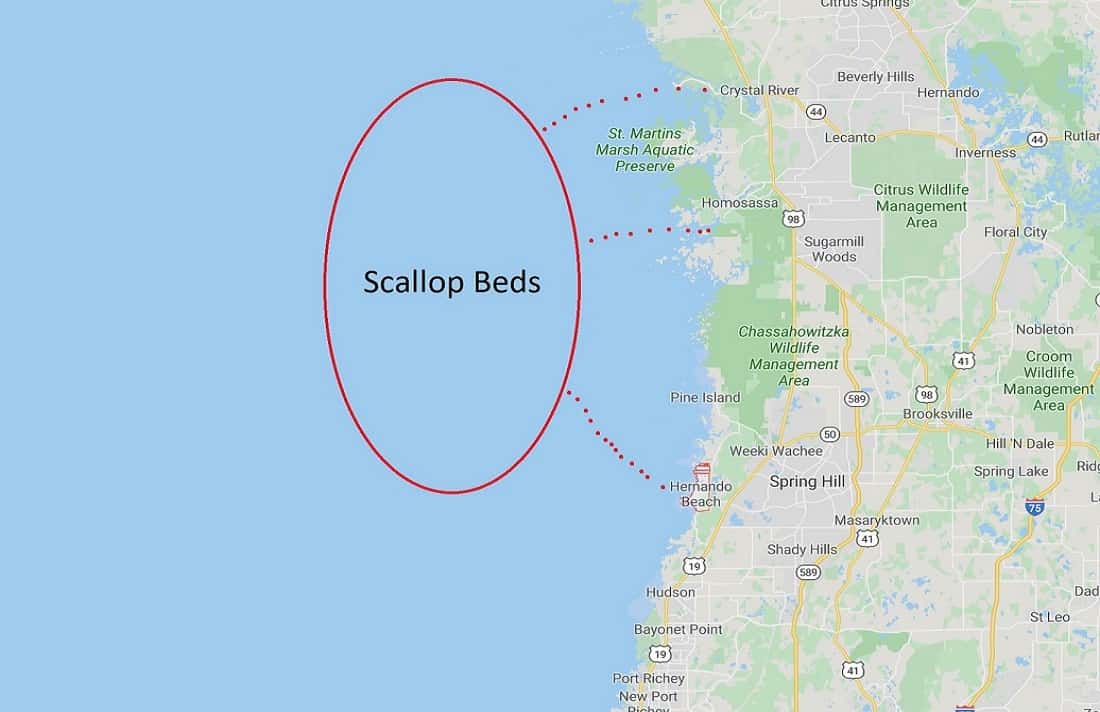 It's also worth mentioning that tons of people choose to go out of Bayport. We have had loads of luck in Bayport, but we drive the boat up there.
If you've never scalloped before read this: Florida Scalloping – Your Complete Guide
Hernando Beach Flag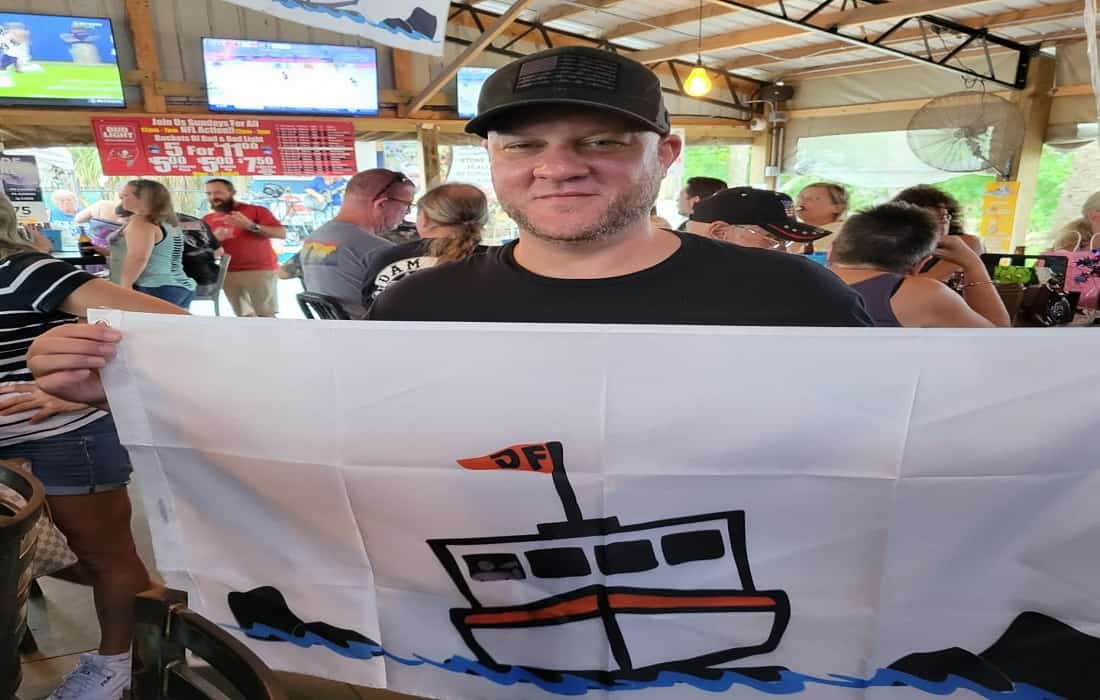 If you've been out and about on the water chances are you've seen this flag. Now, if you want to know how to get one message me and I'll tell you how!
Boat Rentals
Blue Pelican Marina – Phone: (352) 610 9999
The Captain's Boat Rental – Phone: (352) 596-2527
Sterling Marina – Phone: (352) 596-4010
Hernando Beach Marina – Phone: (352) 596-2952
Hernando Beach Motel – Phone: (352) 596-2527
Boat Tours
Let's Get Salty LLC
There's a new tour operator in town – Let's Get Salty LLC. If you are visiting and don't want to rent a boat or don't feel comfortable navigating the waterways problem solved!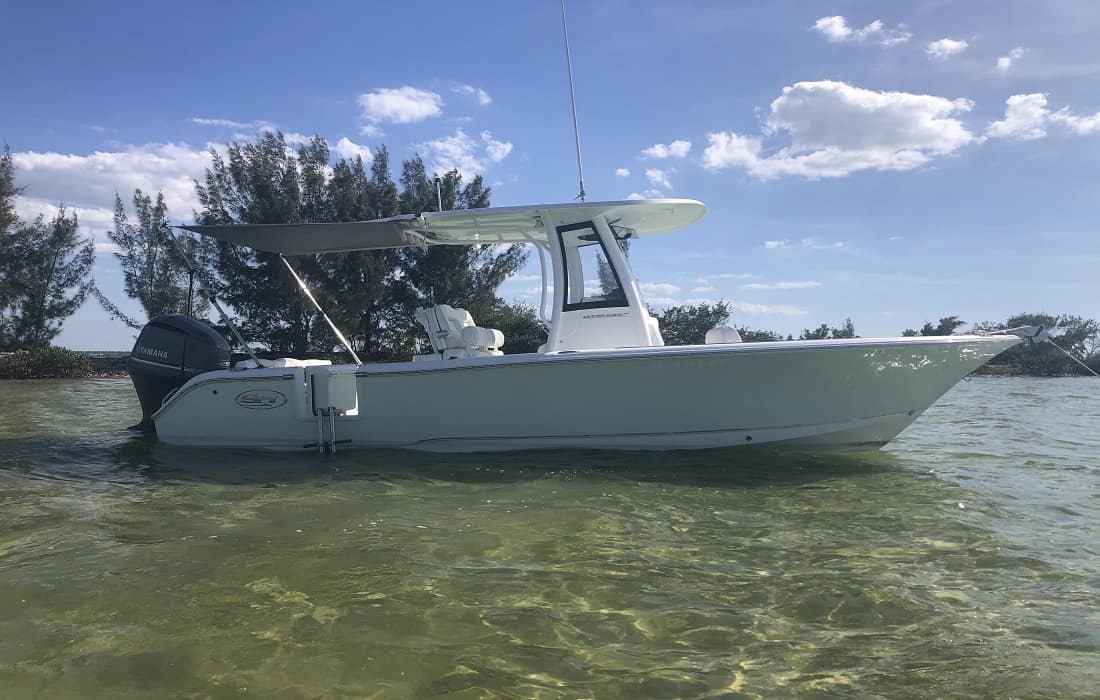 Image Credit: Let's Get Salty LLC
Captain Brandy offers several tour options!
Ladies Day Get Away
Day on the Flats
Tour Hernando Beach
Sunset Cruise
Specialty Trips
Scalloping Trips
Anclote Key and Sandbar
Call (386) 747-4982 to book a tour!
Da Freaky Tiki
The newest boat tour to the area! Explore some of the natures coast with their two, three or four hour cruises – you can even customize the cruise to your event.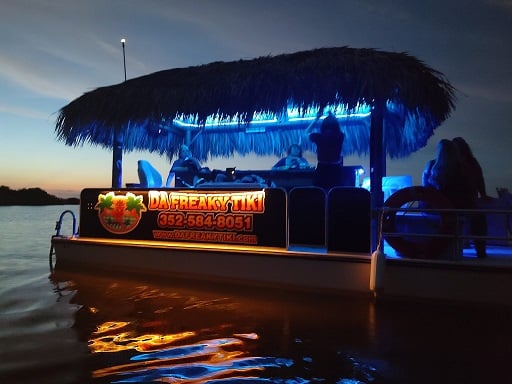 Image Credit: Da Freaky Tiki
They offer a certified boat captain, a cooler, ice (for both the cooler and your drinks), and a Bluetooth stereo speaker so that you can link up to their premium soundbar and play your own music.
Cruise Options:
Da Freaky Tiki – 2-hour Cruise
Da Freaky Tiki – 3-hour Cruise to Hernando Beach Flats
Da Freaky Tiki – 4-hour Toki Special
Da Freaky Tiki – Ko Olina Sunset Cruise
Cruises are BYOB (Bring Your Own Beverage)! Per Person Cruises: Minimum 2-hour cruise up to 6 people per trip. Minimum 2 people for a 2-hour cruise and 4 people for a 4-hour cruise.
Email Norman to book: Email: [email protected]
Paintball
Looking for something non-water-based to do? How about paintball at Gator Paintball Extreme!
Paintball games are an ideal way to entertain you, your family, friends, and co-workers. It can be a recreational day of paintball fun, a team-building exercise, or played as a competitive sport.
One of the great things about paintball is that everyone can play – men, women, boys, girls, young and old alike.
Kayak Rentals Around Hernando Beach & Weeki Waki
Some of the locals have become really creative and offer kayak delivery services. That's right, and you can have a kayak, canoe, or paddleboard delivered to you at your choice of location!
Kayak Delivery
Friendly Mobile Kayaks
I've personally used Friendly Mobile Kayaks. I found them on Facebook, and they saved what would have been a flop! We had tried to rent from Weeki Wachee River Rentals, but they were sold out. Not only did Cameron deliver the kayaks right to us, but they are the most economical option in the area. We only paid $25 per day per kayak. And, returning them was easy. We texted Cameron, who then met us to pick up the kayaks. It's also worth noting that they also rent clear kayaks.
Reserve yours here: Friendly Mobile Kayaks
Dirt Bag on his kayak we rented: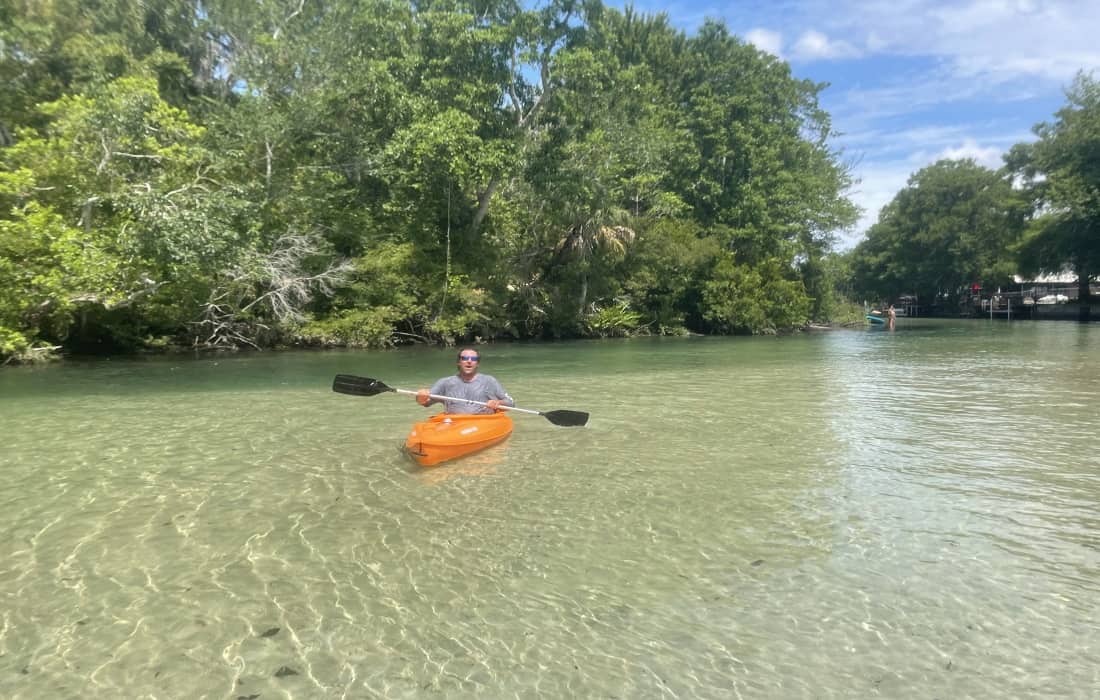 Easy Peasy Mobile Kayak Rental LLC
Family-run & operated Mobile Kayak Rental. Tandem Kayak – $80 · Duration Varies. And if you check out their site, they have a ton of other watercraft to rent to you.
Kayak Pick Up
If you plan to kayak the rivers, there are a few physical locations to rent from:
The Kayak Shack
Conveniently located next to the Upper Deck Restaurant at Rogers Park. Reservations are not required but are highly recommended during peak season.
All Day Rental $35 – Phone: (352) 610-4169 – All rentals must be returned by 5 pm
Weeki Wachee River Rentals
Located before the bridge that crosses Rogers Park. You can also rent small boats here. You cannot make a reservation here – it's first come, first served. Weekends are busy and sell out. I can tell you from experience that if you don't show up long before 8 am, you have no chance of scoring a rental. Phone: (352) 596-2852 – All rentals must be returned by 4 pm
All Day Rental Prices
Boats – $100 – $145 depending on size
Canoes and Kayaks – $35 – $45 – depending on size
Hernando Beach Motel
You can rent clear bottom kayaks from here! Phone: (352) 596-2527 – Address:4291 Shoal Line Blvd, Hernando Beach FL 34607
Hernando Beach Restaurants
Lei-lo Tiki Hut – Formerly ZigZag Scallop
By far our favorite! Try the scallops, the calamari, or the fish and chips. We've never had a bad meal here. Everything is 100% fresh and hand-breaded!
You can also pull up to Lei-lo Tiki Hut on your boat – they have boat slips on the canal.
Hernando Beach Tropical Grille
Our second favorite place to eat! The food here is off the chain; regardless of if you fancy steak or oysters, this low-key tiki hut restaurant is a hit with everyone. One challenge is they close at 7:00 pm, and that's because they are located inside of Hernando Beach Marina. Due to the liability of being inside the marina, it closes early. And, they don't serve liquor. Try the lobster roll – it's amazing!
Another place where you can pull up via boat.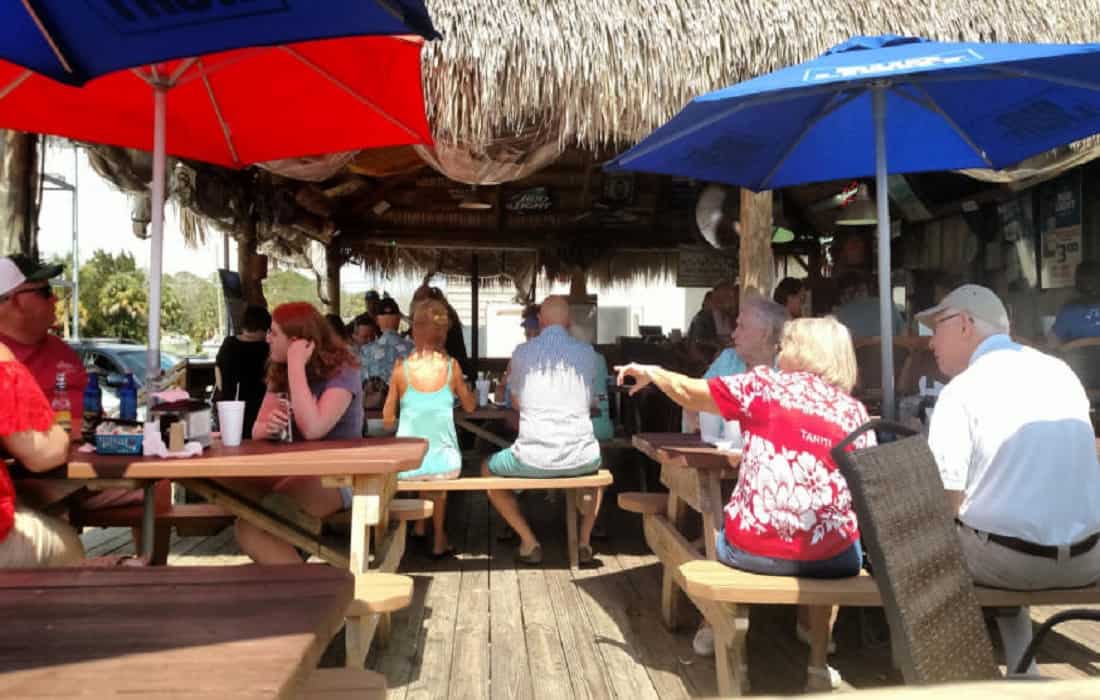 Photo Credit: Hernando Beach Tropical Grille
Silver Dolphin Restaurant
Another favorite for us! This is a place that appears trapped in time, but that's deliberate. I can only describe the vibe here as "Dirty Dancing," and when you visit, you'll know what I mean. It has a summer camp feel.
Eat outside; they have an amazing outdoor patio that is on a canal. You can feed the turtles or the gigantic catfish, and you'll see gators here.
This place has amazing food, not a bad meal to be had, and tons of happy hour specials. Try the cod sandwich – it's good. There's also a gift store on-site, a fudge counter, and an ice cream parlor.
The Drunken Mullet
This is not our favorite and not because the foods not great – it is. It's just busy, perhaps the busiest of all the restaurants. It's just not as homely as some of the others. However, this is definitely where you want to watch a game! The locals are beyond friendly and are passionate about their teams.
Sunset Grille of Hernando Beach
I think this place gets a bad rap for no apparent reason. People "claim" that it's a unique crowd. It's no different than any other crowd at the beach. They have an amazing collection of unusual drinks – think chocolate tequila! Great food, a huge beach area, and karaoke. I mean, what more could you ask for? I would say this might not be the best place for a family to dine after dark. Cause, while they are a restaurant, it does become party central, but I personally think that's what makes this special. If you're looking for a great night out and want to be out past 10 pm, then this place is for you!
The Lazy Lizard
It breaks my heart to say this; however, to be transparent, this is by far the least impressive of the restaurants. The atmosphere is great, and they have live bands, but the food is subpar, and that's assuming that they have the items on the menu available. From what I've heard from locals, the Lazy Lizard is struggling with staffing issues and the ability to get products delivered due to COVID. It's a real shame as the place has tons of potential. Hopefully, they will recover, and I'll return.
Brian's Place
Considered by most locals to be the most upscale restaurant, this is a fusion restaurant with an innovative & elegant Latin/Italian menu. The cross-over of Latin and Italian is what's kept us from trying Brian's place. I've heard it's great, but my personal experience is that it typically does not work for me when a place dabbles in two food genres.
Since the article was written we did try Brian's Place and as told by locals it's spectacular! The menu is definitely fusion but it works and the food was delicious.
Chinese and Pizza
I can't even list the options – sorry! Avoid unless you are starving or desperate. Stick to the seafood options, and you'll be happy. Even if you don't eat seafood, all the other restaurants above have various non-seafood options.
Upper Deck
About three miles down the road at Roger's Park is Upper Deck. This restaurant sits right on the Weeki Wachee River. The food here is amazing, especially the lobster bisque and cajun shrimp! If you visit here, try to do so at sunset. It's not uncommon to see manatees swimming up and down. We saw four during one of our visits.
Clubs Of Hernando Beach
Hernando Beach Yacht Club
Founded in 1978, The Hernando Beach Yacht Club (HBYC) is a member-only club of individuals who love boating and living near the water. The Yacht Club offers its members various activities, including sailing regattas, offshore fishing expeditions, a weekly dinner on Wednesday night, and a Christmas boat parade.
The Hernando Beach Yacht Club offers a superb location for weddings, anniversaries, and other special occasions. Enjoy beautiful sunsets overlooking Hernando Beach's central canal. This unique wedding venue offers a full bar, kitchen, dining area, and dance hall, suitable for 100 guests.
Address: 4163 Shoal Line Blvd Hernando Beach, FL 34607
Hernando Beach Club
The Hernando Beach Club is in west-central Florida in Hernando County, directly on the coast and overlooking the Gulf of Mexico. The club is members-only. However, the club can be rented out to non-members for events. We've seen many a wedding take place here overlooking the Gulf of Mexico.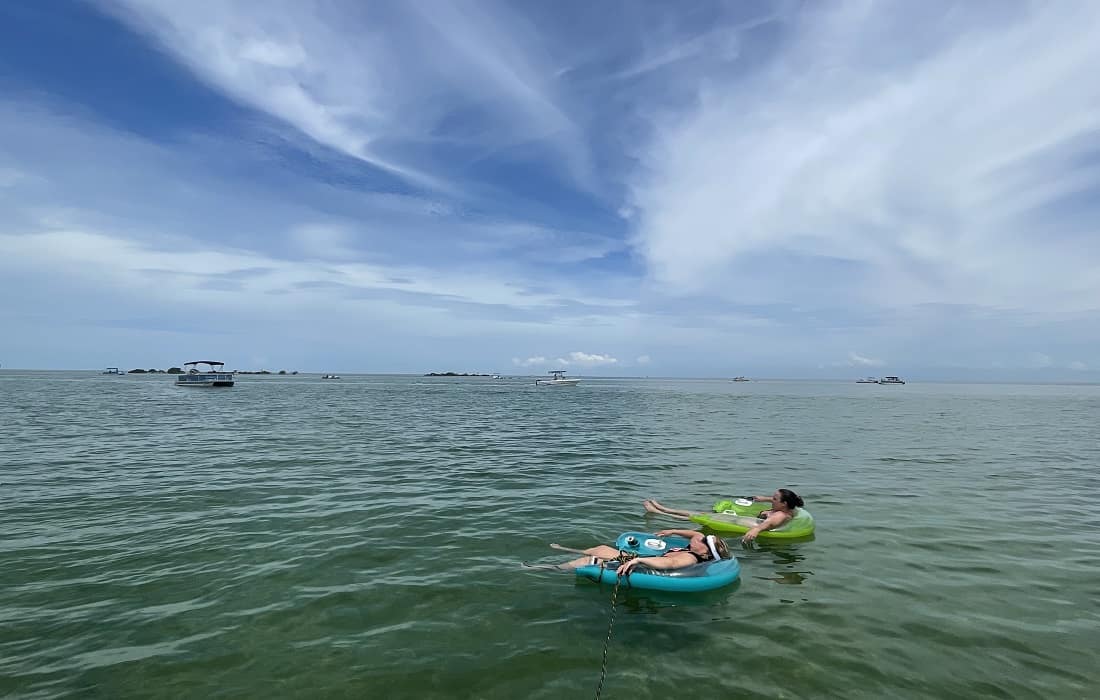 Veterans of Foreign Wars (VFW) Hernando Beach Post 9236
The VFW of Hernando Beach has many Veterans who meet at this post including the Auxiliary for a variety of outings and events. The Post Proudly Sponsors Voice of Democracy, Patriot's Pen (Youth Essay Writing Contest), Teacher/EMT/Police Officer & Firefighter of the Year Awards. The staff, welcome and invite you to visit the VFW to enjoy the warm atmosphere and patriotic holiday celebrations. Considered the most revered spot by many locals, be sure to pay a visit.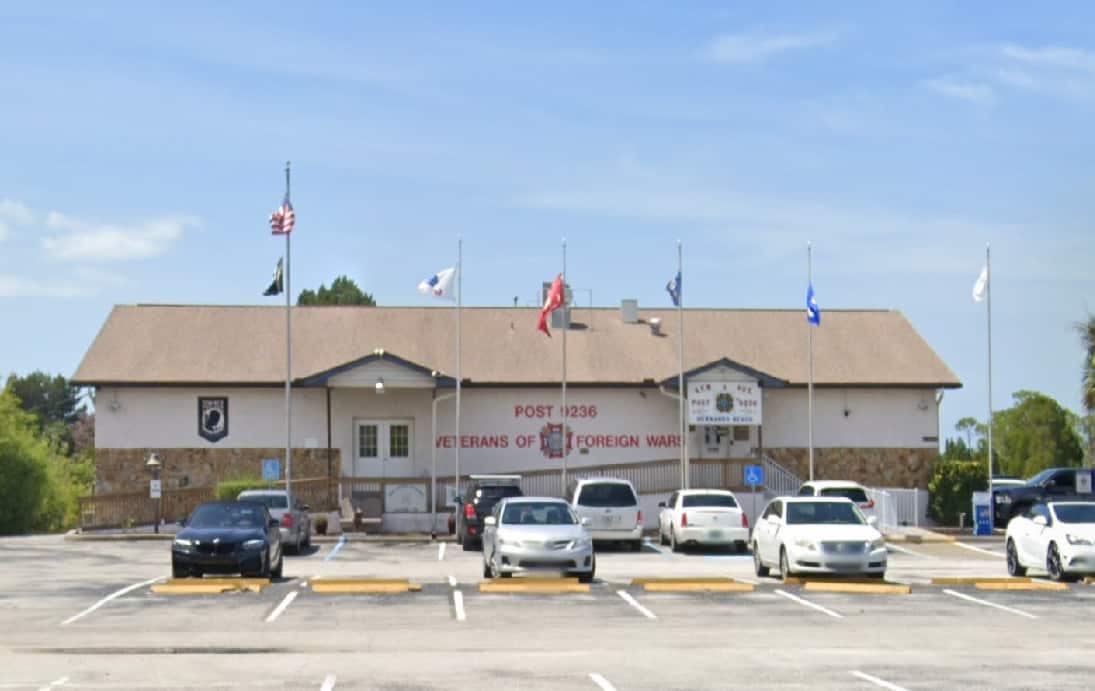 Dinner Cruises
Marina Rose Experience
This dinner cruise includes food, beverages, & more. This Riverboat Replica offers 2-2.5-hour lunch and dinner cruises. Some of our favorite local restaurants provide the food. The vessel is operated by USCG Licensed Captains, with local knowledge.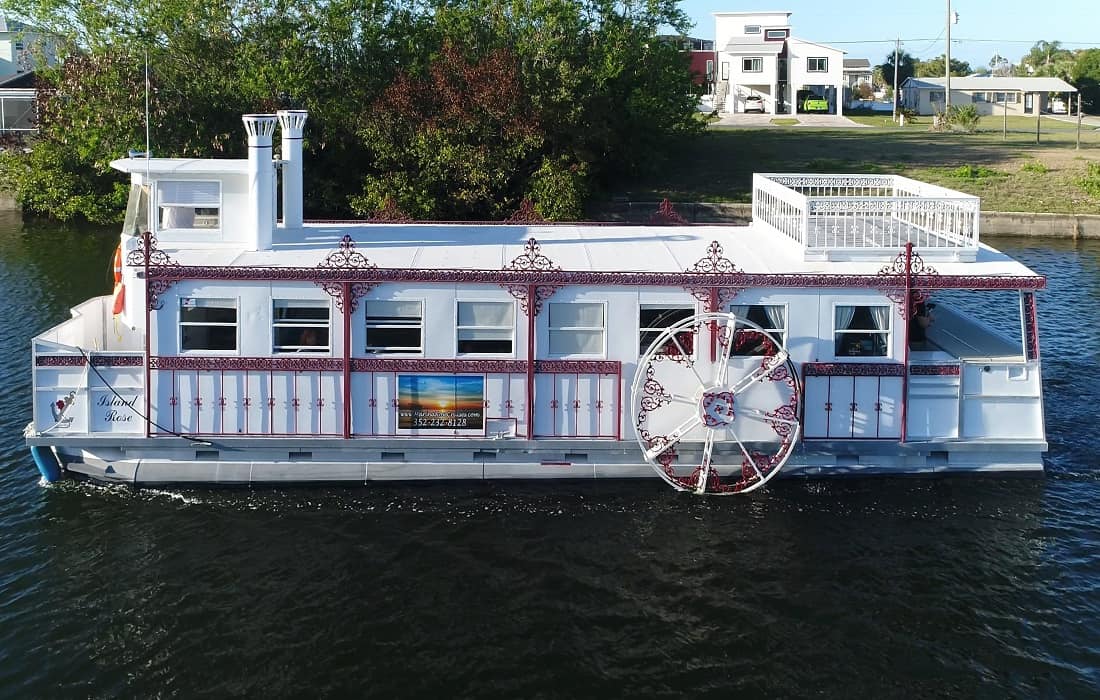 Photo Credit: Marina Rose Experience
Fully enclosed & climate controlled with the option of open windows for a gulf breeze.
The dining area has great visibility & comfortable seating in a quiet, intimate environment.
Onboard restroom facility.
And you can reserve a private charter for almost any type of event! Up to 18 passengers. Take the Sunset Cruise for $59.99 per person. Phone: (352) 232-8128
We finally took the cruise and it's well worth the money. Here are some pictures from our dinner cruise:
Where To Buy Fresh Seafood
There are three local spots to buy fresh seafood:
Trader Bay Seafood
Phone: (352) 597-5170
Address: 4006 Shoal Line Blvd Hernando Beach, FL 34607
If you are planning on crab, it's best to call ahead and order. The chances of a drive-by are slim if the crab is what you are after. Call and order at least a day before you plan to pick up.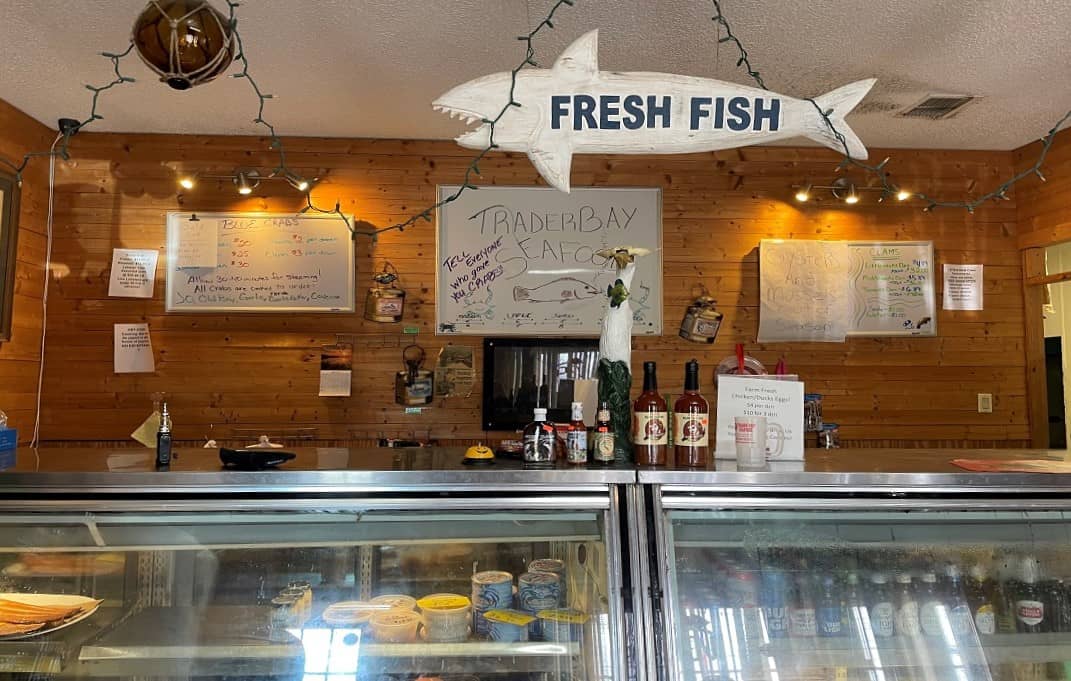 By far my favorite place. I go here almost every time I am in Hernando. I buy two things – stone crab and octopus!
Phone: (352) 232-5777
Address: 3080 Sunset Vista Dr, Spring Hill, FL 34607
From Boat to Table, Hernando Beach Seafood Fresh Fish
Located directly next to ZigZag Scallop.
Phone: (352) 596-6552
Address: 4417 Calienta St, Hernando Beach, FL 34607
Is This Post Helpful to You?
If so, I would love to keep in touch with you and see your photos and comments about your experiences in Florida! You can follow me on Instagram or Facebook.
If you share your photos, I will share them with all of the other followers of Brit On The Move! Just tag BOTM at @britotmove or hashtag #britotmove
Keep Moving – You only get one life!
Map Of Hernando Beach Attractions
Closing Thoughts
If I've not convinced you yet that Hernando Beach is The Gulf Of Mexico's Venice, I'm not sure you can be convinced! This is a treasure trove for those who have had the pleasure. A community that can't be replicated. Daily you'll see dolphins, stingrays, sharks, turtles (including loggerheads), and the most breathtaking sunsets that the gulf has to offer.
And, this is also one of the most affordable places to buy waterfront property on the west coast of Florida! I looked for two years then found the one. Zero regrets me, and I am still shocked at how inexpensive a slice of heaven is.
What did I miss, and what would you add? Why do you love Hernando Beach – comment below!
Looking for more posts on Florida? Start here:
We participate in the Amazon Services LLC Associates Program, an affiliate advertising program designed to provide a means for us to earn fees by linking to Amazon.com and affiliated sites.
Subscribe to our newsletter and get the best travel tips and inspirational stories delivered monthly. No spam, no sales pitches – TRAVEL!
Brit On The Move™ Travel Resources
Ready to book your next trip? Use these resources that work:
Need more help planning your trip? Check out our Resources Page, highlighting the great companies we trust when traveling.