There's an endless supply of articles on the internet related to travel hacks. Many are sensible, offer excellent advice, and are worth understanding. Others are the stuff of old wives' tales. Don't fall for some of the nonsense you've read!
This post may contain affiliate links. Please read our disclosure and privacy policy for more information.
Travel Hacks – Here Are Eight That Are Bull
Bull Travel Hack #1: Avoid All Attractions Labeled as "Tourist Traps."
How many times have you read those terrible pompous articles that tell you not to visit somewhere because it's crowded? How ironic coming from those that have had the chance to go. I've been to plenty of attractions that, while packed, I would still recommend to anyone in a heartbeat! For example, how can you be in Italy and not see the Leaning Tower of Pisa? Iceland, and not do the Blue Lagoon? India and not see The Taj Mahal? I could go on, but you get the gist. The bottom line is many attractions or wonders of the world are busy because everyone wants to see them. So should you – the crowd should not deter you.
Another point. Article after article will advise you to avoid crowds by picking off-peak times or early hours. I'll call this precisely as it is – B.S. Overplayed advice to the point that what might have been off-peak is now peak for many attractions. Places have seasons that impact volume. But, at the end of the day, you will not get the Taj Mahal to yourself on any day.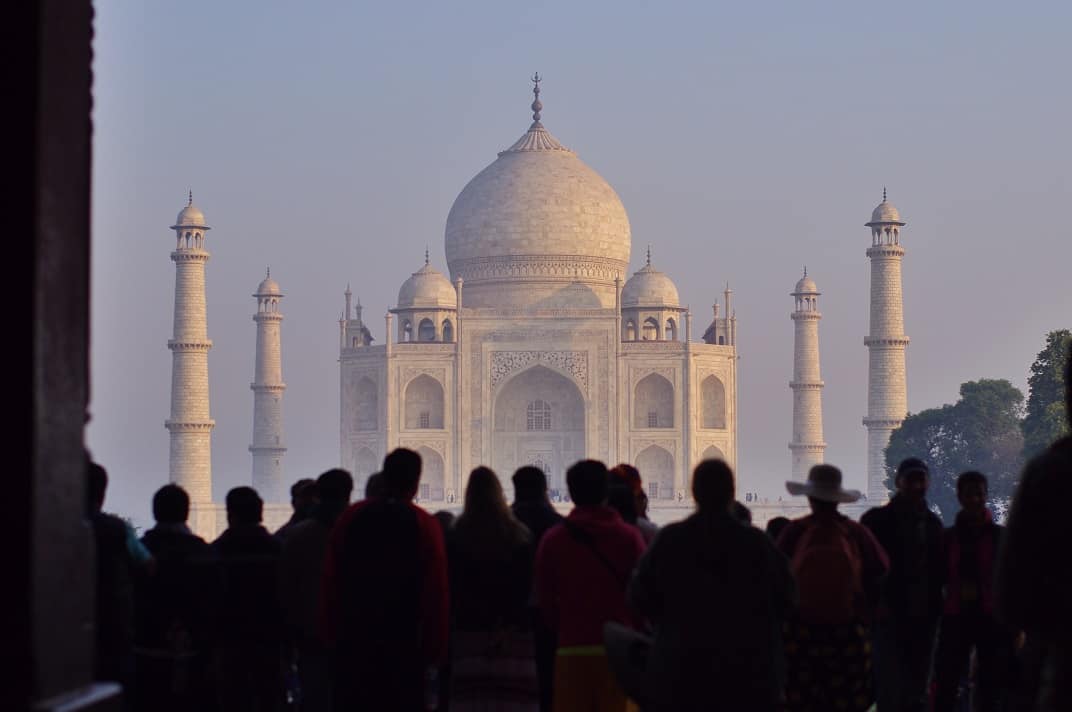 Bull Travel Hack #2: Hotels Are More Expensive If You Book Directly
Room costs are all based on supply and demand. Much like the stock market, they go up and down. Most hotels do not want to pay commissions to third parties, so the hotel typically has the best rate. Sure, they have the best match guarantees, which are many hassles for "that one time," you do find a lower price. 70% of the time, direct is the way to go to get the best deal. You can sometimes score amenities like free Wi-Fi, free parking, a room upgrade, or breakfast if you book direct. Double up if you are a member of the hotel's loyalty program. Triple up if you have the hotel's credit card!
*Note, typically, you can not earn points unless you book direct.
Bull Travel Hack #3: Roundtrip Tickets Are Cheaper, Or More Expensive
There is no rhyme or reason for this one. Both strategies work, and both can be "cheaper." The bottom line is to check sites like www.cheapoair.com that love to pair up different carriers to combine two independent one ways on different airlines and see if the difference is worth it. Play with one-way vs. round trips to compare. I always try to book in order of where we are going; I wouldn't say I like to backtrack. If it's cheaper to do roundtrip tickets, then backtracking may be warranted. The best route all boils down to the overall cost, direction, and potential savings. There is no proven methodology that one approach trumps the other.
Bull Travel Hack #4: If Your Flight Is Canceled Or You Get Bumped, You'll Get Free Vouchers, Points, Or Financial Compensation
Airlines based in the USA are not required to compensate you for most flight issues. The only one that is close to for sure is getting bumped due to the flight being oversold. In which case, The Department of Transportation requires the airline to compensate you. If you do get bumped due to overselling, make sure you have documentation or can prove it. Otherwise, it's a moot point. As for weather issues, mechanical issues, or anything outside of the airline's control, you are on your own. Not to say that an airline won't assist; the point is unless they oversold the flight; they have zero legal obligation to compensate you for anything in most cases. For cancellations, they do have to rebook or refund you, but even this can be challenging. From the DOT direct, "Each airline has its policies about what it will do for passengers whose flights have been canceled." It's gray at best. They have to rebook you or refund you. What if the rebooking is in 3 days? What if getting a new flight will costs you three times as much? See where I am going with this one?
Check the "Contract of Carrier" for each airline to fully understand what you agreed to when purchasing the tickets.
Bull Travel Hack #5: Tuesdays Are Always The Least Expensive Day To Book A Flight
Look, Orbitz has told us many times that the optimal day to book is Tuesday. Orbitz – you know, the ones that got acquired by Expedia! Much like the myth that it is not cheaper to book a hotel directly via the hotel, the best day to book flights is a myth. Simply put, there is no such thing. The best day to buy is when you get the best price!
Bull Travel Hack #6: You should avoid Nations with An American Travel Warning
Longing to go to Rome, Paris, or Machu Pichu? The U.S. Department of State – Bureau of Consular Affairs issues travel alerts and advice on a four-point scale. For many travelers, it's become the one source of truth. I use the tool, and I think it's a great resource, but you must consume the information relatively. For example, my home country England currently sits at a level 2, Israel, The West Bank, and Gaza.
The reasons cited for the United Kingdom are suspected of terrorist activity in Europe. Wait, say what? Please read it for yourself. It's a broad statement that then goes on to mention "the tensions in Northern Island." Hang on, how many Americans out there think of Northern Island when they hear the United Kingdom?
For Israel, The West Bank, and Gaza, "U.S. citizens have been killed and wounded in attacks in recent years," along with many other cited concerns (spare some time to read these). Seriously? Do these two places fall into the same category of risk based on safety and security concerns? Someone has a sense of humor.
Let's look at some of the level 1's – Malawi and The Gambia. Come on; you don't have to be a rocket scientist for this one. Controversial or not, I am going to give you my two cents here. How does America stack up? Even if you take the average crime rate relative to the population, America's crime rates are ridiculously out of control. Is America safe?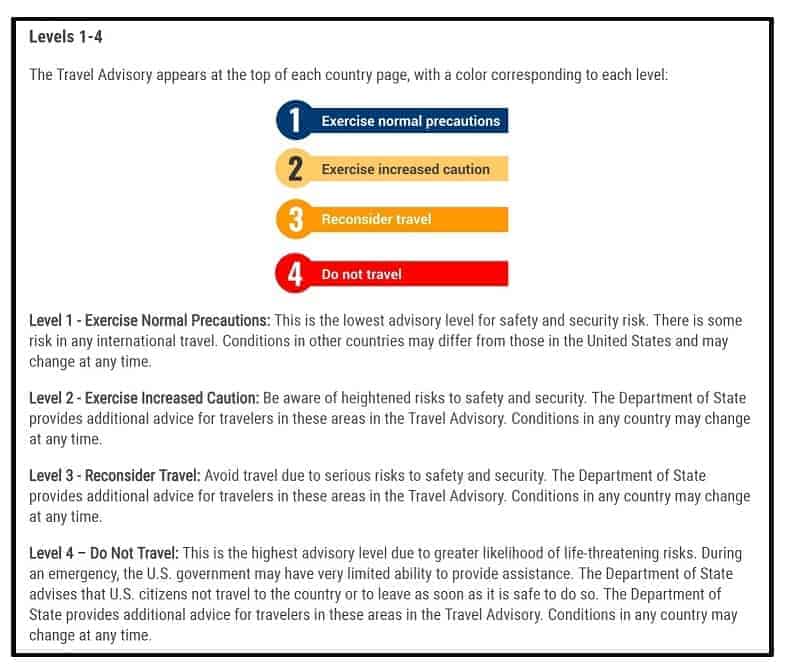 The bottom line is while The U.S. Department of State – Bureau of Consular Affairs provides an up-to-date perspective of concerns on a four-point scale, this does not tell the whole story. If you solely rely on this advice, you'll never leave, nor will you arrive!
Bull Travel Hack #7: You Should Not Exchange Currency at the Airport
It's common for the airport "Bureau De Changes" to add 10% more than the current conversion rate. Meaning you could be paying more than an ATM charge. True, but what if your ATM card does not work? What if you need currency converted to leave the airport? Here's my advice to you. Sometimes, especially when country hopping, it's just flat out easier and worth the 10% excess. Consider it a convenience fee. Unless you plan to carry thousands in cash, which is daft, we are not talking about a lot. Now, are there times to avoid the airport? Yes, Cuba is an excellent example of this due to the lines. No matter where you change your money, you will pay a fee, do what makes sense for you, and conveniently.
Bull Travel Hack #8: Incognito Search and Cache Clearing Reveal Secret Pricing
Sure, you've read tons of other articles telling you this works. You may have tried this and got lower rates. The problem is, that's not because you got rid of the cookies that track your activity. It's because the pricing changed – simple. Recall I've mentioned supply and demand? Same concept. You could be looking at a particular route. Go incognito and suddenly lower pricing. Sorry to burst the bubble, the prices dropped!
If you are looking for travel hacks that work, see the Travel Hack section, or take a look at this: Travel Hacks That Actually Work In 2022. A perfect place to start is 20 Best Ways to Earn Lots of Credit Card Rewards Points; this will get you earning travel rewards on the ground in no time! Once you've earned your miles see Multi-City Flights – A Travel Hack You Need to Know! to learn how to maximize those points.
Looking for more Travel Hacks? Start here:
We are a participant in the Amazon Services LLC Associates Program, an affiliate advertising program designed to provide a means for us to earn fees by linking to Amazon.com and affiliated sites.
Brit On The Move™ Travel Resources
Ready to book your next trip? Use these resources that work:
Need more help planning your trip? Check out our Resources Page, highlighting the great companies we trust when traveling.