Cape Town Safari – South Africa
Most travelers heading to South Africa will go on a safari or plan to cage dive with the great whites. Planning a safari in Cape Town is not as easy as you think. The eastern side of Africa is known for safaris, and the western side is known for marine life. Depending on which of these two you are traveling for will determine your location. For example, if you dive with the great whites, you will be heading to Cape Town. If your main goal is a safari, you are heading towards Kruger National Park. Neither are close to each other. If you're planning to visit both regions, you will need to fly from one to another.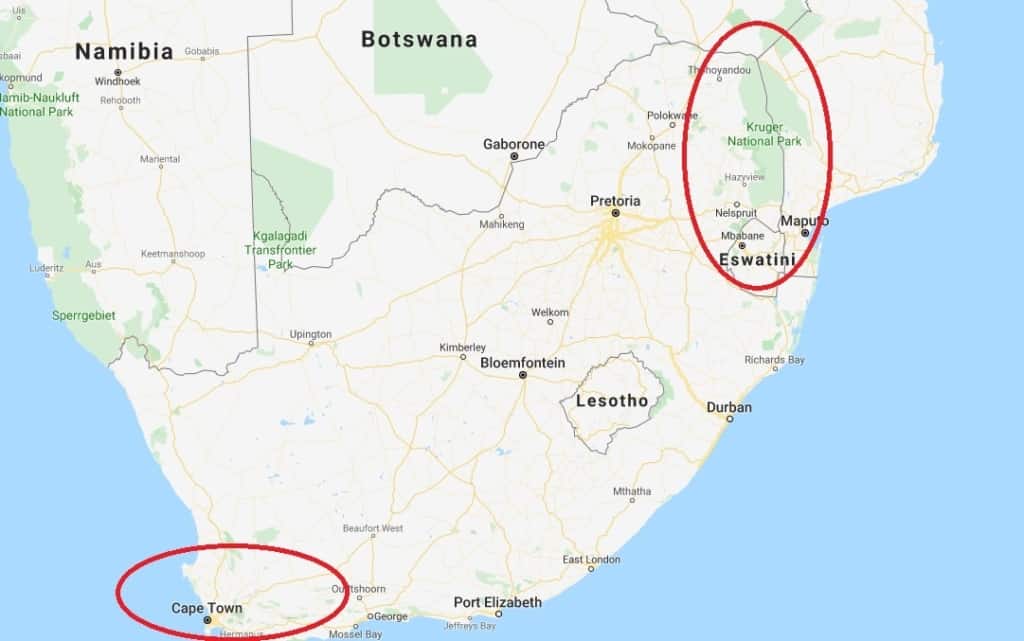 If, like me, you will cage dive with the great whites and heading to Cape Town. The question then becomes "which is the best cape town safari" or "which is the best safari close to cape town." Sadly, there is not a "best" answer to this. Cape Town terrain is not the African outback you might imagine; in fact, it's nothing like.
If you are adamant that you will jam in a "safari," you will undoubtedly research several options that show up within a few hours of Cape Town. All are promising you the experience of seeing the big five. The big five being Elephant, Buffalo, Rhino, Leopard, and Lion. All with images that show you what you've dreamed of — the African oasis with animals running wild.
Spoiler Alert – this does not exist in Cape Town or close to Cape Town. All the parks and reserves that are advertised are nothing more than glorified zoos. The experience is no different than driving around any safari park in any country. Heck, Knowsley Safari Park in England is comparable.
So, let's get into the one I stayed at and the other options if you insist on pursuing a safari while visiting Cape Town.
This post may contain affiliate links. Please read our disclosure and privacy policy for more information.
Aquila Private Game Reserve
Hours of research later, I settled on Aquila Private Game Reserve. We were mesmerized by the photos and the hotels' recommendation; we booked an overnight stay with two safari drives. Aquila is heavily advertised; it will come up first in most searches, and its website is spectacular.
It cost us around 6,600 South African Rand or approximately $450, including a round trip transfer. This rate also included all meals.
We arrived, and on check-in, I knew this was going to be shite. There was a massive line of people checking in, a massive range of people checking out. The entire lobby swarmed with people on a day trip. The vibe alone was that of a theme park.
Regardless, we proceeded on, checked in, and went to our room. The room was nice, clean, and as pictured. Nothing spectacular but adequate.
Then we went to grab a drink to await our afternoon safari drive. The pool is impressive, the first view is captivating, but I can see the safari cars bobbing through the vista on a closer look. Seriously, I have a feeling at this point that it is orchestrated and not wild. Still hopeful, we plod on.
Aquila Private Game Reserve – Game Drive
After a couple of relaxing drinks, we board the safari jeep and head out. Ten minutes into this Cape Town safari, I kid you not, we were met with zebras and wildebeest. Oddly, they come running nothing wild about it at all. I am pissed off. Then, as we encounter more animals, it's apparent that they are fed, and the food is all strategically placed behind a bush that lures the animals over.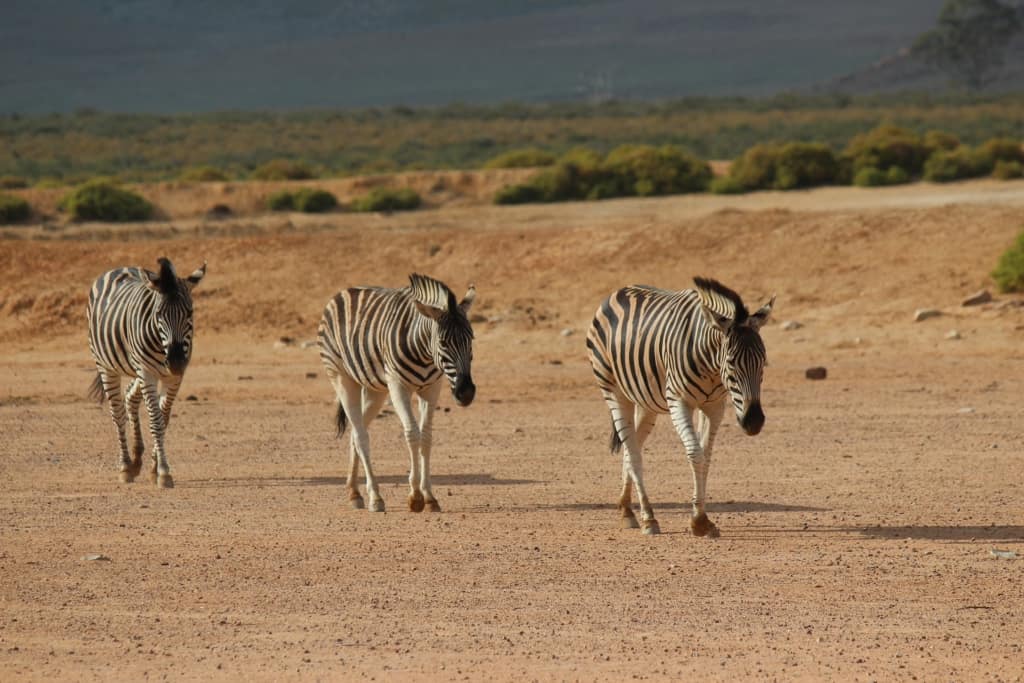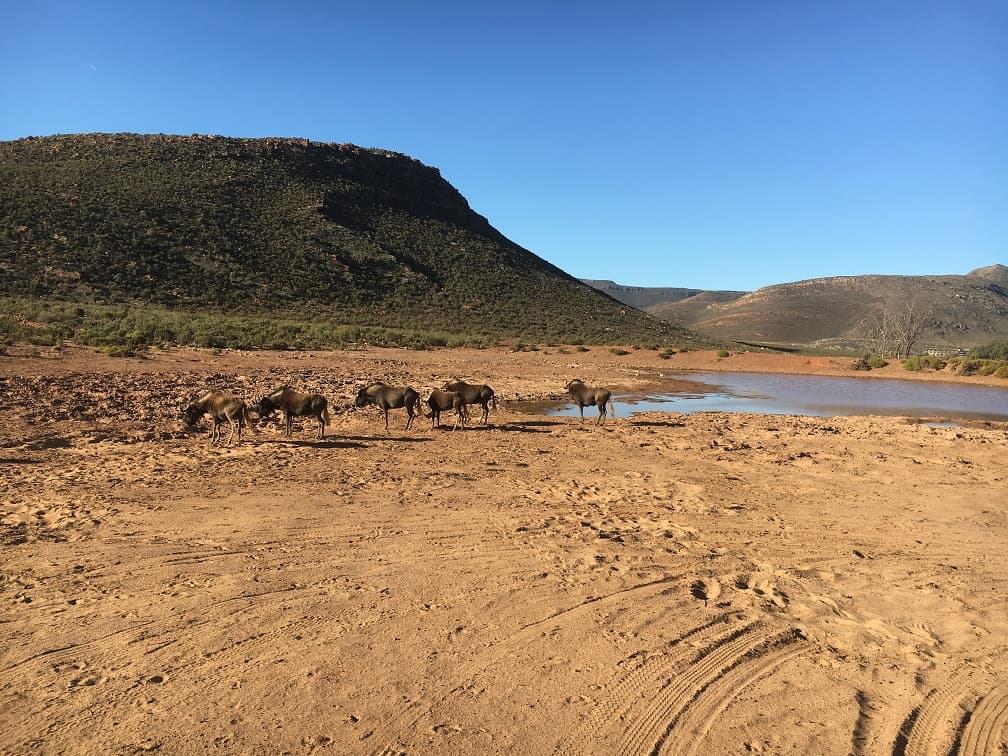 I asked about this, and the response was they must supplement the diet given the terrain. Seriously? This is not wild. And yes, Aquila does play a part in conservation, but it's anything but a game reserve.
The Lion Enclosure
Then there is the lion enclosure – yes, you read that right – enclosure. I was already beyond ticked off at this point, so getting up close and personal with a lion was meh. I'll also add the lions are so fat that you could likely get out and pet one. They do not need a meal anytime soon. My theory on why they are so fat is simple; they are fed and then sleep all day long until the next jeep arrives to take photos. One of the lions did get up and approach us. It wasn't even slightly intimidating; it was like a fat oversized domestic kitty coming up to say hello. Do they do this in the wild? Of course not.
Once out of the lion enclosure, we moved into the section where the giraffes roam. I felt sad for them. Not a tree in sight for them to feed on – not one. Having already established all the animals are fed, and this is a zoo, I took comfort in knowing they are being fed. Here we stop for the only part of the game drive that was memorable – wine and snacks.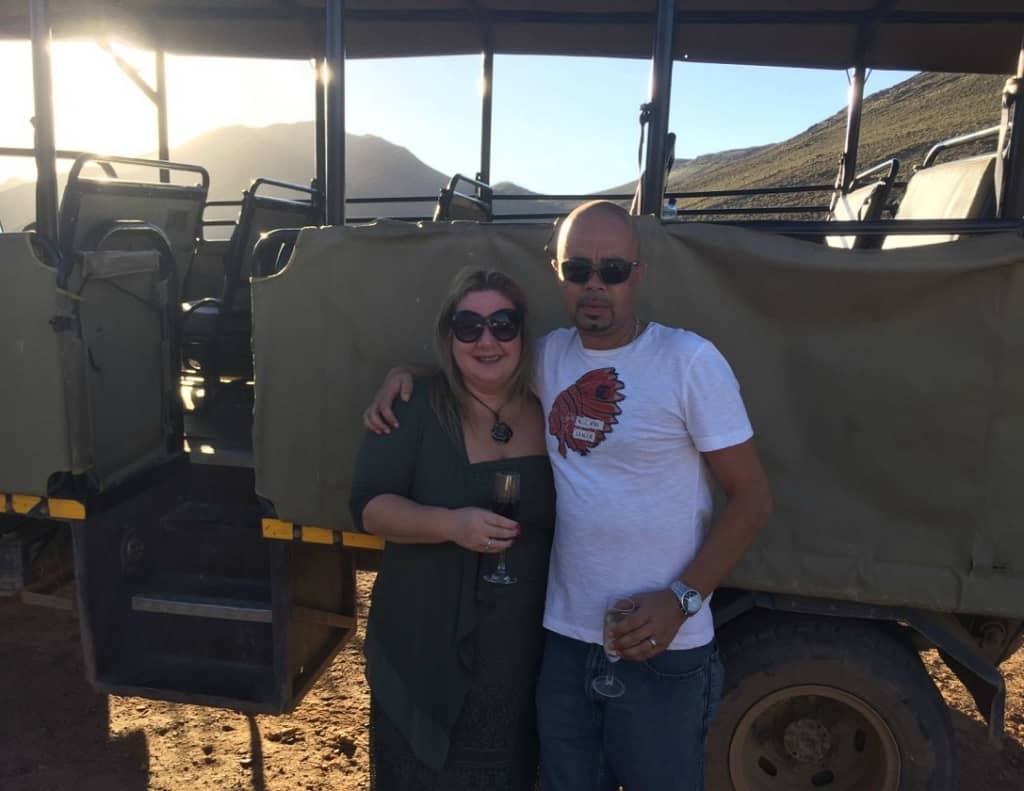 On the way back, I did get to see hippos, and regardless of the zoo or wild, I find them enchanting. I did enjoy the hippos but not to the tune of $450.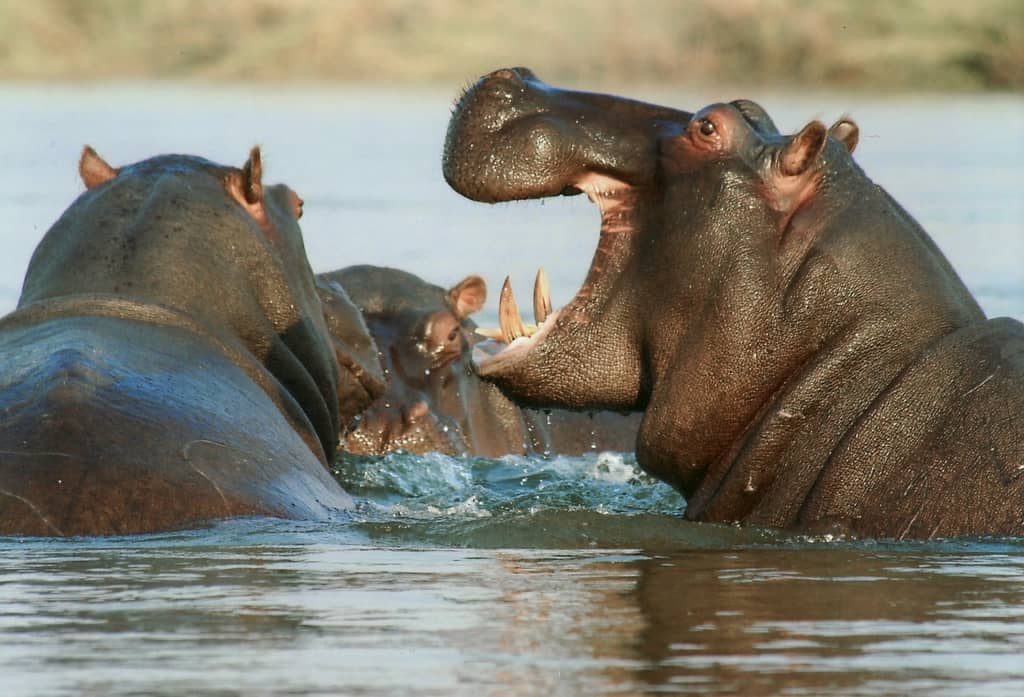 The game drive was so pathetic that I did not take the morning game drive included in our package. What was the point?
The Food at Aquila Private Game Reserve
I enjoyed the food, but I'll save you some heartache – most of you won't. It is a buffet, which is not my thing unless curry is on the menu and the curry they had. My all-time favorite food is curry – any nationality, any spice level curry curry curry, so I was happy. Brian, not so much. And, when you're paying a couple of hundred dollars a night, anyone would expect more.
Drinks are not included, and they are expensive. Add to this, and the wine list is lame and overpriced.
The lodge where dinner is served is impressive; I enjoyed the décor and the overall ambiance.
Overall Thoughts on Aquila Private Game Reserve
A colossal waste of time, money, and energy. Aquila has a marketing genius on staff. The website alone will convince you to splurge. Take a read of some of the reviews about this place. What's fascinating is some people love it. However, scroll through a couple of pages, and you'll see time and time again the same thoughts I just shared.
I can't recommend this one to anyone – the opposite. That is unless you enjoy overpriced zoos. And, if you do, then head to Disney's Animal Kingdom. The experience is about the same, even the buffet!
Additional So-Called Cape Town Safaris
As mentioned above, there isn't a wild safari in Cape Town. All the experiences are reserves or conservation parks. This said, here are the other players:
Inverdoorn Game Reserve
Two hours away from Cape Town, Inverdoorn Game Reserve is known for its cheetah rescue and rehabilitation program. Although be warned, the cheetah encounter is no more. I almost booked this one. It's by far the second most popular or advertised one after Aquila. Much like Aquila, it is a rehabilitation/conservation venue and not wild. The team at Inverdoorn has rescued the elephants seen on safari and the calves. Sitting on ten thousand hectares, by all accounts, this is the same experience as Aquila – it's a zoo priced at about the same as Aquila.
Sanbona Wildlife Reserve and Gondwana Private Game Reserve
This place is further out, about three hours east, at the bottom of the Warmwaterberg Mountains. Sanbona did come up in my research, but I felt like the drive was a bit much for an overnight stay. It's advertised three hours away, but all the reviews will tell you it's 4.5 hours each way once you factor in the drive to your accommodations from the entry.
Sitting on 58,000 hectares (Aquila is 4,510-hectare), Sanbona appears to be the real deal. They offer a variety of accommodations from the tent, manor to lodge. There are traditional game drives and boat safaris.
The reviews are way better than Aquila, and this place appears to be wild or the animals not fed. This said, if you read into the reports, you learn that this place is not natural, and the animals are preserved. Or should I say strategically placed?
One guest's review summed it up best. Once you've driven the 4.5 hours out here, you may as well have jumped on a flight to Kruger National Park. Lastly, it's even more expensive than Aquila.
Grootbos Private Nature Reserve
A two-hour drive south of Cape Town to coastal Grootbos, this one is pricey! Over $1k a night on the low side, known for the ocean big five. The big five being the great white sharks, southern right whales, bottlenose dolphins, African penguins, and Cape fur seals. Let me save you some time for this one. You don't need to stay at a reserve to experience any of this. Nor do you need to spend this type of money. We did this ourselves and stayed at an Embassy Suites. The actual reserve is only 2,500 hectares – this speaks for what to expect, as does the name.
Garden Route Game Lodge
This one is a four-hour drive away from Cape Town, and there's not much to say other than it's yet another glorified zoo. All of the reviews about the property stand out in comparison to the others. Most people rave about the room and food, which is not a common theme for the others. Regardless, the animals are fed and not roaming wild.
Buffelsfontein Game Reserve
Microscopically small at 1600 hectares, this is a converted cattle ranch. It's only an hour away from Cape Town, but realistically, I don't think it matters. The longest game drive is three hours, and the animals are fed. You can watch them being fed, so there's not much more to say – yet another zoo with overnight facilities.
Fairy Glen Private Game Reserve
The closest of all, this one, is only an hour away. Bigger than Aquila at 10,000 hectares and more budget-friendly, this is yet again a zoo. And, most people mention that most of the land is being turned into vineyards. If you insist on taking part in any of these safari-like experiences, this is probably the best option and only for a day. Given its proximity and price, it won't break your heart. This one's so tame you can even drive yourself through the park if you choose to.
Closing Thoughts
If you don't care that the animals are not running wild, you won't be disappointed. Likewise, if you want a selfie, then you'll be happy. If you see the big five in their natural environment, you need to head to Kruger National Park. Realistically I would have to say save your money. It's just not worth it.
I loved Cape Town and would visit again in a heartbeat but not for a zoo-like safari experience that you can do anywhere. I would return for the sharks, the crocodiles, and the adorable penguins!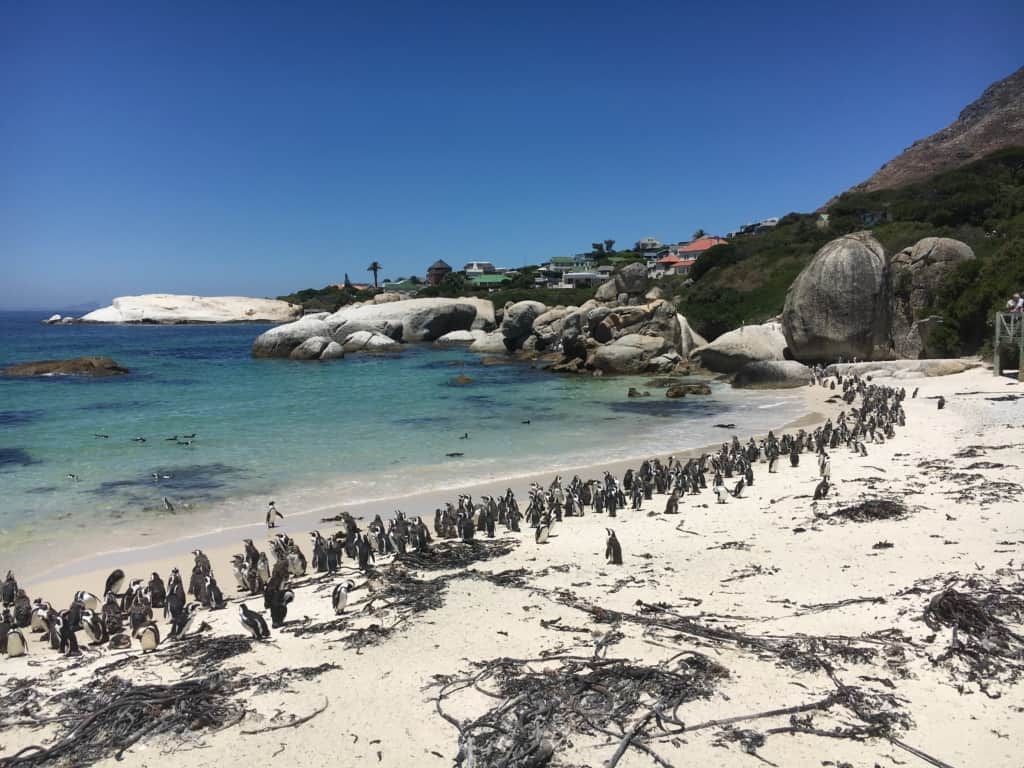 If you are looking to meet the penguins, they are located at Table Mountain National Park in Boulders. I highly recommend you add visiting these guys to your list while in Cape Town. It will cost you nothing to visit other than transportation there and back. We took an Uber, and it was about $20 each way.
Looking for more posts on Africa Start here:
We are a participant in the Amazon Services LLC Associates Program, an affiliate advertising program designed to provide a means for us to earn fees by linking to Amazon.com and affiliated sites.
Subscribe to our newsletter and get the best travel tips and inspirational stories delivered monthly. No spam, no sales pitches – TRAVEL!
Brit On The Move™ Travel Resources
Ready to book your next trip? Use these resources that work:
Need more help planning your trip? Check out our Resources Page, highlighting the great companies we trust when traveling.