The Big Five In Africa – A Wildlife Volunteer Experience
Ever dreamed of experiencing the big five in Africa? Lots of people, old and young, fantasize about this experience. Many of us dream of working or volunteering where the big five live.
But what's it really like to jet-set overseas on a working vacation or a volunteer vacation?
In this series, I interview those that have taken the plunge, followed their calling, and worked or volunteered abroad.
About Alexandria Gay
Alexandria is a biology student at Valencia College in Orlando, Florida. Here is Alexandria on the far right: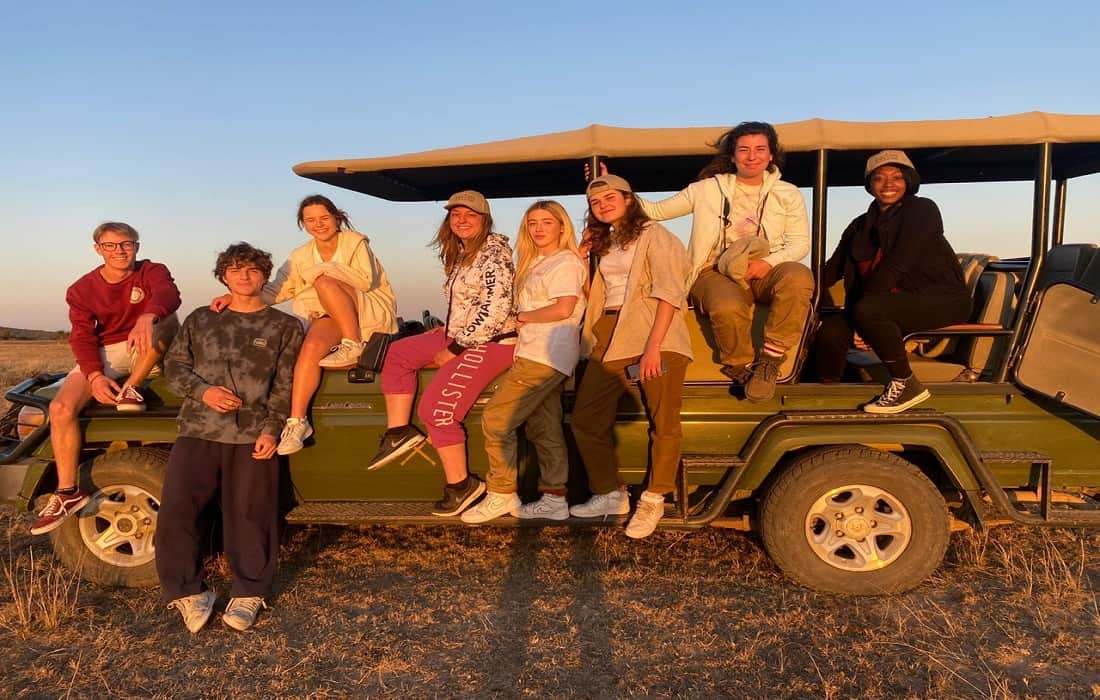 By all accounts, she's fearless! At the young age of nineteen, she decided it was time to hit the road. And not to any old location close by. No, she went in headfirst and chose South Africa. More astonishingly, she didn't embark on this journey with her family. Alexandria took this trip solo, and it was her first trip overseas, her first time leaving the United States of America.
If that does not impress you, this should! She did it right on the tail end of COVID – right before the Delta Variant hit!
Stop and think about this for a minute!
Think about where you were at nineteen and what you were doing? Chances are, most of us had never even traveled out of our home country. I'd be willing to bet that most of us did not hop on a plane to Africa.
While I was fortunate enough to have traveled young, and I consider myself brave, I can tell you I was not a South African volunteer brave.
So, let's get started and hear all about Alexandria's experience.
This post may contain affiliate links. Please read our disclosure and privacy policy for more information.
What motivated you or inspired you to take a working or volunteer holiday?
I have always wanted to travel, and I am studying to become a wildlife veterinarian. Before I consider overseas I was volunteering in Florida. I volunteered at a local dog shelter, at Central Florida Zoo And Botanic Gardens, an animal shelter, and an animal rescue. Combining my volunteer experience, interest in wildlife, and desire to travel seemed like a natural fit. Given that I want to be a wildlife veterinarian, I was interested in going overseas to observe the animals in their native land.
The Big Five African Wildlife & Conservation Volunteer Experience offered me this experience.
How did you hear about Global Work & Travel?
I was researching different companies on the Internet that offered opportunities to volunteer overseas. I had narrowed it down to two companies.
Global Work & Travel called me to follow up on my initial interest. It was this phone call that prompted me to leap, somewhat spontaneously. I just knew that I had to do it, and the phone call nudged me to do exactly that.

Which trip did you choose?
I chose the Big Five African Wildlife & Conservation Volunteer Experience and for three weeks.
"Big Five" refers to the African lion, leopard, rhino, elephant, and buffalo.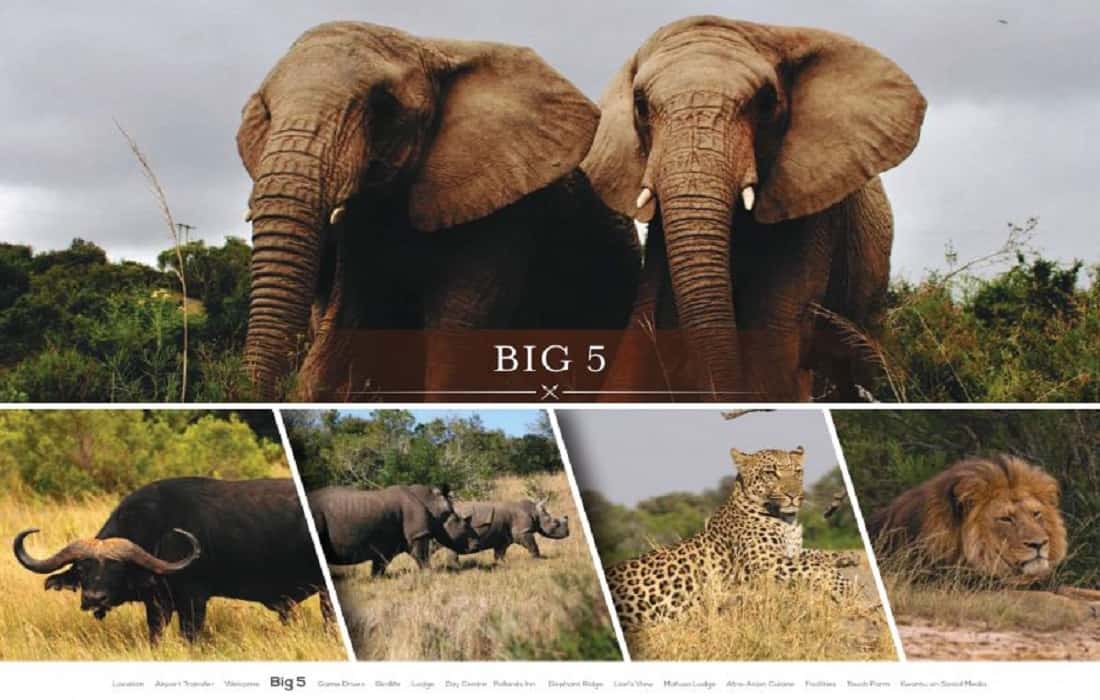 Photo Credit – Kwantu Reserve
The Big Five African Wildlife & Conservation Volunteer Experience is an exceptional hands-on learning experience in the African bush. Experience wild safari rides, immerse yourself in local culture, and get closer to nature while gaining experience that you will take with you for the rest of your life.
What did the booking process entail?
It was straightforward. I paid a deposit and confirmed my dates. From there, a trip advisor called several times to walk me through the steps on what I needed to do or tell me what she needed from me.
When did you travel?
I traveled in 2021, right before the Delta Variant hit. I left the United States on July 11th and returned on August 3rd.
About Kwantu Reserve
Kwantu Game Reserve is situated in the Eastern Cape, about 50 miles away from Port Elizabeth. It spans over 14,826 acres. Founded during the early 19th Century, the emphasis at Kwantu Reserve is placed on wildlife and conservation.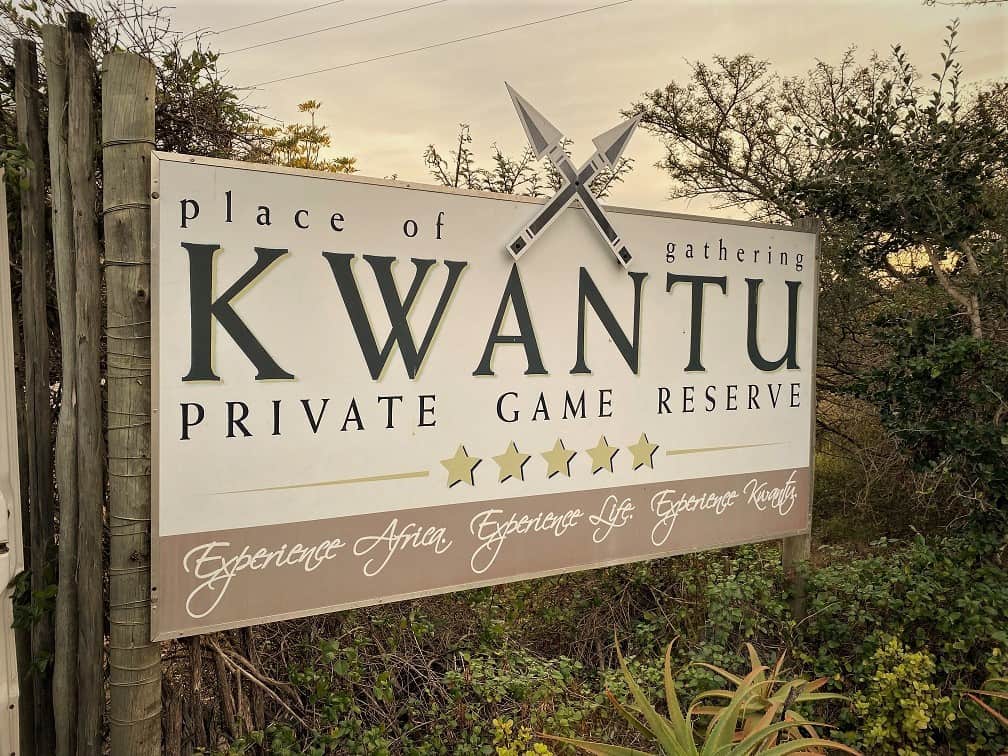 What were some of your responsibilities as a volunteer at Kwantu Reserve?
We were assigned a few different responsibilities.
Game counting
Game counting is done for a couple of reasons. One, to make sure that there is no poaching. And two, to make sure that there is no imbalance or unexpected deaths. Game counting ensures that the populations are stable.
Note: Game in the content of game counting means "animals" vs. game as in to catch and eat.
We would game count one a week. Counting the numbers of elephants, rhinos, black and blue wilder beast, spring bucks, waterbucks, heart beasts, zebra's, antelope, and impalas!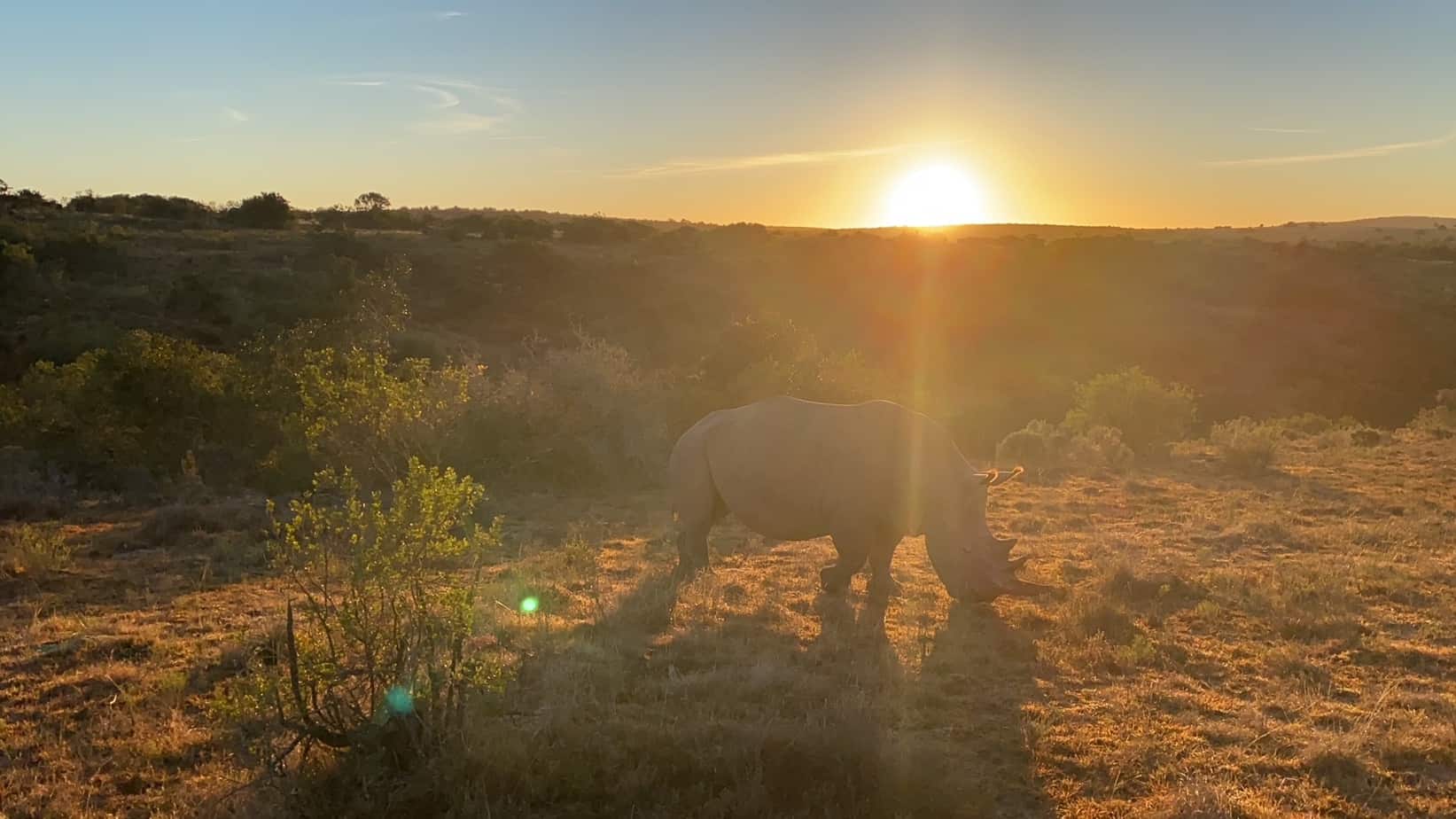 It's a manual process. You go out on the plains, sit, and watch for animals. Then, in the cold, note the numbers you see on a pad. At the end of the day, we turned in our reports to the volunteer coordinator or ranger in training.
Cutting and removing alien vegetation
Alien vegetation refers to plants that are not native and have been brought into a country from another.
Unbeknownst to most, alien or invasive plants are a severe threat to South Africa because they are "thirsty plants." In other words, they consume more than 100 million liters of water a day — about a fifth of Cape Town's daily usage. For a county with water shortages, this is a real concern.
Part of our role was to cut out these alien plants with a machete. Not any easy task, quite difficult, and we did it for about an hour and half a week based on the weather.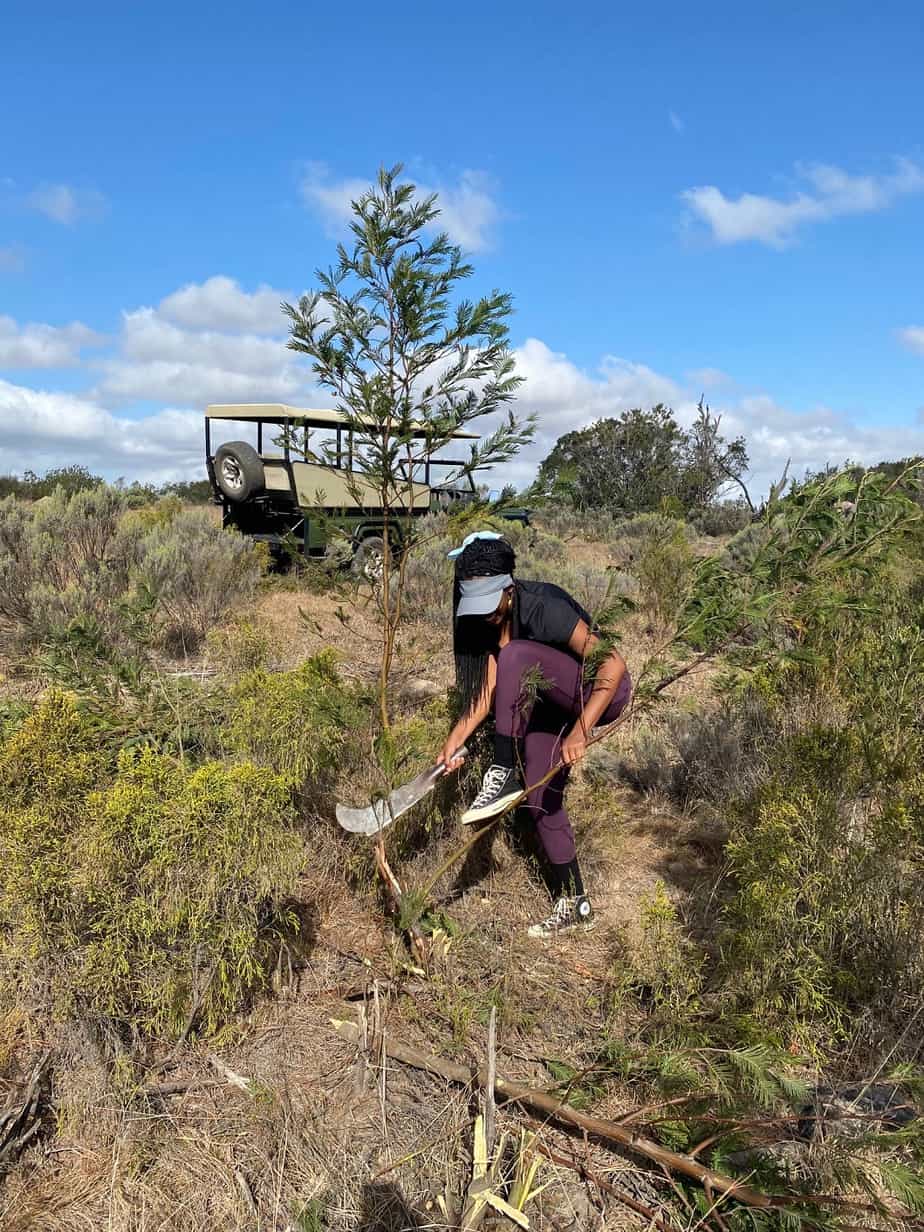 Examples of South African alien vegetation
Australian Myrtle
Black Wattle
Long-leafed wattle
Port Jackson
Rooikrans
Silky hakea
Spider gum
Stinkbean

Feeding big cats
Kwantu Reserve is home to a predator educational and rehabilitation center that houses endangered and orphaned predators such as the rare Bengal tigers, wild dogs, white lions, and many more.
We fed the big cats using a shovel to throw the meat over the fence.
One funny thing that happened to us while feeding the tigers. Tigers are known to be man-eaters. They will follow up and down as you walk around their enclosure. Given a chance, they will trip you up. The Tigers are hoping you will trip and fall. Even though they know better, they are still natural hunters.
Here is one of the tigers in rehab that is getting ready to go back to India. We saw him on a morning game drive.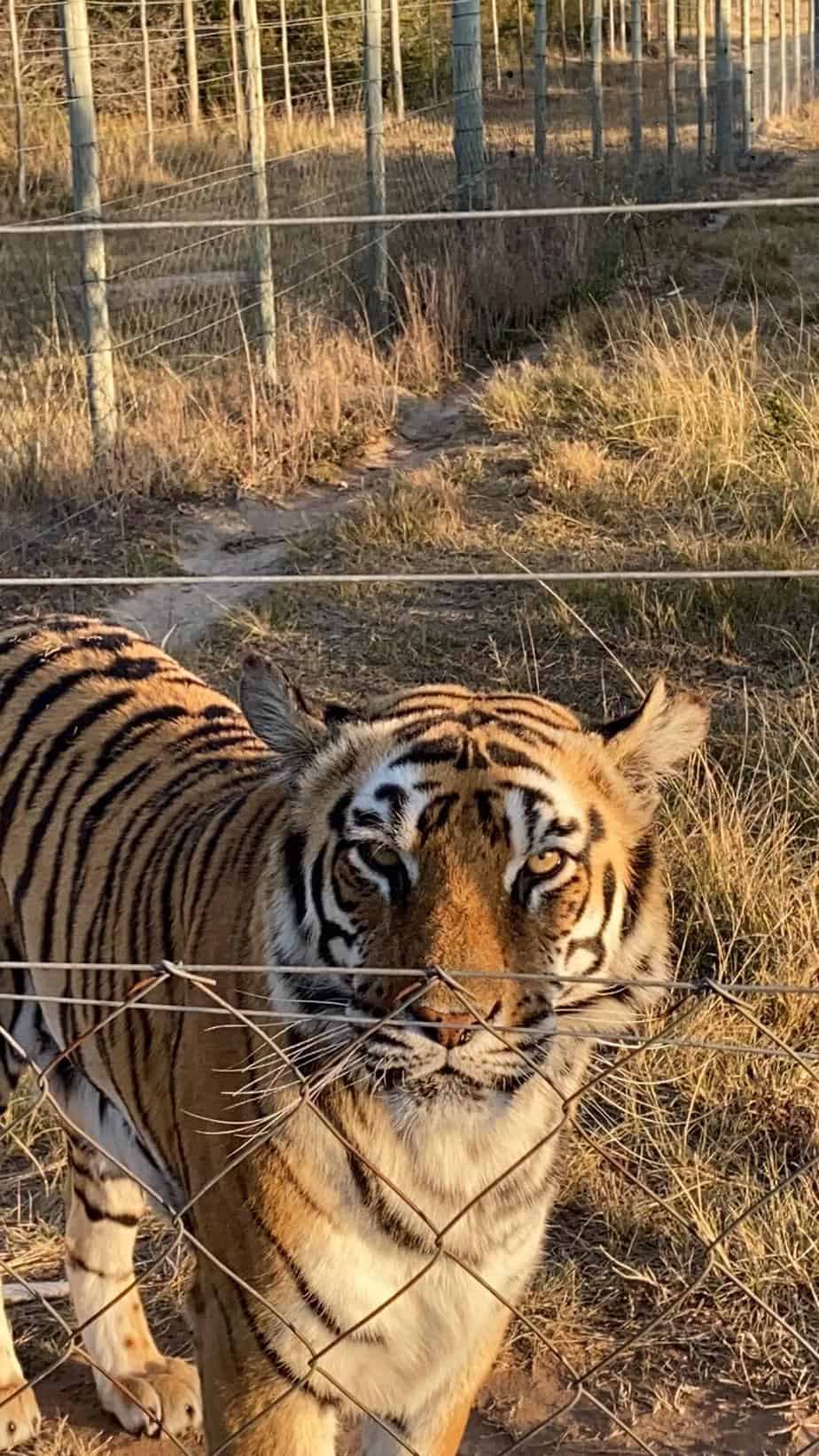 Tree planting and flora work in the nursery
We planted spekboom, the favorite snack of elephants.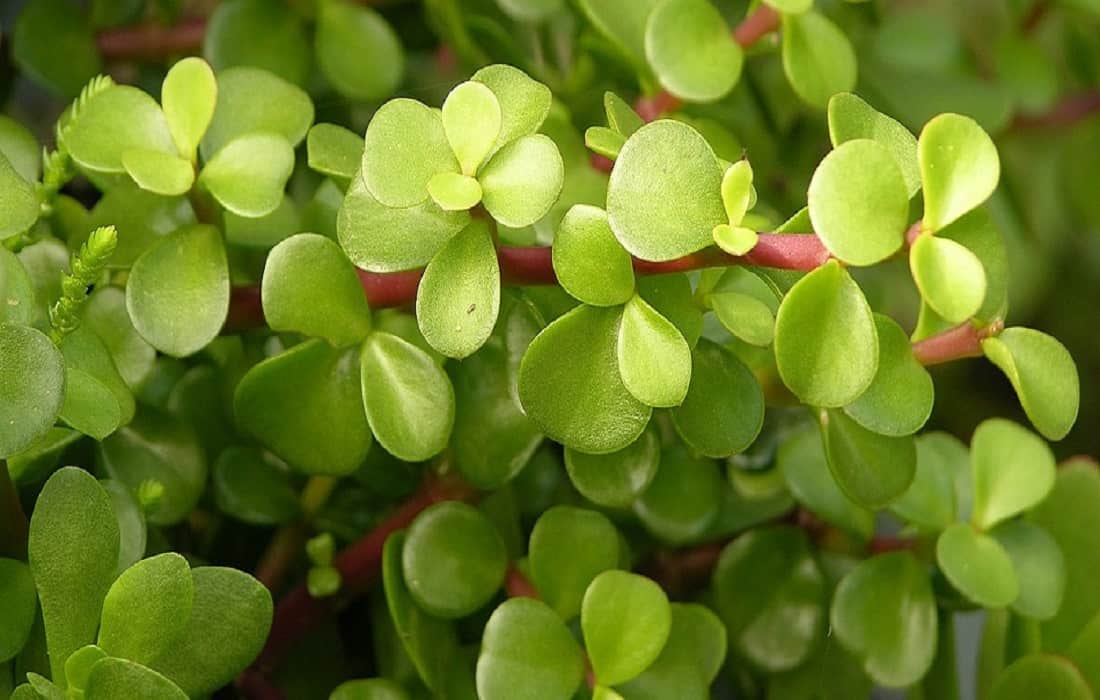 Photo Credit – commons.wikimedia.org By Derek Ramsey – Ram Man
Spekboom (Portulacaria Afra) is a succulent plant found in South Africa. Indigenous to the Eastern Cape, this bright green, small-leaved plant is a hit with elephants!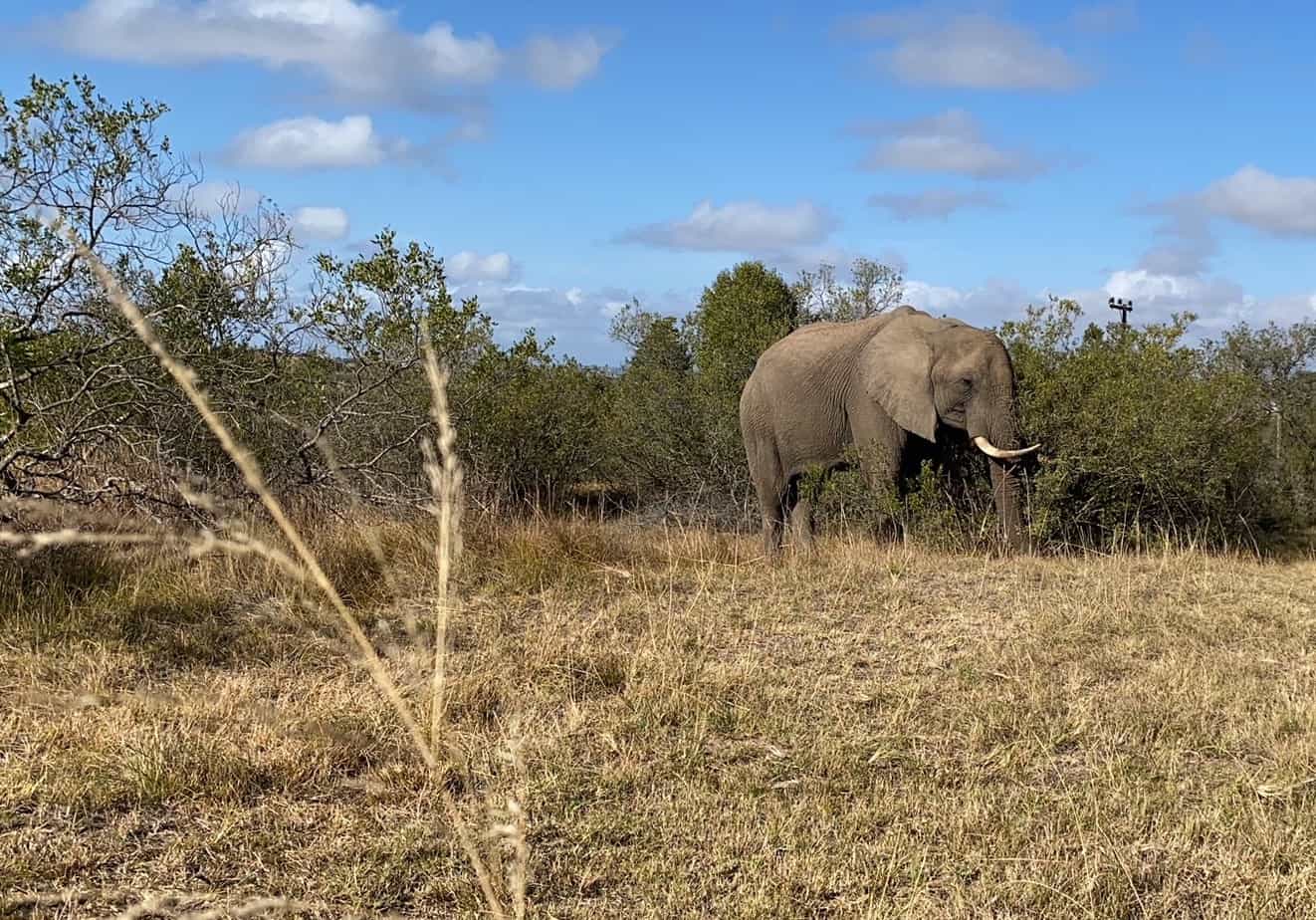 We also potted the spekboom to be planted later in reserve.
Lion tracking and monitoring
Like game tracking and monitoring, we often went out specifically to count and monitor the lion population.
How many days and hours did you work?
We worked about six hours a day, five days a week, and we had the weekends to ourselves. We also had an hour lunch break where we would all eat together.
This experience did not feel like work. It was the most fun I've ever had.
What are the accommodations like?
The accommodations are great but cold. I traveled during the South African winter. Sadly, one of the coldest winters on record, coming in at 39 degrees.
No one on the trip really planned for it to be this cold. And the accommodations had no heat. The only source of heat throughout the entire place is traditional fires. The extreme cold meant that we all had to go and buy warmer clothing.
Mafusa Lodge
We slept in one huge, single-sex dorm that had twenty bunk beds. The shared dorm was not full, so we could all sleep on the lower level of the bunk beds. We also had lots of extra blankets, which helped shield us from the cold. The beds were harder than what I am used to, but I got used to it, and it did not affect my sleep.
The shower facilities were new and had marble floors. Lovely style, but the marble floors made them freeze. The bathrooms were traditional African squatting toilets, but western toilets were available. Also, the bathrooms had bidets in them.
Note: Toiletries are not provided, and you need to bring your own.
Accommodation Facilities
Fireplaces
Library Area
Tea & Coffee Station
Lounge Area
Flat Screen TV
DVD Player
Photo Credits – Kwantu Reserve
Other volunteer facilities-based a short distance from the accommodation include:
Swimming Pools
Free Wi-Fi
Tennis Courts
Cricket Field
Entertainment Room
Study Area
Note: In the wild, the internet connection can be "temperamental". Alexandria experienced this firsthand!

What is the food like?
The food was delicious. I had to imagine, given that most meals consist of beans. Most meals were rice-based with beans and some protein such as beef or lamb. There were lots of vegetables with each meal, and dinners were well balanced.
Note: Food is included in the price of your trip
What are some of the excursions you can participate in during your free time?
There's a lot to see and do, but here are some examples:
Tsitsikamma National Park
Tsitsikamma National Park is protected on the Garden Route of South Africa. The Park occupies fifty miles along the coastline of South Africa.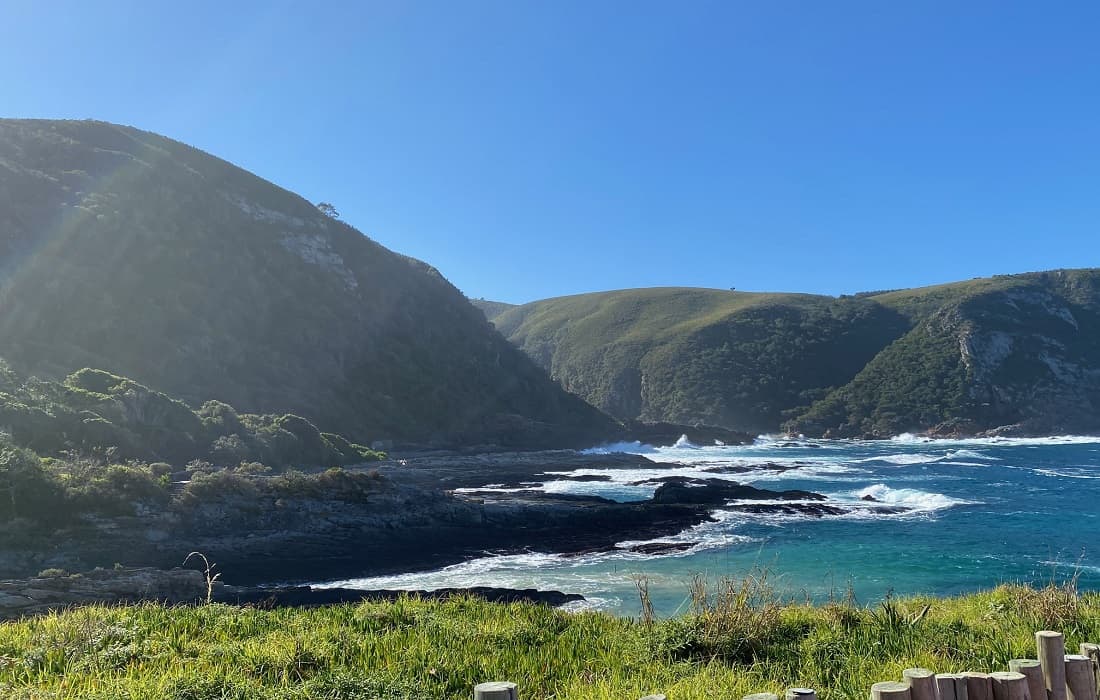 This is a popular spot for river rafts.
Jeffreys Bay
This is a surfer town near port Elizabeth. We spent a few weekends here in a youth hostel. The cost of the youth hostel was an add-on. But the staff at Kwantu Reserve drove us there.
It's about an hour away from Kwantu Reserve, and it's popular for young people. People spend time at the beach, skateboard, eat ice cream, and shop at the trendy store "The Factory."
Did you have any challenges while in South Africa?
The only issue I ran into is my return flight was canceled. No one, including the airline, knew why. At first, this made me panic. However, the airline was able to work it out and get me on another flight. If they did not have, I would have called Global Work & Travel. Fortunately, it was not needed.
What is your favorite memory from your trip?
My favorite memory is us eating together with the group. At the end of a workday, we would all eat together and chat, laugh and form lifelong friendships.
Alexandria on the far left with Melanie, Lisa, Eline, Kiki, Anna, and Ally G the ranger: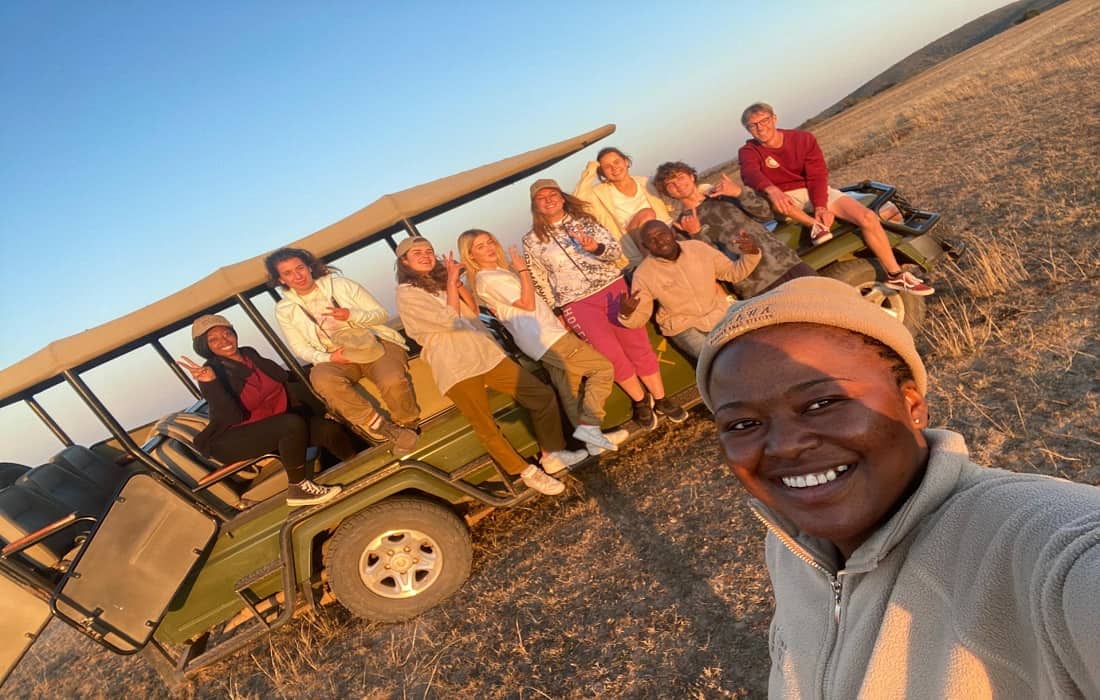 The people with who I volunteered became family. This is the most important thing of all. I keep in touch with everyone, and we are all planning our next trip.
What is your least favorite memory from your trip?
One of the activities that are offered is a hike. I'm not a hiker, and while all said we were going on the "easy" hike, it turned into a four-hour hike up a mountain. It was slippery and challenging. We saw baboons on this hike which made it worthwhile. I will add though those baboons are huge. Running into them in the wild is scary.
There were also some activities we could not do due to rain.
What did you learn on your journey?
I think the biggest thing is that my family said I am different. I have grown. This is exactly what I wanted to accomplish.
Do you think the experience was value for money?
Yes! Naturally, we all want things to be as cheap as possible. But cheap is not always good. And most of the cost is on the flights.
Would you retake a volunteer vacation?
Absolutely I would recommend it to anyone. I have zero regrets. It was the most fun I have ever had. I am already planning to study abroad in Europe next year, as mentioned with my friends I met in South Africa.
What advice would you give to someone like you who's thinking of booking a volunteer vacation?
Check the weather thoroughly before you pick your dates. Then, make sure you pack appropriately for the weather.
Make sure you bring enough exchanged money. The banks are closed on Sundays and my card would not work at all ATM's.
There are no superstores for food. Don't expect to shop the way you do at home.
Don't worry too much. Worrying will not help you in the end.
Try to do as much as you can where you are there. South Africa is a lot cheaper than many places in the world. Money stretches further than you would think, so see and do everything.
Buy as much as you can; this is a once-in-a-lifetime opportunity!
When you pack, make sure you leave enough room for all the goodies you will buy.
Most importantly – Do It!!
If you are interested in following Alexandria's travels you'll find her here: Instagram or here on Tumblr

Closing Thoughts
We just learned about Alexandria's experience. I don't know about you, but I am in awe! If you are considering a working or volunteer vacation, what questions do you have? Most importantly, where do you want to go? Drop your comments below.
If you are still not convinced, learn from actual travelers that have taken trips with Global Work & Travel:
Read firsthand about their experiences!
Want to Study Abroad?
We participate in the Amazon Services LLC Associates Program, an affiliate advertising program designed to provide a means for us to earn fees by linking to Amazon.com and affiliated sites.
Subscribe to our newsletter and get the best travel tips and inspirational stories delivered monthly. No spam, no sales pitches – TRAVEL!
Brit On The Move™ Travel Resources
Ready to book your next trip? Use these resources that work:
Need more help planning your trip? Check out our Resources Page, highlighting the great companies we trust when traveling.