10 Reasons To Visit Equatorial Guinea
Equatorial Guinea is the seventh least visited country in the world. This is not due to a lack of incredible nature or things to see and do. Instead, historically, it has been challenging for tourists to get a visa.
Fortunately for all adventurers and travelers, this is changing. It is now easier than ever to get a visa to travel to the African country of Equatorial Guinea.
This small African country is only 10,830 square miles in size, has a population of 1.309 million, and sits on the Gulf of Guinea between Cameroon and Gabon.
This small gem of Central Africa has one of Africa's highest per capita incomes, despite its significant inequalities. Equatorial Guinea is one of the most literate countries in all of Africa.
This post may contain affiliate links. Please read our disclosure and privacy policy for more information.
Map of Equatorial Guinea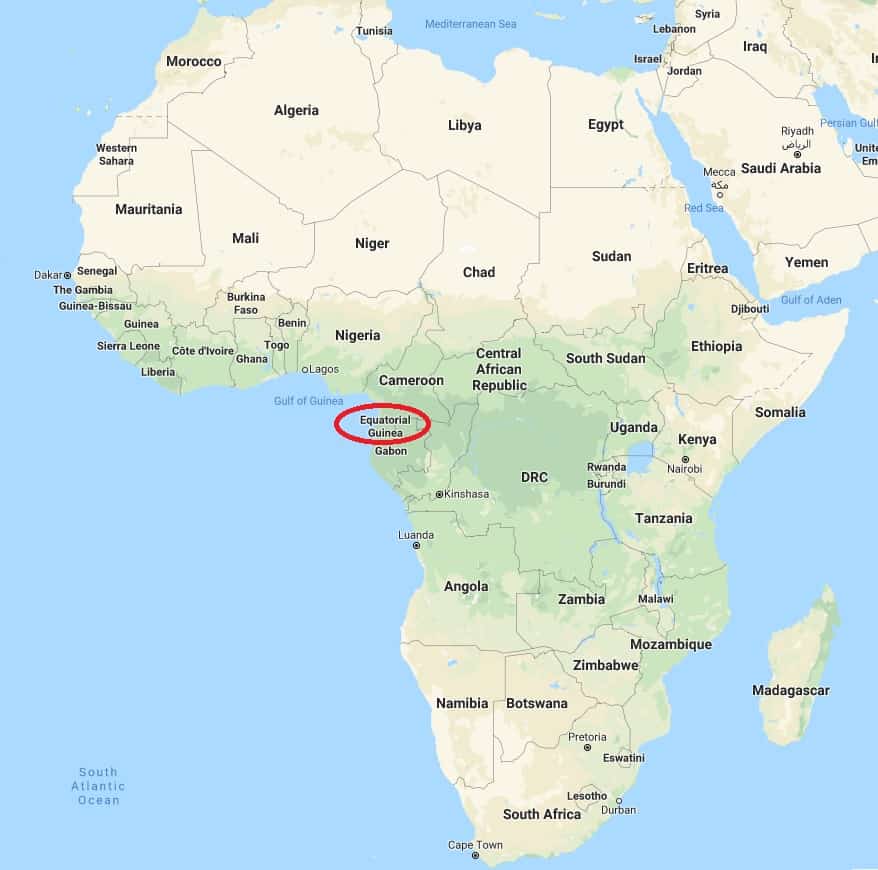 How to Equatorial Guinea?
Equatorial Guinea has surprisingly great flight connections to and from major European cities. From Madrid to Frankfurt or Paris, connecting is very easy. And Turkish Airlines, Royal Air Marroc, and Ethiopian Airlines have recently started flying to Malabo, the county's capital.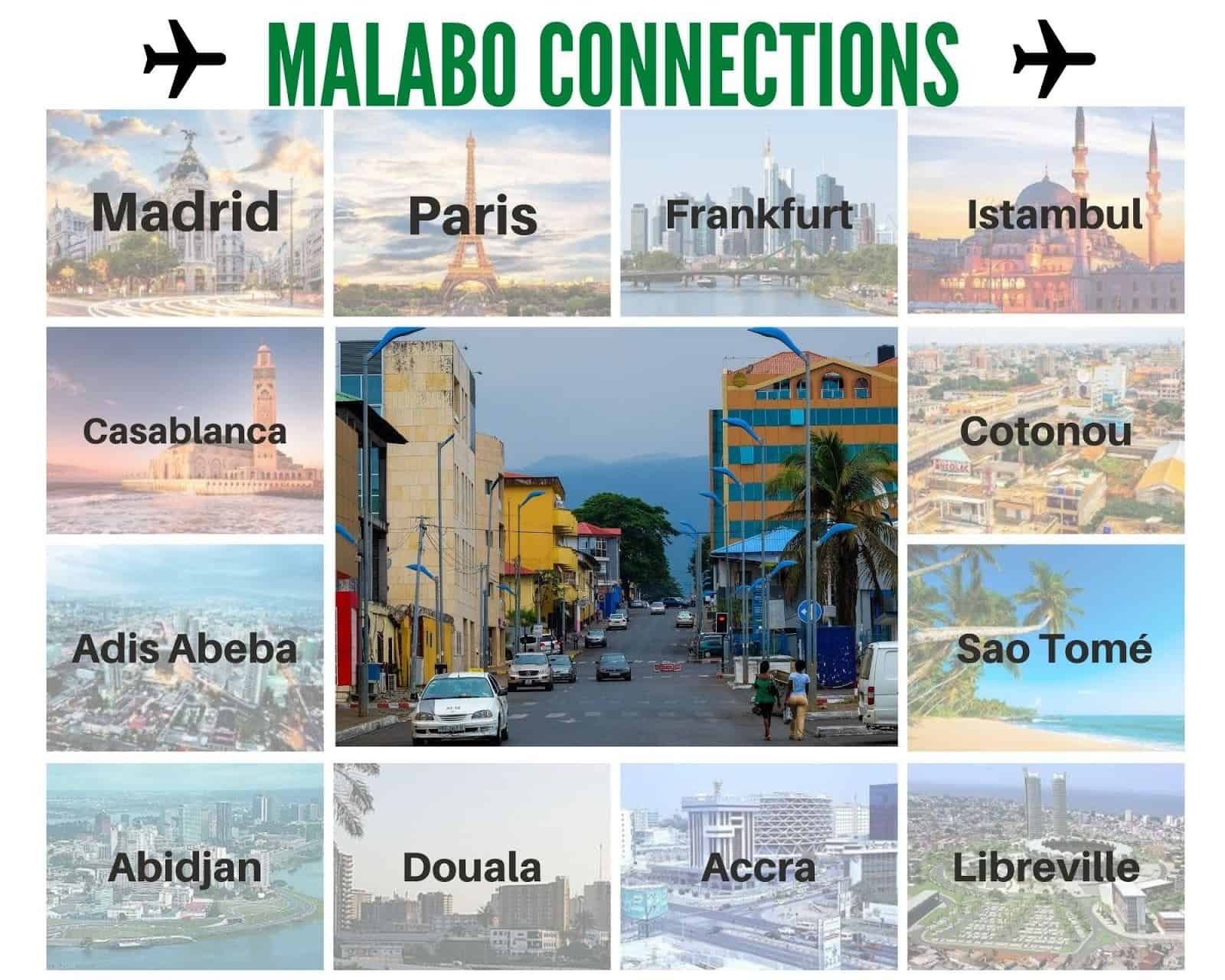 How To Get a Visa for Equatorial Guinea
The government recently began opening up to tourism. Here are the official visa requirements.

You can apply for a Equatorial Guinea visa inadvance here.

For American travelers, you must check the U.S. Department of State COVID-19 Guidelines to see if you can travel to any foreign country.
Tourist Permit
Having a visa for Equatorial Guinea is not all you need when traveling to Equatorial Guinea. To visit any tourist attractions, you must obtain an Autorización de Turismo (Tourist Permit) if you plan to access certain protected areas in the country. For example, Ureka, Pico Basilé, Caldera de Luba, etc.
This permit can easily be obtained in person at the Ministerio de Turismo in Malabo II or the Delegación de Cultura y Turismo in Bata.
Unfortunately, it can take a day or two to get a Tourist Permit. To expedite obtaining a Tourist Permit, consider using a travel agency to coordinate getting one before you arrive. Tourist Permits cost approximately $30 – $50.
Tour Operators in Equatorial Guinea
If you plan a trip to Equatorial Guinea, I recommend using Rumbo Malabo Tours. They are a local tourism agency offering the best packages to discover Equatorial Guinea and its deepest secrets. As a result. You'll be very well taken care of.
10 Reasons Why You Should Visit Equatorial Guinea
1. Paradise Island of Corisco
The island of Corisco is located 31 miles from the Equatoguinean coast. Its white sandy beaches and crystal clear waters delight all tourists. Getting to Paradise Island is a bit of an adventure. The airport is private, and getting a ticket is within reach of very few. Your only viable option is a slow ferry or a ninety-minute ride on a cayuco (an canoe). Your choice!
2. Ilachi Waterfalls
These waterfalls are more than 155 miles in height and are the largest in the country. Getting to them is a jungle book adventure. If you like to explore undiscovered paths, you should not miss this place. Head to the city of Moka, and from there, hire a local guide to accompany you as you trek through this incredible jungle.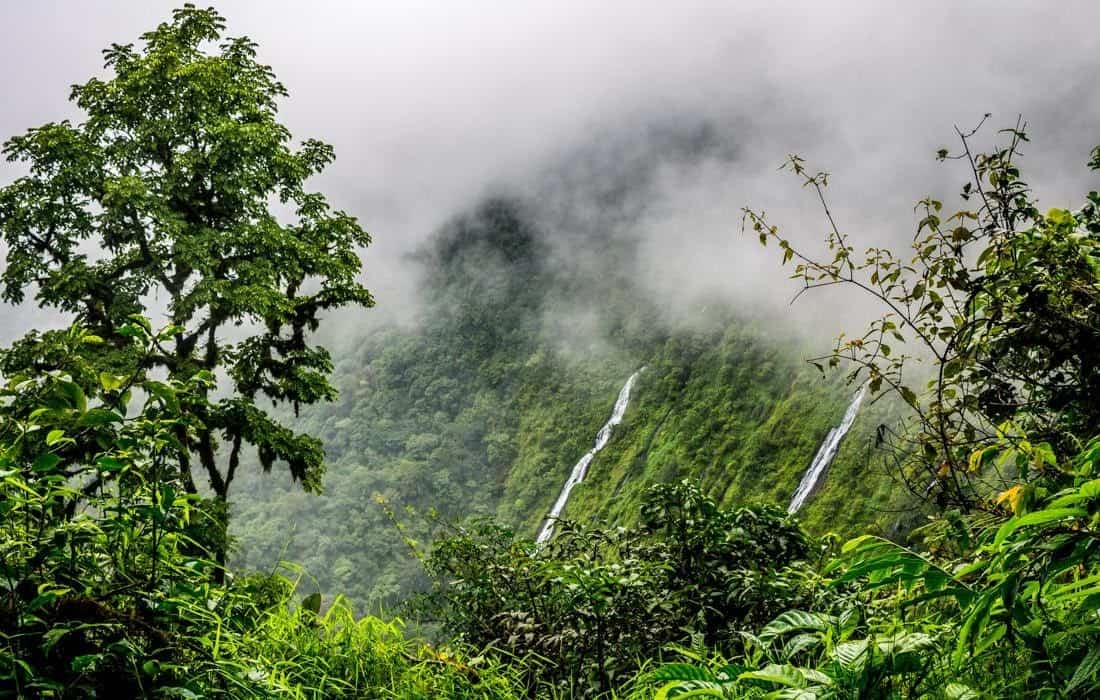 3. Ureka Waterfalls
Ureka is a village located to the south of the island of Bioko. The Ureka vicinity is home to a series of waterfalls and the most beautiful beaches on the island. Despite the rough road to get there, it is worth enjoying a swim in these natural wonders. When you visit it, you will find it hard to believe that this area is so unspoiled.
4. Amazing Churches
It is easy to deduce the different architectural styles in a country with so many different cultures. On the one hand, Equatorial Guinea has the crown jewel, the cathedral of Malabo. Despite a fire in early 2020, it survived and continues to share its magic. On the other hand, classic wooden churches like the Church of Batete or new churches in small villages such as Moka. Last but not least: The Basilica of Mongomo, the second biggest basilica in all of Africa.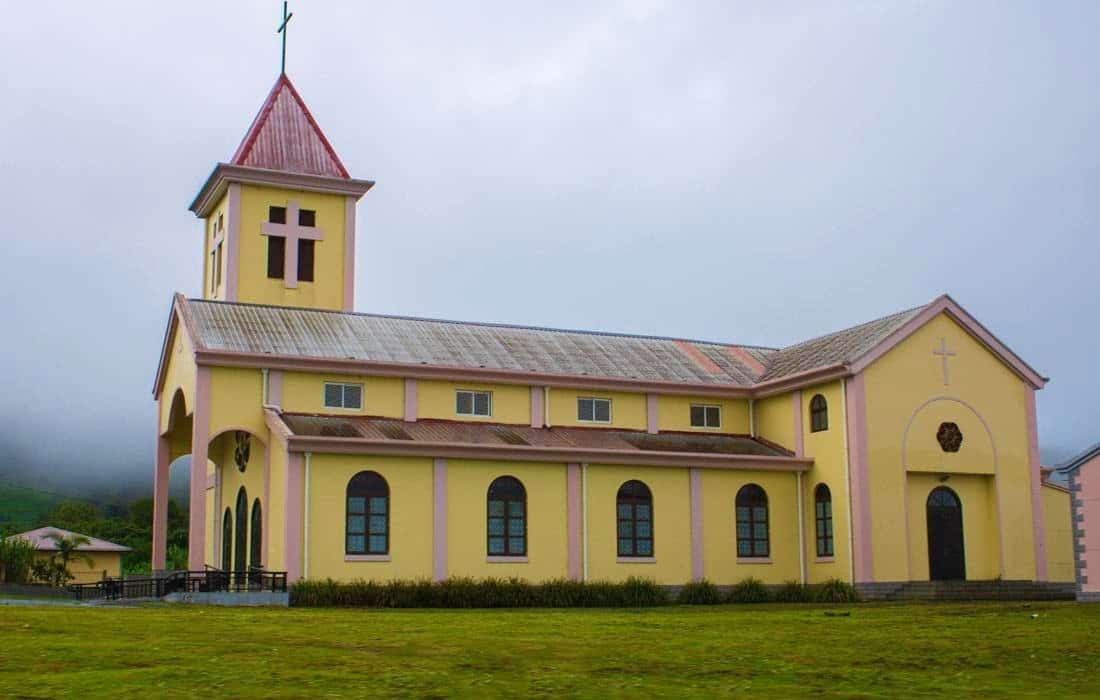 5. Monte Allen National Park
One of the oldest and most protected areas in Monte Allen National Park is 1242 square miles. There is a variety of wildlife, from gorillas, chimpanzees, leopards, and even elephants. Completely wild and free, sighting by humans is not guaranteed.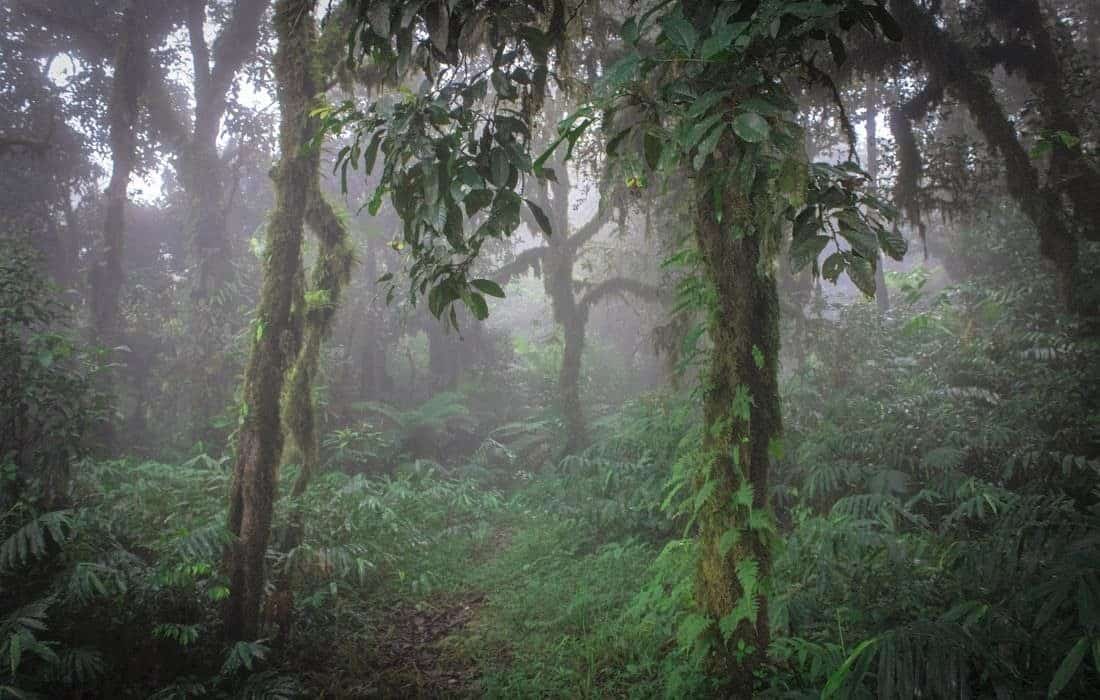 6. Spawn of Leatherback Turtles
Have you ever seen leatherback turtles over 1,100 pounds laying eggs? If not, you will get your chance here. Organizing night excursions to see these giant turtles spawning from November to January is possible. It is an unforgettable experience and highly recommended if you are a nature lover.
7. Lakes in Craters
What happens when a volcano stops being active in a country with a lot of rain? In the photo below, you have the answer. It floods, forming beautiful landscapes. No one dares to enter, but you can observe all its beauty from a distance. There are two lakes in craters! On one side is Lake Biao, and on the other, the great caldera of Luba.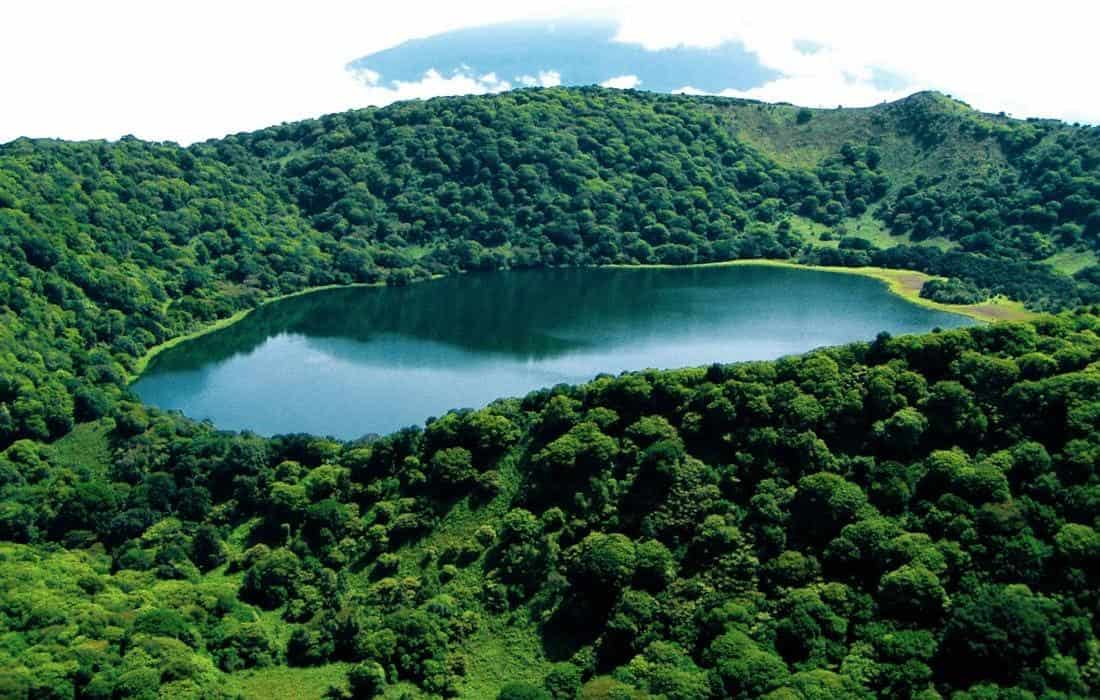 8. Pico Basilé
Basile Peak is the highest point in the country. It is impressive and visible from all points of Bioko Island. On the way to the top, you will see the wonderful Mother Bisila. She is considered by many as the Bubi people's mother and one of the first black virgins recognized by the Catholic papacy. With her baby on the back, this impressive statue represents one of the most secret stories of the Bubi people. Are you curious? You will have to ask some locals because we will not reveal those secrets here.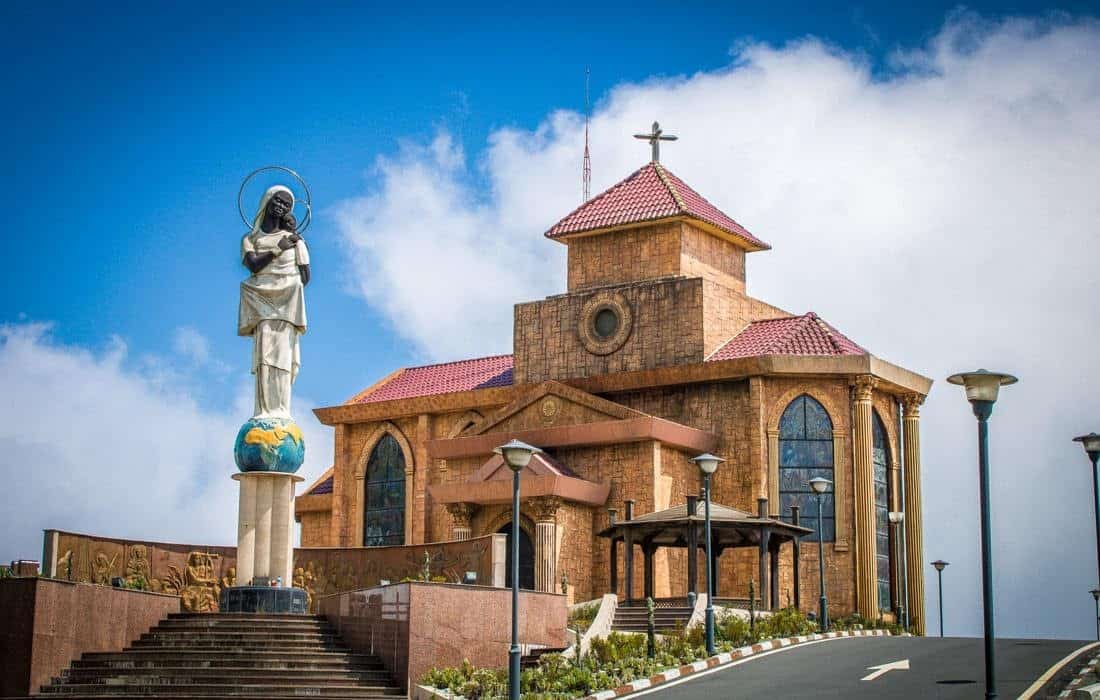 9. the Island of Annobón
This island is called Annobón because it was discovered in Portuguese on New Year's Day – Anno Bon. This island is proof that a ten-square-mile island needs very little from the outside to be self-sufficient. Visiting this island is a must. Scheduled flights are only available on Fridays and Sundays, and you should expect and plan for frequent cancellations. It is a logistic challenge for any adventurer.
10. Cultural Coexistence
Do you want to understand different tribes or ethnicities? Equatorial Guinea is a country rich in culture. There are more than seven ethnic groups that live in peace and harmony. The capital Malabo is a clear example of peaceful coexistence. You will hear from the official language, Spanish, through the streets, to dialects such as Fang, Bubi, Convé, and the very characteristic Pidgin.
Flag of Equatorial Guinea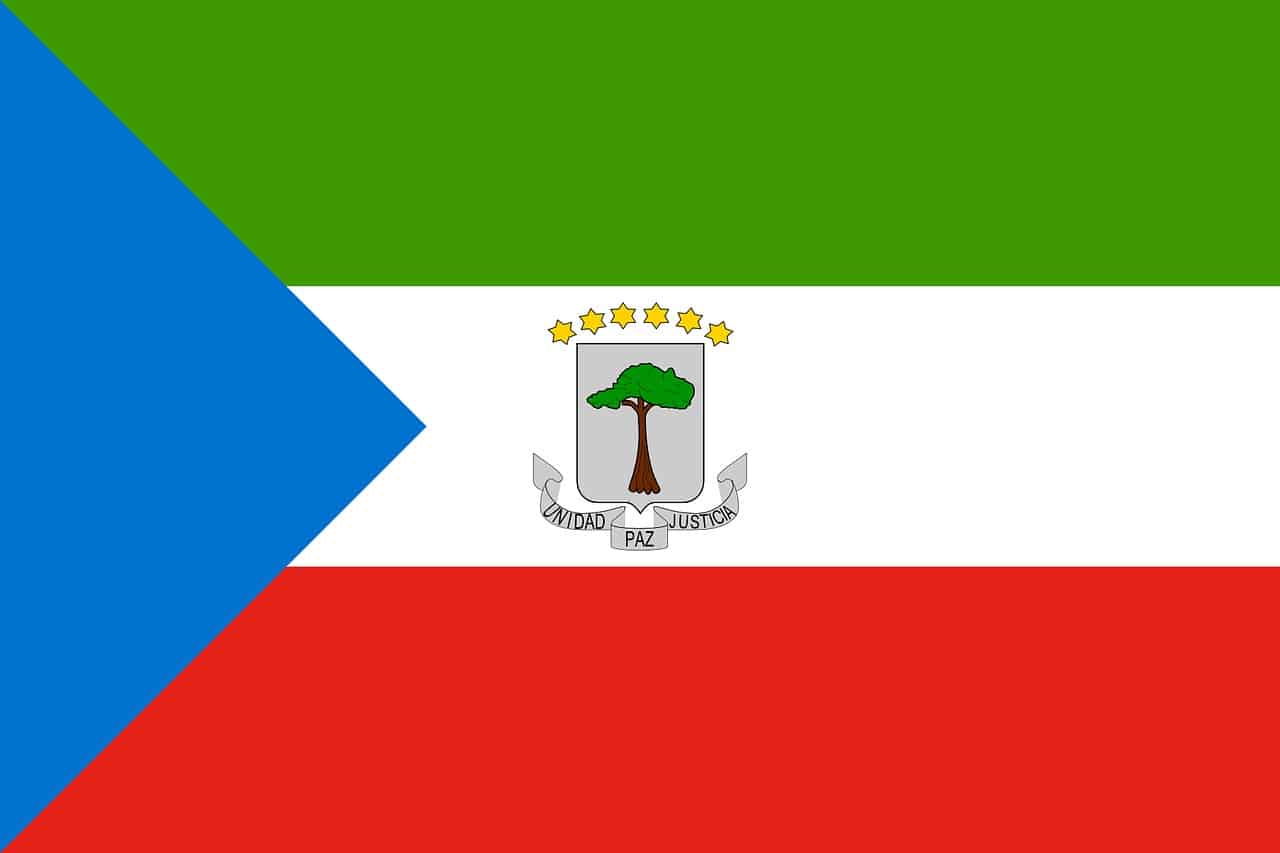 Frequently Asked Question
When is the best time to visit Equatorial Guinea?
Equatorial Guinea is a country with a dry and rainy season. The dry season usually lasts from November to February. Therefore, the dry season is e most recommended time to visit Equatorial Guinea. However, you can see it anytime, assuming the rain does not condition your life.
What language is spoken in Equatorial Guinea?
Did you know Equatorial Guinea is the only country in Africa with Spanish as its official language? In addition to Spanish, French and Portuguese are official languages but not often used or known. Like every African country, Equatorial Guinea has a variety of co-official local languages.
Is it safe to travel to Equatorial Guinea?
Equatorial Guinea is a relatively safe country. No notable incidents have been recorded in recent times. Crime is heavily controlled by several military and police checkpoints in cities. Very few incidents have been recorded involving tourists or expatriates of any significance.
How to get around Equatorial Guinea
Equatorial Guinea has an admirable infrastructure, with well-paved highways connecting the country's main cities. Public transport is generally non-existent for tourists and is limited to shared taxis for a modest price. However, if you want adventure and visit nature, it is much cheaper and advisable to contact a tour operator that offers these services.
Is there work for ex-pats?
A common question. Unfortunately, the answer is always the same; getting a well-paid job in a country with an expatriate status is complicated. Your best option is for one of the oil companies operating in the country to hire you from your country. Then fair wages are guaranteed.
Closing Thoughts
Few people will be adventurous enough to visit this small country in Africa. Many will shy away because it's not as widely known as some of its neighbors. However, many of us will want to explore this lesser-known African county before it becomes overcrowded with tourists.
It is now possible to travel to Equatorial Guinea, take advantage, and add to your next African adventure!
Looking for more posts on Africa Start here:
About the Author: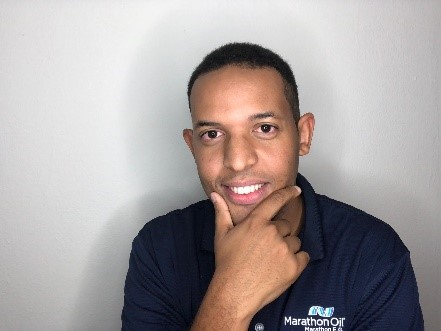 We participate in the Amazon Services LLC Associates Program, an affiliate advertising program designed to provide a means for us to earn fees by linking to Amazon.com and affiliated sites.
Subscribe to our newsletter and get the best travel tips and inspirational stories delivered monthly. No spam, no sales pitches – TRAVEL!
Brit On The Move™ Travel Resources
Ready to book your next trip? Use these resources that work:
Need more help planning your trip? Check out our Resources Page, highlighting the great companies we trust when traveling.