Why would anyone want to go cage diving with great white sharks? The adrenaline rush, the love of marine life, the bragging rights? Who knows! It's beyond my comprehension, but it is something that Brian always wanted to do, so we made it happen.
When researching cage diving locations with great white sharks, two key contenders were California and South Africa. On the surface, one would think California, but here is the deal. It costs almost $1,000 to cage dive with a great white in California; if you are an observer, it's around $500. I don't know about you, but I think that's ridiculous! If you research South Africa's pricing, it's about $120 to cage dive and $80 to observe.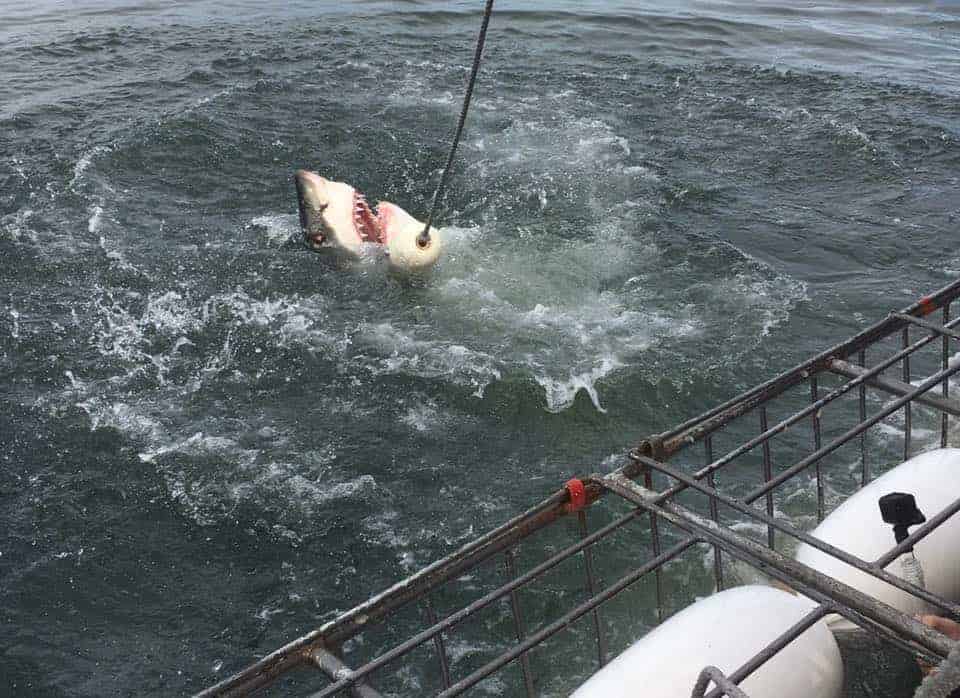 This post may contain affiliate links. Please read our disclosure and privacy policy for more information.
When you consider that you can travel to South Africa for less than $1,000 making the journey, there was a no-brainer. We combined the trip with Dubai and flew Emirate Airlines using a multi-city-flight that gave us a week in both locations for less than $1,000k each round trip.
If you are not familiar with multi city-flights, read this:
Multi-City Flights: How To Get Free Segments and Free Layovers
Add to this; I had free hotels using points for both Dubai and South Africa. An inexpensive trip for us. Well, everything except our week in Dubai.
South Africa Seasons for Cage Diving with Great White Sharks
Cape Town: June – September
Gansbaai: All Year but visibility best January – September

April to September, mainly around Dyer Island and Geyser Rock.
September to March around Shark Bay.
Note: Shark Alley is the channel between Dyer Island and Geyser Rock. You've most likely heard of it from Discovery Channel's Shark Week!

Mossel Bay: All Year
Tour Operators
We took our trip out of Gansbaai, located a couple of hours south of Cape Town. There are many different tour operators, some even less expensive than the one I recommend. We used Great White Shark Tours. They have an excellent reputation and know what they are doing. I can't tell you enough good things about this company. Everything was as planned and professional.
Most importantly, a safe vessel and equipment. They provided a round-trip service as a part of the trip. We stayed in Cape Town, and it was about two hours each way to get to Gansbaai. We did pay a little extra for this, but it was minimal.
If you want to see all the action, follow Great White Shark Tours follow them on Facebook. They post lots of photographs of the sharks in action!
The Actual Cage Dive
Before boarding, I decided to pay as if I would participate along with Brian. At the moment, I had all intentions of doing so. We board the boat and head out into the ocean; all seems perfectly calm. We rode for about thirty minutes. When we got to our spot, you could still see the shoreline. This alone gave me an eerie feeling of fear. The crew begins to chum the area and search for sharks.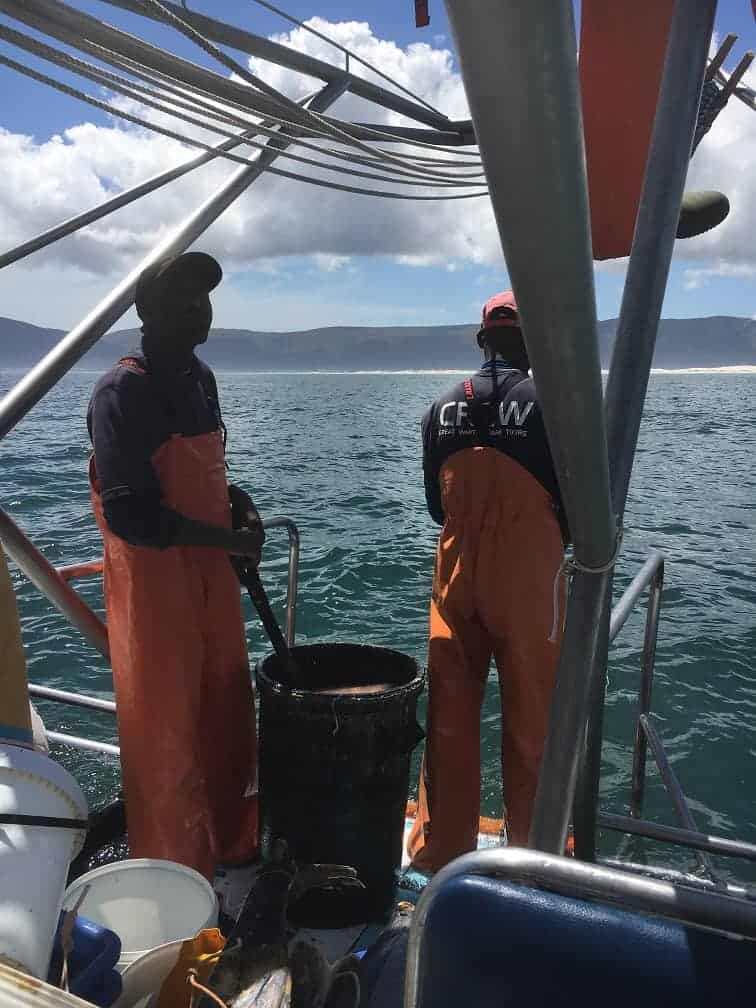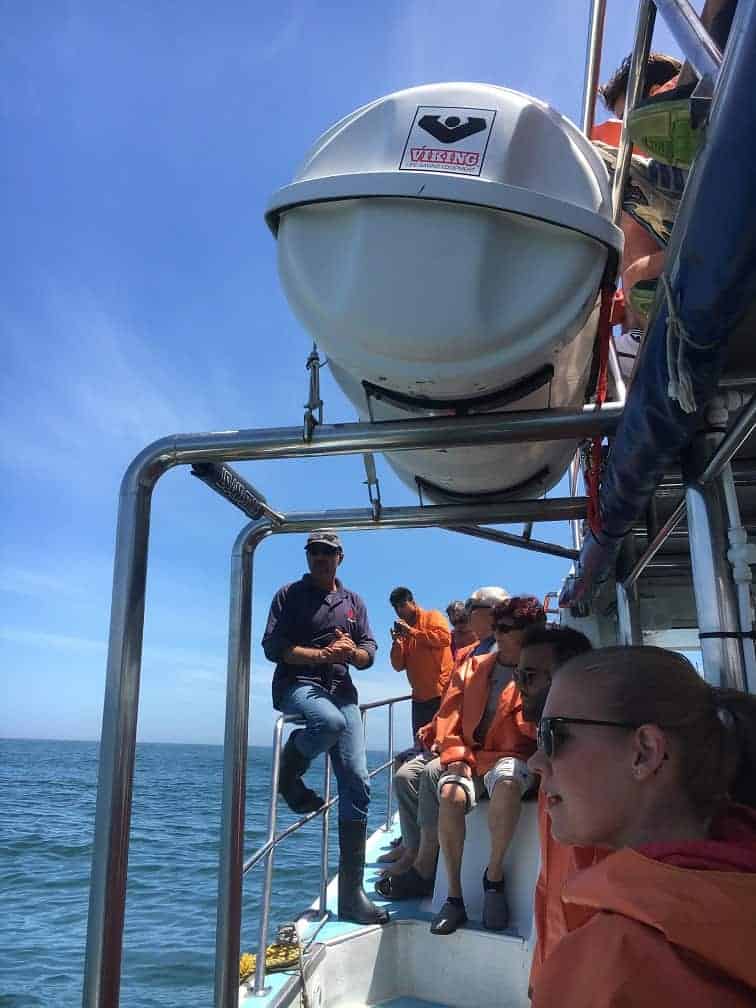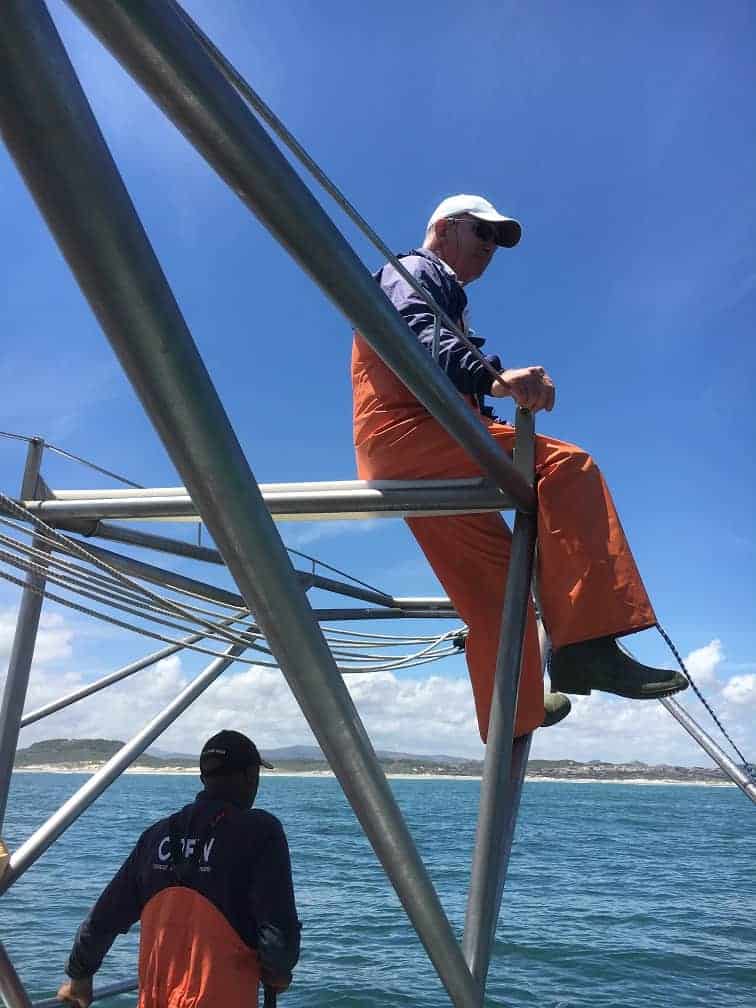 Slowly but surely, the first shark comes up. It was a lot smaller than I imagined, encouraging me that I got this and will dive.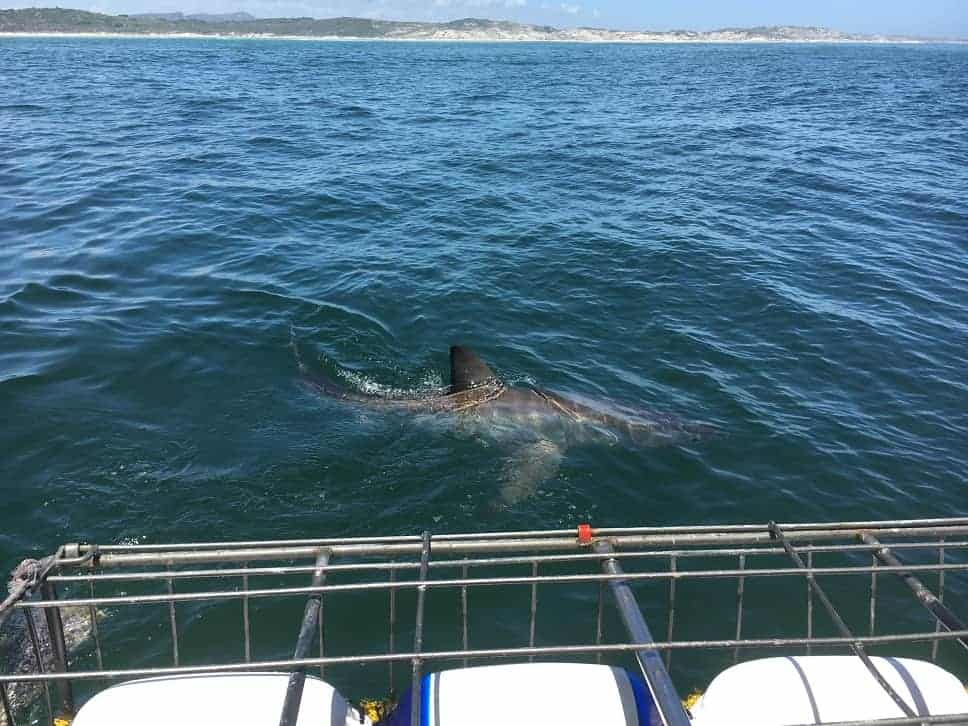 The captain tells us that the shark we just saw was a juvenile and not fully grown. I'm still thinking not too bad, not too scary. The captain advises us to start getting on our wet suits. It would be best to have a wet suit because the water is freezing, a cool 60 degrees. As I put mine on, a gigantic head pops out of the water — a fully grown great white.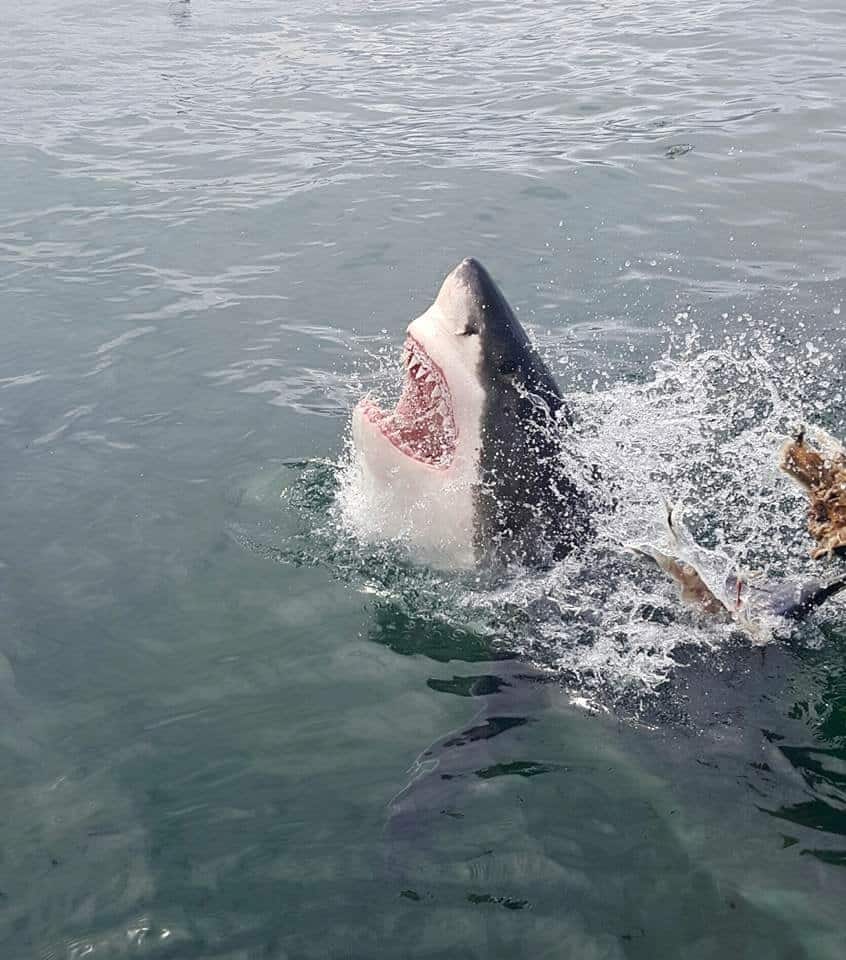 Terror sets in for me and many on the boat. I almost pissed my pants, literally. At first, I was too scared to even look over the side. I am petrified and move to the closet pole to cling to — many on the ship dash the top of the boat. Less than half continue to put on the wet suits. Naturally, I stopped putting on the wetsuit. I know I am not getting in the cage to get any closer to these sharks.
We've all seen them on TV. We all have an idea of what we think they look like. Let me be the first to tell you that they are bigger and scarier in person. Put it this way, I would not put a toe in the water in South Africa, nor would I fish there. I am permanently scarred for life as a result of seeing the sharks!
On the other hand, Brian marveled in glory and continued getting his wet suit for the dive.
Getting in the Cage
Imagine climbing over the side of a boat knowing great whites are under the water waiting for you. Imagine the hole you will slip into leads you to a cage you'll share with others. Now, imagine that once you are all in there, the sharks will come – and come they do! No tanks are used for these dives, but weights are. The weights are to help you stay down and watch the sharks.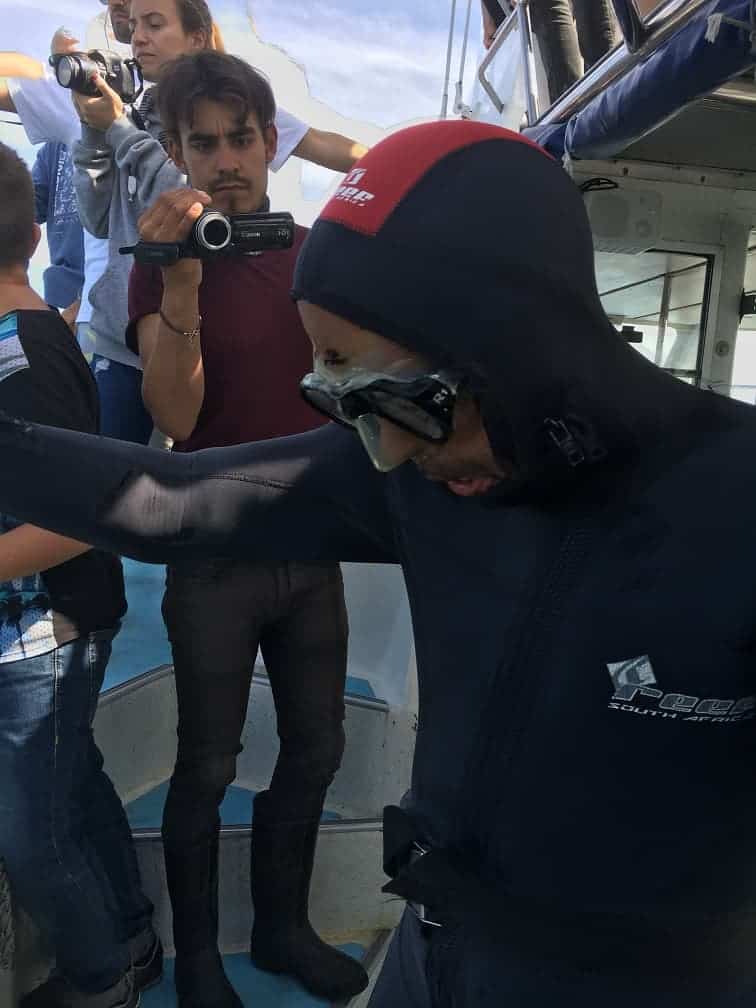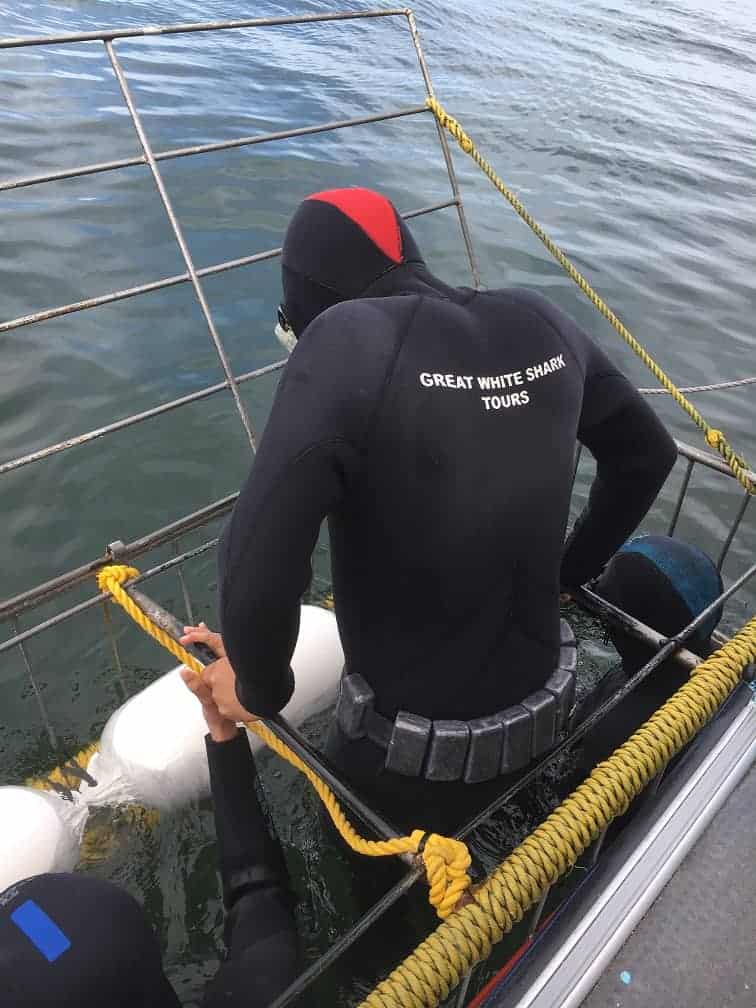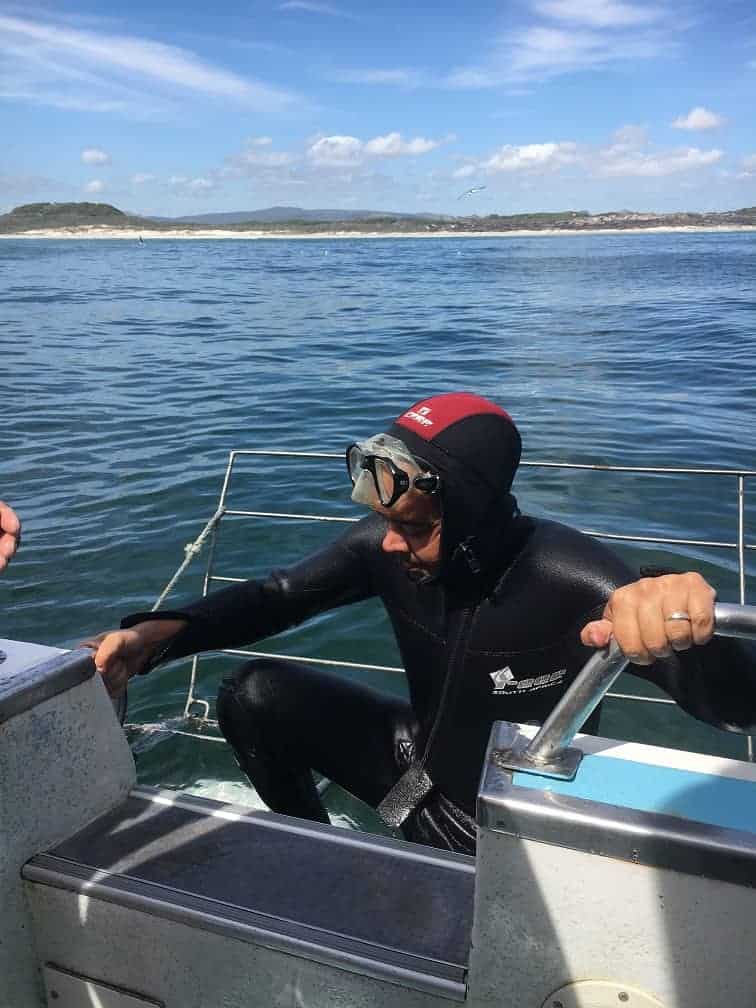 Inside the Cage
Visibility varies, but according to Brian, who went in twice, you can see everything. You can see the sharks going under, over, and sometimes head-on with the cage from on top. Be aware that the cage holds about six people in a line. Once you are in, you are in until the first person to get in gets out. Brian was in with a hyperventilating guy because the top of the cage had not been closed yet. Four others were before him to get out, and all four were eager to view. Fortunately, the top of the cage locked, and the guy calmed down, and they could all enjoy the sharks.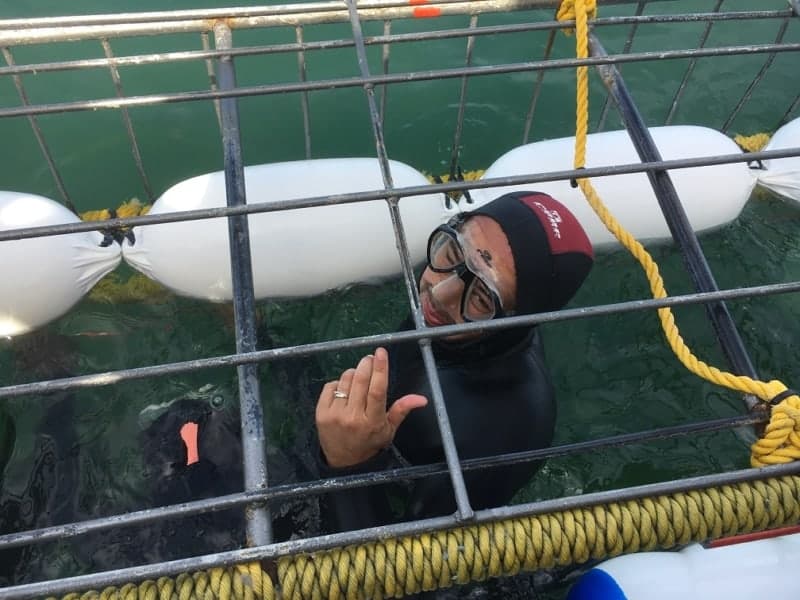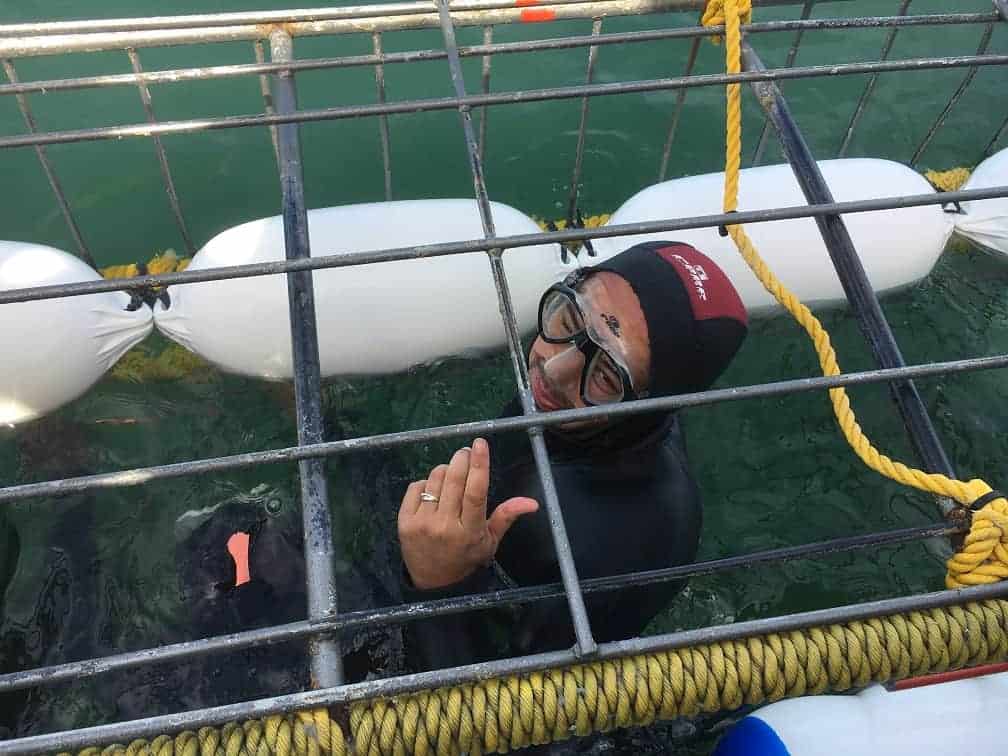 The Great White Sharks
The crew uses a combination of chum and a rubber seal decoy to engage the sharks. Once everyone is in the cage, the seal is thrown out to entice the sharks. It works; they come thick and fast. I don't know exactly how many sharks we saw, but it was more than six. Some of which were huge. Female great whites can grow up to 20 feet in length. From a perspective, this is almost two stories!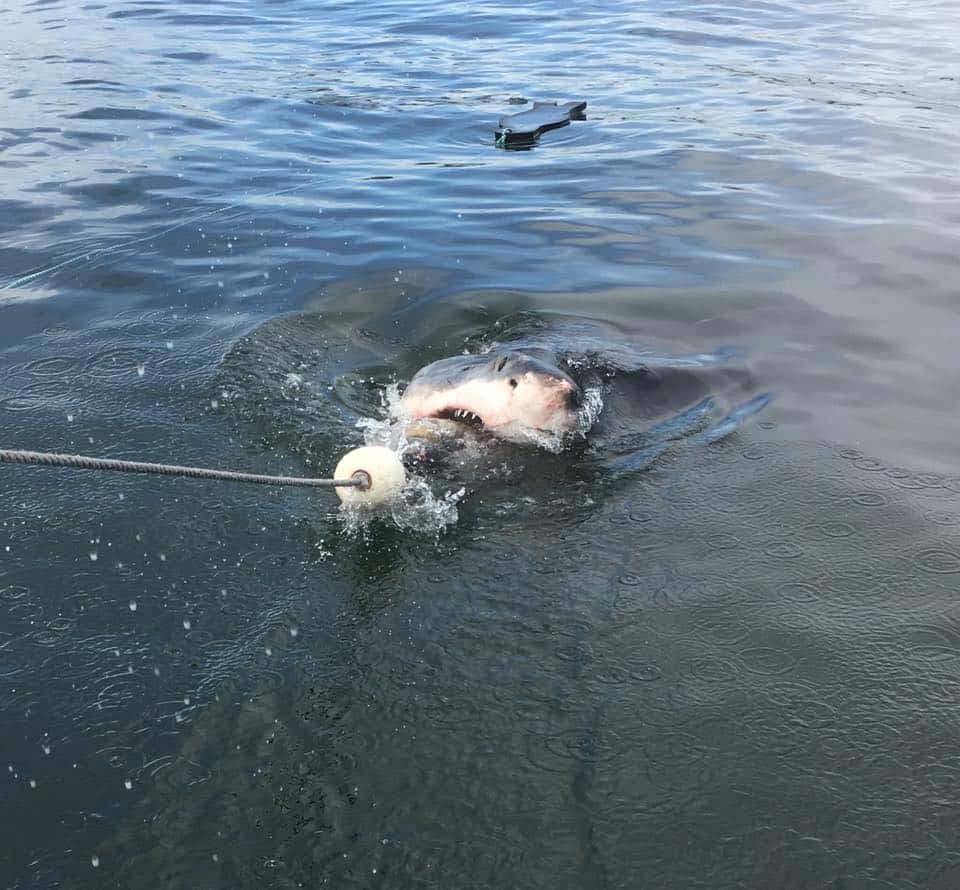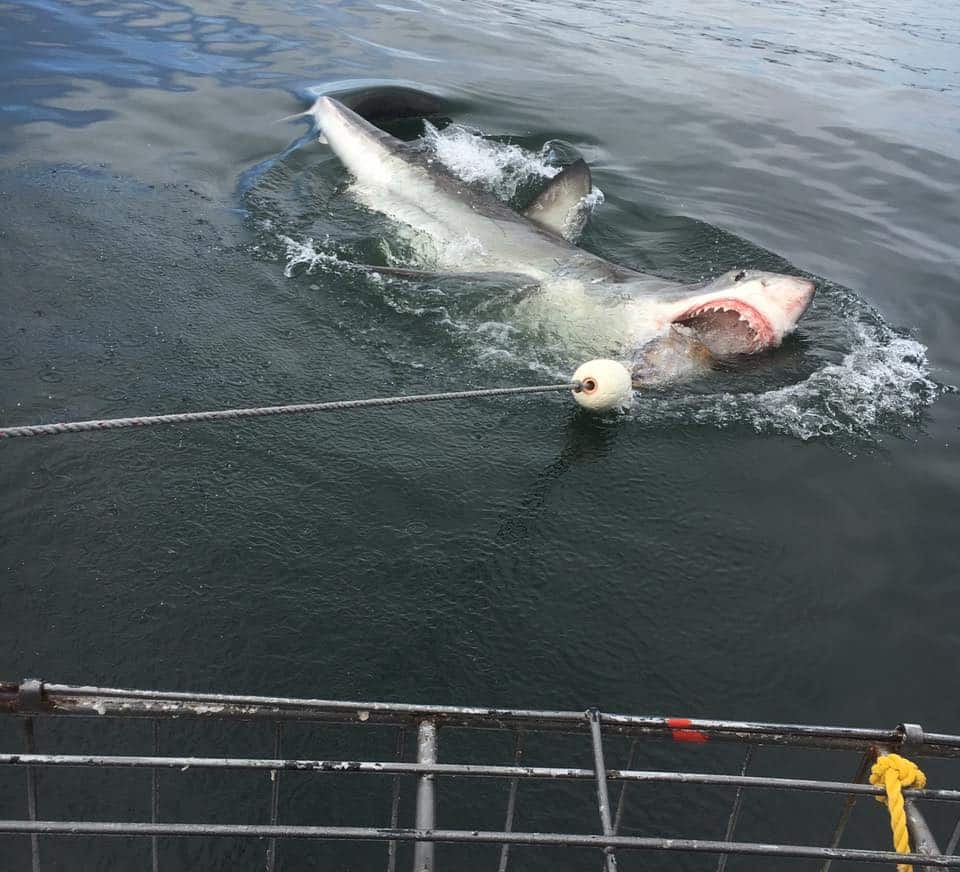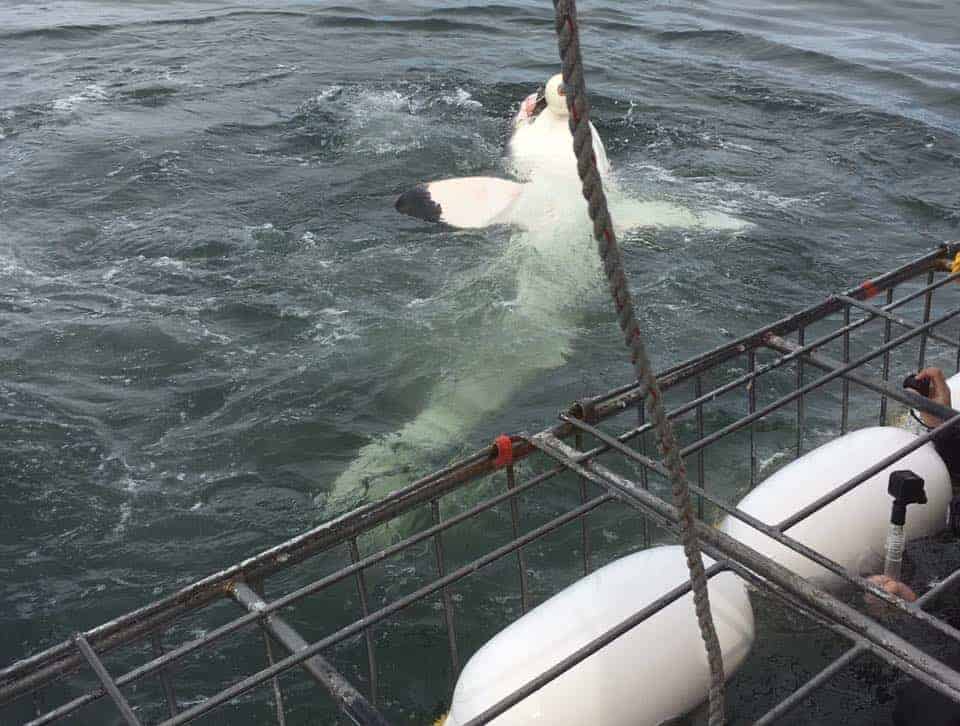 Frequently Asked Questions About Cage Diving with Great White Sharks:
Is cage diving with great white sharks safe?
Statistically yes! To date, no fatalities, but there are some recorded close calls. Having seen cage diving in person, I am surprised. It would be easy to miss the cage or fall back when climbing in. At least for me, I am clumsy.
Is it safer to dive in America vs. overseas?
I can't imagine why it would be safer in one location than another for the life of me. Come to think of it. You're closer to South Africa's shore should something happen.
What should you wear?
Wear a bathing suit under the wetsuit that will be provided for you. Bring some warm clothes for, after the dive, you will be chilly!
Are you guaranteed to see a shark?
No, but your chances of seeing them here are very high. And, if you use an experienced company, you will most likely.
Can you take photos underwater or video?
Yes, if the water is clear enough! Unfortunately for us, it was not clear enough for underwater shots.
Are the sharks fed?
No, it's illegal to feed them. The crew uses chum to get their attention and a rubber seal but no feeding.
Closing Thoughts:
I'm glad I got to see these creatures in the wild. I'm ecstatic that Brian got to cage dive with them. If you love adrenaline or want a once-in-a-lifetime experience, diving with the great white sharks should be on your list. For me, there is not enough money in the world to get me in that cage with the sharks swimming around!
Once you get back on land, grab a photo in a cage, and get your certificate proving you did it!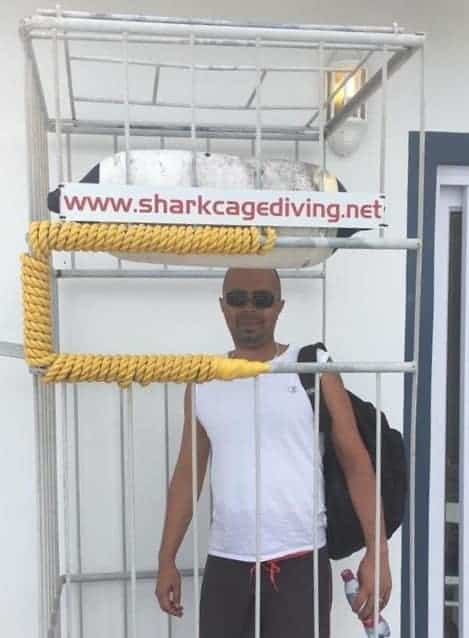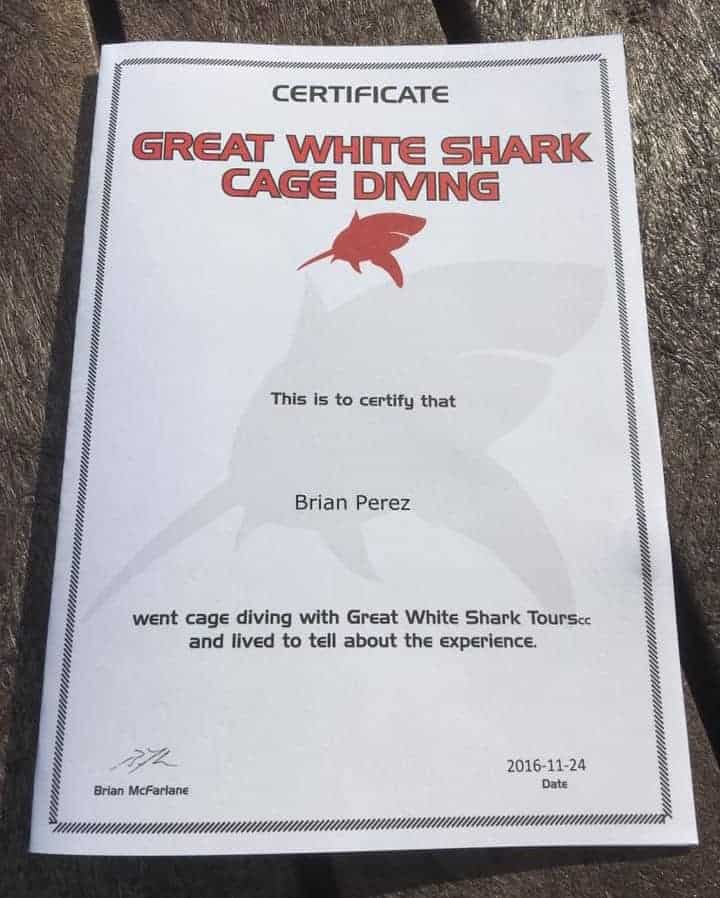 Have you dived with great white sharks? Would you consider cage diving with great white sharks? Drop your comments below!
Looking for more posts on Africa? Start here:
We participate in the Amazon Services LLC Associates Program, an affiliate advertising program designed to provide a means for us to earn fees by linking to Amazon.com and affiliated sites.
Brit On The Move™ Travel Resources
Ready to book your next trip? Use these resources that work:
Need more help planning your trip? Check out our Resources Page, highlighting the great companies we trust when traveling.