Swim with Crocodiles in South Africa
We all need an adrenaline rush now and then. For some of us, it's as simple as a flight or a rollercoaster ride — others long to conquer the unusual. Brian and I have various thrills, but wildlife encounters are always on the list. A swim with crocodiles, or a cage dive with crocodiles, was on the list after seeing the famous crocodile Cage of Death Experience in Australia.
We were already in the throws of planning a white-knuckle cage dive with great whites in South Africa. Adding in the crocodile cage dive seemed to make sense. At least that was the thought process going in.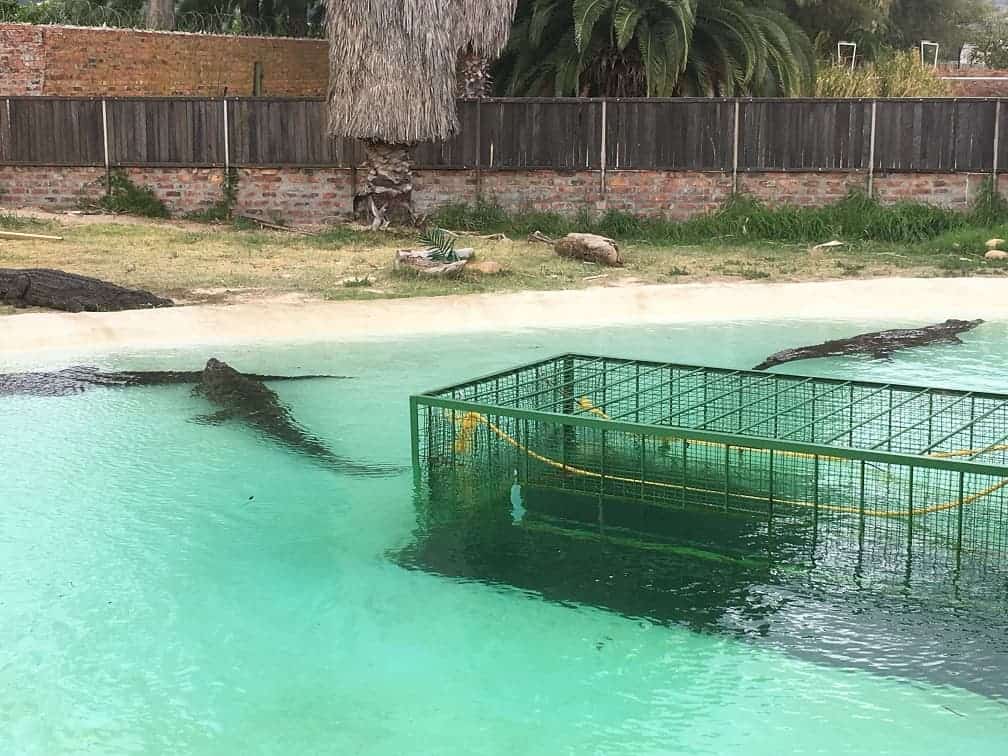 This post may contain affiliate links. Please read our disclosure and privacy policy for more information.
African Crocdive
Given that we were in South Africa and in the process of being ridiculously adventurous, it dawned on me that we could add crocodiles to the up close and personal list. Somewhere I had read that these caged dives were possible in South Africa. We found African Crocdive, located close to Cape Town.
Ironically, I participated in this one. For those reading, this means one of two things! I felt super brave, or the crocodile experience did not seem as intimidating as cage diving with the great whites. Yeah, right. Little white lie there. The guy running the place was late, so we did what we did best. We parked ourselves at the bar and struck up a conversation with the others to meet the crocodiles. Naturally, the more I had to drink, the braver I got! Would I have done this one stone-cold sober? I doubt it. And, for the record, there is not enough alcohol in South Africa to get me into a cage with the great white sharks!
The Actual Swim with Crocodiles
Unlike cage diving with great white sharks, this was tame. For starters, the crocodiles are in an enclosure vs. in the wild. Then, the cage you get into has steps that lead you down vs. a slide or plop in the cage style. In other words, no concern about missing the cage and ending up in the water. Lastly, you can get out without waiting on others, with plenty of room in the cage.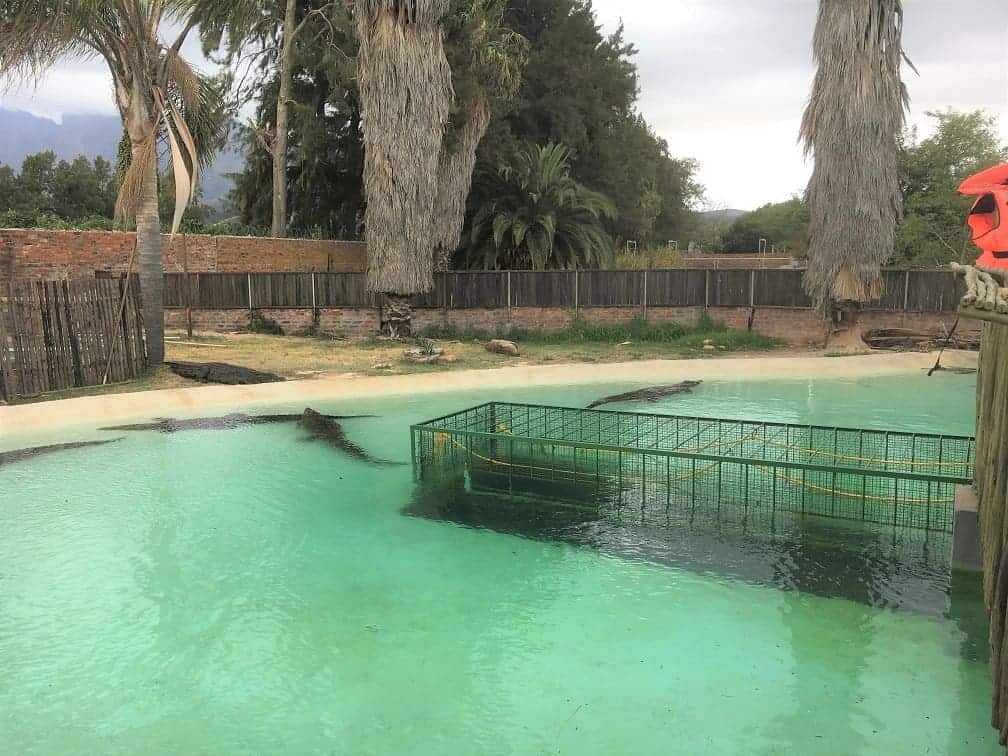 Here I ponder the idea of voluntarily getting in that cage with the crocodiles. I'm also practicing my Instagram pose here (not). I'm just missing a full face of makeup, my hair diddy, and a much more flattering outfit!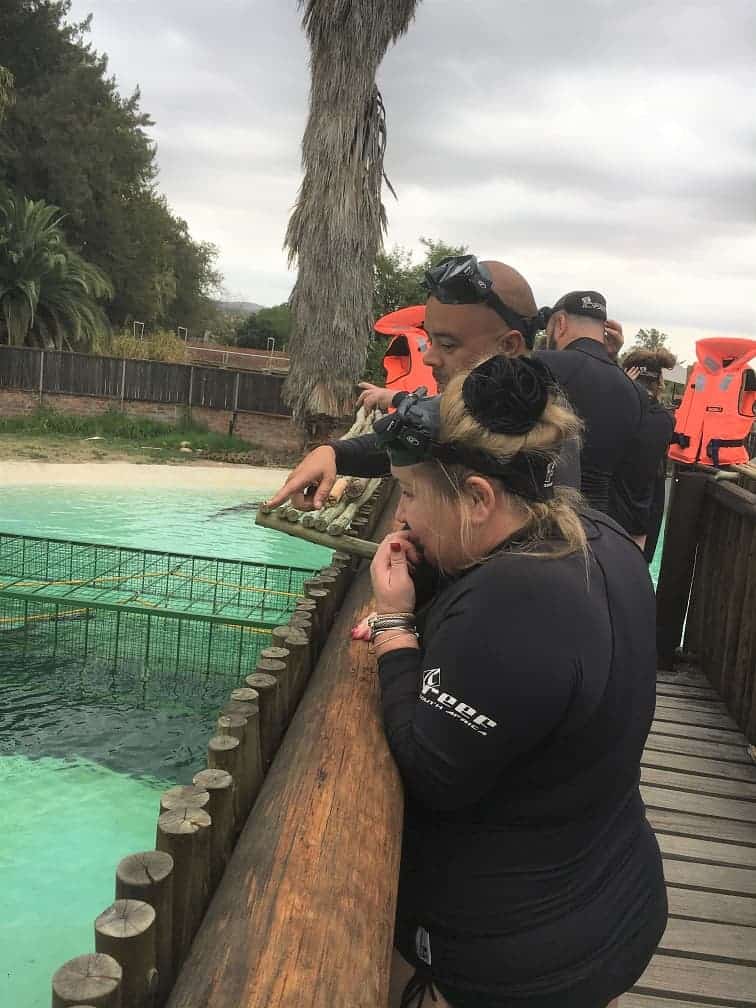 I decided I could get in and out of this one gracefully but, most importantly, without any chance of falling in or out of the cage. I enter the cage and embrace the cold water.
Fortunately, or unfortunately, the crocodiles were very docile. It was cold weather, and they were preserving their energy. The guy running the place nudged them, and they came up to the cage. Oddly, they seemed uninterested in us. They swam around and over us, and I touched one several times. I did find this thrilling but not overly intimidating. Knowing I could walk out of the cage made me feel secure. I've seen hundreds of crocodiles over the years. Their size was not shocking to me, and I knew what to expect in terms of size. Perhaps this also helped diminish the fear factor because I can't say I was shocked at their size.
Getting Photos of Your Swim with Crocodiles
We were told that the experience would be photographed underwater, but this was not the case. I was a little frustrated about this. At the time, I had not purchased a GoPro and did not think I would need it. It turns out I would have been better off with it. Fast forward to now, I don't go anywhere that involves water without my GoPro. Despite not getting the underwater shots, we got several of the cages, getting in and inside the actual cage.
CrocDive also has a dry viewing area where you can get up and close with the crocodiles under the enclosure.
What You Need to Know
This experience only costs about $48 per person.
You must book this experience in advance; you can't just show up.
The crocodile cage dive experience is about thirty minutes outside Cape Town.
Le Bonheur Crocodile Farm has a restaurant, bar, and breathtaking gift shop.
You can drive or take an Uber to Le Bonheur Crocodile Farm. If you take Uber, the driver will wait for you. You'll pay a little extra for him to wait for you. The Uber ride that we took was about $20. We caught a ride back with some of the other folks we met there.
Closing Thoughts
If you seek thrills or want to experience something tremendously different, you should consider this. It's an activity the entire family can participate in. The drive out there was beautiful, and the vistas were stunning. The crocodiles, while not as intimate as the great white's are giant. Once they approach, your heart will start beating, activating what's next, and that's what matters! Plus, how many people do you know that can say they cage dive with a crocodile? If you are in South Africa, add this to your list of things to see and do – you won't regret it!
Looking for more posts on Africa? Start here:
We participate in the Amazon Services LLC Associates Program, an affiliate advertising program designed to provide a means for us to earn fees by linking to Amazon.com and affiliated sites.
Subscribe to our newsletter and get the best travel tips and inspirational stories delivered monthly. No spam, no sales pitches – TRAVEL!
Brit On The Move™ Travel Resources
Ready to book your next trip? Use these resources that work:
Need more help planning your trip? Check out our Resources Page, highlighting the great companies we trust when traveling.