Without a doubt, Bali is one of the most popular tourist destinations among the Indonesian islands. It is an incredibly beautiful, scenic, and spectacular place to visit. The tropical feel of its lush greenery, bustling streets, and lovely people you meet there would certainly make for a memorable experience.
Bali quickly becomes one of the most economical places to visit for western tourists. Bali has a lot to offer with numerous activities to take part in. From surfing to hiking, Bali attracts all kinds of tourists and enthusiasts. Thrill-seekers and adventurers should be excited to visit Bali.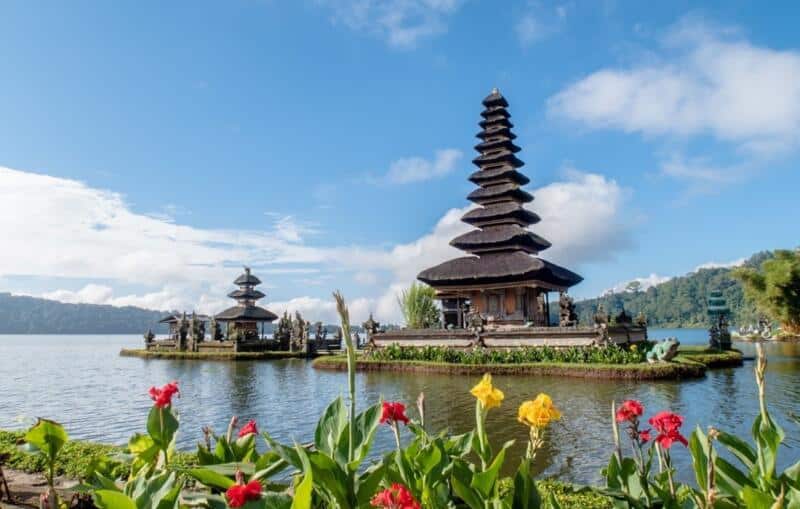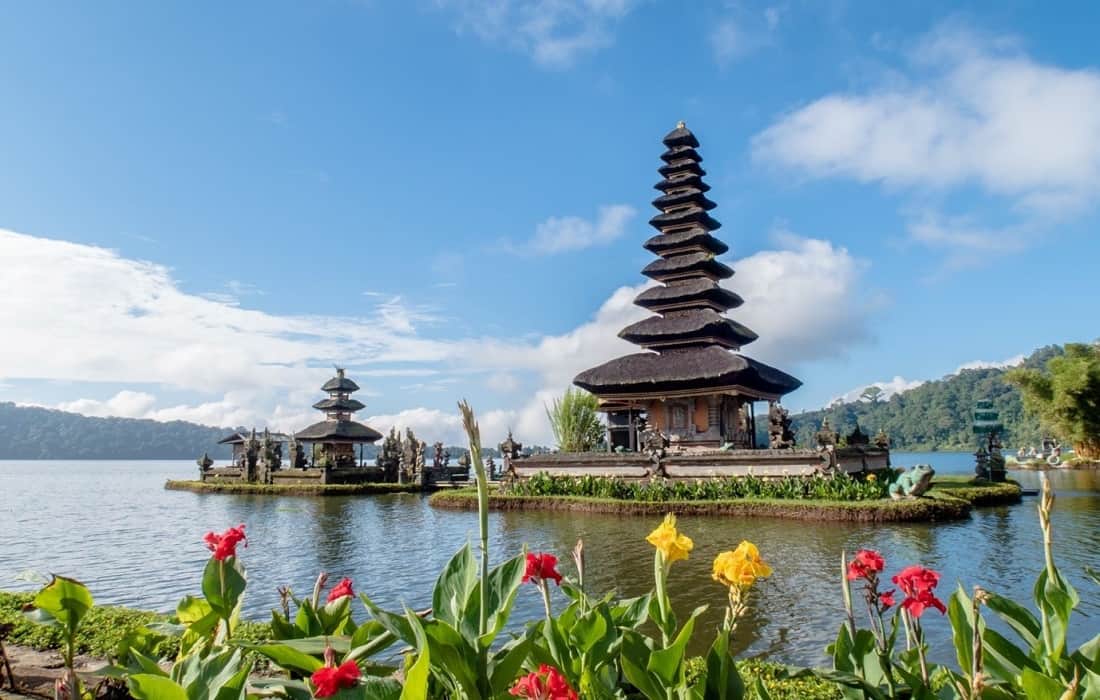 Photo by Sebastian Pena Lambarri on Unsplash
It is a vibrant and incredibly artsy place to visit. If your purpose is to just relax and spend your time drinking coconut water on a beach resort, you can do that. Bali offers a whole new spiritual dimension for people who want some peace and calm.
Over the years, Bali has transformed into a major tourist destination. This has obviously prompted a lot of development over these years. Bali caters to its tourists quite nicely. So if you plan on visiting Bali, it is strongly recommended that you prepare your plan well in advance.
With so much to offer, you could be doing a lot and yet miss out on some of the most amazing things Bali has to offer. Keep reading to know the top 15 places you definitely must visit and things you must see when you go to Bali.
This post may contain affiliate links. Please read our disclosure and privacy policy for more information.
Mount Batur
You must've visited and trekked a lot of hills and mountains, but Mount Batur is certainly different. This beautiful place is an active volcano that is a popular trekking destination for many in Bali.
The summit lies 1,700 meters above sea level and offers an unparalleled view of the surroundings. The hike is relatively easy and should not be a big task for amateurs. One of the best times to undertake this trek is obviously before sunrise. It can get pretty humid and hot for those not ready.
You can either be part of an official trekking group which will last for a maximum of 4 hours depending on the conditions. This will allow you to have snacks and other refreshments while trekking.
Out of all the trekking experiences available, this one is probably one of the most unique in Bali and one worth exploring if you are an adrenaline junkie. Of course, there are a lot of other places as well if you are not satisfied with this.
Pura Ulun Danu Bratan
Are you looking to relax? This incredibly beautiful Buddhist temple should be on your list. It is located along the western shore of Lake Bratan. This is obviously one of the many temples that we are going to talk about.
The temple's location makes it a great place to take some amazing pictures. Lake Bratan is one of the most important water bodies in Bali. The Temple has been dedicated to Dewi Danu or Goddess of Sea and Lakes.
Due to its location, you can often get paddle boats to just indulge yourself in some lake exploration. It is definitely worth a visit if you want a calm and serene experience. One of the best times to visit the temple is just before the sun comes up. The surrounding lake can make it appear quite photogenic due to the dreamy mist that surrounds the Lake and Temple.
Nusa Dua Beach
Nusa Dua is a popular beach. There are a lot of private resorts that have their own private areas on this beach. Get your surfboards ready, and this is a great place to surf and engage in other water-based activities.
If you have not spared any expense, you would be smart to avoid any hassle by booking a room in one of the many private resorts on the private beach. It is a great place for kids as well since the beaches are clean, safe and the silky white sand is quite fun to play with.
After you have had your fair share of sunbathing, you can enjoy a stroll along the beach or book a spa appointment. Whatever you choose to do, it will definitely be a great experience.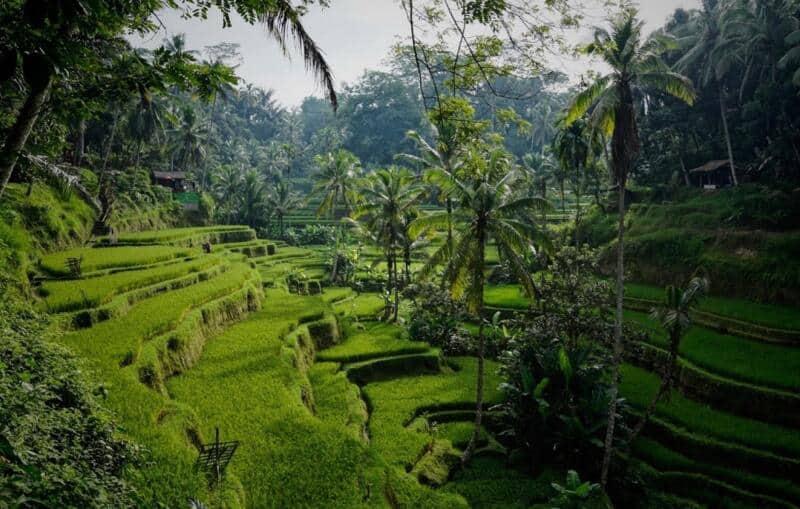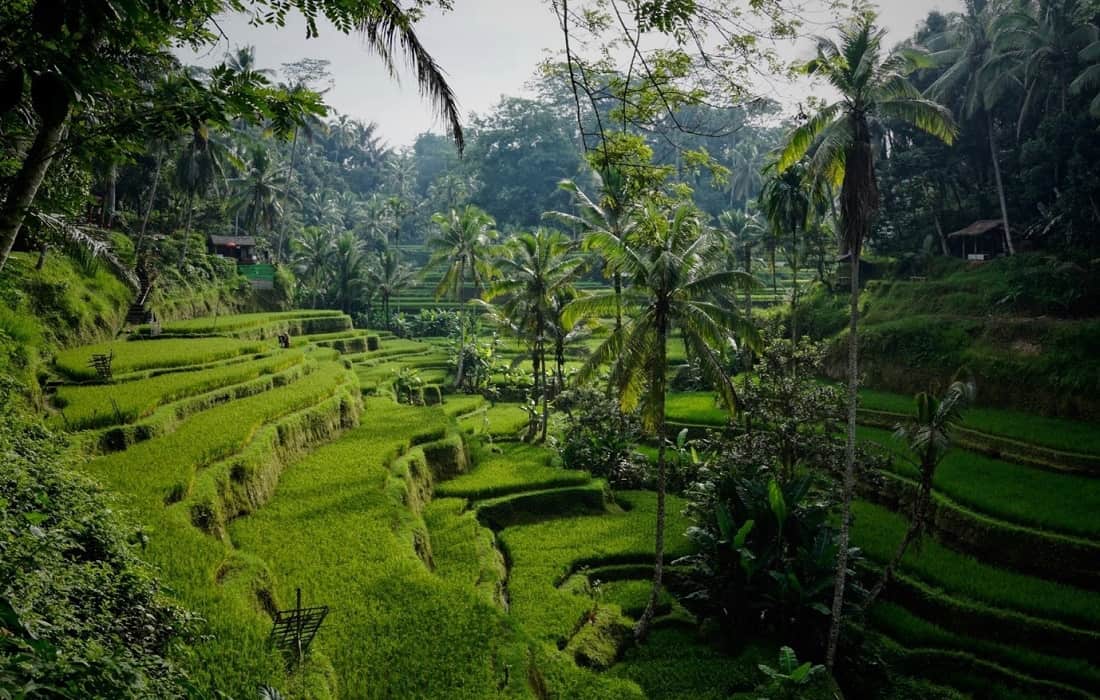 Photo by Niklas Weiss on Unsplash
Sideman Valley
Sidemen valley is home to many terrace farmers and their exquisite rice terraces. This valley is close to Mt. Agung and is a lush green affair with a clean and cloudy atmosphere to indulge yourself in.
There are plenty of villages in the sideman valley. While the number of activities to do here is limited, sideman valley is a great escape from the concrete jungles and bustling city. There are numerous places to eat, have a drink or buy traditional hand-crafted items.
In terms of adventure sports, Mt. Agung is a great place for a trek, while the nearby river is popular for rafting. A lot of people stay in the nearby homestays. So, if you like being close to nature, you can definitely look into Bed and breakfast places here.
Tirta Empul Temple
Bali is a tropical location with a lot of forest areas. One of the perks of this is that a lot of places are located in lush green forests. Tirta Empul Temple is one such amazing place that is located in central Bali.
This holy place is sacred and considered one of the most naturally revered places in Bali. Naturally, the Tirta Empul Temple is a place of heritage and pride. The beautiful temple complex is pretty huge with a spring water pool as well.
There is a lot to explore, and for spiritually-minded people, you can seek permission to take part in various sacred ceremonies as well. Keeping in mind the traditions and customs of the locals, you will be expected to be respectful towards their culture.
Sekumpul Waterfall
These beautiful Sekumpul falls are considered to be one of the best waterfalls in Bali and one of the most popular tourist spots. Located in the Singaraja Region, the Sekumpul Waterfall is located north of Ubud.
These cascading falls are perfect for enjoying yourself during a hot day. The ideal way to reach them is to trek for almost 4 hours and reach this place in the middle of a lush tropical forest. The trek is not difficult; however, certain parts are slippery, and caution needs to be exercised in these places.
It is definitely a great place to visit if you are feeling particularly energetic or simply have a thirst for the wild. Although you should always try to know the route through the locals or even better, hire a guide.
Nusa Islands
As one of the most popular archipelagos, Bali has some great smaller islands to visit nearby. Nusa Islands comprise of three islands accessible through a normal of water transport options.
Exploring the islands and their lagoons is a great experience for everyone who visits Bali at least once. Nusa Penida is the largest Island, while Nusa Ceningan and Nusa Lembongan are the smaller ones.
Each Island has something to offer. From exploring marine life to sandy beaches, there is a lot for everyone to do. Just like many other beaches, these islands offer luxury resorts as well as budget resorts for travelers to spend their time.
Gunung Kawi Temple
This 11th-century temple complex is a heritage site to visit. There is some impressive architecture to see and great carvings to observe. The temple complex is located along the river Pakerisan, near Ubud.
The location itself is pretty scenic. There are rice terrace fields nearby, beautiful and lush green hills, and a serene environment. the whole experience of visiting the temple won't last more than 2 hours.
Visit this play early in the morning to avoid crowds as well as soak in all the glory and history the temple has to offer. The way to this temple complex is neither easy nor hard. There are some odd 300 steps to reach the temple. If you don't mind some early morning workouts, this is an amazing place to visit.
Pura Tanah Lot
This place is one of the most famous Temple Locations of Bali. This small yet exquisite temple is built on a rocky shore with waves crashing all around it. It is a 16th-century temple that is considered to be one of the most sacred places in Bali.
In fact, outsiders/foreigners are not allowed inside the temple. But the location and picturesque setting make it a place worth visiting. Of course, early morning is preferred due to the heavy tourist rush during the day. However, keep in mind the Tides as well.
For foreigners, a good piece of advice would be to learn how to wear a sarong and a sash. It would also help you a lot if you get a good local guide to help you explore more.
Ubud Monkey Forest
One of the most interesting places to visit in Bali if you like Monkeys or wildlife, in general, is to visit the Ubud Monkey Forest. It is located near the town center in Ubud. The Ubud Monkey Forest is a unique and interesting place.
It is a place where co-existence is ensured between the Macaques and humans. There is quite a lot of free-roaming to do here. A lot of people, specifically scientists, have come to this place to study unique and rare plants present in the forest.
Do not carry any food item, and make sure all your belonging is attached to you. Monkeys can be quite naughty and will not hesitate to grab hold of your expensive phones and other devices if you are not careful around them.
Ubud Market
Ubud is one of the biggest tourist centers in Bali. This has led to a lot of local culture being showcased in various markets of Ubud. It is a beautiful and vibrant place filled with Balinese traditions and culture. The incredible and amazing Balinese Art displayed is one of the most coveted souvenirs for tourists.
There are a lot of galleries, shops, and museums where you can learn more about Balinese culture and their art. You can definitely go ahead and buy some cool clothing or Wayang if you are interested in that.
Neka Art Museum is a good place to start learning about the culture and artistic work the Balinese community has done over the years. You can, of course, buy a lot of Souvenirs from the place except clothing. There are masks, jewelry, sculptures, paintings, and much more for you to fork out on.
Menjangan Island
Menjangan island is part of the West Bali National Park. It is also known as the 'Deer island' by the locals due to Javan Rusa Deer calling it their home. And if you are looking for a quiet and peaceful place, you should definitely visit this place.
The Island boasts clear waters and a coral reef for you to explore. There is a good amount of exploring to be done, whether it is above on the land or below the clear waters of the Island.
Accessing the beach is not difficult. You will, of course, require a parking permit as well as a local guide to help you complete all the formalities and make your trip as smooth as possible. A beach picnic here isn't so bad, considering it is a pretty isolated island.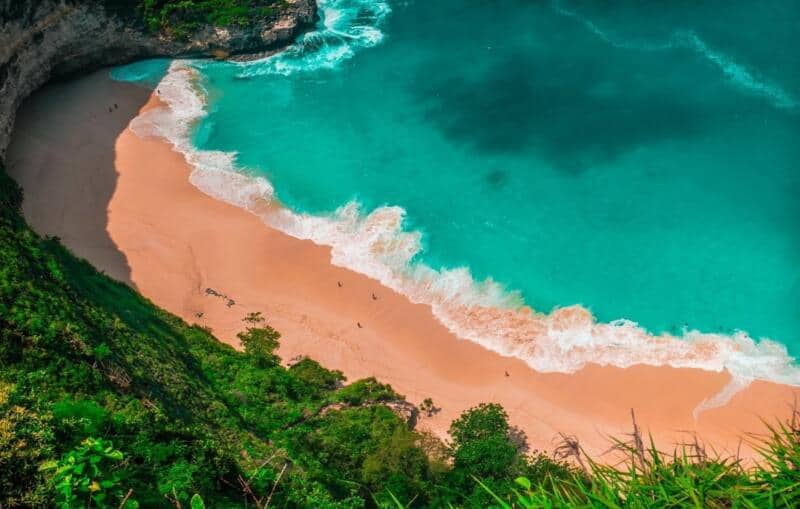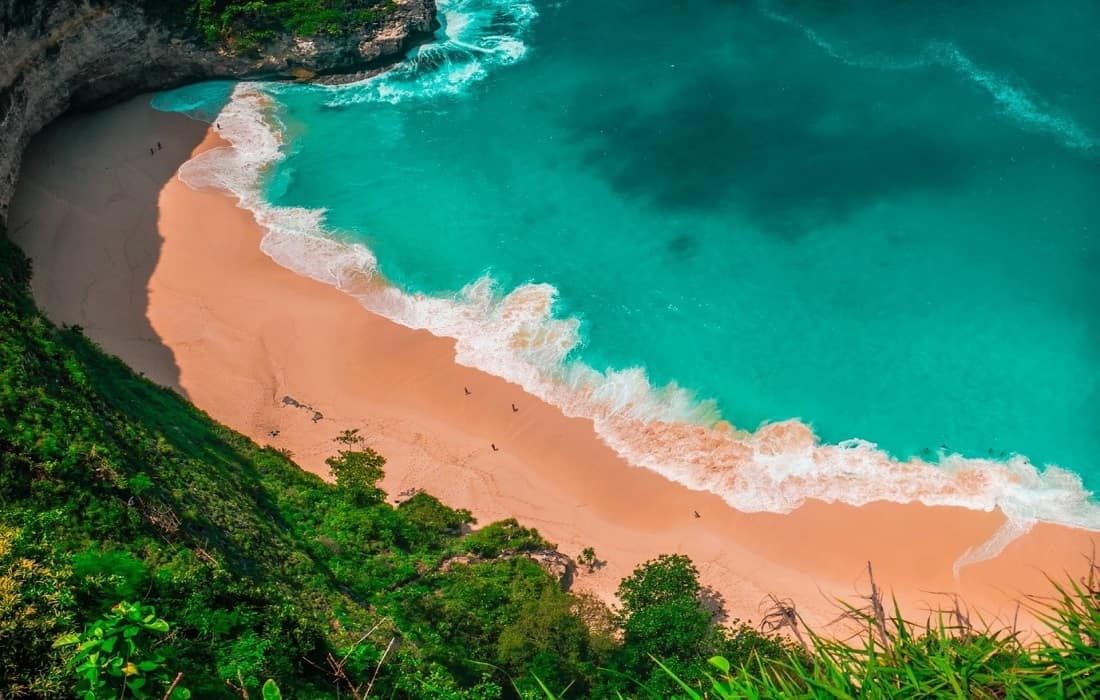 Photo by felfin05 evin on Unsplash
Tirta Gangga
Tirta Gangga is a royal palace compound that is not used as a Beautiful water garden. It is a pretty old property and one that has been part of the royal family. It is located east of Bali.
Tirta Gangga has a lot of fountains, statues and sculptures, greenery, and a serene environment for people to enjoy it. It is relatively far from Ubud, almost 2 hours away. This makes it an ideal place to visit if you plan on exploring eastern Bali.
Reaching this place is relatively simple as well. You won't need a guide to reach here, and you can drive or hire a cab to come down to this place. If you want to enjoy some calm and peaceful surroundings, this is definitely a place to visit in Bali.
Kuta – Legian – Seminyak
Kuta, Legian, and Seminyak are three amazing places to visit if you wish to party in Bali. The three places mentioned forming a sort of a strip where you can simply explore a lot of places to your liking.
This famous strip contains nightclubs, bars, places with live DJ and much more. If you want a nice and calm dinner on the beach, you get that in many places as well. This strip, all in all, has a lot to offer to tourists.
Sunset is one of the busiest times of the day for most of these places. If you like to enjoy the nightlife or a calm dinner, make sure you make a reservation or reach well in advance to avoid any last-minute problems.
Ubud Royal Palace
This royal complex is a must-visit location for each and every tourist. From its beautiful architecture to various events held throughout the year, the royal palace is a lively place to be in Bali.
One of the main reasons to suggest this place is the 'the legong.' It is one of the most visually pleasing and amazing dances you will ever see. It is a culturally important art that requires years of training.
It is definitely worth seeing due to the choreography and the elegance with which it is performed. There is obviously another place you can witness this art as well. Make sure you check about these events before you visit these places.
Closing Thoughts
Bali is a truly breathtaking place. One day you feel as if you have reached the heavenly abode, while the very next day, you could be finding your way out of a bustling city. There are obviously a lot of places to see in Bali.
This list of 15 amazing things to see in Bali is not ranked or based on any particular criteria except experience. There are other places such as waterparks, escape rooms or mystery rooms, and much more in Bali. It truly will offer you everything you want.
Note: Bali is a very traditional place. Locals here hold their customs and tradition close to their hearts. Respect the opposite culture, and you will be treated nicely. It is thus in your best interests to hire a decent local guide or have a friend so speaks the local language to avoid any inconvenience.
Another important thing is that due to the rise in popularity of western tourists, a lot of local scams take place in Bali; stay informed and let local authorities know about any of these scams.
Lastly, Bali is a place where everyone is welcome. If you are wondering how much you might be spending on your trip, do not worry, as a lot of places in Bali are relatively cheap. Except for your accommodation
Looking for more posts on things to do in Asia? Start here:
We are a participant in the Amazon Services LLC Associates Program, an affiliate advertising program designed to provide a means for us to earn fees by linking to Amazon.com and affiliated sites.
Brit On The Move™ Travel Resources
Ready to book your next trip? Use these resources that work:
Need more help planning your trip? Check out our Resources Page, highlighting the great companies we trust when traveling.