Changi International Airport is the home of Singapore's airport waterfall. Yes, a waterfall inside the airport and not a tiny trickle of water flow. It is the tallest inside waterfall in the world, and it free falls from the sky!
Even if you are not familiar with Changi International Airport, I bet you have heard that Singapore's airport is voted the best in the world. Skytrax rated the World's Best Airport (known initially as Inflight Research Services) for seven consecutive years. Statistically, the airport holds this award for the World's Best International Airport by passenger numbers. Currently 50 million-plus passengers. However, most know it and marvel at it because it is home to Singapore's airport waterfall, inside the Jewel.
Changi International Airport is a hub to all of southeast Asia. It has become a tourist attraction of its own. One that almost all explores, even if passing through on a connection. You need to see for yourself to comprehend why it consistently ranks as one of the best airports in the world.
If you want to come to Singapore for a vacation and think how it will be most profitable to get to the Changi International Airport, then I suggest you use the search form below, which will offer you the cheapest and best flight options

Changi International Airport is overloaded with attractions such as a sprawling mall, a four-story slide, the swimming pool on the rooftop, a butterfly garden, movie theaters, one of which is 4D, and the waterfall inside the Jewel.
This post may contain affiliate links. Please read our disclosure and privacy policy for more information.
How to Spend Your Layover at Changi International Airport
Despite its status as one of the region's busiest airports, Changi Airport is a comfortable place to wait out one's long layover.
Explore the Jewel
Launched in 2019, Jewel cost US$1.3 billion to build. It is five stories tall, spans 1,453,127 square feet, and is open to flying passengers and non-flying visitors.
The Jewel is best known for the Rain Vortex, commonly known as Jewel's waterfall, the airport waterfall, and Singapore's airport waterfall. The waterfall is surrounded by the Shiseido Forest Valley, one of Singapore's largest indoor plant collections.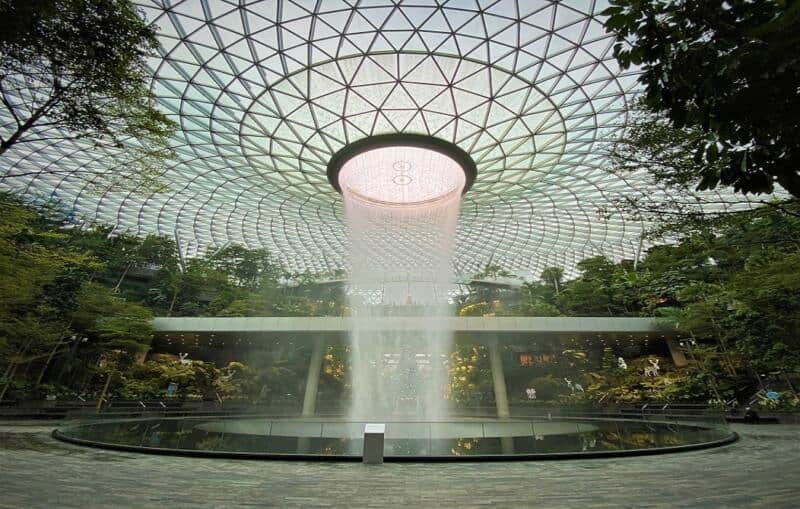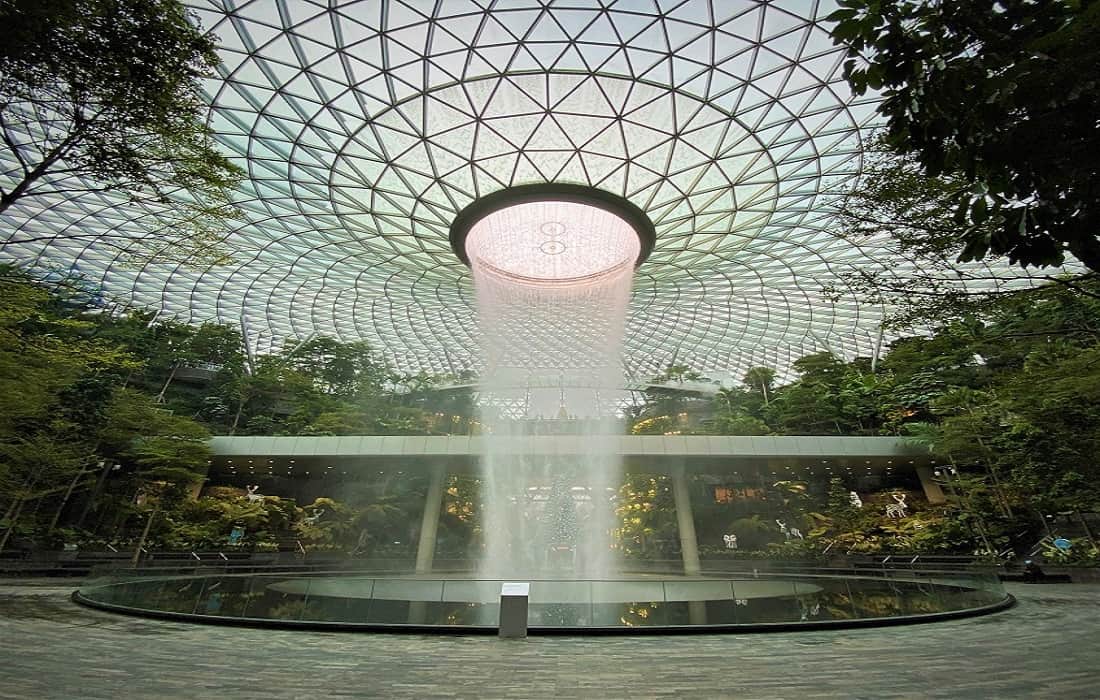 Free Sightseeing Tour of Singapore
Changi International Airport offers three free tours to choose from:
City Sights Tour​
If you have a layover at least five and a half hours long, you can participate in this tour. You must stay in the transit area and not clear immigration if you want to take this tour.
The tour is two and a half hours long. It hits all of the highlights, such as Marina Bay Sands, the Singapore Flyer, Chinatown, and the central business district. A "City Lights" tour takes place after dark, and the tour circles around the Marina Bay district, Bugis Village, and the Raffles Hotel. The tours run seven times a day, seven days a week, and there are two bus tour itineraries to choose from.
Heritage Tour
If you have a layover that is a least five and a half hours long, you can participate in this tour. You must stay in the transit area and not clear immigration if you want to take this tour.
The tour is two and a half hours long. This tour shows you the architectural brilliance of Singapore's past and present as you visit colonial and cultural districts—Chinatown, Little India, Kampong Glam, and the iconic Merlion Park.
Jewel Tour
Discover a wondrous world where nature meets retail through this 2.5-hour walking tour showcasing Changi Airport's latest development, Jewel. Immerse into a lush green sanctuary as you hike through the Forest Valley, marvel at the Rain Vortex, and sample local delicacies at Five Spice. Traverse through Canopy Park and discover the many attractions housed within the park!
Free Tour Registration Booths
Terminal 2: Level 2, Transit Area, (between Transfer Lounge F and Skytrain to Terminal 3)
Terminal 3: Level 2, Transit Area, (near Transfer Lounge A and Gate A1–A8)
Other Terminals: Take the sky train within the Transit area and proceed to Terminal 3 for registration.
The Free Singapore Tour booths are open daily. The operating hours for the booths are:
Terminal 2 booth: 7:00 AM–6:15 PM
Terminal 3 booth: 7:00 AM–6:30 PM
Required Documents For Free Tours
Passport, boarding passes, and entry visa (if applicable)
Luggage Storage Inside Changi International Airport
If you plan to head to the airport early to explore the airport, you may be too early to check your bags.
TIP: Ticket counters typically don't open until two hours before flights depart.
There are plenty of luggage storage facilities that allow you to store your luggage for a few hours or overnight.
Here are 2020 rates per 24 hours (inclusive of GST)
Loose items: S$5.00
Small items (below 10kg): S$10.00
Big/Odd items (above 10kg): S$15.00
Extra-large-sized items: S$18.00
Storage exists in all four terminals, including Jewel. To view where baggage storage locations are inside Changi International Airport, see here.
Changi International Airport Code, Location, Contact Information
Airport code: SIN
Address: Airport Blvd, Singapore on the eastern end of the island of Singapore, about a thirty minutes drive from Marina Bay Sands.
Phone: +65 6595 6868
Website: www.changiairport.com
Tracking information: Track Changi Airport arrivals and departures.
Hotels at Changi International Airport
There are several hotels inside the airport and one outside.
Inside the Airport
These hotels are only available to passengers in transit before clearing immigration and customs. All three terminals are connected to the airside (departure transit area) and landside. Passengers can move freely between the terminals within the transit area.
Opened in 2019, this hotel offers compact cabins inside the Jewel Changi Airport shopping and dining complex. It is directly connected to Terminals 1, 2, and 3.
Outside the Airport
Next to Terminal 3, you can reach the hotel from Terminals 1 and 2 via Changi Airport SkyTrain.
Public Transportation & Taxis from Changi International Airport
The airport is located approximately 40 minutes from downtown.
There is no Uber in Singapore, but getting from the airport to your hotel is simple.
Taxi: By far, the easiest way to get where you are going. It only costs about $20 to go from the airport to downtown. Taxi stands are located outside. All taxis use a meter system, and all accept credit cards.
Bus: The terminals are in the basements of T1, T2, and T3. They provide direct access to Singapore. Bus #36 loops from the airport to Marina Bay Sands, Orchard Road, and back.
Train – MRT: The train known locally as the MRT is in the basement of terminal T2. You can take a train almost anywhere see the SMRT page to view the routes.
Shopping Inside Changi International Airport
Changi International Airport is home to over 550 stores. You can find everything from tax-free designer gear, electronics, alcohol, and tobacco. Here is the complete directory of shops Inside Changi International Airport.
If you want to pre-order and avoid strolling through the shop, visit iShopChangi and purchase in advance.
TIP: You can buy up to 30 days in advance of your flight or up to 18 hours before and you choose where you collect from or have the items delivered to.
Tea anyone?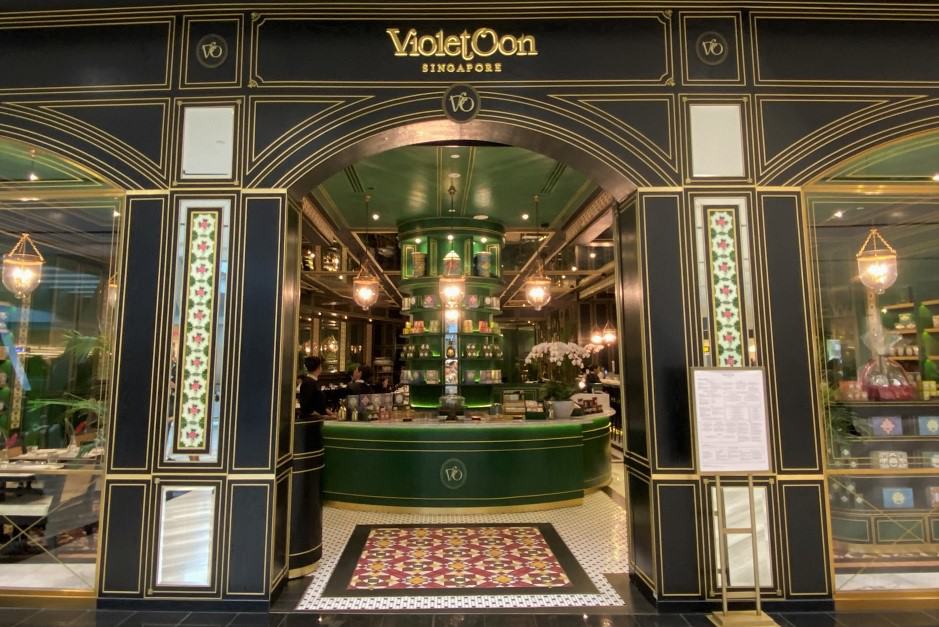 Collecting a GST Refund at Changi International Airport
Shopping in Singapore is duty-free, and you can receive a 7% goods and service tax (GST) refund from all eligible purchases at the airport.
You must spend at least $64 or SGD100 for each purchase in a shop to be eligible. *Note, there is a maximum of three receipts per day per store.
Some shops use the eTRS system. If they do, they will provide you with an eTRS ticket. If the store does not use the eTRS system, show your passport and ask for a GST refund voucher. This is easy; almost all shops encourage you to buy by reminding you how much GST you get back.
Once at the airport, go to the eTRS self-help kiosk. There are two kiosks at the airport. One before check-in and one after in case you have items that need checking. At the booth, swipe your passport, then scan your eTRS tickets. You can then choose your refund options. Refunds can be claimed in cash, credit to your credit card, or shopping vouchers.
Once you have checked in, head to the Global Refund counter or Premier Tax-Free counters in the departure lounge to collect the actual refund.
Just know that a handling fee will be deducted from the total refund amount.
I know some of you will appreciate this information. For me, it's far too much work, and I don't buy enough expensive items for this to be worth my time.
Food and Drinks Inside Changi International Airport
Changi Airport boasts over 200 dining options that cover every genre of food and every price point. For a complete listing of food and drink options, see the directory of restaurants.
Lounges Inside Changi International Airport
There are lots of airport lounges! As a holder of Priority Pass, I had high hopes for our pre-flight time. Unfortunately, I choose the wrong lounge.
Avoid SATS Premier Lounge. It was dirty, it stunk of dead fish, and I had one bite of a steak stir fry that I have still not recovered from — no kidding. Three weeks in Asia, and no issues. One bite at SATS, and I've had "Delhi Belly" ever since.
If you don't have access to these lounges, don't worry. There are free lounges throughout Changi Airport in all terminals. Here is a list of the free "snooze lounges": Changi International Airport Free Snooze Lounges.
Closing Thoughts
Our approach to exploring Changi International Airport was to arrive several hours earlier than our departing flight. This was easy to do as our departing trip was at 10:30 pm. We arrived, stored our luggage in the terminal we were departing from then went straight to the Jewel.
This airport is impressive. It's not only a marvel to view, but it's immaculate and organized. For example, getting through security took a total of ten minutes. Where we live in Orlando, an hour is considered decent (SMH).
You could spend hours upon hours exploring it all, but realistically, the main attractions are the shopping and the waterfall inside the Jewel.
If you are connecting through or heading to Singapore, you need to make a point of exploring Changi International Airport.
Once you've experienced it, well, you will forever see our airports as "blah."
Looking for more posts on things to do in Asia? Start here:
We are a participant in the Amazon Services LLC Associates Program, an affiliate advertising program designed to provide a means for us to earn fees by linking to Amazon.com and affiliated sites.
Brit On The Move™ Travel Resources
Ready to book your next trip? Use these resources that work:
Need more help planning your trip? Check out our Resources Page, highlighting the great companies we trust when traveling.