If you are not familiar with the Marina Bay Sands Resort or The Marina Bay Sands Pool, let me be the first to introduce you to the best $400 hotel room that is worth the cost!
Marina Bay Sands is a five-star luxury hotel resort located in Singapore. The hotel is famous for its unusual design that many say looks like a ship afloat three 55-story towers. Then there is the sprawling casino, its celebrity chef restaurants, and impeccable service. It is most famous for its rooftop infinity pool, the world's highest and longest.
Opening in 2010 and costing $5.88 billion, this is no ordinary resort. The resort sits on 49 acres facing Singapore's Marina Bay.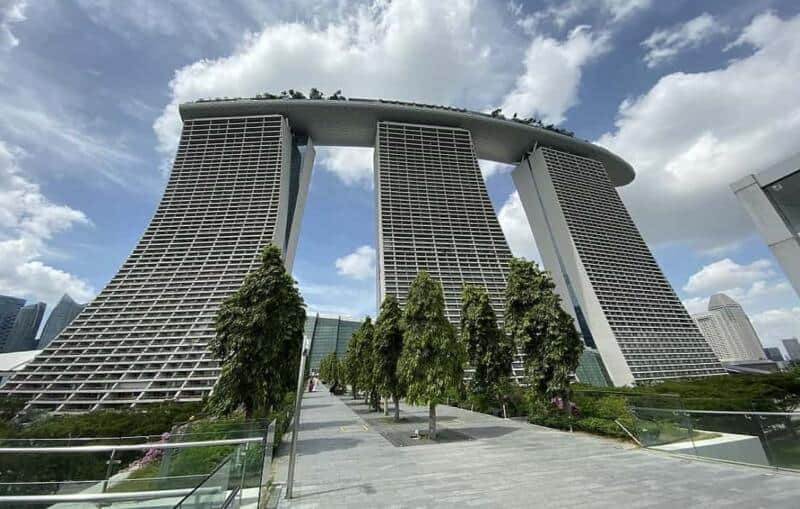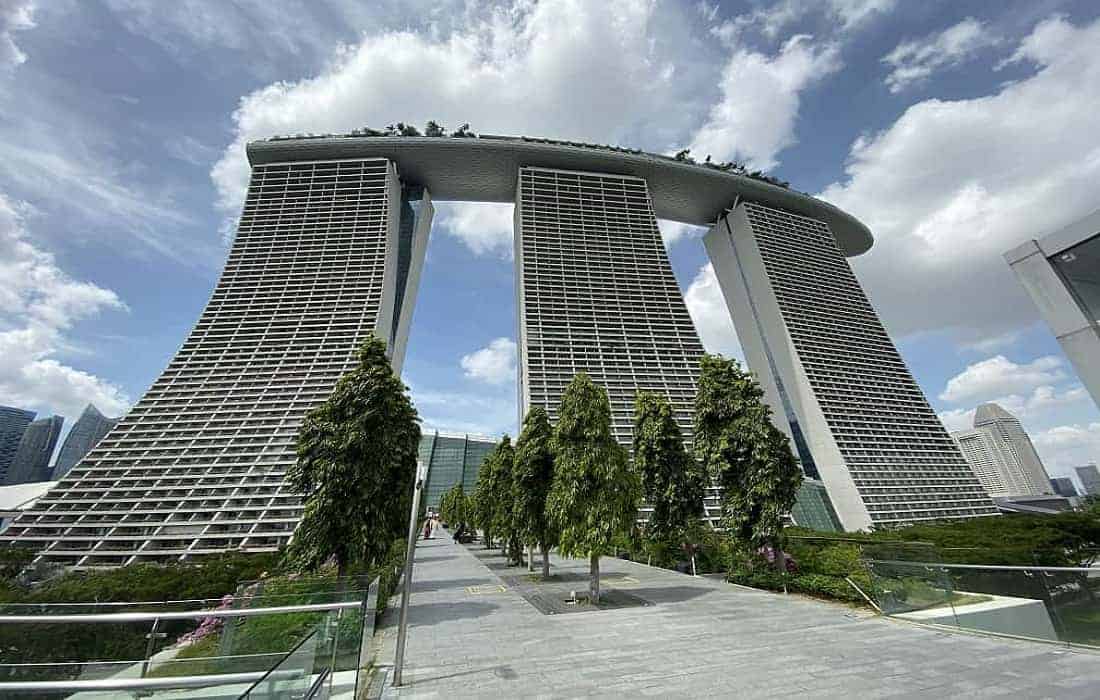 This post may contain affiliate links. Please read our disclosure and privacy policy for more information.
Marina Bay Sands Facts
2561 rooms and suites.
A 1,300,000 sq. ft convention-exhibition center that can accommodate 45,000 people.
800,000 sq. ft mall called "The Shoppes at Marina Bay Sands."
Home to the ArtScience museum that hosts numerous exhibits that continuously change. The Museum is shaped like a lotus flower and has a sustainability feature of harvesting rainwater for its restrooms.
This mega-resort boasts two large theatres that offer a variety of productions ranging from concerts to Broadway shows.
There are many celebrity chef restaurants and 60 places to choose from – every cuisine is represented.
The casino is the world's largest, with 500 tables and 1,600 slot machines.
The SkyPark, which is a rooftop park, can hold 3,900 people.
The infinity swimming pool is the highest in the world.
The Marina Bay Sands pool made the hotel Instagram's 2017's most Instagrammed hotel in the world.
It is the most expensive standalone integrated resort property ever built.
It took five years to complete construction.
Moshe Safdie designed the resort, and the Las Vegas Sands corporation owns it.
The Marina Bay Sands Pool
Where do we start with the Marina Bay Sands pool? The reality is most people are here for the pool. At least, almost all first-timers. So how do you describe this iconic pool? The Marina Bay Sands pool is enormous, a lot bigger than you think. I imagined it being jam-packed with people and no loungers available. That's not the case. There is plenty of room, and we were able to get a lounger upon arrival.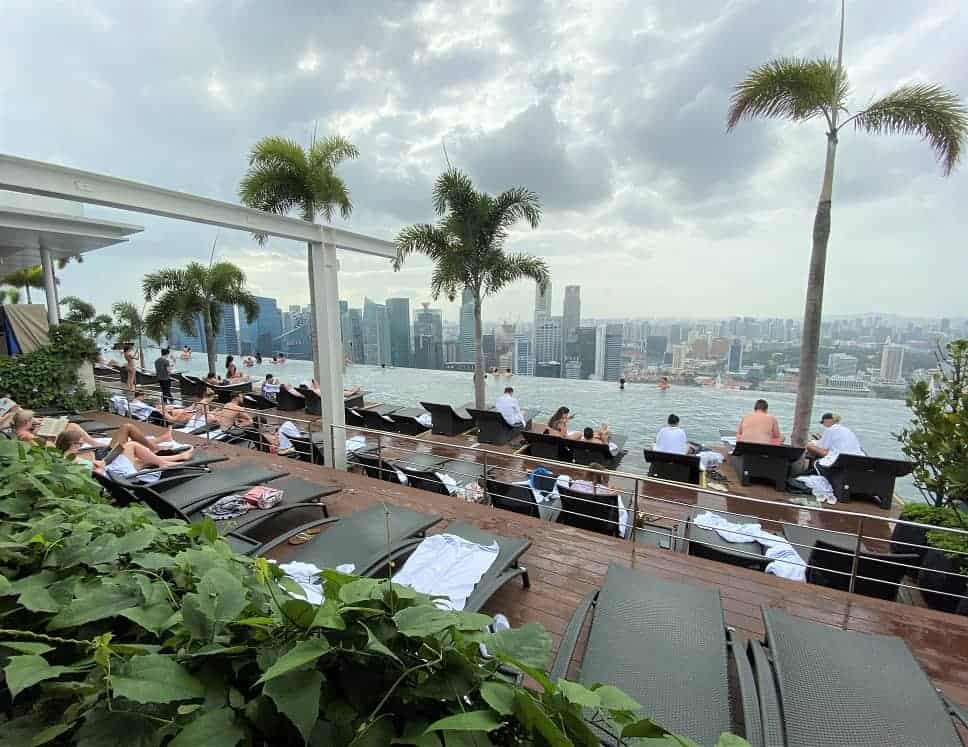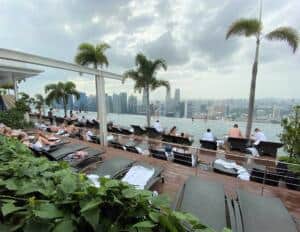 While it's vast in length at 478 feet, it's not deep and about four feet deep. However, it's a record holder. The pool is constructed with 422,000 pounds of stainless steel and holds 376,500 gallons of water. It's perched on top of the hotel 57 stories high, the highest in the world. And the backdrop is the city.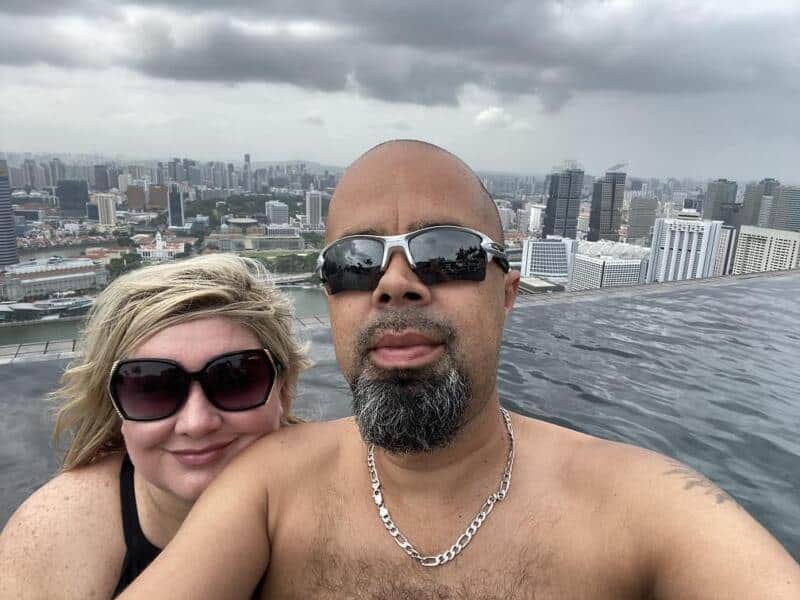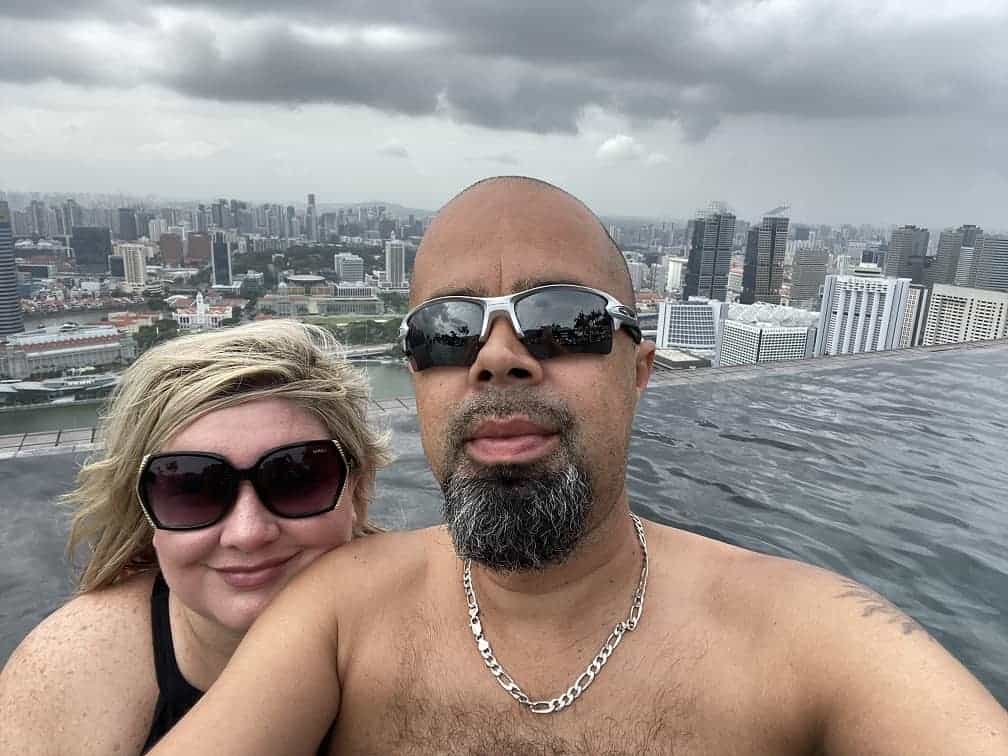 I would describe being in The Marina Bay Sands pool as immersing yourself in the sky, at one with the Gods. It's a surreal experience. You almost feel like you are floating through the sky amidst the clouds. When you get to the edge and peek over, you feel the overwhelming sense of being suspended high above the city. Yet, it does not feel intimidating. I would go as far as to say it's calming, and I am petrified of heights.
People ask if it's a sheer drop from the edge. The answer is no, there are several layers underneath the side, but you must look over to see them.
Can you access The Marina Bay Sands Pool without staying?
A hard and fast no. You MUST be a registered guest with your key card. No booking a room and inviting your crew, no sneaking in, and no "I forgot my card." There are turnstiles to get into the pool, and it is fiercely guarded.
Once upon a time, when Marina Bay Sands first opened, they did allow public access to the pool. This latest a millisecond. As you can imagine, the pool became overcrowded. As a result, it's strictly for guests only.
Now you can search and find some articles where people claim to have successfully snook in. I'm sure on the odd occasion it's possible but know this! In Singapore, trespassing is a civil tort and can be considered criminal trespass. The hotel can and will evict you. Worse they could have you arrested. Criminal trespass carries a maximum penalty of three months' jail and a $1,500 fine.
I don't know about you, but I'm not up for this kind of drama. Don't be cheap, cough up the cash, and enjoy the pool as a paying customer!
Checking In
First, be prepared for a long line. Something odd for a resort of this size. The reason for the long check is there are only a few agents and perhaps the smallest check-in desk I've ever seen for a resort of this size. Think about it; the resort is commonly sold out. So, this means at least 2561 guests are swirling in and out at any given time.
The Lobby
I reserved a bay view room, which is a must for any first-time visitor. Upon check-in, the front desk tried to persuade me into a city view upgrade. No, thank you, I specifically chose the bay view to see Gardens by the Bay. Here is the view from our balcony: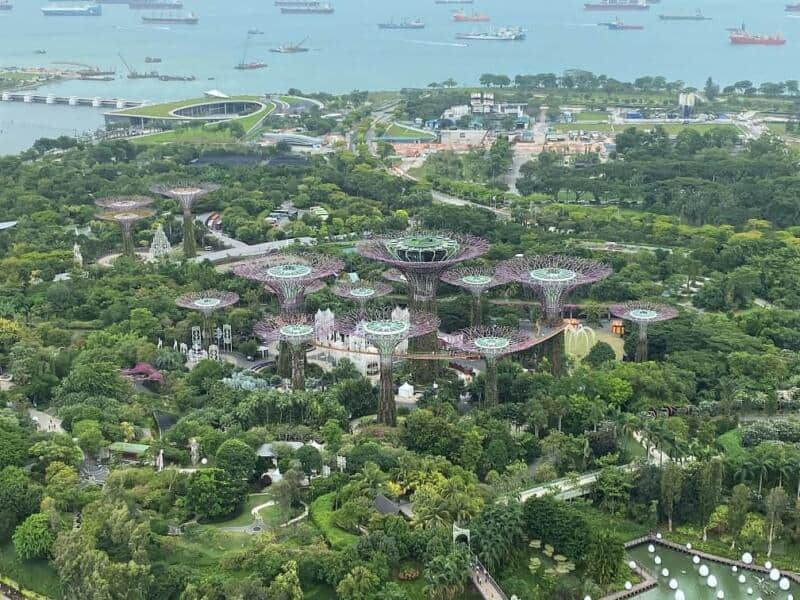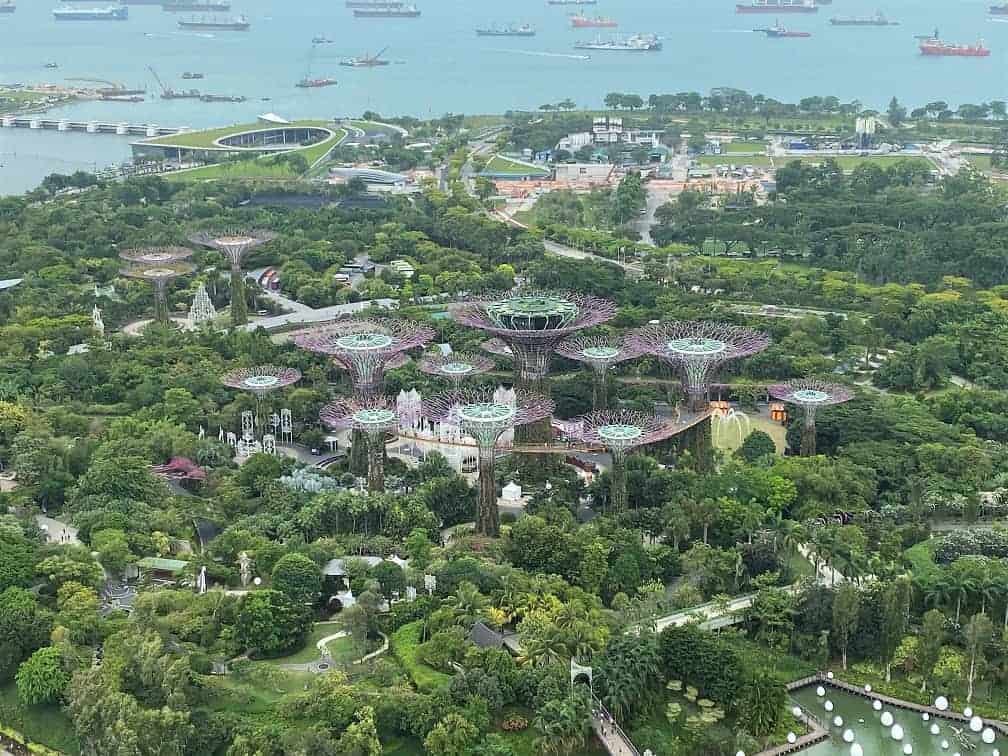 There is a show from the city side, and it's the Spectra, a light and water show. While you can watch it from your room, it will be through the glass. My advice here is to go for the garden view and watch the Spectra from the promenade.
Check-in time is from 3 pm onwards, and check-out time is by 11 am. I requested a later checkout, and I persuaded them to have the room until 1 pm.
Gardens By The Bay Light Show:
We watched this from our balcony:
TIP: Only the bayside has balconies, and it's an upgrade to secure a bay view room, which is known as a "Garden View."
Types of Rooms
Choosing the right room is a must; it's doubtful that you will get a complimentary upgrade. Marina Bay Sands has its loyalty program; it's not a part of a broader chain, so don't expect VIP treatment unless you pay for it. Rooms cost anywhere from $350 to several thousand, so brace yourself.
There are five main types of rooms and several suites to choose from:
Deluxe Room – no bathtub
Premier Room – bathtub
Family Room – room, studio, or two bedrooms
Club Room – bathtub and access to Club55
Grand Club Room – bathroom, living room, etc.
Then we get into the suites, which I'm not going to cover. They are for ballers, the mega-wealthy, and way beyond reach for me.
With all the rooms, you choose your bed type and view type, and in almost all cases, the garden view costs more.
Our Room
I booked the premier king garden view room, and it cost a staggering $415. I was deliberate about this due to the view. Once we made it up to our room, it immediately became apparent why no one blinks at the cost. The room is massive with wall-to-wall sliders, and the window treatments are remotely controlled. The balcony is spacious, the view priceless.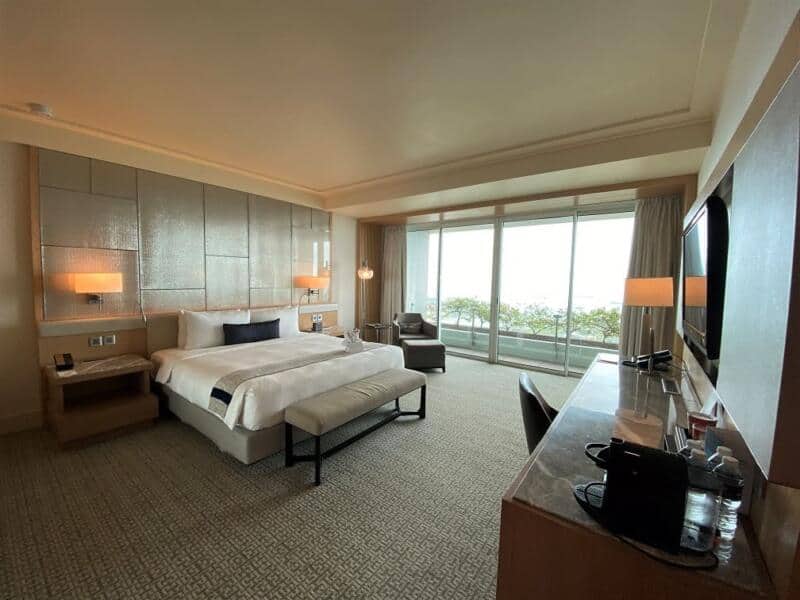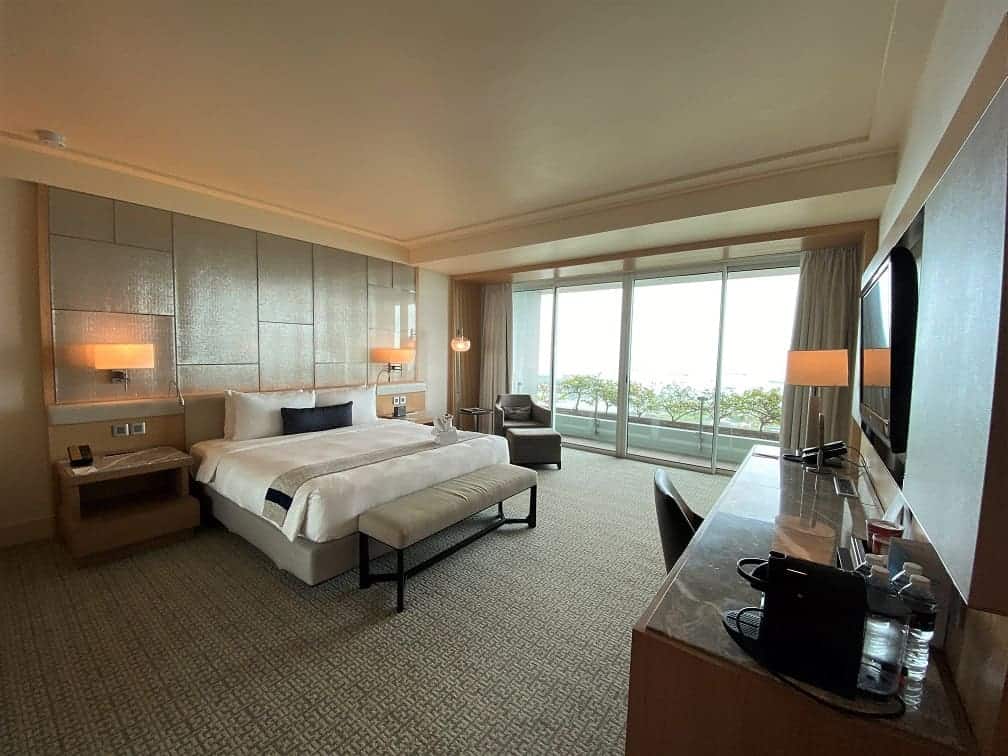 The bathroom is impressive, with a soaking bathtub and a separate shower room and toilet.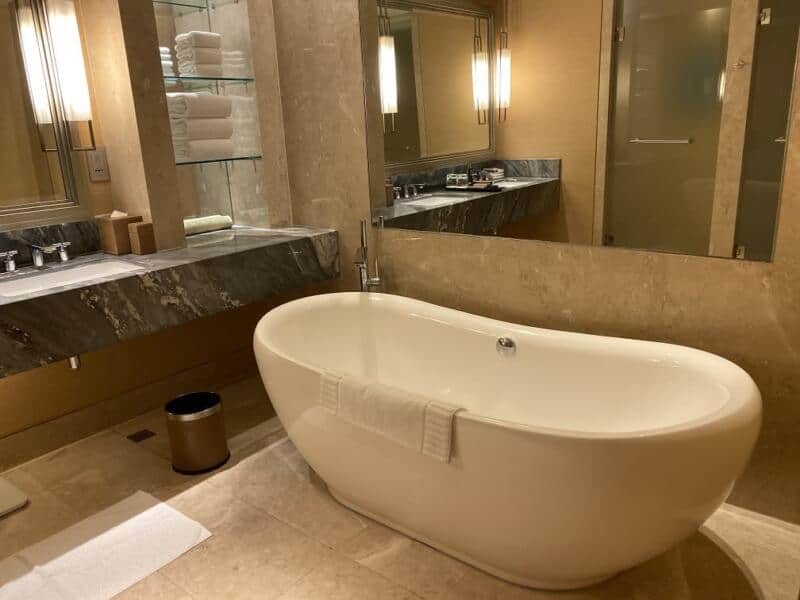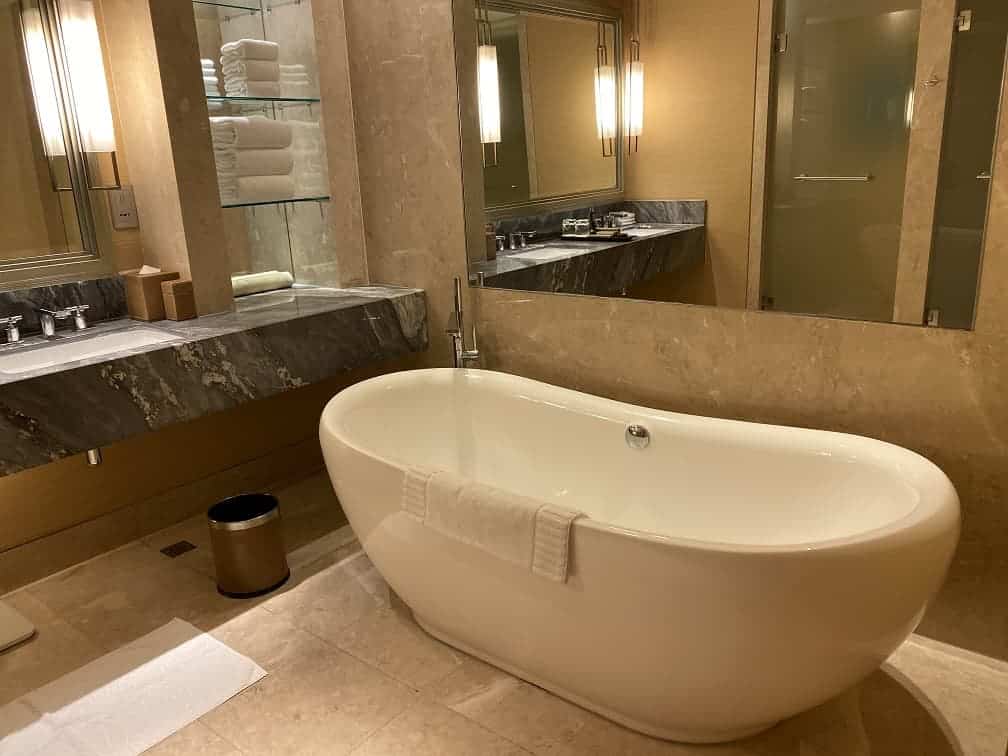 Then there are the full-size Roberto Cavalli toiletries. Talk about luxury!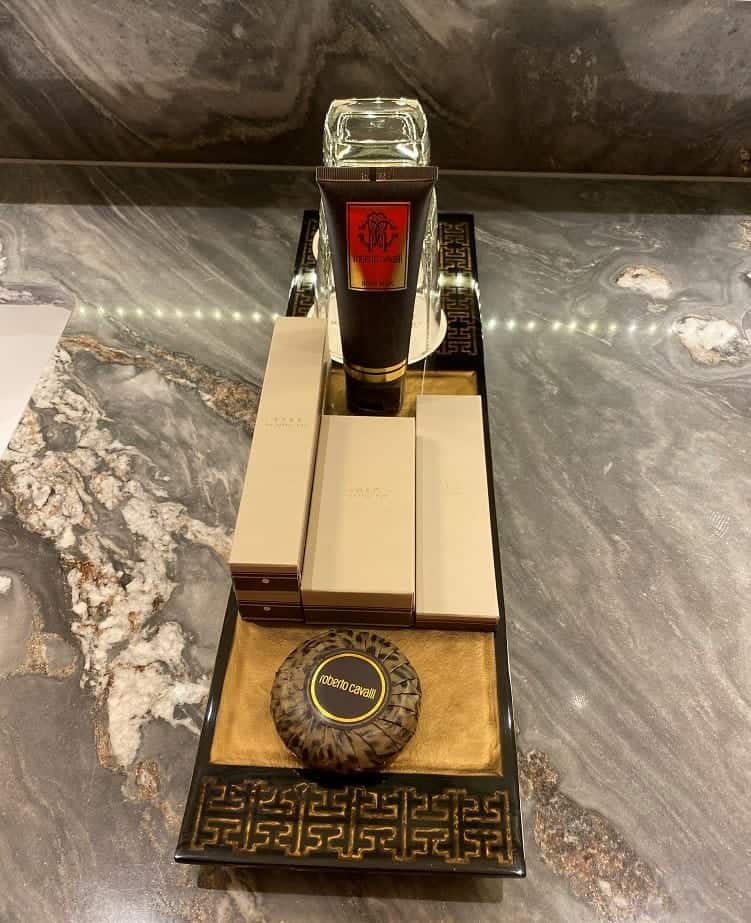 Then there is the bed. Oh, heavenly night's sleep. The beds are divine, precisely what you would expect from a luxury hotel with the traditional crisp cotton sheets.
Some people have said that they think the Marina Bay Sands rooms are not as decedent as imagined. I think they are over the top but understated. What I mean is there is no flashy gold, no shiny bright colors, and no tack. The design is simple, but it's elegant.
Restaurants at Marina Bay Sands
There are so many restaurants to choose from. It's overwhelming. Some of the restaurants are exclusive to Marina Bay Sands, and several of them are Celerity Chef restaurants like Gordon Ramsey, Wolfgang Puck, and Daniel Boulud, to name a few.
Many people opt not to dine on-site due to the costs. We chose to give it a whirl, but we decided on Rising, the iconic buffet. I'm not a fan of buffets, so this was an odd choice for us. I'll be honest! Brian and I were hungover from the night before's Karaoke TV (KTV) escapade. Having already walked through the entire hotel, played the casino, and shopped. We had walked a brisk three or so miles with banging heads and were knackered.
The buffet is conveniently located in the lobby, so it was a no-brainer. Well, except for the price tag. It cost us almost $200 for two. Was it worth it? Sort of.
Rise Restaurant
The rise has a unique selection of high-end food. Imagine any shellfish on a raw bar, any fish, T-bone lamb chops, prime rib, chilly crab – you name it's here. So, what's the challenge?
Politely stated, the food is clearly cooked way in advance and sits there stewing. Typical with any buffet, right? No, not at all. I don't want to eat cold chilly crab that is half heated, nor do I want to eat cold lamb chops.
I will say this, the raw bar alone made up for the other fare. The tuna, the octopus, and the oysters were worth the money. So, if you enjoy sushi or other raw delicacies, you will enjoy it. If you're looking for food that's cooked to your taste or warm enough to eat – avoid this place.
What You Need To Enjoy Marina Bay Sands
Before you shop at Marina Bay, here are some items you should consider in advance. Especially the selfie stick of you want to capture draw-dropping photos.
Shopping at Marina Bay Sands
Much like Vegas hotels, the Marina Bay Sands has several stores in the lobby and a mall below it, complete with a canal on which you can take a boat ride.
The mall is high-end. Prepare to part with some serious cash if you plan to shop here. Every designer on the planet has a home here. Of course, they do. This is a playground for the rich and famous.
I enjoyed exploring the mall, but I'm not in the market for a real Chanel or a Louis Vuitton anything.
The Marina Bay Sands Observation Deck
If you can't afford to stay at Marina Bay Sands but want to experience the view, you can buy a ticket and visit the Sands SkyPark observation deck. Tickets cost anywhere from $25 to $50, subject to times and dates.
Many people choose this route due to the sheer cost of staying. You can dine in the SkyPark; there are five restaurants. Or, walk the park and take in the views.
Be prepared for lines and make sure you have a reservation or pre-paid ticket. If not, you will not be going up.
The Casino at Marina Bay Sands
The casino was probably the biggest disappointment for us. You must line up to get in and show your passport to get in. It's beyond strange. No one scans your passport, so it's almost bizarre. They look at it and hand it back to you. And, it would be best if you showed it to exit.
Drinks are not included for players. I suspect this is because people can roll in and play without being a guest. But coffee, water, and juice in a casino just do not cut it. You cannot even order a real drink – WTF? I'm still scratching my head about this one.
The games are all expensive, even the slots that say 5 cents have a minimum bet. In other words, a line might be one cent, but you must play ten or twenty per spin. The table cost is way out of our league.
Then there's the sheer size of the casino, you can get lost in here, and it's hard to find familiar games.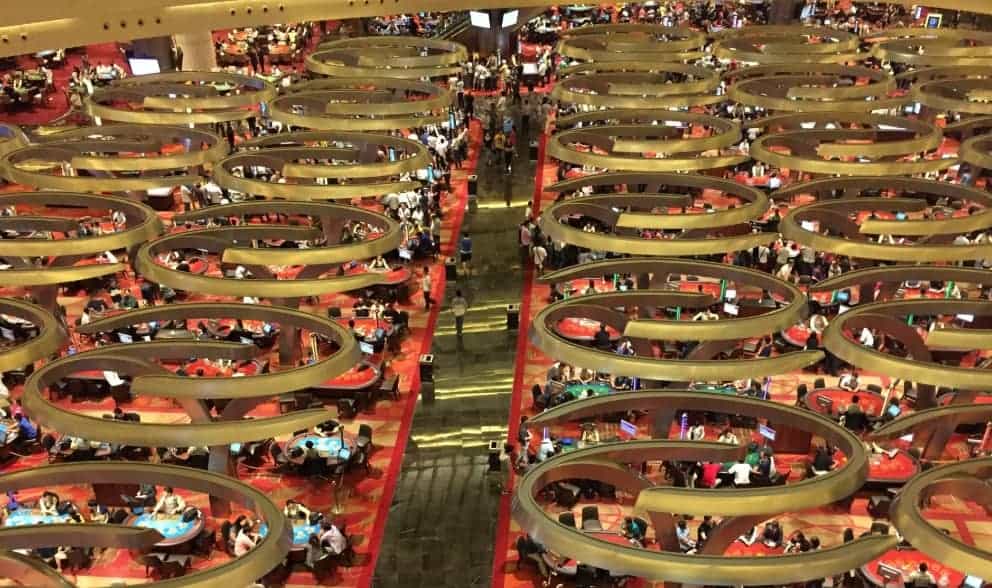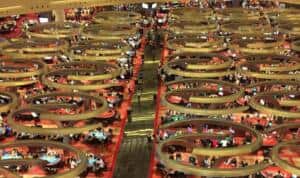 Even the robot that delivers the drinks was meh. Although it's worth noting that some people are fascinated by robots, all in all, I'd skip the casino.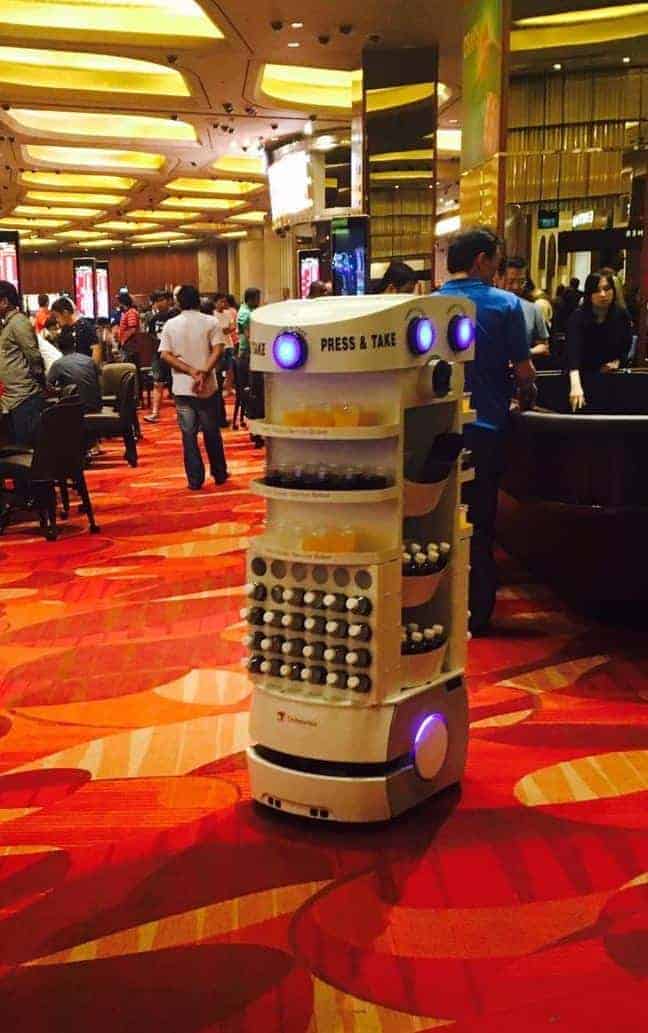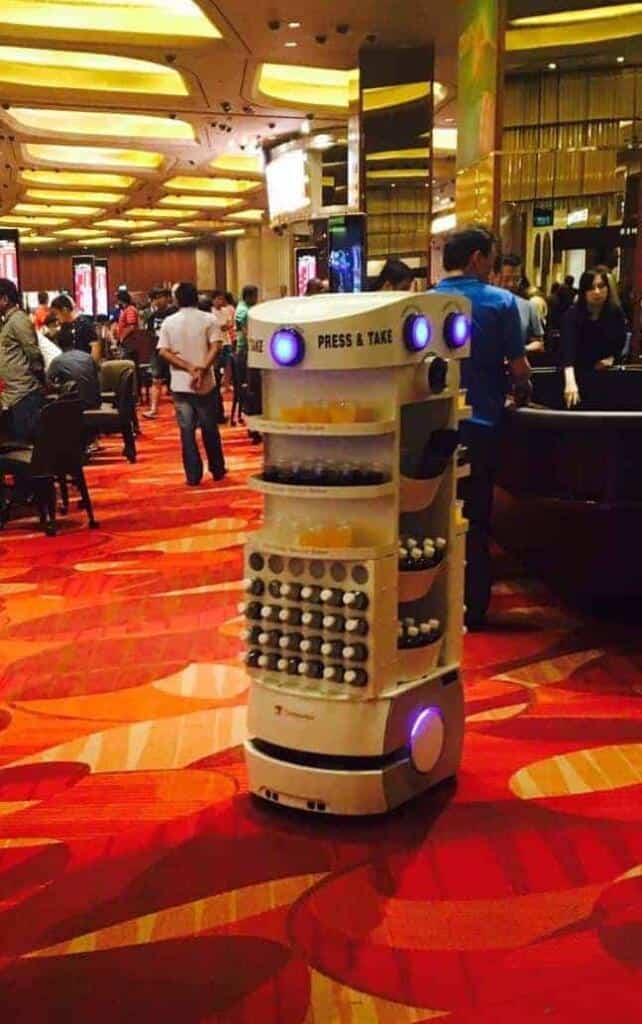 Image courtesy of Techmetrics
What You Need to Know:
While a room will set you back $400 plus, be prepared to double this. By the time you have had lunch at the pool, a dinner on-site, and a couple of drinks, you will be in it for at least twice the amount. Upon check out, our bill was $888.23, the most we have ever spent in less than 24 hours.
The hotel will charge a $200 incremental charge to your card upon arrival, which is then credited to your final balance.
Marina Bay Sands is connected via a bridge to the Gardens of the Bay. However, they are separate businesses. You must buy tickets to enter the Gardens of the Bay. You can get the tickets at the entrance.
Your key card gives you access to everything, and it cuts off upon checkout. This means you are cut off from the pool, the SkyPark, and so on. Once checkout hits, you can then only access the public areas.
You can store your luggage if you need to. Just remember, once your card is disconnected, you are then on your own, so to speak.
There is a mini-bar in the room, along with snacks. It's not only expensive but automated. If you lift a drink to read the ingredients, you will be charged for that drink.
Outside of Gardens By The Bay, there is little to do in the area. The resort is the attraction! Plan if you're going to dine off-site as you will need to take a cab.
Closing Thoughts:
Is the Marina Bay Sands pool worth the cost of staying? 100% firm, yes. It's not just the pool or the hotel; it's the entire experience.
Think about how much you spend on a day at Disney. Entrance for four will set you back at least $600, so frankly, while $420 is a lot for a hotel stay, this is an experience. Is the experience worth $420, yes 100%?
Having stayed here, I wonder if it's not underpriced? As I mentioned earlier, the hotel is often sold out. This alone tells me they could charge more.
Would I stay at Marina Bay Sands again? Yes, in a heartbeat. Singapore is a gateway to southeast Asia. I could see doing a layover in Singapore and heading straight to Marina Bay Sands.
All my excitement aside. This was a splurge for us. We spent three weeks in Asia, and this is the only hotel we paid for, and our flights were free. When you put this into context, our spending at The Marina Bay Sands wasn't exactly a budget buster for this trip.
Lastly, my only regret is I wish we stayed here for two nights vs. one. Ideally, you need more than 24-hours of this over-the-top luxury!
Looking for more travel inspiration? Start here:
We are a participant in the Amazon Services LLC Associates Program, an affiliate advertising program designed to provide a means for us to earn fees by linking to Amazon.com and affiliated sites.
Travel Planning Resources
Looking to book your next trip? Use these resources that work:
Are you interested in Volunteer Vacations and Working Holidays? Check out the complete guide to how here!
Need more help planning your trip? Make sure to check out our Resources Page, where we highlight all the great companies that we trust when we are traveling.