As you explore the countryside of Luxembourg in search of castles and ruins, you might make it to Useldange. Useldange, a small town, is home to the towering castle ruins of Castle Useldange. However, this town is also home to one of the most unforgettable stays in Luxembourg – The Mushroom Hotel Luxembourg.
While most people refer to this hotel as "The Mushroom Hotel," it's called Péitche Lauer Hotel and EcoLodges.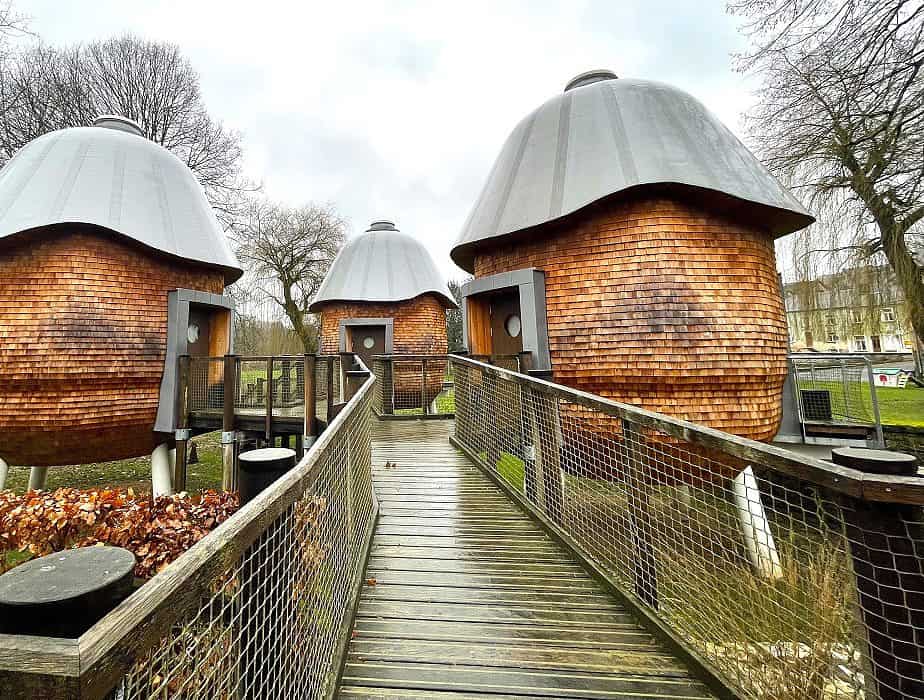 This post may contain affiliate links. Please read our disclosure and privacy policy for more information.
About Péitche Lauer Hotel and EcoLodges
Having opened in May 2019, the Péitche Lauer Hotel and EcoLodges in Useldange is the first luxury hotel in Useldange.
Its twelve rooms are in three different types of buildings. Old tanneries are in one of the buildings. Another is a newly built "pavilion" with references to the region and two large terraces. Then there are three so-called MushRooms in the third variant.
It was essential when building the Péitche Lauer to consider sustainability. Wood pellet heating and renewable energies generate the hotel's energy.
Besides serving sustainable, regional, and seasonal food, the Péitche Lauer's brasserie serves traditional Luxembourgish dishes like Bouchée à la Reine and Wäinzoossiss.
A holder of the EU Ecolabel and the Luxembourgish Bed & Bike label, EcoLodges Péitche Lauer also stores motorcycles. All you must do is cross the street to visit Useldange Castle or get information from the tourist office. Use the nearby cycle paths and hiking trails to explore the surrounding area.
Location Of Péitche Lauer Hotel and EcoLodges, aka The Mushroom Hotel Luxembourg
Located near the foot of the castle of the same name, Hotel-Ecolodges Péitche Lauer is in the town of Useldange.
Address: 4 AmTrëmel, 8706 Useldange, Luxembourg
About the MushRooms
Three tiny houses stand like giant mushrooms on the Attert stream's edge. Accessible by a footbridge-like path. A large white cap tops each. The small houses are a bit reminiscent of The Hobbit's Shire.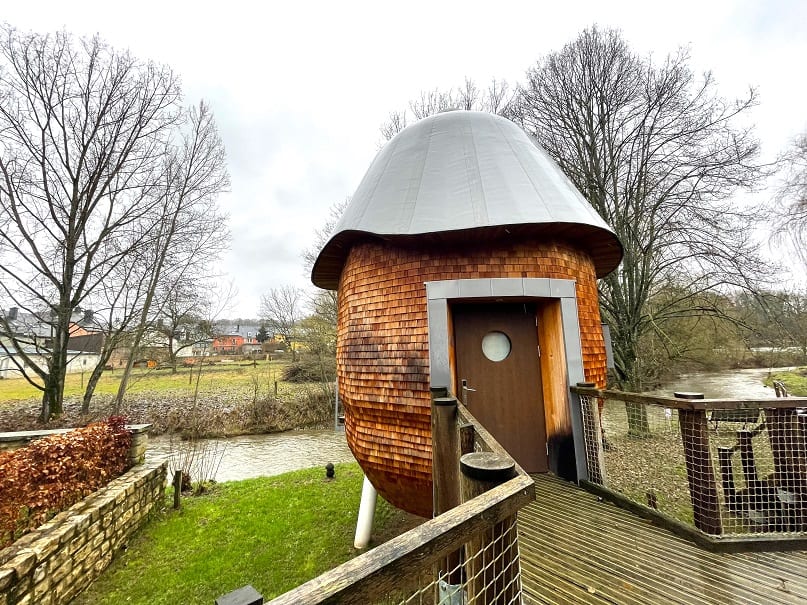 The MushRooms are constructed out of wood from the local beech woods, which are typical for this region. The modern and comfortable furniture inside these accommodations and the cute balconies round off a unique and relaxing overnight stay.
In 2019, the three MushRooms were awarded the Luxembourgish Prize for Rural Tourism.
The perfect place to sleep for two people if you are looking for cozy, original, and romantic accommodation.
Inside The MushRooms
The MushRooms are just 62 square feet in size. They are not very big, but they are beyond unique. If you stay here, it's all about reducing, slowing down, and detoxing from technology. There is no TV or Wi-Fi in MushRooms, but everything else you might need for a pleasant stay is there.
Each MushRooms feature a private bathroom, a living room with two modern upholstered armchairs, a small table, a kettle, and a small balcony with two chairs and a stream view.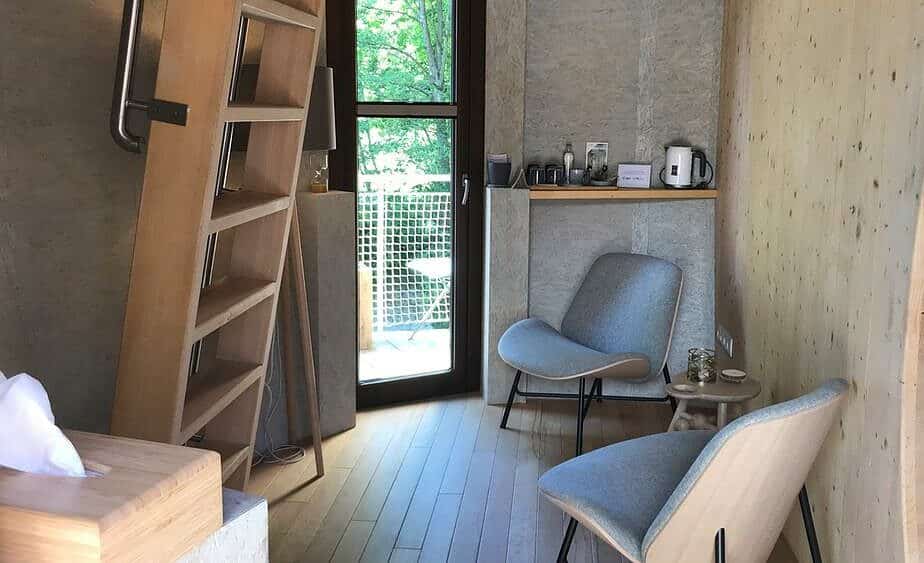 The Bedroom
You sleep on the floor above in a double box spring bed. A steep staircase leads up to the sleeping area with a double bed.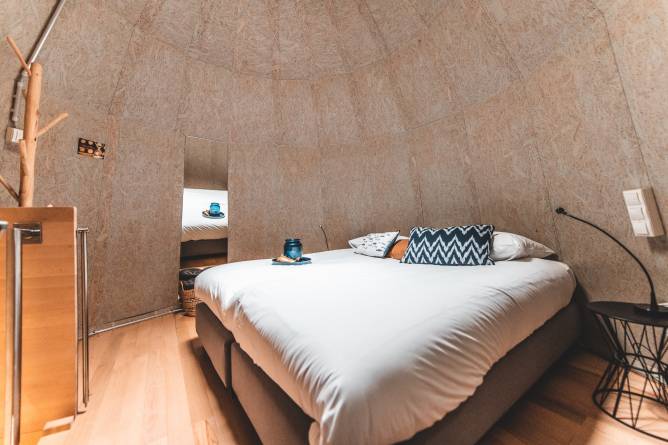 The Bathroom
A built-in mini bathroom has a toilet, washbasin, and shower.
Breakfast
Depending on the weather, breakfast is served in the hotel or on the terrace by the stream in the morning.
What Does It Cost to Stay at The Mushroom Hotel Luxembourg
Seasonal variations affect prices. You can book here: The Mushroom Hotel Luxembourg – Péitche Lauer Hotel and EcoLodges
Things To Do in Useldange
The Valley of the Seven Castles, which runs from Mersch to Koerich, includes Useldange Castle and other castles.
Useldange Castle
Useldange Castle hosts medieval festivals yearly, bringing food, drinks, music, and knights' games to the castle and palace grounds.
Rent an e-bike from the tourist office opposite the hotel and cycle the Dällchen West Tour, a 28-kilometer route through rolling hills and colorful villages.
Visit the picturesque Luxembourg Ardennes town of Esch-sur-Sûre or take a day trip to Luxembourg City. Useldange is accessible in all directions!
Redange Piscine offers plenty of variety for hot summer days with its large pool, children's pool, and waterslide. There is a large lawn, a terrace, and a wave pool where you can relax or have fun. In addition to the swimming pool, the sauna area is a great place to relax year-round.
Closing Thoughts
Straight out of a fairytale, these MushRooms are adorable. Perhaps most important is that this is one of the most unforgettable stays in Luxembourg. These are for you if you are a fan of glamping or unusual stays!
Looking for more on Luxembourg? Start Here:
We participate in the Amazon Services LLC Associates Program, an affiliate advertising program designed to provide a means for us to earn fees by linking to Amazon.com and affiliated sites.
Brit On The Move™ Travel Resources
Ready to book your next trip? Use these resources that work:
Need more help planning your trip? Check out our Resources Page, highlighting the great companies we trust when traveling.