Every fan of Lord of The Rings wants to visit the lush pastures of The Shire at The Hobbiton Movie Set. Even if you are not a fan, this should be on your list of things to see if you are in Auckland. And, if you've not seen the trilogy watch it on your flight over. If you don't, well, you were warned. You will get called out in jest by the guide, and everyone will look at you like you have three heads!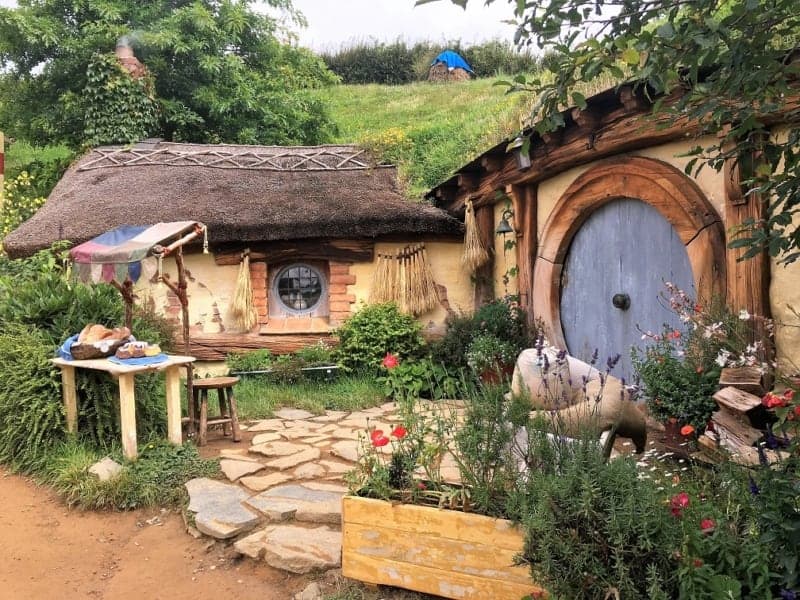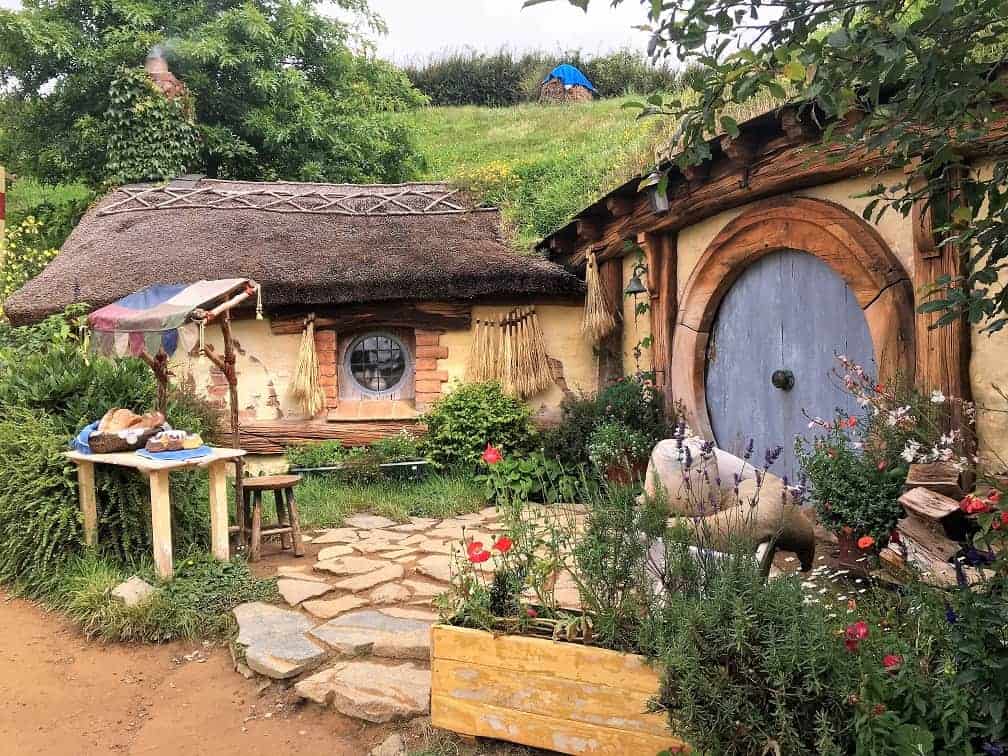 This post may contain affiliate links. Please read our disclosure and privacy policy for more information.
The History of The Hobbiton Movie Set
You'll hear about this on tour so that I won't give away the whole story. Sir Peter Jackson, the New Zealand film director, screenwriter, and film producer of the Lord of the Rings trilogy, sent a team to find the ideal location for Hobbiton. They conducted an aerial search and found what a farm was. Initially, the set was built to be temporary, but fate had other plans. That's all I am going to tell you. If you want to hear the whole story, you will have to visit.
Getting To The Hobbiton Movie Set
It's 111 miles from Auckland to Hobbiton. Almost everyone that visits New Zealand rents a car or a motor home to explore. Given this, you do not need to organize your tour with a third-party service unless you need transportation to The Hobbiton Movie Set. In short, buy tickets directly from The Hobbiton Movie Set and drive to the location. Once you arrive, it's private property, and then you do need to take a tour. You cannot get to The Hobbiton Movie Set yourself, nor can you see it from a distance. You must take the bus included in your ticket.
Tip: Tours run on a schedule and you must make a reservation. If you do not you will not get in on the day of. Many people were turned away while we were there because they did not have a pre-paid ticket. Realistically, you should get your tickets for The Hobbiton Movie Set before you get to New Zealand.
The Tour
The tour lasts a couple of hours at most. It's fantastic! Even a non-fan will appreciate it. The attention to detail, the authenticity, and the sheer magic of the shire will capture anyone's imagination. The colors are so vivid you can visualize how this set came to life on the big screen. If nothing else, it's exciting to hear everyone in the group, oh and ah, giggle, laugh and marvel at the sights.
The house of Bilbo Baggins as filmed in New Zealand: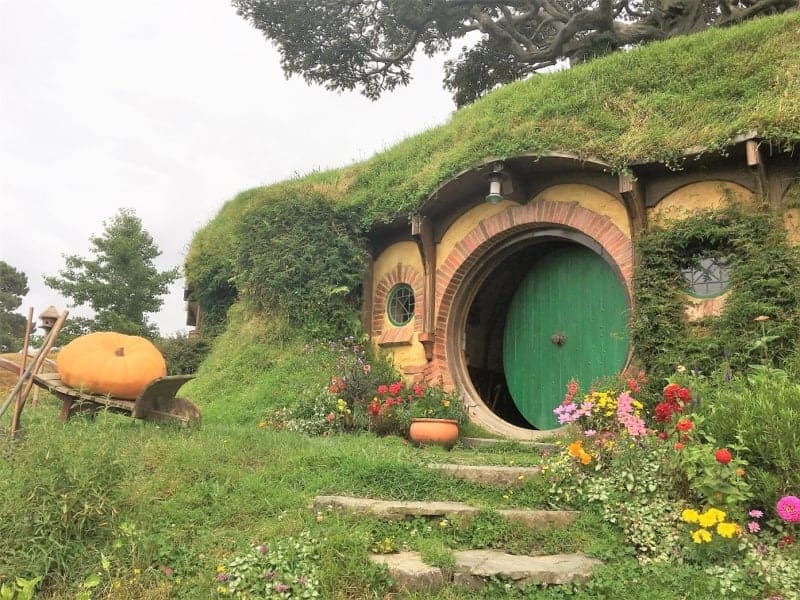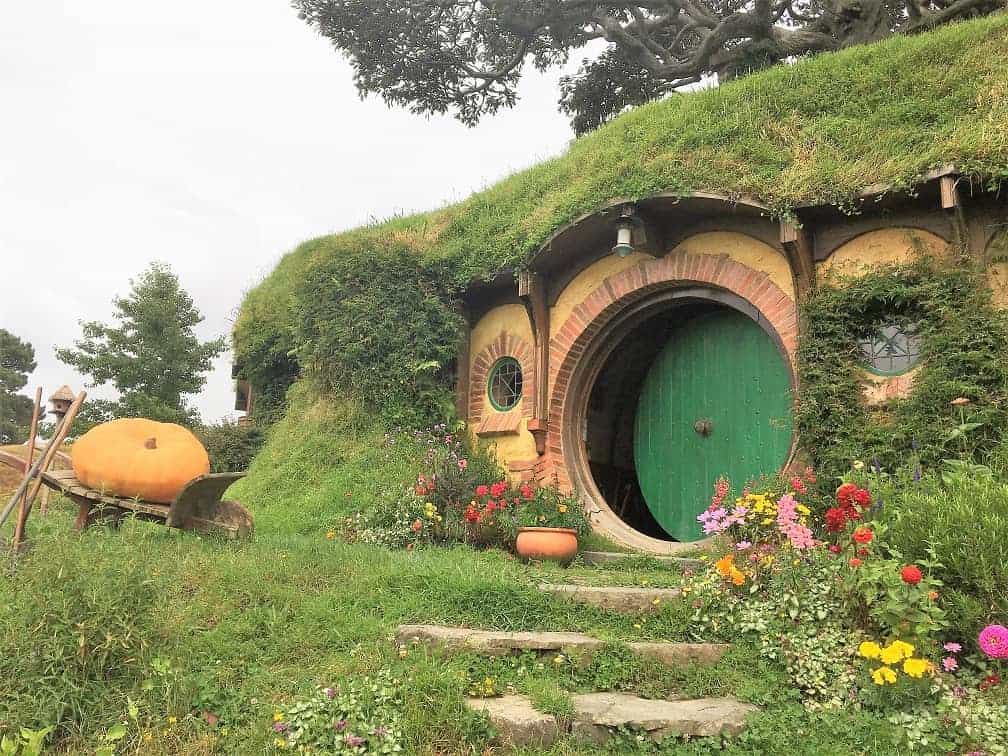 Hobbit holes:
A guide will navigate you through the shire, pointing out all the different points of interest. They will talk to you about which scenes were filmed and point out who lived where on this walking tour. As you stroll through the shire, the tour ends at The Green Dragon Inn.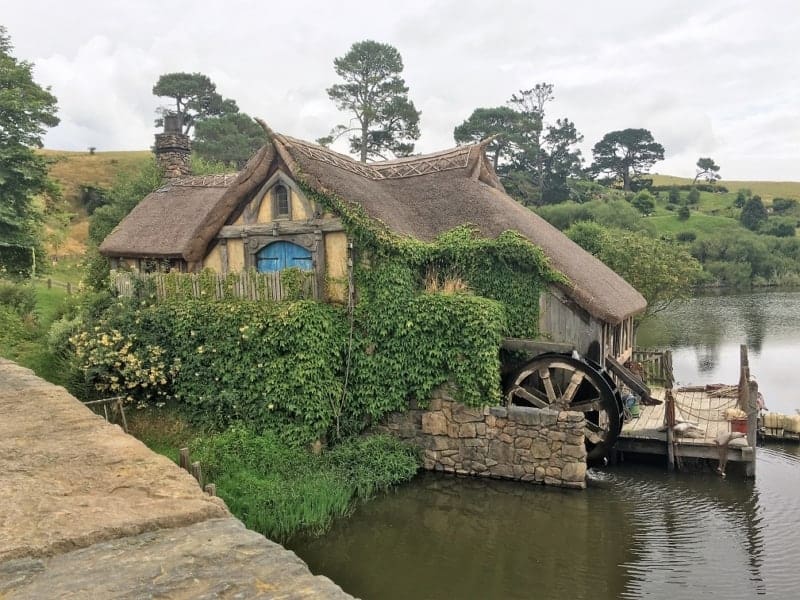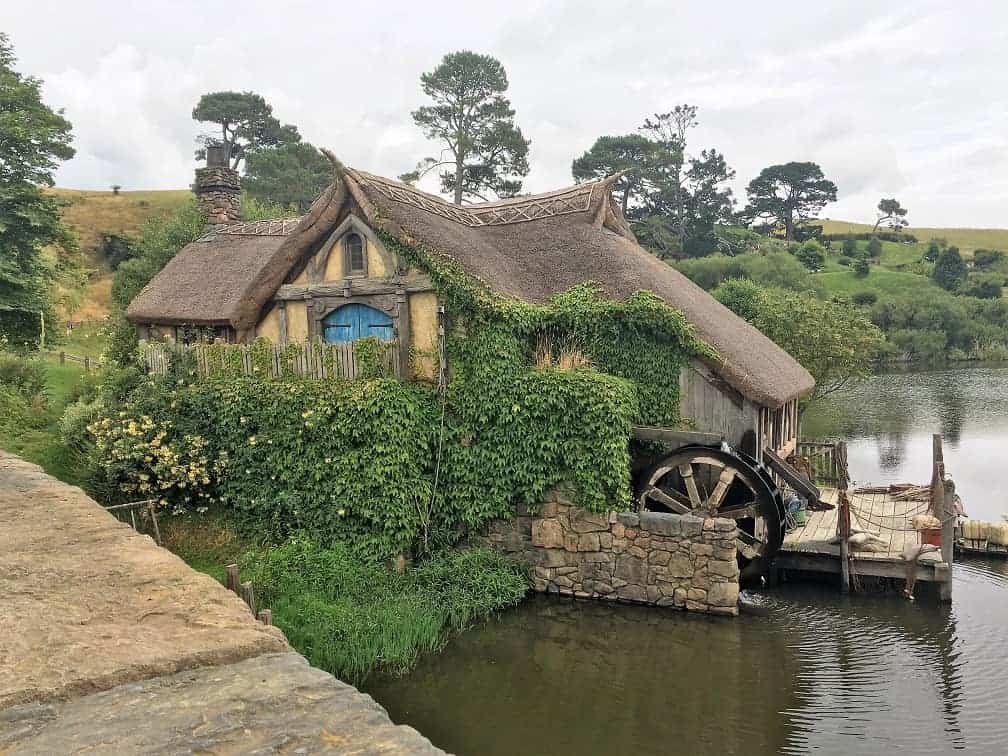 The Green Dragon Inn
Your ticket includes a stop at The Green Dragon Inn. The tour includes a complimentary beverage from the Hobbit Southfarthing Range. You get to choose one of the following:
Girdley Fine Grain, Amber Ale
Sackville Cider, Apple Cider
Oatbarton Brew, Traditional English Ale
Frogmorton Ginger Beer (alcohol-free)
These beverages are handcrafted and only available exclusively at The Green Dragon Inn! Now, the beer is lovely, and the inside of The Green Dragon Inn is reminiscent of a traditional cozy pub. My only criticism of the entire tour, I assumed we would end the tour here and then stay as long as we liked. Unfortunately, not the case, and it's apparent why. There is another tour right behind you! If they allowed everyone to stay at The Green Dragon Inn, no one would leave. Well, at least not for an hour or two. Naturally, the way to spend more time is to add on the evening banquet. There are light snacks available for purchase. Sadly, you only get to spend about twenty minutes total at The Green Dragon Inn.
Frequently Asked Questions
Can you combine Hobbiton with Waitomo or Rotorua? Yes! You can easily combine Hobbiton with Waitomo (52 miles away) or Rotorua, 47 miles away. We did the latter because you can explore Rotorua at your own pace. Like Hobbiton, the Caves of Waitomo run on a tight schedule.
Can you go inside the hobbit holes? Yes, you can enter a couple of them.
Can you visit The Green Dragon Inn without taking a tour? No, the only way to visit is by taking a tour or booking the evening banquet tour. However, it is available for private functions.
What Most People Don't Know About The Hobbiton Movie Set
You can get married at The Hobbiton Movie Set.
Private tours are available, but they are expensive
You can host a private function here
You can participate in the evening banquet tour, which is an add-on to a standard tour.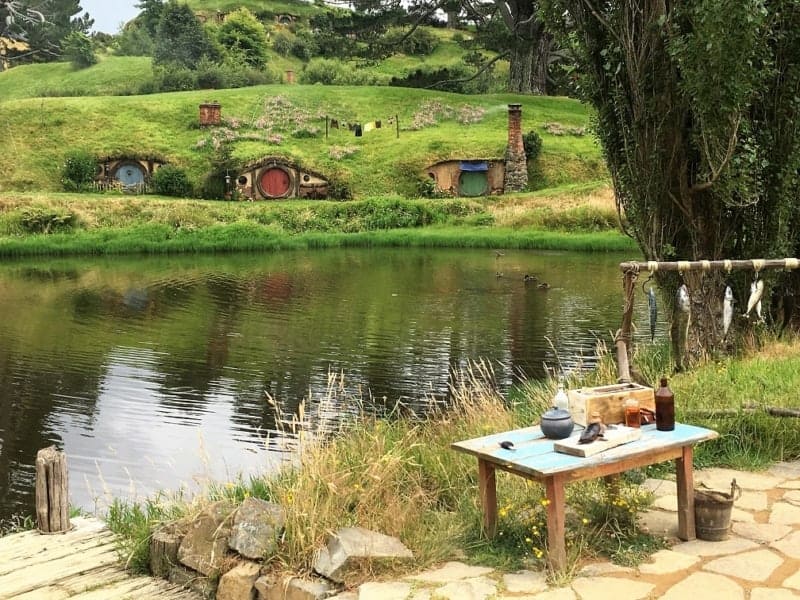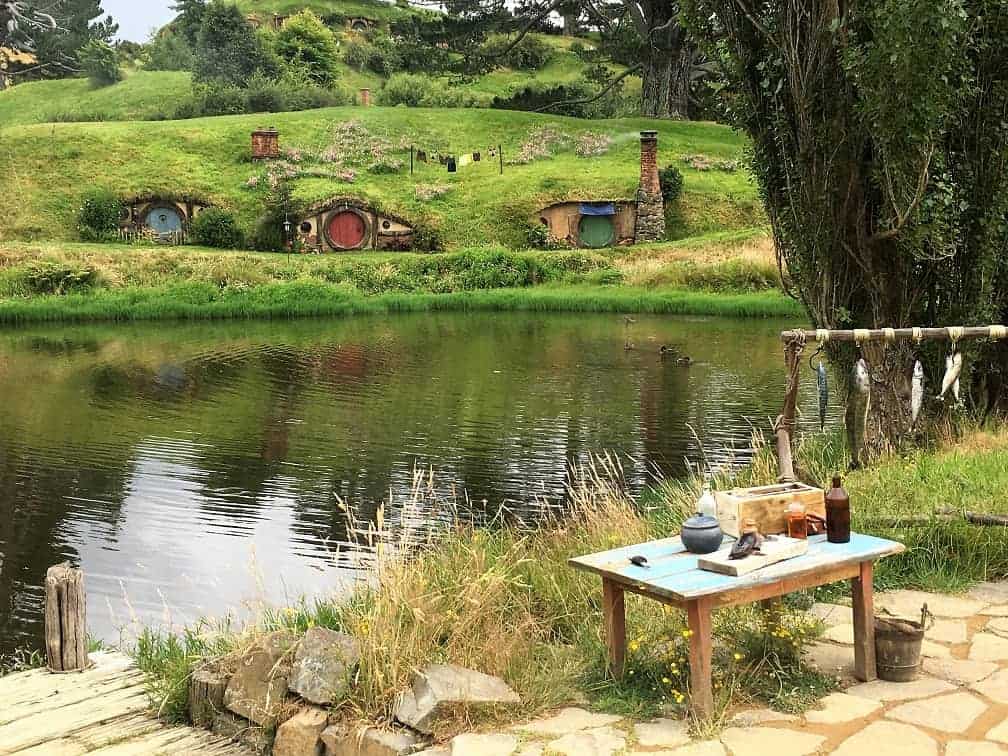 Closing Thoughts
You can't visit the Northern Island of New Zealand and not take this tour – it's a must! Some people travel to New Zealand for the sole purpose of visiting The Hobbiton Movie Set. Once you experience it for yourself, you will understand why. The magic of The Hobbiton Movie Set will make you a child again.
Looking for more posts to inspire you? Start here:
We are a participant in the Amazon Services LLC Associates Program, an affiliate advertising program designed to provide a means for us to earn fees by linking to Amazon.com and affiliated sites.
Brit On The Move™ Travel Resources
Ready to book your next trip? Use these resources that work:
Need more help planning your trip? Check out our Resources Page, highlighting the great companies we trust when traveling.