Continuing my quest to explore as many different types of accommodations as I can. I came across a fairy house on a farm in Wales.
Listed as a woodland hobbit hole, a fairy house, and a home, this primitive little house is also mushroom-like.
Of course, I had to give this a try and see how it compares to some of the other unusual accommodations that I've experienced.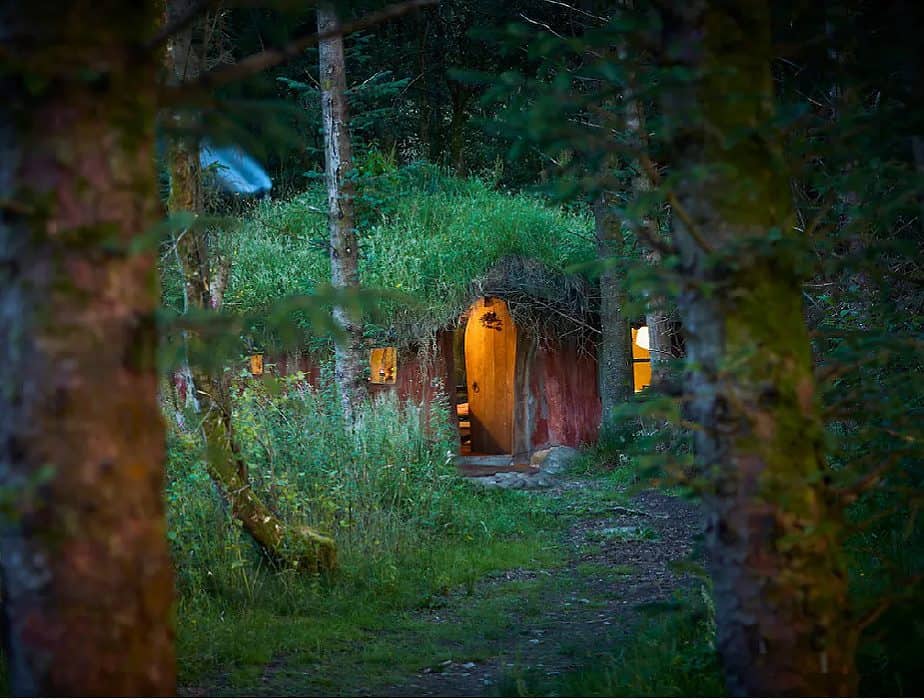 Image Credit: Henbant Permaculture Farm
This post may contain affiliate links. Please read our disclosure and privacy policy for more information.
What is a Fairy House?
By definition, a fairy house is a small structure built to attract fairies or other magical creatures. They are often made from natural materials such as twigs, leaves, and stones and can be placed in a garden or a woodland area. Some believe creating a fairy house will bring good luck and magic to the environment.
The design and decor of fairy houses vary greatly, but they are often decorated with tiny furniture, flowers, and other elements to create a whimsical and enchanting atmosphere. Fairy houses are often used as decoration or as part of imaginative play, especially for children.
If you stay at Henbant Permaculture Farm, you will experience a real adult-sized fairy house hidden in the deep woodlands of northern Wales. Better yet, you can isolate yourself from society or mingle with others at the farm.
The Location – Clynnog-Fawr, Wales, United Kingdom
Clynnog-Fawr is a village located in Gwynedd, North Wales. It is situated on the Llŷn Peninsula, a peninsula that juts out into the Irish Sea, and is known for its natural beauty and rich history.
The area has been inhabited since prehistoric times, and there are several ancient sites in the vicinity, including hillforts, standing stones, and holy wells. In the early Christian period, the area was a pilgrimage center, and there was a monastery at Clynnog-Fawr, which was said to have been founded by Saint Beuno in the 7th century.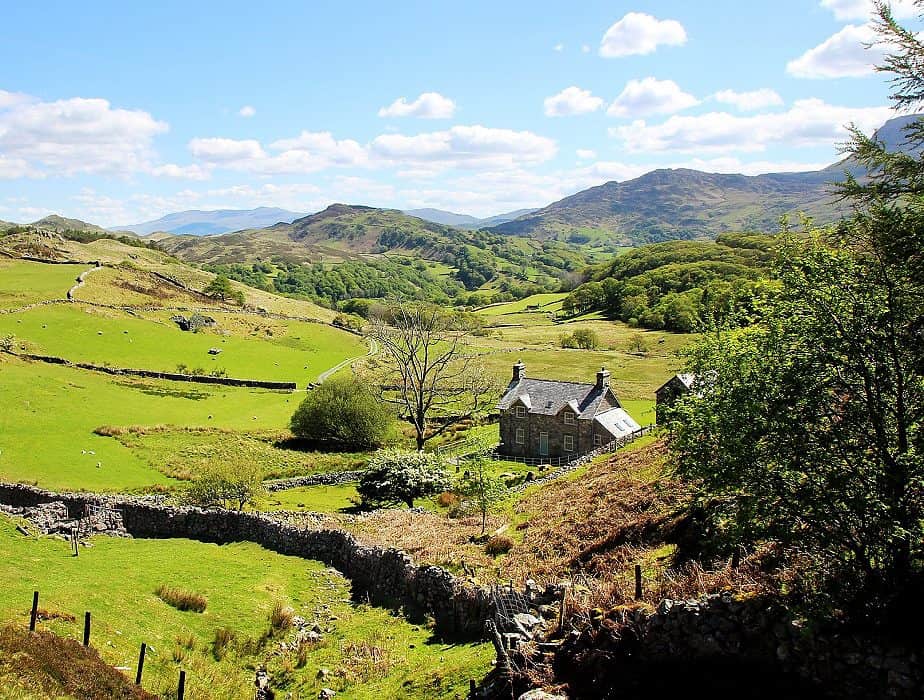 Today, Clynnog-Fawr is a peaceful, rural village with a strong sense of community. It has a church, a pub, and a few small shops and is surrounded by rolling hills and a beautiful coastline.
The village is a popular destination for walkers, birdwatchers, and anyone looking to enjoy the unspoiled beauty of North Wales.
About Henbant Permaculture Farm
Matt and Jenny Swarbrick relocated to 80 acres of former quarry land in the North West corner of Wales to "grow cabbages" and raise their children.
The farm uses permaculture, holistic management, and agroecological methods to grow vegetables, fruit, beef, and eggs. They do this on a small, regenerative human scale that provides food and fuel for their home, visitors, and the local community.
For extra money, the couple built a campsite on their property. The small shelter they created is an affordable version of the traditional Celtic roundhouse. It resembles The Fairy Tale Mushroom: Amanita Muscaria. Constructed in just eight weeks, it consists of cob walls, straw bales, and lime roofs. This is where I stayed, in the fairy house called "the roundhouse."
The farm offers traditional camping and glamping in a rural setting in Wale's Snowdonia region.
What is Permaculture?
Permaculture is a system of agricultural and social design principles centered around simulating or directly utilizing the patterns and features observed in natural ecosystems. It is based on creating sustainable human settlements and agricultural systems modeled on the relationships found in natural ecosystems.
Permaculture is a holistic approach to land use. It seeks to integrate various elements, such as food production, housing, energy systems, and water management, into a cohesive and mutually supportive system. The focus is on creating a closed system, where waste from one element becomes a resource for another. The land is managed to regenerate and remain productive for future generations.
Permaculture design emphasizes the use of renewable resources, the conservation of energy, and the reduction of waste. The goal is to create a self-sufficient and sustainable way of living that has a minimal impact on the environment.
Accommodations At Henbant Permaculture Farm
There are lots of options on the farm. You can choose from the following:
Camping – You can put up a tent, and there are two camper van spots.
Viking Longhouse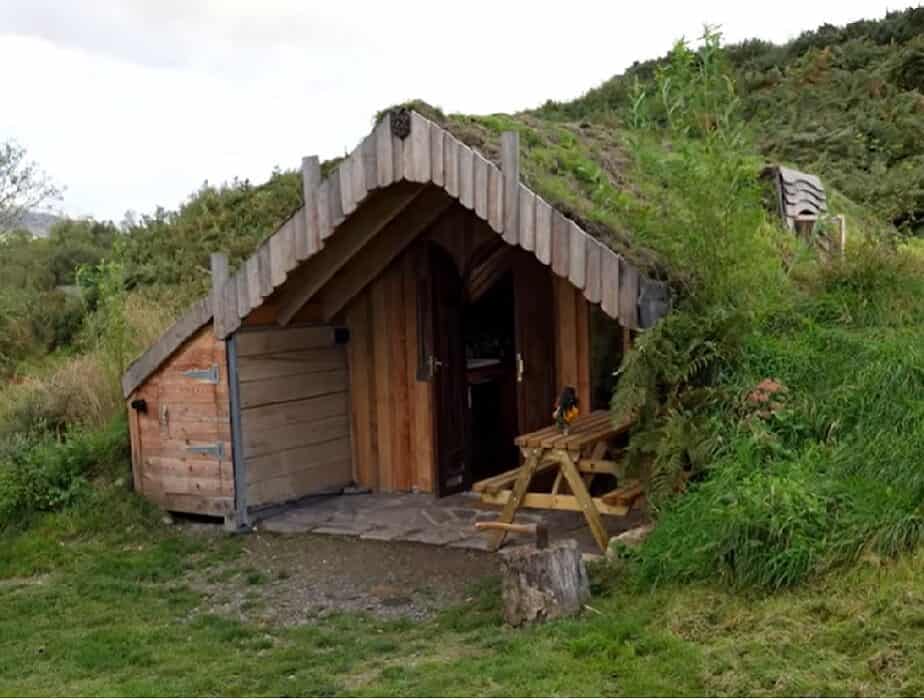 Wooden Yurt
Woodland Roundhouse – The Fairy House
Wooden Geodome
Arrival and Check In
You will arrive at the car park. It's important to note that you can not drive your vehicle to the fairy house. A packing light is advised. The walk to the fairy house is through rough terrain, and it's downhill to the fairy house and uphill, so bear this in mind. You can self-check in, let the hosts know you've arrived, then follow the signs to the "roundhouse." Given that the fairy house is a fair hike, you need to check in before it gets dark. Otherwise, you'll be navigating the countryside in pitch black.
When you make it to the fairy house, the magic begins.
Inside The Fairy House
This is every child's dream. I wish that the Monkey was with me to experience this. The bucolic setting with moss-covered trees and fog sets the stage long before you open the door.
Once inside, it takes a minute to take it all in. I was fascinated by the design of the circular structure. It's clever and functional. Even the bed is hand-crafted. The circle roof has a skylight, a lovely touch for star gazing. I bet it's divine when it rains.
Double sliding glass doors open to your private backyard with a campfire and seating.
The Amenities
Not primitive, but rustic, this is a couple of steps up from camping. You have a kitchen with gas-burning hobs, running cold water. The kitchen's fully stocked with everything you need, and it's spotless.
There is a beautiful chimenea, a large double bed, a futon that doubles as a bed, and a built-in single bed.
The Chiminea
The chiminea ( woodburning fireplace) is pure heaven. The hosts provide you with everything you need to keep the place warm. There's even an axe on hand to scour for wood. By far, one of the highlights of this lovely house.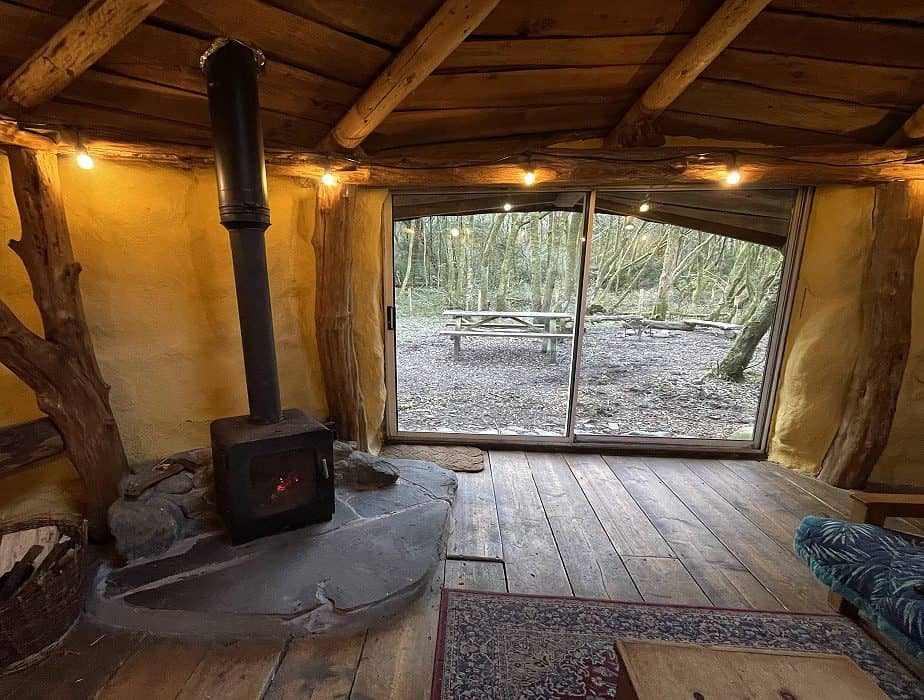 The Bathroom
The shower is outside, and while it has heat, the maximum temperature is 77 degrees. This sounds hot, but it's quite cold when it's 60 degrees outside. So, brace yourself for a cool outside shower.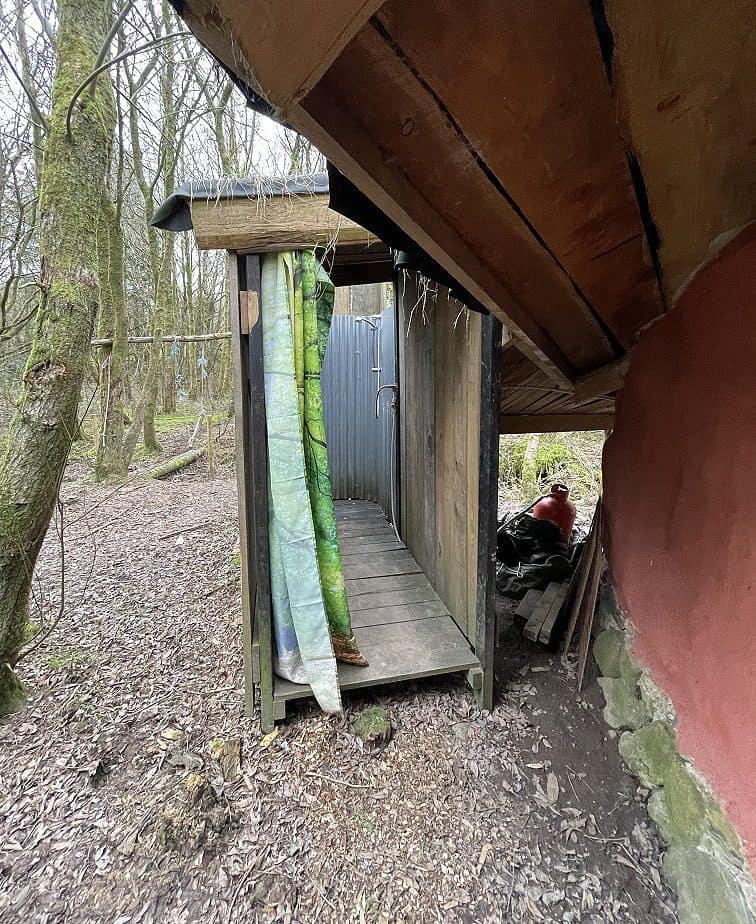 The toilet is a short walk away from the fairy house, and it's a composite toilet. Unlike flush toilets, composting toilets dispose of human waste using less water. Through anaerobic processing, the bathroom eliminates odors by mixing waste with sawdust, peat moss, or coconut coir.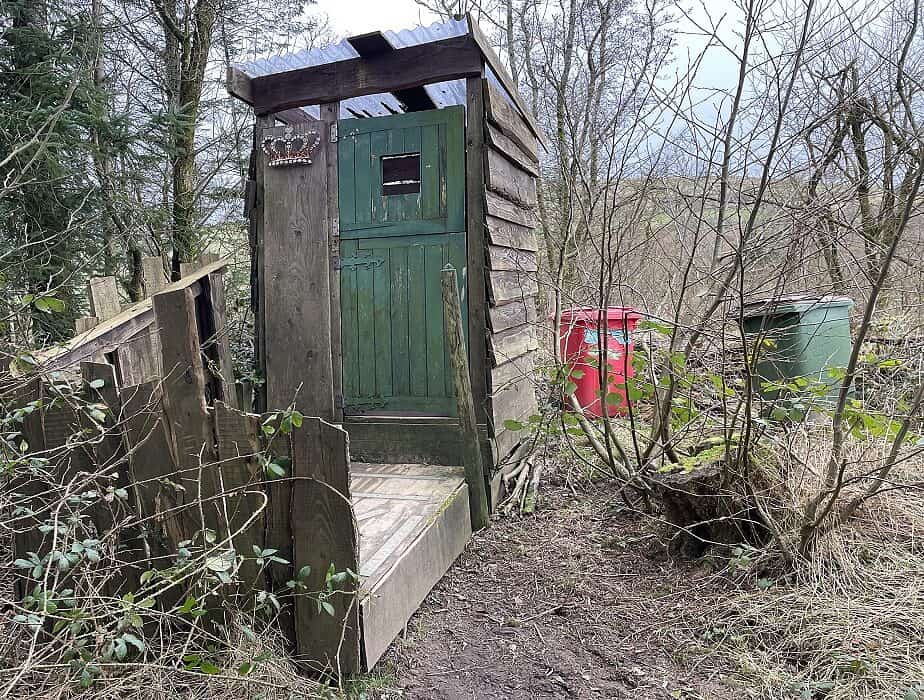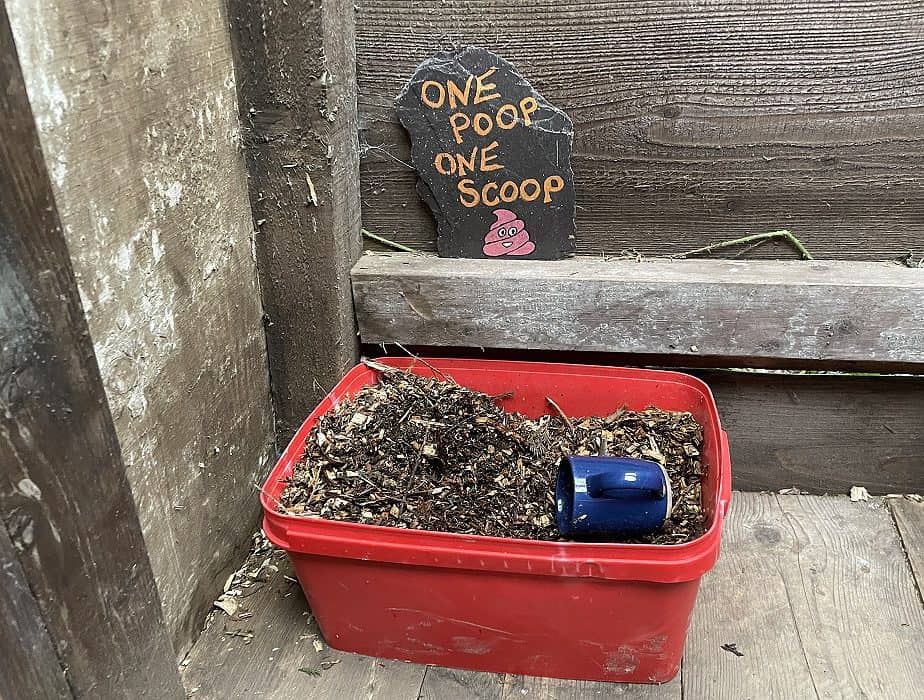 Resident Guests
I didn't meet any of the cows that roam free. However, I did meet the bat that lives in the fairy house. The little fellow came out, did about 200 circles around the fairy house, and then took his place on one of the wood beams.
He eventually retreated inside the roof.
I have to laugh about this one. First of all, I am not scared of bats. I've had many interactions with them. I did, however, wonder whether Mr. Bat was a solo dude. And, if not solo, he and his family would be "hanging" with me as I slept.
Things To Do At Henbant Permaculture Farm
There is a small swimmable lake and a little boat you can take out for a paddle.
Explore acres of rugged Welsh woodland.
Scourage and collect firewood – a personal favorite of mine.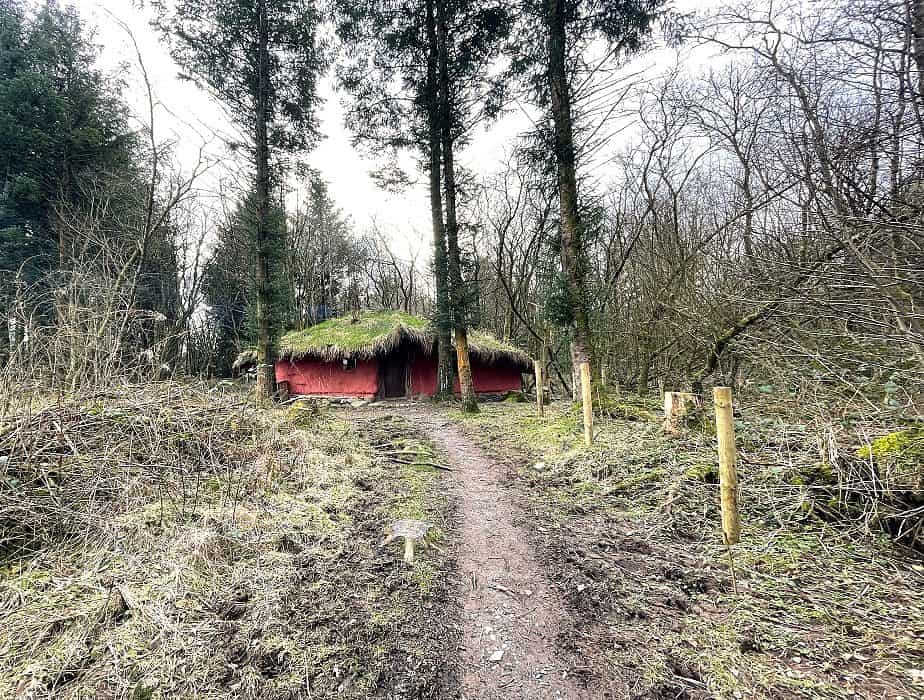 Paddle in or admire the stream that runs through the farm.
The front garden has a small children's play area and a trampoline.
Go egg hunting; the farm allows you to collect eggs yourself.
Pick fresh salad or vegetables from the garden.
There is a converted cow shed with a wood burner, sofas, fridge, microwave, toaster and freezer, electricity, and a big collection of books and maps.
If in season, you can feed the lambs.
What You Need To Know About A Stay At Henbant Farm's Fairy House
The roundhouse is deep in the woods. It is at least a quarter of a mile from where you park your car.
The water may be consumable – I am not sure, but it's cloudy, so I boiled it before use.
Towels and toiletries are not provided, so prepare to bring your own. A toilet roll is provided for you.
There is no wi-fi. This said cell signal is powerful. I was able to hotspot from my cell to my laptop.
Cows roam freely, and there is cow poop everywhere.
Things To Do In Clynnog-Fawr, Wales, United Kingdom
While it may not have many tourist attractions, there are a few local sites and activities that you may find interesting:
Beuno's Church: This historic church is over 1,000 years old and is said to be the birthplace of St. Beuno, one of Wales's most revered saints.
Gors Fawr Stone Circle: This ancient stone circle is located on a hill above Clynnog-Fawr and is thought to date back to the Neolithic period.
Clynnog Beach: A small but beautiful beach near the village, perfect for a relaxing walk or picnic.
Caernarfon Castle: Located a short drive from Clynnog-Fawr, Caernarfon Castle is one of Wales's most famous castles and a World Heritage Site.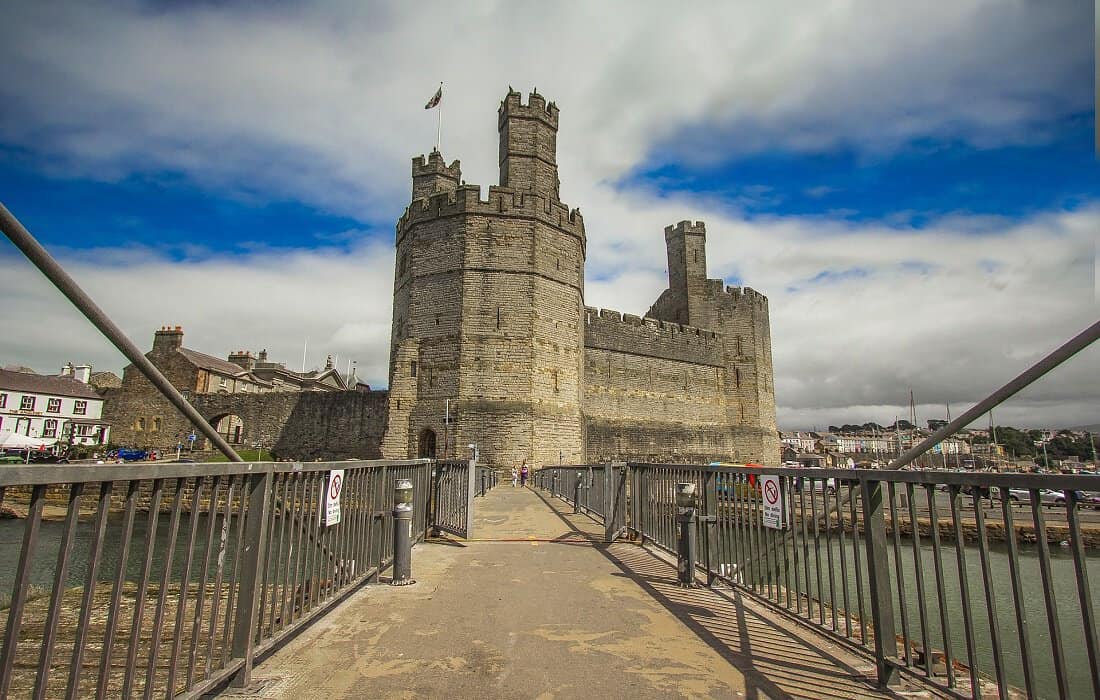 National Trust's Plas Newydd House & Gardens: This historic house and gardens are located nearby in Llanfairpwllgwyngyll and offer a glimpse into the past and beautiful gardens to explore.
Snowdonia National Park: This stunning national park is located just a short drive from Clynnog-Fawr and is home to some of Wale's most beautiful scenery, including Mount Snowden, the highest peak in Wales.
Llyn Peninsula: This beautiful lake is located near Clynnog-Fawr and is popular for fishing, boating, and other water-based activities.
BBC's Video About The Fairy House And Henbant Permaculture Farm
This is an excellent documentary about the farm, well worth watching:
Closing Thoughts
I think the hosts describe the fairy house and farm best. "This cabin offers the perfect place to step into a different pace, to be at one with nature, to slow down and think about what matters in the world."
I could not agree more. I thoroughly enjoyed my stay. It's exactly what I was looking for. Secluded, wildly unusual, and off the grid.
A stay at Henbant Farm is the perfect way to experience the Welsh countryside.
Looking For Other Unusual Stays? Start Here:
We participate in the Amazon Services LLC Associates Program, an affiliate advertising program designed to provide a means for us to earn fees by linking to Amazon.com and affiliated sites.
Brit On The Move™ Travel Resources
Ready to book your next trip? Use these resources that work:
Need more help planning your trip? Check out our Resources Page, highlighting the great companies we trust when traveling.