The All Access Ship Tour is a cruise ship tour that Royal Caribbean offers. Virtually unheard of and unadvertised, most do not know this is an option! If you are naturally curious like me, you probably want to explore restricted areas. Here's your chance. Explore the behind-the-scenes operations of cruise ships and discover how it all works.
Learn how the food is prepared and where the ingredients are stored. Travel through the underbelly of the cruise and see the crew corridors, the Engine Control Room, the Bridge, the ship's navigational center, and even behind the theater curtain!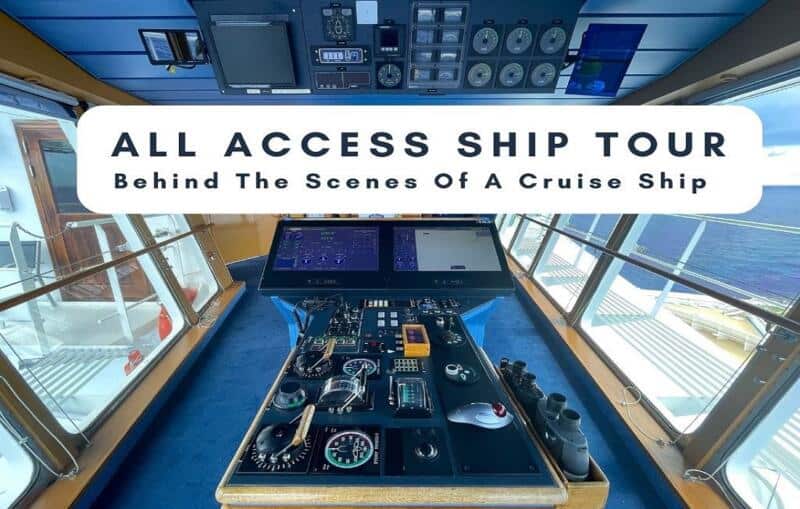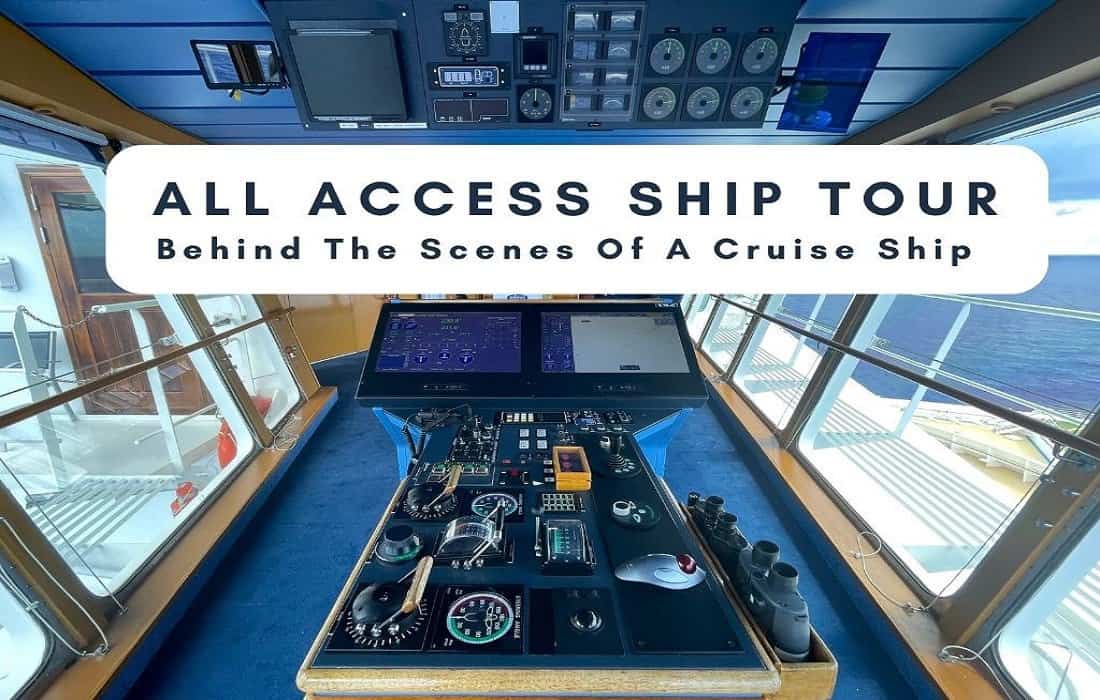 This post may contain affiliate links. Please read our disclosure and privacy policy for more information.
I knew that these tours existed; I've cruised many times. However, I did not know the names or how to book, and I never really researched it until now! I recently cruised on Oasis of the Seas, where I first heard about this from another guest. Sadly, the tour was unavailable for us because cruising had just started post-COVID. Naturally, when I booked Wonder of the Seas to Bermuda, it was the first activity I booked.
FYI – The All Access Ship Tour is considered an "Excursion" and the listing lacks a full description of what it is.
All Access Ship Tour Includes:
Main Dining Room
Main Galley
The Bridge
Provision Area
Environmental Services
Engine Control Room
Laundry Facilities
Crew Corridor is I-95 – the long corridor in the crew's area, named after the longest highway on the U.S. east coast.
This type of tour may not be available on cruises and is not always available on Royal Caribbean Cruises – it depends on the route and number of nights. Most cruise lines offer a similar type of tour, but they are all called something different.
The "All Access Ship Tour" of the Wonder Of The Seas is almost three and a half hours long. The experience was great, and we could see many areas of the ship that are usually off-limits to cruise ship passengers.
The Galley
The galley is a kitchen on these impressive resort-like cruise liners. It's more like a football field of kitchens! This will be your first stop on the All Access Ship Tour.
I've always been fascinated by how cruise ships handle food – especially food on board. The feat is almost astounding in light of the daily meals they prepare on a boat with over 3,000 guests and over 1,000 crew members. Chefs and kitchen staff on cruise ships deserve a lot of respect, no doubt about it.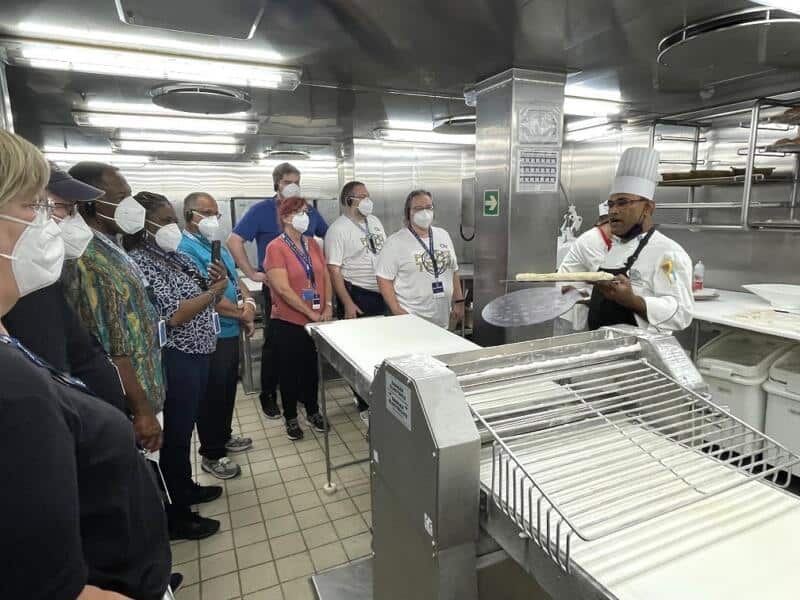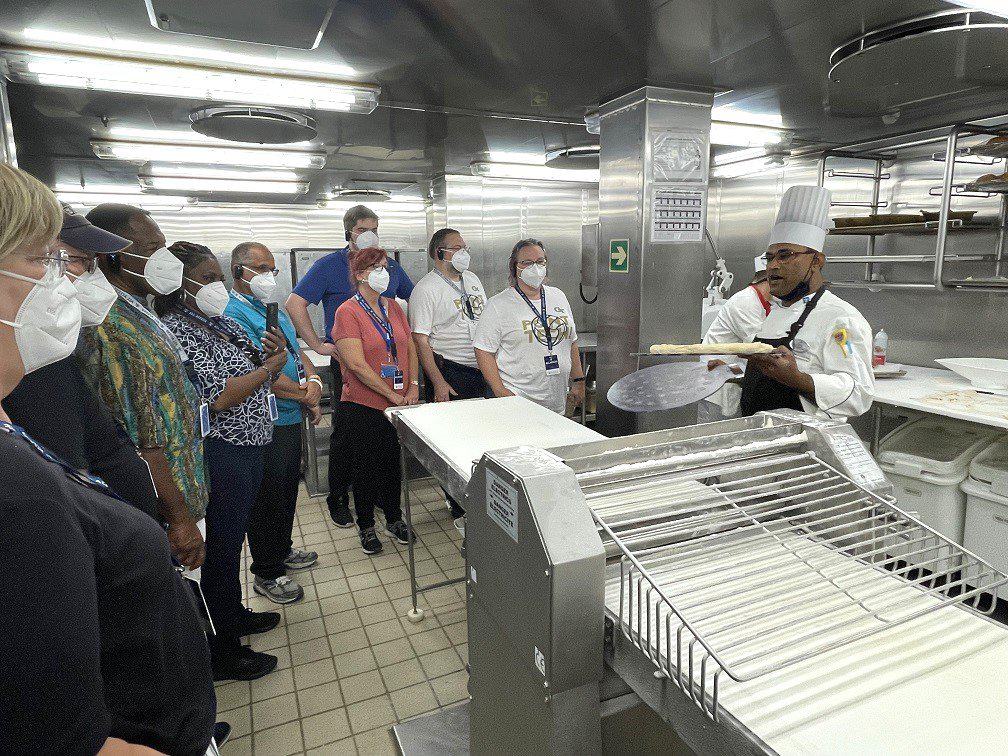 You get to see where and how all the dishes are made. A senior kitchen staff member will explain how his kitchens stay efficient, safe, and clean.
The staffing efficiency is unparalleled in a kitchen. They are just as well-oiled a machine as the engine! All I can say is wow! It takes some coordination and then some. You could get lost in here, never mind carrying out multiple orders.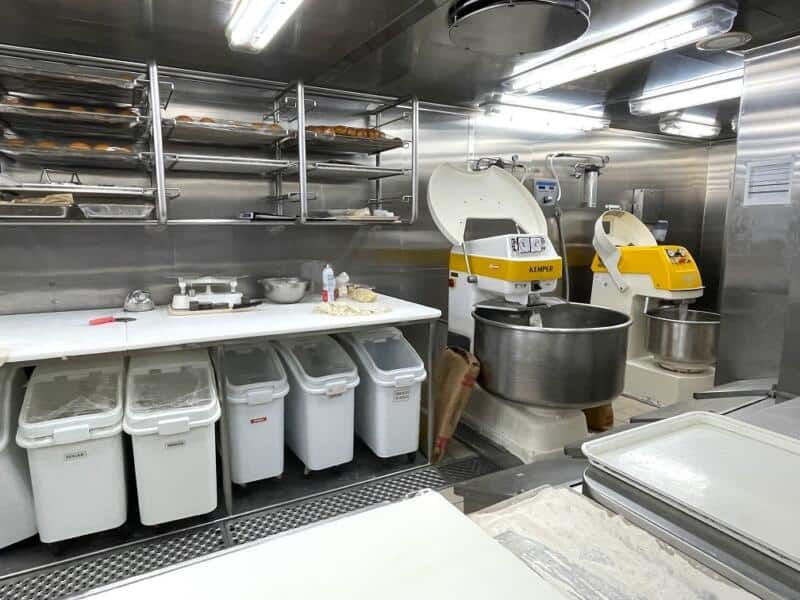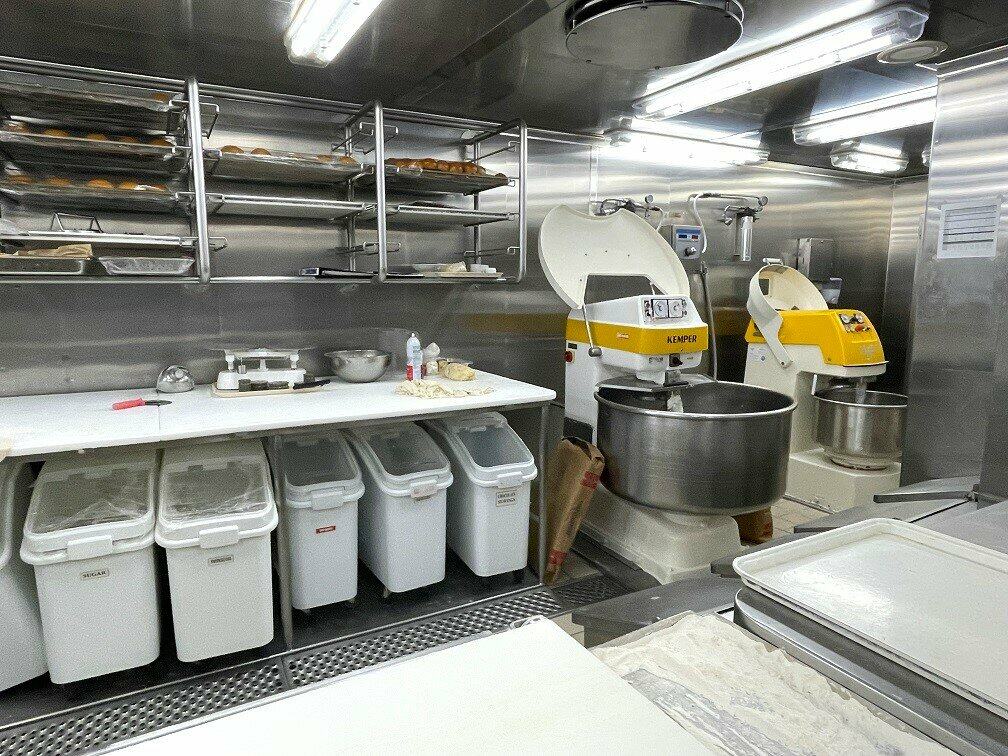 Food Storage
The Wonder of the Seas storage section stores all that food for the voyage. The refrigerated section alone is the size of a New York apartment! The ship's crew keeps everything fresh and ready for consumption here.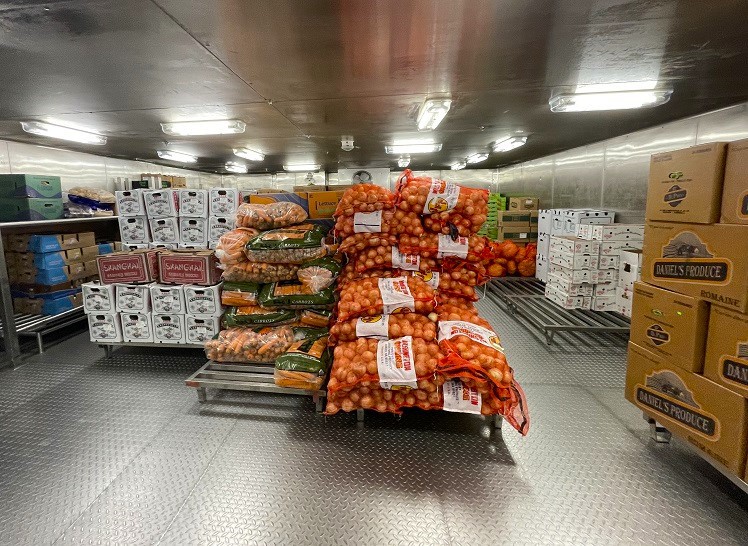 Crew Corridor – The I-95
This is another place where you could easily get lost. There are many doors, staircases, and crew members maneuvering behind the scenes of a cruise ship. You cannot photograph the crew areas or the confidential information on the walls. Once you start walking the I-95, you can not take photographs.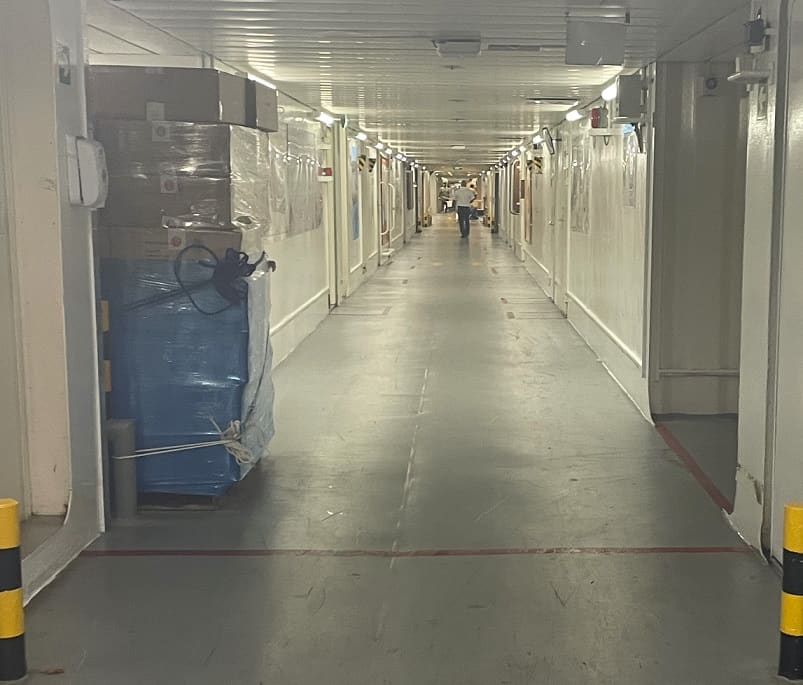 Environmental Services
Cruises get a terrible rap for omissions and other environmental concerns. I was impressed with how Royal Caribbean approaches recycling. Everything from broken plates to cans is recycled, and it's all compressed on the ship. The incinerators burn non-recyclables, and they are huge.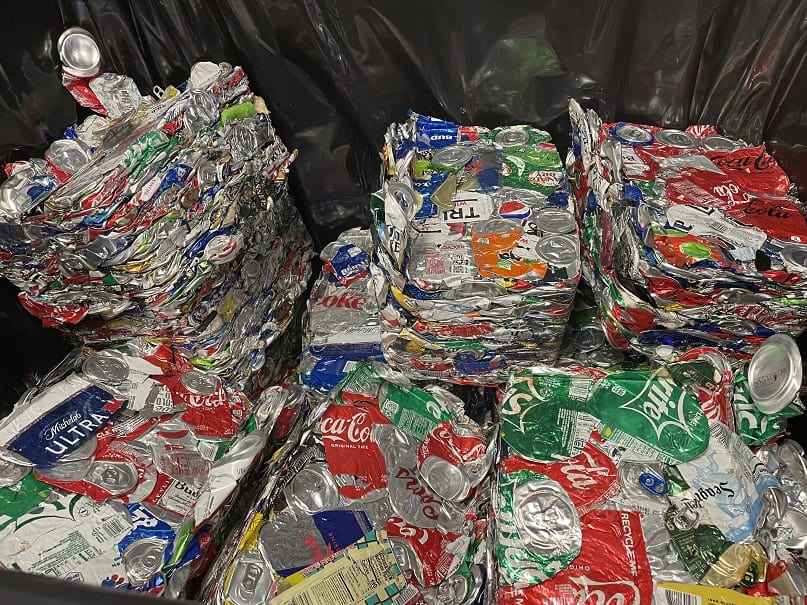 The ship's environmental services officer knows more about maintaining and minimizing the ecological impact than most. Our guide explained all the systems and protocols to ensure the ship maintains a low environmental impact. In addition to "scrubbers" that remove pollution from the smokestacks, the boat also uses recycled water and other materials, so it's good to know it doesn't harm the oceans.
Where Does the Poo Go?
I know you want to know. Everyone is curious! It gets explained before you can even ask.
The water is run through multiple filtration systems before it is returned to the ocean. This is the short answer to what happens to the poo flushed down the toilet.
The Engine Control Room
This is where any cruise fanatic, engineer, or person interested in nautical technology will have an orgasm. It's also where most of the questions get asked.
Prepare for a body scan to enter here. The security officers do not play. Not only will they scan you, but they will be inside with you, watching your every move.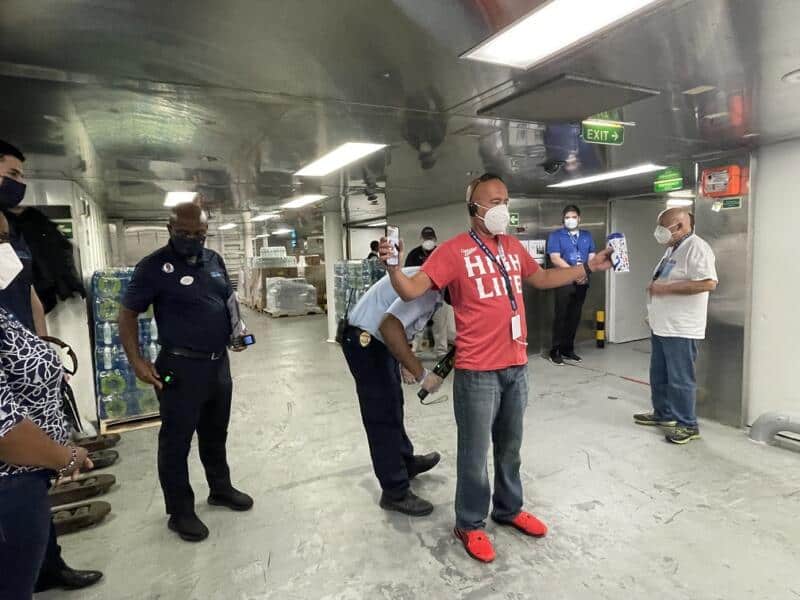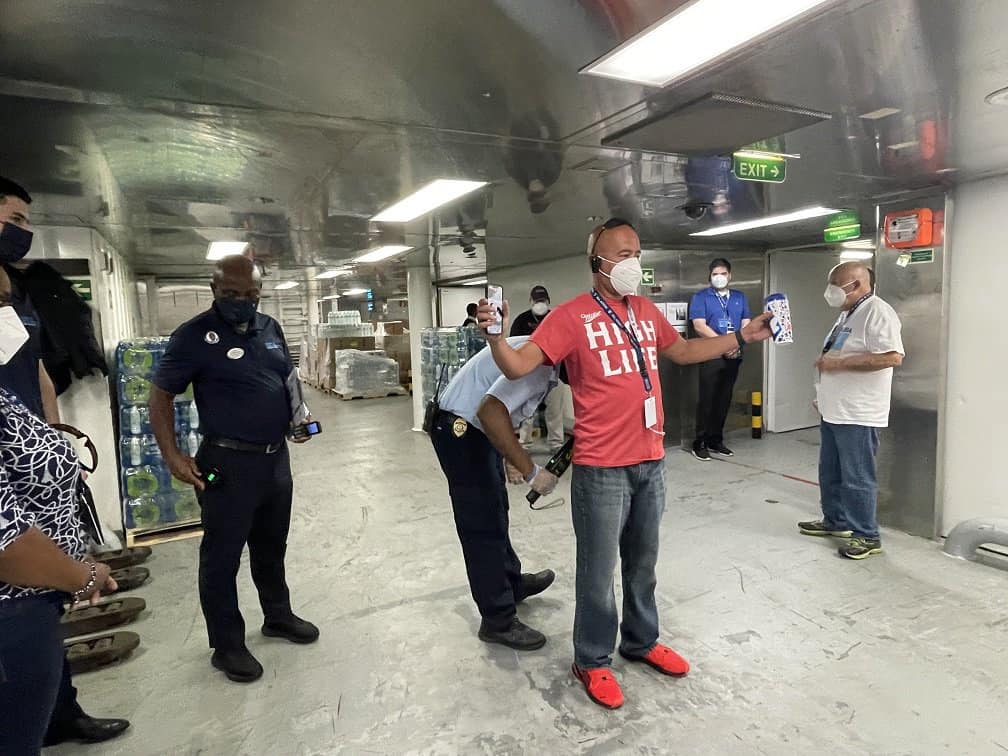 Often called the "brain" of the ship – the engine control room where all systems are monitored. And, in the control room, they can override everything on the entire ship. A large cruise ship like the Wonder of the Seas relies on its engine control room as a nerve center. These include engine and propulsion systems, cooling systems, and environmental controls.
Ready for some more poo? Guess what? The engineers can see when we are using the bathroom! They cannot see you "using" it; they see the influx in the water flow. And, yes – this came up in the engine room.
The crew actively monitors every critical system aboard the ship. This room is continuously operated by someone who ensures the boat runs smoothly. In the middle of the room is a large table showing a schematic of the ship's decks.
Most guests don't get to see all the decks of a boat or behind the scenes of a cruise ship. I found it interesting to see this highly guarded zone below the water level.
The Laundromat
I don't think the laundromat fits the bill. It is a laundromat but – holly molly. There are industrial bus-sized machines in here that press bedding! I can't even begin to phantom the technology used to bring this together. Thinking about it makes my head hurt. Here is like being in the heart of the boat and you know you are behind the scenes of a cruise ship.
Ironically, as impressed as I was, Wonder of The Seas still uses what's considered a manual system that requires lots of humans. We were told that the newer ships have automated assembly line machines.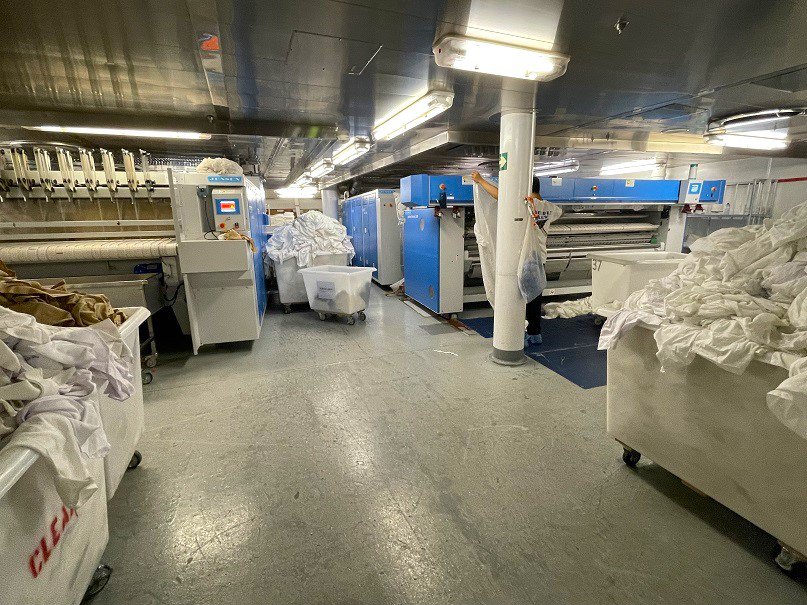 The Stage
This was a new addition to the tour, and there was some confusion with the timing. We got there as the show was closing. It was interesting to see behind the curtain, but I've been behind the curtain of much larger productions, so this part of the tour was not as fascinating. I didn't take any photographs on this part of the tour.
The Bridge
I can't lie; I've always wanted to go on The Bridge of a cruise ship. Something about uniforms (especially American uniforms) has always captured my attention. Ok, fine, I've always been attracted to American men in uniform! An Officer and A Gentleman, anyone?
You'll get to meet the captain; if you are lucky, you'll chat with him. At a minimum, his team will pose for you.
While I got to see The Bridge, it was not as artsy-farty as I expected. It's decadent and plush but a bit boring. Maybe the décor was not my style. I'm not sure, but other than the views of the ship (not the men), this was not my favorite part of the tour.
And, even if the captain was smoking hot. It would not have mattered. See the section below on what you need to wear. I looked like a right plank (pun intended) on this tour!
Clothing Requirements
High heels, flip-flops, and open-toed shoes are not permitted.
Shorts and skirts are prohibited.
Well…. Here's a problem. I only wear flip-flops, I don't wear pants, and I do not own a pair of sneakers, nor do I own a pair of shoes that are not open-toe. A girls' girl dress-only girl who gave up shoes years ago! I do wear leggings sometimes, but who takes leggings on a cruise?
To my horror, my choices were either not go on tour or get creative.
Here's what creative looked like. Me in Brian's loungers' pants, in his boots that are at least five sizes too big. And a beautiful peacock blue dress on top of it all. Pretty confident that my makeshift outfit that met the criteria was about as safe as jumping off the Empire State building. But it was required!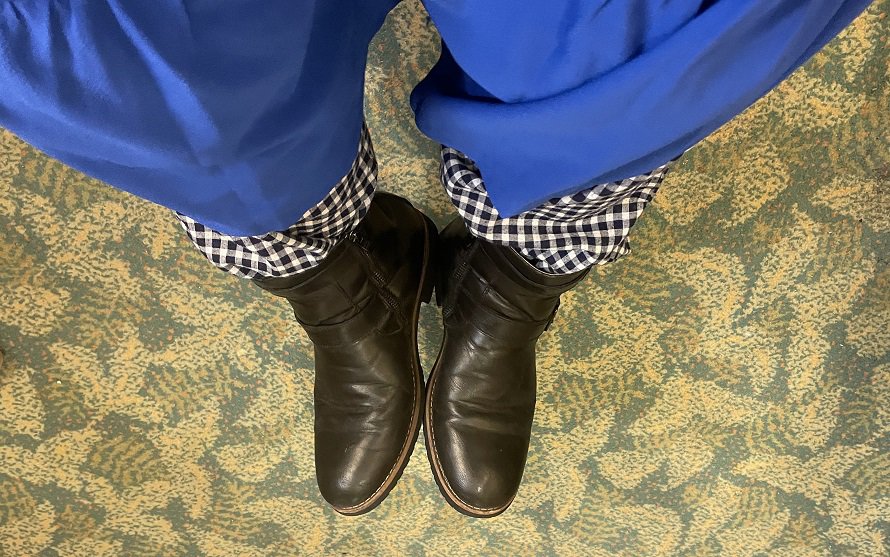 Jokes aside, if you plan to take The All Access Ship Tour make sure you pack the right clothes!
What You Need to Know About The All Access Ship Tour
To participate in this tour, guests must bring their SeaPass cards.
Bags and purses are a no-no.
Video cameras are not permitted; photography is still only allowed in certain areas.
You MUST reserve this as soon as you confirm your cruise. There is only space for twelve people per tour, and the number of times is limited.
People in wheelchairs and those with limited mobility should not select this tour.
Everyone must wear personal protective gear if and when provided.
You must walk, stand for extended periods, and climb numerous steps.
Photos and videos will be restricted in some regions of the ship.
Children must be six (6) years or older to participate in this tour.
A parent or adult must accompany children under 18.
Guests are required to wear KN95 face masks behind the scenes of a cruise ship.
FAQs
How Much Does the All Access Ship Tour Cost?
The tour costs approximal $150 per guest for three hours. However, I seem to recall paying less. Regardless, it was worth it to go behind the scenes of a cruise ship.
Will You See Crew Cabins on the All Access Ship Tour?
The crew bar and crew cabins are sacred areas, so respect the crew's privacy and peace. Don't expect to hang out in them.
Is All Access Tour Worth It?
Yes, yes, yes! I've wanted to do this forever, and it exceeded my expectations.
How To Reserve the All Access Ship Tour?
You can reserve the All Access Ship Tour through Cruise Planner at the Shore Excursions desk or Guest Relations onboard the ship.
Closing Thoughts
The All Access Ship Tour was one of the highlights of our cruise. It's not a tour I think I would do on every ship. At some point, it would become repetitive. This said, it was money very well spent, and I know I will do it on another ship!
Although cruising isn't for everyone, it can be a great family travel option if you've never tried it before. Cruising is a fantastic way to enjoy well-earned time off, and there are many reasons to try it!
Looking for articles on cruising? Start here:
We participate in the Amazon Services LLC Associates Program, an affiliate advertising program designed to provide a means for us to earn fees by linking to Amazon.com and affiliated sites.
Brit On The Move™ Travel Resources
Ready to book your next trip? Use these resources that work:
Need more help planning your trip? Check out our Resources Page, highlighting the great companies we trust when traveling.