5 Ways to Maximize Paid Time Off Work
Like most Americans, I work full time, and paid time off work is of a premium here in the States. Everyone always asks how I manage to cram in as much travel as we do.
Before I tell you how we do, let me be transparent about my paid time off. I have been with my employer for over twenty years. I now get six weeks of paid time off work. When I started, it was two weeks, aka ten days. It did not adjust until I had five years on the job. And, it's incrementally grown as the years go on. Six weeks off is a ton of vacation time, and I use it every single day of it. I can also buy a week, but I usually end up getting it paid back to me. Why? Because I maximize the six weeks.
This post may contain affiliate links. Please read our disclosure and privacy policy for more information.
American Paid Time Off
Everyone knows that paid time off work in America is weak in comparison to other countries. The average of ten days equates to two weeks, which is not a lot. However, you can stretch this out.
Cortesy of CNBC:

One reason for this is that American companies offer fewer vacation days. According to the Bureau of Labor Statistics, 76 percent of private industry workers (who make up 84.7 percent of all workers) receive paid vacation days. After one year of employment, these workers were granted 10 days of paid vacation, on average.
Even when I only had ten paid days, I was regularly able to cram in five or six vacations a year, here is how:
1. Use national holidays in conjunction with paid time off work.
Figure out how many national holidays your company recognizes. There should be at least five, if not more, and add those to your paid time off work balance.
July 4th is coming up; I know I have that day off. For me, this means add in a paid time off workday, and boom, and we have a 5-day weekend. That's long enough to make it out west or as far as South and Central America. Do not miss out on a long weekend to anywhere – you would be surprised what you can fit in.
If you want to go even further, consider this. Flights to Europe are always overnight going. You could work all day Wednesday, hop on a plane to England that night, and be there Thursday morning. Flights back from Europe are still in the morning, and you will be back in the afternoon on your return day.
In Montana, snowmobiling only used four days of paid time off for a seven-night trip because we went over Presidents Day week. A free trip for us! Free flights on Southwest, and we used our timeshare for accommodations.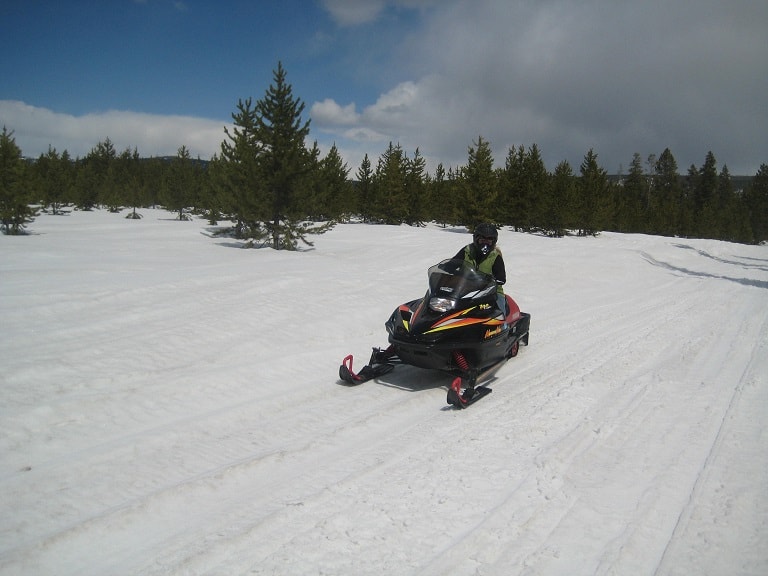 2. Travel over Thanksgiving and Christmas, and I don't mean in the States.
The same concept as above is only using for longer trips. Where I work, we get 2.5 days off the week of Thanksgiving. Again, this means take 2.5 days paid time off days and boom, a whole week. Every single year we rotate Thanksgiving and Christmas and go away for two weeks, sometimes three. Think about it. It's the perfect time to travel overseas. It's not peak time for most destinations, and most American's are traveling domestically to visit family. And, international flights are often cheaper over these holidays.
Not only a standard part of our travel strategy, but it's our favorite one because it's enabled us to travel to some far-off locations that need more than a week, such as Asia and Australia.
Most American's will discount this suggestion in favor of upholding traditions. I understand this. However, why do we only need to visit our loved ones over a holiday? Why can't the tradition be supported on other days? After all, the idea surrounding these traditions is for families to come together.
We've tried for years to persuade our families to join us on these trips, but it's not for everyone. Lastly, if you create an alternative tradition where the family comes together in June, for example – you'll save on flights.
Here we are at Hobbiton in New Zealand. We traveled over Christmas and New Year's, a total of three weeks on this trip.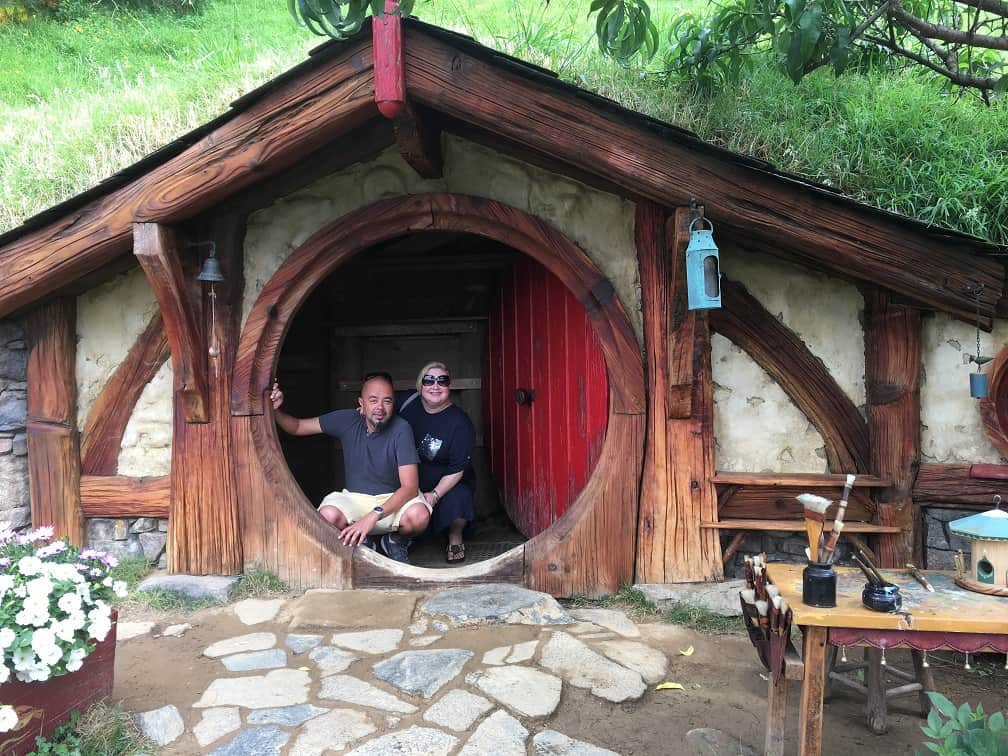 3. Plan Way In advance
Maybe obvious, but the reality is you should be looking at next year's national holidays now and figuring out where you can maximize your paid time off work. You should also be requesting your paid time off work for the upcoming year now. For example, where I work, we get Martin Luther King Jr.'s day off in January and President's Day off in February. Both days represent either a whole week of using only four days of paid time off work or a long weekend. Guess what? I am in the throws of planning these trips as I type. While I have not booked these trips yet, I have many trips for next year through September that are booked.
Here is Brian jumping off some rocks on a trip to Vermont over Memorial Day.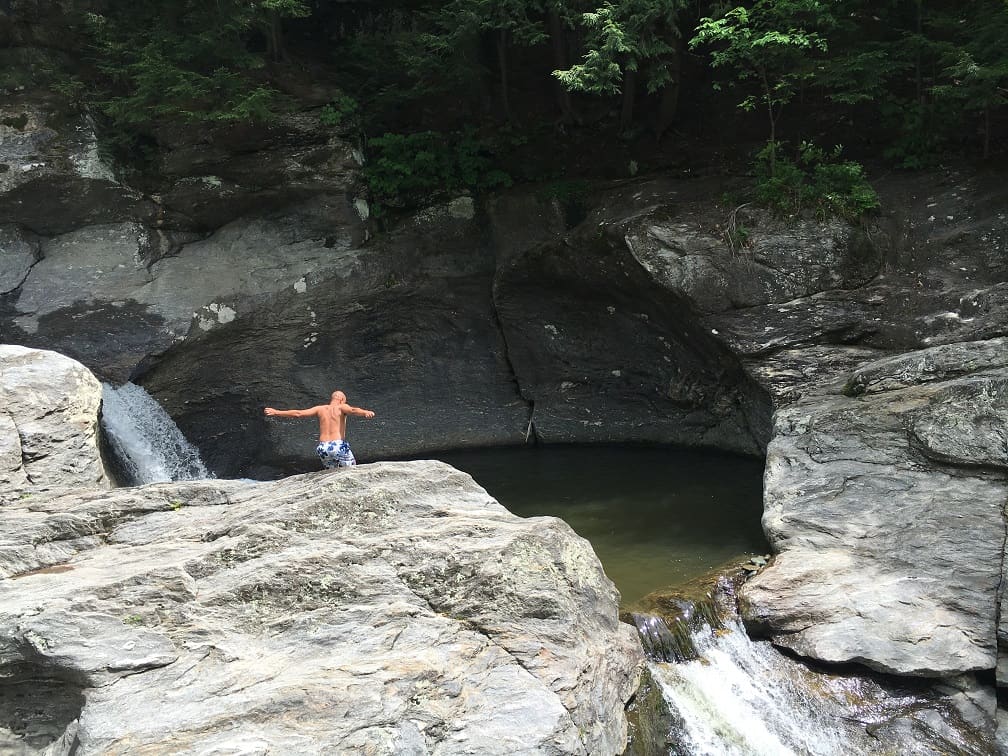 4. Driving Vacations
Everyone's passion is different. Some of us want to explore the state we live in, and some want to explore all of America and others the world. Regardless, there is an infinite number of beautiful places to see in each state. When I had less vacation time, we used to do a lot of long 5-day weekends. Living in Florida, we would drive up to Georgia, the Carolina's, Alabama, and so on. We've also used this trick to see hundreds of unique places within our home state, Florida.
Here we are, white water rafting on a trip in Tenessee that we drove up to. Another free trip (minus gas split between four) because we stayed in our timeshare.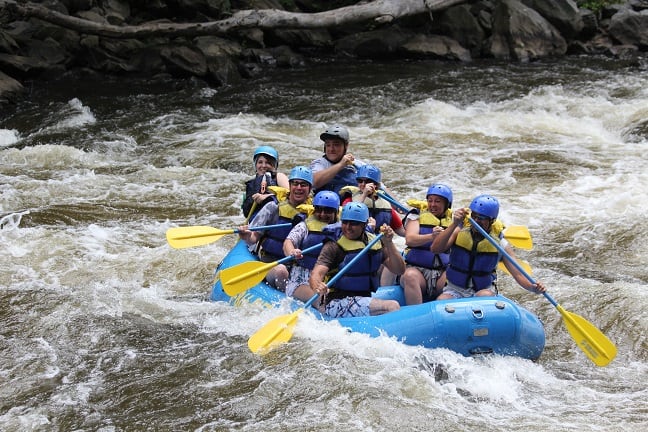 5. Combine Work and Play
This one won't apply to everyone, but you combine the work trip with a vacation if you travel for work. You are already there! For example, if I fly to the west coast, I typically add a day or two of paid time off work. If the dates work, I stay for the weekend. Sure, I need to pay for the hotels, but I'm already there on a flight that my employer paid for. I am simply maximizing that flight.
I've also used this approach as a jump-off point. For example, if I am traveling to Colorado for work, rather than flying home, I'll fly to Seattle for a long weekend then return from Seattle to Florida.
If you use this approach, you must be mindful that you must not incur the company you work for extra costs. Using the Seattle example, the flight back would need to be the same cost or less for this to work. Or I would need to fly back to Colorado to continue the scheduled connection.
Here we are using this trick at the Kentucky Derby. This trip cost us nothing, and it was on our bucket list.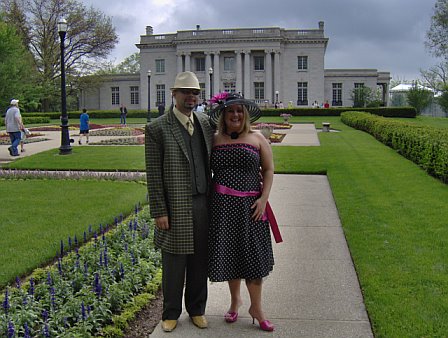 Closing Thoughts
As you can see, Brian and I maximize every ounce of time off work, and we leave nothing on the table. The key to success here is deliberate, strategic planning. For some, this may seem over the top or too extreme, but travel is our thing, and you only get one life. If needed, sleep in the next life!
Let me know if you use any of the suggestions! You will be surprised how much more you can see and do.
Looking for more Travel Hacks? Start here:
We are a participant in the Amazon Services LLC Associates Program, an affiliate advertising program designed to provide a means for us to earn fees by linking to Amazon.com and affiliated sites.
Subscribe to our newsletter and get the best travel tips and inspirational stories delivered monthly. No spam, no sales pitches – TRAVEL!
Brit On The Move™ Travel Resources
Ready to book your next trip? Use these resources that work:
Need more help planning your trip? Check out our Resources Page, highlighting the great companies we trust when traveling.