Bermuda Car Rentals – Why You Should Avoid Them
You've booked your dream trip to Bermuda and are looking for a Bermuda car rental. Expedia, Priceline, TripAdvisor, and all other car rental sites tell you there are no rentals available. Very odd!
Then, you dig further and discover that you can't rent a car in Bermuda.
This is because of Bermuda Government policy. Gas car rentals aren't permitted on the island. And residents can only own one motor car per family or household and only one per family.
But wait, the article's title is "Bermuda Car Rentals – Why You Should Avoid Them."
That's because while you can't rent a traditional gas-powered car, you can rent a tiny electric car. However, I strongly recommend that you don't, and here's why!
This post may contain affiliate links. Please read our disclosure and privacy policy for more information.
There are Only A Few Types of Bermuda Car Rentals
Tazzari Zero Junior
We rented the Tazzari Zero Junior from Oleander Cycles.
Features and Specifications
Multipower integrated 230V battery charger, three-speed (max 2KW) with active PFC
Tazzari automated Battery Maintenance System with Equalizer
Daytime LED running Lights
Rear lights and 3rd Brake light FULL LED
Adjustable mirrors with integrated LED Turn signals
Electric Windows
Central locking with an anti-theft system and automatic window closure
USB charging port for phone charging
4-wheel disc brakes with energy recovery
Rear window and cabin heating
Tazzari Infotainment system with Touch screen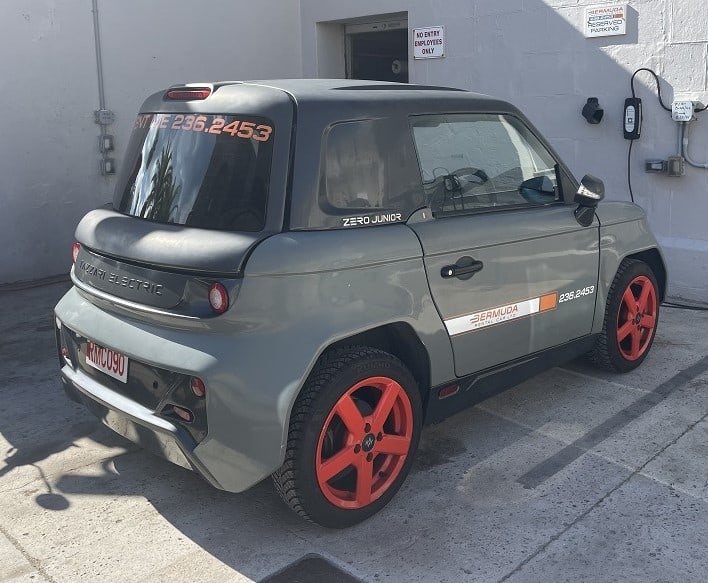 Note that the specifications don't tell you charge time or miles per hour. I'll get to that later.
I should consider us lucky as this was at least a genuine two-seater. Some of the rentals are Anaig Electric Mini's, which look even worse.
Anaig Electric Mini's – Commonly Known as a "Twizy"
This subcompact electric car has a body of unusual design and two seats, one in front and one behind. It has a power reserve of 70 km, and the top speed is 45km per hour. The battery can be fully charged from an electrical outlet in 8 hours.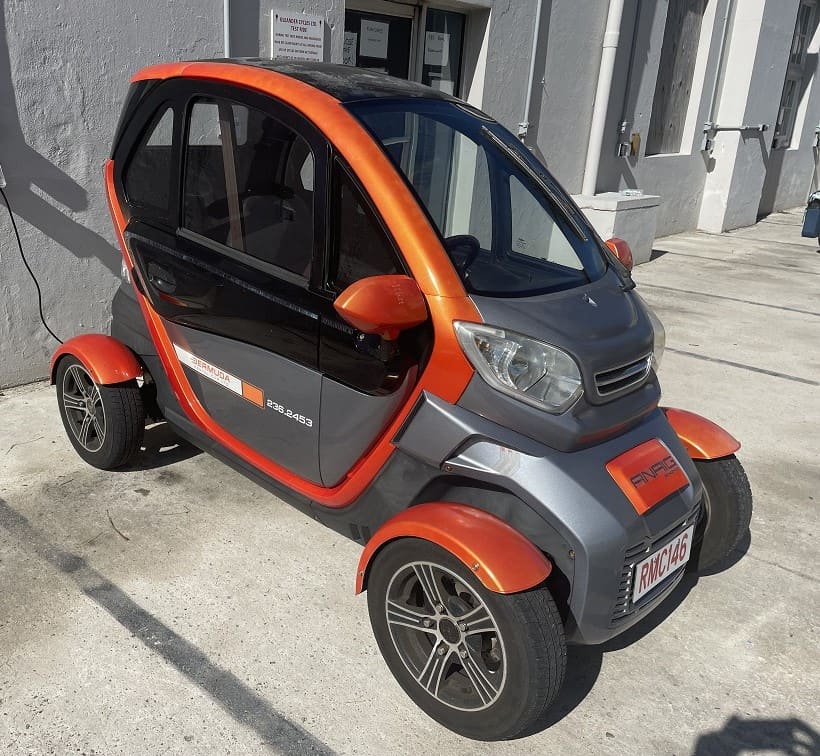 The Bermi (Revolt) 200
The newest electric car in Bermuda is the Bermi (Revolt) 200. While more recent, they don't look any better, faster or comfier than the other electric cars.
Features and Specifications
LED daytime running lights

Panoramic roof

Electronic opening rear door

BlueTooth™ for smartphone

Radio

Air Conditioning

Rear camera

Rear-wheel drive

McPherson Suspension

4-wheel disc brakes

Maximum speed 75Km/h (governed to 50Km/h for rental version)

Autonomy 200Km ( @ 50Km/h, lithium battery)

Charging time from empty 3-5 hours with lithium battery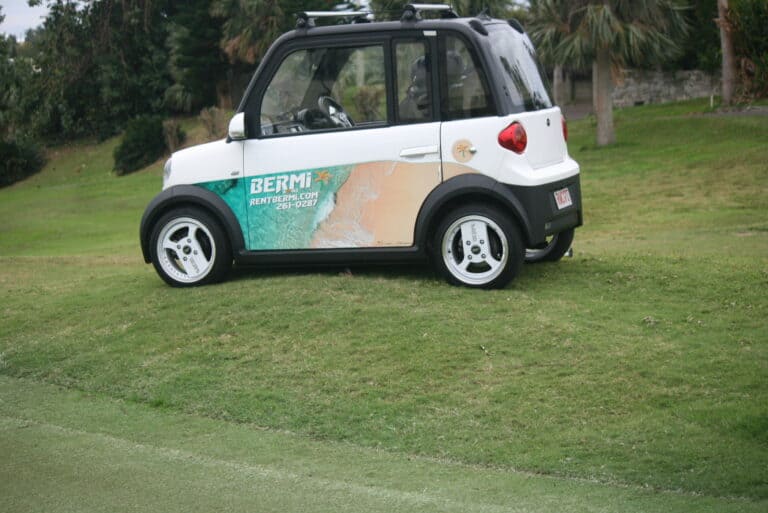 They Are Exceptionally Uncomfortable
Talk about close quarters. You are almost sitting on each other. The roof is so low that you cannot avoid bumping your head as you go over speed bumps.
The cars rattle as you drive and make a ton of clatter notice. The noise feels like the car will fall apart if you go over a pothole.
I can't think of anything worse than spending a day on one of these cars.
They Drive Like Crap
Have you ridden both an electric and a gas-powered golf cart? If you have, you already know where I am going with this.
These electric cars drive like electric golf carts. You will struggle to climb hills. There's zero acceleration, and you must wait for enough road clearance to pull out. They don't handle the roads well and shake and rattle as you drive.
In addition, the brakes and petals are so close together that controlling the car takes a lot of getting used to.
Bermuda Car Rentals Are Slow
They go about 47 km an hour which is 27 miles per hour. This might seem adequate, but it's not. The bottom line is you will have a hard time, especially when coming around corners or going up a hill. These cars do not handle the road well.
In addition, advertisements for these cars will tell you that you can drive around Bermuda in two hours. This is entirely untrue. One charge is insufficient to get you from the Dockyard to St George and back, much less around the entire island.
You, Will, Be Public Enemy Number
Remember I told you that the fastest they drive is 27 miles an hour? Imagine this as you try to keep up with gas-powered vehicles on the road.
You go so slow that you end up with a procession of traffic honking at you. Ultimately this winds up in you pulling over to let the traffic pass.
All Bermuda car rentals are covered in advertisements, so everybody knows you're in a Bermuda rental car. You stick out like a sore thumb.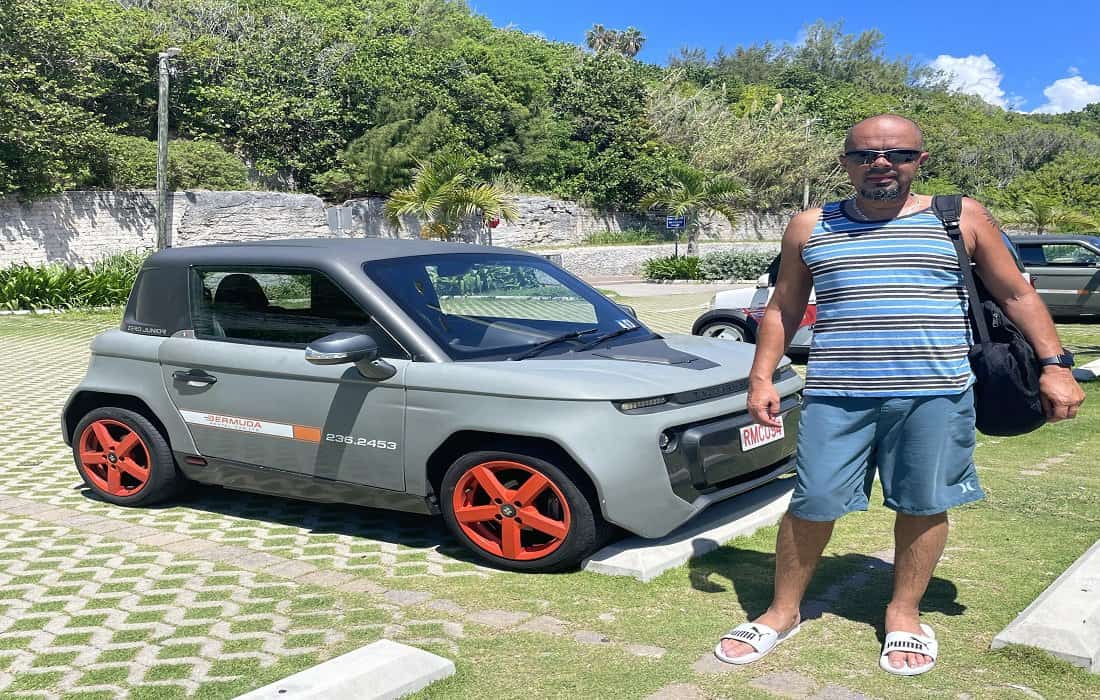 Charging Stations Are Hit and Miss
Even though the car rental companies have an app, you can download to show you where to charge – charging stations are unreliable at best.
Sadly, we left our electric car charging for two hours to find out it did not charge a percentage. This resulted in a staff member coming to ours to get enough charge to return the car.
We were due to return our rental car at five. We ended up being two hours late!
It Takes Hours to Charge A Bermuda Car Rental
Don't buy the hype that these cars charge quickly. They do not. Even when the charger works to get a 50% charge, it will take you at least two hours. Realistically, the cars take hours to charge.
Now, you can park, charge, and take in the sights. However, know that this could turn into your worst nightmare if the car does not charge – which ours did not.
Any Comfort You Use Drains Your Battery
Suppose you want to use the advertised air conditioning or charge one of your devices. If you do, guess what? That already ridiculous charge will drain at least 25% quicker.
Say you need to put the vehicle in "race mode" to try quickly navigating through an area. Well, it, too, will drain your battery.
Suppose you want to maximize the battery's life and avoid a charging dilemma. You need to drive on the economy setting, which is even slower. And, with no AC, no devices charging, and no stereo.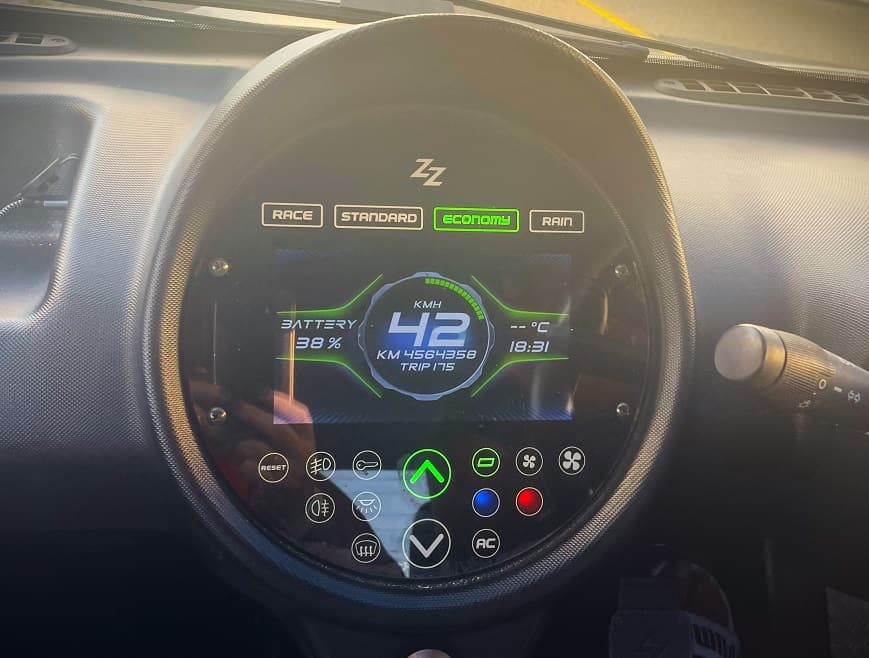 Safety Is a Concern
I'm not a car safety expert or an expert in statistics. However, I've been driving worldwide for over thirty years.
I don't think these cars are road worthy, much less safe.
There are no airbags. They are lightweight and can easily be toppled. There is little to protect you.
Now, I've rented my fair share of scooters, which many consider wickedly dangerous. I agree. You would fare worse on a scooter than inside an electric car.
All I am saying is that while they have the title of a car, it's a little of a step up from a scooter in terms of safety.
It's Stressful
I've told you everything that can go wrong.
Imagine, like us; you get stranded. You've been charging for two hours and nothing. You don't have enough electricity to get back.
You will end up having to call the rental company for assistance. A staff member will show up and assist, but you'll still need to wait for it to charge.
If you're on a cruise or have a deadline, this will ruin your plans. Fortunately, we did not have to be anywhere except the rental company to return the car. Our two-hour delay had minimal impact, but it could have been a total disaster.
Bermuda Car Rentals Are Expensive
An electric car in Bermuda will cost almost $200 daily, regardless of season or rental company.
An electric car rental is twice the cost of a scooter for two. And public transportation in Bermuda is excellent.
FAQs About Bermuda Car Rentals
Closing Thoughts
I love to try new things. Bermuda Car Rentals appealed to me because I've never driven one before. It was also one of only a few options on the island to tour at our own pace.
While booking, I imagined it to be a lot more comfortable. I completely overlooked (technically did not research) what I was getting into.
Would I rent one again? No!
Do I regret renting one? No – I now know what to expect.
Would I recommend you rent one? No, they are not for the faint of heart or for anyone who's not comfortable being stranded.
Looking for articles on navigating tropical islands? Start here:
We participate in the Amazon Services LLC Associates Program, an affiliate advertising program designed to provide a means for us to earn fees by linking to Amazon.com and affiliated sites.
Subscribe to our newsletter and get the best travel tips and inspirational stories delivered monthly. No spam, no sales pitches – TRAVEL!
Brit On The Move™ Travel Resources
Ready to book your next trip? Use these resources that work:
Need more help planning your trip? Check out our Resources Page, highlighting the great companies we trust when traveling.