When first launched in 2009, Oasis of the Seas was the largest cruise ship in the world. And by large, we are talking five times bigger than the Titanic. Part of Royal Caribbean's Oasis Class, she is now the fourth-largest globally. And she continues to lead the rest of the Oasis Class ships. This cruise ship earned the title of game-changer because it revolutionized how cruise ships offer their services, elevated the types of attractions available on a cruise ship, and started the trend of mega-sized cruise liners that give any resort a run for their money. Relaunched in 2019, the "Amplified Version" of this trend-setting ship is as impressive, if not more than her younger self. And, having just got back, I can tell you there are no signs of age. The amplified version will blow your mind!
This post may contain affiliate links. Please read our disclosure and privacy policy for more information.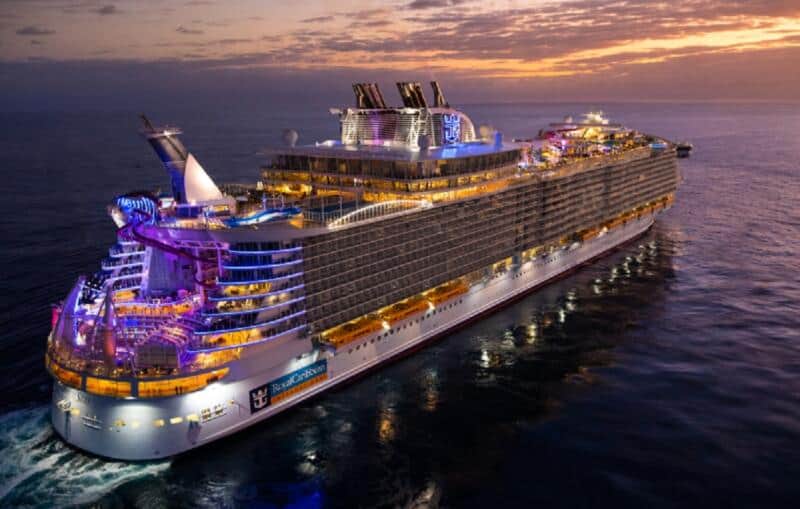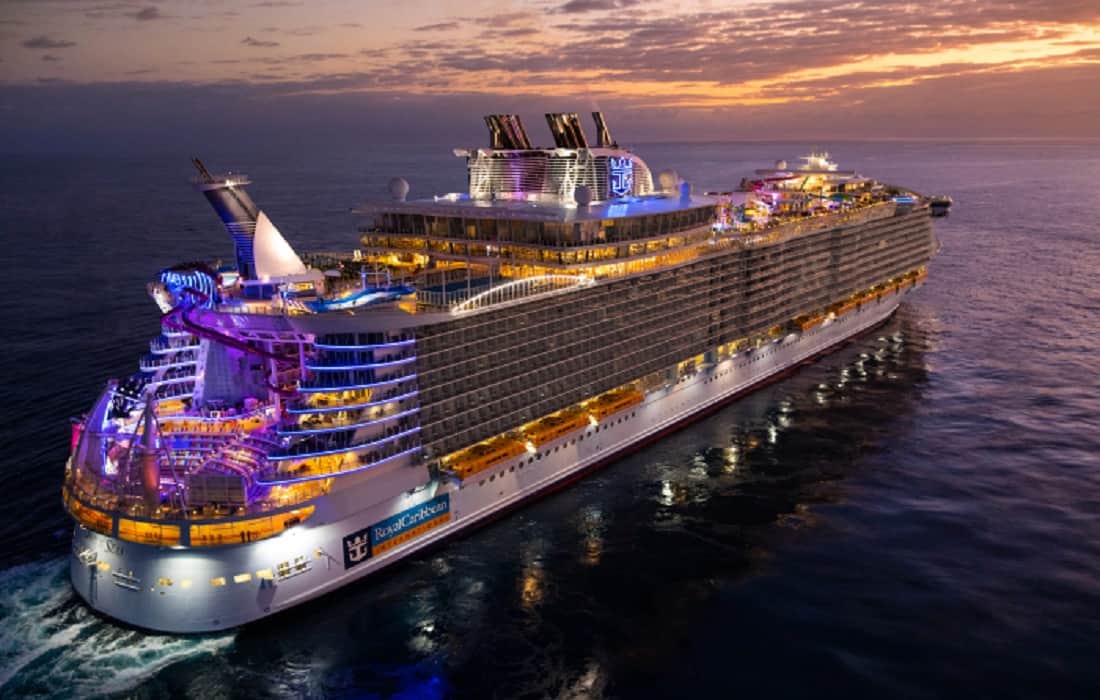 Image Credit: Royal Caribbean International
About Royal Caribbean
Royal Caribbean International (RCI), also formerly known as Royal Caribbean Cruise Line (RCCL), is a cruise company founded in Norway in 1968 due to the merger of Anders Wilhelmsen & Company, Gotaas Larsen, and I.M. Skaugen & Company. RCI offers the world's top-rated cruise ships for vacationing and many must-see destinations. It is possible to go to islands in the middle of the Caribbean Sea with beautiful beaches and private islands or visit the impressive glaciers in Alaska. The cruise line also offers a package to visit the oldest ports in the Mediterranean Sea. Royal Caribbean has established itself as a leader and innovator of entertainment onboard. And their cruises are a world apart from their competitors and dominate the seas.
Royal Caribbean Ship Classes
Royal Caribbean is a large cruise company that owns a large fleet categorized by class. The size of the ship determines the class. The cruise line has a fleet of 27 ships and has several ships it plans to join its extensive fleet. The organization has separated the boats into eight classes because each has different sizes and entertainment for a specific audience. Here are Royal Carribeans Classes:
Empress Class
Royal Caribbean's Quantum Class is close to the Oasis-class in size. But its innovations are unparalleled. The North Star, RipCord Skydiving Simulator, Two70, SeaPlex, and Music Hall are among the groundbreaking features of this family of vessels. Additionally, the Quantum Class is the first in the fleet to offer Dynamic Dining.
Dynamic Dining does not follow set seating times or tables, and there is no main dining room (instead, there is a formal dining room). Each night, passengers have the choice of four sit-down, no-fee restaurants and different dining companions and waiters.
Freedom Class
Next to the Voyager Class, Royal Caribbean's Freedom Class is the next generation. These ships were not only lengthened but also given a few fun features. This class has basketball courts, rock walls, mini-golf courses, ice skating rinks, FlowRider surf simulators, boxing rings, and an H20 Zone. From 2006 to 2009, this set of ships held the record for "largest ships in the world."
Oasis Class
Cruise ships in the Oasis Class are some of the most extensive and most expensive. Nearly 10k passengers and crew can travel on these 226k ton vessels, costing approximately $1.4 billion.
Quantum Class
Quantum Ultra Class
It was announced in 2017 that the Spectrum of the Seas, the fourth ship of the Quantum class, would be the Quantum-Ultra class, which would include significant upgrades from the original class, but not enough to create a new class of vessel. These ships continue many of the successful features of Quantum-class ships. Technology has advanced to the point where these ships are the most advanced globally, making for the ultimate versatility.
Radiance Class
The Radiance Class comprises four ships: Radiance, Brilliance, Serenade, and Jewel of the Seas. This class of Royal Caribbean ships features a lot of glass. A few vessel features are glass, such as glass elevators and glass-sided dining rooms. In addition, the Radiance had the first self-leveling pool tables.
Sovereign Class
Majesty of the Seas, Royal Caribbean's only Sovereign-class ship, is the oldest ship in the fleet, although it doesn't have the smallest passenger capacity. It sails short, warm-weather sailings and is known as a party boat.
Vision Class
Vision Class ships are unique for Royal Caribbean as each boat has its unique offerings and size, though all of them were built in the 1990s and carry less than or a little more than 2,000 passengers. This class of ship offers a great view of the ocean from the interior, just like the Radiance Class.
Voyager Class
Voyager Class ships from Royal Caribbean are renowned for their size. They are the sixth-largest after the Oasis, Quantum, and Freedom classes in the world. A few of the distinctive features of the Voyager Class are the ice skating rink, Royal Promenade, and Flowrider surf simulator.
We are only interested in knowing a little more about the Oasis Class because the Oasis of the Seas ship is located there. Also, you can find some other options that might interest you and many other cruises that can offer different experiences.
Oasis Class Defined
The Oasis Class comprises five huge ships, each offering unlimited fun and activities on board. Here is the current lineup of Oasis Class ships:
Oasis of the Seas: This ship was launched in December 2009, weighs 225,282 tons, and can hold 6,699 guests.
Allure of the Seas: This ship was launched in December 2010, weighs 225,282 tons, and can hold 6,780 guests.
Harmony of the Seas: This ship was launched in May 2016, weighs 226,963 tons, and has a capacity of 6,687 guests.
Symphony of the Seas: This ship was launched in April 2018, weighs 228,081 tons, and has a capacity of 6,680 guests.
Wonder of the Seas: This ship launched on March 4, 2022. It weighs around 236,857 tons and has a capacity of 6,988 guests.
*** of the Seas: Royal Caribbean plans to add another cruise ship in 2024 to the Oasis Class. However, there is still a lot of information to be confirmed.
What Separates The Oasis Class?
This class specializes in over-the-top entertainment, amenities, food choices, and things to do. I've been on two Royal Caribbean cruises before the Oasis of the Seas. There's no comparison, none. The Oasis-class is in a league of its own, and it would be impossible to see and do everything this ship has to offer. If you never left the ship, you might have a shot at fitting it all in. And, there is so much to see and do that you don't need to leave unless you want to explore the destinations. Here is some of what to expect from the Oasis Class:
Oasis Neighborhoods
The Royal Promenade
As every Oasis Class cruise begins, passengers and performers are seen on the Royal Promenade, where live music is performed. This high-energy neighborhood doubles as a hub for all your vacation needs with its hustle and bustle of shops, restaurants, and bars (there's even a Latin dance club). During your stay, you can view, print, or e-mail your travel documents at any time from guest service kiosks placed throughout the hotel. In this neighborhood, parades and confetti drops often occur spontaneously. Have your camera at the ready or not, my sprog would not smile for this post!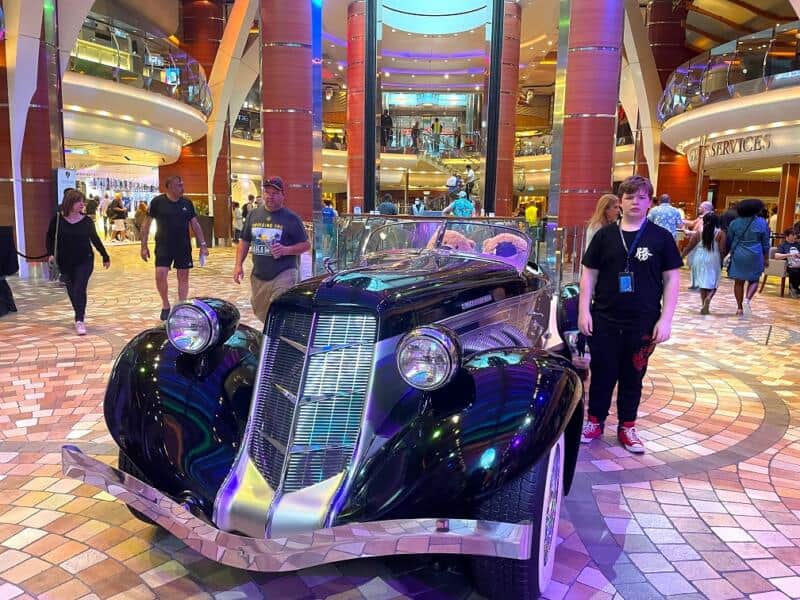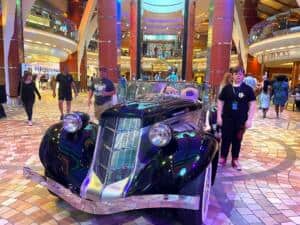 Central Park
Each Oasis Class ship features an upscale gathering place, Central Park, opening to the sky. Through the flower gardens and exotic trees of this lush hideaway, peaceful paths wind. There are plenty of quiet places to read and relax and upscale shops to satisfy your retail therapy needs. Additionally, there are world-class dining options at Royal Caribbean's Chops GrilleSM, wines from around the world at Vintages, and cutting-edge cuisine at the intimate 150 Central Park.
Entertainment Palace
This neighborhood illuminates after sunset. You can find the hottest nightlife onboard every Oasis Class ship, close to the action-packed Royal Promenade. Jazz On 4 offers live jazz and blues, a speakeasy cocktail lounge inspired by prohibition-era Chicago, karaoke sessions at the On Air Club, and dazzling performances in the Main Theater and on ice in Studio B. Entertainment Place also serves as your gateway to Casino Royale, so if you're feeling lucky, you can wager.
Boardwalk
This family-favorite Oasis Class neighborhood conjures images of Coney Island and the picturesque piers that dot the coast of England with its handcrafted wooden carousel and classic carnival games. Additionally, the ship's open-air stretch hosts rock climbing walls, casual kid-friendly restaurants, and the amphitheater-style AquaTheater, where aerialists perform nerve-wracking stunts and white-knuckle diving into the ship's deepest pool. Boardwalk, a staple of the Oasis Class, is the perfect place for guests who are young or just young at heart.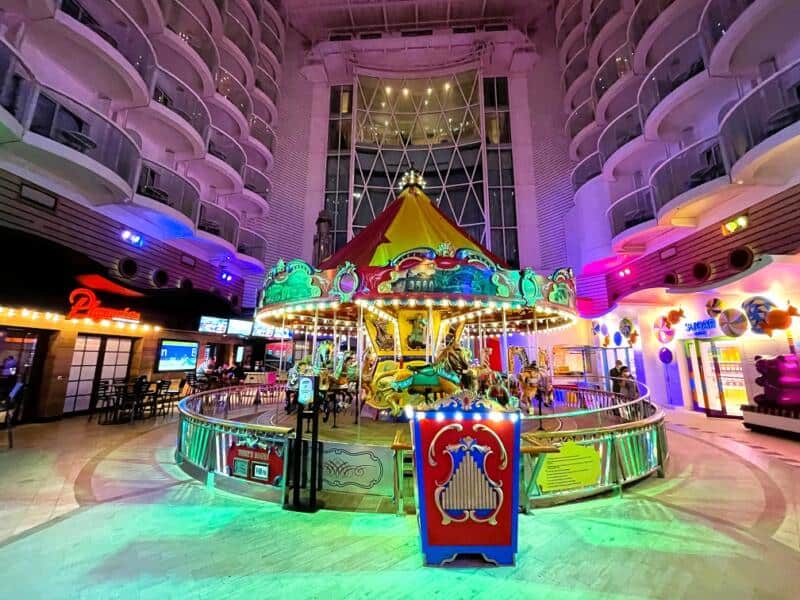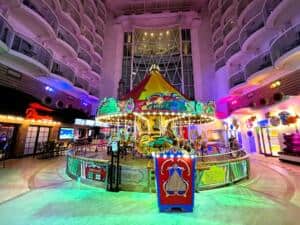 Pool and Sports Zone
If you're looking for things to do on a cruise, you can't go wrong with the Pool and Sports Zone. Guests of all ages will love this Oasis Class neighborhood that spans the ship's length. Besides four unique pools, there are two FlowRider surf simulators; an adults-only area called the Solarium, courts for basketball, volleyball, and soccer games, and Royal Caribbean's favorites like Mini Golf and H2O Zone and Splashaway Bay for kids. You can test your courage on the world's first zip line at sea, which soars ten decks above the Boardwalk.
Vitality At Sea Spa and Fitness Center
Whether you're on a couples' cruise or just craving some relaxation while the kids are playing, the Vitality at Sea Spa and Fitness Center is a must-see stop. The spa offers a wide range of services, from massages to facials and acupuncture, relaxing relaxation rooms, and a cutting-edge thermal suite with ceramic loungers, saunas, and steam rooms—a dedicated spa for younger guests – the Y Spa, which offers services tailored specifically to children. Whether you prefer to work out solo or join a group exercise class, there are plenty of ways to stay active at the Fitness Center.
Youth Zone
Home to the award-winning Adventure Ocean youth program, the Youth Zone is a thrill-filled hideaway for kids to hang out and make friends across their family cruise getaway. It's packed with revolutionary common spaces, educational activities, games, and events tailored to different age groups. You'll also find Royal Babies and Royal Tots— the cruise line's nursery for infants and toddlers aged 6 to 36 months. The Youth Zone is open daily and offers a late-night care service for when parents want to spend an adults' night out on deck.
Teen Lounge
We went on this cruise precisely because of the activities on board. Forget the sailing destinations; this ship has been on the Monkey's bucket list. Outside of all the fantastic things there are to do. The teen lounge is perfect for teens 13-17! The Monkey was in there every night, and it was a haven for the young adults. I did not get to see it personally. You know – cause that would "cramp" his style if his aunt showed up, so I can't tell you what I thought. What I can tell you is he loved it! And he was there nightly. Teens can play games, hang out and listen to music.
Note: There is a curfew for teens onboard. It's 1:00 am.
About Oasis of the Seas
Oasis of the Seas is one of the largest cruise ships in the world, the fourth to be exact. This ship provides countless attractions in one place that are light years ahead and introduces several concepts that are light years ahead of the rest of the industry.
Oasis of the Sea's Facts
The ship was launched on December 5, 2009.
The vessel was dry-docked in 2014 and 2019 for improvements.
There are 2,196 crew members on board as Staff to run the cruise.
The Oasis of the Seas is 45m wide, 361 m long, and 22.55 m feet high.
The ship weighs 22,282 tons.
The ship can accommodate 5,400 passengers and a maximum of 6,680 passengers.
The Oasis of the Seas has 2,742 available cabins.
There are more than 12,000 plants to offer a natural outdoor environment.
The ship has 12 floors.
Oasis of the Seas Cabin Categories
There are 2,700 staterooms on the Oasis of the Seas. Despite being a cruise, choosing a cabin type can be very similar to selecting a room in any hotel. You should always consider your personal needs when choosing your ideal stateroom. You also need to consider what you can afford. We bought an interior cabin but placed a bid to get upgraded to a balcony and won.
The upgrade cost us $200, a wise investment
Our Room
As mentioned above, I booked an interior stateroom and placed a bid of $200 to get the balcony room. Beyond impressed with the layout, the decor, and overall size.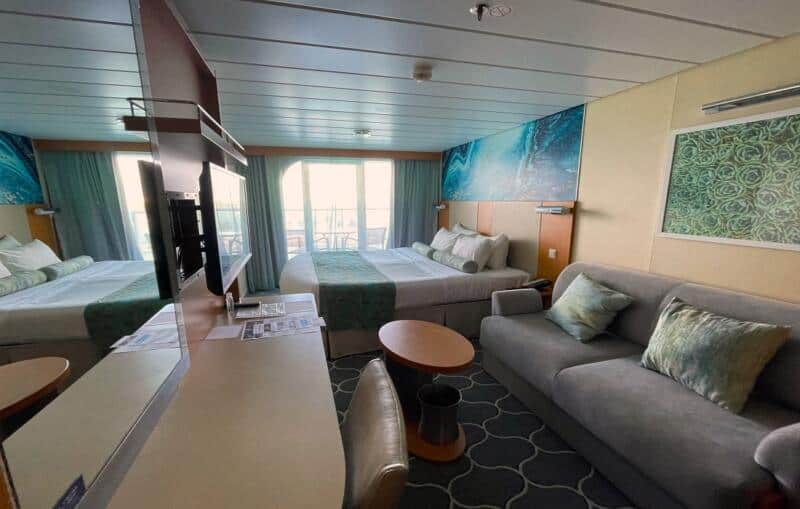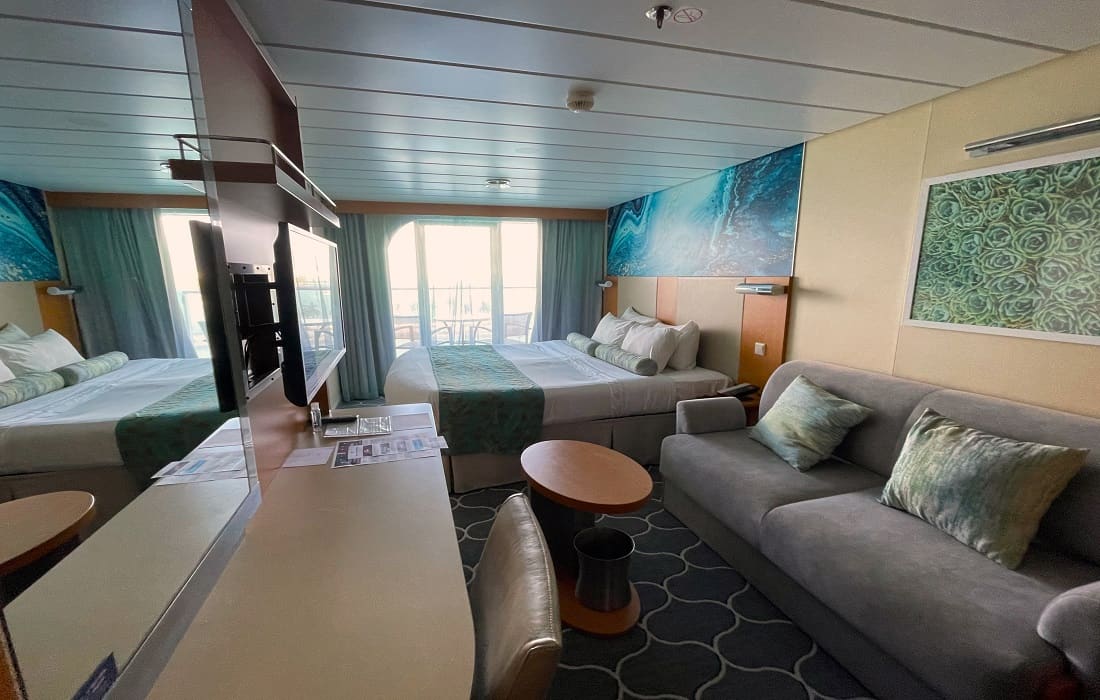 Our Bathroom
Interior
Interior cabins are the most basic of all cruise cabins. However, don't rule them out. I've personally booked and loved inside cabins. They are ideal for people who have no concept of time. Size-wise, they are often not much smaller than balcony rooms. They have all the space necessary to be welcoming and are equipped to meet any need.
They are also the most economical way to cruise – these are the cheapest cabins you can book.
Outside View
As the name implies, these staterooms offer excellent ocean views and landscapes you never thought you could see. Many of these rooms are the same size as the interior type rooms and have the same type of services inside.
Balcony
We know that having a great view on a cruise ship is the dream. One of the cool features of the Oasis of the Seas is that there's more than just an ocean view balcony. This ship offers cabins with balconies facing the sea or common areas such as Central Park or Boardwalk. All balcony rooms have an area of at least ​​182 sp. ft and a balcony area of ​​52 sq. ft. There are different types of balcony rooms:
Central Park View Balcony
Boardwalk View Balcony
Ocean View Balcony
Connecting Ocean View Balcony
Ocean View with Large Balcony
Connecting Oceanview Balcony
Suite Classes
If you've got the cash for it, the Royal Suite Class is the way to go. The Oasis of the Seas offers many different suites. The Royal Suite Class is the most luxurious option and has the most incredible variety of amenities. Almost all suites have a balcony, but some only have a large panoramic window to give views of the sea on another level. Additionally, you can find suites that offer an ample space of 2 floors plus a large balcony.
Here are the different types of suites. And, for clarity, if you are a baller and want to go all out, you need to book the Royal Loft Suite! There are only two on the ship, and it will cost you around $9,000 for the week.
Junior Balcony Suite
Grand Suite – 1 bedroom
Crown Loft Suite
Owner's Suite – 1 bedroom
Spacious AquaTheater Suite – 1 bedroom
Ultimate Panoramic Suite
Spacious AquaTheater Suite Lg Balcony – 2 bedrooms
Grand Panoramic Suite – 1 bedroom
Star Loft Suite
Owner's Panoramic Suite – 1 bedroom
Royal Loft Suite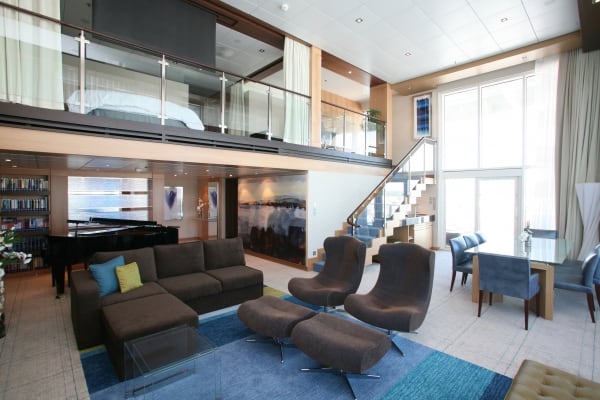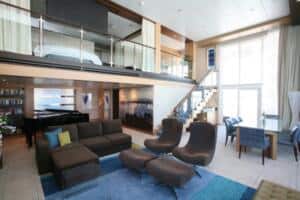 Image Credit: Royal Caribbean International
Restaurants On Oasis of The Seas
One of the best things about cruising is the food, and on Oasis of the Seas, it's a highlight. Food is included, and there is no need to spend extra money unless you want to. But again, they are optional. Oasis of the Seas was my 10th "ish" cruise, and the food on this ship was the best I've had to date. We ate everything from escargot and lobster to lamb chops and back! Specialty restaurants require an additional fee. I've eaten in specialty restaurants on cruise ships. It's a great option if there's nothing on the main dining room menu you fancy. This said I think you will have a hard time not finding something you enjoy on the main menu in the restaurants that are included:
Included Dining
Windjammer
Park Cafe
Boardwalk Dog House
Solarium Bistro
El Loco Fresh
Sorrento's
Cafe Promenade
Main Dining Room
Johnny Rockets (breakfast only)
Dining In The Main Dining Room
Sample Menu For Oasis Of The Seas
Now, bear in mind a couple of things. The menu changes daily, but some classics are available every day, like steak. You can also customize any order and swap outsides, sauces, etc. And, while you can add items like a whole main lobster, you don't need to because one of your dining nights will include a lobster dinner!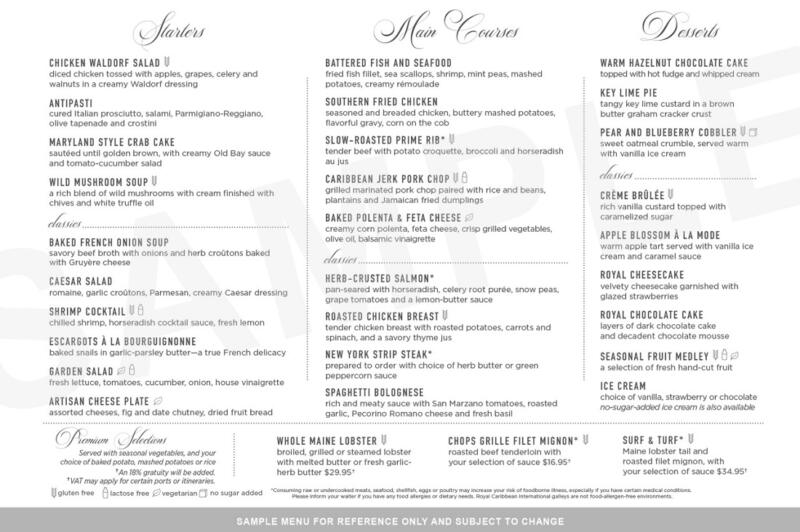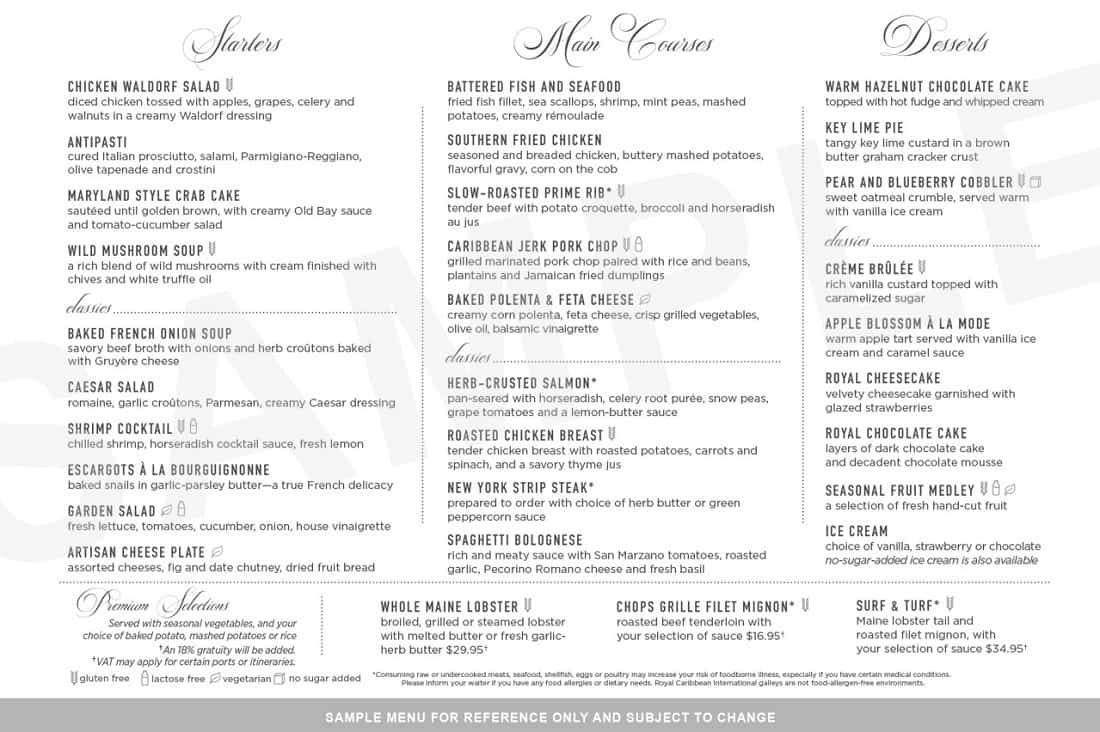 Image Credit: Royal Caribbean International
Dining With Upcharges
Chops Grille
150 Central Park
Giovanni's Table
Johnny Rockets (lunch and dinner)
Vintages
Vitality Cafe
Izumi
Sugar Beach
Playmakers Sports Bar & Arcade
Portside BBQ
Starbucks – which is also not included in any drink package.
Pro Tip On Dining On Cruises
Most people don't know that you can order as much food as possible. For example, there may be several appetizers you want to try. Order as many as you like! The same applies to dinner and dessert. You can order more than one. This is a perfect way to try new food that you would not otherwise. The Monkey (my sprog) is a foodie. He tried so many new things, and every night we ordered a cheese plate!
Dining Packages
It can be intimidating to look at the 20+ restaurants that Oasis of the Seas offers. If you have your heart set on specialty dining, try a package. There are packages that you can buy that cover these restaurants:
3-Restaurant Package: Only includes three meals at three different locations throughout the trip. This package is perfect for people who know where they want to eat.
Unlimited Dining Package: If you want to eat in multiple places and try a little of everything, this package allows you to only dine in many restaurants. In addition, this includes some discounts on bottles of wine from the restaurants and will enable you to eat at these restaurants only on days you are at sea.
Shows On Oasis Of The Seas
Are you a fan of the theater? You'll love the shows onboard. The Oasis of the Seas offers more than 68 shows in its repertoire, in which you can find some Broadway shows and Tony award winners. Additionally, at Oasis of the Seas, they offer ice skating shows, aquatic theater shows, and productions. All the live performances take place at the Teatro Real, and these are some examples that you could find in a cruise week: Grease, Cats, Hairspray, Mamma Mia, and many others.
On our cruise, we got to see Andrew Loyd Webbers Cats. I've seen Cats twice in Chicago and once in New York. I was shocked that the version presented on Oasis of the Seas was comparable to Broadway. I'd go as far as to say it is as good. You will not see huge name performers, but you will see a quality professional show as good as any theater production. I know this might sound corny, but when I think of cruise "shows," I immediately think of slapstick or sub-par entertainment. Not that this has been my experience per se. It's more a perception than a reality. Regardless, I was won over by the Cats' performance on Oasis of the Seas.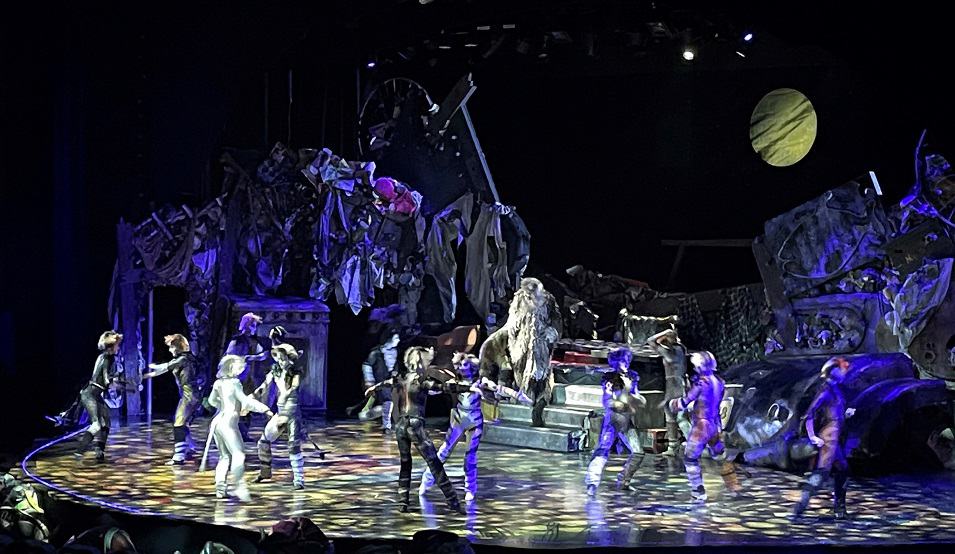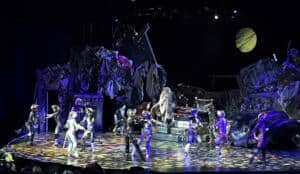 Sadly for me, I did not see any water shows or comedy shows. We missed the water show because the Monkey insisted that we do the escape room (sigh) and the comedy shows were too late for me!
Activities On Oasis Of The Seas
Anything can happen on the Oasis of the Seas, but you'll never be bored while on the cruise. Activities for any age group are a vital part of the Royal Caribbean experience, giving another meaning to real fun at sea. The sheer amount of things to do is overwhelming. Here's a list of some of the activities and things you can do while aboard:
2 FlowRider Surf Simulators
Waves can be ridden in oceans, rivers, and, more recently, pool waves. Tom Lochtefeld, the founder of Wave Loch, debuted the first FlowRider at Schlitterbahn waterpark in Texas. On a FlowRider, water is injected over a three-inch surface of the composite membrane by submersible propeller pumps. This generates a stationary wave – or sheet wave – that allows surfers to ride its continuously flowing face. Water is constantly pumped into FlowRider, creating a light wave that can theoretically be surfed indefinitely.
What child or adventurous adult does not want to try the FlowRider?
Then there are 3D movies, the arcade, basketball, the carousel, karaoke, laser tag (laser tag is still closed on some ships due to COVID), outdoor movie screens, ziplining, rock climbing, and much much more.
Ice Skating
Ice skating on a cruise ship, who would have thought? Leave it to Royal Caribbean, and boom, it's a thing!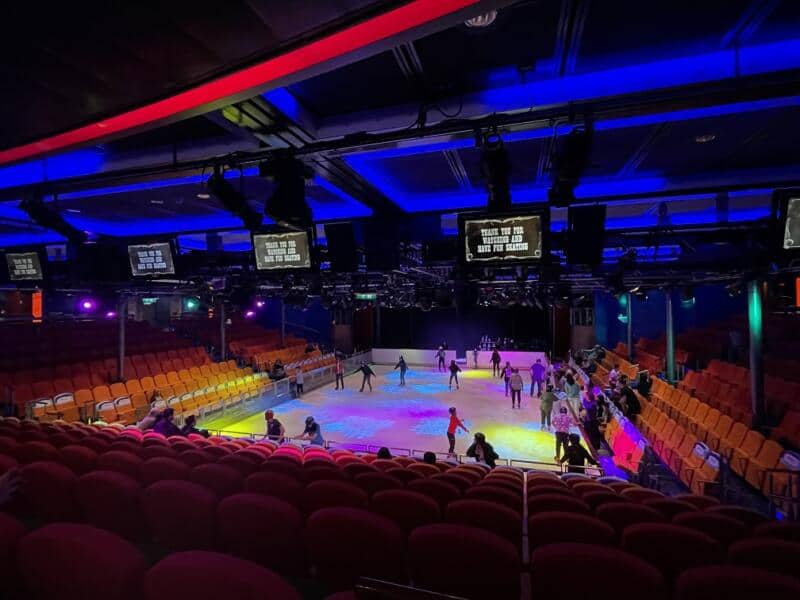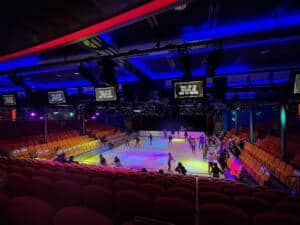 Ultimate Abyss
This is a 10-story slide, the tallest slide at sea that you can slide down. It's on deck 16 between the two FlowRiders, so you can't miss it. Adults and kids can take the slide down to deck six, Broadwalk.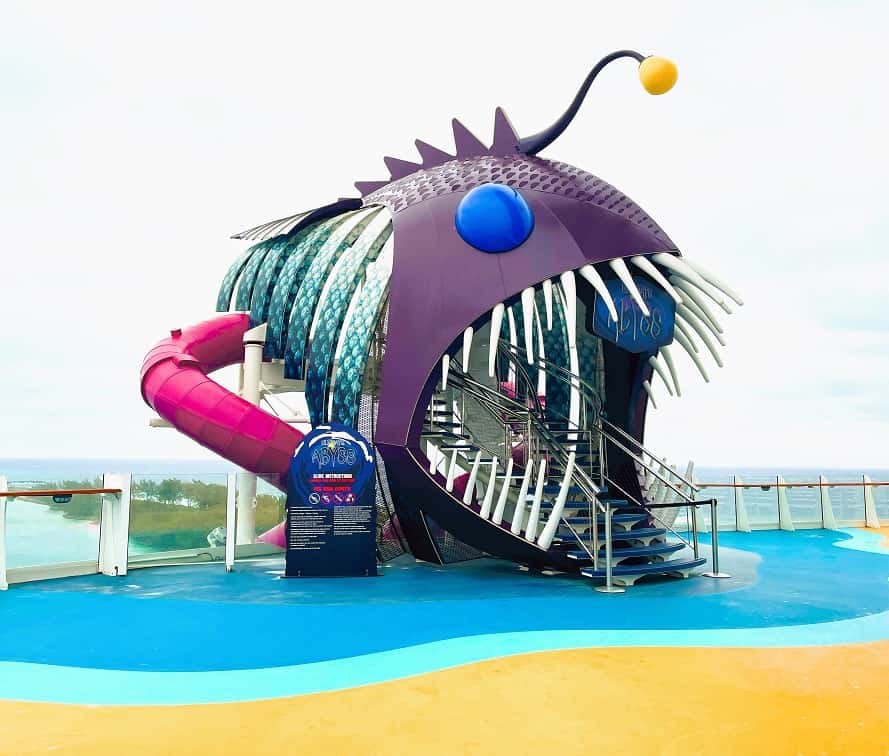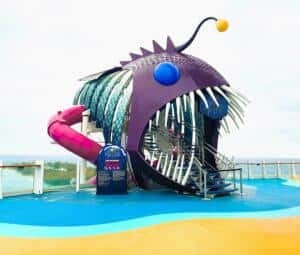 Escape Room
The escape room is not an included activity, it costs $20 per person, and you have to be thirteen or over. It's well worth the money if you are into escape rooms. The Monkey, like me, wants to experience anything and everything, and the escape room was high on his list of things to do. As mentioned, so high that we missed the water show for this one. The theme in this escape room is launching a missile into space.
I hated it. Not because it's a terrible escape room; it's not. I hate escape rooms for a few reasons. I can never solve the problems, and two of the times I did them, which are countless, rarely do we ever "escape." If you're wondering why I've done them so many times, here's why! It was the "corporate activity of choice" when they first came out, and I've participated in them in numerous states. Different themes, same gig.
On the other hand, the Monkey loved it, and I'd say it exceeded his expectations. We played with a large group of people that made us feel welcome and including the Monkey. We did not win or launch our missile, but it was an excellent experience for Monkey. And, now that he's got his badge, I can firmly say that this will be my last escape room. The things you do for love!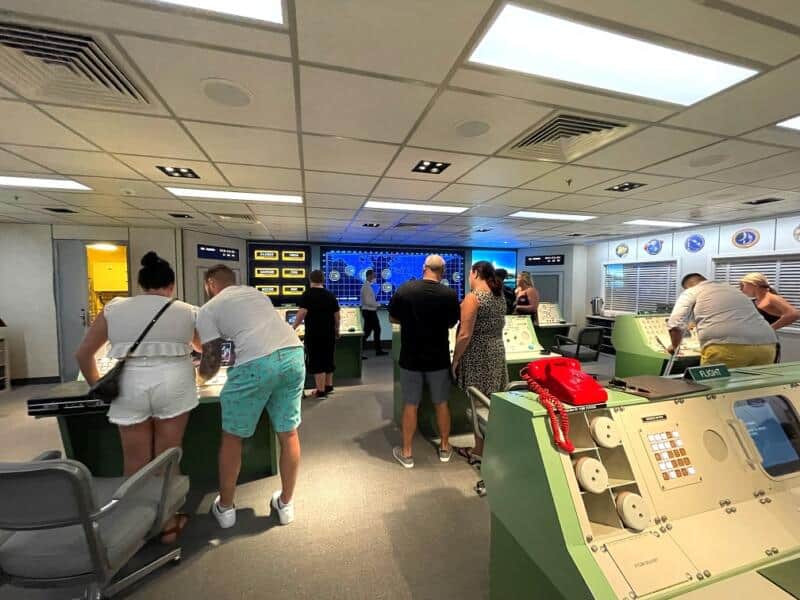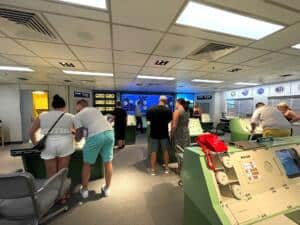 Swimming Pools and Water Parks
One of the main attractions of the Oasis of the Seas is the water park and water slides. The Oasis of the Seas offers four adult pools onboard, ten Jacuzzis, the "Splashaway Bay" water park, and water slides for children. Also, the water park that is on the ship offers:
Colorful water slides
Water cannons
Fountains
Pools
Kids whirlpools
Children must be supervised by their legal representatives, and the kids should be potty trained. Royal Caribbean does not allow diapers in the pool, and the maximum weight is 300 lbs, and the minimum height is 42". Remember to check if your children meet the requirements to enjoy the swimming pools and water parks.
Solarium – Adults Only Area
On deck 15 is the Solarium, one of the most desired aquatic entertainments for adults. This, my friends, is where you escape the sprogs! The Solarium is an adult-only area that includes a pool, hot tubs, and cushion-covered loungers.
I did not need the Solarium because I only saw my sprog at dinner time. I could relax on our balcony, nap at leisure, or grab a drink in a bar with no bit of humans!
Bars On Board
Bionic Bar
This robotic bar is worthy of a call-out. It is fascinating to watch the drinks being created, but it's also entertaining. And, it's the only place on the entire ship where you can order a drink after drink within minutes. In some cases, it will allow you to order two drinks on one card. I did this many times, but I will mention that it will cut your second drink when it gets busy! Not a biggie. You sign in again and order your next drink. The concept here is so cool. You sit down and order from an iPad. You can choose from thousands of drinks or create your own. Then the robots swing into action, making your drink of choice.
The Bionic Bar is located on the Royal Promenade (deck 5) near the elevator bank and across the Royal Promenade from Guest Services. After the robot creates your drink, one of the robots will place it on the slider. Then, you must walk up to the bar and swipe a SeaPass or WOWband at the scanner location for the drink to move down the slider. A super cool, mirrored wall tells you which slider your glass is in, equally as fun to watch as it's neon.
Vintages
English pub
Pool Bar & Sand Bard
Sunshine Bar
Rising Tide Bar
Another insanely wild bar concept is the Rising Tide Bar, a floating bar. The bar boards on the Royal Promenade Deck (bottom) or Central Park (top), passing through Decks 6 and 7 as you sit back and soak in the unique views. The Rising Tide Bar can be found on the following Royal Caribbean ships:
Allure of the Seas
Harmony of the Seas
Oasis of the Seas
Symphony of the Seas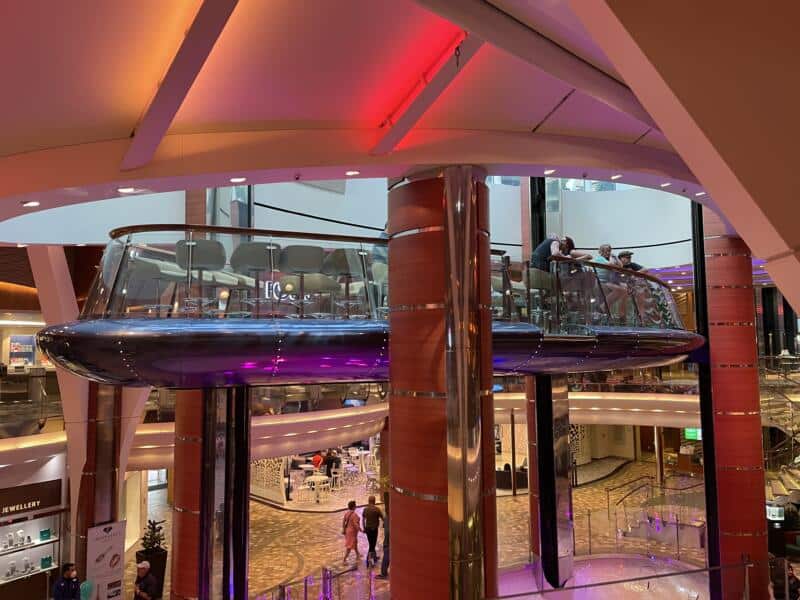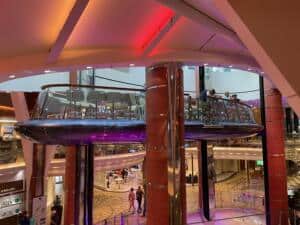 Other Bars On Board
Diamond Club
Solarium Bar
Boleros
North Star Bar
The Lime and Coconut
Drink Packages
Unless you are t-total, you are going to be drinking. As we all know, alcoholic and specialty drinks are not included. You have two choices, charge your drinks as you go or buy a drink package. Let me put this in context for you. I always buy the drink package. I'd rather know upfront what my costs are and pre-pay so I don't end a vacation with a whopping bill.
Given that I was traveling with the Monkey, I did not buy the package. Until I got the bill for my first martini, which was almost $16, I could drink three or four martinis at dinner, so I immediately ran to buy the drink package. And, I felt like a total idiot given that I am not new to this. I think my mindset was how much could I spend or would I spend? The answer's simple, way more a day than the package costs drinking moderately! I'll never even chance this again; the drink packages are almost always cheaper to buy before you board.
Available Drink Packages
If you do not know the main packages that Royal Caribbean offers for its cruises, these are some that you should take into consideration:
Water Package: This package can include 6 to 24 bottles of water delivered directly to the stateroom.
Classic Soda Package: You can drink all the soft drinks you want from the soda fountain or places where you can refill. However, this only applies to Coca-Cola drinks.
Refreshment Package: This package is perfect if you need a cup of coffee in the morning or orange juice with breakfast. The leading drinks included here are:

Refills anywhere or soda fountains
Coca-cola drinks
Non-alcoholic cocktails (mocktails)
Sparkling and still water
Premium coffee and tea
Juice

Deluxe Beverage Package: If you think you need all kinds of hydration at your disposal, this pack could save your life. Not only do you get the same drinks from the Refreshment Package, but you can also get the following additional drinks:

alcoholic cocktails
alcohol in general
Beer
Wine (by the glass only)
% discount for buying wine on the boat
Vitality Spa
All cruise ships have a spa; it's something that many cruisers look forward to. Oasis of the Seas Vitality Spa offers full service. Before boarding the cruise, consider purchasing an access pass for the Spa for couples (or individuals) because it is limited to a few passengers. At Vitality Spa & Fitness, they offer a wide variety of services such as:
Sauna
Steamroom
Massages
Facials
Full salon
Manicure and Pedicure
Vitality Spa Thermal Suite
I could kick myself over this one, and I know better. On day one I should have checked the spa deals or visited the spa on day one. I didn't! Colossal mistake because it turned out that the Oasis Of The Sea's Spa has a thermal suite.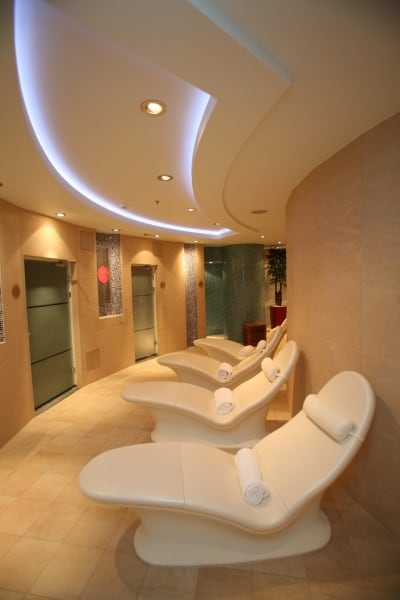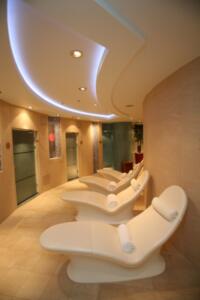 Image Credit: Royal Caribbean International
The thermal suite has four heated thermal loungers, two showers with different water stream themes, and three separate sauna and steam rooms. You can buy a day or weekly pass to use the thermal suite for as little as $99 for the entire week. I was devastated when I discovered this on day 6. I could have cried.
Steam rooms are one of my all-time favorite spas experiences. I can hop in and out of a steam room all day long. The next time I am on an Oasis Class boat, my first stop will be to locate the thermal suite and book an unlimited access pass!
Casino
A cruise ship is not complete with a full-fledged casino, and Oasis of the Seas is no different. You can enjoy poker games, blackjack, slot machines, or exciting games of craps. On the other hand, the casino offers an exclusive service to its most frequent players according to the play level. The classes that exist for the best players are:
Choice: You can receive exclusive offers on events and promotions.
Prime: You may receive discounted packages, free drinks at the casino, or better family rates.
Signature: You can get priority check-in, free Wi-Fi for just one device, an accessible balcony stateroom once a year, and more benefits.
Masters: It is the highest level so that you can receive all the previous rewards, invitations to exclusive events, VIP dinners, and a complimentary Grand Suite once a year.
I did hit the casino, and it's enormous! While I don't play the tables; I am too cheap for that. Rather, I played slots, and I did win about $100. Unfortunately, they did not have some of my favorite games, or I would have spent a bit more time there.
Nightclubs
Nightlife in the Oasis of the Seas never stops, and this is the best opportunity to have an atmosphere out of the ordinary. You can enjoy different environments in the same night and feel that everything combines very well. The Oasis of the Seas offers you entertainment in nightclubs and bars, but you have to be willing to enjoy every second of the nightlife.
All-Access Pass
There are thousands of hands behind every bed, drink, dish, and attraction that Oasis of the Seas offers. Few people know the art of managing a cruise. However, Royal Caribbean provides an All-Access Pass that allows you to see how operations are carried out to keep the ship running. It's your chance to go behind the scenes. If you buy this pass, you can enjoy areas that no one has access to on tour, such as:
Ship navigation center
Main dining room
Crew facilities
Warehouses
Another one I want to kick myself for! I've never done the "behind the scenes" tour on any cruise ship, and I didn't realize that this is what this pass was. So, next up on my next Royal Caribbean cruise is the All-Access Pass!
Shopping On Board
Have you forgotten something important at home? Don't worry. There are dozens of stores onboard the Oasis of the Seas on decks 5, 6, 8, and 15. You can buy exclusive designer fashion brands, luxury watches, liquor, jewelry, and food on this ship. Best of all, each of the products is duty and tax-free. There's also a super convenient vending machine store where you can buy everything from electronics to personal hygiene products.
Some of the leading stores on Oasis of the Seas are:
Michael Kors
Kate Spade
Parkside Gallery
Regalia
Tiffany's
Willow
Solera
Pinwheels
Star Pier
Candy Beach
Logo Shop
Breeze
Royal Caribbean Private Island's
Royal Caribbean owns two private islands. Well, one is an island, the other a resort.
CocoCay – Bahamas
CocoCay is a private island located in the Bahamas, which can only be used by guests of the Royal Caribbean company who are on a cruise. This island is the surprise that everyone is waiting for because a perfect Caribbean vacation must include the Bahamas and many water attractions such as those offered by CocoCay.
Labadee – Haiti
Labadee was one of our ports of call.
Royal Caribbean's private cruise resort in Labadee, Haiti, offers all the beach and watersports attractions you expect. The Caribbean has many remote islands, but Labadee, Haiti, is a little different. Rather than a private island, this 260-acre resort is located on a coastal peninsula. In addition to being able to moor even the largest Oasis-class ships at the pier, visitors to Labadee do not have to use tenders. It's a gated resort and has a length of more than 800 meters and a width of 400 meters, making it very easy to walk around.
Everyone can easily access the park since the trails are paved. It's also possible to take the free tender to quieter Columbus Cove for the day. A free tram also operates around Labadee with stops at Barefoot Station, Town Square, Dragon Zipline Station, and the Pier. It's a fun place to spend the day. A host of watersports can be enjoyed in the warm Caribbean waters and the four beautiful white-sand beaches. Aside from the alpine roller coaster and one of the longest ziplines in the world, Labadee also has some adrenaline-pumping rides.
There are many other things to do in Labadee, such as Arawak Aqua Park with its Dragon's Splash water slide, cabana rentals, parasailing, jet-skiing, fishing, speed boat adventures, catamaran trips, cultural adventures, kayaking, snorkeling, sailing, cafes, bars, and children's play areas. You're in for a treat!
Naturally, the Monkey opted to conquer the ziplining, and no complaints!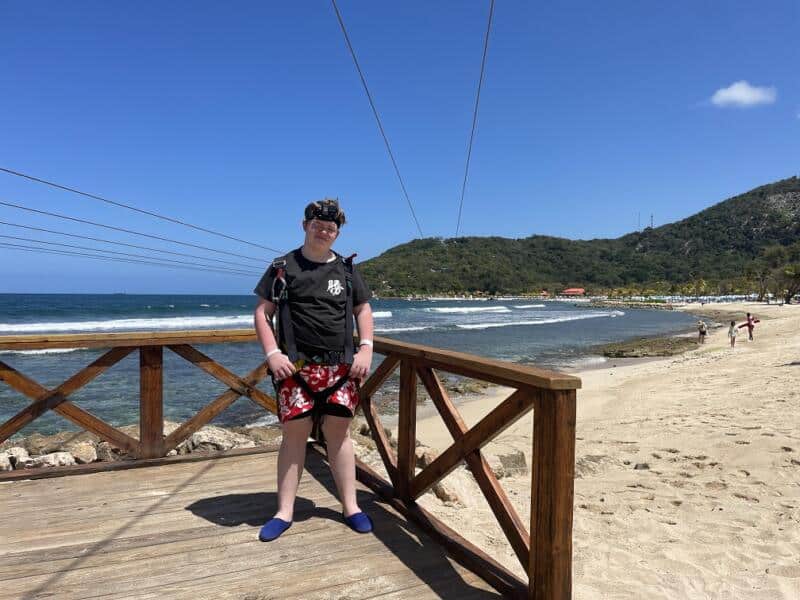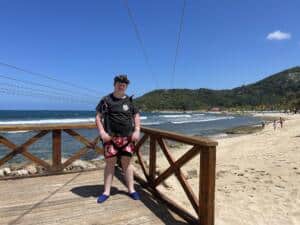 Closing Thoughts
If you love cruising, you will love Oasis of the Seas – Amplified. If you are new to cruising, you'll leave with a yearning for more. I enjoyed this ship in particular because there's so much to do. You don't have to go on the boat to have a full-blown resort-like experience. For example, it was raining in Nassau. Not a big deal for Monkey or me because I've been plenty of times. Most importantly, this was not a big deal for the Monkey cause it gave him more time to explore the amenities on the boat. While I've covered most of what's available, it's a ship that requires a couple of trips to take it all in or try everything.
Oasis of the Seas is the best cruise I've ever been on. It exceeded every expectation I had from cabins, food, drinks, entertainment, and amenities. I can't think of one piece of constructive criticism for the ship, the staff, or the overall experience. You all know that I am not easily impressed, and I am hard to please. For me to say this has to tell you that this is beyond above average – it's flawless.
Cruising is not my only choice of travel, but this cruise has me looking for the next one, and I can assure you that it will be another Oasis Class. For the Monkey, he's now ruined for life, and all other cruise ships will have to come with some unique thunder even to catch his attention!
Looking for articles on cruising? Start here:
We participate in the Amazon Services LLC Associates Program, an affiliate advertising program designed to provide a means for us to earn fees by linking to Amazon.com and affiliated sites.
Brit On The Move™ Travel Resources
Ready to book your next trip? Use these resources that work:
Need more help planning your trip? Check out our Resources Page, highlighting the great companies we trust when traveling.