The amphicars at Disney Springs, what in the world are they? If you've visited Disney Springs recently and been to the Boat House, you've likely seen the amphicars – the cars that are driving on the lake. Yes, automobiles that operate on water. Or a car that becomes a boat once on the water. Often referred to as "cars that swim." If you haven't seen or heard of the amphicars yet, here is everything you need to know, along with why you should ride in one.
These cars are the only land and water car in the world. Officially known as amphicars, you can ride them at Disney Springs in Orlando, Florida. This is the only place in the world where the public can take a ride with a captain.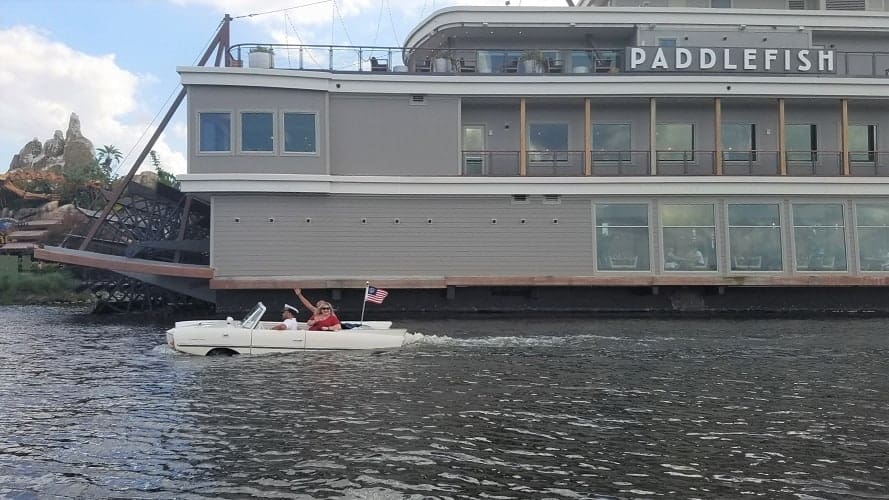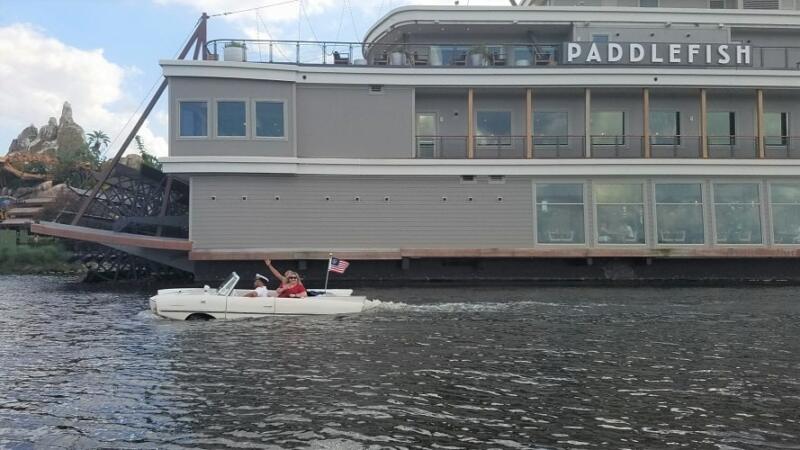 TIP: If you are planning to stay onsite at Disney be sure to read this. This is how you can stay onsite at any of the Disney properties for 50% off the listed price.
This post may contain affiliate links. Please read our disclosure and privacy policy for more information.
Amphicar History
The idea of an amphibious car was the brainchild of Hans Trippel, a German designer. The Amphicar Model 770 debuted in 1961.  The vehicles were produced in Germany by Quandt Group and available to buy from 1961 to 1968. Production stopped in 1965 with 3,878 produced, of which 3,046 were imported into the U.S.
By all accounts, amphicars offered subpar performance both on land and water. The cars are plagued with poor design and are prone to leaks. Most importantly, they were overpriced for their time. Our driver Joshua explained that at the time, they were priced in the same range as a 1961 Jaguar E-Type, and during a very unusual novelty, it could not compete with the luxury cars at the time.
Mike Lewis, an owner said "It's not a good car and it's not a good boat, but it does just fine" largely because of modest performance in and out of water. Another added, "We like to think of it as the fastest car on the water and fastest boat on the road."
The Amphicar Was Featured In A Pepsi Cola Commercial
How Does Amphicar Work?

Oddly, it never occurred to me to even think about this until we were on the lake. Boats don't have breaks, and this is a car, so my first thought, once we started floating, is how is this possible? The amphicar's engine is mounted at the back, making the wheels run through a 4-speed manual transmission. When in water, this engine controls a pair of reversible propellers at the rear. While driving on water, the amphicar is neutral, and the front wheels control steering. Who knew?
Riding Amphicars at Disney Springs
I know that this will sound crazy, given that we took a ride in the Amphicar. But, when the car splashes into the water, you take a deep breath. It's scary at first. It's at this moment when you start to think about how is this possible, is it safe, does the car leak, will I drown, and so on. Ironically, none of this was a concern pre-launch. Thinking about the possibilities, we naturally asked if there are any gators—a stupid question coming from Floridians. Of course, there are. We know this, but it's the knee-jerk of questions when you ponder safety on a lake in Florida.
Once you get over the initial shock, you sit back and start to enjoy the marvel of it all. It does not feel anything like a boat. It feels like a car that is floating. They move quite slow, and as you ride, your body is submerged yet dry.
Ready to take off and enjoy the ride:
Video Riding Amphicars:
We were lucky; we had Joshua as our guide.  A native Floridian who knew tons about the amphicars, Florida, and boating in general. He explained the vehicle's mechanics, the maintenance routine, and lots of information about amphicar owners.
Us on our way out of the water:
You can make a reservation from 10 a.m. to 10 p.m., weather permitting. Each amphicar can accommodate up to three guests (which can be classified as three adults or two adults and two small children).
How Much Is The Amphicar At Disney Springs
$125 per car. If you book two vehicles, you will get a $25 discount. Likewise, if you eat at the Boathouse, you will get a $25 discount when you show your receipt. The ride is twenty minutes, which is plenty of time to enjoy the experience.


Who Owns the Amphicars at Disney Springs?
Contrary to many other articles, these cars are not owned by Disney, nor was this attraction a Disney idea. The car collection belongs to the Gibson Restaurant Group. The Boathouse is one of the groups' restaurants, and they lease the location from Disney. Steven Schussler is the creative genius behind the idea. Schussler has owned several Amphicars and decided that making amphicar rides available would distinguish and highlight the Boathouse. He was right!
Where To Stay Near To Disney Springs
Random Amphicar Facts
President Johnson owned an amphicar, and it's said that he would prank guests who did not know the car was aquatic and run people onto his lake.
Two amphicars crossed the English Channel.
Amphicar owners often get together for "swim-ins." Guess what? We have one that takes place in Florida at Mount Dora. Every year from March 14th -17th.
Four hundred known amphicars exist today; of the 400, approximately 80 of them reside in Europe, most of the rest in America.
Twelve of the 400 remaining amphicars are at the Boathouse.
Closing Thoughts

Most people have never heard of the amphicar, much less ridden in one. And, unless you know someone who owns one, your only chance to ride is at the Boathouse. As you ride, people will watch in awe. Everyone takes photos and waves at you. This is an enthralling experience that is worth spending the money on. It's a rare opportunity for anyone one that can only be had a Disney Springs. Lastly, eat at the Boathouse. They have a fantastic collection of oysters from all over Northern America.
TIP: If you are planning to stay onsite at Disney be sure to read this. This is how you can stay onsite at any of the Disney properties for 50% off the listed price.
Looking for more posts on unusual things to do in  Florida? Start here:
We are a participant in the Amazon Services LLC Associates Program, an affiliate advertising program designed to provide a means for us to earn fees by linking to Amazon.com and affiliated sites