If you're planning on visiting Walt Disney World and are looking to fill your itinerary with fun in the sun, Disney's Blizzard Beach should be on your list! Blizzard Beach is a thrilling waterpark, but with a fun twist. As the name would suggest, Blizzard Beach is themed like a snow ski resort! From photos, you might not even realize this park is in sunny Florida! Keep reading to learn more about Blizzard Beach and its rides, food options, and more!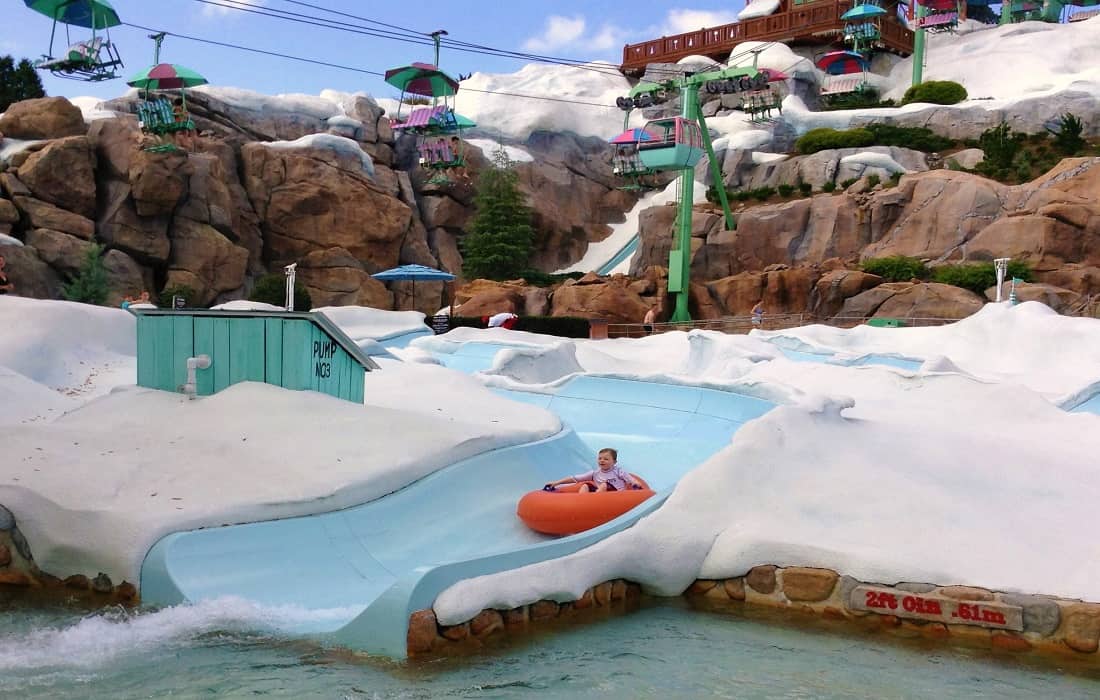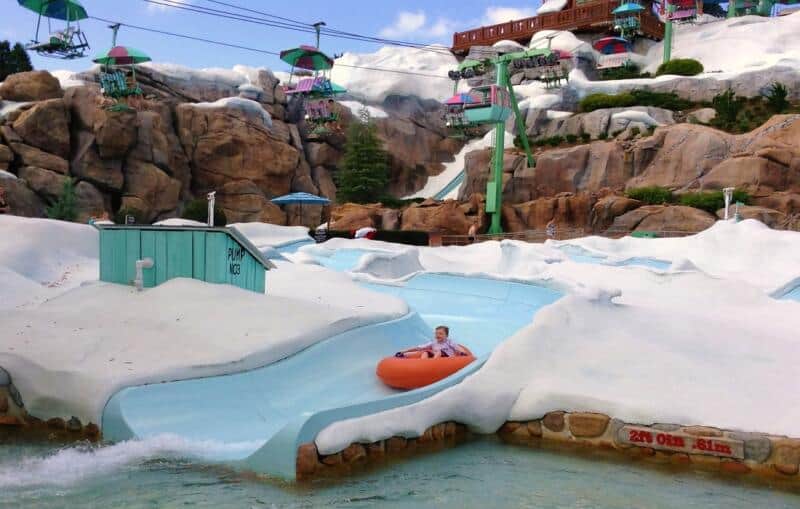 This post may contain affiliate links. Please read our disclosure and privacy policy for more information.
About Disney's Blizzard Beach
According to Disney legend, Blizzard Beach resulted from a freak snowstorm in Orlando in 1977. Disney then built a ski resort to take advantage of the fun of playing in the snow. Of course, the wintry fun only lasted so long, and the snow started to melt. The operators were going to jump ship and abandon the idea of a Floridian ski resort until they heard yelling from the top of the mountain. Suddenly, a blue alligator came sliding down the mountain and landed in the newly melted snow. The ski resort operators saw the parks' potential to become a thrilling waterpark, and so Blizzard Beach was created. The ski slopes turned into water slides, snowbanks turned into wave pools, and frozen creeks became lazy rivers!
Of course, the truth is that this fun water park was opened in 1995. As with everything that Disney does, the Imagineers wanted to make this park truly unique to make it stand out from the existing Typhoon Lagoon waterpark. What could be more opposite of a tropical oasis than a snow-covered ski resort? The idea of a ski resort in Florida is so whimsical, and Disney pulled it off flawlessly. Around every corner of Disney's Blizzard Beach, you find delightfully-themed details that will make you feel like you're really wandering through a ski resort. From the high ski jump to the ski-lifts that take you up the hill, the atmosphere of Blizzard Beach is incredible!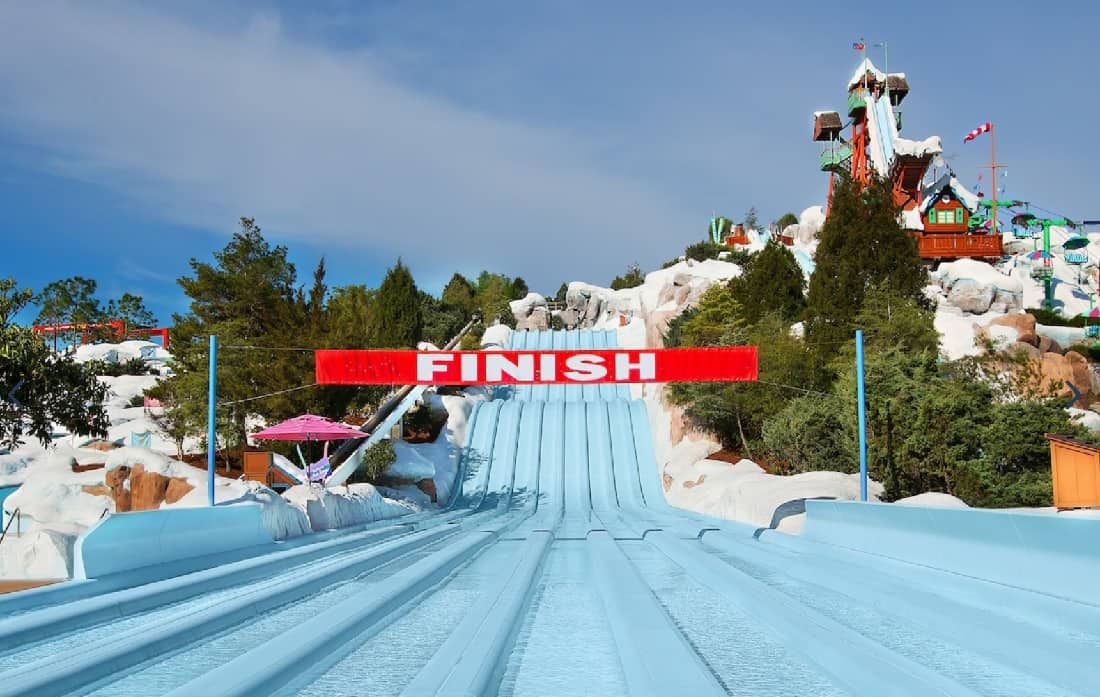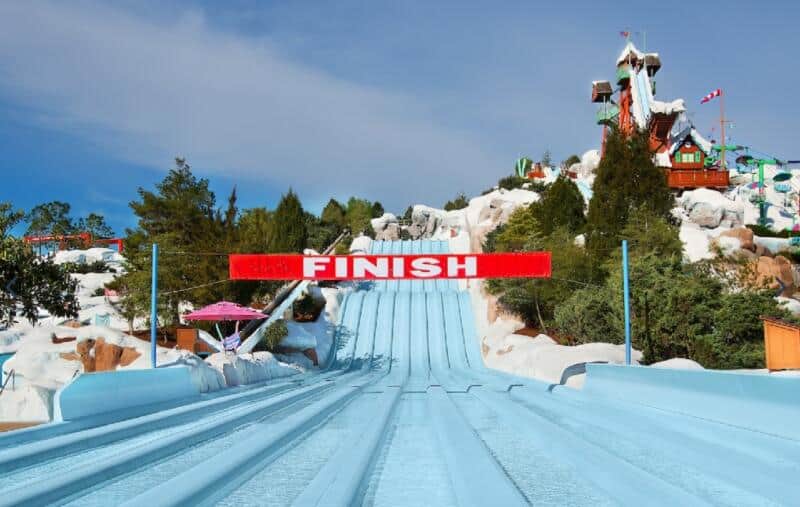 Image Courtesy of Disney's Blizzard Beach
What To Know Before You Go!
There are a few main things to know before heading to Blizzard Beach for the day. Besides bringing sunscreen and towels, here are the essential details with which you should be familiar!
Disney's Blizzard Beach Ticket Prices
As of late 2021, tickets for Blizzard Beach start at $69 for a one-day pass. (One-day passes Universal Orlando's Volcano Bay start at $80, in case you were wondering how prices compared.) There are special prices for members of Disney Vacation Club and for Annual Passholders, so be sure to check Disney's site before you buy tickets. There are also options to include admission to the Disney waterparks on your theme park tickets with Park Hopper Plus. Park Hopper Plus is the only theme park ticket option that provides for water parks access.
*Note, Disney sometimes offers an afternoon ticket option. It's not currently on offer but when it is it's a discounted ticket that allows you enter after 3pm.

Blizzard Beach Hours
The hours of Blizzard Beach change seasonally, so be sure to do a little research before your holiday! The waterpark is open pretty much year-round unless a cold snap hits Orlando. In that case, the park will close based on the daily weather. The water at the park is always heated, so it's enjoyable to visit even when the temperature dips below scorching hot! Also important to note that thunderstorms are pretty common in Orlando, especially in the summer. The waterparks will close when there is lightning in the area. However, it always re-opens when the storm has passed.
Blizzard Beach Location
Blizzard Beach is located in between Disney's Animal Kingdom and Hollywood Studios. It's super easy to navigate to the park, especially if you're staying on Disney property. If you're staying at a Disney resort, simply hop on a bus, and you'll be at Blizzard Beach in no time. Currently, the only two Disney resorts that offer direct transportation to the park are Coronado Springs and All-Star Resorts. If you're staying at any other resort on property, you'll have to transfer busses at Animal Kingdom. Parking at the waterpark is free, which is great if you're staying off Disney property and have a rental car!
Disney's Blizzard Beach Map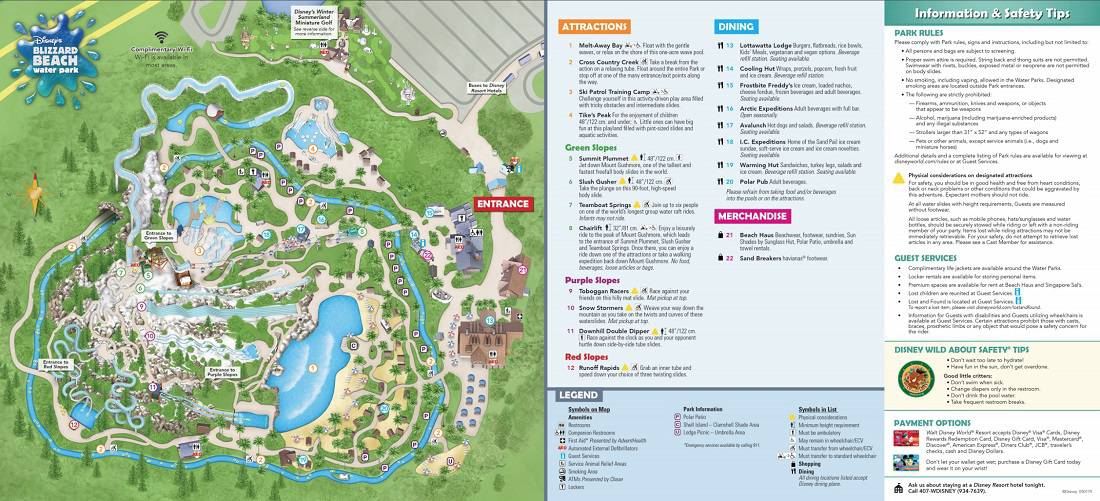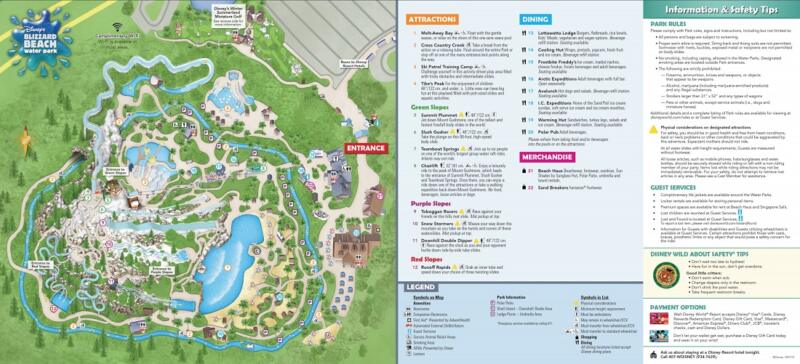 Image Courtesy of Disney's Blizzard Beach
When To Arrive
Unlike the other Disney parks, there aren't park reservations for the waterparks. This is why it's essential to arrive at Blizzard Beach early! The waterparks often hit capacity during the hot summer months, so be sure to arrive as early as you can! This way, you can guarantee admission and also secure beach chairs for your family.
Reserved Premium Seating Areas
Private cabanas are available for rent as well. There are two premium seating options at Blizzard Beach called "Polar Patios" and "Lodge Umbrellas." The Polar Patios will cost you about $300 for the day and accommodate up to 6 guests. These areas include towels, seating, a locker, refillable mugs, and a cooler full of water. Some attendants will take your food order and give you recommendations for the park. Lodge Umbrellas are under $100 and are shaded seating areas for up to 4 guests. As this is the cheaper option, there aren't as many perks as renting a Polar Patio. Lodge Umbrellas do come with towels, however. If you don't need the full private seating area but you want a safe place to keep your belongings, lockers are also available for rent.
Blizzard Beach Rides
There are seven waterslide rides at Blizzard Beach. The slides range from being kid-friendly to extremely thrilling. The slides are broken up into three areas called slopes. This stays in theme with the park being a ski resort and is an easy way to locate the rides within the park.
Green Slope Slides
On the Green Slope, you'll find Summit Plummet, Slush Gushers, and Teamboat Springs.
Summit Plummet is one of the tallest waterslides in the world at 12-stories tall. From the peak of the slide, you can enjoy 360-degree angles of Walt Disney World. This slide is certainly not for the faint of heart! Summit Plummet resembles a ski jump and is the centerpiece ride at Blizzard Beach. This slide has a height requirement of 48 inches.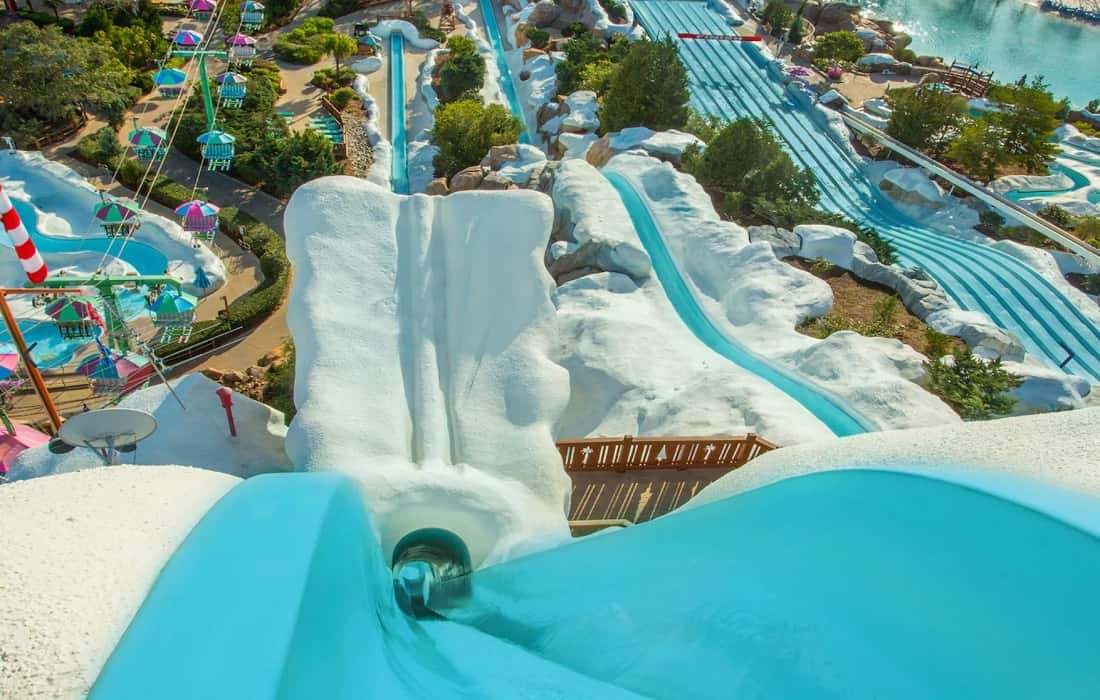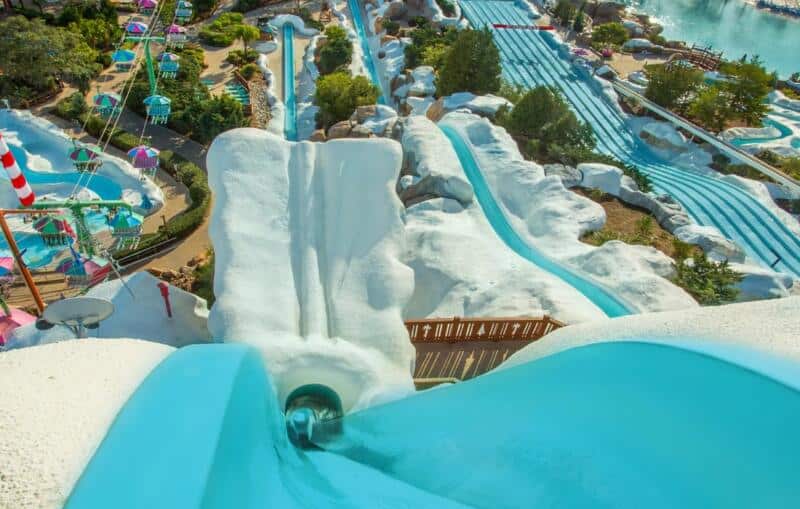 Image Courtesy of Disney's Blizzard Beach
Slush Gushers is similar to Summit Plummet but not quite as intense. This is still a pretty extreme slide that promises high speeds. This slide has two humps, so it's definitely not as fast as Summit Plummet. This slide has a height requirement of 48 inches.
Teamboat Springs is a family raft ride that takes up to six passengers through 1,200 feet of winding whitewater rapids. This is an excellent option for kids of all ages!
Purple Slope Slides
The slides on the Purple Slope include Toboggan Racers, Snow Stormers, and Downhill Double Dipper.
Toboggan Racers is not only a fun slide, but it has an added element of friendly competition. Race face-first on a mat down these slopes! Up to eight racers can slide at once, which means the whole family can compete at once!
Snow Stormers is another mat slide with no height requirement. This slide zigzags down the slopes and is high-speed enough for the whole family to enjoy.
Downhill Double Dipper is another one of Blizzard Beach's race-based slides. This time, two racers zip down a mostly-enclosed slide. This ride is short but super fun!
Red Slope Slides
Runoff Rapids is seemingly the only ride on the Red Slope, but it's actually made up of three slides. Each of them is a single-rider tube slide that twists and turns down the slope. Two of the slides are open, and one is fully enclosed, so it can get kind of dark in there! These slides are some of the longest at Blizzard Beach!
Wave Pool and Other Fun
The waterslides aren't the only fun thing about Blizzard Beach! Guests will also love the laid-back, lazy river, the exciting wave pool, the unique ski-lift, and more!
Cross Country Creek is the park's lazy river. You'll float around the park, cutting through Mount Gushmore and past Ice Gator's cabin. There are also fun elements that will splash guests, including the melting snow-making machine. It takes about thirty minutes to float the whole river, but there are seven places to enter and exit throughout.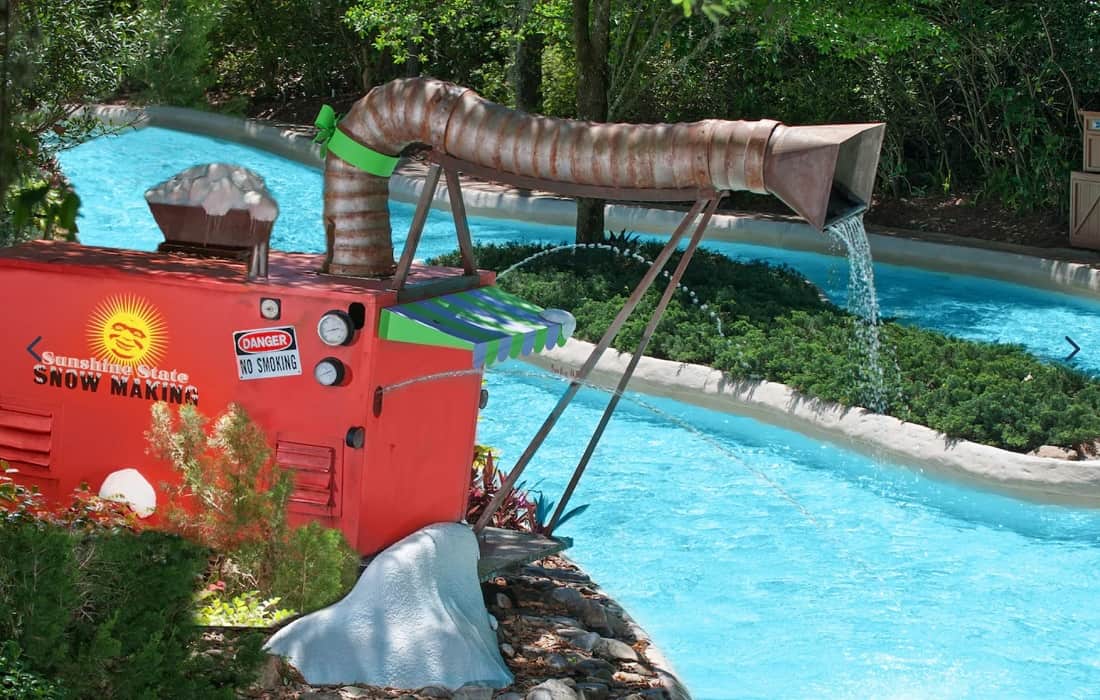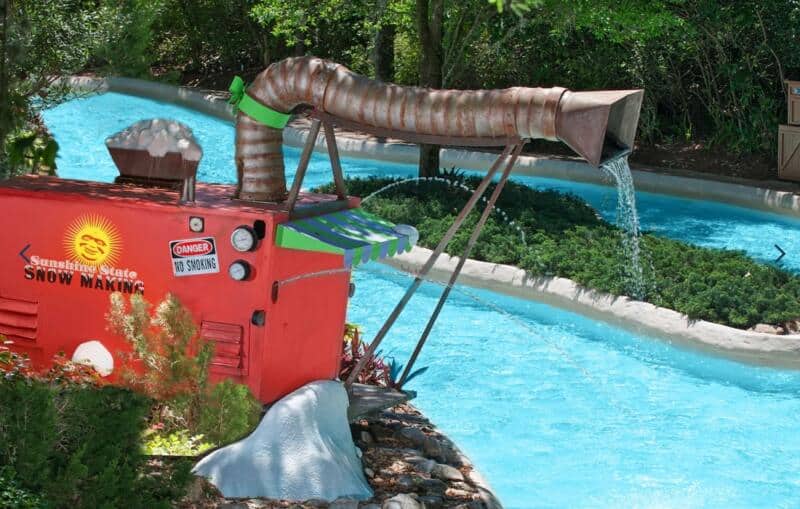 Image Courtesy of Disney's Blizzard Beach
According to Disney's Blizzard Beach storyline, Melt-Away Bay Wave Pool was created by the ice that melted off Mount Gushmore. This wave pool is a bit less intense than the wave pool at Typhoon Lagoon. The waves are smaller in size so that the whole family can spend hours here without worries.
The Chairlift at Blizzard Beach is not only unique but also practical. The lift carries guests up the mountain, saving them the long trip up the stairs. This is the element that really solidifies the ski resort theming at Blizzard Beach.
Ski Patrol Training Camp is a fun area designed specifically for pre-teens. This area includes water obstacles at the Thin Ice Training Course and a zip line called Fahrenheit Drops. There are some smaller slides in this area as well called Frozen Pipe Springs, Cool Runners, and Snow Falls.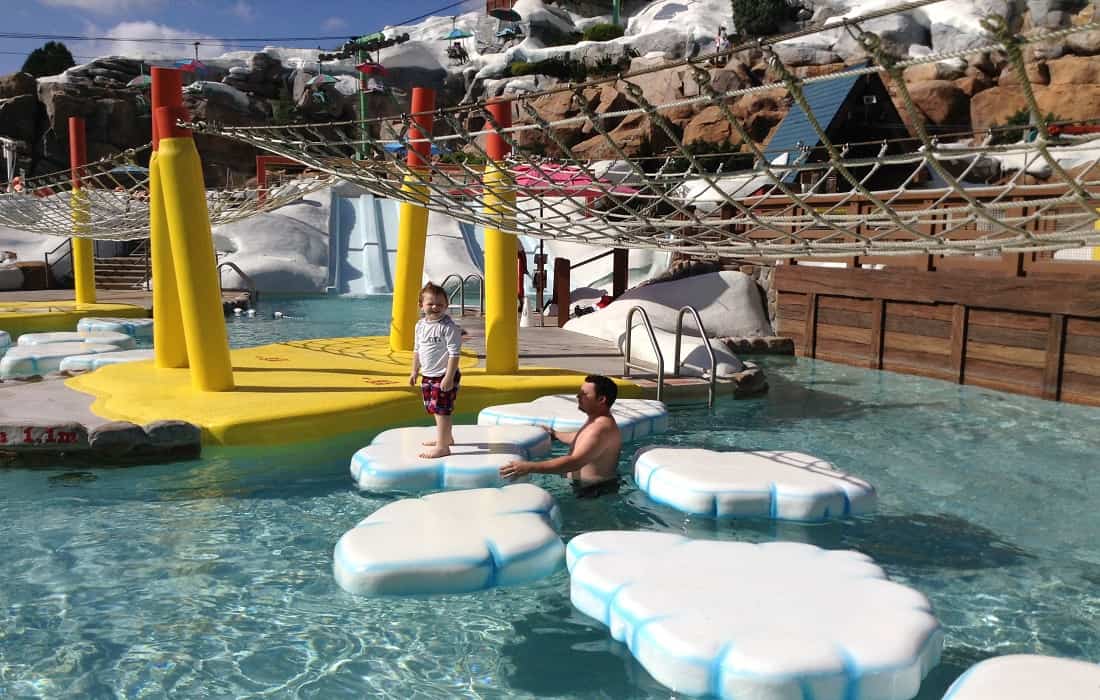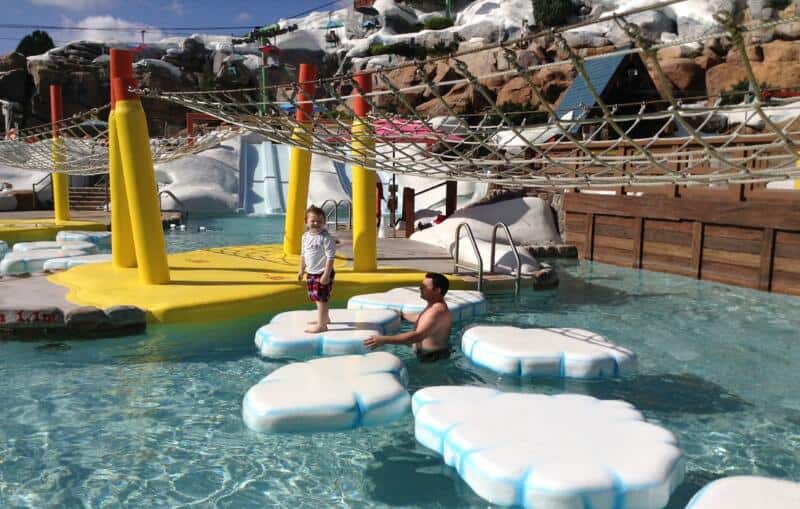 There is Tike's Peak play area for the little ones in your travel party. This area is for kids under 48 inches and includes smaller versions of the park's popular rides. Parental supervision is required at all times in this area.
Food Options at Disney's Blizzard Beach
There are many restaurants, and food stands at Blizzard Beach that are conveniently located around the park. Whether you're looking for a full meal or just a quick stand, there are tasty options for every appetite. There is one quick-service restaurant, three smaller quick-service food stands, two snack stands, two Joffrey's coffee stands, and two bars. Some of these stands are seasonal and are not open outside of the busy season, so be sure to check what's open before visiting!
Lottawatta Lodge is the main quick-service option at Blizzard Beach. There is plenty of seating here, so it's the perfect spot if you're looking to take a break from the hot sun. There are some great vegetarian and vegan options here, so everyone in your travel party should find something good to eat!
Cooling Hut, Warming Hut, and Avalunch are the quick-service food stands at Blizzard Beach. These are the spots where you can grab a quick snack or entree and then return to your beach chairs to enjoy.
Frostbite Freddy's and the Polar Pub is where adults can grab a refreshing alcoholic beverage. These spots specialize in frozen cocktails and cold beer.
There are also a few ice cream and dessert stands around the park for when you're in the mood for a sweet treat.
Resorts Near Disney's Blizzard Beach
Since Blizzard Beach is on Disney property, there are obviously a ton of beautiful resorts nearby! Some of the closest resorts to the waterpark are DVC resorts. This means that a stay at a luxury resort is just minutes away! These resorts include Disney's Animal Kingdom Lodge, Beach Club Resort, and Riviera Resort.

Disney's Animal Kingdom Lodge
Disney's Animal Kingdom Lodge is one of the most unique resorts on Disney property. I mean, where else are you going to see giraffes grazing right outside your window? Seeing the wildlife roaming around the savannah at Animal Kingdom Lodge makes a stay there worthwhile. In addition to the fantastic sights, there are also some incredible dining options at AKL. Jiko is one of the most popular restaurants on Disney property and offers an unbelievable menu. There are options unique to any other Disney restaurant, and the menu allows guests to try something new from the selection of authentic African cuisine! Of course, the most important thing about a resort is the guest rooms, which do not disappoint. Aside from seeing animals from your private balcony, Animal Kingdom's DVC Villas are spacious enough for the whole family. These luxury villas also include full kitchens and laundry units.
Disney's Beach Club Resort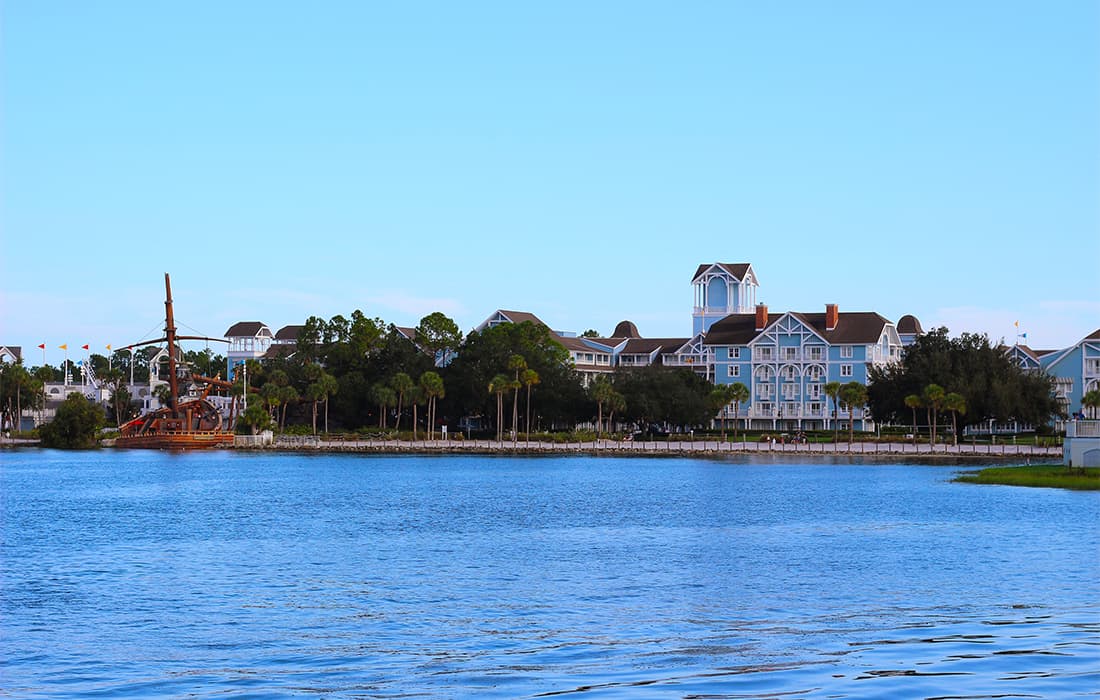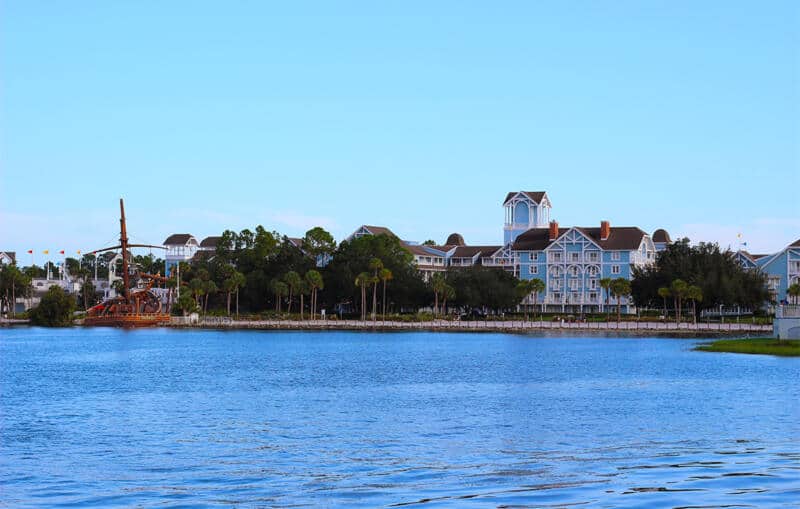 Disney's Beach Club Resort is just a six-minute drive from Blizzard Beach. This DVC resort is conveniently located near the waterpark and is also just a short walk away from EPCOT! The resort's close proximity to EPCOT's World Showcase means that the Skyliner is also just a short walk away. The Skyliner can take you to various other alternatives, but most importantly, it can take you right to Hollywood Studios! Beach Club Resort has a quaint New England charm and luxury accommodations. The resort's pool is also one of the best on Disney property! Stormalong Bay is a 3-acre pool area complete with a sand-bottom pool and one of the highest hotel pool waterslides at Disney World. There is even a lazy river! So, even if you only get to visit Blizzard Beach once on your holiday, you'll still feel like you're at a waterpark at the Beach Club Resort!
Disney's Riviera Resort
The Riviera Resort is the newest of the Disney Vacation Club resorts. This beautiful resort offers the feeling of the European Riviera and has a more laid-back feel than a lot of other DVC resorts. The Riviera Resort is a stop on the Skyliner, so getting to EPCOT and Hollywood Studios is super easy! The resort's central location also means that you can potentially catch views of the fireworks shows going on at the Disney parks! Another spot to get amazing views at the Riviera Resort is from Topolino's Terrace. This restaurant is on the resort's top floor, so while you're enjoying delicious Italian cuisine, you'll also get incredible views. We recommended heading to Topolino's Terrace right before the sun goes down. You can grab a drink at the bar and enjoy it out on the terrace while the sunsets. It's one of the best views you can get at a Disney resort!
Closing Thoughts
Disney has the cleanest water parks in Florida; they are immaculate! Affordable with annual pass options, Blizzard Beach is the perfect way to enjoy Disney and the Florida sun! Your kids will love it, and you will enjoy sitting on the beach as the kids play.
Looking for more posts on Disney? Check out these:
Looking for more water parks in Florida? Start here:
We participate in the Amazon Services LLC Associates Program, an affiliate advertising program designed to provide a means for us to earn fees by linking to Amazon.com and affiliated sites.
Brit On The Move™ Travel Resources
Ready to book your next trip? Use these resources that work:
Need more help planning your trip? Check out our Resources Page, highlighting the great companies we trust when traveling.