Build it, and they will come — a true statement for Streamsong Resort. Located in the middle of nowhere, twenty-seven miles away from Lakeland, the closest town being Bartow Florida. Streamsong Resort is like nothing you've experienced before. Opening in 2014, this mid-century modern marvel is spectacular from the outside in, and no detail is overlooked. Most are here for the golf and vistas, but there is much more to this beauty than just the golf.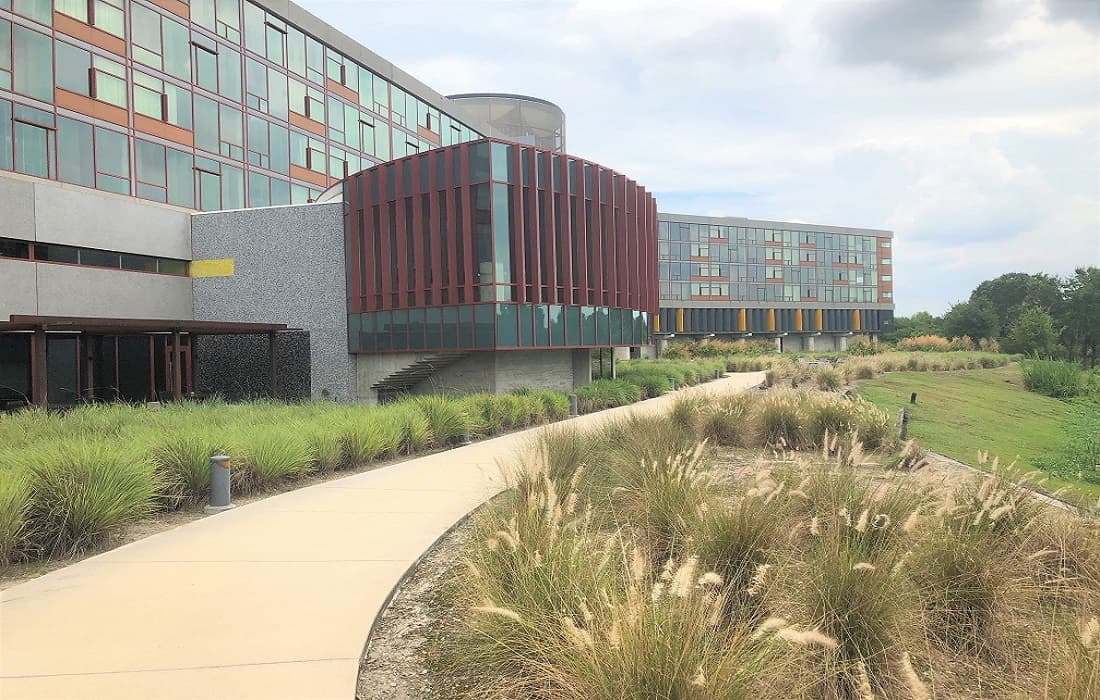 This is not a sponsored post. We paid to stay at Streamsong Resort and all the opinions are those of Brit on the Move™. And, you know the deal – sponsored or not. I will tell you the good, the bad and the ugly.
Fortunately, for this trip, there is nothing ugly to share – the opposite. And, I want to call out a few members of staff that made our stay fantastic, be sure to seek them out when you visit.
Bone Valley Tavern
Brooke, the mixologist for redeeming the drinking experience – you rocked the martinis eloquently, and they were on point.
Darrin, the manager for listening to why the drinking experience mattered to me and for humoring us!
Front Desk
Jasmin, the most accommodating team member ever. Thank you for the late checkout, all the advice and for checking in with us throughout our stay. We appreciated it – you made us feel very welcome.
This lengthy article covers all aspects of our stay. Given this, I've added a table of contents. I suspect some of the golfers out there may want to jump straight to the golfing section!
This post may contain affiliate links. Please read our disclosure and privacy policy for more information.
Streamsong Resort Location History
Streamsong Resort is located at 1000 Streamsong Drive, Bowling Green, Florida 33834.
The first thing I wanted to learn about is how the hills that are not Floridian came to be. Or, why do they exist here and nowhere else? Mystery solved quickly. Streamsong is built on Bone Valley.  A region of Florida where phosphate is mined for use in the production of agricultural fertilizer. The mounds that have been converted to vistas are the bi-product of the mining that used to occur here. Perhaps more fascinating. Bone Valley is home to many fossils dating back to prehistoric times. Megalodon teeth found here are on display in the lobby of Streamsong Resort.  
FYI: While the teeth are real, this mouth was man-made to display the teeth: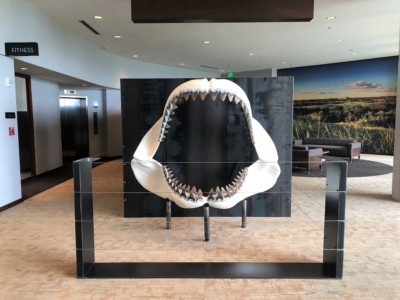 Streamsong Resort  Architectural Story
The brainchild of Streamsong Resort is the Mosaic Company. A giant fertilizing company that owns the 16,000 acres of land that the Streamsong Resort occupies. Mosaic originally mined the area and repositioned the space for public recreational and environmental uses. Mosaic worked with Alfonso Architects, Inc. to design the resort and Bill Coore, Ben Crenshaw, and Tom Doak all golf designers to create the golf courses.
Architecturally, Streamsong is stunning. A combination of raw unfinished concrete, precious wood, and metals. The entryway level with the driveway, the rest on oversized concrete pylons that raise the beauty up. I've read that the idea was to resemble a ship tethered to the rest of the building, like a boat to a dock. I don't know that the design made me think of boats. It's irrelevant given the masterpiece that has been created.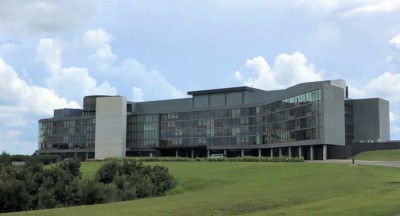 Streamsong Resort  Getting There
If you live in Florida, chances are you will drive to the resort. If not, here are the closest airports:
ORLANDO INTERNATIONAL AIRPORT – 86 mile
TAMPA INTERNATIONAL AIRPORT – 57 miles
SOUTHWEST FLORIDA INTERNATIONAL AIRPORT – 142 miles
BARTOW MUNICIPAL AIRPORT – 21 mile
WAUCHULA MUNICIPAL AIRPORT – 16 miles
LAKELAND LINDER REGIONAL AIRPORT, LAKELAND – 26.4 miles
WINTER HAVEN MUNICIPAL AIRPORT – 41.7 miles
SEBRING REGIONAL AIRPORT – 52.6 miles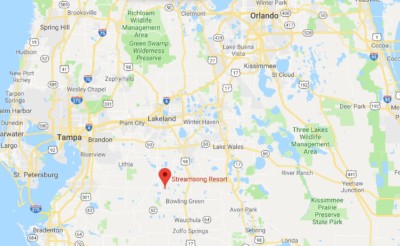 Streamsong Resort Arrival and Check-In 
Don't be fooled by the understated sign as you arrive. My guess is this is deliberate. It's a hint of the minimalist splendor awaiting. For sure the sign lets you know this not a glitz and glam type of place. Or, should I say this is glam and no glitter type of place.
Pulling in feels like you have arrived in Scotland or Ireland. Visually, you would never know that you are in Florida, that is until you feel the heat or spot one the many gators that occupy the waterways.
We dropped off the men at the clubhouse of Streamsong Black and proceeded to check-in. Immediately, I was in awe. The lodge looks and feels like a contemporary Norwegian marvel to me. If I did not know better, I would have guessed the architects were Scandinavian. I've read reviews where people have said the lodge is sterile, unfinished, and clinical. They are wrong. We all have our tastes, but every inch of the design is intentional. If modern architecture is not your thing, then you will fail to appreciate the real beauty. There is no outdated red or green carpet here and certainly no mahogany four-poster beds with flowery sheets.
We valet parked our cars, which is complimentary and proceeded to check-in. Check-in was a breeze and hassle-free. We were able to check in early, which was a pleasant surprise.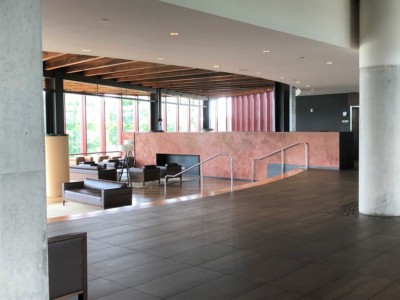 Streamsong Resort Rooms
I don't think the word room applies here. A standard room at Streamsong Resort is what you would consider a suite anywhere else. The rooms alone set the resort apart by a long shot.
Let's start with the obvious; it's ultra-modern and huge. A suite by anyone's standard the bedroom and living area is divided by the double TV station that divides the space without being a distraction.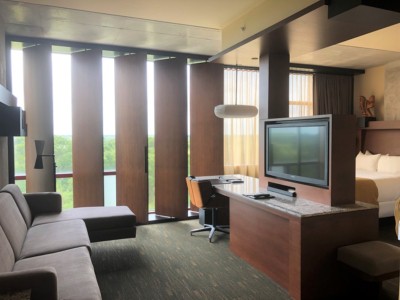 Wall-to-wall wood louvers that swivel give you the option to take in the stunning view of the terrain or eliminate the sun. An unfinished strip on concrete that runs floor to ceiling. The bookcases are perfectly cut to precision, ensuring that the classic books are aesthetically lined up. And it's the same in each room!
Then there is the bathroom. The bathroom alone is the size of some hotel rooms. The bathroom is bigger than some places that I've stayed in New York City.  Plush amenities galore await you for using the glass shower big enough for at least six. I'm not necessarily a shower person, and I prefer a bathtub. However, this size screams party even if a party of one.
Beds! Heavenly beds! No expense spared when picking out the mattresses and linen. You sink into the mattress while being supported, and it's like floating. Wrapped up in super-soft classic white linen, the beds are dreamy. I expected this, but it's great to know the beds are phenomenal. I've stayed in lots of brands over the years and stayed at some swanky joints. The beds at Streamsong Resort will give any place a run for their money. I could have spent a whole day in bed gazing through the louvers. And imagine if rain falls it would be even more whimsical.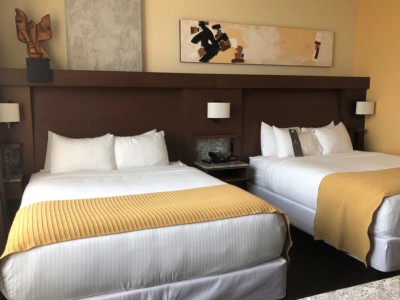 Room Pricing
A luxury resort that is not easy on the budget. The most economical time to stay or play is June – September when it's not only scorching hot, but daily rain should be expected. The best rate you will find for 2019 is $229 per night. Add in the $35 resort fee, taxes of $31.68 and you are at $295.68 for what is considered the off-season. If you stay here in-season rates, soar as high at $500 plus a night.
We stayed for two nights to the tune of $600.
Do I think it's worth it? Yes, yes, yes! Would we pay to stay again? Yes, without question. It's expensive, but I would have to say this is by far the most beautiful room I have stayed at in the state of Florida, and it was worth every penny. I will be forever ruined because this is going to be hard to beat, especially when you consider that the standard room is a suite!
Streamsong Resort Golf
I do not play golf, so these accounts are from Brian and Danny. Before we get into the details, even as a non-golfer, the landscaping is impressive. I spent a fair bit of time driving around taking in the vista's admiring how unusual this place is. It's apparent why Streamsong has won so many awards for the golfing.
Brian and Danny are both 28 handicaps. Average players and neither are professional. Regardless, they play weekly. They may not play on premier courses all the time, but they have experienced plenty of them.  They have played all over the world, including Cabo San Lucas, Dubai, Hawaii, England, and Ireland. Neither are strangers to elite golf courses.
There are three courses at Streamsong: Streamsong Red, Streamsong Blue, and Streamsong Black. During our first trip, the men only played Streamsong Red and Black.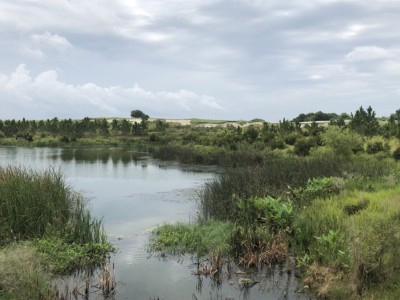 Streamsong Black Golf Course – Par 73
The newest of the courses opening in September of 2017, all agree it's by far the most challenging course. The greens are oversized, flat and there are many places to hit the ball. The greens are fast and have lots of breaks. Streamsong Black is remote, dessert-like, there is no shade, no waterways, and no obstructions. The crowds race through the course, and while crowded, it's peaceful.  This course is beyond difficult. Streamsong Black is not for average players; this course is for more experienced players or those with a much lower handicap.


Streamsong Red Golf Course – Par 72
Situated among several water hazards, this course is what lures most. The course with the epic views that mimic Europe. Stunning greens with manicured sand traps, this is everyone's dream golf course.  The greens here are more relaxed than Streamsong Black but no joke. Shade and trees show up here, and it creates a more challenging game. Both our guys agreed Streamsong Red is what they envisioned when planning this trip.
All of the fairways are green despite the heat; they are well-kept and no divots. Tee boxes are maintained, there are yardage markers on the fairways and ample sprinklers.  Lastly, all the sand traps are pristine, and golf carts are modern.
Streamsong Blue Golf Course – Par 72
The men returned to complete their experience in October and played  Streamsong Blue. It's now apparent why it's a challenge to get a tee time on the Blue. By all accounts, it's the best of the three courses and it's the one with the most amazing views. Designed by Tom Doak this course has multiple elevation changes and huge bunkers that roll off of towering sand dunes.  The men raved about Streamsong Blue and while they did enjoy the other two courses Blue was by far their favorite.
FYI: I apologize for the limited golf pictures. I had to rely on the men for these. As you can tell, taking photos was not a priority.
Streamsong Golfing Fees – 2019
We stayed on the weekend of June 7th, which is summer.  The daily rate for June is $89 per person if staying on-site or $125 if not staying onsite.
$89 per person to play
$40 per person plus tip for a caddie
$35 per person golf cart
A total of $164 before tax or tipping.
Overall Thoughts on The Golf
The courses are beautiful and challenging. The caddies are fantastic and worth the money if you like a caddy. A caddy is not something the men would opt for, but it is required.
Both loved the clubhouse and the staff who are helpful and accommodating. Both enjoyed being able to leave clubs at the clubhouse overnight and take the shuttle back to the resort.
Overall, Brian and Danny do not think the golf is worth the cost of $164 in the middle of a Florida summer. Neither would pay the $500 a day to play in the season. Also, beers are expensive – $42 for a six-pack.
The point of reference they give is LPGA International, Daytona Beach. They both play here regularly and say it is better overall value for money. Both have also played at Disney and Isleworth. Comparatively speaking, they still think the pricing is high.
To summarize. Two things came through: price point and complexity. Stunning as the views are, these courses cater to the professional golf players vs. casual player.
This said, don't let someone else's experience dissuade you for giving it a shot. It's merely a reference point. My two cents here is it's a bit like anything good. We all want to experience it, and this creates demand. The demand sets the price. It's that simple. Play at least once; you might fall in love with the courses.  And, if you are an excellent golfer, this might be the place for you.
Streamsong Resort Restaurants
The Streamsong Resort is home to an impressive six restaurants.  Six may not sound like a lot, but six for a place that only has 216 rooms, it is a lot. I've stayed at some juggernaut sized resorts with fewer food options, so this was a lovely surprise. Equally impressive, all six are open even during the off-season.
Hemy's
This restaurant serves the very sophisticated infinity pool area. It's a tad more of a pool bar than a restaurant, but the food was fabulous. We ate delicious burgers here that the chef split for us, serving us both our half a burger and fries.
One thing I enjoyed about Hemy's is even though this is a luxury resort, everyone here was chilling with no pretense. And, there is no boujie to be had. Many groups of men celebrating bachelor parties chatted to us about their golfing experiences, how they found out about the resort, and so on.
At Hemy's you can get a expect casual food prepared with style and an array of classical drinks, frozen or on the rocks.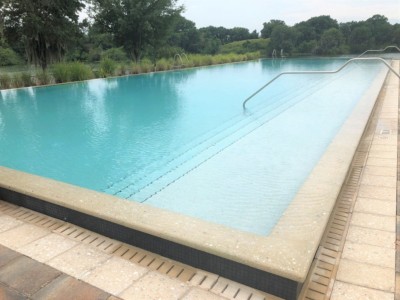 Fragmentary Blue
Sitting on the top level of Streamsong Resort, Fragmentary Blue provides you with a 360° view of the entire property. The menu here is casual, light appetizers and tappers style food. While there is floor to ceiling windows, head outside for the real view. Even if you can't get seated outside, grab a drink and take in the view. We visited, but only for the look, we were on route to Bone Valley Tavern and had eaten lunch in Bartow.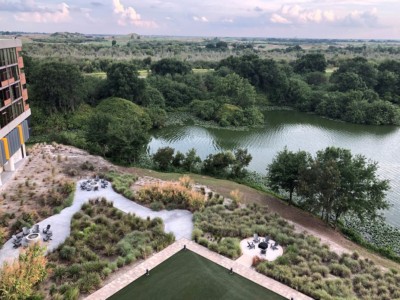 P2O5
An apt name, P2O5 is a formula for diphosphorus pentoxide, a play on phosphorus mining. Avoid this one even for drinks. It's a bar at best, and the staff is not qualified for what the menu claims it will deliver.
Drinks
I am a martini snob. Those who have dined with me know that this is either going to make or break the experience for me. A total bust here before we get to the overpriced food.
I asked if they could make a pomegranate martini. Sure, told the waitress only to return and say they could not. You know where this is going.  I ask if they can make strawberry or blueberry. Off she goes and returns with a fizzy looking pink concoction. I'm not a mixologist, but prosecco, soda water or any other bubble generating liquid does not belong in a martini period. I stated my concern and sent it back.
Next, I ask if they have blue cheese olives. I mean, when all else fails anyone can make a classic dirty martini. No blue cheese olives – let's forget the martini's and move on.  I order a Tito's and tonic, light ice. The waitress returns with what looks like a dirty martini with blue cheese olives. A-plus for effort yet a total flop.
Recall I said I ordered a Tito's and tonic? I would not have ordered Tito's in a dirty martini. If I am drinking vodka straight up, it's got to be higher quality because there is no sugar added. And, I take mine extra dirty. At this point, I sip it and move on but no more drinks for me here.
I'll also point out the glassware, another peeve of mine. Why are we serving up martinis in a margarita glass? And, when you are charging steak house prices for the drink, it's a double pour. How can you expect anyone to pay $13 to $15 for a drink if you don't have the ingredients on hand, don't know one vodka from another and are clueless about glassware?
Food
You can guess this is not going to be an excellent review for P2O5. I won't bore you with an in-depth story on the lamb, let's say the staff doesn't know what mint sauce or mint jelly is and it took several trips to the chef to understand the potential dressing options. No thanks.  Not only am I picky about drinks, equally as much with food, and I know my cuts.
My girlfriend and I go for surf and turf advertised on the menu as "Horseradish herb encrusted lobster and sirloin steak." It comes out, and sure there is steak, but there are three chunks of what looks like fried shrimp. I ask the waitress to confirm if this is shrimp or lobster. Sure enough, it's lobster but how deceiving. The manger comes over, apologizes, admits that the description is deceiving and states we can pay for the steak. Lucky me, I get to pay for the steak that was nothing special.  I don't expect it to be free, that's not my point. My point is the food here is not up to par – pun intended.
Brian claims he enjoyed his mac n cheese with pulled pork. I think this is because the entire dinner was a disaster and he was embarrassed. For reference, he ate about 1/3 of the dish if that. Now, Brian's not exactly a guy that packs away food, but it wasn't a massive portion, to begin with. So, I call bs on his lovely effort to be polite.
I will say that when the bill came, the martini and Brian's beer were comped. A small saving grace I guess, and I again I did not expect the food to be free  – I expected it to be great.  Until the staff at this place are re-trained I would not eat here for free – it was bad.
Bone Valley Tavern
The name implies this place is a pub and it is not formal. More of a bar with casual food like what's offered at Hemy's. This is where the party is at! Packed with people enjoying the end of their day. Plenty of people playing pool in the clubhouse and overall a great vibe. The resident raccoons are running up and down the veranda. They can be seen from the glass – the only material enclosing the tavern. The raccoons remind you that while you are at a resort in the middle of nowhere and it's wild!
Add to this; the tavern is another work of outstanding artistry, skill, and quality. All glass is enclosed in charred timber otherwise know as Shou Sugi Ban.  The Japanese art of charring wood.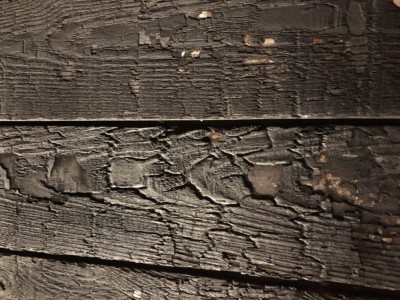 At the Bone Valley Tavern, I asked before ordering if there was someone that knows how to make a martini. Enter Brooke! A lady that knows her way around the bar and can make you a killer drink that is up to par. Now, keep in mind Brooke has the same limitations as others – lack of fruit and appropriate glassware. Glassware aside, she restored my faith in the staff's experience and capability. A stellar lemon drops martini made with premier vodka, a hint of lemon and sugar on the side.  I'm happy!
Food-wise, I split another burger here, and it was deliberate for two reasons. 1. Our first burger was outstanding, and 2. While the drinks were fantastic, this place has a casual vibe. I can't say for sure, but I did not get the sense that steak would be a wise choice, but this perception is based on my experience at P2O5.
Regardless we were beyond happy with the food and service, so much so that we asked for the manager to compliment him on the experience.
Restaurant Fifty-Nine
We did not eat here. Originally, we planned to try Restaurant Fifty-Nine until we experienced P2O5. We were all cautious about spending top dollar to eat at this steak house, even though others told us it was spectacular.
And, on our second night, the men had played all day then spent a few hours at the clubhouse. The men were not in the mood for formal dining.
I regret not trying this place out. When we return this will the first eatery we try.
Sottoterra
We toured Sottoterra, and it's elegant with a healthy dose of modern-day mafia excessiveness woven in. Imagine a traditional scene from Scarface or Goodfella's but modern, and you will get a visual. There is a chef's table at the bottom of the staircase down that creates a sense of drama. At the ground level with the gardens, the views here are unique. We did not eat here for a straightforward reason. I'm not a massive fan of Italian fare.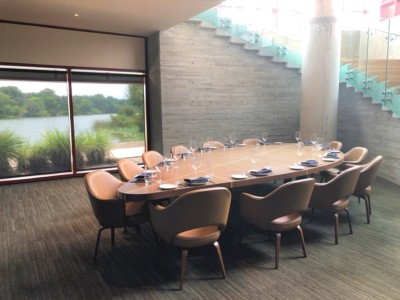 Streamsong Resort Shopping
To the left of the reception area is a little gift store than sells the usual: jewelry, toiletries, candles, golfing attire, key chains, cups, and so on. They have generous sales on golf shirts, so be sure to check it out.
There is a pro shop at each of the golf courses that are stocked with everything you would expect from a golf store.
Streamsong Resort Spa – AcquaPietra
I am sure that the spa is divine, no reason to believe it is not. It was merely out of reach for us. I'm not a spa connoisseur so I can't tell you if the prices for this type of hotel are steep or not. What I can tell you is that the pricing for a single treatment is up there and day packages will double the cost of your stay. A couple of hours at the spa is $300 plus.
Streamsong Resort Room Service
In true style, I experienced the room service on the last day. Ordering a traditional all-American breakfast that was perfect. A few highlights:
Inexpensive. I don't recall the exact amount but less than $20
Delivered in less than 20 minutes
Cooked to perfection, precisely as ordered
The eggs were over easy as ordered and hot
The toast was not burnt
Provided with all the appropriate condiments
It was scrumptious, the perfect end to my stay
These might seem like small details. Do you know how many times I order over easy eggs via room service to receive over medium or over hard and cold? It's more often than not. Forget poached eggs, that's a dead cooking skill in my opinion, and I've given up ordering them.
I love ordering room service. Many a time we will skip a restaurant dinner in favor of room service. And when it's done right, it's like transcending to heaven. For sure, this will be a part of my plan upon return because it was spectacular.
Additional Streamsong Resort Activities
In addition to golf, shopping and the spa there are plenty of other activities to participate in.
Guided bass fishing: Streamsong has one of the best bass fishing locations in Florida. The streams and pristine lakes offer unparalleled fishing and outstanding views, with a lakefront fishing dock where you'll embark on a once-in-a-lifetime experience.
Shoot Clay Pigeons: If you've never fired or held a shotgun this is an activity designed for you. Aim at clay "pigeons" which are clay discs. This is an exhilarating and fun challenge for beginners and experts alike.
Archery: Want to hone your bow techniques or learn from the pros? Here is your chance to do just that.  Take aim and learn or perfect the ancient art of archery on the outdoor course.
What You Need to Know
There is a daily resort fee. Annoying, but it does include Wi-Fi and valet parking. The valet parking alone was worth this. I must point out there is no shortage of space to park so technically the parking could be free vs. a part of a resort fee.
The golf courses are public, so you can play without staying, and no membership is required.
Streamsong Resort does offer Florida resident specials so sign up for their email and keep an eye out.
You must have reservations for golf; there is no shortage of people playing. If you don't book a tee time in advance, you won't be playing.
There were virtually no women at the resort. It mostly all men. Lot's of groups of men celebrating upcoming weddings, birthdays and so on. This does not phase my friends or me. The opposite, it just gives us more drive to be us and carry on as usual. Other than the bartender, we were the only females at the pool. We did see some women at dinner but not sure if they were staying or not.
Dress attire is all over the place and mostly casual. In general, the mid-40's crowd dress like they are Ricky Fowler all sporting fashionable tight straight-legged pants. I found this hysterical. It was even more comical for me to watch middle-aged men pontificating and practicing their swing while waiting on the shuttle bus. I should have taken photos of this! I guess what I am trying to tell you is there are plenty of posers that are really into themselves. It makes for great people watching.
Streamsong Resort is home to all kinds of wildlife, not just gators. Those cute looking kittens that you see are not feral. Nope, they are bobcat kittens. I saw one, and my first reaction was to save it. That is until the staff educated me. Thankfully, I don't have a wild cat living at the house!
Closing Thoughts
I've read tons of reviews and articles about Streamsong Resort. Most cover the golfing aspect. While some do highlight the resort, it's not the focus. Golf is the main attraction; however, the resort holds its own without golf. There is plenty to marvel in without ever hitting the golf course and still be wowed. It's stunning, peaceful, exquisite, and well worth anyone checking out even if for just one night.
I had a feeling this would be a special place, and I was right! I am left fantasizing about what occasion will worthy of our return.
Close To Perfection
There are a couple of minor opportunities for improvement. For a typical resort that's not considered a luxury resort, these would be points of forgiveness. At Streamsong Resort's price point, these items need to be addressed:
Staff re-training. Sorely needed in P2O5. The staff needs to understand the menu inside and out. They must know how to make all drinks and need to know the difference between liquors. They have to have tasted the food, have an understanding of cut and so on.  Take them all to a luxury steak house, order everything, and teach them through experience.
Whoever chose the glassware cut corners and did Streamsong Resort no favors. I believe the staff has raised this concern to no avail. I would suggest bringing in someone with experience. Or, stick to classic glassware that is not dominated by fashion. Either way, the glassware must be revisited.
Revisit pours on martinis. It's a standard practice that it's a double pour at the $15 price point, that's what people are paying for — another reason why the glassware matters. And, for a luxury resort, I expect fresh fruit to be the flavoring. Use fresh fruit, not simple syrup or mixers.
Looking for more posts on  Florida? Start here:
We are a participant in the Amazon Services LLC Associates Program, an affiliate advertising program designed to provide a means for us to earn fees by linking to Amazon.com and affiliated sites