England's York is one of the most famous cities in the United Kingdom. It's no surprise because York is home to some of the country's most famous sights. From the castle, the castle walls that enclose the city, the dark historic Shambles to the Viking influence, York is one the most fascinating and preserved cities to visit. Complete with world-renowned universities and monumental churches and sitting along the banks of The River Ouse, there's something for everyone to see in this vibrant cobbled city. And, The Shambles of York inspired Harry Potter's Diagon Alley, and there's plenty for fans to see!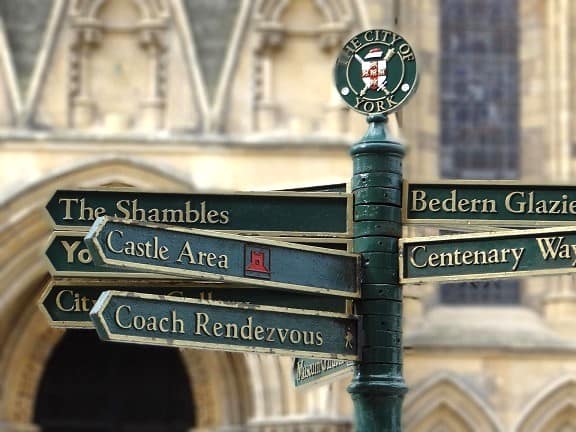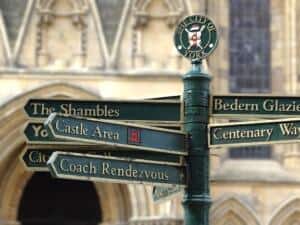 This post may contain affiliate links. Please read our disclosure and privacy policy for more information.
About England York
York is a historic walled city in Yorkshire, England. Situated at the Rivers Ouse and Foss's confluence, it is Yorkshire's county town. York Minster and various cultural and sporting activities make it a popular tourist destination.
The City of York has a proud heritage and is home to some of the most famous historical landmarks in the country. The Minster, Clifford's Tower, York Castle Museum, and the Jorvik Viking Center are just some of the must-see attractions in the city.
With two world-class universities, a bustling city center, and rich history, York is a great place to live, work, and study. And, it's a fantastic place to visit.
What is England York Famous For?
York is a city in North Yorkshire, England. It is the administrative center of the City of York local government district and the historic county town of Yorkshire.
York is known for its rich heritage and history, including being one of Europe's most complete and well-preserved medieval walled cities. The city has many museums, theaters, cultural venues, and two universities.
York is a transport hub with good road, rail, and air links. York is an important center for national tourism with York Minster and a regional commercial and retail center. The city's name derives from the Latinised name for the River Ouse. "Eboracum" was first mentioned in 60 AD on coins minted by Nero.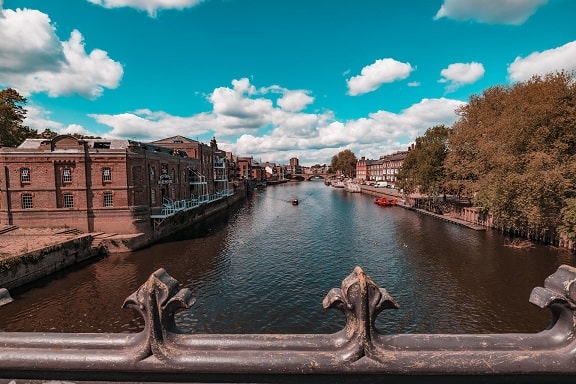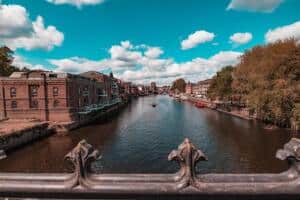 York has a temperate maritime climate due to its proximity to the sea, with mild winters and cool summers. It is typically humid and hot in summer but has tight variations in other seasons. York is sometimes cold in winter due to Siberia winds which sweep down through the town and bring cold air from the Arctic.
York's climate is influenced by its proximity to the North Atlantic Current. Severe weather patterns often occur, mainly during the winter when you can expect heavy snowfall in York County.
Why Should You Visit?
There are plenty of reasons to visit York, whether you're interested in its history, culture, or nightlife. The city has something for everyone, from world-renowned universities to historic churches and museums.
If you're a fan of the arts or museums, you'll be spoiled for choice in York. The city is home to the National Railway Museum, the York Art Gallery, and the Yorkshire Sculpture Park.
For history buffs, there's plenty to see and do in York. The Romans founded the city in 71 AD, and it has a rich Viking heritage. You can learn about York's past at the Jorvik Viking Center or the Yorkshire Museum.
And of course, no visit to York would be complete without seeing the famous York Minster. This Gothic cathedral is one of the largest in Europe and is a must-see for any visitor to the city.
Whether you're looking for a weekend getaway or a more extended holiday, York is the perfect destination.
Where To Stay York England Hotels
England: York Must-See Attractions
There is so much to see and do that it's impossible to list it all, but here are the highlights!
The Shambles
If you could only pick one thing to see in York, it should be The Shambles. This is one of the last remaining walled cities oozing with original medieval buildings on the street known as "The Shambles."
Several medieval timber-framed buildings along The Shambles make The Shambles one of the most iconic districts in York. The buildings date back to the 14th century and have the overhang of that period. You can touch both sides of the street with your arms outstretched in some sections of The Shambles.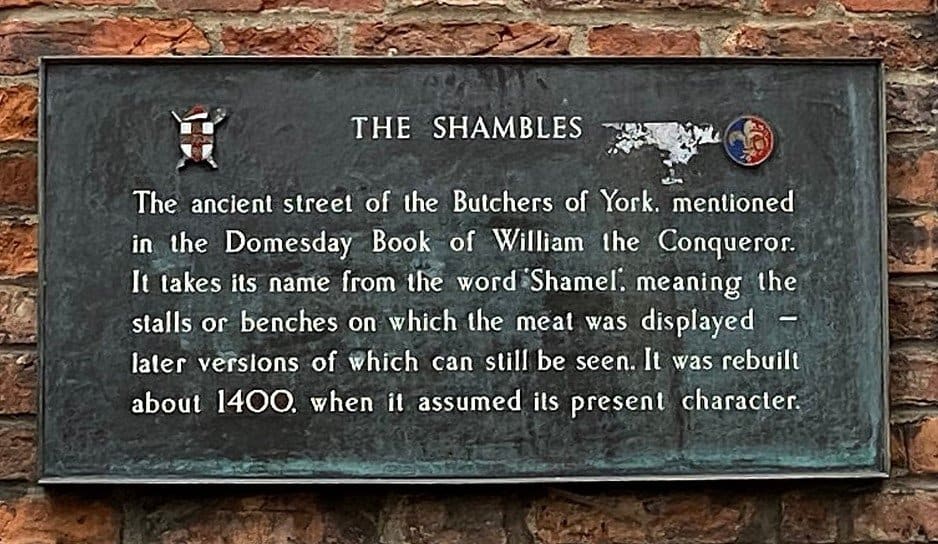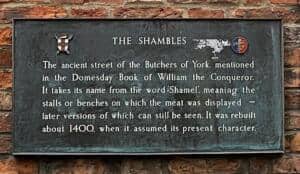 About York's Shambles
Despite the picturesqueness of The Shambles, there is nothing glamorous about their past. The Shambles were butchers' shops. Homes with a slaughterhouse at the back of the premises ensured fresh meat was always available. On what are now the shop window bottoms, the meat was hung up outside the shops for sale. Some original butcher's meat hooks are still attached to the shop fronts.
In the 1400s, York lacked modern sanitation facilities, and disposing of waste produced by slaughtering animals was a constant problem. Two times a week, the butchers would wash their offal and blood away in the channels formed by the raised pavement on either side of the cobbled street.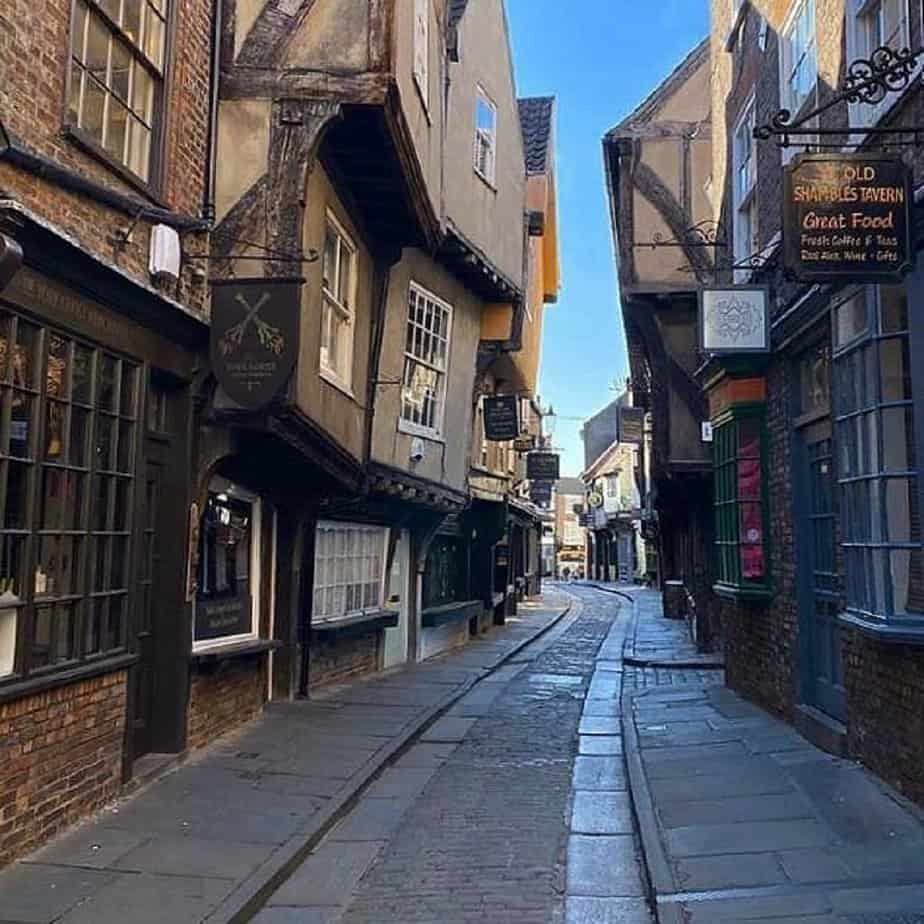 As quaint as it now appears, the architecture served a convenient purpose in the past. To provide shelter for the wattle and daub walls below, the timber-framed fronts of the buildings are deliberately close-set. Besides, protecting the meat from direct sunlight would also have kept it cool.
The Shambles Market
Check out the Shambles Market early in the morning, before it gets too crowded, and take some photos before the narrow, trendy streets become too crowded. All the roads leading up to the Minster in York are narrow, with exciting shops at every turn.
Harry Potter In York
I bet you did not know that York is where it all began. J.K. Rowling used The Shambles as inspiration for Diagon Alley in the Harry Potter books, and she visited York for the inspiration. If you look at the photos above, it's obvious why!
Harry Potter has become a thing in York, and several stores are themed after the series. Here are just a few!
The Potions Cauldron – The most magical drinks emporium in the World!
You can learn how to make potions at The Potions Cauldron, but you don't have to eat slugs!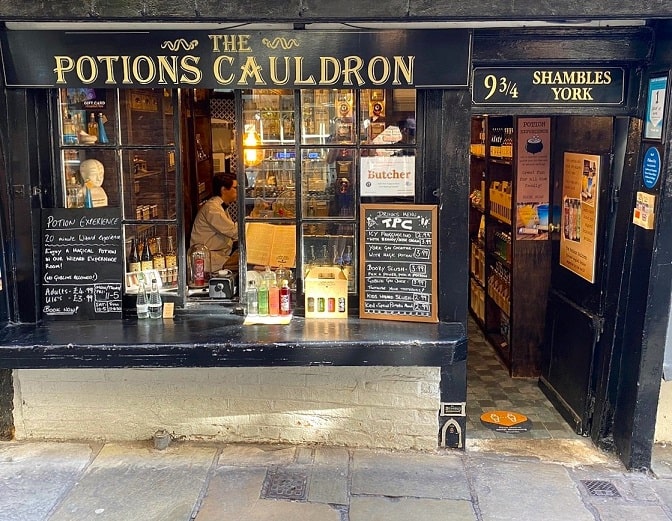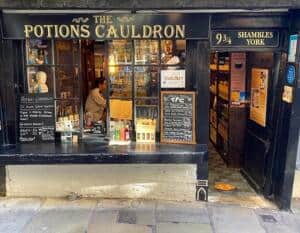 There are all kinds of Phileas Phials of potions and elixirs to drink here, such as The Power of a Wizard and The Love Potion. If you want to give your own Slush Puppy magical powers, you can add them.
Address: 9¾ Shambles, York YO1 7LZ
The Shop That Must Not Be Named
They are entirely dedicated to their mission by featuring the best Harry Potter gifts and merchandise. This shop is not only filled with Potter wares. Every inch of it is designed to appeal to fans of the series. It has been meticulously planned down to the last detail.
There are brooms outside and post owls delivering letters on the ceiling. There are even Hogwarts house insignia and wands on display.
It's like entering the Wizarding World through a portal!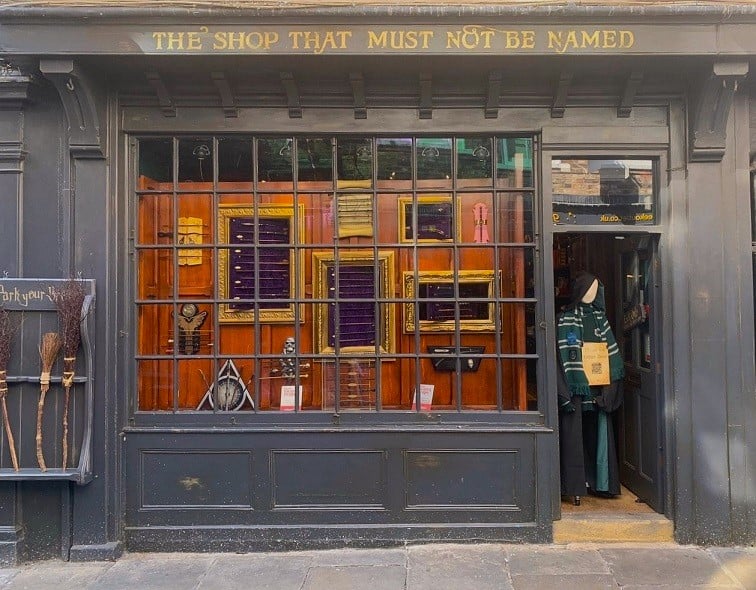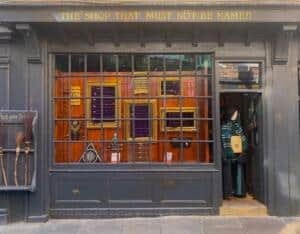 Address: 30 Shambles, York YO1 7LX, United Kingdom
York Museum Gardens
This beautiful location in York combines a museum and a garden. One of the city's greatest treasures lies hidden behind this astonishingly simple name. A museum dedicated to the history of Yorkshire, dating back to when dinosaurs roamed the region, is located within the city center gardens, along with the ruins of a medieval abbey and a historical hospital.
Bettys
There is no doubt that Bettys is the most famous tearoom in the country. There's always a line out the door and down the street for sandwiches, scones, and cakes with the signature tea blend at any time of the day. Additionally, it has a classy setting modeled after ocean liners. There are six Bettys cafes in Yorkshire, including two in York.
Bonus – There is a Bettys in Harrogate as well! So if you skip this due to the line catch it in Harrogate.
York Minster – York Cathedral
Also known as the Cathedral Church of Saint Peter in York, this cathedral is the mother church of the Diocese of York and is one of the largest of its kind in Northern Europe.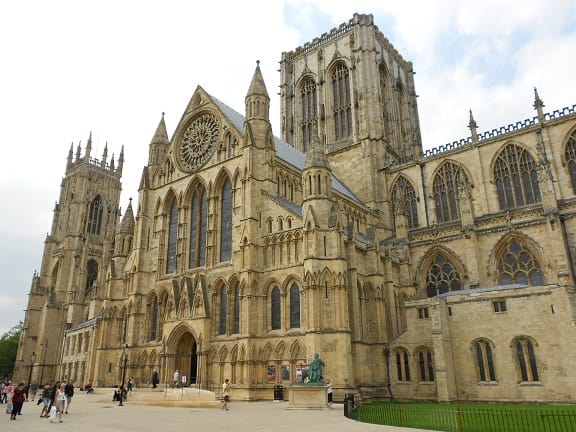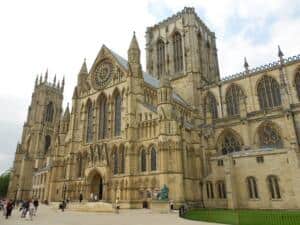 A Gothic-style cathedral towers 235 feet above York's old city center, serving as the seat of the Archbishop of York. You can climb the 275 steps of the central tower to view the rooftop gargoyles and get a glimpse of York City Center's historical streets if you have the energy (and the money). You can also enjoy the interior's vaulted magnificence and sense of peace if heights aren't your thing.
Clifford's Tower – York Castle
All that remains of York Castle is Clifford's Tower, a Norman castle built on top of an earlier motte-and-bailey. In 1605, 30 people accused of involvement in the Gunpowder Plot were mass executed at the castle, which served as a prison for over 600 years. There is no doubt that Clifford's Tower is one of York's most iconic structures. Since 1068, the steep-sided hill near Ouse and Foss's rivers has been fortified with fortifications known as York Castle.
Courts, mint, and jail are all located nearby, making this the city's administrative center. A nearby Castle Museum is the only remaining sign of most of these. The tower is the most dramatic part of this area. You'll have to walk up the hill to reach the old fort, but it's worth it.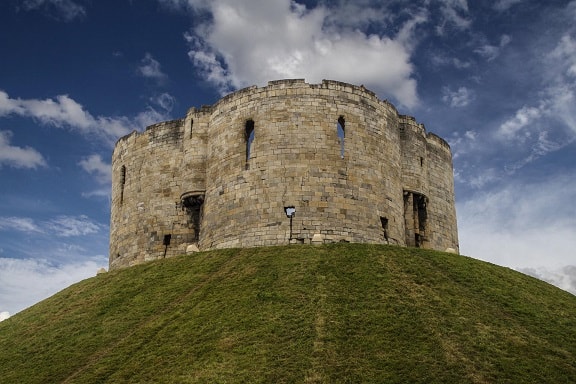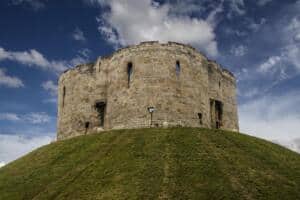 National Railway Museum
One of York's most popular tourist attractions, the National Railway Museum is a must-visit for train enthusiasts. The museum houses over 300 locomotives and offers a variety of interactive exhibits.
York Art Gallery
Home to an impressive collection of paintings, sculptures, and other works, the York Art Gallery is a must-see for any art lover.
Jorvik Viking Center
A reconstruction of a Viking settlement from the 10th century, the Jorvik Viking Center is one of York's most popular tourist attractions.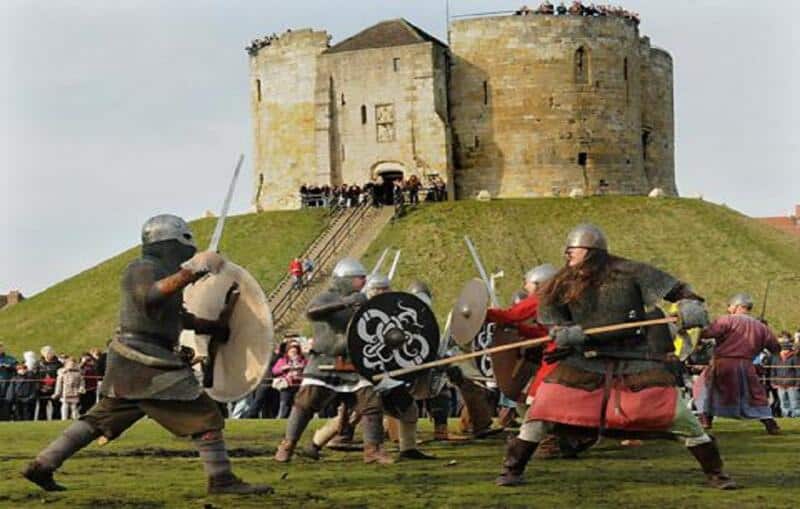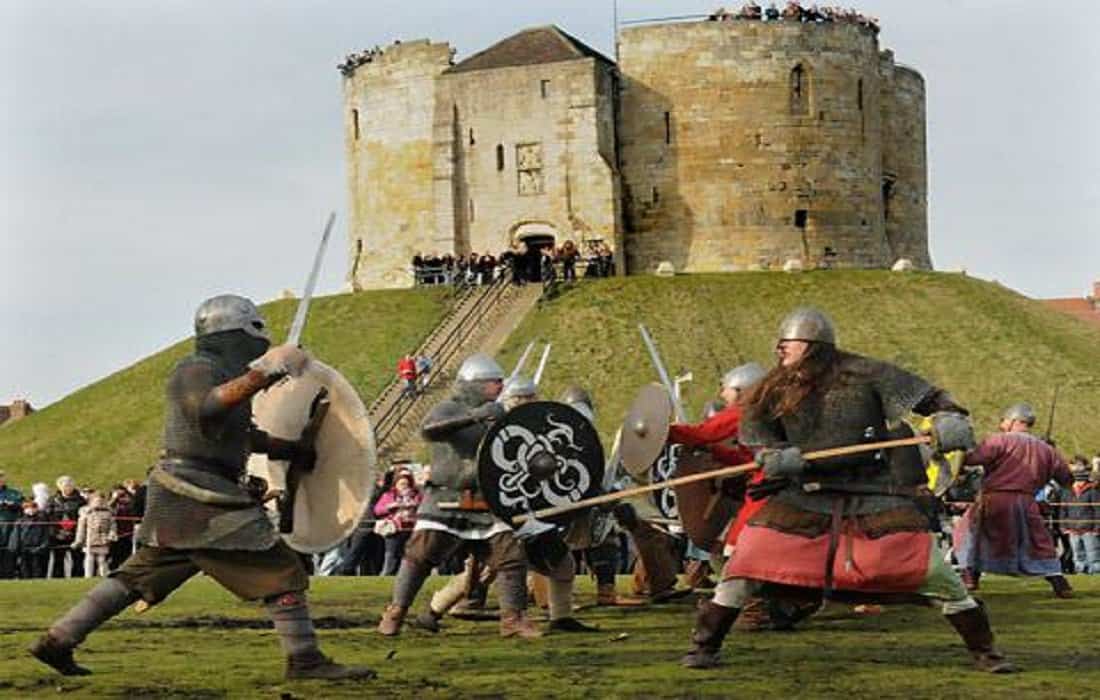 Photo Credit: The York Press
Jorvik, the heart of the Viking dominion in England, existed before York became York. Norwegians ruled the city until 1066 after capturing it in 866 AD. In the Jorvik Viking Center, you can relive the time when the city was ruled by the Norwegians and experience the city as it was at the time.
The museum is one of York's more fun and immersive museums because it mixes archeological finds with dioramas. In February, the center hosts the Viking Festival, which takes the dioramas a step further and brings them to life. It's a popular and busy place, so get there early to avoid the long lines.
Parliament Street
York City Center is centered around Parliament Street. Shopping is centered on this street and in the surrounding area. High street stores and cafés line the vast, mostly pedestrianized square, including Marks & Spencer, New Look, and Pret A Manger. A few more big brands can be found nearby on Coney Street, and bargains can be found at the Shambles Market.
York Maze
Created from over one million living, growing maize plants, York Maze is not just the largest maze in the UK. It's an award-winning fun-filled day out in the country. York Maze offers a fantastic fun-filled full family day out with over 20 different rides, attractions, and shows to enjoy.
Yorkshire Sculpture Park
Technically not in York but very close in West Bretton, Wakefield in West Yorkshire. The Yorkshire Sculpture Park is an open-air gallery that exhibits work by British and international artists, including Henry Moore and Barbara Hepworth. This sculpture park occupies the 500-acre parkland of Bretton Hall and straddles West Yorkshire's and South Yorkshire's boundaries. It contains one of Europe's largest open-air collections of Moore's bronzes.
Founded in 1977, the Yorkshire Sculpture Park was the UK's first sculpture park, modeled on temporary open-air exhibitions held in London parks by the Arts Council and London County Council (and later Greater London Council).
In contrast to other UK sculpture parks such as Grizedale Forest, the 'gallery without walls' has an exhibition program that changes frequently.
York City Walls
While York has been a walled city since Roman times (about 71 AD), the stone walls surrounding the city center today were built between the 12th and 14th centuries. One of the most enjoyable things to do in York is to walk the ramparts around the city center, giving you lovely views across both the old town inside and the newer areas outside.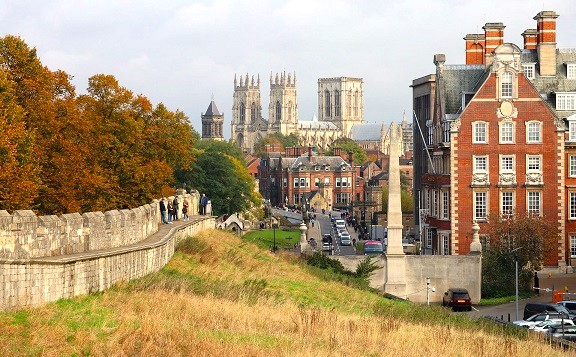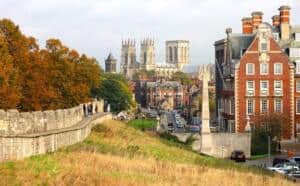 National Railway Museum
One of the world's largest collections of rail artifacts can be found outside the city walls, near the glorious historical York railway station. The National Railway Museum is extremely popular with its mighty machines on display. The Mallard has sleek lines, Stephenson's Rocket has engineering ingenuity, and the Flying Scotsman has piston-pump power. View about 100 engines, including several steam trains in operation.
York Races At Knavesmire
Ascot and York hold some of the biggest horse races in the UK. The social calendar is dominated by significant events like the Ebor Handicap in August. York residents have referred to the track by its pre-medieval name of "Knavesmire" for centuries.
A visit to Tadcaster Road, where notorious highwayman Dick Turpin was hanged in 1739, is also a must for history buffs.
York Art Gallery
Home to an impressive collection of paintings, sculptures, and other works, the York Art Gallery is a must-see for any art lover.
York Castle Museum
At the York Castle Museum, a museum housed in a former prison, you can learn about the people who were incarcerated in the past.
Famous Universities England, York
England York is not just famous for its Viking and medieval history, and it's also renowned for its Universities. The University of York is a Russell Group university and consistently ranks among the top 10 in the country. With over 16,000 students, it's also one of the largest universities in the UK.
The University of York is a world-renowned institution, ranked as one of the top 100 universities in the world. The university has a strong research focus and offers various undergraduate and postgraduate programs.
York St John University is a smaller institution but is no less impressive. The university has a long history, dating back to 1841, and offers a variety of undergraduate and postgraduate programs.
Both universities offer an excellent experience for students and are worth a visit if you're interested in higher education.
Campuses and Education
Inspired by the beauty of what university campuses look like in England, many students want to go there after graduation. Something is awe-inspiring about visiting a castle from the past, seeing it still stands today. We got carried away and ended up in front of this incredible thousand-year-old structure.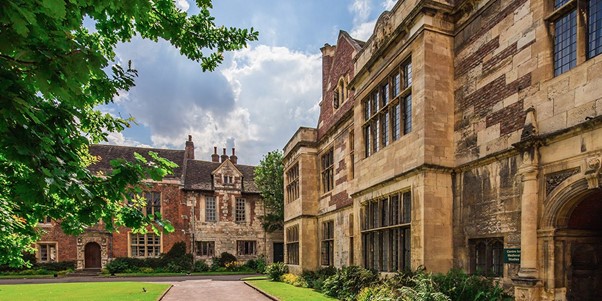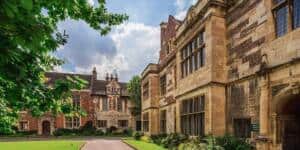 Photo Credit: University of York
Young people should be prepared for difficulties in their education and be ready to work hard to pursue a good education. Part of their studies is about writing reports, dissertations, and similar tasks. If you're looking for a reliable essay service, the best professionals will provide you with online help. Custom writing is a difficult task, and the process of essay writing can be challenging and time-consuming. So why not use some help?
Famous Churches England, York
There are some famous churches in York, including:
York Minster – The largest Gothic cathedral in Northern Europe and the seat of the Archbishop of York.
The Church of St. Michael le Belfrey – A church with a unique octagonal spire located in the heart of York, is an excellent place to visit during your stay at York.
All Saints' Church – A beautiful Norman church in the historic city center and a room for many believers is also visited by many.
Holy Trinity Church – The oldest parish church in York, dating back to the 7th century.
Olave's Church – A church with a unique history, having been rebuilt three times since its original construction in 1055.
These churches are sure to impress whether you're interested in architecture, history, or religion.
What Other Sights Are There in England's York?
In addition to the sights mentioned above, there are several other great places to visit in York, including:
The York Dungeon – An interactive attraction that tells the gruesome history of York through live actors and special effects.
Beverley Minster – A beautiful Gothic cathedral located in the nearby town of Beverley.
Hull Maritime Museum – A museum dedicated to the maritime history of the city of Hull, located just a short drive from York.
There are plenty of other great things to see and do in York, so there's something for everyone to enjoy.
How Much Does It Cost To Visit England York?
There is no entrance fee to visit York Minster, making it an excellent option for budget-minded travelers. Other attractions, such as the Jorvik Viking Centre and the Yorkshire Museum, offer free admission.
There are plenty of options for spending a little money while in York. The National Railway Museum and the York Castle Museum both have small entrance fees, and the York Art Gallery charges a modest fee for adults.
Overall, York is a very affordable destination, especially compared to other UK cities. It has served as the capital of the North Riding of Yorkshire since 1974 and as an important trading center since before Roman times.
In 2016, York's estimated population was 198,130, making it the second-most populous city in the region. Compared to UK cities such as London, York is affordable for tourists.
When Is The Best Time To Visit England York?
The best time to visit York is during the summer when the weather is warm and the days are long. However, the city is also bustling during this time. If you're looking to avoid the crowds, consider visiting during the shoulder season (May-June and September-October).
Or, visit at Christmas when there is plenty to see and do!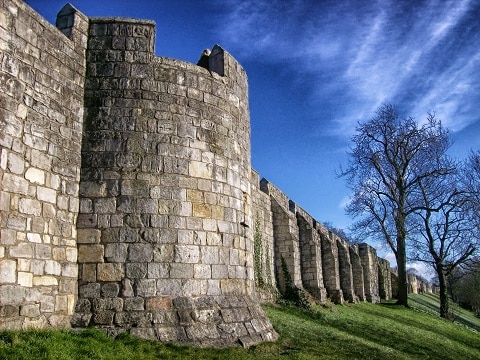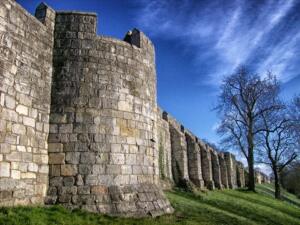 Closing Thoughts
York is a historic city with plenty to see and do. There's something in York that will appeal to everyone. York is an excellent option for budget-minded travelers. So whether you're looking to learn about the history of the Vikings or want to enjoy a stroll through one of the most iconic streets in England, be sure to add York to your list of must-visit destinations.
Looking For Other Historical Places To Explore In England? Start Here:
We are a participant in the Amazon Services LLC Associates Program, an affiliate advertising program designed to provide a means for us to earn fees by linking to Amazon.com and affiliated sites.
Author's BIO
Mary Spears is a writer for various topics. She is also a researcher and an active member of a writing community. When not at work, she spends time with her family. She loves doing what she does and wants to share it with others.
Brit On The Move™ Travel Resources
Ready to book your next trip? Use these resources that work:
Need more help planning your trip? Check out our Resources Page, highlighting the great companies we trust when traveling.